This Vegetarian Burritos recipe combines veggies, black beans, quinoa and cheese for a healthy freezer friendly lunch or dinner. These healthy burritos are easily customizable for meat loves and vegans as well!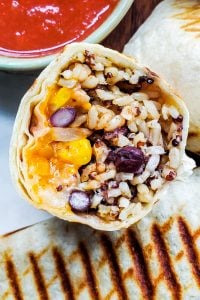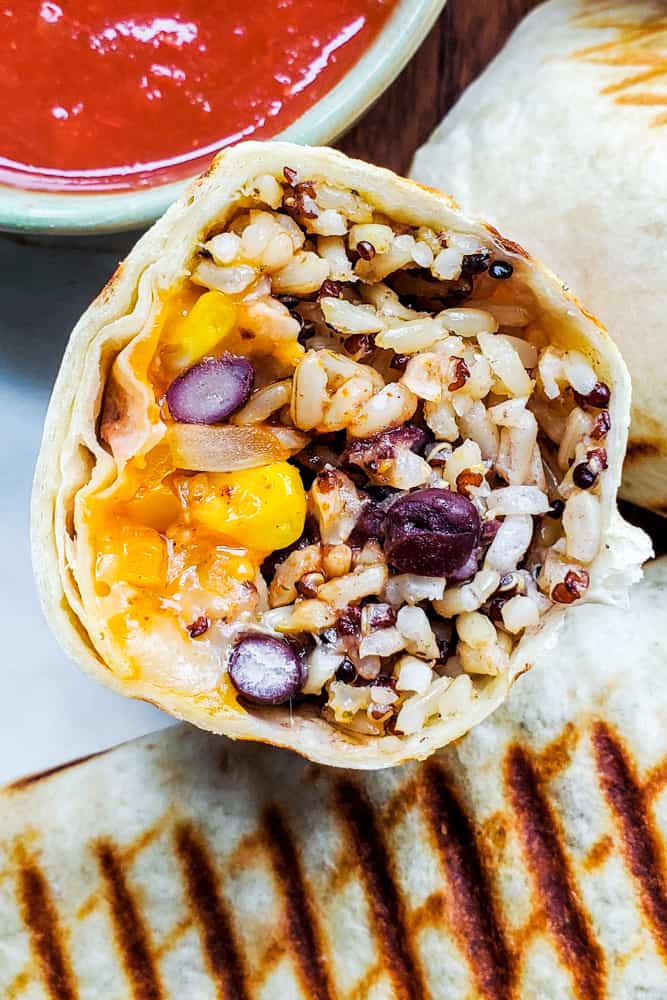 Healthy. Insanely Delicious. Make Ahead of Time. These are some of my favorite words when it comes to recipes for my family. This Vegetarian Burritos Recipe is perfect for storing in the freezer, meal prep and customizable to virtually everyone.
If options are your thing then you will love that these burritos can be made on the stove, in the oven or even in the microwave for on the go lunches. This glorious combination of quinoa, black beans, veggies, cheese, and Mexican spices that will be a hit among both kids and adult. Pair with extras like guacamole, salsa, or sour cream for the perfect finish. Enough chatter, let's eat!
Kitchen Tools
A Skillet or Grill Pan

A Cookie Sheet- If Baking
A Sharp Knife and Cutting Board

Measuring Cups and Spoons

A Pot for Rice/Quinoa Prep

Foil and/or Parchment Paper and Freezer Bag for Storage
Ingredients
Canned Black Beans

: Fresh black beans will work as well just make sure to soak them first.

Quinoa and/or Brown Rice

Shredded Cheese

: Mexican cheese, cheddar cheese, pepper jack are all great cheese options for these veggie burritos.

Veggie Assortment

Easy Taco Seasoning or Your Favorite Brand: I like using my homemade taco seasoning, but you can use your favorite store bought brand as well.

Taco Sauce

Burrito Size Flour Tortillas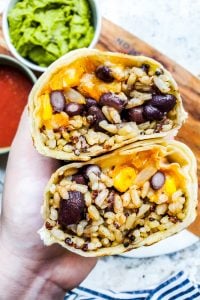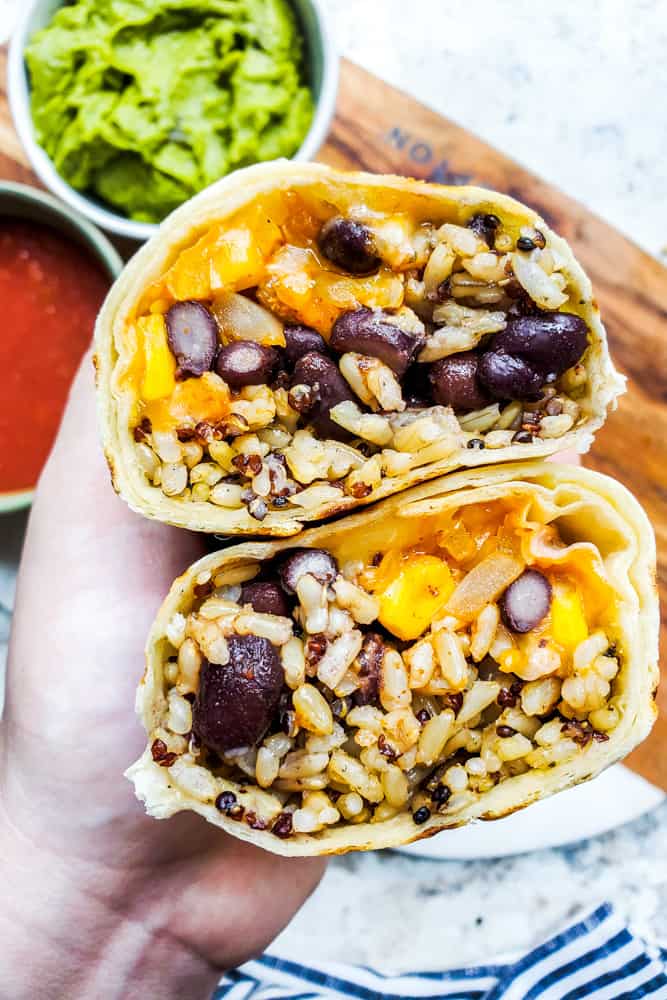 Making Freezer Burritos
Burritos Ingredient Prep
Start by cooking your rice and/or quinoa according to the package directions. (See Tips and Tricks below for a cheat for this step).

While the rice/quinoa is cooking, slice your veggies and add to a small skillet with a little oil and spice blend. I like to just slice my veggies fajita style, but you could dice them if you prefer. Cook the veggies on medium heat until soft, about 5 minutes.

Add the frozen corn and cook for an additional 2 minutes. While the veggies are finishing up go ahead and open your beans and rinse/strain them.

Wrap tortillas in a few damp paper towels and microwave for 30 seconds. This helps with rolling the burritos up.

Once your rice/quinoa and veggies are cooked, and tortillas warm it is time to assemble the burritos!
Burrito Assembly
Gather all your ingredients to form a small assembly line.

Lay out one tortilla and fill with about ¼ cup of rice/quinoa, ¼ cup of veggies and ¼ cup of beans in the upper center of the tortilla.

Next, add tablespoon of taco sauce.

Then, add ¼ cup of cheese (or more if you prefer some extra cheesiness).

Now, it is time to roll the burrito up! Fold the sides of the burrito over top of the ingredients. Take the end of the tortilla closest to you and fold over the top of the ingredients using your fingers to hold the sides down. Roll the burrito away from you doing your best to keep all the contents inside. Once the burrito is rolled set aside and fill the remaining burritos.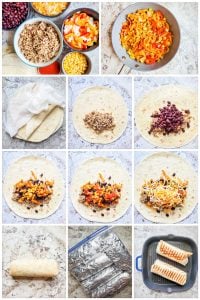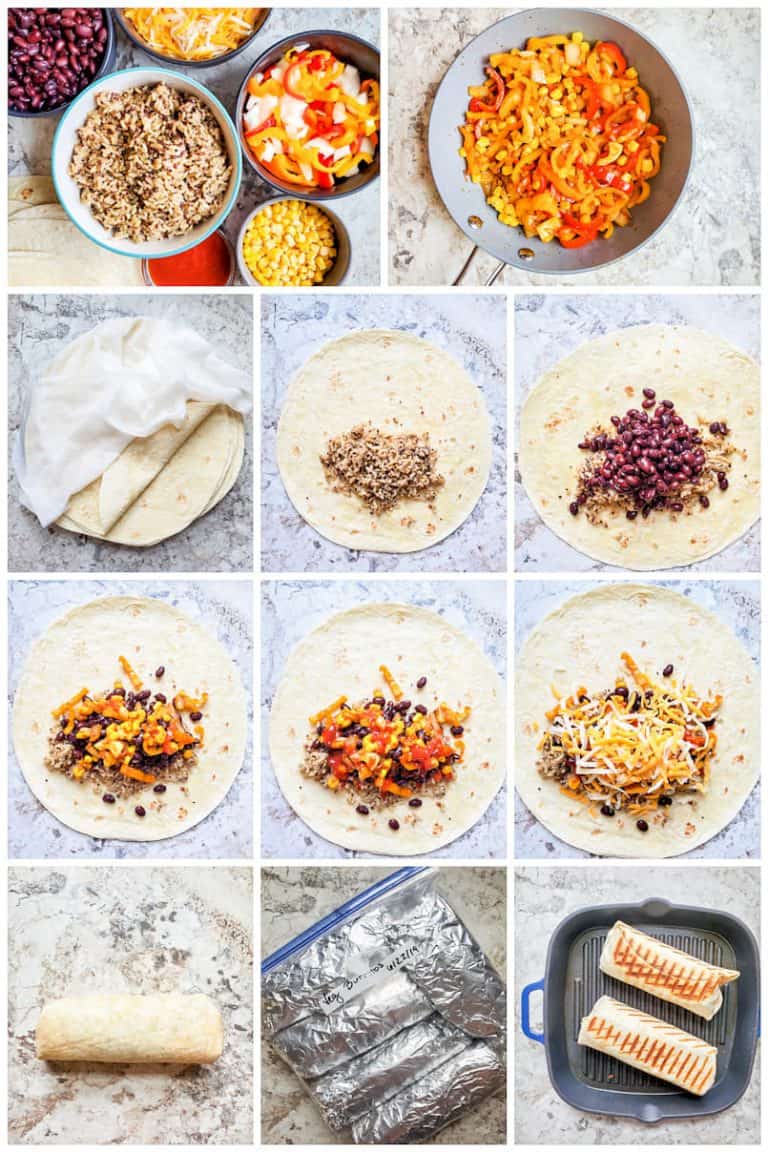 Vegetarian Burritos Cooking and Storing
Now that your vegetarian burritos are all rolled you have a few options:
Cook Immediately on the Stove Top: This is my personal favorite way to cook this vegetarian burritos recipe. On a Pam sprayed skillet or grill pan (featured) place the tortilla seem size down and cook on low-medium heat for 5 minutes or until tortilla starts to warm or get grill marks if using a grill pan. Flip and repeat on the other side and enjoy with optional extras.
Cook Immediately in the Oven: Preheat oven to 350 degrees and place tortillas seem side down on a Pam sprayed baking sheet. Cook for 10-15 minutes flipping halfway through, or until warmed through. Enjoy warm with optional extras. This is great is serving for dinner, because all the burritos can cook together at one time unlike the stove-top option.
Store in the Freezer: Wrap uncooked burritos in foil and store in a freezer bag for up to 3 months. Follow recipe instructions for stove-top, oven and microwave re-warm options.
Tips and Tricks
Time Saver Tip: I like to save time and a pot by using microwavable pouches of brown rice and quinoa. This vegetarian burritos recipe can be used with the kind made on the stove-top or in the microwave and have zero effect on the final taste or product.
For that reason, I save myself the hassle and just pop some in the microwave for a couple minutes and call it good. I like using a brown rice quinoa combo and the Seeds of Change brand, but you can use whatever you can find at your local grocery store.
Don't Overfill: Try your best to keep all the burrito filling concentrated in the center and not pack a bunch in. All this will do is cause you a headache when rolling it up, and it will shoot out the sides when cooking. Say no to burrito blow-outs people.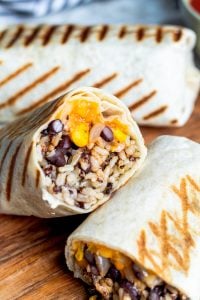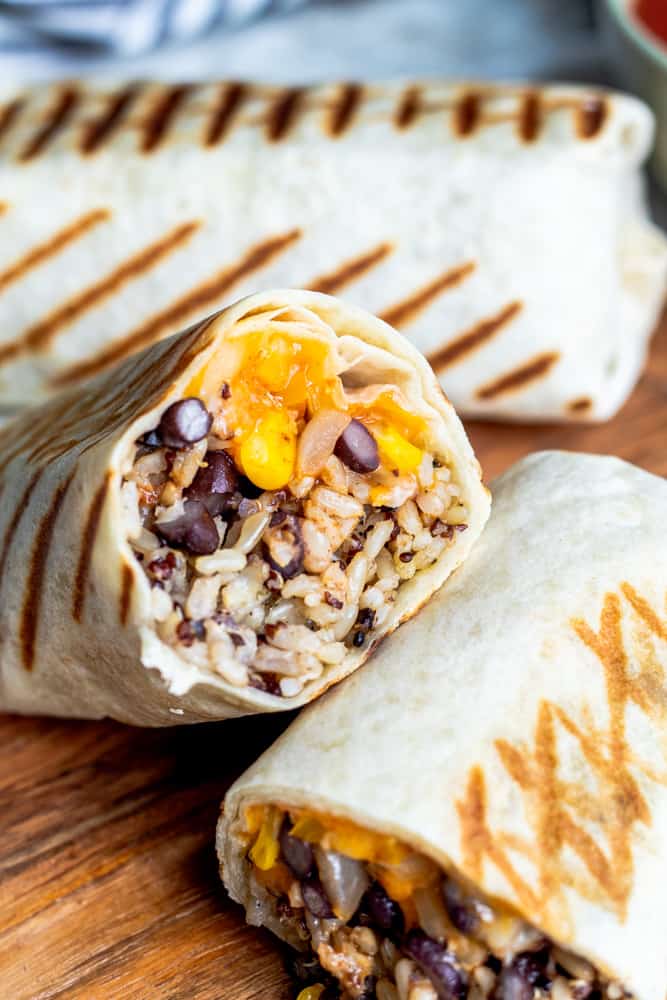 More Vegetarian Recipes
Vegetarian Quesadillas Recipe
Mango Avocado Salsa
Morning Glory Muffins
Roasted Cauliflower Enchiladas
Mexican Corn and Pepper Salad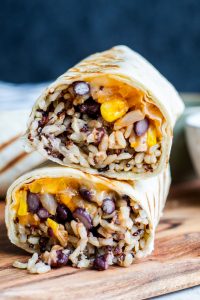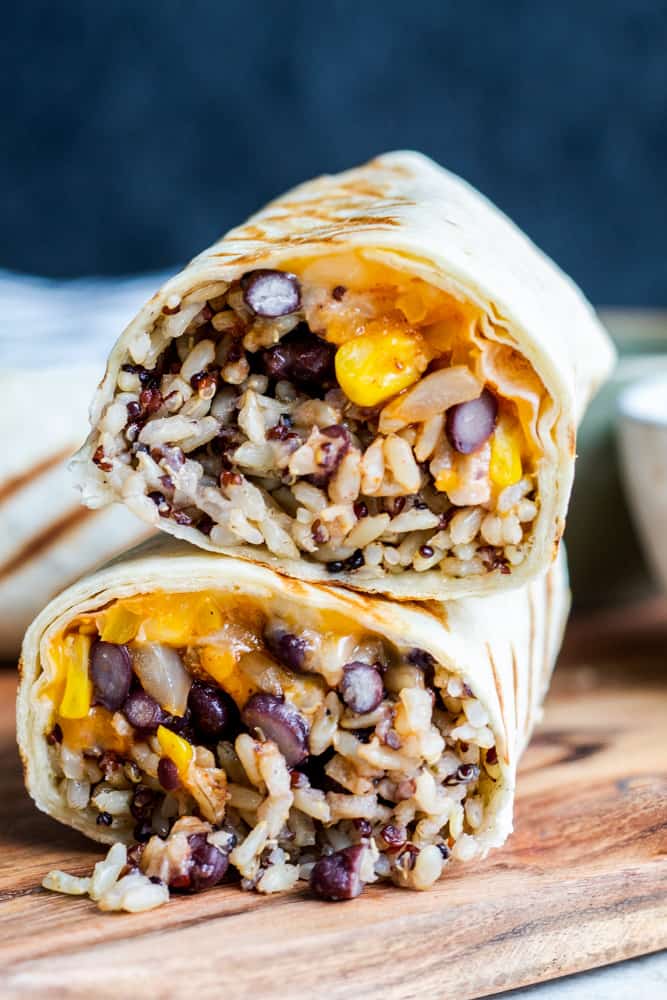 Common Questions
Can I use different vegetables, or leave them out completely?
Sure, you could swap out the vegetables if you would like. Just note that any switches will change the overall flavor of the burritos. You could use cauliflower, broccoli green onions, or even add some jalapeno for a spicy kick. Also, you could use different beans if you have a favorite.
Can I add meat to this recipe?
Sure, you can add meat to the burritos. Some great meat options for this recipe include Crockpot Pork Carnitas, Cilantro Lime Chicken, or Grilled Skirt Steak. You could also add any of you own favorite cooked meats for some extra protein. If you do decide to add meat you will need less quinoa/rice, beans and veggies.
How should burritos be stored?
Leftover vegetarian burritos should be stored in the fridge in an airtight container for up to 4 days. To re-warm leftover burritos, either place in the microwave (~60 seconds) or oven (~10-15 minutes), or until warmed through.
How should burritos be frozen?
Yes, this burrito recipe is PERFECT to store, freeze and enjoy later! To freeze the vegetarian burritos, follow recipe instructions for preparing the filling, and wrapping up the burritos. Next, instead of cooking them wrap them in with parchment paper or foil and place in a freezer bag. These healthy burritos will stay fresh in the freezer for up to 3 months.
How should leftovers be warmed?
When ready to eat the burritos you can microwave them on the defrost setting for 5-7 minutes or until warmed through. Alternatively, you can bake the frozen burritos at 350 degrees for 30 minutes until warm. Personally, I prefer the oven method but the microwave works perfectly fine as well.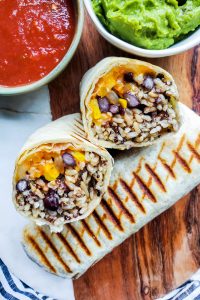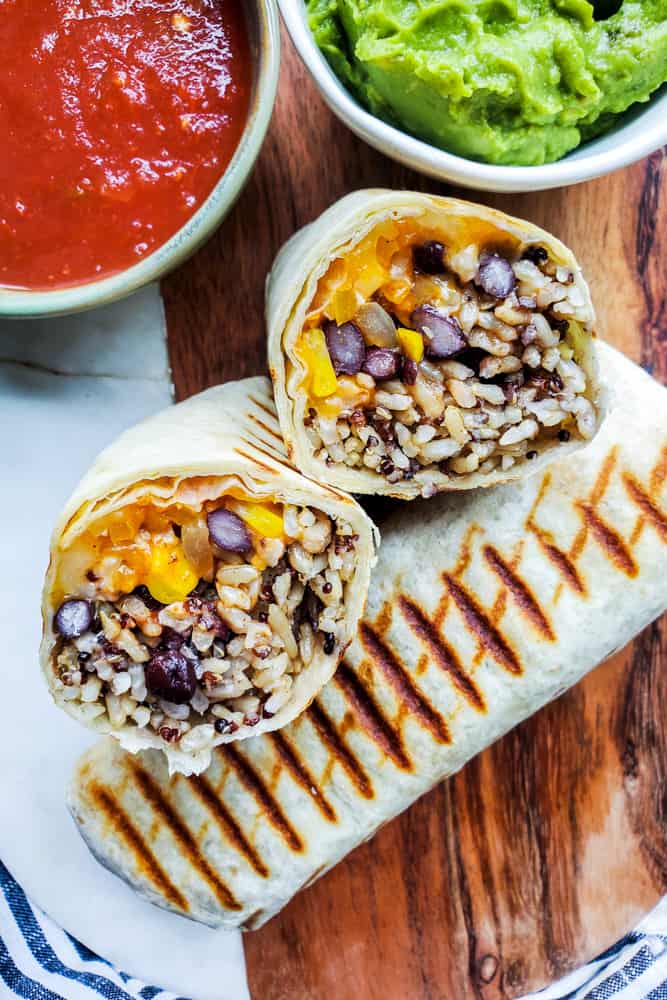 Serving Ideas
I love to enjoy my veggie burritos with salsa, and guacamole. Some other great options are sour cream (or plain Greek yogurt), avocado, lime juice, fresh cilantro, Chimichurri Sauce, pico de gallo, warm Queso or any other of your favorites.
Vegan Options
Some ways to make this burrito recipe vegan is using a vegan cheese alternative or eliminating the cheese altogether. Another option is to use cooked tofu in place of some of the veggies.
I hope you love these delicious and versatile veggie burritos. Tell me hi in the comment section below.
Happy Eating!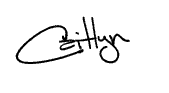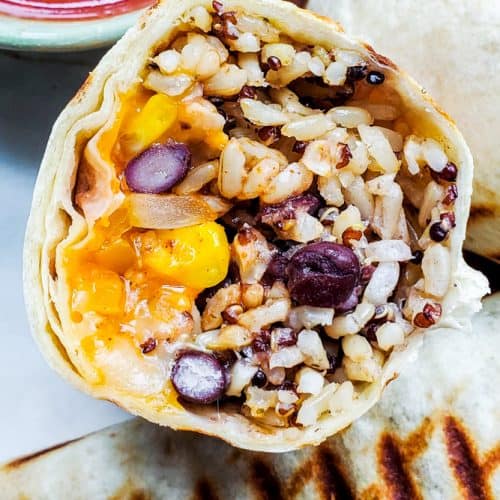 Vegetarian Burritos Recipe
This easy Vegetarian Burritos Recipe combines beans, quinoa, veggies and of course cheese for a healthy lunch on the go or weeknight dinner. Add meat or easily make it vegan to customize to your family's personal tastes. Enjoy with salsa, sour cream, or guacamole for some extra yumminess!
Instructions
Cook your quinoa/brown rice according to package instructions either on the stove top or in the microwave. I like just using microwavable packages to save time but you can do either. While to rice is cooking slice onion, peppers (removing ribs and seeds) into strips or a large dice.

Add sliced onion, peppers, olive oil and taco seasoning to a small skillet and saute on medium heat for 5 minutes or until veggies are soft. Add corn to skillet and cook another 1-2 minutes. Remove from heat and set aside.

Wrap tortillas in several damp paper towels and microwave for 30 seconds until warm. While the tortillas are warming open and rinse canned black beans.

Once all your fillings are prepped it is time to fill the burritos. In the upper-center of a warm tortilla add ¼ cup each of rice/quinoa, black beans, veggies, and cheese. Then a tablespoon of taco sauce. You can add more cheese if you wish, and if you are substituting meat you will not need as much of the other ingredients.

Once filled, fold sides of tortilla over on top of filling and roll the the tortilla away from you folding over on itself. Use your fingers to keep the sides secure and the filling in. Repeat filling and rolling until all tortillas are filled.

Warm a skillet or grill pan on the stove top on medium heat and spray with cooking spray. Add burritos seam side down and cook 5 minutes until warm through then flip and repeat. Enjoy warm with optional extras, enjoy!

See Recipe Notes for freezer storage options, and alternate cooking methods.
Notes
Leftover Storage: Store leftover burritos in an airtight container in the fridge for up to 4 days. Rewarm in the microwave (~60 seconds) or oven (350 degrees for 10-15 minutes) until warm.
Freezer Option: Store rolled, uncooked burritos wrapped in foil in a freezer bag for up to 3 months. When ready to eat bake frozen burritos in the oven at 350 degrees for 30 minutes until warmed through. Alternatively, you microwave on the defrost setting for 5-7 minutes.
Alternate Cooking Options: 1 Oven: Bake in the oven on a cookie sheet seem side down at 350 degrees for 10-15 minutes until warmed through. 2 Microwave: Microwave burritos for 30-60 seconds until warmed through.
Vegan Options: To make this recipe vegan you can use vegan cheese, or add cooked tofu to the burritos.
Meat Options: Add cooked chicken, pork or meat to your burritos in place of some of the rice, beans and vegetables. Some great options include Cilantro Lime Chicken, Grilled Skirt Steak, Crockpot Pork Carnitas, rotisserie chicken, cooked taco meat or any of your other favorites! If using meat you will need less rice, beans and veggies than the recipe calls for.
Serving Options: I love enjoying my burrito with salsa and guacamole. Some other ideas for serving are hot sauce, cilantro, sour cream, Chimichurri Sauce, or warm Queso cheese.
Nutrition
Serving:
1
Burrito
Calories:
485
kcal
Carbohydrates:
85.1
g
Protein:
14.3
g
Fat:
10.3
g
Saturated Fat:
2.5
g
Cholesterol:
8
mg
Sodium:
558
mg
Potassium:
394
mg
Fiber:
7.5
g
Sugar:
3.2
g
Vitamin A:
300
IU
Vitamin C:
35.5
mg
Calcium:
160
mg
Iron:
4.1
mg
See What We Are Pinning!
Follow erhardtseat1 to see all the food!
Sharing is Caring!