These Nutella Rice Krispie Treats are sure to please any sweet tooth! Make them mega sized for an even more decadent treat.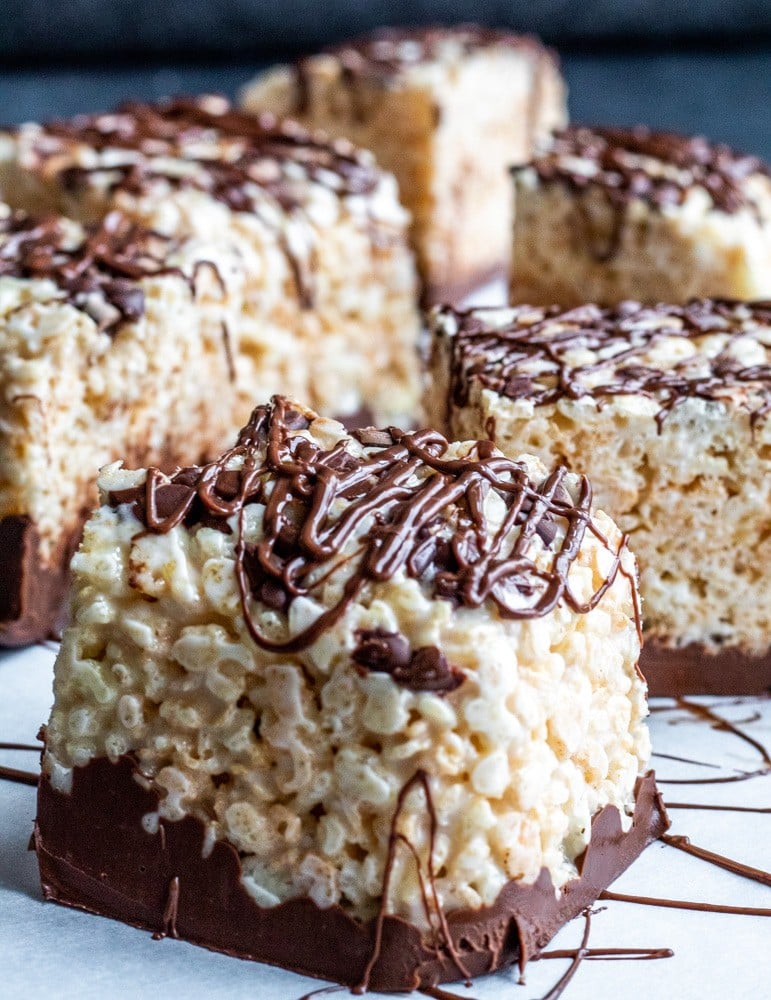 I couldn't help myself, I had to get one more treat out before Valentine's Day! These Nutella Rice Krispie Treats are perfect for everyone in the family to enjoy and simple enough for kids to help with as well! While Valentine's Day is traditionally for couples this is a great treat to get the kids involved and share in on the fun.
These treats take the classic favorite and add in a punch of flavor with Nutella and chocolate to really hit you in the sweet tooth. Add fun holiday themed extras like colored M&M's or sprinkles to make these rice krispie treat with nutella fit any holiday theme or party all year round.
Kitchen Tools
A Large Mixing Bowl

A Medium Sized Pan

A Sauce Pan (or just reuse the medium sized pan)

Cooking Spray

9x9 or Loaf Pan
Ingredients
Rice Krispies Cereal

Mini Marshmallows

Chocolate Chips

Nutella

Butter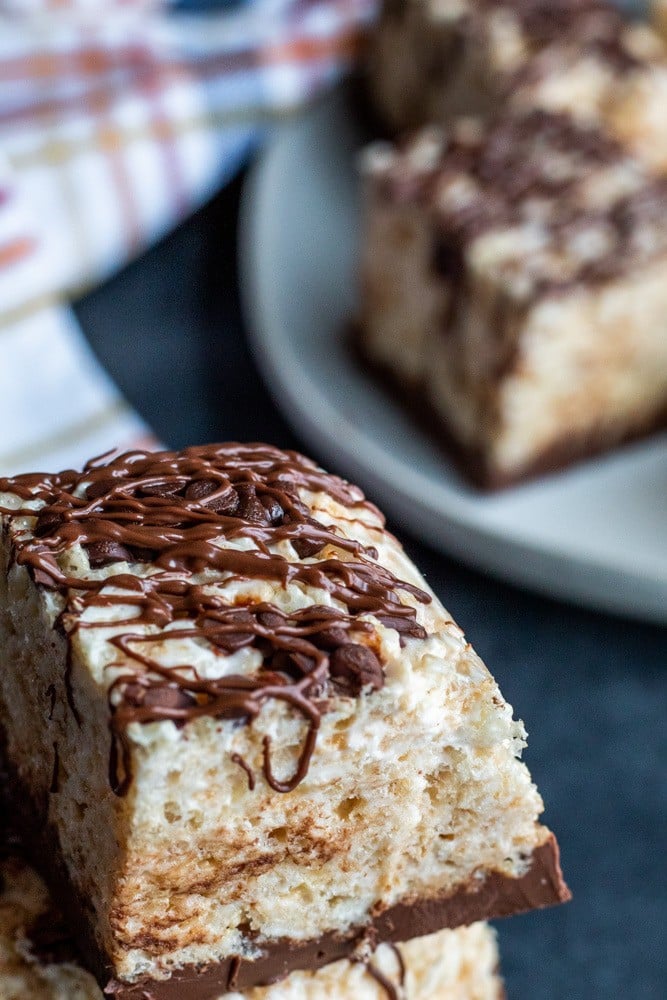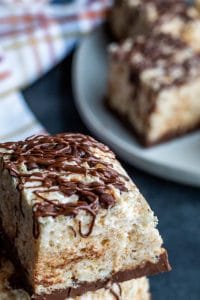 How to Make Nutella Rice Krispie Treats
Ah, the classic Rice Krispie Treat: simple, fast and freakin' delicious. Also, one of my favorite treats from my childhood. My idea was to take the classic recipe we all know and love and step it up a notch. This rice krispie treat variation is still very simple, even more delicious and perfect for both kids and adults.
Melt the marshmallows and butter together in a small pan over medium heat until the marshmallows are completely liquefied.

In a large bowl stir together the melted marshmallows and Rice Krispie Cereal until combined.

Spray your pan with cooking spray and sprinkle some chocolate chips in the bottom of the pan. These will stick to the Nutella Rice Krispie Treats once they are done.

Add the Rice Krispie mixture in the pan and press down with your hands until even. Now for the good stuff.

In a sauce pan (or the pan you just used for the marshmallows) add the Nutella and remaining chocolate chips and warm until melted and smooth.

Pour this nutella rice krispie treat mixture over the rice krispie treats and use a spoon to smooth it evenly over the top.

Finally, place the pan in the fridge for 30 minutes or until the chocolate is set. Once the chocolate is set, slice and serve! Also, if you are feeling fancy, you can drizzle melted chocolate over the tops of the finished Rice Krispie Treats as well

.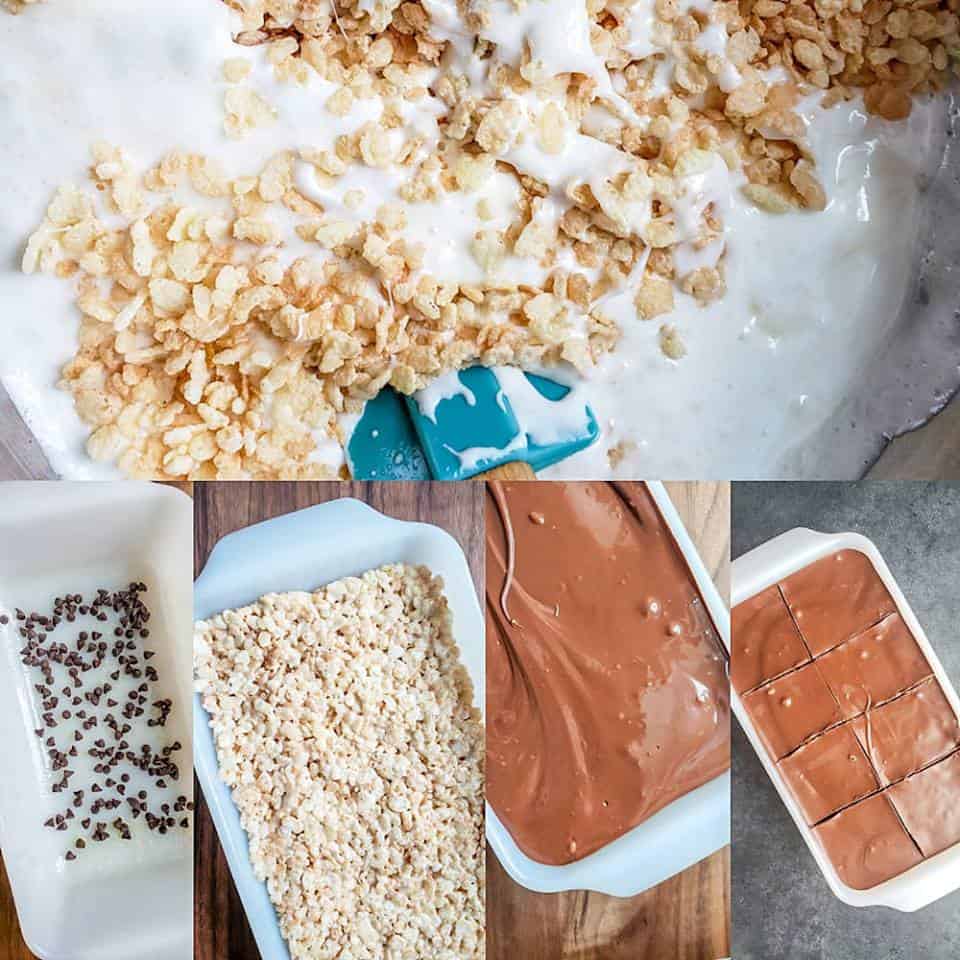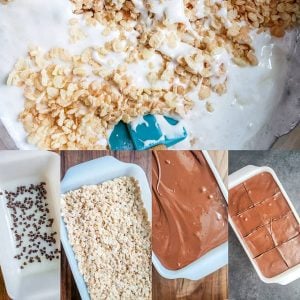 Pro Tips
Pan Size
For this rice krispie treats with nutella recipe you can use a 9x9 or Loaf pan. I used a Loaf pan because I wanted the treats to be really thick. If you want the more classic square shape, go with a 9x9 sized pan.
Sticky Fingers
To avoid your hands from getting sticky when pressing the chocolate rice krispies into the pan, spray your hands with cooking spray!
Variation Ideas
Instead of pouring the Nutella/chocolate mix over the rice krispie treats in the pan, you could mix it all together THEN press the rice krispie treats into the pan. This will help you avoid the chill time for the chocolate to set. It also means that your treats won't be very pretty to look at. When doing the rice krispie treats this way they taste the same, but they aren't winning any beauty pageants.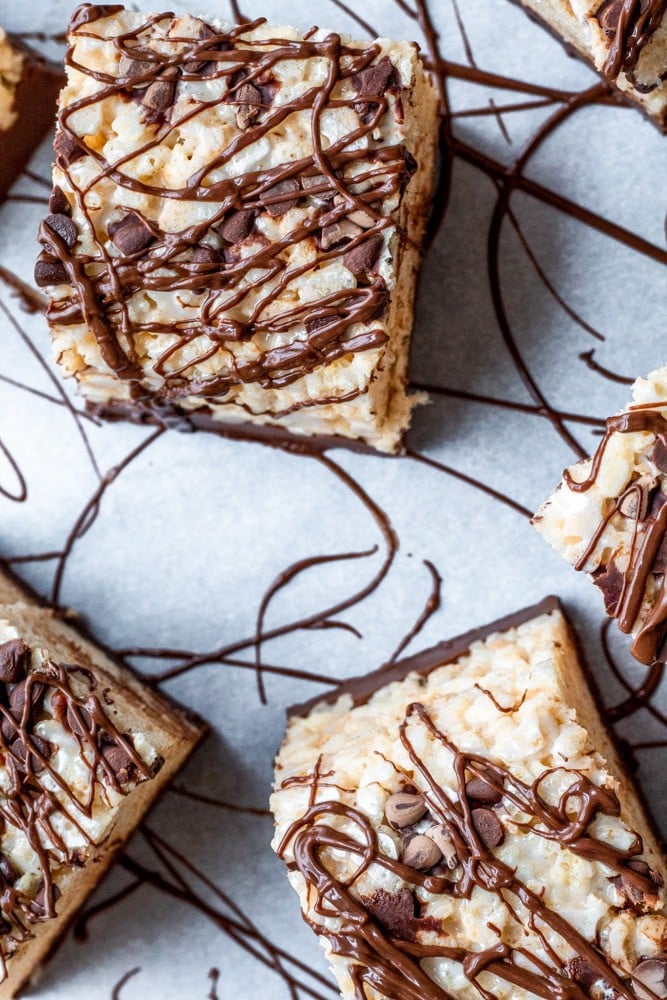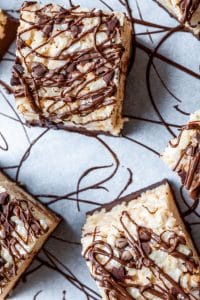 More Sweet Treats
Skillet Brownie Sundae for Two
Chocolate Glazed Donuts
Gooey Butter Cake Cookies
Chewy Double Chocolate Chip Cookies
Raspberry Truffles Recipe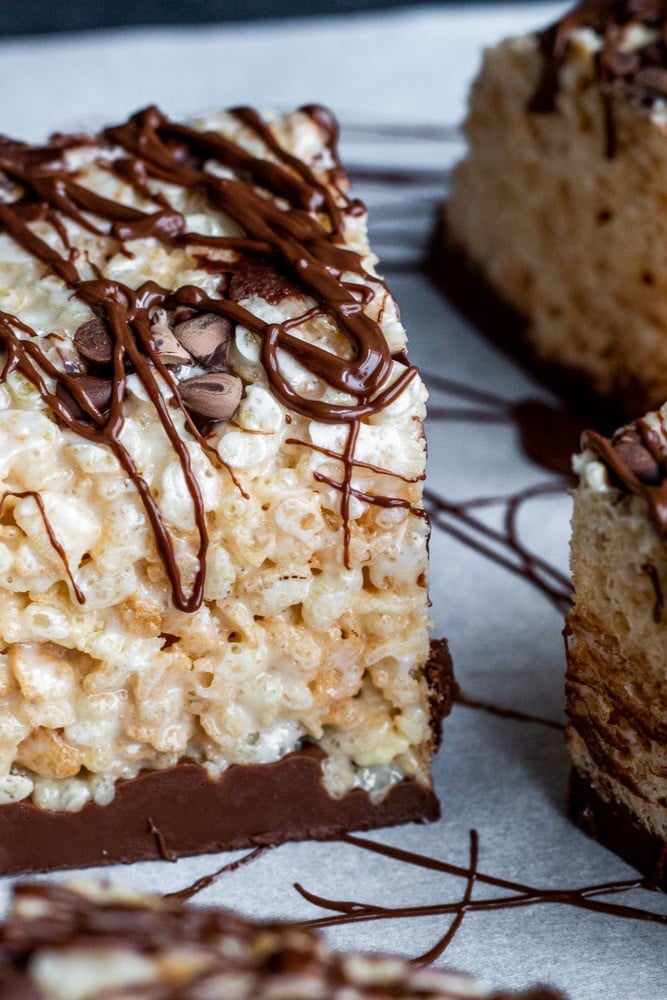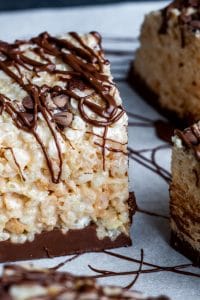 Storing Leftovers
I love that these Nutella Rice Krispie treats stay fresh for several days after making them. For the longest shelf life, store rice krispie treats in an airtight container at room temperature for maximum shelf life, about 5 days. Enjoy at room temperature when ready to enjoy. Also, I do not recommend freezing this recipe, because the rice krispie treats do no thaw well once they are frozen.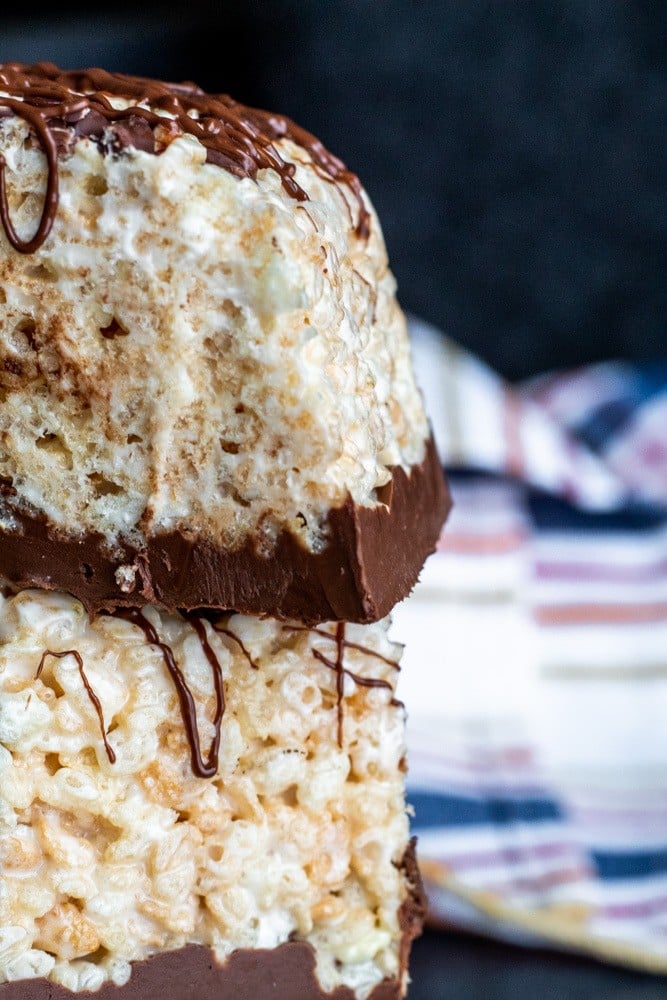 Love this variation on the classic Rice Krispie Treats Recipe?! Don't Forget to Comment and Rate Below!
Happy Eating!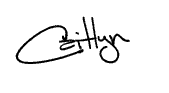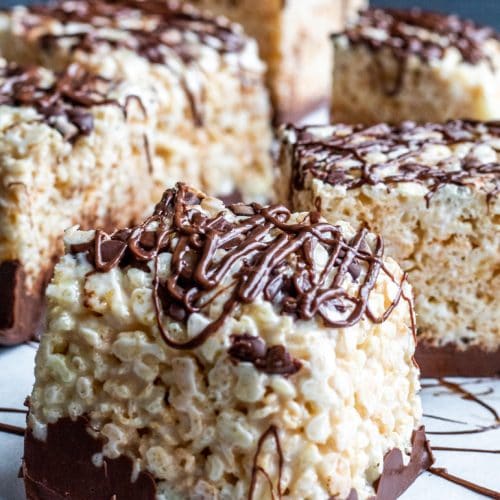 Nutella Rice Krispie Treats
A classic rice krispie treat plus Nutella and chocolate?! Yeah, these are as good as they sound.
Instructions
In a medium sized pot add butter and mini marshmallow and melt over low heat stirring continuously to avoid sticking. Once melted, add to a large mixing bowl with rice krispie cereal and stir to combine. Set Aside.

In an 9x9 (or loaf pan) greased pan sprinkle 2 tablespoon mini chocolate chips. Add rice krispie mixture into the pan and press until even.

In a small saucepan add remaining mini chocolate chips with Nutella and warm until smooth. Pour over rice krispie mixture and cool in fridge until chocolate has set, about 30 minutes. Once set, slice and serve, enjoy!

Optional: Sprinkle melted chocolate over the top of the finished rice krispie treats. Simply melt chocolate chips in a small bowl in the microwave and use a spoon to drizzle over the top.
Notes
Tips:
Spraying your hands with cooking spray when pressing the rice krispie treats down helps keep your hands clean.
If you want big and chunky treats use a loaf pan, if you want them more of a classic size then use a 9x9 size pan.
Leftover Storage:
Store in an airtight container at room temperature for up to 5 days.
Nutrition
Calories:
389
kcal
Carbohydrates:
64.3
g
Protein:
4
g
Fat:
13.2
g
Saturated Fat:
10.5
g
Cholesterol:
15
mg
Sodium:
219
mg
Potassium:
117
mg
Fiber:
1.3
g
Sugar:
33.1
g
Calcium:
20
mg
Iron:
4.5
mg
See What We Are Pinning!
Follow erhardtseat1 to see all the food!
Like What You See? Share with your Friends!