Gooey Butter Cake Cookies are sweet, buttery and super moist. These cake cookies are perfect for the Christmas cookie season, require only 5 ingredients and ready in under 30 minutes!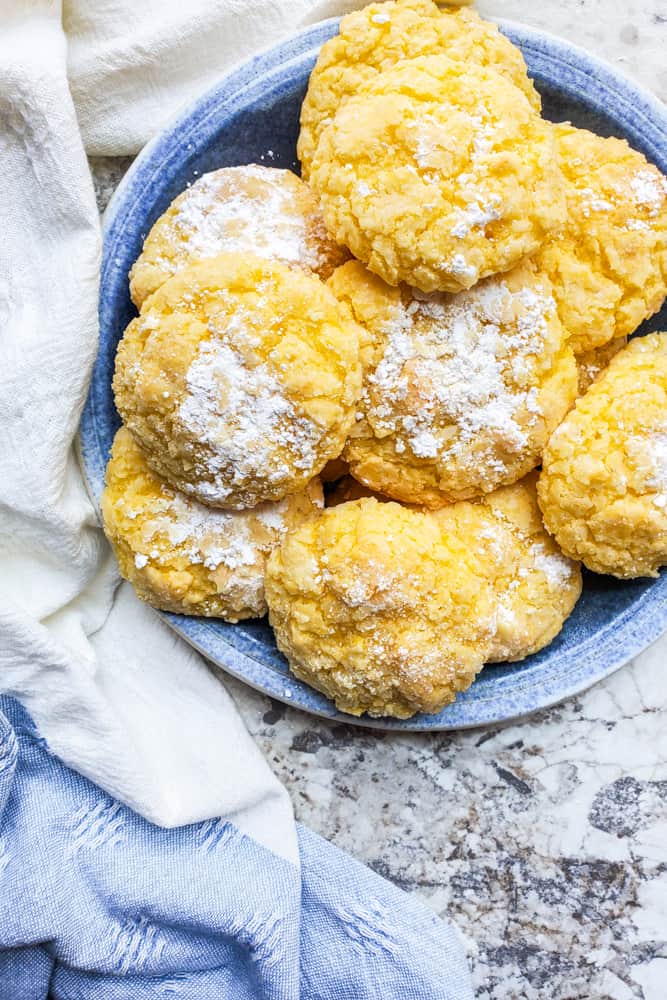 The Holiday season finally among us! The time of year where we gather with friends and family to catch-up, make memories, laugh and of course eat. These Gooey Butter Cake Cookies are a St. Louis classic that are so simple to make and only require 5 ingredients.
The cake cookies are ready fast in under 30 minutes and require no chilling. Need to prep ahead of time? No problem, the cookie dough can be frozen or made ahead of time and stored in the fridge.
Ingredient Notes
A Boxed Yellow Cake Mix: My favorite is the Betty Crocker Super Moist Yellow Cake Mix, but any brand of boxed yellow cake mix will work.

Vanilla Extract

: This ingredient is optional, but I like to little extra something it gives to these cookies. You could swap this out for some lemon juice for a lemony butter cookie.
Why You'll LOVE Them
Super Simple: Only 5 Ingredients Required
Lighting Fast: Ready in Under 30 Minutes
Versatile: Great for all Holidays, Bake Sales and Sunday Baking with Kids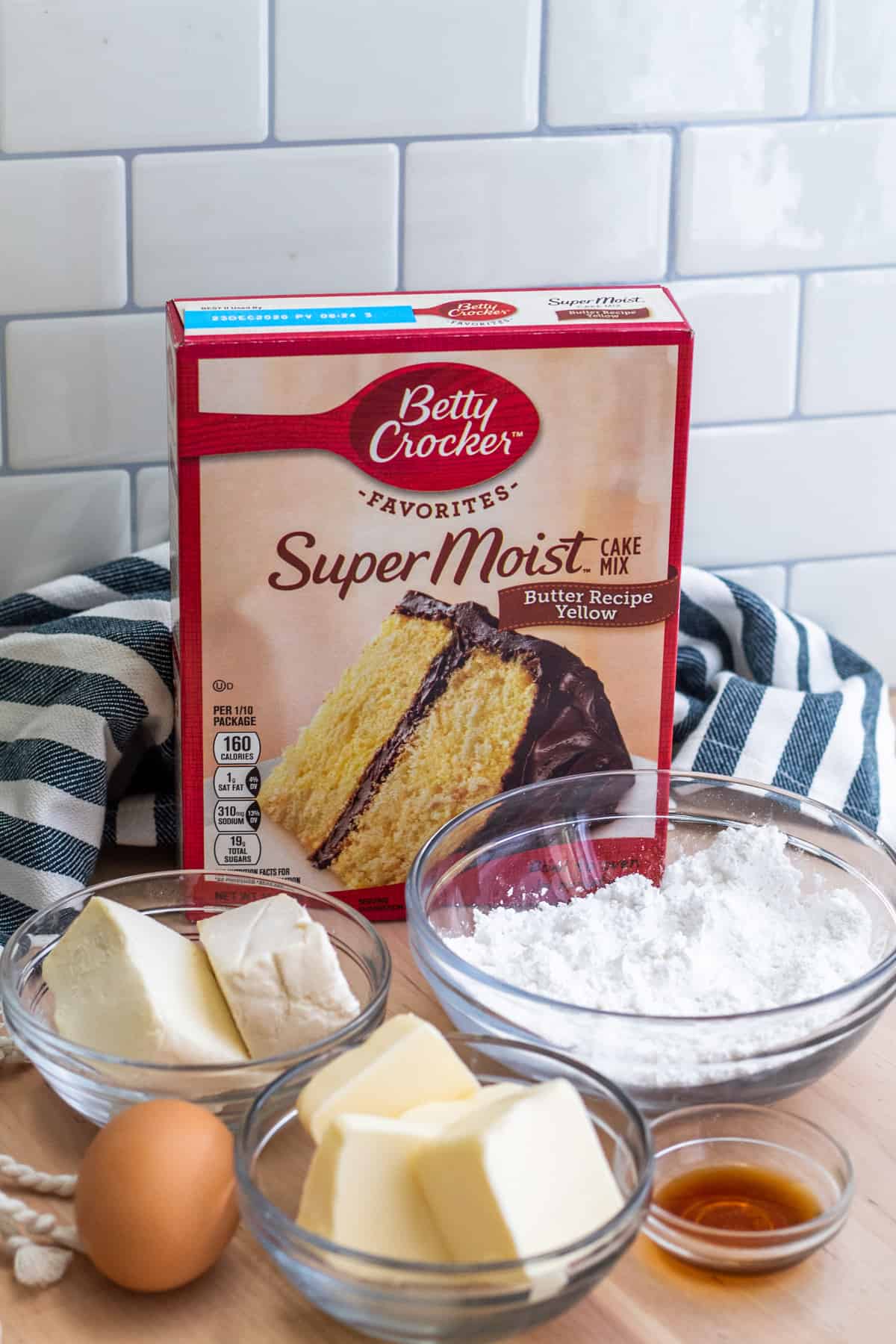 Instructions
Dough Prep
Combine the Ingredients
In a large prep bowl combine the softened cream cheese and butter, egg and vanilla extract if using. Use a hand or stand mixer to combine the ingredients on medium speed until well combined. You do not want any large chunks or butter or cream cheese.
Add in the Cake Mix
Add your yellow boxed cake mix to your dough. STIR the cake mix in until well combined. I find that if I stir and mash the dough comes together easier and faster. The dough will be thick and slightly sticky when finished.
Pro Tip!
Let the dough chill in the fridge for 30 minutes to make rolling the cookies easier and the dough less sticky. This is optional, but will help your hands stay cleaner.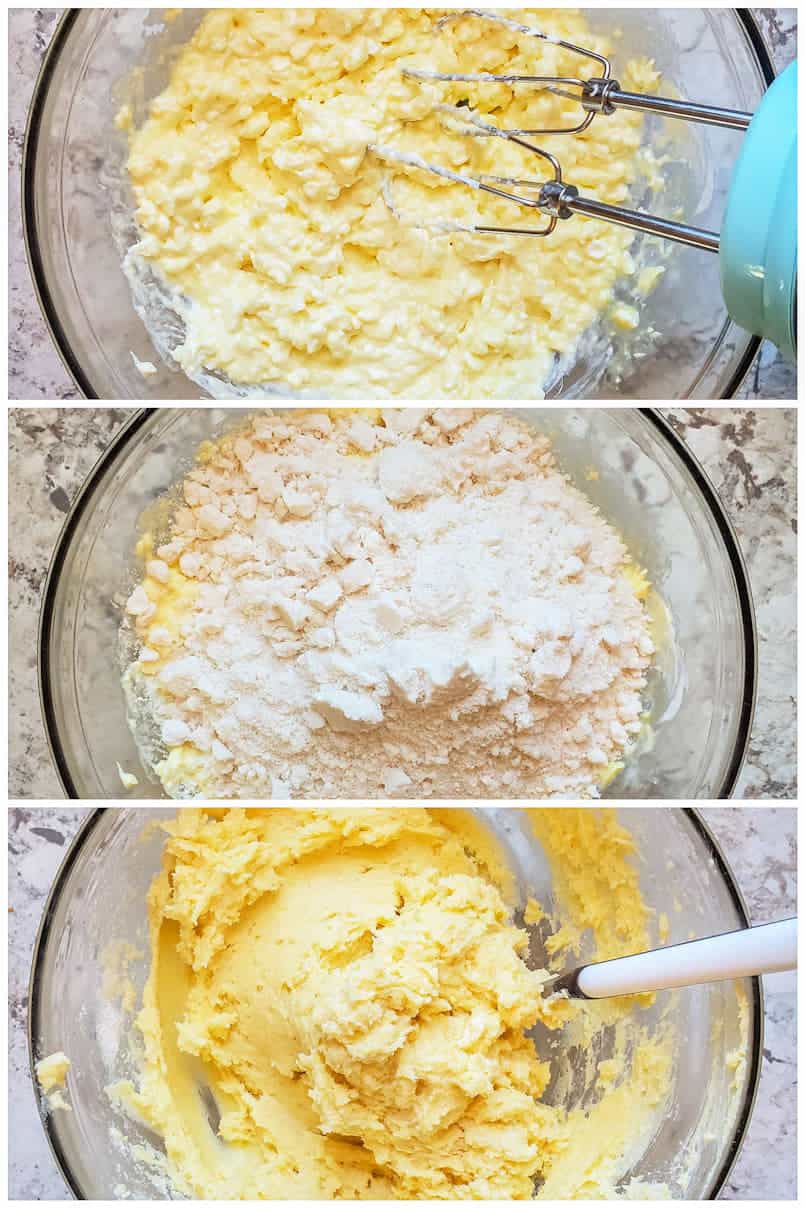 Baking the Cookies
Roll the Cookies
Take a small piece of dough and roll it into a 1 ½ inch ball using the palms of your hands. Then place the ball into a small bowl of powdered sugar and coat the entire thing. Next, place the finished ball onto a cookie sheet lined with parchment paper. Repeat this process until all the dough is rolled into balls.
Bake the Cookies
Bake on the center rack if using one pan and rotate halfway through. If you are using two pans switch and rotate the pans so that the cookies bake evenly. I bake these cookie for 10-12 minutes until the tops are cracked and there is no more "doughiness" in the middle. These cake cookies should not brown or get dark so make sure you do not over-bake them.
Finishing Touches
Once baked, remove from the cookie sheet and place on a cooling rack. Sprinkle with additional powdered sugar if desired and serve warm or store leftovers. Enjoy!
Storing Leftover Cookies
Store leftover gooey butter cookies in an airtight container at room temperature for best results. When stored properly, these cookies will stay fresh for 1-2 weeks.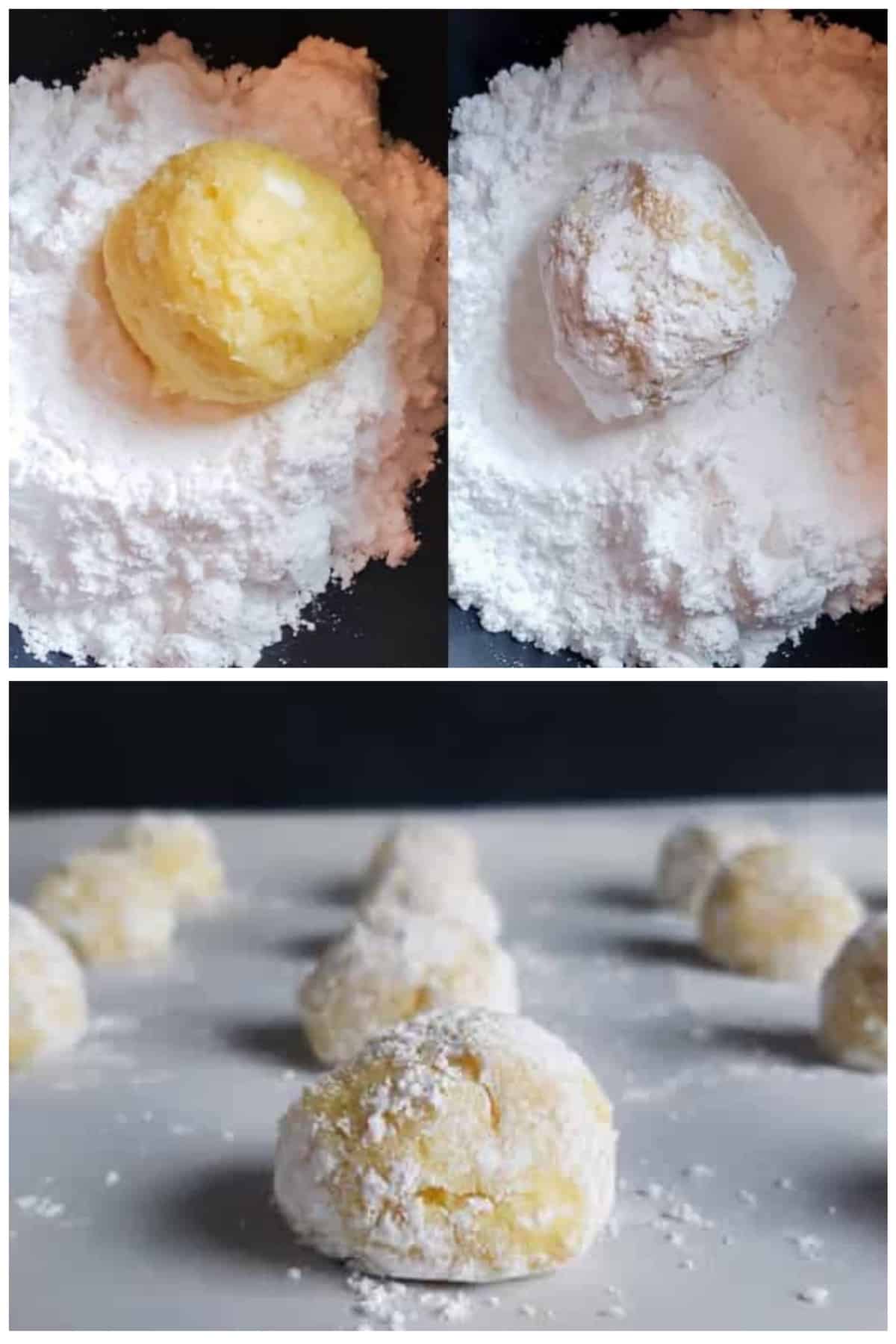 FAQS
Can cookie dough be frozen?
Yes, cookie dough can be frozen for up to 3 months. Follow the recipe instructions for the cookie dough prep and rolling the cookies. Instead of placing them on a cookie sheet, place the rolled dough in a freezer bag and store. You can pop out as many as you want and bake at your convince. When baking the frozen cake cookie dough you may need to add a couple minutes to the bake time to get them just right.
How do you make cookie dough ahead of time?
You can make the cookie dough up to 24 hours ahead of time and store it in the fridge. You can store the dough rolled in balls or still in the prep bowl mixed, then roll the dough out. Follow the recipe instructions for all dough prep then store covered in the fridge.
What are gooey butter cookies?
First, I would like to explain where Gooey Butter Cake came from. It was invented in the 1930's by a German baker in St. Louis. The legend goes that the baker was trying to make a regular cake, but reversed the proportions of flour and butter resulting in a moist pudding-like texture.

People still love and make this version all over St. Louis and the Midwest today. The model for the gooey butter cake cookie comes from this cake. The gooey butter cake is a dense cake made from butter, eggs, flour, and dusted with powdered sugar. Gooey butter cookies are similar to this formula. They are super moist, chewy and impossible to resist.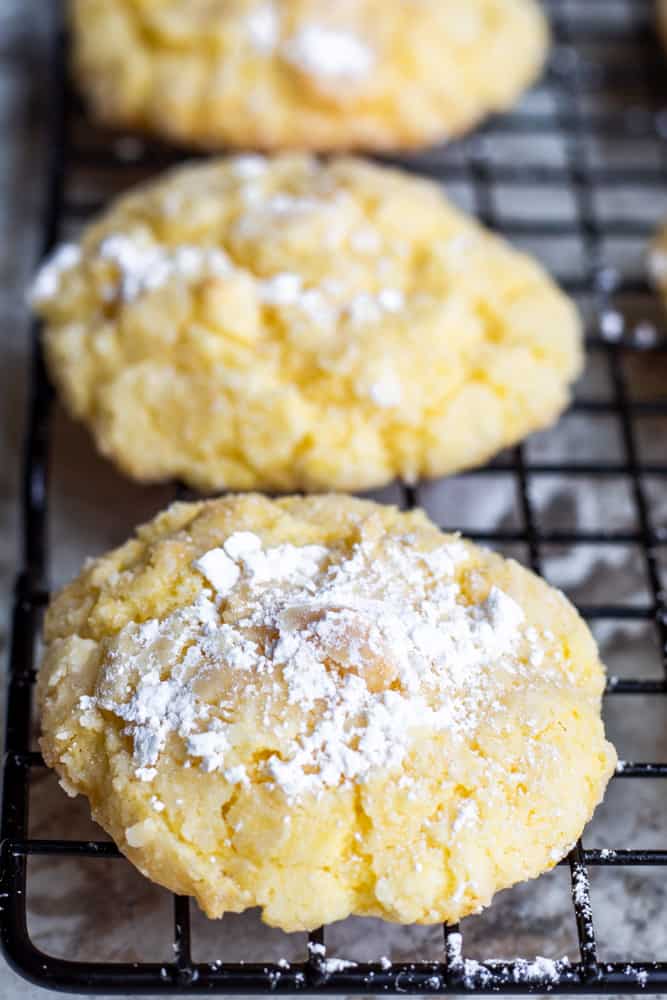 Customizations
Add Some Color: If you want to theme these cookies to a holiday like Christmas or Valentine's Day you can stir in some festive sprinkles. Just add them in at the last step after you stir in the cake mix.
Add Some Flavor: I like the traditional butter taste, but you can add in some lemon juice for more of a lemon butter flavor or a smidge of cinnamon for a snickerdoodle effect.
Different Cake Mix: Virtually any boxed cake mix can be used to make cake cookies. Check out My Chocolate Peppermint Cake Cookies for a different flavor profile, but still super quick and easy.
Shop This Recipe
These Large Baking Sheets are perfect for holiday baking!
These Prep Bowls come with lids making them great for storing dough in the fridge ahead of time.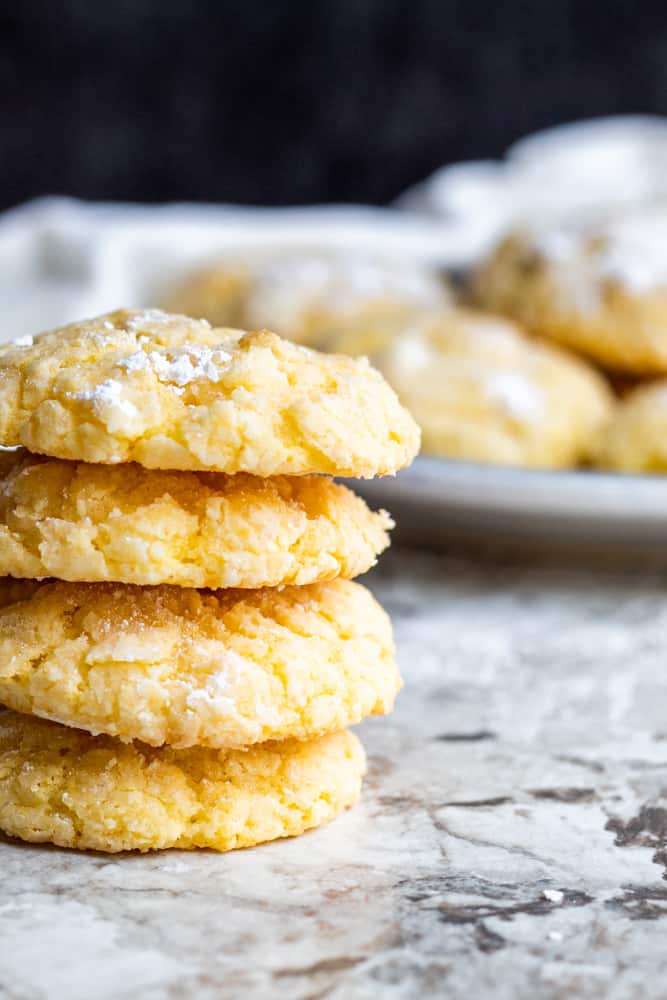 You May Also Enjoy...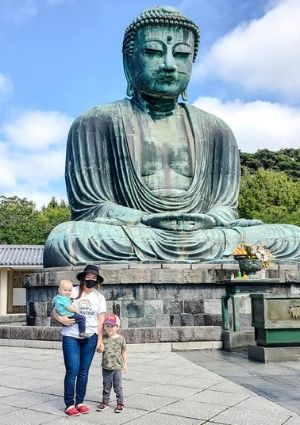 Happy Eating!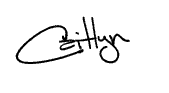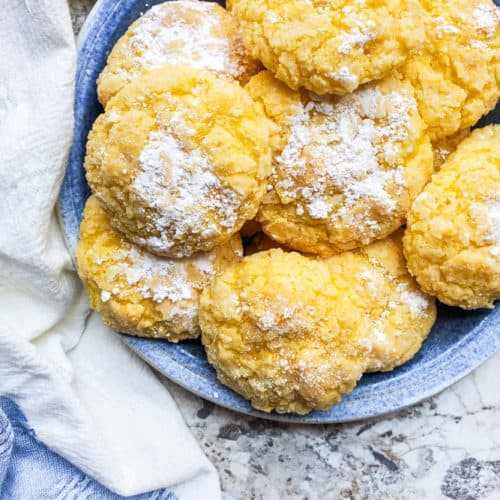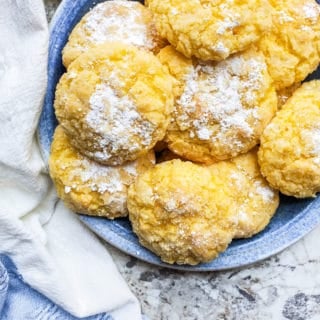 Gooey Butter Cake Cookies
The BEST Holiday cookie recipe! Super simple, minimal ingredients and (most importantly) delicious!
Ingredients
8

Oz

Cream Cheese

Softened

½

Cup

Unsalted Butter

Softened

1

Egg

1

teaspoon

Vanilla Extract

Optional

1

Box

Yellow Cake Mix

½-3/4

Cup

Powdered Suger
Instructions
Preheat the oven to 350 degrees. Combine cream cheese, butter, vanilla extract, and egg in a medium sized bowl. Using a hand or stand mixer, whisk the dough until well combined.

Stir in the yellow cake mix until well combined. The dough will be slightly sticky. Set Aside. In a different small bowl measure out your powdered sugar. Set Aside.

Take a small piece of dough and roll it (using your palms) until a ball about 1 inch in diameter forms. Drop the ball into the powdered sugar bowl and coat it completely then set on a prepared cookie sheet. Repeat until all dough is used.

*See Recipe Note For Optional Chill Time

Bake for 10-12 minutes on the middle rack of the oven. The cookies will be light in color and shouldn't brown on top. Serve warm or store in an airtight container for up to two weeks.
Notes
Chilling Tip: It is recommended (but not required) that you let the dough chill for 30 minutes before rolling the dough. The dough is sticky and it is easier to work with after the dough has chilled some. If you are in a hurry (or do not mind messy fingers) then of course you can skip the chill time.
Leftover Storage: Store leftover gooey butter cookies in an airtight container at room temperature for 1-2 weeks.
Freezer Option: Store rolled cookie dough balls in the freezer for up to 3 months. Bake according to recipe instructions and add 1-2 minutes to the cook time.
Nutrition
Serving:
1
Cookie
Calories:
128
kcal
Carbohydrates:
16.2
g
Protein:
2.2
g
Fat:
6.5
g
Saturated Fat:
3.7
g
Cholesterol:
21
mg
Sodium:
154
mg
Potassium:
3
mg
Fiber:
0
g
Sugar:
10.2
g
Calcium:
40
mg
Iron:
0.4
mg
See What We Are Pinning!
Follow erhardtseat1 to see all the food!