The classic cake we all know and love in cookie form! These Texas Sheet Cake Cookies are simple to make using a boxed cake mix, and topped with a homemade icing.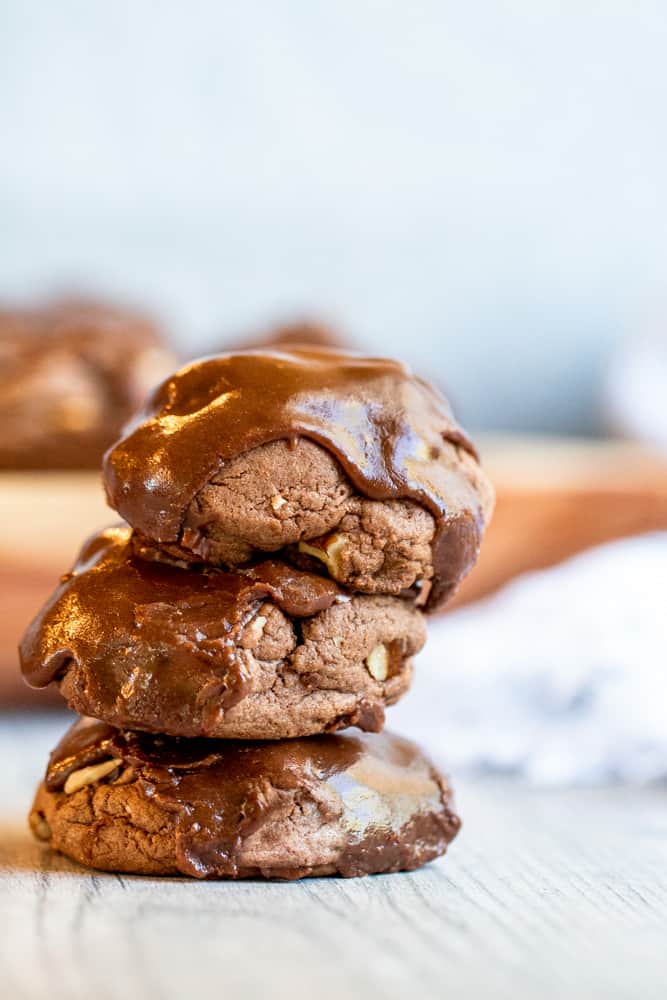 These cookies define big, thick and rich! These Texas Sheet Cake Cookies are based on the Texas classic and feature all the classic cake ingredients like pecans and indulgent chocolate icing. The cookies are made using boxed cake mix and only require four ingredients. Top the cookies with the rich homemade icing for the perfect finish.
This quick and easy cookie recipe is complete in under 30 minutes and perfect for holidays, parties, or just baking at home with the family. Want to munch on these cookies for months? No problem! The cookie dough can be frozen and stored for months anytime you need a cookie fix. I hope you love this incredible and EASY chocolate cookie recipe.
Ingredients
Boxed Milk Chocolate Cake Mix: These cookies turn out best and most like a Texas Sheet Cake if you use a milk chocolate cake mix or German chocolate cake mix. Any brand will do just go with your favorite.
Baking Staples: Just eggs and oil for these cookies. You can use any neutral tasting oil like vegetable oil, olive oil or corn oil.
Pecans: I like using crushed pecans but a different type of nut can be subbed in like almonds or walnuts. Alternatively, you could leave out the nuts all together.
Icing Ingredients: The icing is simple to make and just requires milk, butter, powdered sugar and unsweetened cocoa powder. You can use any milk you prefer and this recipe will work with soy, almond or cow's milk. If you would like the icing more rich you can use half and half, buttermilk or heavy whipping cream.
Why You'll LOVE These!
Quick & Easy: Ready in Under 30 Minutes!
Limited Ingredients Needed: Only 8 basics (yay!)
Versatile: Great for Bake Sales, Holidays, Baby Showers & More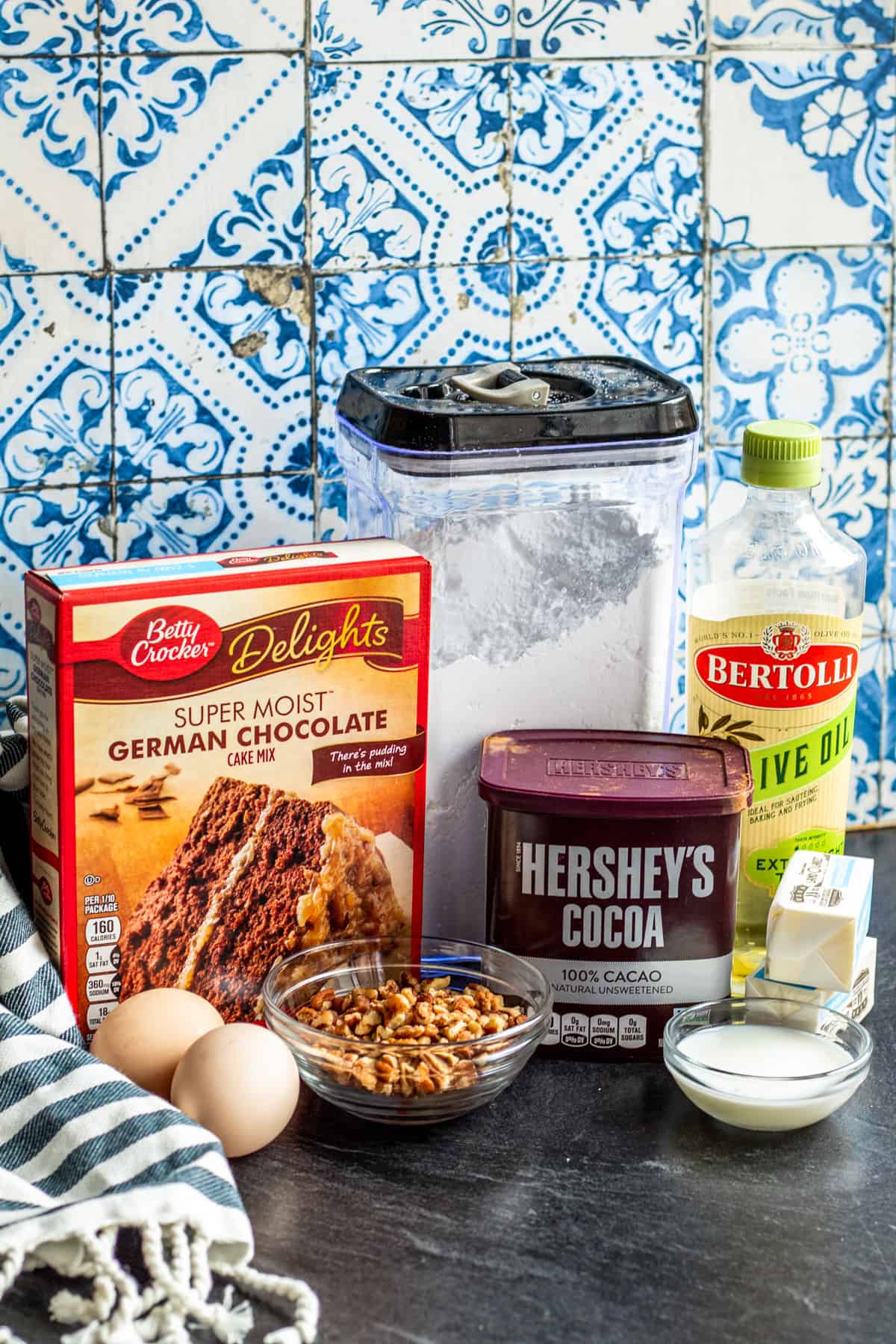 Instructions
Making the Cookie Dough
Begin by adding all of the ingredients for the sheet cake cookies (except the pecans) into a large mixing bowl. Using a spoon stir the dough together until well combined, the dough will be thick. Next stir in the crushed pecans and set the dough aside.
Baking the Cookies
Prepare two half baking sheets with parchment paper or baking spray. Use your hands, or a cookie scoop to form 1-inch balls of dough and add them to the cookie sheets. Try to leave some space in-between so they won't blend together as they expand. Once your trays are filled, play the sheets in a preheated over and bake for about 10 minutes.
Making the Chocolate Icing
The chocolate icing is the BEST part of these cookies, and really drives home that these cookies are based on the classic Texas Sheet Cake. Add the butter to the sauce pan and melt. Once the butter is melted add the milk and cocoa powder and whisk until slightly thickened. Remove from heat and stir in powdered sugar. Let sit (the icing will continue to thicken as it cools).
Finishing Touches
Once the cookies are baked, remove them from the cookie sheets and let cool on a rack. Once the cookies have cooled off a bit, drizzle over the chocolate icing and let set up for 5 minutes. After that the chocolate cake cookies with icing are ready to be eaten, enjoy!
Storing Leftover Cookies
Store the finished cake cookies are room temperature covered for up to one week. Try and store them in a single layer to ensure the icing will not stick to the other cookies.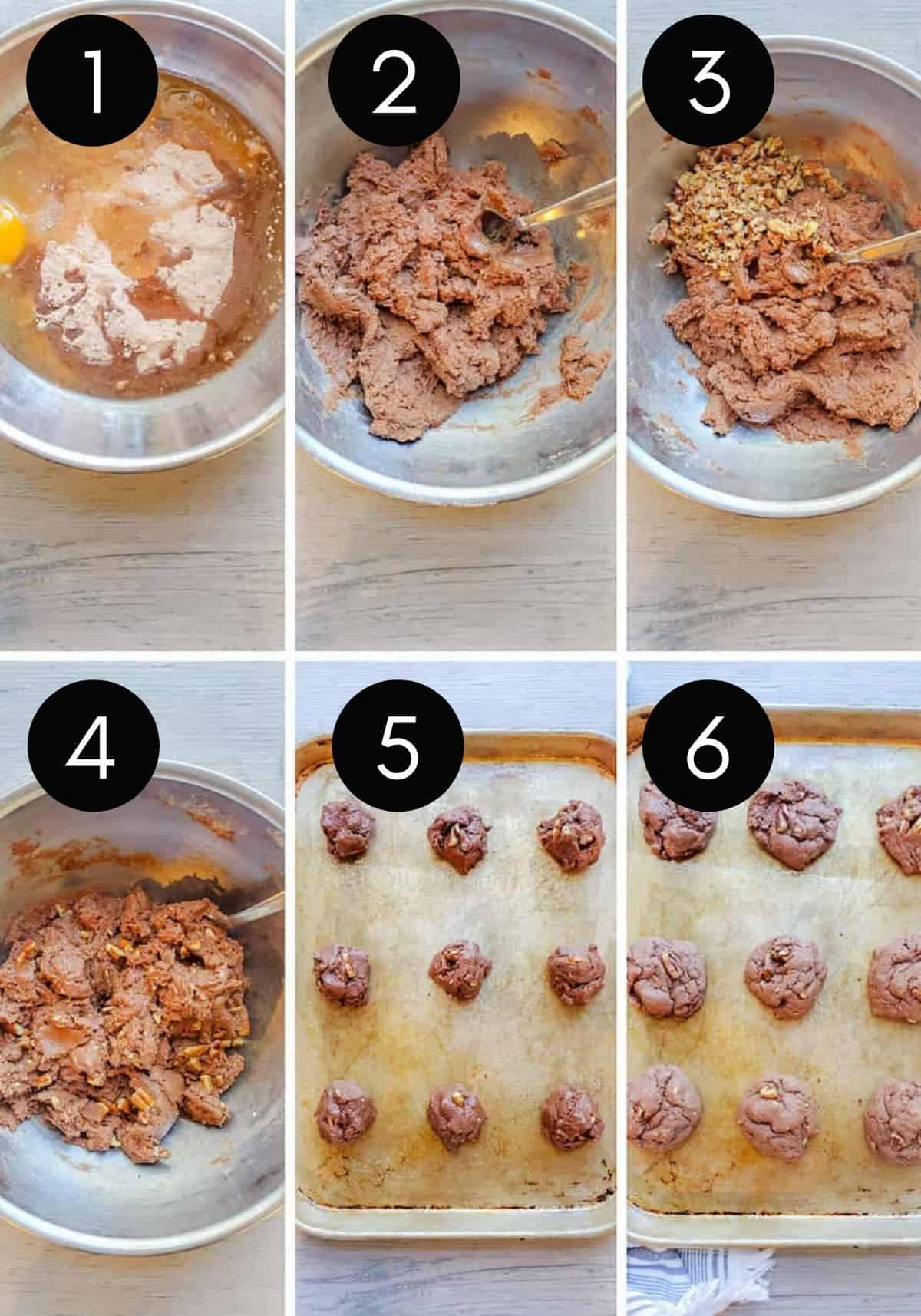 Pro Tips
Icing Tips: Before adding the icing to the tops of the Texas Sheet Cake Cookies I like to let them cool for 5-10 minutes. This will ensure the icing doesn't get too warm and run right off the sides of the cookies. Another good idea is to place the baking sheets under to cooling racks to catch any stray icing that may fall off the chocolate cookies.
Baking Tip: When baking the cake cookies make sure to not over-bake them. The cookies will stay about the same color as the cookie dough so it is a little hard to tell when they are done. You want to take them out when the bottom is crisp and won't fall apart. If you let them go too long they will be hard in the center instead of soft and fluffy and no one wants that.
Fun Fact: What is Texas Sheet Cake?
A Texas Sheet Cake is a large thin cake that is made using a baking sheet instead of the traditional baking pan. The cake is very rich and uses classic Texas ingredients like buttermilk and pecans, plus a rich chocolate icing. Some think the cake originated in Texas giving it it's name, while others think the name came from the use of classic Texas ingredients and its size.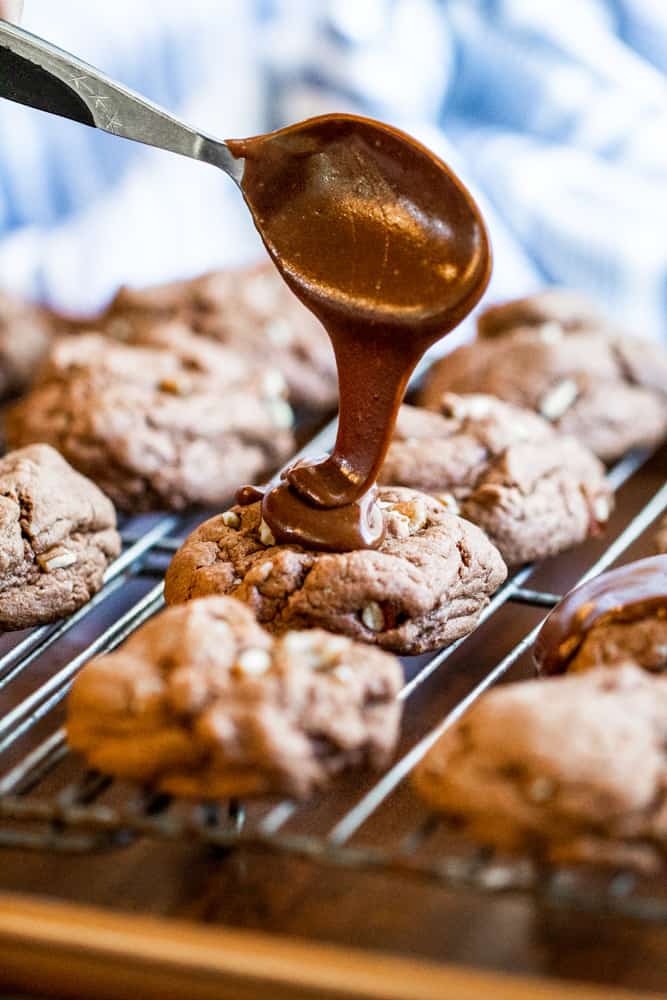 FAQS
Can the cookie dough be frozen?
Yes, you can freeze the cookie dough for up to 3 months. Follow the recipe instructions for prep and rolling the dough. Place the balls of dough in a freezer safe container or bag flat in the freezer. When ready to enjoy pop out as many balls of dough as you would like and bake an additional 2 minutes than the recipe calls for. Top with icing when the cookies have baked and cooled.
Can cookies be prepped ahead of time?
Yes, you can prep the cake cookie dough up to 24 hours ahead of time and store either in a prep bowl in the fridge, or rolled out into balls on cookie sheets. Either way make sure the dough is covered with with plastic wrap or a lid. Follow the recipe instructions when ready to bake the chocolate cake cookies.
Are the nuts required in a Texas Sheet Cake Cookie?
They aren't required, but are always a staple in a Texas Sheet Cake. You can leave the nuts out and add in some mini chocolate chips or add another type of nut like walnuts or almonds if pecans aren't you thing.
What makes Texas Sheet Cake Different?
The main thing that makes Texas Sheet Cake stand out from others is that all of the ingredients are combined into one bowl and stirred together unlike other cakes where wet and dry ingredients are prepped separately. For this cookie recipe I stuck with the same simple concept and all of the dough ingredients are combined together just like the cake.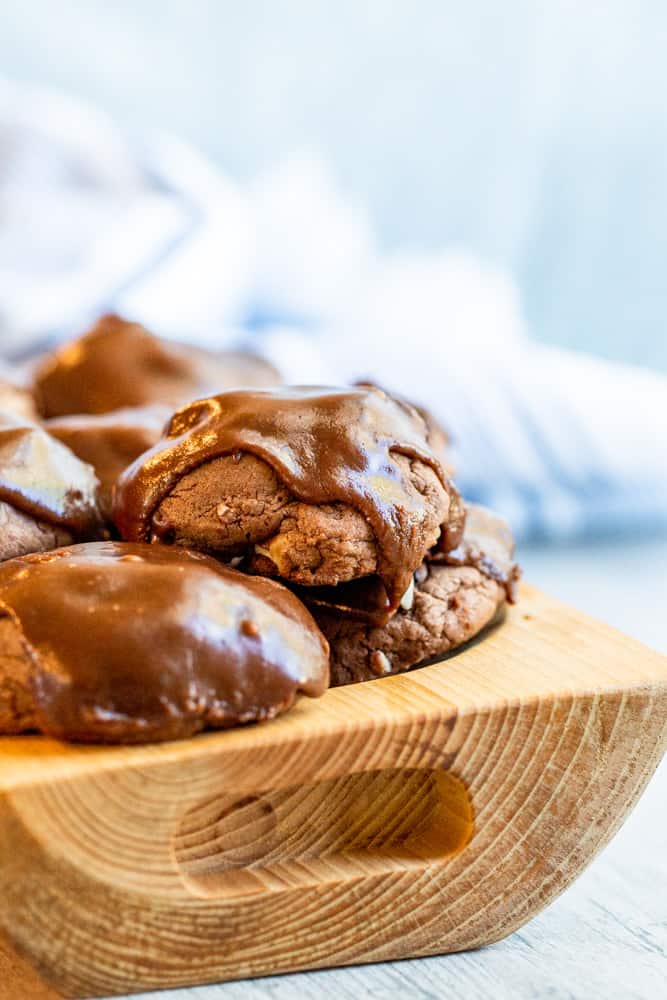 You May Also Enjoy...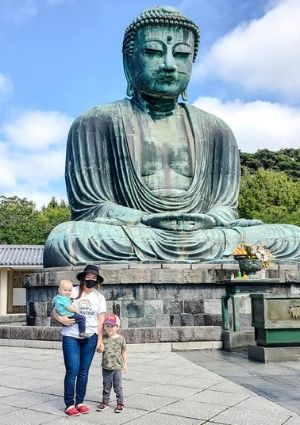 Happy Eating!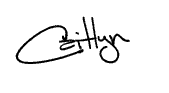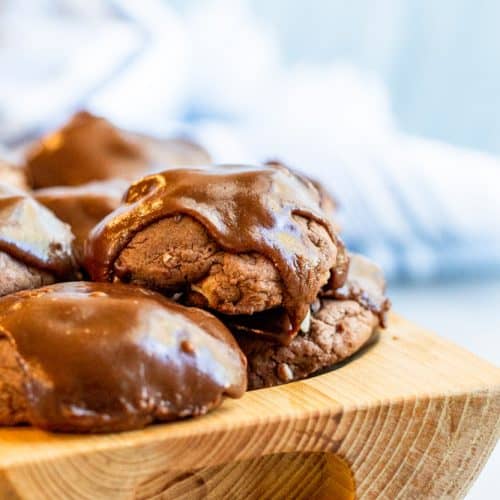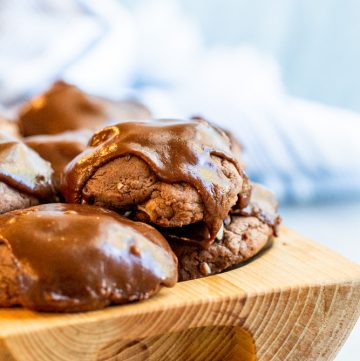 Easy Texas Sheet Cake Cookies Recipe
The perfect rich and indulgent cookie recipe. These Texas Sheet Cake Cookies have all the flavors of the classic Texas cake.
Ingredients
1

Box

Milk Chocolate Cake Mix

German Chocolate works great too

2

Eggs

⅓

Cup

Oil

⅓

Cup

Pecans

Chopped
Chocolate Icing
½

Cup

Butter

3

tablespoon

Milk

2

Cups

Powder Sugar

2

tablespoon

Unsweetened Cocoa Powder
Instructions
Preheat oven to 350 degrees F. Prepare two cookie sheets with either cooking spray or parchment paper and set aside.

Combine cake mix, oil and eggs in a large prep bowl with a spoon and stir to combine. Add in the crushed pecans and continue to stir until just combined.

Use your hands or a cookie scoop to form one inch balls of cookie dough. Place the cookie dough balls on the prepared baking sheet and bake for 8-10 until the bottom of the cookies are crisp and the center is fluffy.

Remove the cookies from the baking sheets and place on cooling racks. Let the cookies cool for 5-10 minutes then add the chocolate icing. Let the icing set up and enjoy!
Chocolate Icing
Add the butter to a small saucepan over medium heat and melt. Add in milk and unsweetened cocoa powder and whisk for 3-5 minutes until slightly thickened.

Remove from heat and stir in the powdered sugar. Once the cookies have cooled top with finished chocolate icing.
Notes
Leftover Storage: Store leftover cookies in an airtight container at room temperature for up to one week. If you can store the cookies in a single layer so the icing will not get smushed. Pecans: If you do not like nuts you can leave them out. Alternatively, you can sub in a different type of nut like almonds or walnuts. If you are a big nut fan you can sprinkle some leftover pecans over the top of the iced cookies.
Nutrition
Calories:
264
kcal
Carbohydrates:
26.7
g
Protein:
1.9
g
Fat:
17.5
g
Saturated Fat:
6.4
g
Cholesterol:
48
mg
Sodium:
114
mg
Potassium:
40
mg
Fiber:
0.8
g
Sugar:
21
g
Calcium:
27
mg
Iron:
1
mg
See What We Are Pinning!
Follow erhardtseat1 to see all the food!