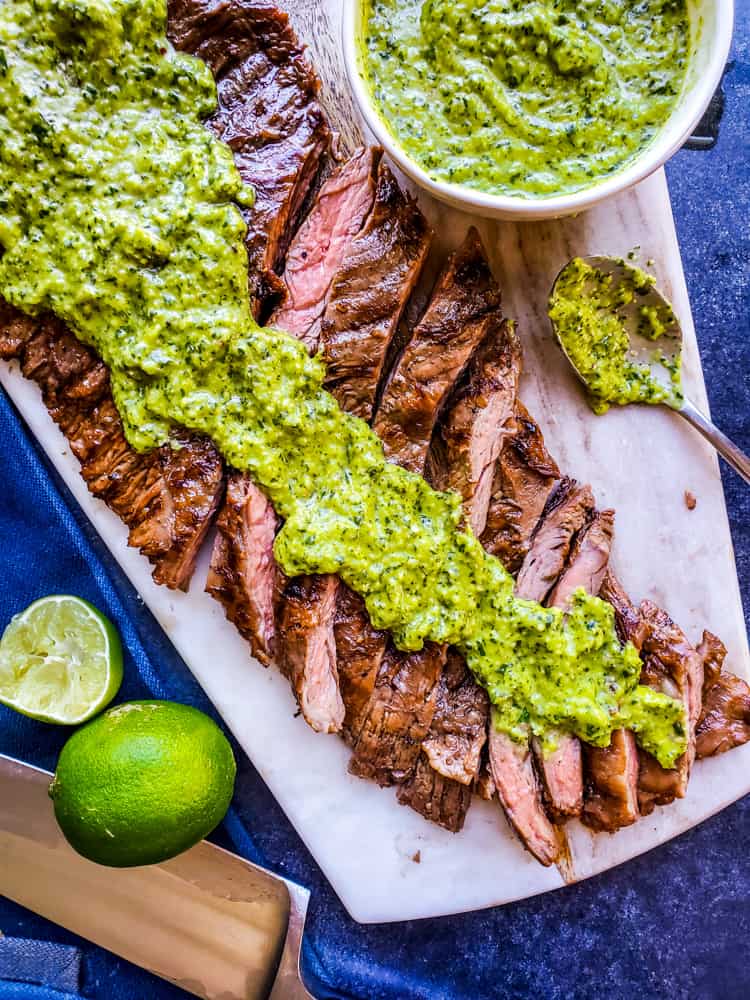 Get your grills fired up, because it's time to cook some meat! This Grilled Skirt Steak recipe with Easy Chimichurri Sauce is perfect to grill and enjoy with friends and family all summer long. The marinade for this recipe packs a ton a flavor and pairs great with the char of the meat from the hot grill. Use this meat for tacos, fajitas, meal prep or enjoy on its own with a side of rice or vegetables. Never grilled skirt steak before? No problem! I have tons of tips and tricks, plus alternate options for the perfect result. I hope you and your entire family enjoy this hearty grilled steak at your next summer BBQ, party or family gathering. Enjoy!
What Do You Need To Make Grilled Skirt Steak?
The kitchen tools you will need for this recipe are:
A Grill: Gas or Charcoal 

Tongs

A Zip-lock Bag or Large Bowl for the Marinade 

A Good Sharp Knife and Cutting Board
The ingredients you will need for this recipe are: 
Skirt Steak (See Common Questions for Cut Options)

Soy Sauce

Orange Juice

Olive Oil 

Spices

Chimichurri Sauce for Serving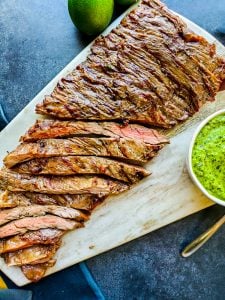 How Do You Make Grilled Skirt Steak?
Combine all marinade ingredients together and whisk to combine. Add the skirt steak and let marinade in the fridge for AT LEAST 30 minutes. 

Get your grill hot and remove skirt steak from marinade and place on grill. Cook for 3-4 minutes until seared then flip and cook an additional 3-4 minutes, or until meat reaches desired temperature. 

Remove from heat and let rest for 10-15 minutes before slicing. 

Slice skirt steak against the grain and serve warm with Chimichurri Sauce.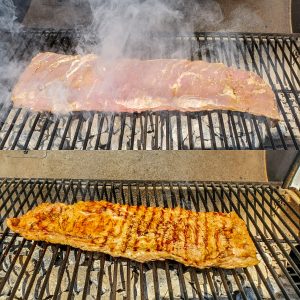 Tips for Grilling The Best Skirt Steak
Okay, so starting off I am going to say that skirt steak can be a bit tricky to grill. It can very easily end up a chewy disaster, which no one wants. Here are some tips that help me get that nice tender skirt steak, a good sear and super delicious flavor. If you are wanting to still make this recipe, but not sold on the cut of meat check out the alternate options below.
Get your grill super hot. When I say hot I mean over 500 degrees Fahrenheit. Skirt steak is thin and you can easily over-cook it before you get a good sear. You should only need to cook your steak 3 minutes each side with the grill that hot. Also, having a meat thermometer handy is very helpful to reach your desired cook without all the guess work.
Let it marinade and rest. The marinade for this recipe gives the steak so much flavor and helps the meat stay tender while cooking. Trust me, let it marinade as long as possible. Just like the marinade is important, so is the rest time. Letting meat rest, especially steak, is crucial. It allows the steak to retain its juiciness when cut, therefore yielding a more tender and flavorful bite.
Pick good quality meat. Try talking to a local butcher, or going to the meat counter at your grocery store and ask for a good cut instead of just grabbing one off the shelf. Doing this gives you more control over the meat you buy, and almost always leads to a better cut of meat.
Slice it right. Be sure to slice your skirt steak against the grain. Please, do not hack at it all wild after all your hard work.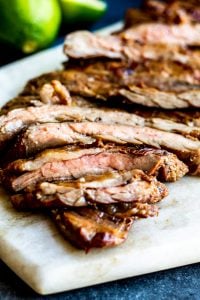 Common Questions
Can I use a different cut of meat?
Yes, you can use a different cut of steak if your prefer. The marinade and sauce for this recipe will pair great with any cut, but the texture and cook times will vary depending on the cut you go with. Some options include sirloin, ribeye, porterhouse, ect.
Is the marinade time required?
Yes, you have to marinade the steak for the flavor to develop. The minimum time this steak should marinade is 30 minutes, but the longer the better.
Can I make this recipe ahead of time?
Yes, you can have the steak marinade as long as overnight and grill it the next day.
Can I use a different sauce besides Chimichurri?
Sure, you can use a different sauce if you prefer. You could use a traditional pesto, steak sauce like A1, or any other favorite you have. Just note that the marinade and flavor of the steak may not jive as well with something like ketchup, but you do you!
How long do leftovers stay fresh?
When stored in the fridge in an airtight container the steak will stay good for up to 4 days. To re-warm the steak either heat in the oven, in a pan on the stove top, or in the microwave until warm.
Can I freeze this recipe?
Yes, you can place the uncooked steak with the marinade in a freezer bag and freeze for up to 3 months. When you are ready to cook the meat remove from freezer and place in fridge to completely de-thaw then grill according to recipe instructions.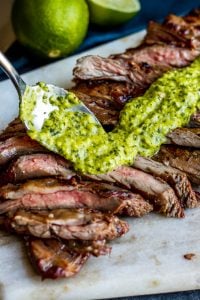 Love Meat Dishes? Try These Next!
Grilled Chicken Spiedini with Lemon Butter Sauce
Grilled Chicken Burgers with Garlic Aioli 
I hope you and your family enjoy this recipe on a nice warm summer evening! Enjoy!
Happy Eating!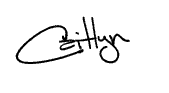 Shop This Recipe: 


I make a small commission from purchases made through the links on this page.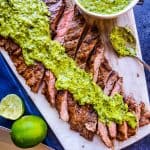 Print Recipe
Grilled Skirt Steak with Chimichurri Sauce
This Grilled Skirt Steak is the best summer BBQ recipe! This steak is tender, filled with flavor and pairs great with Homemade Chimichurri Sauce.
Marinade and Rest Time
40
mins
Instructions
Combine olive oil, lime juice, orange juice, soy sauce, Worcestershire sauce and garlic in a small bowl and whisk to combine. Sprinkle skirt steak with salt and pepper on both sides and add to marinade in a large bowl or zip lock bag. Let marinade in the fridge at least 30 minutes or overnight.

When ready to cook, get your grill very hot (over 500F). Remove steak from marinade and place on grill, cook for 3-4 minutes then flip and cook and additional 3-4 minutes or until steak is at your preferred temperature.

Remove from grill and let rest 10 minutes before slicing against the grain. Serve with Easy Chimichurri Sauce for the perfect finish. Enjoy of its own, as tacos or fajitas!
Notes
Cooking Tip: Use a meat thermometer to measure what the internal temperature of the steak is to avoid overcooking it. 
Leftover Storage: Store leftovers in the fridge in an airtight container for up to 4 days. 
Freezer Option: Freeze uncooked meat and marinade in a freezer bag for up to 3 months. Let de-frost in the fridge completely then cook according to recipe instructions.
Alternate Cuts: You can use an alternate cut of meat like sirloin, ribeye, ect. Note that each cut will vary in cook time and texture. 
Nutrition
Calories:
371
kcal
|
Carbohydrates:
7.7
g
|
Protein:
31.9
g
|
Fat:
24.2
g
|
Saturated Fat:
6.1
g
|
Cholesterol:
67
mg
|
Sodium:
1761
mg
|
Potassium:
455
mg
|
Fiber:
0.8
g
|
Sugar:
3.2
g
|
Calcium:
3
%
|
Iron:
25
%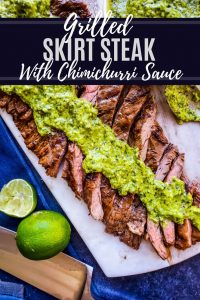 Share with Your Friends and Family!