A wonderful, festive and simple holiday treat ready in about 30 minutes. These no-bake Gingerbread Truffles are the perfect recipe for any holiday gathering or to gift to friends and family.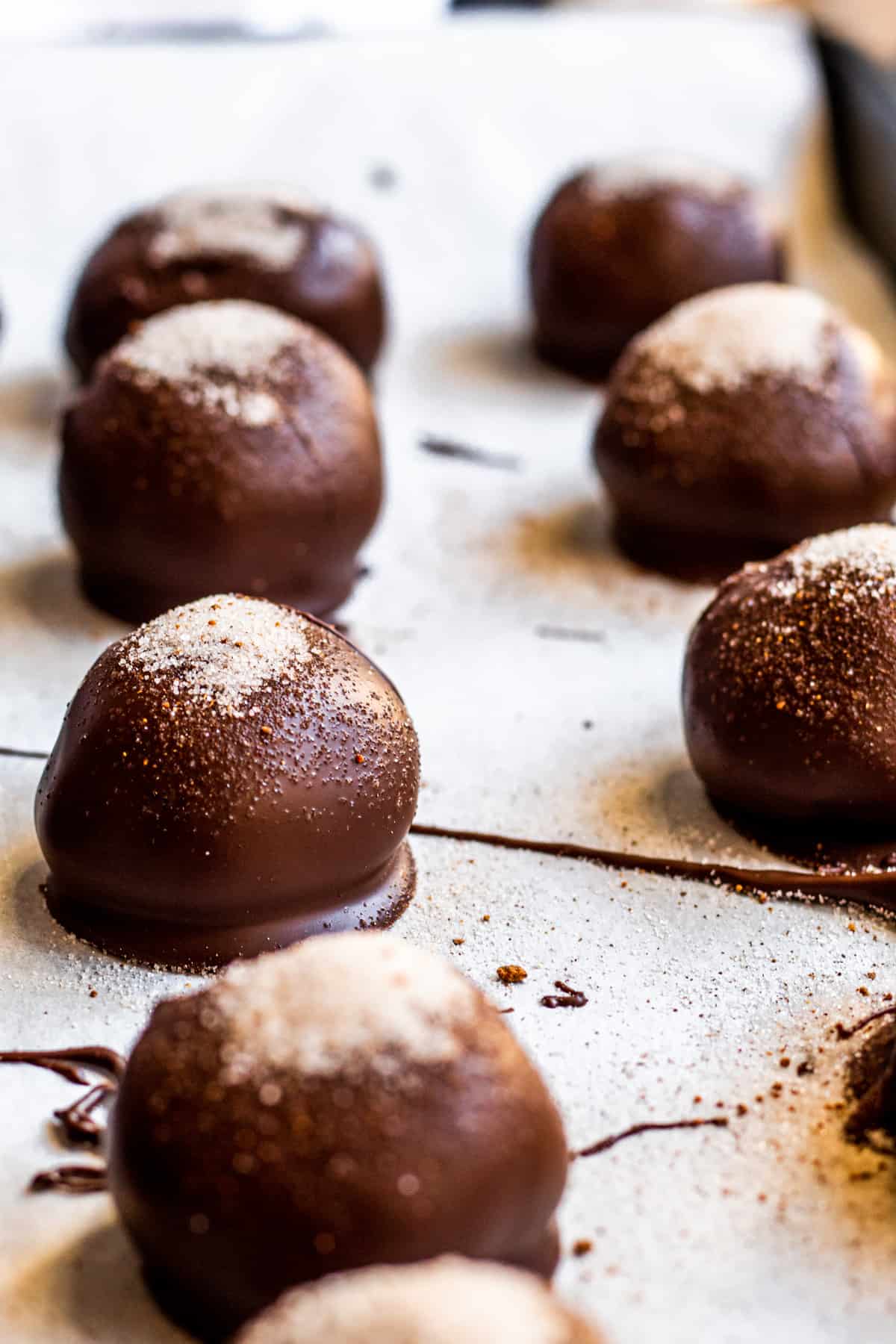 Would it even be Christmas without some gingerbread?! Technically, sure it would, but you know in your soul you would be missing out on one of the season's best flavors. Instead of making the same ole gingerbread cookie I decided to mix it up and combine gingerbread and the delicious truffle.
Enter these Gingerbread Truffles! The perfect combination of ginger, chocolate, cookies and topped with a spiced sugar. Bonus is that there is no baking required and these are ready to eat and share in under 30 minutes.
Ingredient Notes
Gingersnap and Golden Oreo Cookies
You can use name brand, or an off brand cookie. Double stuffed Oreos will work, but the truffle ball will be on the softer side.
Baking Chocolate
You can use any variety of your favorite baking chocolate ( Dark, Semi-Sweet, Milk, White. Dealers Choice) or Almond Bark. I love the taste of dark chocolate, so that is a favorite choice for me. White chocolate also pairs great with the gingerbread flavor, so I highly recommend that as well.
Why These Are a MUST for the Holidays
Ready in about 30 Minutes
Great for Holiday Gifts or a Party Treats
NO BAKING REQUIRED
Under 10 Ingredients Required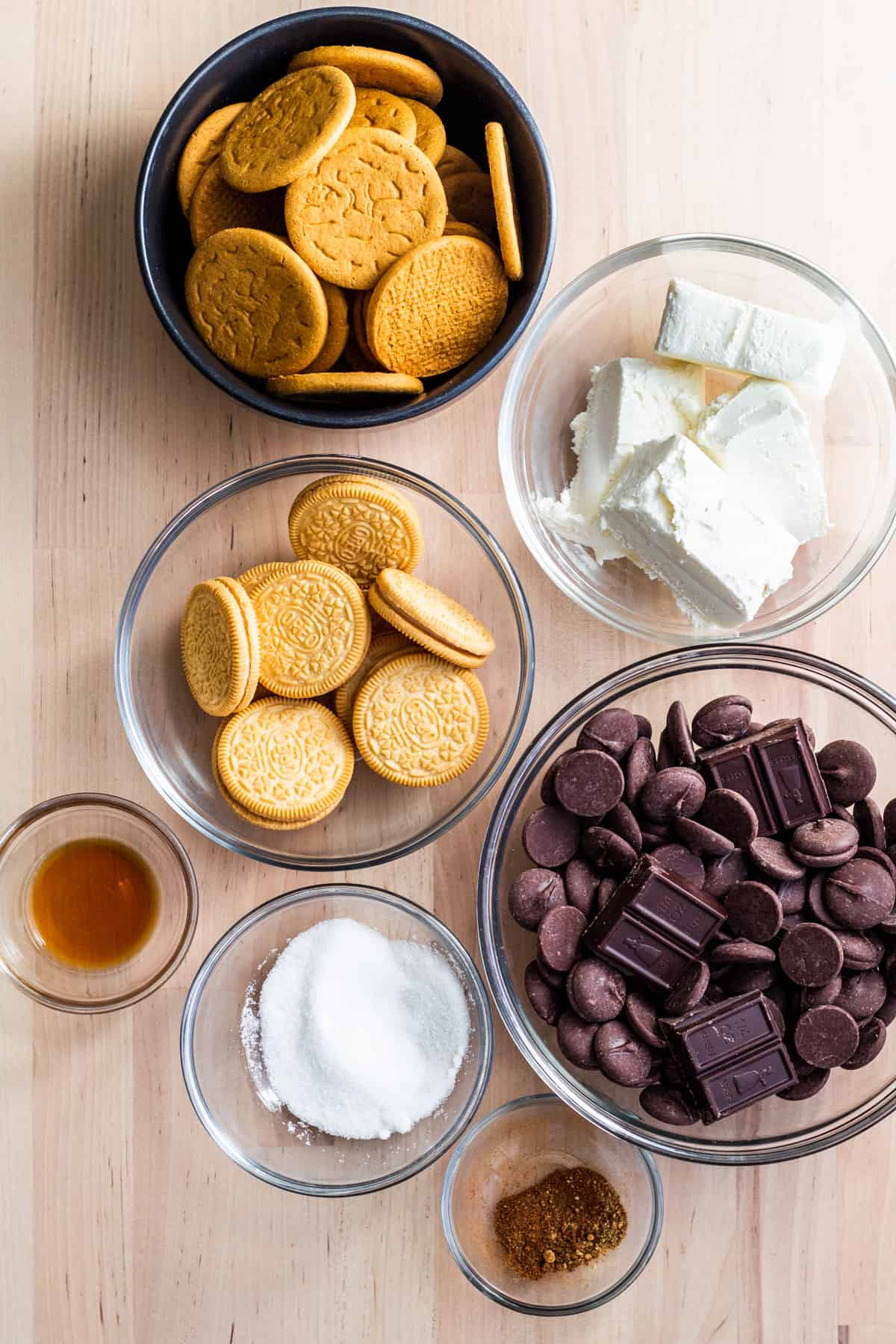 Instructions
Truffle Prep and Rolling
Use a blender or food processor to grind up both cookies. Pulse until finely ground. There should be no chunks at all.

Next, once you have the Oreo cookies ground up add them to a bowl of softened cream cheese and vanilla extract. I like to start mixing with a fork then move to using my hands. It makes getting the mixture combined a lot easier and faster.

Using a cookie scoop or your hands, roll the dough into balls about 1 ½ inches in diameter. You should get about 24 truffles doing this size. Be sure to roll the dough in the palm of your hands so that you get a nice round ball.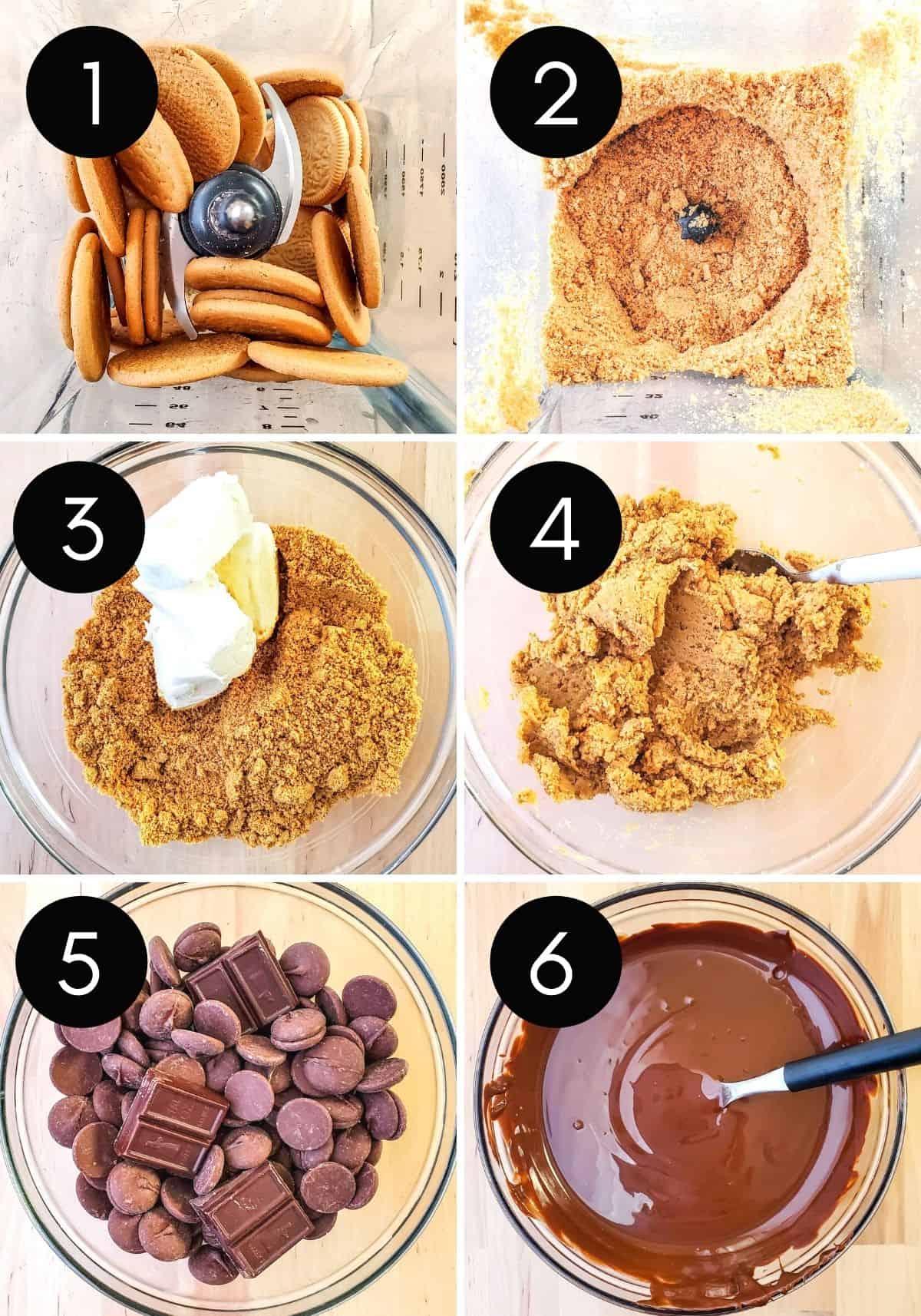 Coating the Truffles
Microwave your baking chocolate of choice in a bowl in 20 second intervals and stir in between

. Microwave until the chocolate is melted. I used dark chocolate, but other varieties of chocolate can be used. Depending on the chocolate you choose it may take longer each to melt.

Once melted, take one ball at a time and drop it in the chocolate so it is completely covered. Remove it and let the excess drip off and place it on some parchment paper. Personally, I like to use a fork for this step because the chocolate falls through the space between the prongs.

Make sure you place the chocolate coated truffle on parchment paper so it is easy to remove once it has set.

Add the spiced sugar topping while the coating is still tacky so it will stick well. If you wait till it has set it will just roll right off. No bueno.

Let the truffle set at room temperature for 10 minutes or place in the fridge for 5 minutes until outside is firm.
Storage Instructions
Homemade truffles will stay good for about 3-5 days at room temperature, or up to 2 weeks when refrigerated in an airtight bag or container. Check out freezing tips below.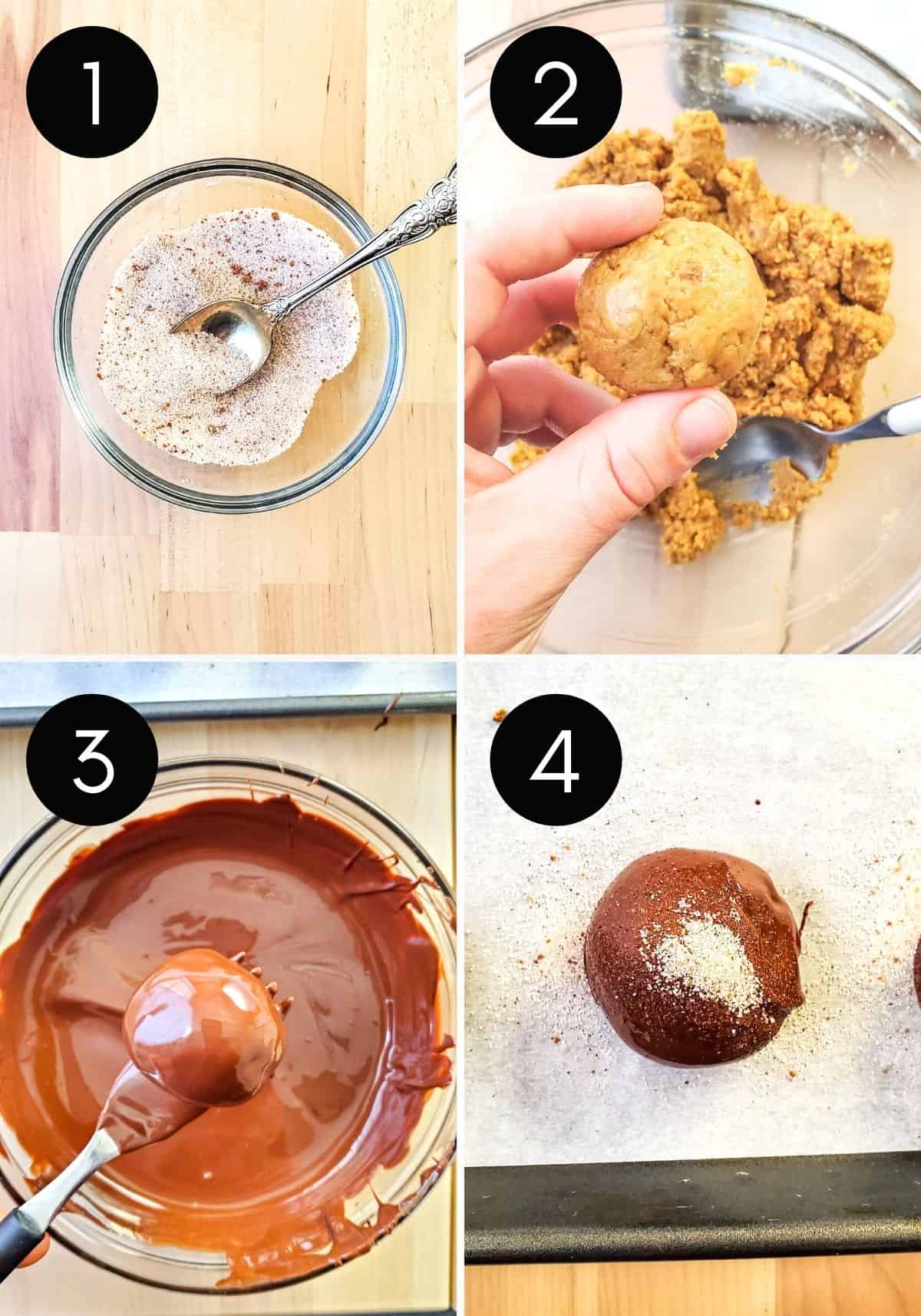 Pro Tips
Don't Let Them Set
After coating the gingerbread truffles be sure to add the sugar topping right after. If you wait too long the chocolate will harden and the coating will no stick to the outside.
Let Them Chill
After the truffles are coating, you can put them in the fridge to quicken the hardening time. For best results let them completely harden (about 30 minutes), but they can be enjoyed right away.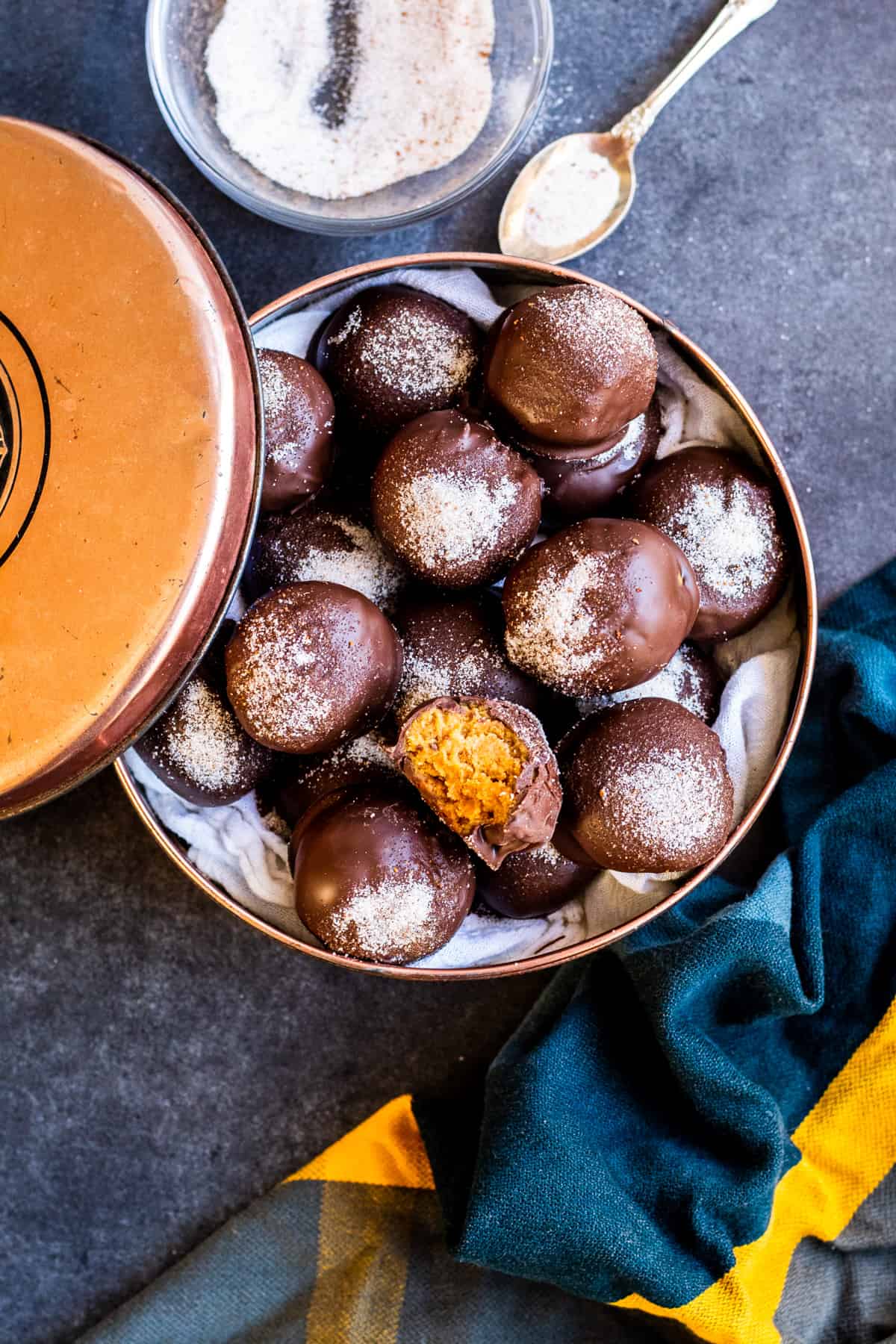 FAQS
Can truffles be frozen?
Yes, you can freeze these homemade truffles in a freezer bag for up to 2 months. Thaw in the fridge or enjoy the truffles frozen.
Why is a chocolate truffle called a truffle?
The chocolate dessert originated in France, and was named after the mushroom with the similar name, because of its resemble to the texture, shape and size.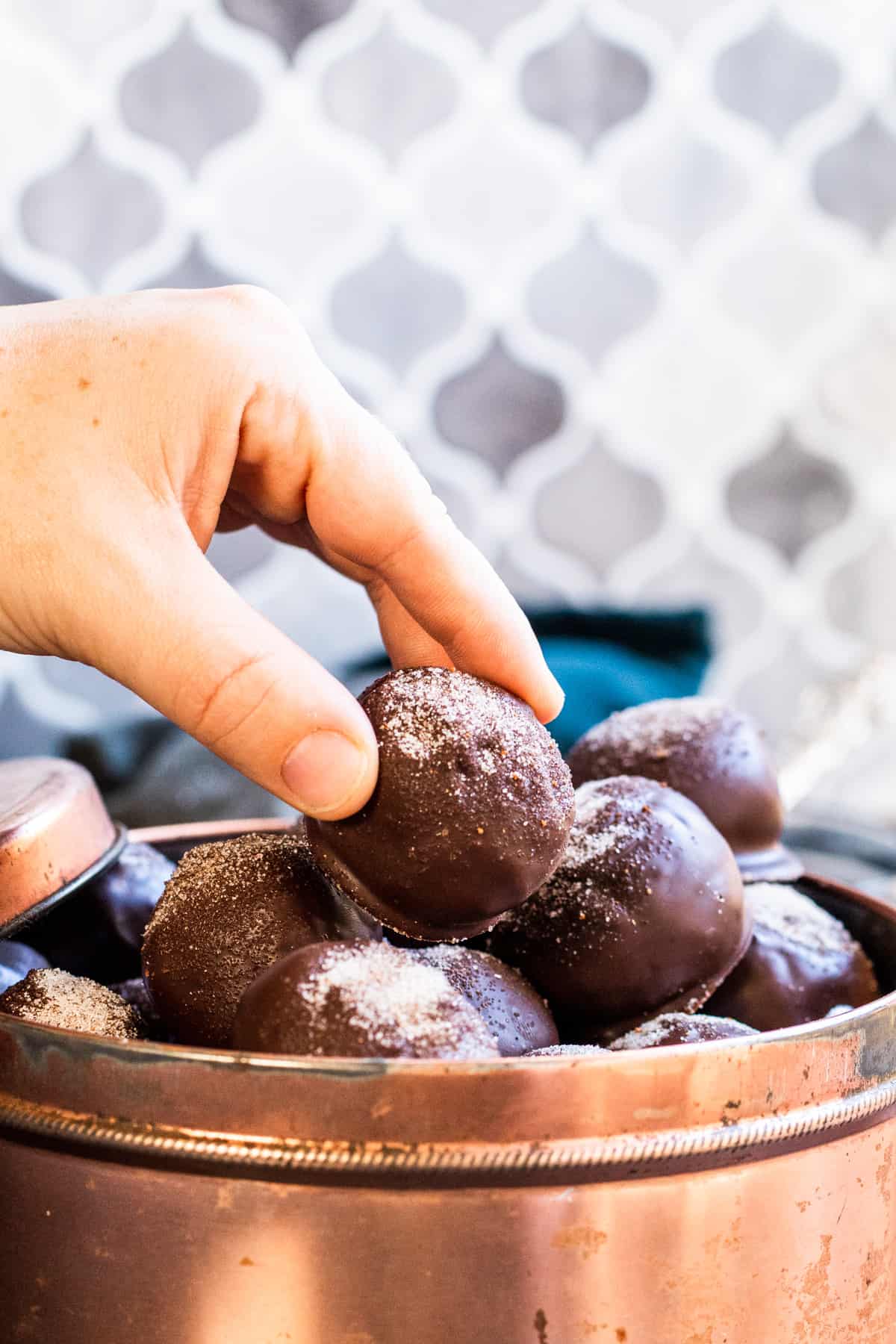 You May Also Enjoy...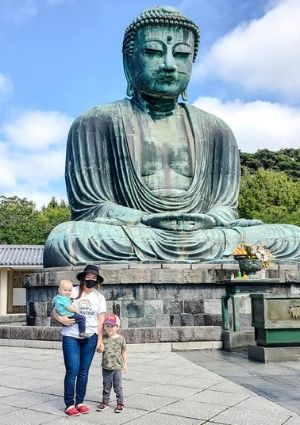 Love This Gingerbread Truffles Video?
Check it and MORE food content out on my YouTube Channel.
Happy Eating!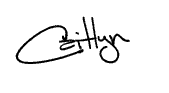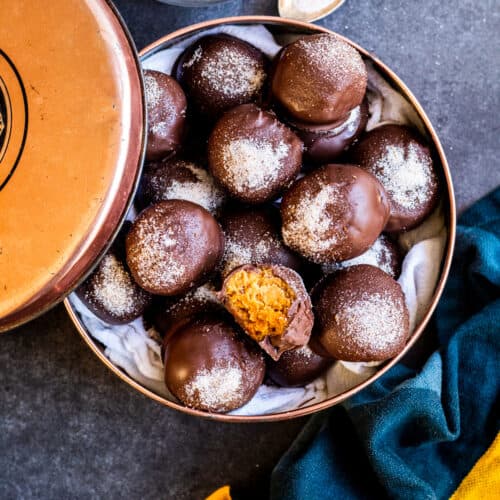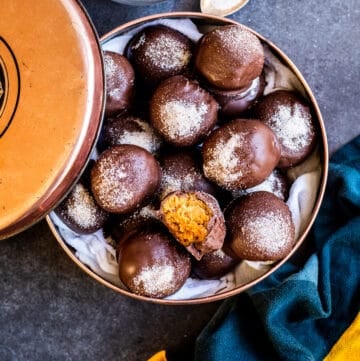 Gingerbread Truffles with Spiced Sugar Topping
Sugar, spice and everything nice! These Gingerbread Truffles are the perfect holiday treat.
Ingredients
28

Gingersnap Cookies

12

Golden Oreo Cookies

8

Oz

Cream Cheese

Softened

1

teaspoon

Vanilla Extract

8

Oz

Almond Bark

Melted
Spiced Sugar Topping
2

tablespoon

Granulated White Sugar

¼

teaspoon

Nutmeg

¼

teaspoon

Ground Ginger

¼

teaspoon

Cinnamon
Instructions
Add Gingersnap Cookies and Golden Oreo's (including the cream) to a food processor or blender and pulse until cookies are fine and no chunks remain. Combine with softened cream cheese and vanilla extract in a large bowl and mix until combined. I find it easiest to use my hands.

Using a cookie scoop or your hands roll the dough into 1 ½ inch balls. You should get about 24 truffles. Place each ball onto a parchment paper lined cookie sheet and set aside.

Melt the almond bark in the microwave (20 second intervals) or stove top until smooth. One at a time, dip a ball of dough into the melted almond bark and coat completely. Let the excess drip off and place back on the parchment paper. Repeat until all the truffles are coated with chocolate.

Top with Spiced Sugar Topping before the almond bark sets. This will happen within 3-5 minutes, so work as you go. Let set at room temperature for 10 minutes or place in fridge for 5 minutes and enjoy!
Spiced Sugar Topping
Combine all ingredients in a small bowl to combine. Sprinkle over coated truffles.
Notes
Tip: I find it best to add the Spiced Sugar Topping while the chocolate is still not set and tacky. If you add it after it will just roll off and not stick.
Leftover Storage: Store leftovers at room temperature for 3-5 days, or in the fridge for up to 2 weeks.
Freezer Option: Store in a freezer bag for up to 2 months. Let come to room temperature and enjoy.
Chocolate Options: My recommendations are either baking dark chocolate or white chocolate. Other varieties like semi-sweet or milk chocolate can be used as well.
Nutrition
Serving:
2
Truffles
Calories:
246
kcal
Carbohydrates:
23.5
g
Protein:
3.9
g
Fat:
15
g
Saturated Fat:
7.7
g
Cholesterol:
23
mg
Sodium:
164
mg
Potassium:
77
mg
Fiber:
1.9
g
Sugar:
11.1
g
Calcium:
40
mg
Iron:
2.5
mg
See What We Are Pinning!
Follow erhardtseat1 to see all the food!