This Classic Baked Mostaccioli is the perfect Italian pasta dish for weeknight dinners, family gatherings, and holiday parties. The perfect combination of marinara sauce, Italian sausage, spices and of course cheese.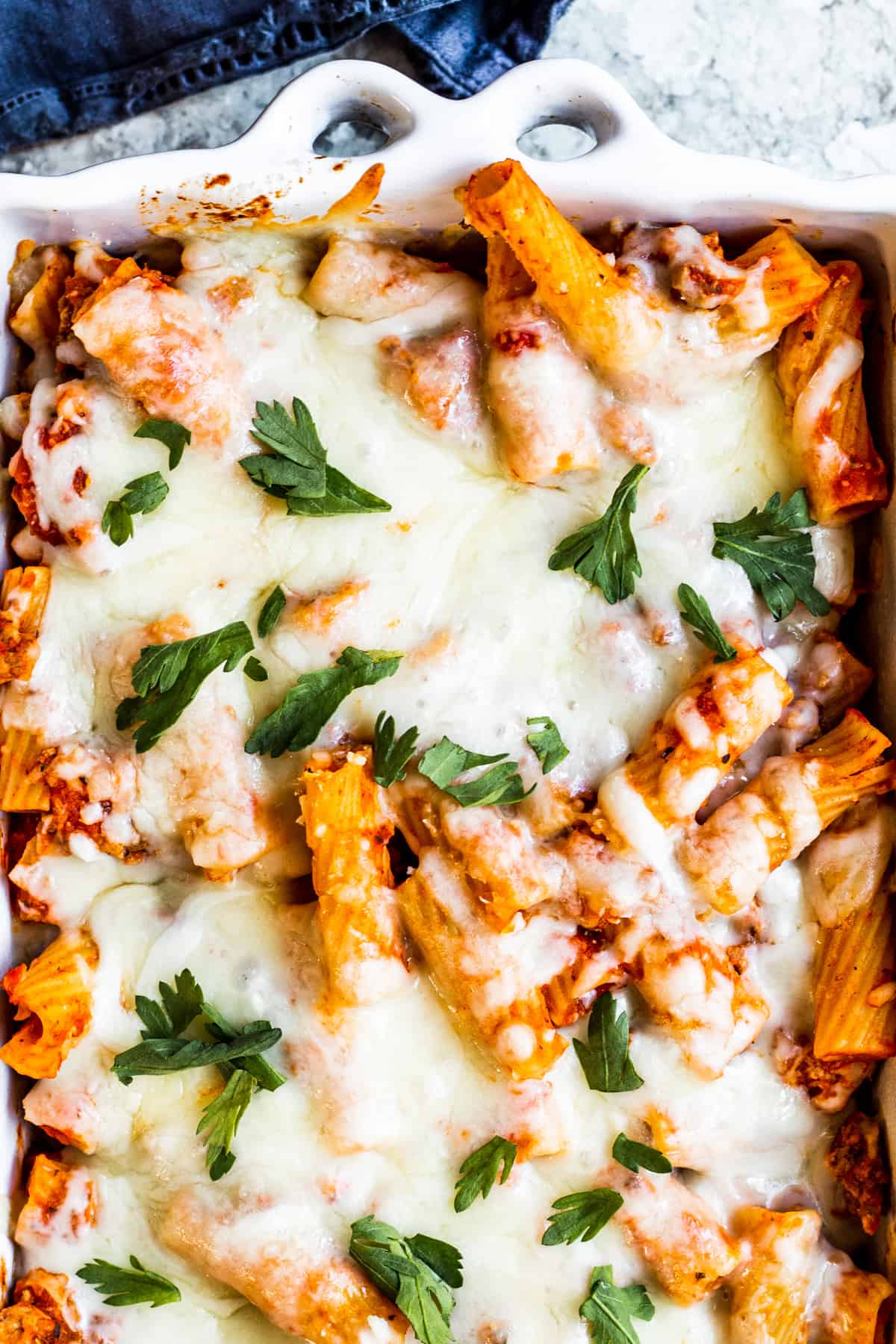 This Classic Baked Mostaccioli makes an appearance at nearly every family party we have. One would think we would get tired of eating it, but no, it is so good I could eat it hourly. My grandma has been making this recipe for as long as I can remember. My mother even told me that she ate this pasta as a kid! I won't give away her age, but that's a long time.
This pasta recipe is super easy to make and can work as a weeknight dinner, or as a side for any type of party. Even better is that this pasta can be kept warm in a crock pot to enjoy all day, can be prepped ahead of time and is freezer friendly! This authentic Italian mostaccioli recipe has been a stable in my family for many years and I hope you love it as well.
Ingredient Notes
Mostaccioli Pasta Noodles: Ideally you should use mostaccioli noodles for mostaccioli, but swaps can be made if you cannot find them at your local store. Any large tubular pasta will work for this recipe including rigatoni (what I used), ziti, or penne.
Shredded Cheese: I like my white cheese combination of shredded mozzarella and parmesan. Some shredding asiago cheese can be added as well, or if you really want to cheese this baked mostaccioli up you can add some ricotta cheese in.
Perfect Marinara Sauce: I love to use my homemade marinara sauce in my mostaccioli, but to save time you can use a store bought sauce. Making your own sauce can seem intimidating and time consuming when nn reality it is very simple and only requires an extra 30 minutes. If going to store bought route use two 16oz jars. I recommend using a simple marinara sauce with ingredients like garlic and basil.
Ground Meat: I recommend using half ground beef and half Italian sausage. I think this 50/50 combo yields the perfect flavor combination. Mild or spicy Italian sausage can be used, and in a pinch ground pork can be swapped in.
Why You'll LOVE It
Simple to Prepare: Very little prep work required
Versatile: Works great for family dinners or a party side dish
Kids LOVE it
A Classic Family Recipe: Great flavors and simple ingredients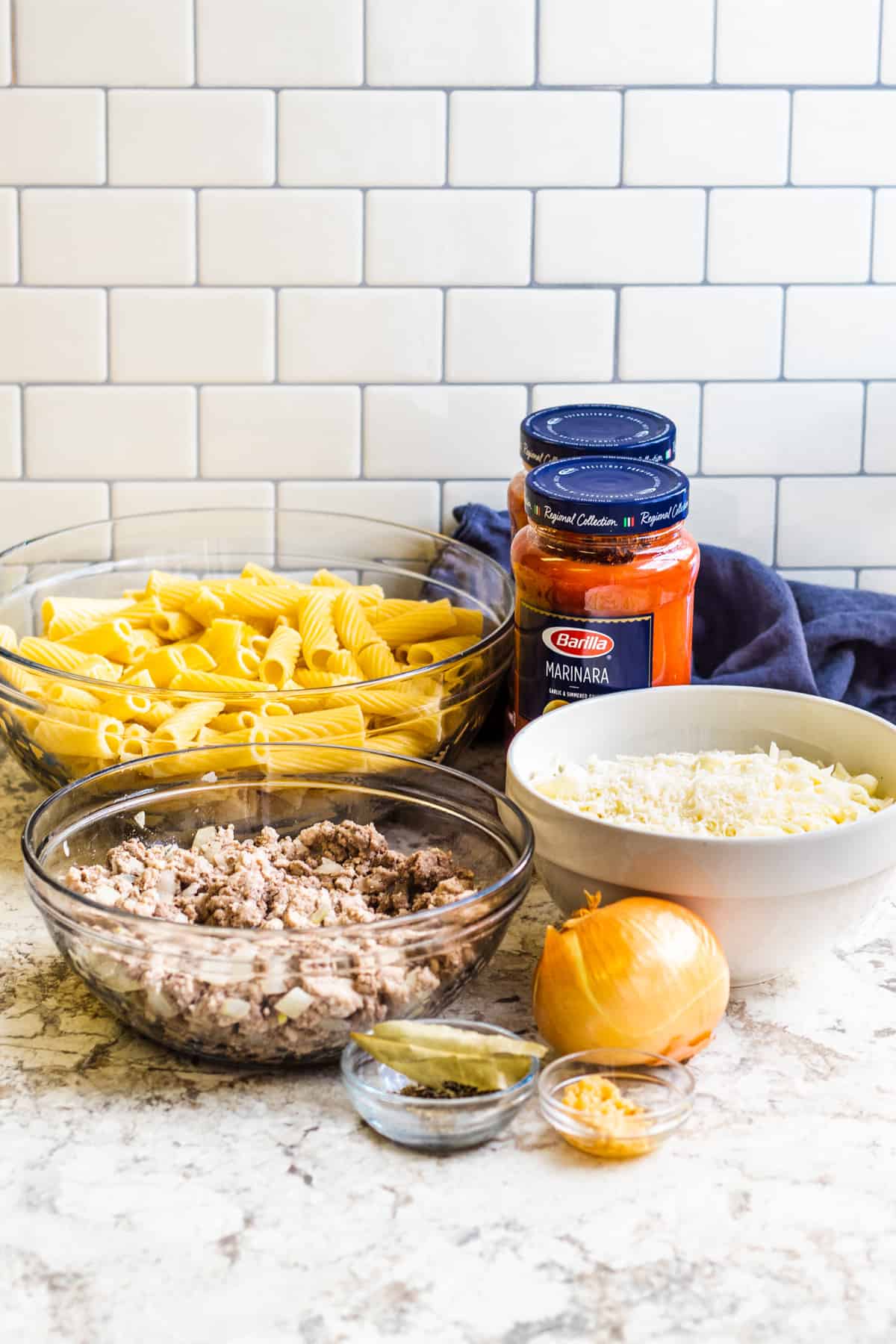 Instructions
Making this authentic Italian mostaccioli is no harder than making spaghetti. And I think we can all agree that spaghetti is pretty dang easy! This baked mostaccioli recipe is great because there are multiple short cuts that can make this recipe your new go-to weeknight pasta dish. Alternatively, you can also be made completely from scratch and simmer for hours just how my grandma makes it.
Meat and Pasta Prep
Start by roughly chopping or dicing a white or yellow onion with a sharp knife.
Next, thoroughly cook your ground beef, and Italian sausage until no pink remains, about 5-7 minutes. I like to add onion and garlic to the meats as they cook to develop more flavor. Once finished strain the grease from the meat and then whip out your large skillet and prepare the sauce.
While the meat is browning begin making your mostaccioli noodles. Boil a large pot of water and the follow the package instructions for cooking your pasta al dente.
Making the Sauce
In the same pan you browned the beef and pork in, add the marinara sauce and spices. You can also add in the cooked meat to develop more flavor. Cover and let this simmer for as long as possible (I am for at least 15 minutes). Of course, if you have more time let that sauce simmer and develop even more flavor.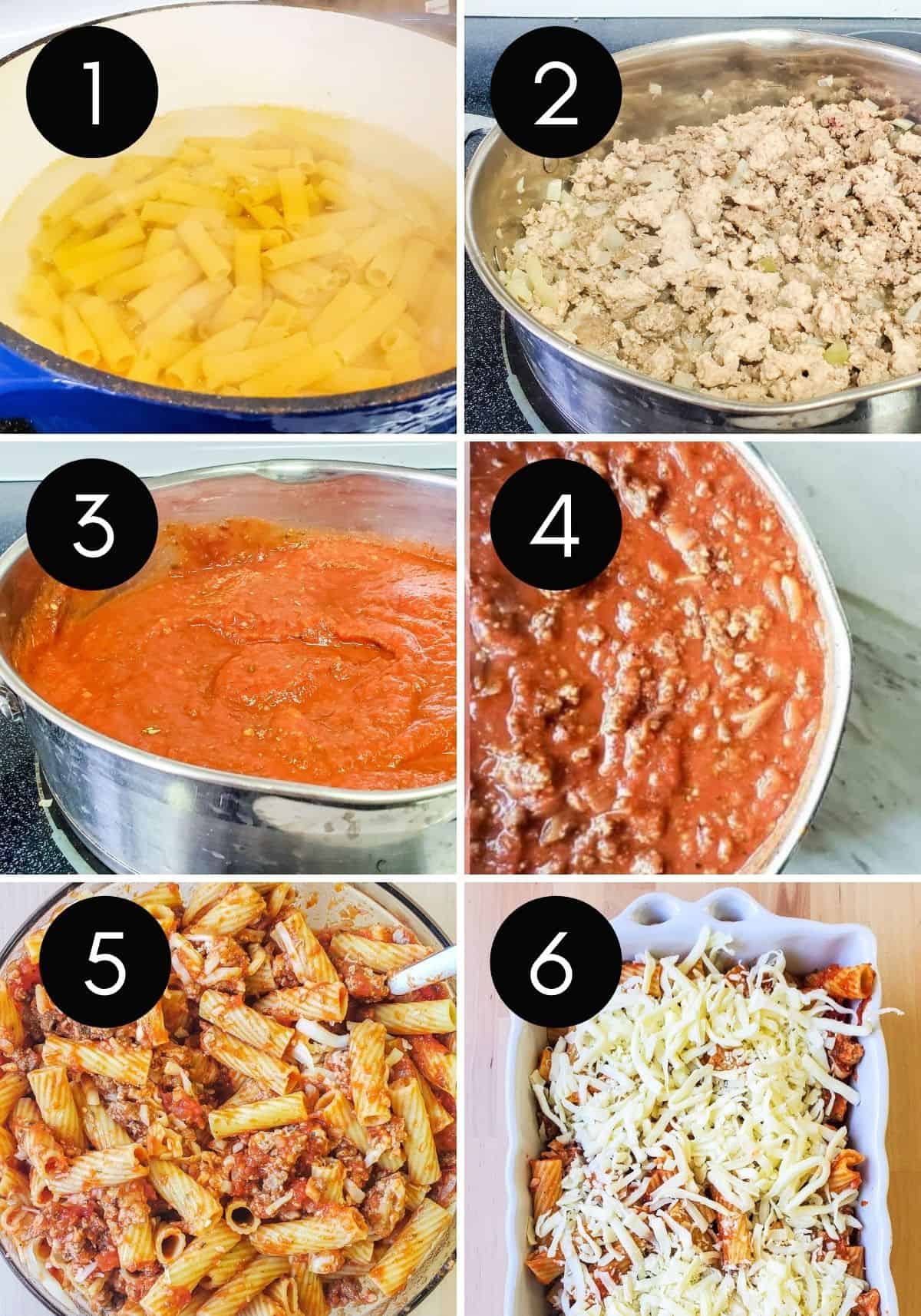 Baking the Mostaccioli
Next, it is time to assemble your pasta and bake it. Personally, I like to dump everything in a large bowl and mix everything together. If your skillet with the sauce is large enough you could add your noodles to that and mix it that way. Whatever you prefer just make sure all the noodles are coated with sauce.
Mix in a generous amount of mozzarella cheese to the pasta and sauce mixture then again over top for a gooey finish.
Once combines, add your prepared pasta to a large 13x9 inch baking dish and bake the homemade mostaccioli at 350 degrees for about 20 minutes until heated through and cheese is bubbling.
Leftover Storage
When stored in the fridge in an airtight container this recipe will stay good for up to 4 days. Re-heat leftovers in the oven (350 degrees for 15-20 minutes) or microwave (60 seconds) until hot.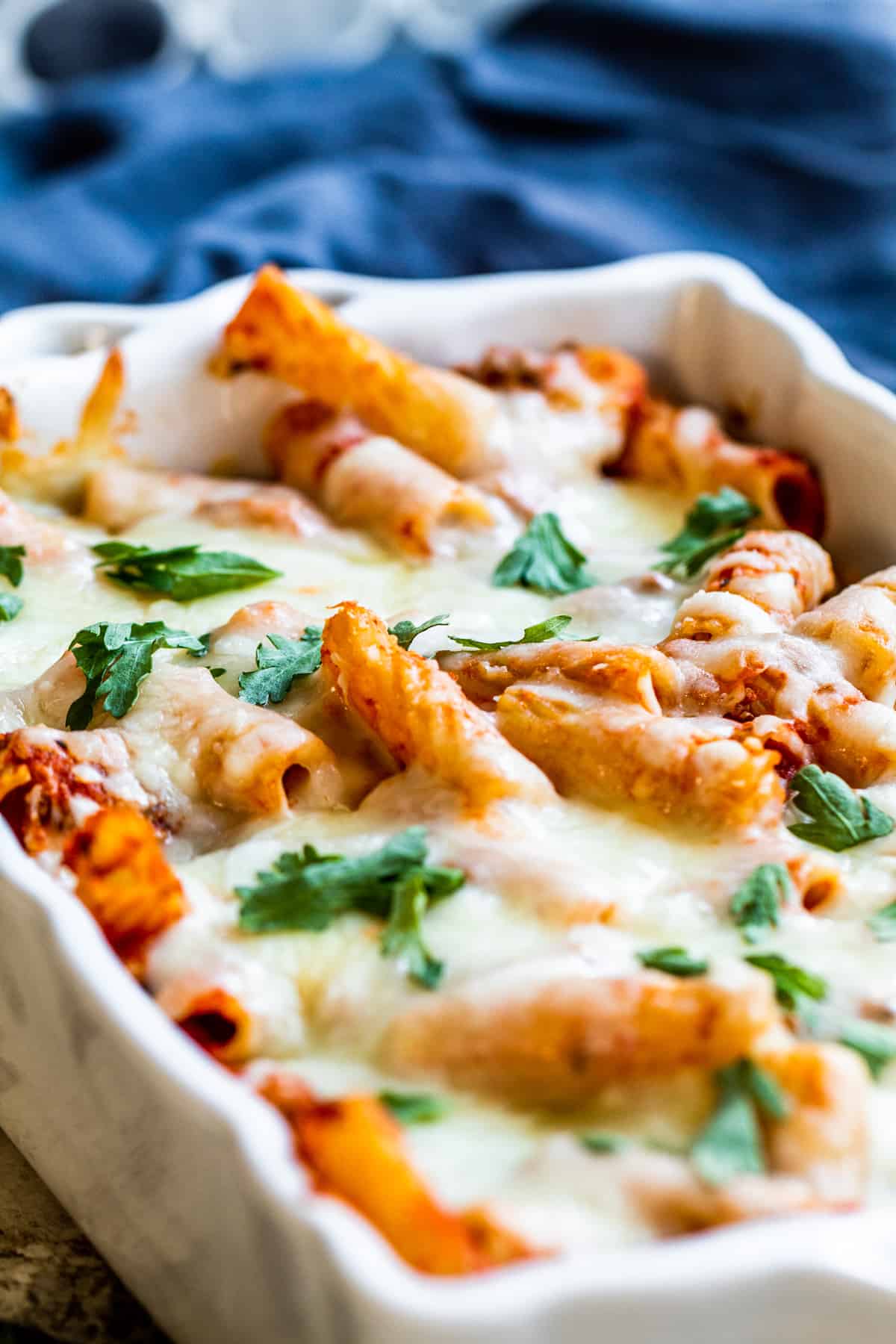 Pro Tips
Don't leave out the sausage
You can use either mild or hot Italian sausage, or ground pork (in a pinch) just make sure it is not left out. I know with recipes that use a mixture of meats it can be tempting to pick one or the other. Do. Not. Do. That. Here. The Italian sausage is what makes mostaccioli, well mostaccioli. The flavor the meat gives sets this pasta apart from its cousins spaghetti, and lasagna.
If you worry about wasting the leftover meat you can store it in the freezer and save it for another recipe. You could also cook all the meat at one time and add the extra meat to breakfast burritos or eggs for a morning meal the next day. To put into perspective of how important the Italian sausage is to this classic baked mostaccioli recipe, my grandmother would disown you if you left it out.
The More Sauce the Better
I really do not want you to have dried out mostaccioli. It is going to feel like you are using too much sauce. It is then in that moment that you know you are using the perfect amount. If you only use the equivalent of one jar of marinara sauce your pasta is going to be as dry as the Sahara at noon.
Don't Overcook the Pasta
For the best baked mostaccioli you will want to use mostaccioli noodles or a similar tubular pasta. Whatever noodle you use it is important to cook the pasta al denta and not overcook it. When the pasta is overcooked the mostaccioli will be a touch mushy and that's no good.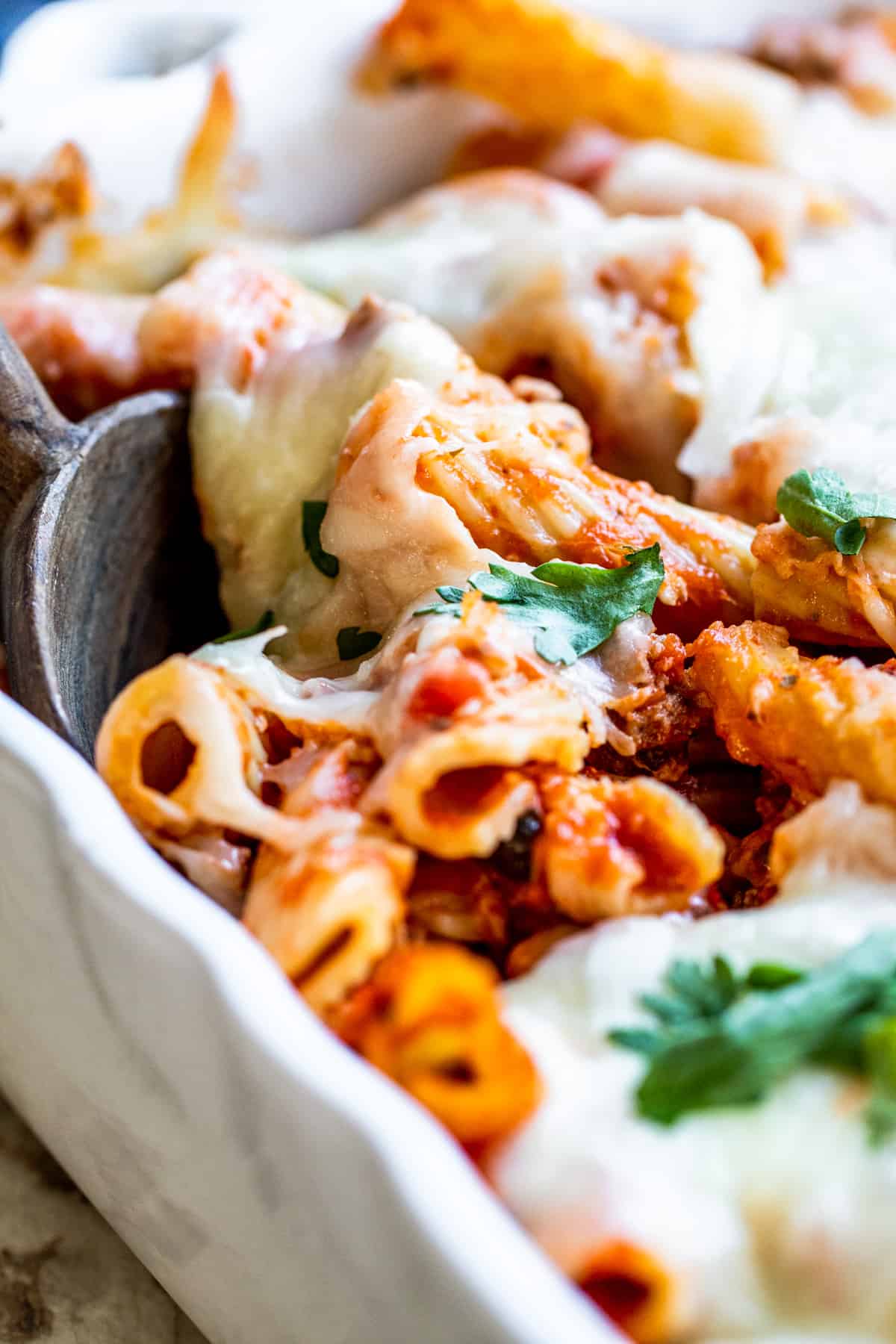 FAQS
Can baked mostaccioli be frozen?
Yes! I often make a double batch of this mostaccioli recipe and freeze half. Store in two freezer safe bags and lay flat for up to 3 months. Let the pasta thaw in the fridge then warm in an oven or crockpot.
Can this recipe be made ahead of time?
Yes! My grandma often will make this classic baked mostaccioli dish ahead of time and store in the fridge, then pop it in the oven when ready to eat. I recommend making this pasta no more than 24 hours ahead of time. Follow all recipe prep instructions then store in an airtight container in the fridge. When ready to bake let the pasta come to room temperature then bake according to the recipe instructions.
What kind of pasta is mostaccioli?
Mostaccioli is a smooth tubular pasta similar to ziti, except is cut diagonally and not blunt.
What is the difference between baked ziti and mostaccioli?
Honestly, not much. Both pastas use very similar ingredients and are differentiated by the type of pasta they used.
Do you bake pasta covered or uncovered?
A good rule of thumb is that if the dish needs more than 20-25 minutes in the oven then you should start baking with foil to start then remove it later. This helps prevent moisture loss and your pasta drying out. An important note is that if you want cheese added to the top is to add it after you remove the foil. If you do it before all the cheese will stick to the foil once it is removed. Since this cheesy mostaccioli only needs 20 minutes in the oven and I add cheese on top I bake mine uncovered.
Crockpot Option
Once you make the sauce and pasta you then can put everything together in the crockpot. When you place the mostaccioli in the crockpot on warm and stir occasionally to avoid the bottom from sticking. Also, I recommend adding an additional cup of marinara sauce to keep the pasta from drying out. This option is great for parties.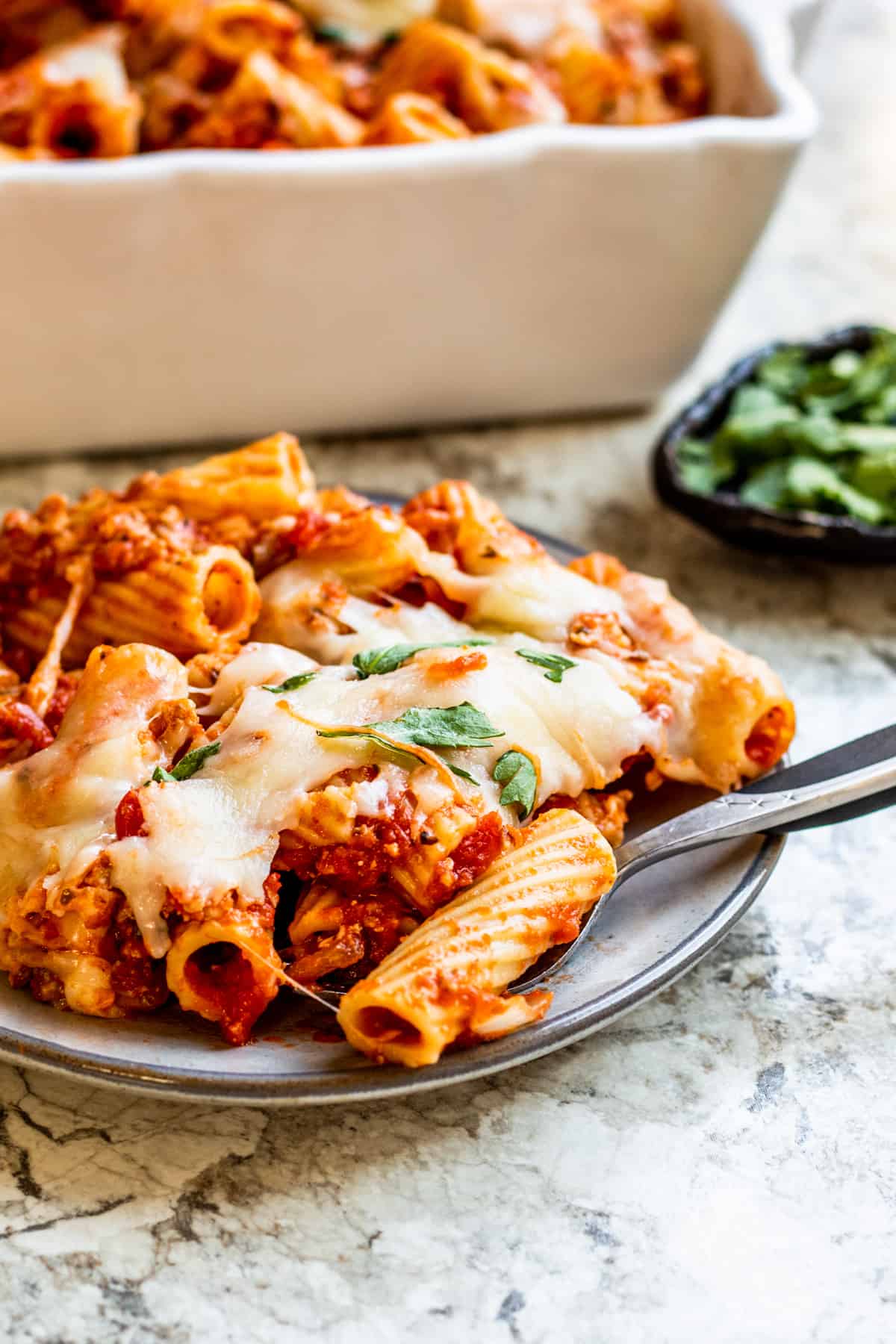 You May Also Enjoy...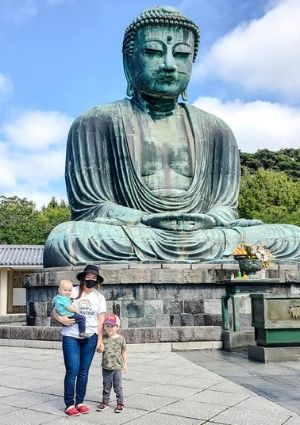 Happy Eating!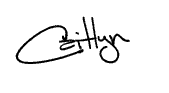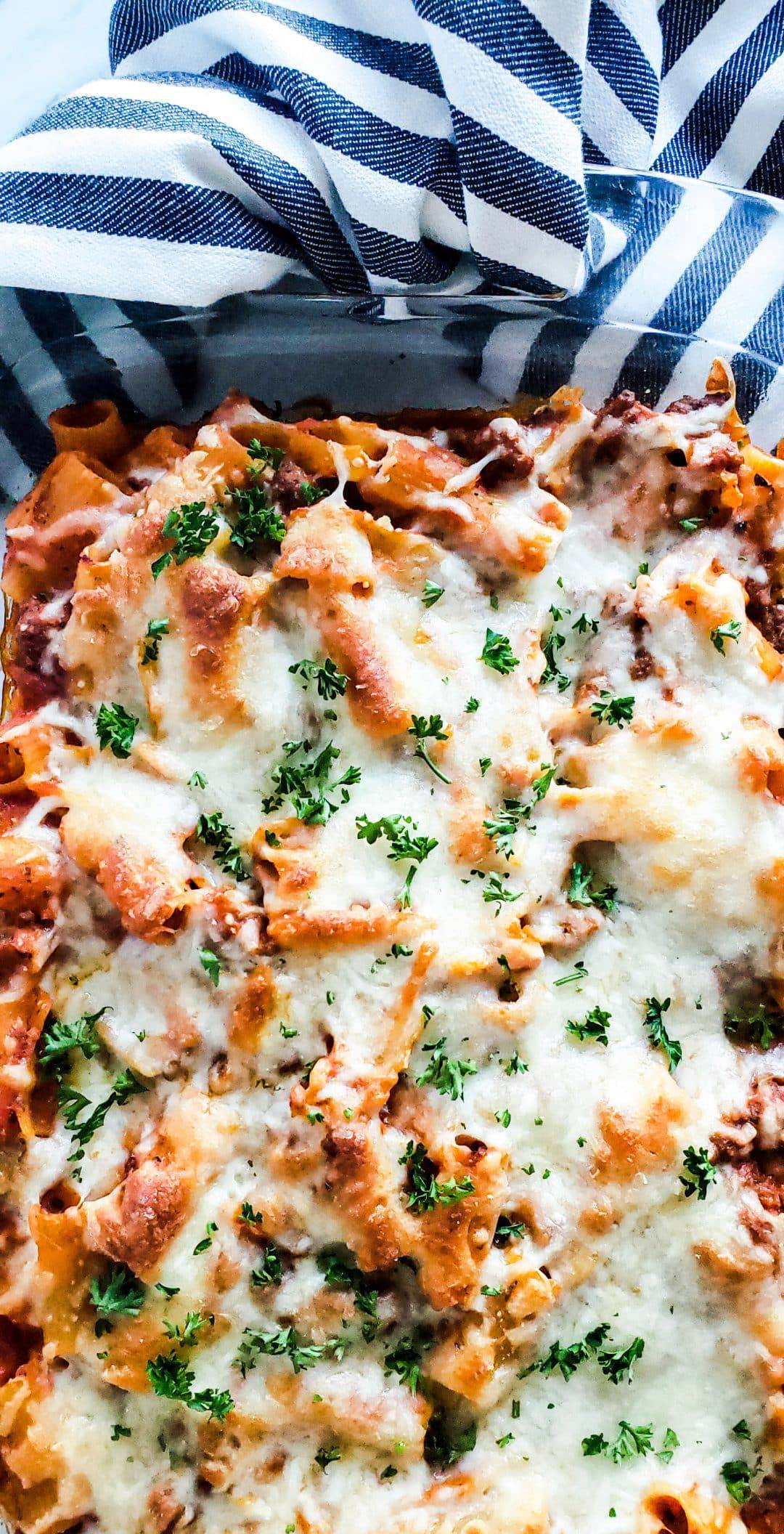 Classic Baked Mostaccioli
The perfect weeknight family meal or holiday side dish! This versatile classic is a favorite in our home and is loved by everyone who tries it.
Ingredients
48

Oz

Perfect Marinara Sauce

or 2 jars of your favorite red pasta sauce

½

lb

Mild Italian Sausage

or Ground Pork

½

lb

Ground Beef

1

Yellow

Onion

Chopped

2

teaspoon

Minced Garlic

1

Bay Leaf

1

teaspoon

Italian Seasoning

1

teaspoon

Dried Basil

1

Cup

Parmesan Cheese

Grated

1

Cup

Asiago Cheese

Shredded

2

Cups

Mozzarella Cheese

Shredded

16

Oz

Dried Rigatoni or Mostaccioli Pasta
Instructions
Preheat oven to 350 degrees and prepare 13x9 inch baking dish with cooking spray.

Combine Italian sausage, ground beef and chopped onion in a large, deep skillet and mash it into smaller pieces. Cook over medium-low heat until the meat is fully cooked through and no pink remains. About 5-7 minutes.

Add marinara sauce, bay leaf, Italian seasoning, garlic, grated Parmesan cheese and basil to the same skillet along with the cooked meat. Stir to combine and cover and bring to a simmer. Let simmer for at least 15 minutes.

While the sauce is simmering, cook your dried pasta according to package instructions until al dente. Be careful not to overcook the pasta.

Combine meat sauce, cooked pasta and half of the shredded cheese in a large bowl and stir until combined. Add to a 13x9 inch baking dish and top with the remaining shredded cheese. Cook on the middle rack until cheese is melted and sauce is bubbling. About 20 minutes. Serve warm with optional garnish and enjoy!
Notes
Leftover Storage: Store leftovers in an airtight container in the fridge for up to 4 days.
Freezer Option: Cooked mostaccioli can be stored in a freezer bag or container for up to 3 months.
Make Ahead Option: Follow recipe prep instructions and store uncooked and combined mostaccioli in the fridge for up to 24 hours. When ready to eat follow recipe baking instructions.
Crockpot Option: Baked mostaccioli can be placed in the crockpot on WARM to keep fresh for hours. Stir occasionally to avoid the pasta from sticking to the bottom.
Re-warming Instructions: Microwave: Place pasta in a microwave fast bowl and cover. Warm for 60 seconds or until warmed through. Oven: Place in a large baking dish and bake at 350 for 15 minutes until warmed through. Crockpot: Place in crockpot on LOW for 1 hour. After 1 hour switch to WARM and stir.
Nutrition
Calories:
648
kcal
Carbohydrates:
81.9
g
Protein:
30.8
g
Fat:
21
g
Saturated Fat:
7
g
Cholesterol:
64
mg
Sodium:
1300
mg
Potassium:
1218
mg
Fiber:
9.2
g
Sugar:
26.5
g
Calcium:
110
mg
Iron:
9.7
mg
See What We Are Pinning!
Follow erhardtseat1 to see all the food!