Simple and fast this Homemade Taco Seasoning is great for meats, veggies and makes a great addition to any spice cabinet.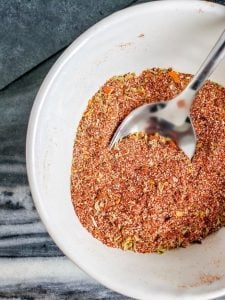 Anyone out there go to make tacos only to discover you do not have any taco seasoning mix, so you just dump in spices and pray?! Only me? Cool. Honestly, though it has happened to me so often that I finally decided to come up with my own mix.
This Easy Homemade Taco Seasoning is perfectly portioned for one pound of your favorite meat, or sheet pan fajitas with veggies. The mix is mild, but there are simple alterations you can make to bump up the heat. I hope you love this simple seasoning mix, and I can convert you to never buy a store-bought one again.
Kitchen Tools
A Small Bowl

Something to Store In- Optional
Ingredients
Chili Powder

Paprika

Red Pepper Flakes

Dried Oregano

Garlic Powder

Onion Powder

Cumin

Cinnamon

Salt

Pepper
Recipe Alterations
This easy homemade taco seasoning mix is perfect just the way it is, but it can be altered for your individual taste.
Make the Seasoning Spicy
First, you can make the easy taco seasoning mix mild or spicy. The recipe I give below is for the mild version of the mix. Alternatively, if you want to make it spicier simply double the amount of red pepper flakes. This will give the homemade taco mix an extra kick, but still keep the flavor the same.
Cut the Salt
Second, you can make the taco seasoning spice mix low sodium. Personally, I do not like to add a ton of salt to my food. I suggest using ¼ teaspoon of salt in the recipe, but you can add more or less depending on your taste. If you are trying to watch your sodium intake, lower the amount to ⅛ teaspoon of salt. I promise the homemade taco seasoning will still taste delicious!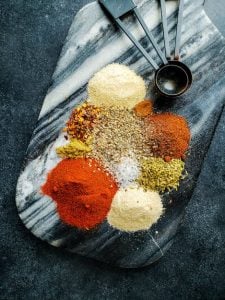 How many servings is this seasoning?
This easy homemade taco seasoning mix recipe makes enough taco seasoning for one pound of meat, but you could make a larger batch and save the leftovers for future meals. This homemade taco seasoning mix recipe is about the equivalent of a seasoning mix you would buy from your local grocery store.
How should I store homemade taco seasoning?
In zip-lock bags. This is a great option for storing the taco seasoning mix just like a store-bought mix. Just pour the homemade taco seasoning into a bag, label it, and store it at room temperature for up to one year.
In a mason jar. Mason jars are very inexpensive and can be washed and reused for a variety of uses. This also saves on plastic use. You can pour the taco seasoning into a mason jar and measure out your desired amount for each recipe. Just like the zip-lock bag store at room temperature for up to one year.
In an old spice container. Instead of throwing out your empty spice container when it's empty you can wash it and reuse it for this homemade taco mix. Store at room temperature with the rest of your spices for up to one year.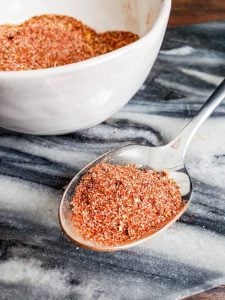 Recipe Ideas for Taco Mix
Vegetarian Black Bean Burritos
Vegetarian Quesadillas
Chicken Enchilada Puffs
Corn and Pepper Salad
Mexican Enchilada Dip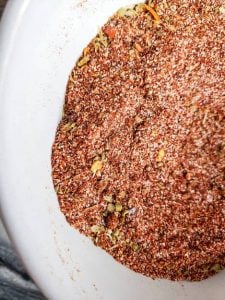 I hope you and your friends and family love this simple taco seasoning mix recipe! Personally, I get SO much use out of this mix and use it every time I make any type of Mexican food.
Love This Homemade Spice Mix Recipe? Don't Forget To Comment and Rate Below!
Happy Eating!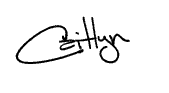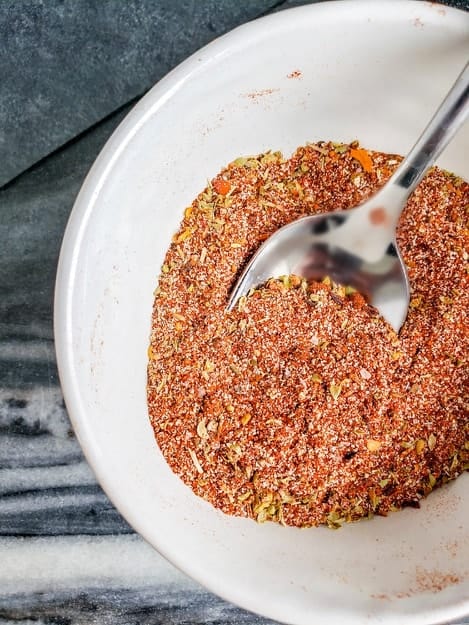 Easy Homemade Taco Seasoning
This Easy Homemade Taco Seasoning is the best mild mix for one pound of meat. This can also be saved and used for vegetables or dip recipes.
Instructions
Combine all ingredients in a small bowl and stir together until combined. Use immediately for a recipe, or store in an airtight container at room temperature for up to one year.
Nutrition
Serving:
1
Taco Mix
Calories:
55
kcal
Carbohydrates:
10.8
g
Protein:
2.3
g
Fat:
1.7
g
Saturated Fat:
0.3
g
Cholesterol:
0
mg
Sodium:
627
mg
Potassium:
291
mg
Fiber:
4.4
g
Sugar:
2.4
g
Calcium:
50
mg
Iron:
3.1
mg
See What We Are Pinning!
Follow erhardtseat1 to see all the food!
Like What You See? Share With Your Friends!