This healthy, vegan Morning Glory Muffins Recipe is packed full of fruits and veggies to please both kids and adults! Great for a quick breakfast on the go, or lunchbox treat for kids.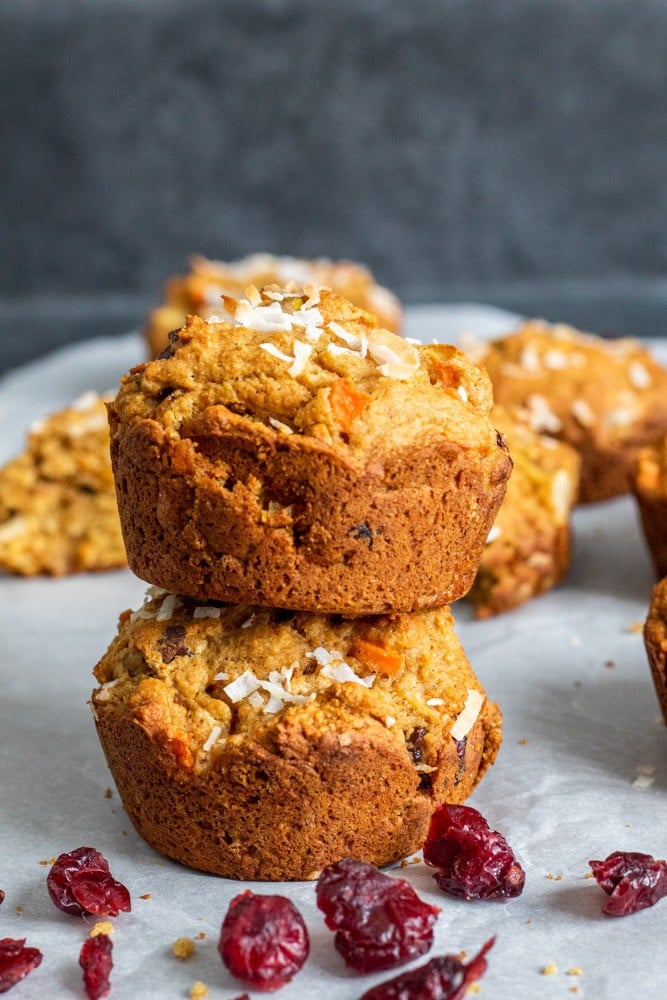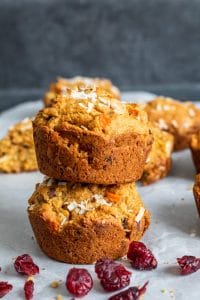 Anyone else feel like January is an entire year long, then February is over in 18 seconds? Weird. Anyway, after all the sweet recipes I have shared lately, I thought a nice and healthy snack recipe would be a nice change. This Morning Glory Muffins Recipe is super healthy, vegan and one bowl making it one of my favorites. These muffins are perfect for meal prep on Sunday to have as a snack or breakfast all week long. The combination of fruit, nuts and veggies make these muffins both sweet and hearty that any kid or adult will love. Also, these muffins can be changed and customized to you and your families personal taste. Enjoy!
What Do You Need to Make A Vegan Morning Glory Muffins Recipe?
The kitchen tools you will need for this morning glory muffins recipe are:
Baking Cups or Cooking Spray

Measuring Cups

A Large Bowl

A Spoon

A Pairing Knife and Cutting Board

a Veggie Slicer or Cheese Grater (Optional)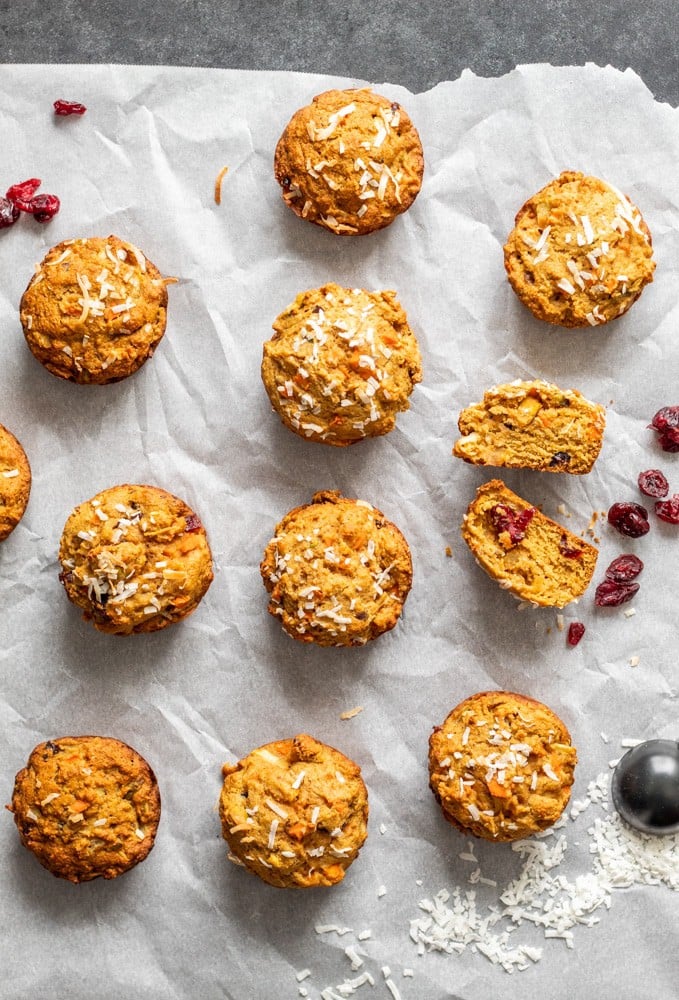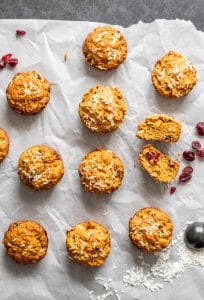 What's Inside these Vegan Morning Glory Muffins?
This Morning Glory Muffins Recipe is filled with tasty, healthy goodness! A combination of wholesome ingredients and a pinch of sweetness combine for a hearty and delicious snack, breakfast or brunch. Inside these vegan morning glory muffins you will find:
Healthful Fruits and Veggies

Sweet Dried Cranberries

Crunchy Pistachios

A Touch of Coconut and Brown Sugar

A Hint of Spice

Smooth Applesauce

All the Baking Musts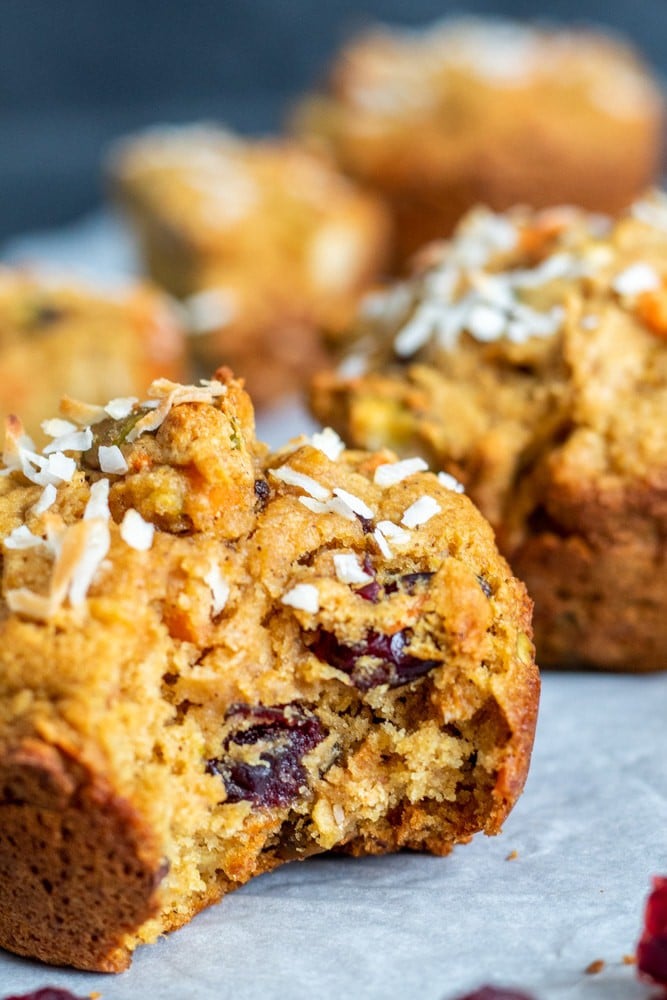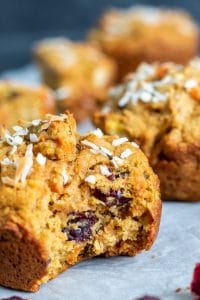 How Do You Make This Morning Glory Muffins Recipe?
This Morning Glory Muffins Recipe is super simple and ready from start to finish in about 30 minutes. These babies are perfect for a quick on the go snack or meal prep on Sunday for an easy breakfast all week. Honestly, the hardest part of this vegan morning glory muffins recipe is dicing, shredding and crushing everything. Once you get through the prep-work all you do is toss everything in a bowl and stir.
Simple Vegan Morning Glory Muffins Recipe Step By Step
First, you will need to prep and measure out your ingredients. For the apple simply remove the peel and dice the inside into small pieces. Don't stress is they are all different shapes, they will be fine.

Next, you will need to prep the carrots. Personally, for this recipe I like to use baby carrots and finely shred them using a cheese grated, followed by a rough chop to make them tiny. If they are tiny I can trick my son into thinking there aren't veggies in his muffins. If you want to save yourself some time, just buy prepackaged shredded carrots from the grocery store.

Next, place the whole pistachios (or any nut you have) (or no nuts that's cool too) in a zip lock bag and crush them until they are teeny tiny. My weapon of choice is a rolling pin.

Once all of that is finished you are on to the easy part of measuring and combining ingredients. When combining the mix together you want it to be thick, but still stir-able. Add more water one tbsp at a time until reaching the perfect combo or smooth and chunky.

Finally, fill the prepared muffin pan to the top of each cup and bake until golden and a tooth pick comes out clean, about 15 minutes. Personally, I like to serve my morning glory muffins warm with a little butter (if you are vegan or dairy free use a butter alternative or none at all).
Enjoy!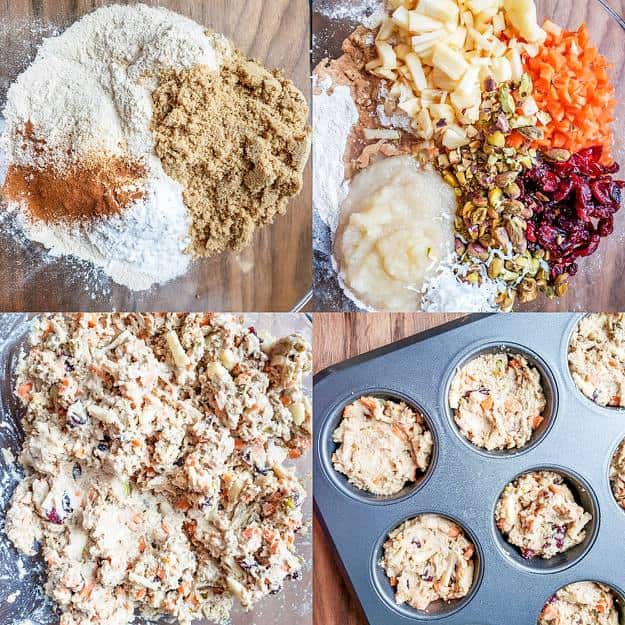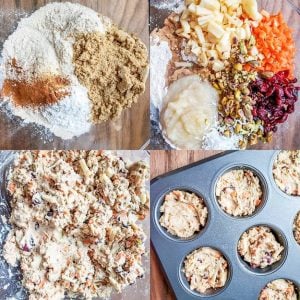 Vegan Muffin Recipe Common Questions
Can I use something besides pistachios for these Morning Glory Muffins muffins?
Of course! You can use pretty much any nut when substituting. Personally, I like almonds or walnuts, but again do you. Just make sure they are crushed so you do not get massive chunks in the vegan muffins. Also, you could use nut powder if you want no chunks at all.
I don't like nuts (or I'm allergic), do I have to use them?
Nope. Honestly, I was not a fan of nuts until my teens, so I totally get if you or your kiddos might not be into them. If not using nuts you could add in more dried cranberries, apple or carrots to the muffins.
Are there other things I can put in this Morning Glory Muffin Recipe?
Yep. I like using a peanut and banana combo to replace the apple and pistachios sometimes. I have also added in pumpkin in the fall. Another easy swap is to use zucchini instead of carrots. Other ideas to try are mini chocolate chips and raisins in this morning glory muffins recipe.
Can I use All Purpose Flour instead for this vegan muffin recipe?
Sure, go for it. Jest note that the texture of the morning glory muffins will be slightly different.
Can I make this morning glory muffins recipe into mini muffins?
Yes you can! Do the mix and oven temperature the exact same for the morning glory muffins, but change the bake time to 9 minutes. You want the muffins golden with a tooth pick coming out clean just like the big daddy muffins.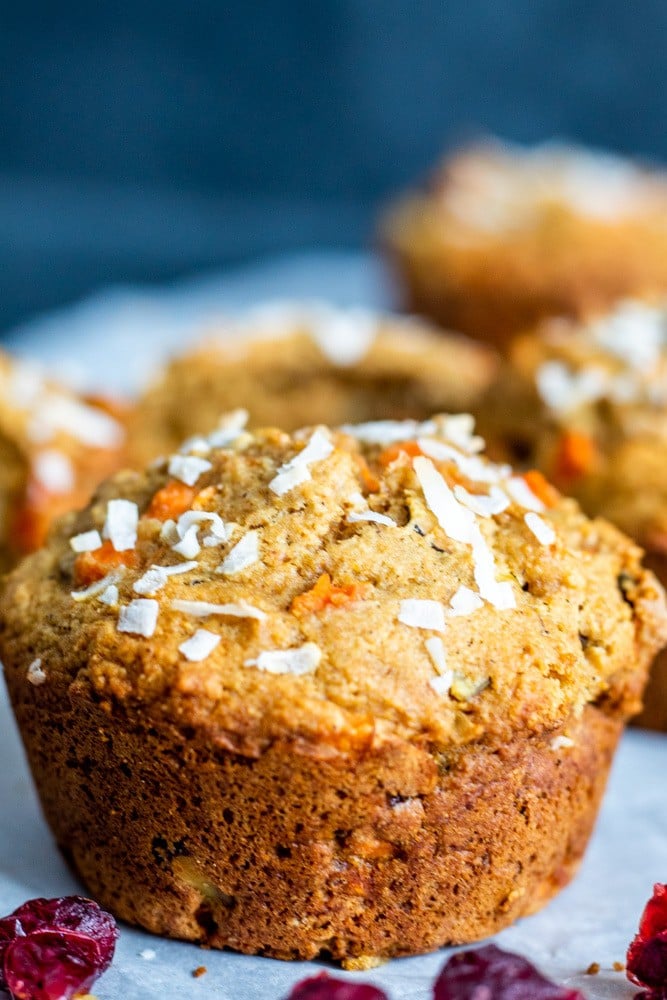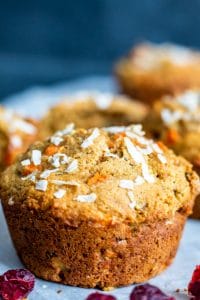 Check Out These Other Delicious Healthy Recipes!
Roasted Red Pepper Tomato Soup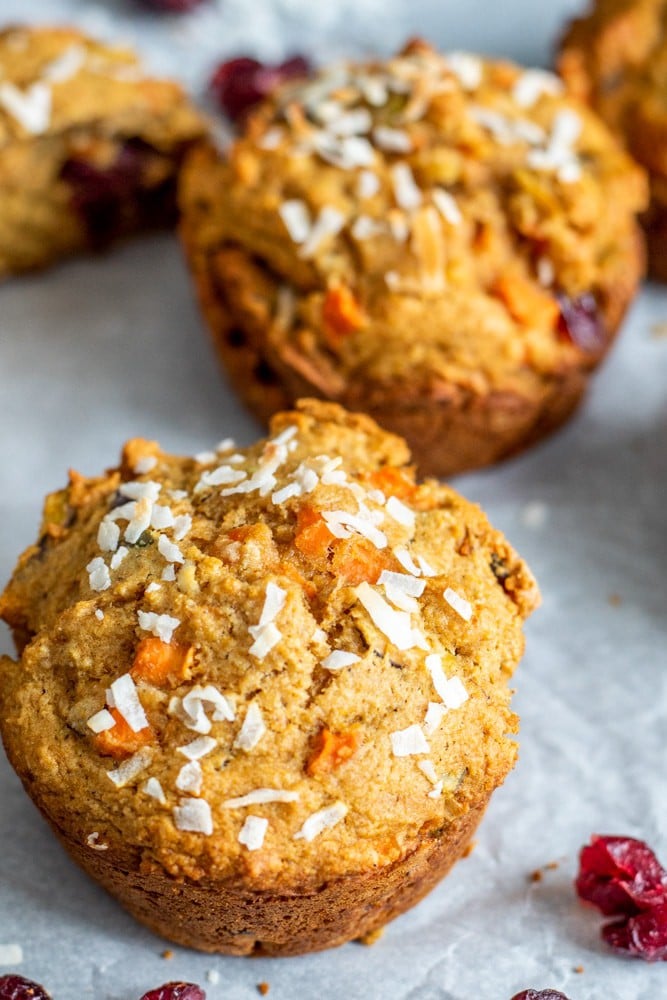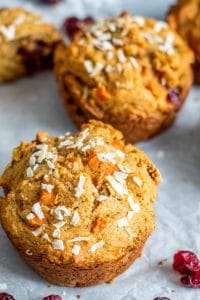 Vegan Morning Glory Muffins Storage Suggestions
I find that these morning glory muffins stay fresh for 7 days when stored in an airtight container at room temperature. Also, I like to warm the muffins up to get that right out of the oven effect. To do this, just place in the microwave for 10 seconds until just warmed, but not steaming.
Also, these morning glory muffins can be frozen and rewarmed for a quick breakfast or snack! To freeze the baked muffins, just wrap each individual muffin in parchment paper, foil or cling wrap and store in a freezer bag. You can let the muffins de-thaw overnight or warm in the microwave on the defrost setting when ready to eat.
Love this Healthy Morning Glory Muffins Recipe?! Don't Forget to Comment and Rate Below!
Happy Eating!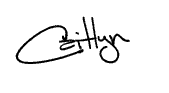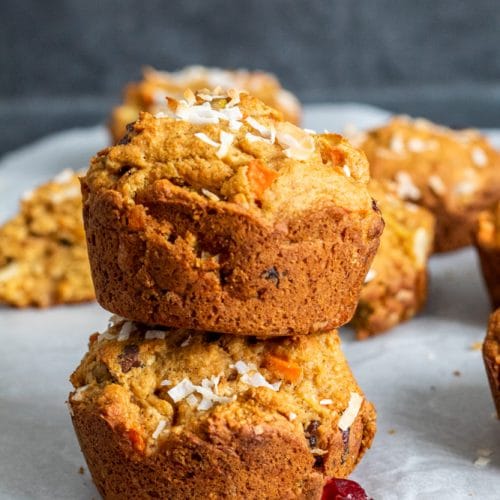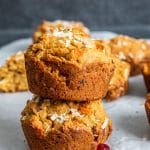 Print Recipe
Morning Glory Muffins Recipe
This Morning Glory Muffins Recipe is the perfect healthy breakfast or snack for both kids and adults!
Ingredients
2

Cups

Whole Wheat Flour

3/4

Cup

Brown Sugar

1

Tbsp

Baking Powder

2

Tsp

Baking Soda

2

Tsp

Cinnamon

1/4

Tsp

Nutmeg

1/2

Tsp

Ground Ginger

1/4

Tsp

Salt

1

Cup

Carrots

Shredded

1

Apple

Peeled and Diced

1/2

Cup

Pistachios

Crushed

1/2

Cup

Dried Cranberries

1/3

Cup

Shredded Coconut

Plus More for Top

3/4

Cup

Unsweetened Applesauce

2

Tsp

Vanilla Extract

1/2

Cup

Coconut Oil

2

Tbsp

Water
Instructions
Preheat oven to 375 degrees. Using either a knife or peeler, remove the skin from the apple then finely dice it, set aside. Using a veggie peeler, knife, or cheese grater finely dice or shred the carrots. If shredding rough chop after shredding, set aside. Place pistachios in a zip lock bag then using something heavy and sturdy, like a rolling pin, crush until no large pieces remain, set aside.

Combine flour, baking soda and powder, brown sugar, salt and spices in a large bowl and stir together until combined. Add all remaining ingredients and stir until well combined. See Notes for Water Tips*

Line muffin pan with cups or spray with cooking spray. Fill each cup to the top and sprinkle with additional shredded coconut if desired. Bake on the center rack for 15-18 minutes until golden and a tooth pick comes out clean. Serve warm, enjoy!
Notes
*Depending on your location you may need to use more or less water than the recipe calls for. The mix should be thick and clumpy, but still able to stir. 
Nutrition Facts
Morning Glory Muffins Recipe
Amount Per Serving (1 Muffin)
Calories 250
Calories from Fat 113
% Daily Value*
Fat 12.5g19%
Cholesterol 0mg0%
Sodium 201mg9%
Potassium 288mg8%
Protein 3.5g7%
Vitamin A 450IU9%
Vitamin C 5.8mg7%
Calcium 60mg6%
Iron 2.3mg13%
* Percent Daily Values are based on a 2000 calorie diet.
Nutrition
Serving:
1
Muffin
|
Calories:
250
kcal
|
Protein:
3.5
g
|
Fat:
12.5
g
|
Saturated Fat:
7.1
g
|
Cholesterol:
0
mg
|
Sodium:
201
mg
|
Potassium:
288
mg
|
Fiber:
2.5
g
|
Sugar:
12.1
g
|
Vitamin A:
450
IU
|
Vitamin C:
5.8
mg
|
Calcium:
60
mg
|
Iron:
2.3
mg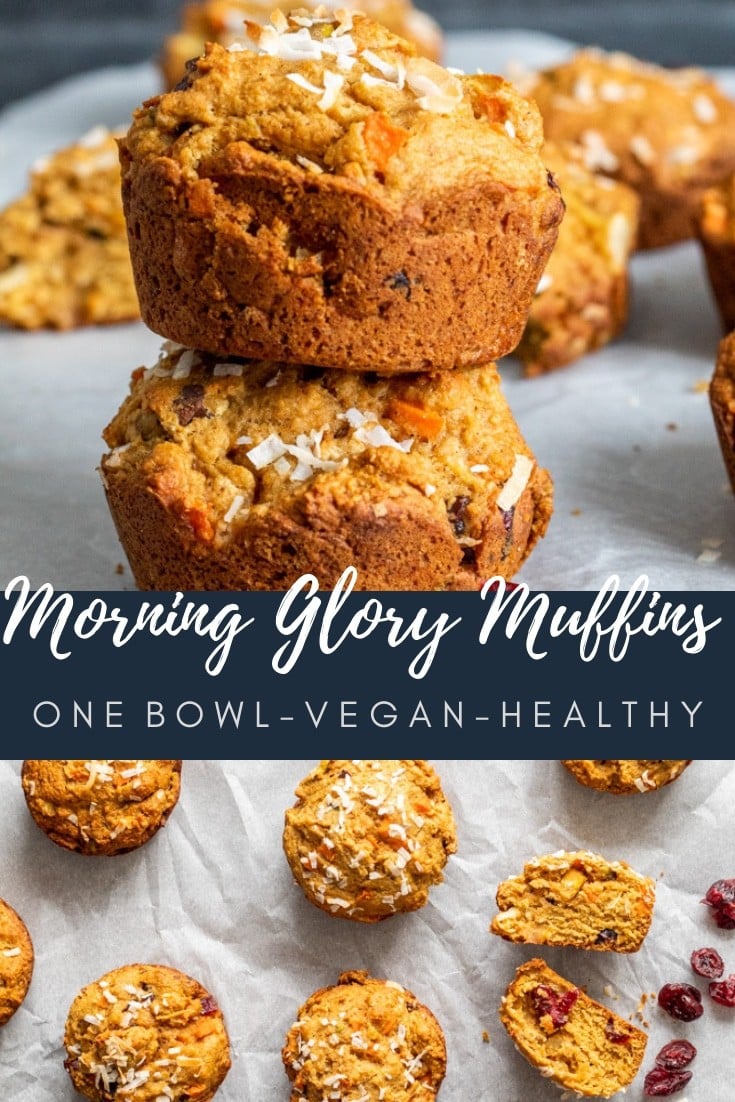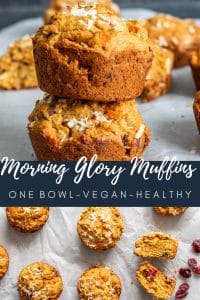 Like What You See? Share with Your Friends!