This Mango Avocado Salsa will become your new simple go-to vegan dip this summer! This vegan salsa recipe pairs well with tacos or can be enjoyed on its own with tortilla chips.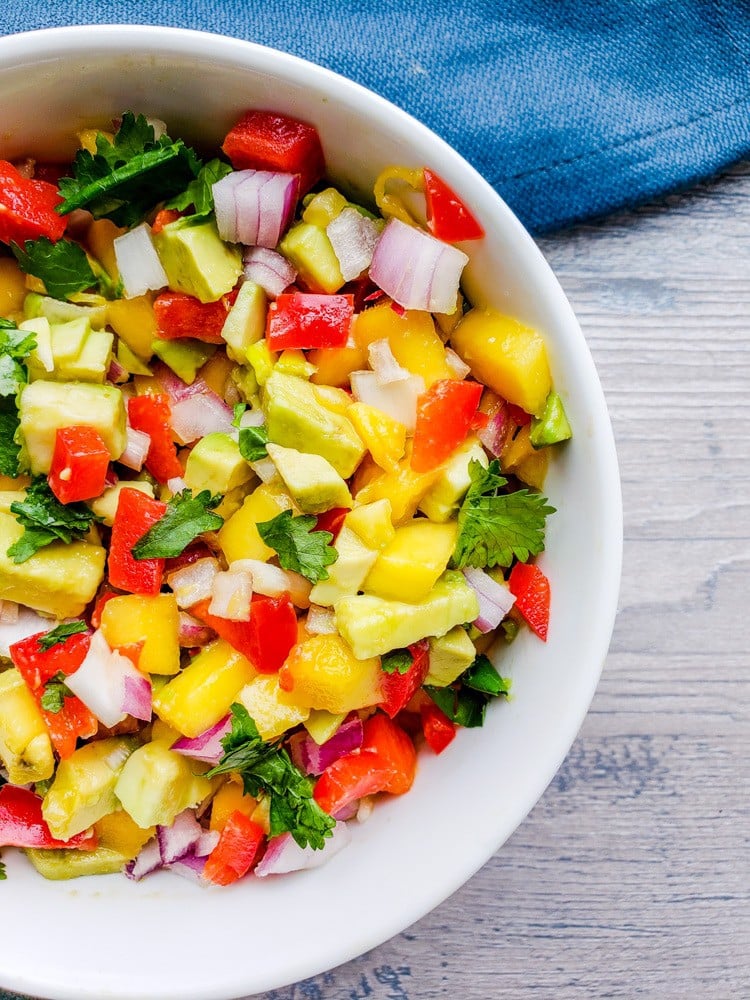 The sun is out, the snow is melting (finally) and I am so ready for spring and summer! This Mango Avocado Salsa screams summer to me and I just want to throw it on top of everything. The salsa flavor is fresh and clean, and the colors create a beautiful presentation.
This recipe pairs perfectly with all your Mexican favorites, salads or on its own with some tortilla chips. This healthy vegan salsa dish will be you new simple go to these warm weather months.
Kitchen Tools
A Bowl for Combining Ingredients

A Sharp Knife and Cutting Board

A Spoon
Ingredients
Mango

Avocado

Fresh Cilantro

Lime Juice

Half a Red Pepper

Half a Red Onion

Jalapeno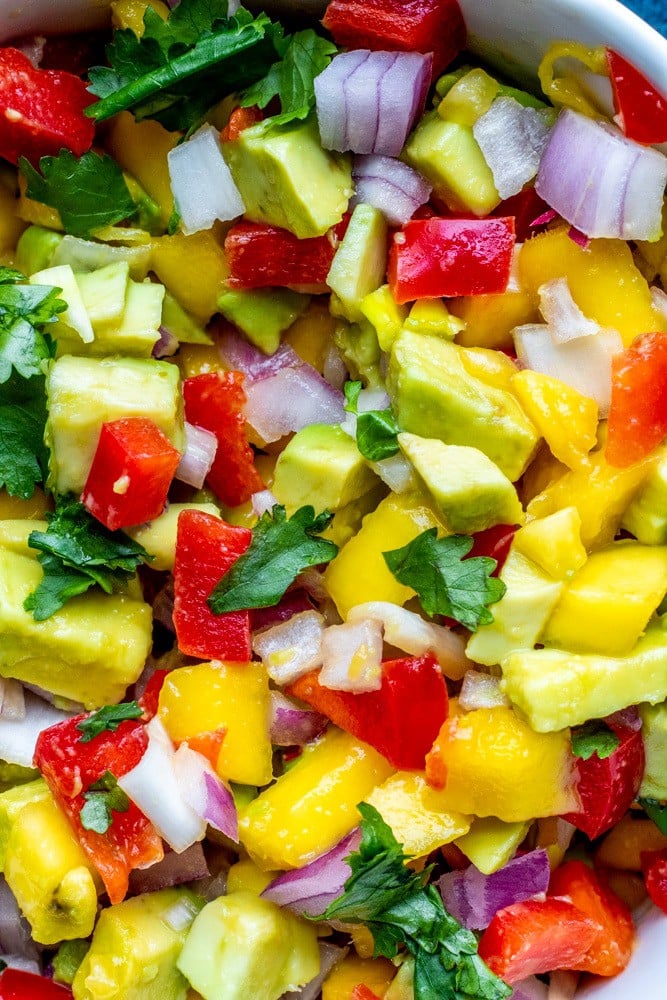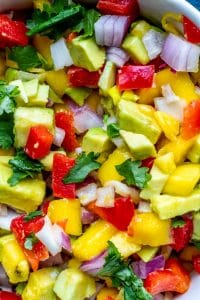 Slicing Instructions
Avocado
First, you will need to slice the avocado in half length wise creating two equal halves. Next, you will need to remove the large seed using either a spoon or knife. Once the seed is removed use your knife to slice the inside of the avocado vertically creating slices.
Next, slice horizontally to create small squarish shapes. Finally, use your spoon to scoop the inside out of the peel and place it in your bowl and repeat on the other half. Moral of the story: cut the avocado into small pieces.
Mango
First you will need to cut the mango in half. There is a large seed inside of the center of a mango, so you will need to cut off center. Once you have two halves you will slice the mango exactly like the avocado.
Red Pepper
First, you will want to remove the stem and cut the red pepper in half. Next, use your knife to remove the light colored ribs on the inside and discard along with the seeds. Finally chop the red pepper into small squares. Don't worry about the cuts being perfect it will still taste yummy I promise!
Red Onion
Okay, so full disclaimer I cut onions the "wrong" way. But, it is easier for me and I refuse to change my ways. If you want to know the correct way to slice an onion you can easily find a billion videos on YouTube about it.
Jalapeno
If you want a spicy kick to your salsa you will definitely want to add some fresh jalapeno! You will slice the jalapeno just like the pepper removing the stem, ribs and seeds then slicing it into small pieces.
Cilantro
First, I like to remove the leaves from the stems. Next, I use a knife to rough chop the cilantro into smaller pieces. You can also use your hands and just tear into small pieces.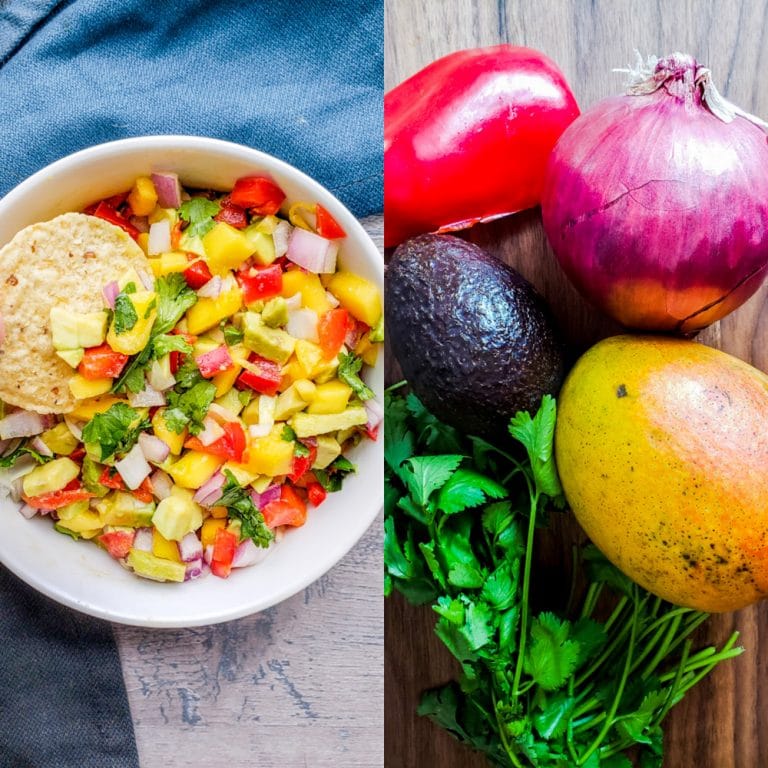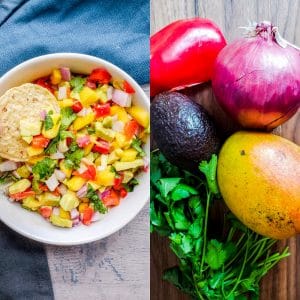 Common Questions
How should leftover fruit salsa be stored?
Stored in an airtight container in the fridge the mango avocado salsa will stay fresh for up to two days. Any longer than that and the flavor of the salsa starts to get weird. I suggest making only what you will eat to avoid food waste and it spoiling fast. The mango avocado salsa is best immediately after making it!
What other fruit options are there?
Sure! Just know that any changes you make to the mango avocado salsa recipe will result in the flavor being altered. Some things you could try is adding in orange pepper instead of red pepper, or a spicier pepper if you want more heat. Also, if you loathe cilantro you could leave it out completely, or cut the suggested amount in half.
What should this salsa be served with?
I love eating this mango avocado salsa with chips, on top of tacos, quesadillas or over the top of a salad. If you are looking for a wonderful main dish to pair this with try these Crockpot Pork Carnitas Tacos.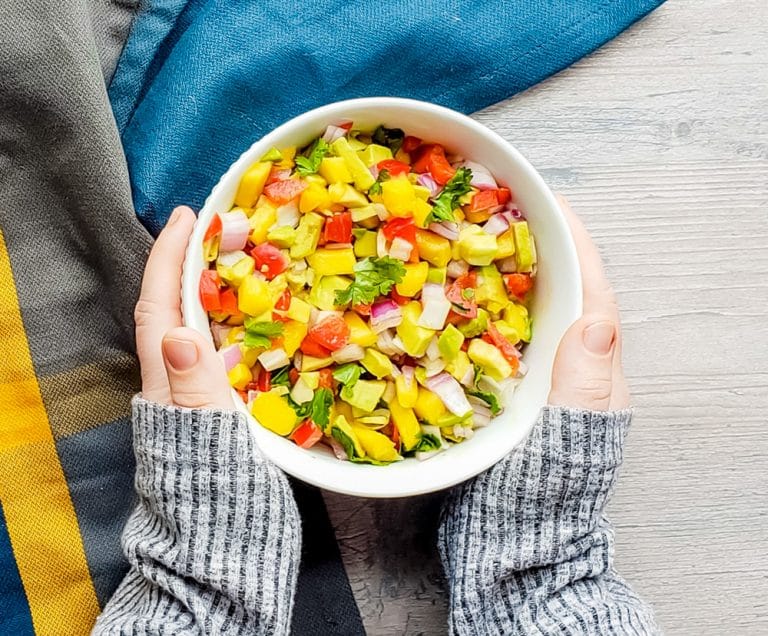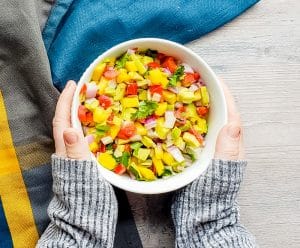 More Dip Recipes
Strawberry Pineapple Salsa
Blender Salsa
Buffalo Chicken Dip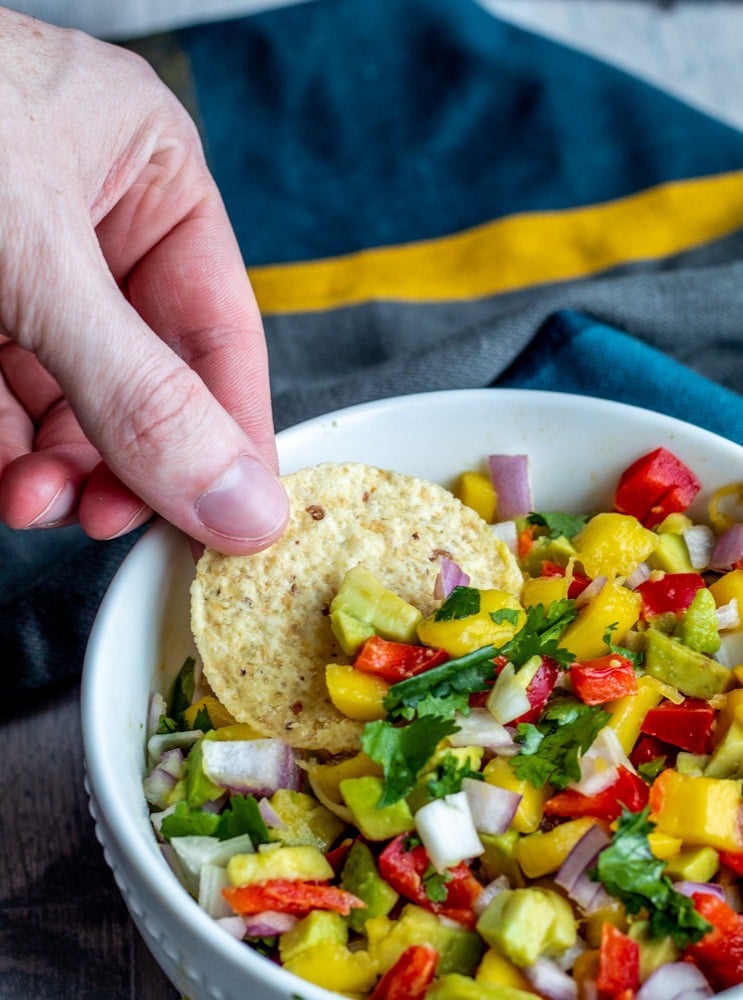 Looking for the perfect pairing for this Mango Avocado Salsa?! Try these Crockpot Pork Carnitas Tacos!
Happy Eating!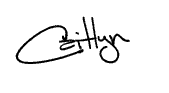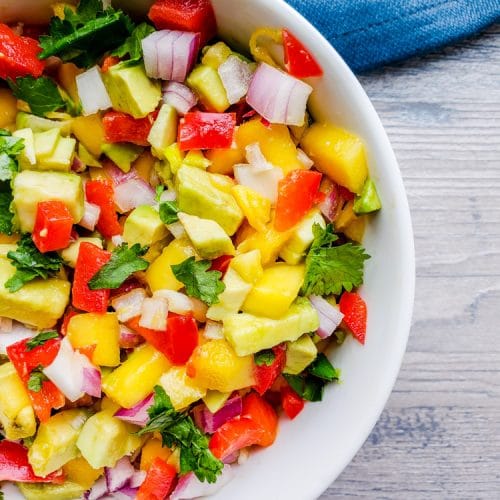 Mango Avocado Salsa
This Mango Avocado Salsa is the best fresh salsa to pair with tacos or on its own with chips! A great combo of fresh fruits, vegetables and cilantro.
Ingredients
1

Mango

1

Large

Avocado

½

Red Onion

½

Red Pepper

1

Jalapeno

Diced- Optional

¼

Cup

Fresh Cilantro

1

tablespoon

Lime Juice

Or the juice of one fresh lime
Instructions
Slice avocado in half and remove the seed with your knife. Slice the inside of the avocado vertically into long slices then horizontally making small squares. Use a spoon to scoop out the sliced avocado and add to bowl. Repeat this same process for the other half.

Cut the mango into two halves and repeat the vertical and horizontal cuts just like with the avocado. Use the spoon to scoop the sliced mango out of the skin and add to bowl.

Dice the onion and add it to the bowl. Remove the seeds and ribs from the red pepper, and jalapeno (optional) then chop into small pieces and add to bowl. Finally add the fresh cilantro and lime juice and gently toss until just combined. Serve immediately and enjoy!
Nutrition
Calories:
83
kcal
Carbohydrates:
10.1
g
Protein:
1
g
Fat:
5.1
g
Saturated Fat:
1.1
g
Cholesterol:
0
mg
Sodium:
3
mg
Potassium:
225
mg
Fiber:
2.6
g
Sugar:
6.6
g
Vitamin A:
1150
IU
Vitamin C:
37.1
mg
Calcium:
10
mg
Iron:
0.4
mg
See What We Are Pinning!
Follow erhardtseat1 to see all the food!
Like what you see?! Share with your friends!