This Vegetarian Enchiladas Recipe is perfect for a healthy, meatless weeknight dinner! Also, this recipe can easily be customized with additional toppings, the addition of meat, or making it vegan!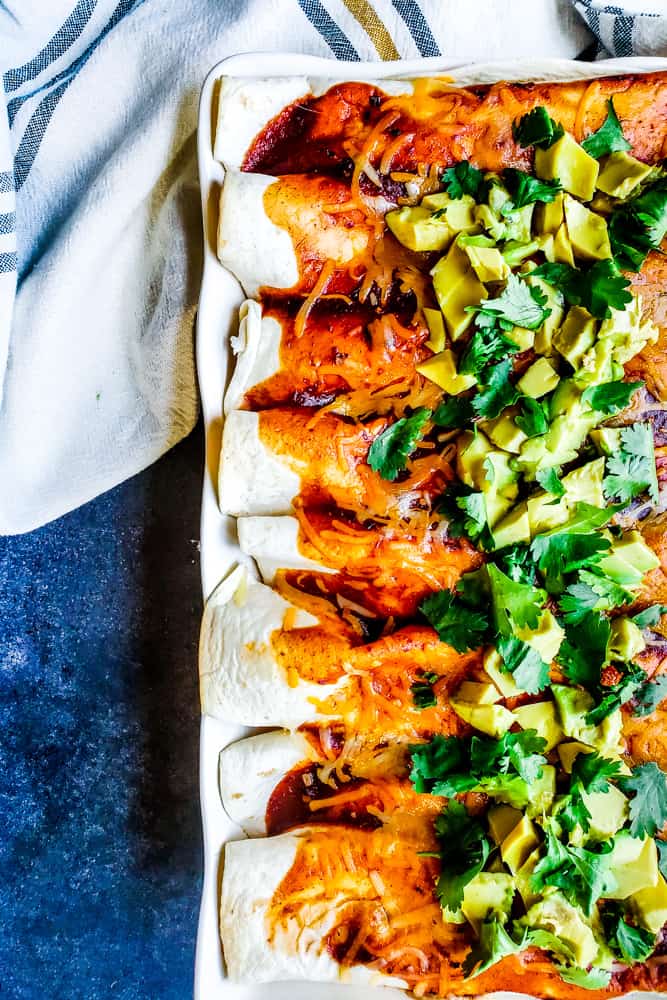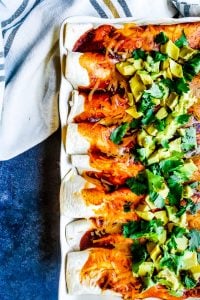 Is there really such a thing as too much Mexican food? No? Okay, cool. I didn't think so. Honestly, Mexican food is some of my absolute favorite to eat (and cook)! This Vegetarian Enchiladas recipe is super simple and filled with roasted vegetables including cauliflower and peppers, plus beans and cheese. Next the vegetarian enchiladas are rolled into tortillas and topped with a homemade smokey chipotle enchilada sauce and MORE CHEESE!
Ugh, these enchiladas are so good it is hard to believe there is zero meat and they are healthy for you. Bonus, the enchiladas can be made ahead of time, are freezer friendly and perfect for meal prep. I hope you and your family love these Easy Veggie Enchiladas!
Kitchen Tools
A 13x9 inch Baking Pan

A Small Food Processor or Blender

A Knife and Cutting Board

Measuring Cups and Spoons
Ingredients
Flour Tortillas

Veggies

Canned Beans

Cheese

Spices

Enchilada Sauce

Chipotle Peppers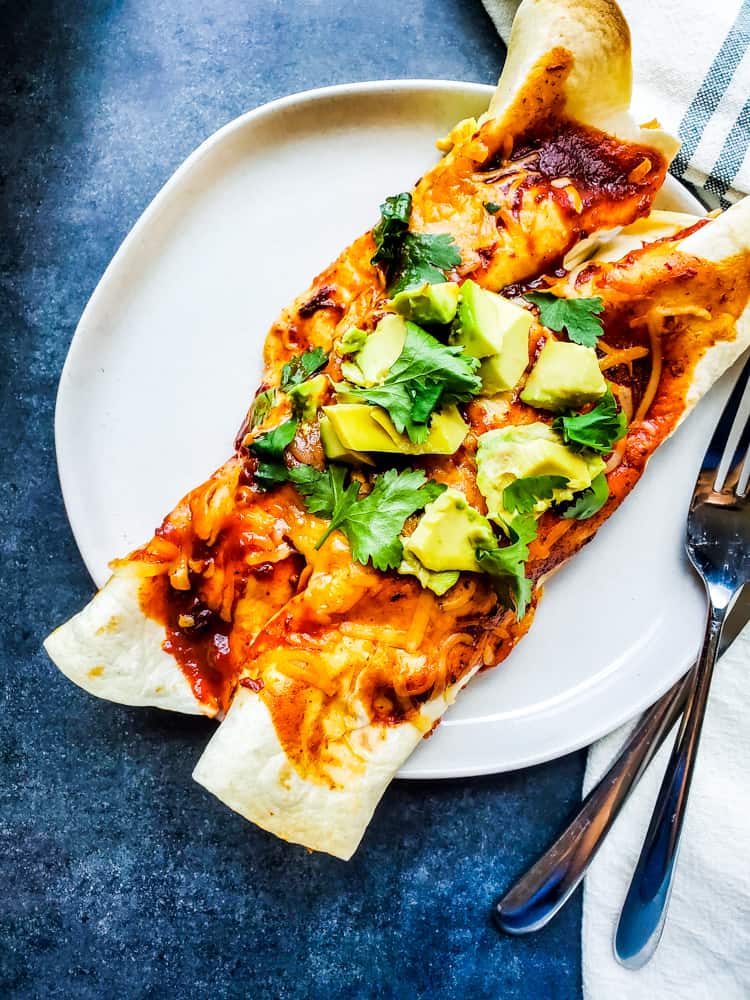 How to Make Vegetarian Enchiladas
Enchilada Filling and Sauce
Chop your peppers, cauliflower and tomatoes then add them to a cookie sheet with olive oil and spices. Bake the veggies for 20 minutes, stirring halfway through, then broil for 5 minutes.

Prepare canned beans by opening and rinsing them.

Use a food processor or blender to make the chipotle enchilada sauce. Add the chipotle peppers, red enchilada sauce and brown sugar and blend until smooth.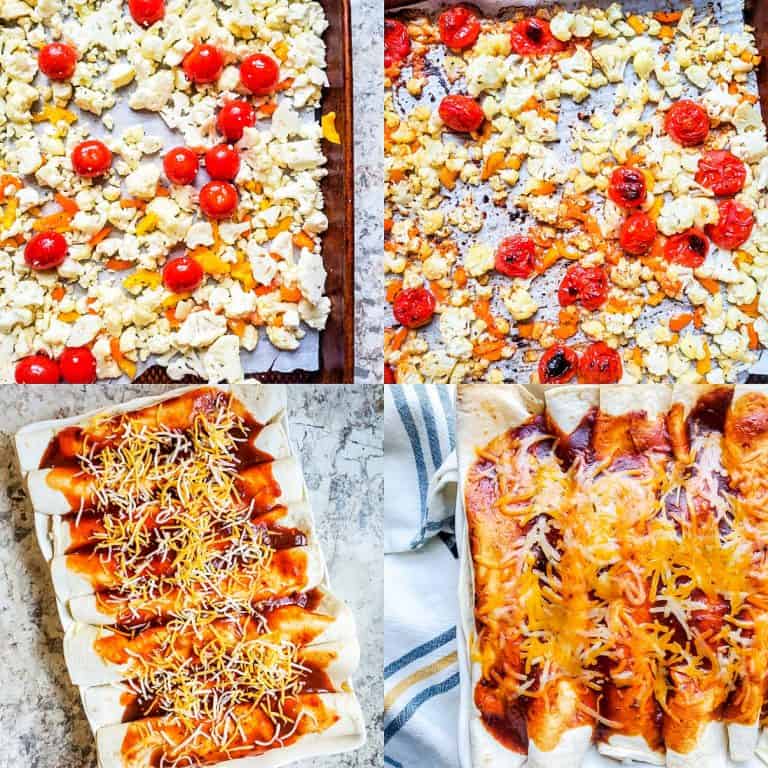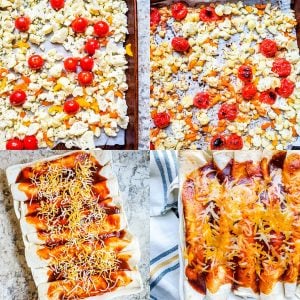 Enchilada Assembly and Baking
Spread a thin layer of chipotle enchilada sauce onto a baking dish.

Lay out a large flour tortilla and fill with roasted veggies, beans and cheese. Be careful not to overfill them or the filling will spill out the side. Fold then roll the tortilla and add it seam side down to the baking dish. Repeat this until all the filling is used (you should get 8 large tortillas filled).

Cover the top of the filled tortillas with chipotle enchilada sauce, then additional cheese. Finally, bake the vegetarian enchiladas for 20 minutes then serve the roasted veggie enchiladas warm with additional toppings. Enjoy!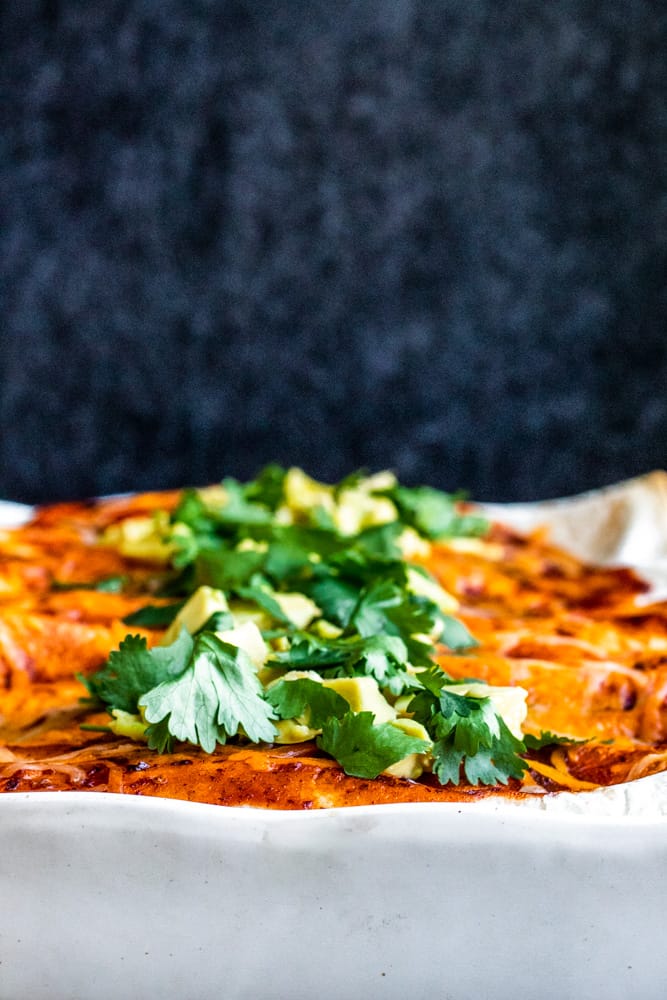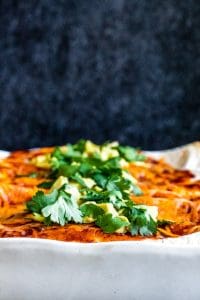 More Vegetarian Recipes
Vegetarian Quesadillas
Easy Margherita Naan Pizza
Vegan Black Bean Soup
Crispy Smashed Potatoes
Grilled Goat Cheese Sandwich
Healthy Veggie Chili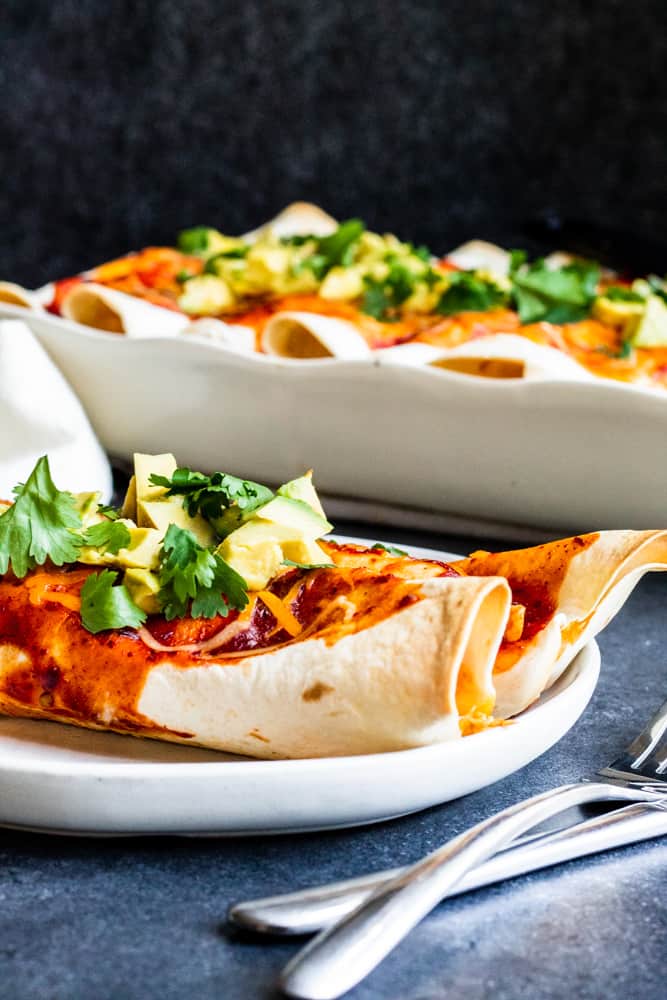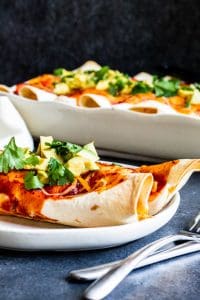 Substitution Ideas
Sure, you can substitute ingredients for this roasted cauliflower enchiladas recipe if you wish. Just note, that any changes you make will affect the flavor, prep and cook time length. Some ideas for substitutions are:
Add Meat: You could add chicken, steak or ground beef to this enchiladas recipe if you are a meat lover. Just make sure your meat is cooked before adding it in. Also, if you add meat you will not need as much roasted veggies or beans. Therefore, you can cut those ingredients in half and keep the cook time the same.
Make it Vegan: This enchiladas recipe is very simple to make vegan if you are eliminating all animal products from your diet. To make this recipe vegan eliminate the cheese or use a dairy free cheese alternative.
Switch the Veggies: I love the roasted cauliflower in the enchiladas recipe, but if you want to swap it out another option would be using broccoli instead. Also, you can use whatever color pepper you like and use a different variety of tomato.
Add Some Spice: I kept it very basic with the spices I used for this roasted veggie enchiladas recipe in an effort to make it less intimidating and approachable for people trying healthy, meat free foods. If you would like to boost the flavor even more try adding some chili powder or cumin to the roasted veggies! Also, if you are into spicy then you could add some red pepper flakes or cayenne pepper.
Pairing Suggestions
This vegetarian enchiladas recipe is hearty and filling on its own, but if you are looking for side ideas you could try brown rice, grilled vegetables, a Mexican corn salad or homemade salsa. My Mango Avocado Salsa with some chips is great to share while eating this enchiladas recipe!.
Also, I added fresh cilantro and avocado it the top of my veggie enchiladas; this is a great option and adds even more flavor. Alternatively, you could add your favorite salsa, sour cream (or plain Greek Yogurt), jalapenos for a spicy kick, diced red onion, or any of your other favorites.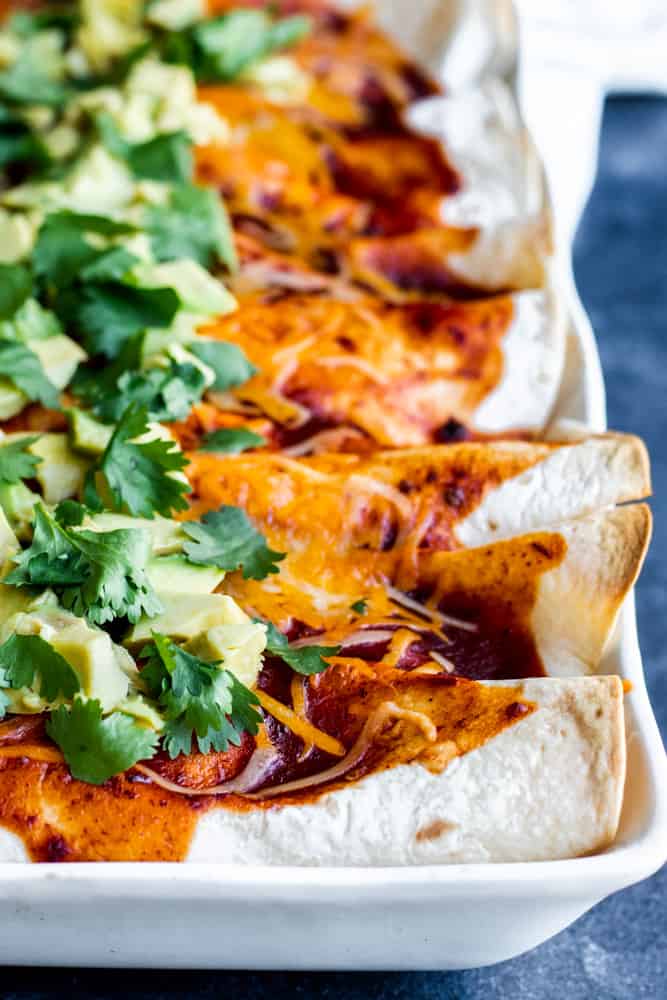 Common Questions
Ho do you freeze enchiladas?
Yes, this roasted veggie enchiladas recipe can be made ahead of time and stored in the freezer. Prep the filling and roll into the tortillas per recipe instructions. Add the filled tortillas to a zip-lock bag and store in the freezer for up to 3 months. Personally, I like to add the sauce and cheese when I am ready to bake them, I think they turn out better.

When ready to bake the vegetarian enchiladas, place the frozen enchiladas in a large baking dish and top with sauce. Bake covered for 20 minutes at 375 degrees, then remove foil and top with cheese and bake for an additional 20 minutes or until cooked though. Serve enchiladas warm with additional toppings if desired, and enjoy!
How should leftover enchiladas be stored?
When stored in the fridge in an airtight container this vegetarian enchiladas recipe will stay fresh for up to 4 days.
Can enchiladas be made ahead of time?
Yes, the enchiladas filling and sauce can be made ahead of time and stored in the fridge for up to 4 days until you are ready to bake them. Make sure to store the sauce and filling separately.

You can also roll the filling into the tortillas ahead of time and store them in the fridge for up to 4 days until ready to bake this healthy vegetarian enchiladas recipe. Add the sauce and cheese over the top of the enchiladas right before baking.
Are enchiladas good for meal prep?
Yes, this enchiladas recipe is a great healthy meal prep recipe. I pair these enchiladas with rice, salsa and some lettuce when I make these for meal prep. Also, I sprinkle a little extra cheese over the top so when I warm them up these is fresh melted cheese.
I hope you and your family love this Vegetarian Enchiladas Recipe! Let me know in the comments down below.
Happy Eating!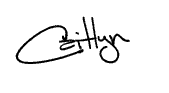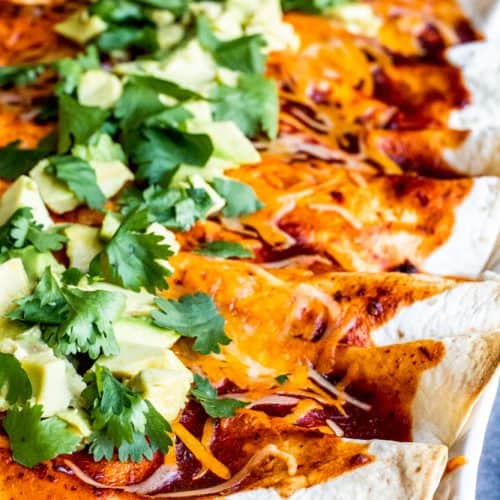 Vegetarian Enchiladas Recipe with Roasted Cauliflower
This Vegetarian Enchiladas Recipe is the best, healthy weeknight meal filled with roasted veggies and beans then topped with cheese and sauce!
Ingredients
Optional Toppings
Avocado

Fresh Cilantro

Lime Juice

Red Pepper

Diced

Jalepeno
Instructions
Chop the cauliflower head into small florets removing the stem and leaves and discarding. Remove the seeds and ribs then roughly chop the peppers and add to a baking sheet along with tomatoes. Sprinkle vegetables with olive oil, salt, pepper, garlic power, and onion powder and toss to combine.

Bake at 400 degrees for 20 minutes stirring halfway through. Move vegetables to top rack and broil for 5 minutes on high, or until tops are slightly brown.

While veggies are roasting rinse canned beans and pat dry. Next, make the chipotle enchilada sauce.

Combine chipotle peppers, red enchilada sauce, and brown sugar in a food processor or blender and pulse until smooth. Cover the bottom of a 9x13 inch baking dish with a small amount of sauce.

When veggies are finished roasting, take a large tortilla and lay flat. Fill with roasted veggies, beans, and cheese and roll. Add seem side down to baking dish and repeat until all 8 tortillas are filled.

Top filled tortillas with chipotle enchilada sauce and additional cheese then bake at 350 degrees for 20 minutes. Serve warm with additional toppings and enjoy!
Notes
*The Chipotle Peppers will give your sauce a smokey spice that is incredible. If you like spice add 4 chipotle peppers. If you want more of a mild flavor add 2-3 chipotle peppers.
Nutrition
Serving:
1
Enchilada
Calories:
332
kcal
Carbohydrates:
49.2
g
Protein:
11.6
g
Fat:
9.3
g
Saturated Fat:
1.9
g
Cholesterol:
4
mg
Sodium:
874
mg
Potassium:
465
mg
Fiber:
10.7
g
Sugar:
8.4
g
Vitamin A:
100
IU
Vitamin C:
51.2
mg
Calcium:
90
mg
Iron:
1.8
mg
See What We Are Pinning!
Follow erhardtseat1 to see all the food!
Share with Your Friends and Family!