The BEST healthy Vegetarian Quesadillas for lunch, dinner or an appetizer. Filled with black beans, sweet potato, avocado and cheese, and ready in under 30 minutes!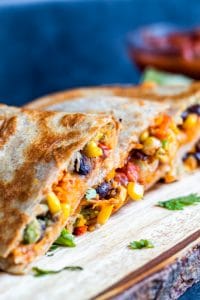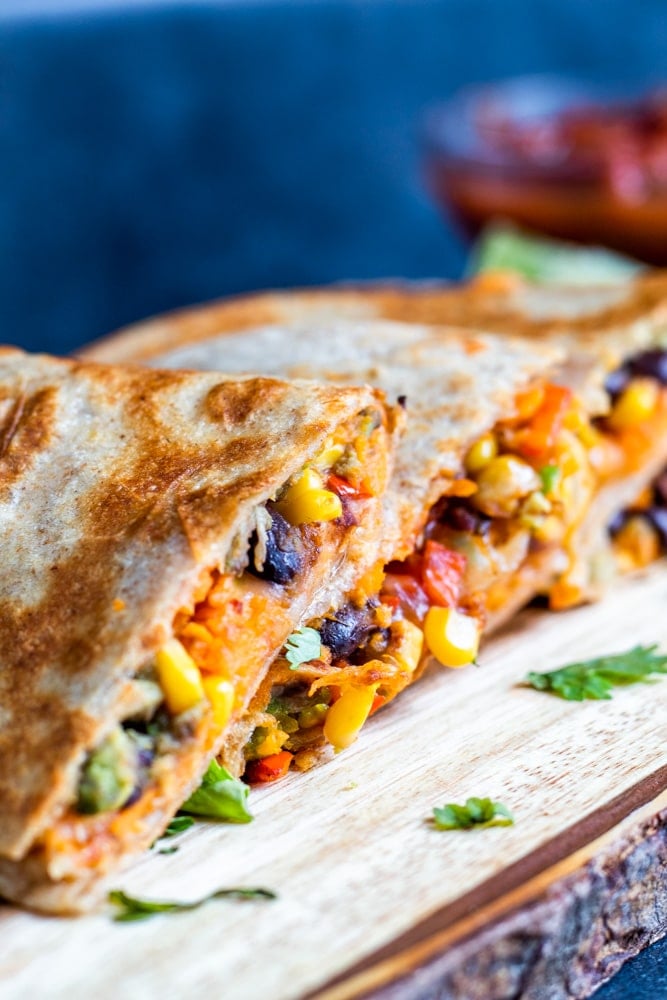 What is healthy, delicious and ready in only 30 minutes? It is these Vegetarian Quesadillas of course. These veggie quesadillas are packed full of goodness including black beans, sweet potato, avocado, and peppers, these are filling and good for you.
That being said we can't forget the staple to any awesome quesadilla recipe: CHEESE. Alternatively, you could make this quesadilla recipe vegan by swapping in your favorite faux cheese and butter and go to town. This healthy quesadilla recipe is a great way to sneak in some veggies in a tasty way. Perfect for both kids and adults this cheesy Mexican dish is perfect for a quick weeknight dinner or lunch. Enjoy these veggie quesadillas.
Ingredient Notes
Avocado:

Alternatively

, you can use fresh or store bought guacamole.

Veggies:

I use a combination of red and orange bell peppers, corn, and jalapeno pepper for some spice. You can use this exact combo or sub in some red onion, different colored pepper, tomato, zucchini, or spinach leaves.

Shredded Cheese: I like to use cheddar or

pepper jack

cheese, but any melting cheese can be used like a Mexican blend cheese

.
Homemade Taco Seasoning : I love my homemade taco seasoning for these quesadillas, but you could use store bought as well.

Tortillas:

Corn tortillas, flour tortillas, whole wheat tortillas, or spinach tortillas will work for these quesadillas. Just pick the one you enjoy the most and go for it.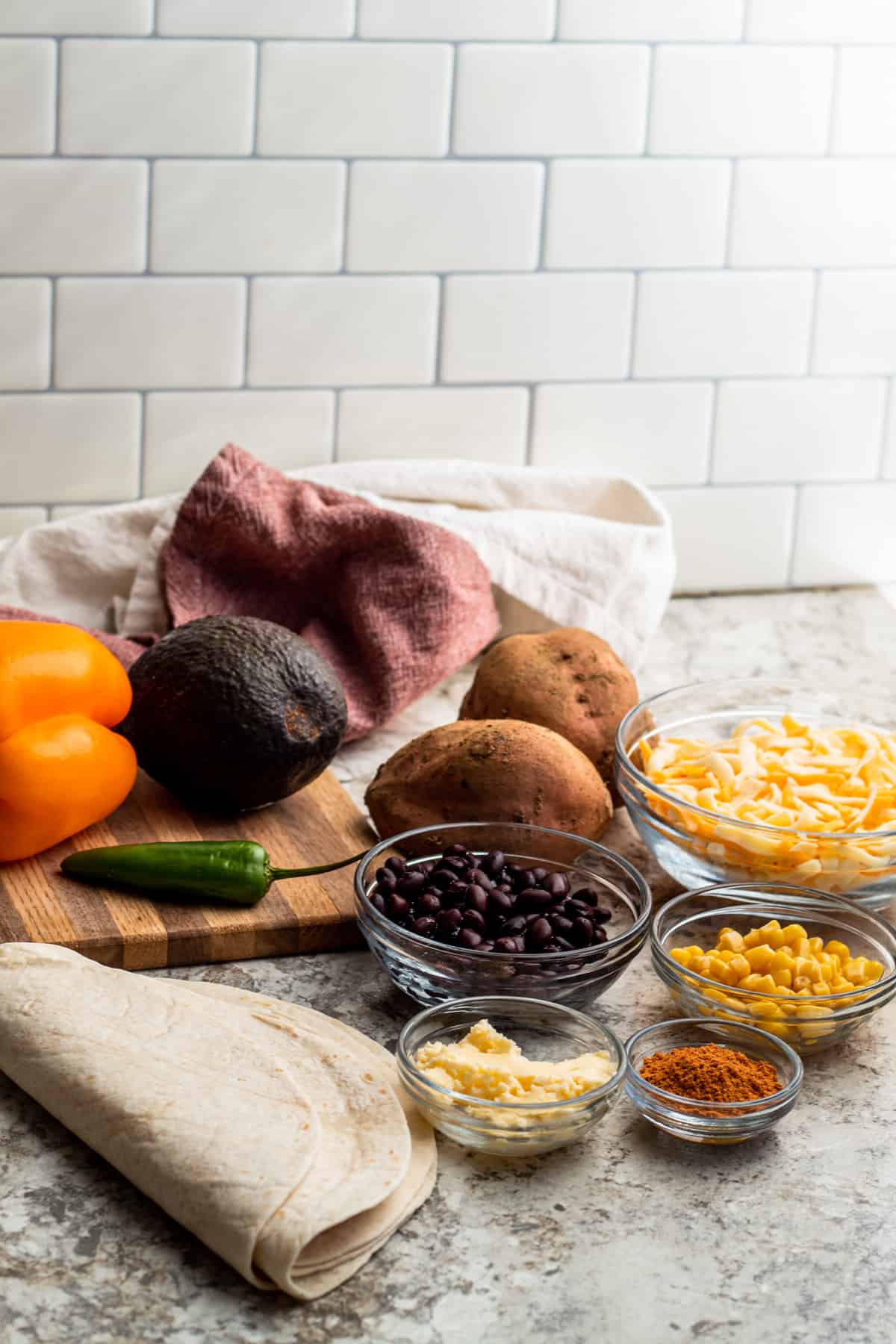 Instructions
These Vegetarian Quesadillas are ready in less than 30 minutes and made in one pan for easy clean up . Yes, this black bean and avocado veggie quesadilla recipe really is as quick and easy as it sounds.
Filling Prep
First, you will need to prepare the sweet potato. Personally, to keep things quick, I like to cook mine in the microwave. Alternatively, you can bake the sweet potato, but you will need to set aside an additional 35-45 minutes for it to bake fully in the oven. If going the microwave route, poke numerous holes in the sweet potato using a fork. Next, drizzle with olive oil, salt and pepper and wrap in paper towels. Finally, microwave on high for 8 minutes or until sweet potato is squishy and very tender. While the sweet potato is in the microwave, get the filling mix going.

Second, remove the ribs and seeds from the peppers and jalapeno (if using). Dice them into small pieces or strips (whichever you prefer).

Cook in a large pan with olive oil until tender, about 5 minutes. Then add the drained beans, corn, and seasoning and cook for an additional 2 minutes until everything is warmed. Remove filling mix from pan and place in a large bowl. Now it is time to construct the black bean and sweet potato quesadillas.
Veggie Quesadilla Assembly
First, butter one side of the tortilla to help it brown in the pan.

Next, take a few large spoonfuls of sweet potato and spread it on the opposite side as the butter. Then add half of one of the avocados on top of the sweet potato (I like to mash mine).

Add your veggie quesadilla filling mix to half of the tortilla. I like to put it on half because it is easier to flip while cooking. Finally, sprinkle with a generous amount of cheese.
Cooking the Quesadilla
Finally, it is time for the veggie quesadilla to get cooked. Place the tortilla butter side down in the same large pan you use for your filling. Cook on medium heat until the tortilla is browned and the cheese is melted.

Lastly, flip your quesadilla over on to itself to make it into a sandwich.

Repeat these steps until all the quesadillas are filled and cooked.

Slice into 2-4 pieces and serve warm with additional toppings like sour cream, cilantro or your favorite salsa

.
Save Me for Later!
Wrap leftover quesadillas in a piece on foil and store in the fridge for up to 3 days. When ready to enjoy I like to pop mine in the oven at 350 degrees for 15 minutes or until warm. You could also warm them in a skillet or microwave.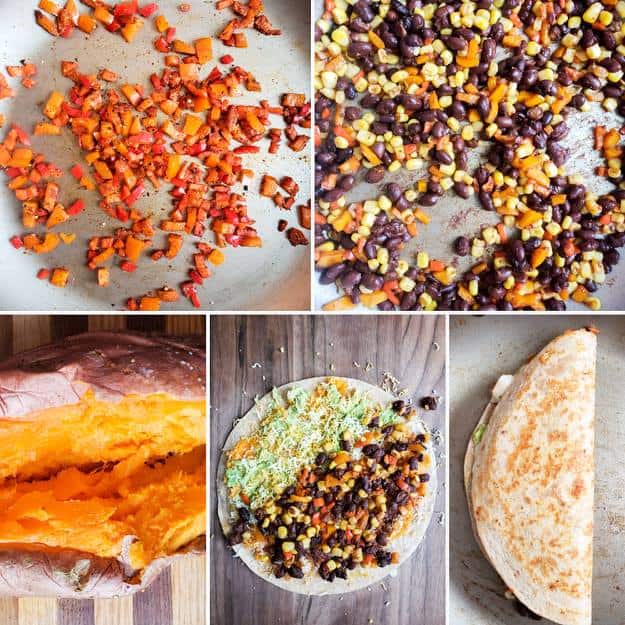 Serving Suggestions
These easy quesadillas and perfect on their own right out of the pan. If you want to add a little extra to them, you can top them with homemade salsa, sour cream, hot sauce, cilantro or lime juice.
Where's the Meat?!
Okay, I get it some people just really need some meat in their life. I regularly add in chicken instead of sweet potato for my husband because he hates sweet potato (weirdo). Some great meat options include Cilantro Lime Chicken, Grilled Skirt Steak, and Crockpot Pork Carnitas, cooked taco meat, cooked ground turkey or any of your other favorites.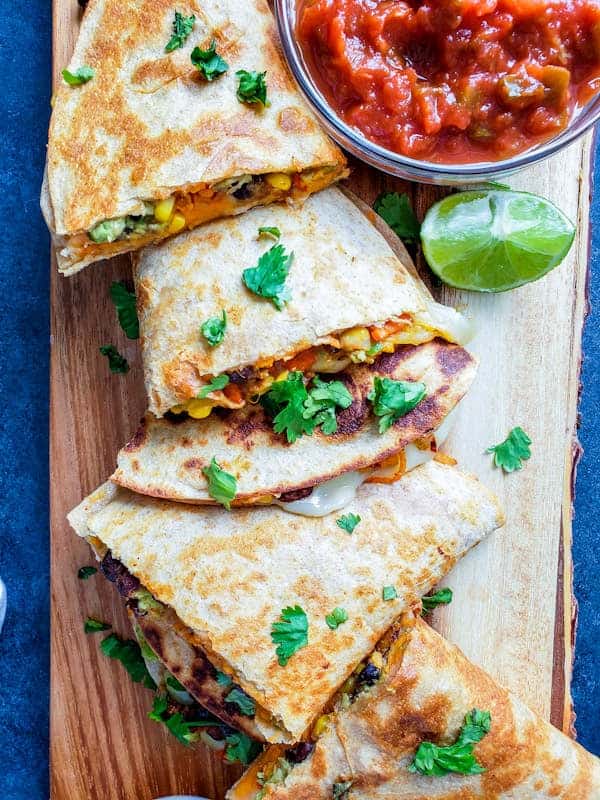 Pro Tips
Don't Overfill: I know that the idea of a super packed and cheesy quesadillas sounds perfect, but it is very important not to over-stuff these. If you put too much filling in everything will squish out the side. IF that happens no big deal, just grab a fork and dig in. I like to keep the outside of the tortillas clear, so everything can shift a bit when they are flipped while cooking.
Leftover Options: If you are looking to mix up this recipe you can easily use the black bean and sweet potato filling for tacos, a burrito bowl or just enjoyed on its own. This is a great option for meal prep as well.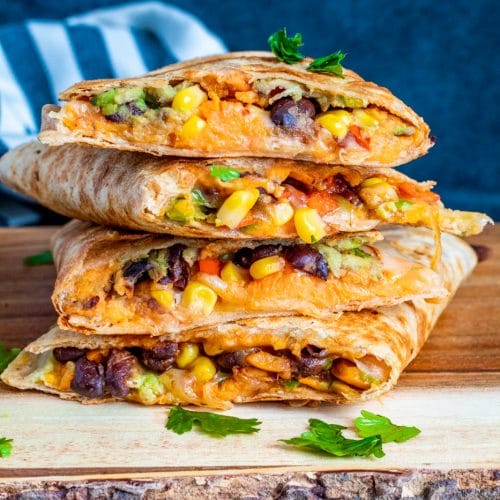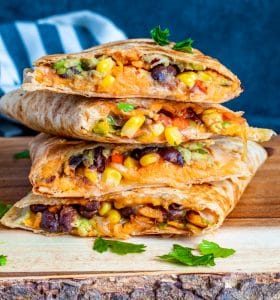 FAQS
What veggies go with quesadillas?
I like the combination of black beans, sweet potato, peppers, corn, and avocado, but there are endless veggie combinations you could make. You could also use pinto beans instead of black beans and use any color pepper you prefer. Adding in additions like roasted cauliflower, mushrooms or broccoli to this roasted vegetable quesadilla will add a great flavor as well.
Can the quesadillas be made vegan?
This quesadilla recipe can easily be made vegan by using a vegan cheese and butter alternative. Also, you could leave the cheese out completely if you prefer. Another great option for this veggie quesadilla recipe is adding some cooked tofu for some extra vegan goodness.
Can quesadillas be made for meal prep?
Yes, you can store the cooked quesadillas in the fridge for up to 3 days and warm leftovers in the microwave until warm. This option works great for meal prep work lunches.
Can vegetarian quesadillas be frozen?
I would not freeze the cooked and assembled quesadillas. I say this because the avocado will get really weird and the texture will be a mess.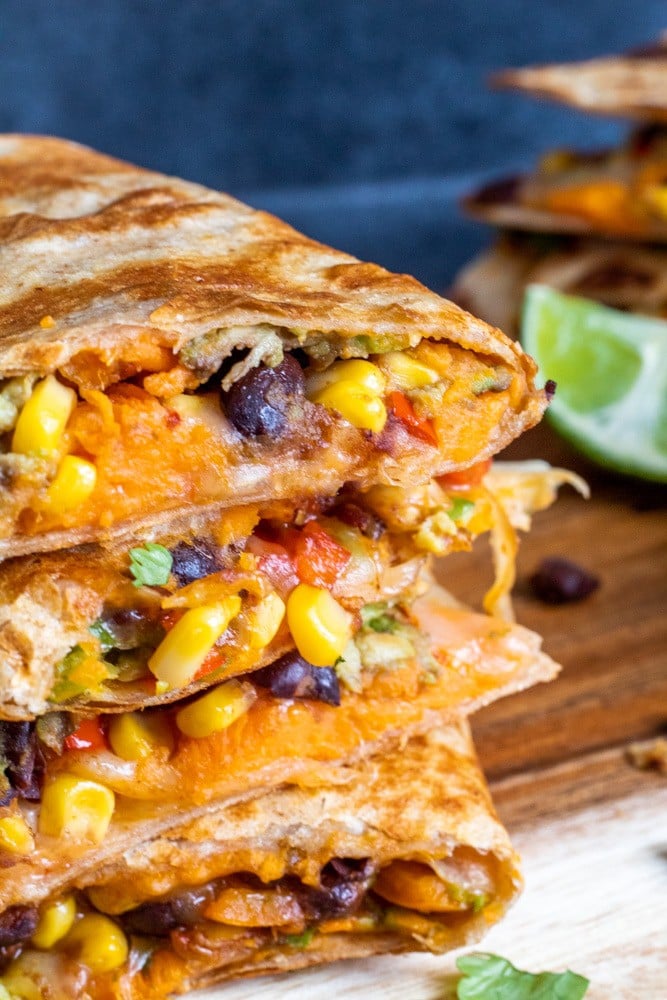 You May Also Enjoy...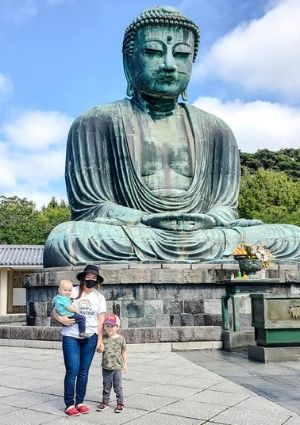 Happy Eating!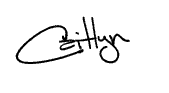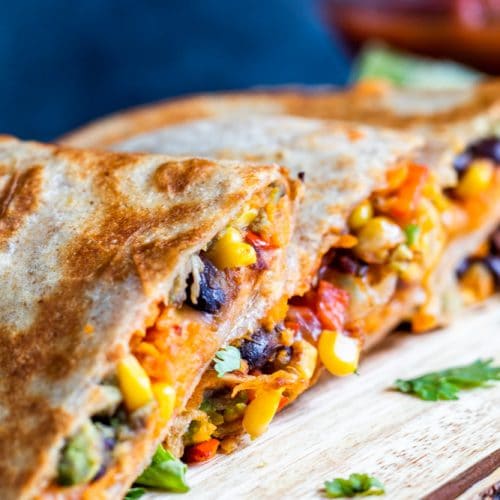 Vegetarian Quesadillas
These Vegetarian Quesadillas are the best quick weeknight dinner or lunch! Filled with black beans, sweet potato and avocado these are healthy and delicious!
Ingredients
4

Medium

Flour Tortillas

1

Large

Sweet Potato

2

Avocados

½

Cup

Black Beans

Rinsed and Drained

¼

Cup

Corn

Rinsed and Drained

1

Mini Red Pepper

1

Mini Orange Pepper

1

teaspoon

Jalapeno

Diced-Optional

1

tablespoon

Easy Homemade Taco Seasoning

Or Store Bought Mix Packer

1

Cup

Cheddar or Pepper Jack Cheese

1

tablespoon

Butter

For Pan Frying

2

teaspoon

Olive Oil

Divided
Suggested For Serving
Fresh Cilantro

Lime Juice

Your Favorite Salsa

Sour Cream
Instructions
Prepare Filling
Use a fork to poke several holes into the sweet potato and drizzle with 1 teaspoon olive oil. You can also sprinkle with a small amount of salt and pepper. Wrap the sweet potato in paper towels and microwave for 8 minutes or until very tender.

Dice jalapeno and peppers removing the ribs and seeds. Add diced peppers and jalapeno i(f using) to a large pan and cook until tender, about 5-7 minutes. Then add black beans, corn and taco seasoning and stir to combine cooking another 3 minutes. Pour into a bowl and set aside.
Assemble the Quesadilla
Lightly spread butter over one side of the tortilla. On the other side spread about 3 tablespoon of sweet potato over the tortilla. Next mash half of an avocado over the sweet potato. Add about ¼ cup of the veggie/bean filling over the top of the avocado. Finally sprinkle a generous amount of cheese over top.

Place the butter side of the tortilla down on the warm pan and cook over medium heat until tortilla is browned and cheese is melted. Carefully fold tortilla in half on to itself using the spatula. Repeat until all tortillas are filled and cooked. Slice and serve warm with suggested toppings and enjoy!
Notes
Leftover Storage: Store leftovers in an airtight container for up to 4 days. It is best to store cooked ingredient separate in the fridge, then cook right before wanting to eat. If the quesadillas are stored after they are cooked the flavors can get a bit muddy.
Nutrition
Calories:
481
kcal
Carbohydrates:
38.7
g
Protein:
12.9
g
Fat:
26.3
g
Saturated Fat:
8.6
g
Cholesterol:
30
mg
Sodium:
459
mg
Potassium:
833
mg
Fiber:
11.4
g
Sugar:
6.5
g
Vitamin A:
250
IU
Vitamin C:
32.2
mg
Calcium:
180
mg
Iron:
3.2
mg
See What We Are Pinning!
Follow erhardtseat1 to see all the food!
Like What You See? Share with Your Friends!