Looking for a light and healthy dressing to pair with salads, wraps and more?! Check out this Homemade Balsamic Vinaigrette Dressing packed with honey, balsamic vinegar, olive oil, and garlic! Ready in 5 minutes!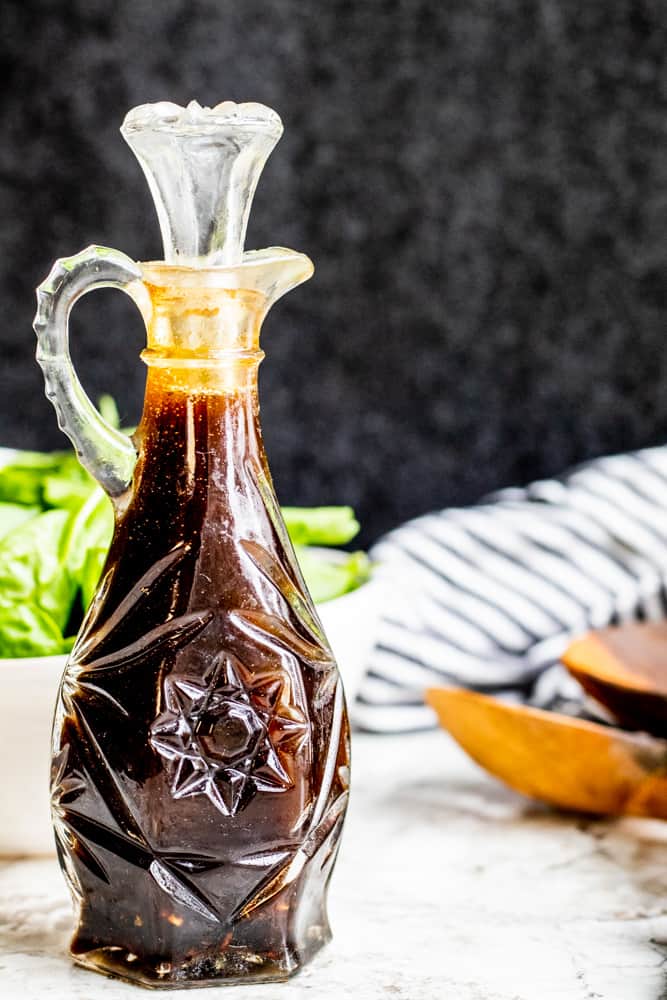 Can we all agree that the best part of a salad is the dressing?! This is always the case for me at least. This Honey Balsamic Dressing is super simple to make and comes together in just 5 minutes.
This homemade vinaigrette is also healthy and can be paired with tons of recipes that go beyond the typical salad. I am on a big salad and dressing kick lately, and this is one of my go-to dressings I enjoy basically everyday. Hopefully you love and find tons of uses for this dressing!
Ingredient Notes
Olive Oil

: Either extra virgin olive oil or light olive oil will work for this balsamic salad dressing. Using a regular olive oil will let the balsamic flavor come through more, while extra virgin olive oil will have a deeper flavor.

Honey-

You could leave the honey out if you are avoiding added sugars

, or want to make this recipe vegan. Alternatively, you could add in a bit of white table sugar, or a sweetener of your choice.
Why this Dressing is a MUST MAKE!
Super Simple: No Cooking Required & Only a Few Ingredients Needed
Ready Fast in Only 5 Minutes
Versatile: Great on Salads, Wraps, Vegetables or as a Marinade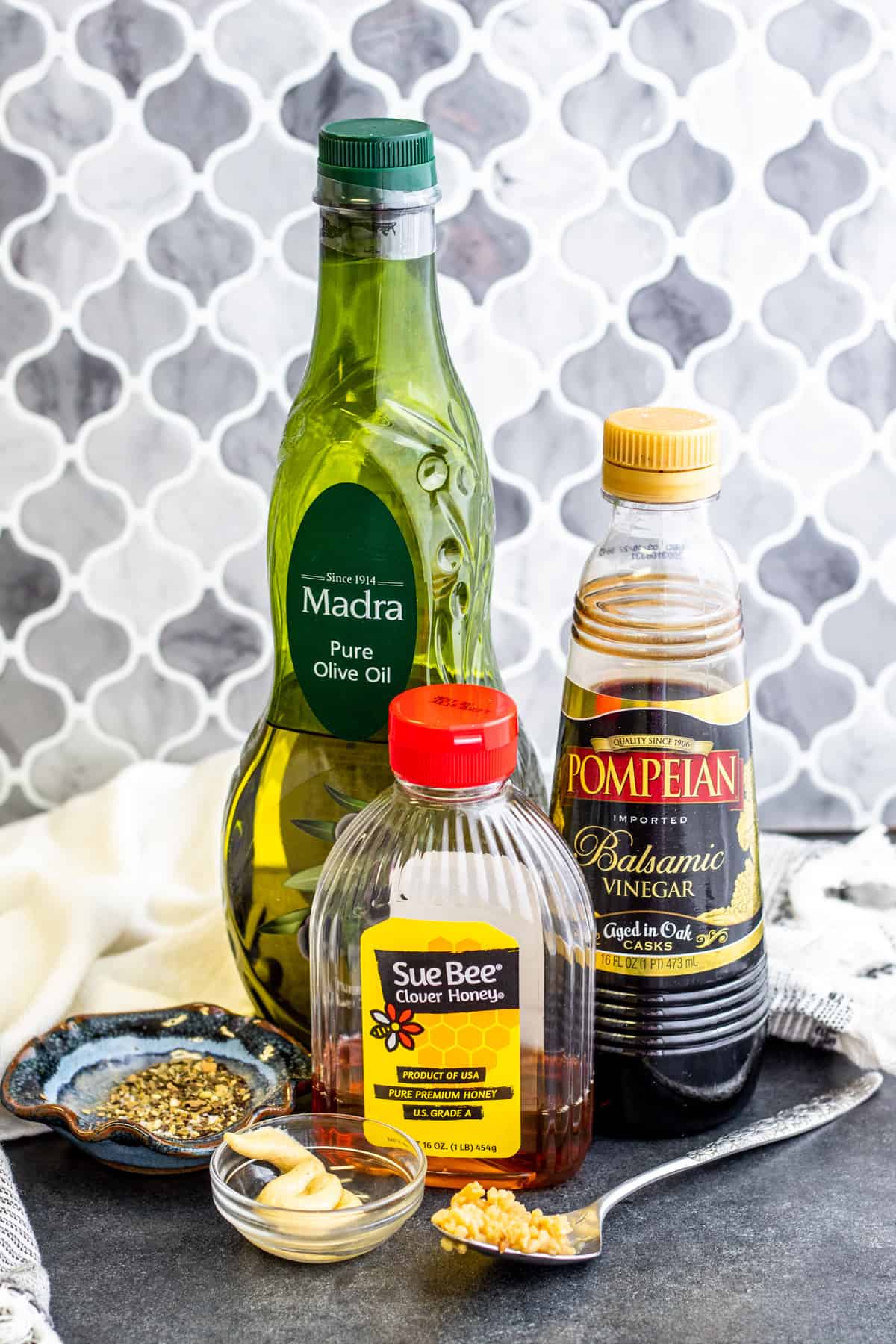 Instructions
This easy balsamic dressing comes together in only 5 minutes and requires zero cooking. All you have to do for thi recipe is measure, combine and shake. Super simple and perfect for those just starting out in the kitchen or seasoned pros.
Measure out all of your ingredients and add them into a mason jar, dressing bottle or a medium sized bowl.

If using a mason jar or dressing bottle shake the balsamic dressing until combined. Alternatively, if using a bowl whisk the dressing until completely combined.

Serve the dressing immediately with recipe of choice (check out the suggestions below) or store leftovers in the fridge.





For a more detailed look at prep for this Homemade Balsamic Vinaigrette recipe check out the recipe video

.
Leftover Storage Instructions
This homemade vinaigrette saves well and will stay good for up to 1 week in the fridge. I like to store my leftover dressing in an old mason jar with a lid, or anything that is airtight. When you are ready to enjoy your balsamic dressing make sure to shake/stir the dressing to ensure everything is well combined.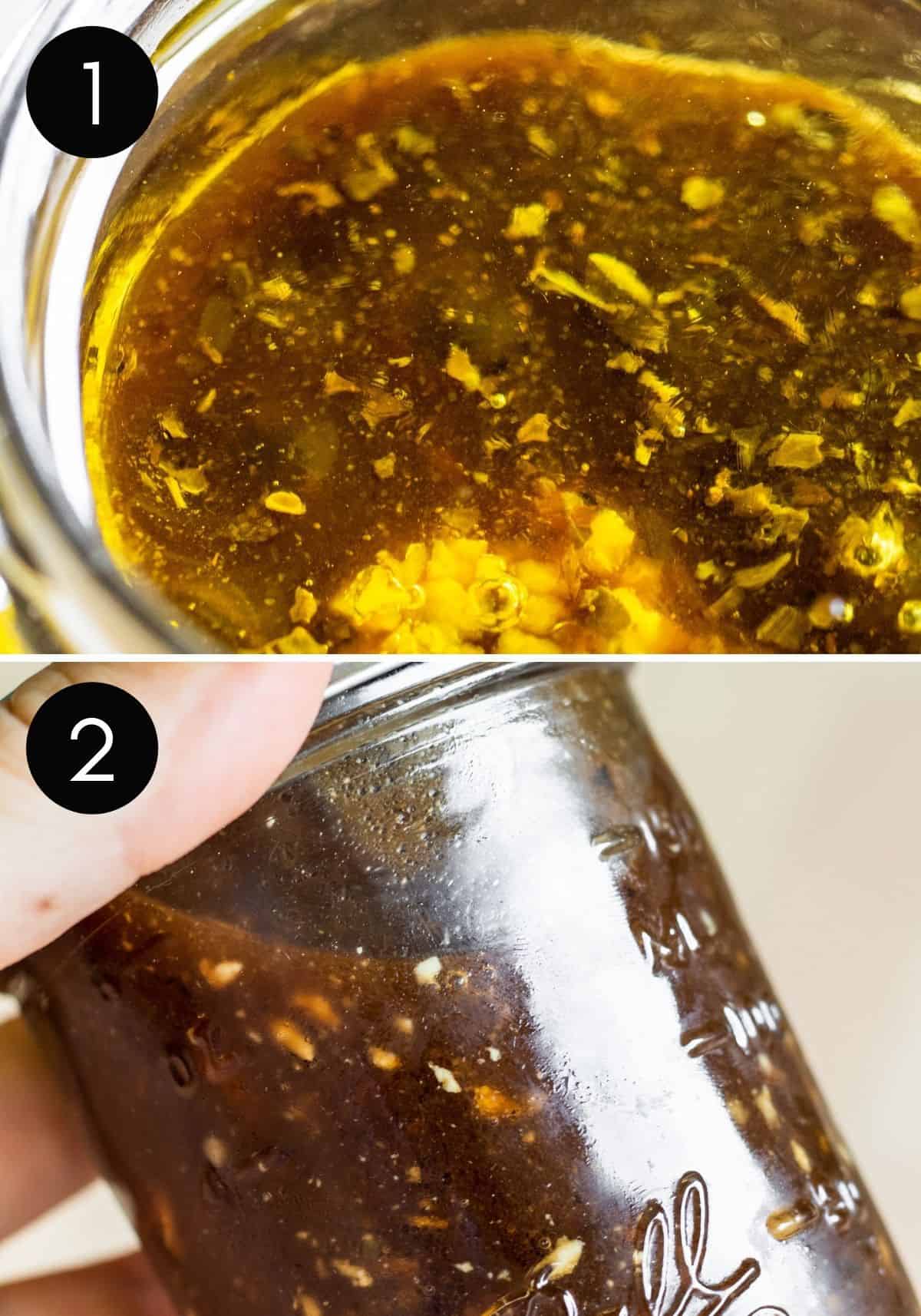 FAQS
What is the difference between vinaigrette and dressing?
A vinaigrette traditionally a mixture of an oil and something acidic, like vinegar. A dressing is more general and encompasses a wider variety of sauces.
What is a vinaigrette salad dressing made of?
Vinaigrette's are made with a combination of oil and vinegar. You can also add in different herbs and spices, sweeteners like sugar or honey, and other flavor boosters like mustard or fruit. The combination depends of the type of vinaigrette you are making.
Helpful Kitchen Tools
A Mason Jar, Dressing Bottle or Medium Bowl- Personally, I like using a mason jar for my dressing, because I can use it to combine the dressing, shake it then store the leftovers all together. You could also use a dressing bottle for the same all in one effect.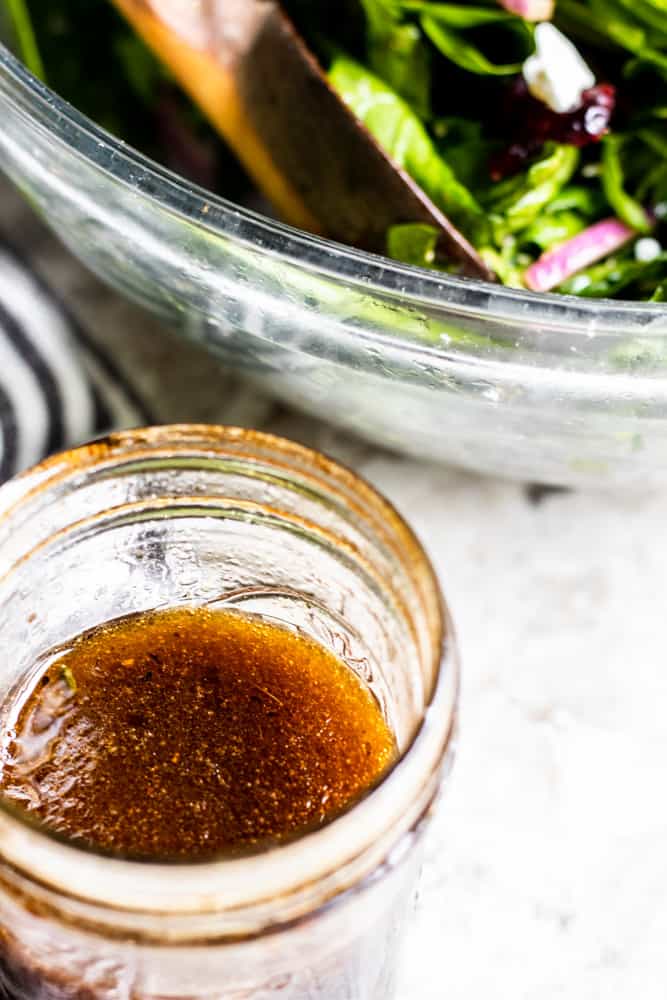 Pairing Ideas
I love to use balsamic vinaigrette dressing on salads (of course), wraps, over chicken, fancy toast recipes, drizzled over roasted veggies, and even as a marinade for meats. This dressing is definitely versatile and can be used in a number of ways. Some of my favorite recipes to use this healthy balsamic vinaigrette dressing are: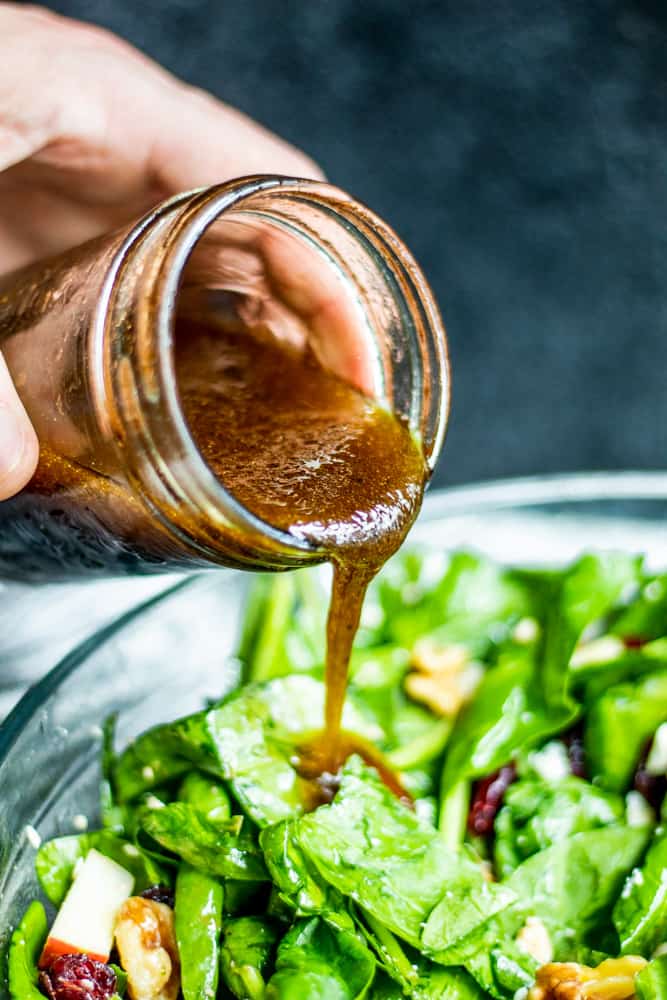 You May Also Enjoy...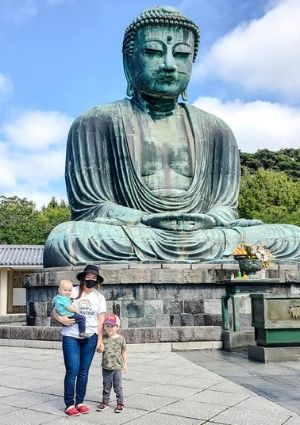 Happy Eating!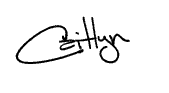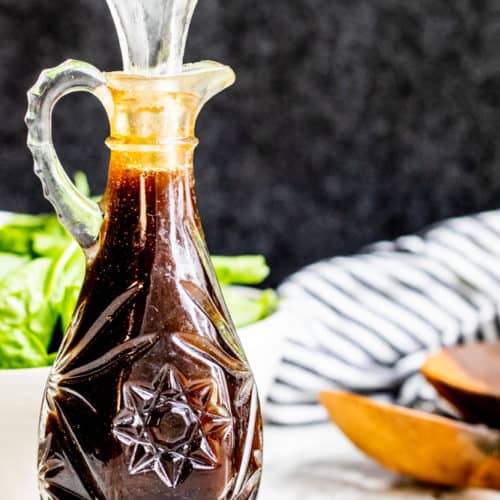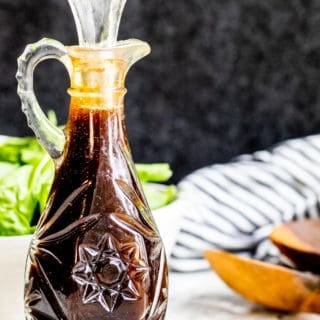 Homemade Balsamic Vinaigrette Dressing
This Homemade Balsamic Vinaigrette Dressing is healthy and ready in only 5 minutes! The easy dressing recipe is perfect on salads, in a wrap or as a marinade!
Instructions
Measure and combine all ingredients into a mason jar, dressing bottle or bowl.

If using a mason jar or dressing bottle, shake dressing until well combined. If using a bowl, whisk the dressing until combined. Serve immediately with recipe of choice, and enjoy!
Notes
Leftover Storage: Store leftover balsamic dressing in the fridge for 1-2 weeks.
Ingredient Substitution: If you want to make this recipe vegan you can leave out the honey and add 1 teaspoon of white granulate sugar instead. If you are avoiding all added sugars you can leave the honey out and no replace it with anything. The flavor will change slightly, but still be a great vinaigrette.
I do not recommend freezing this homemade dressing.
Nutrition
Serving:
2
tablespoon
Calories:
156
kcal
Carbohydrates:
2.6
g
Protein:
0.1
g
Fat:
16.7
g
Saturated Fat:
2.4
g
Cholesterol:
0
mg
Sodium:
39
mg
Potassium:
13
mg
Fiber:
0.1
g
Sugar:
2.2
g
Calcium:
3
mg
Iron:
0
mg
See What We Are Pinning!
Follow erhardtseat1 to see all the food!
Thank You for Sharing!