Get ready to become addicted to this Restaurant Style Salsa recipe! This easy salsa is made in the blender and ready in only 10 minutes.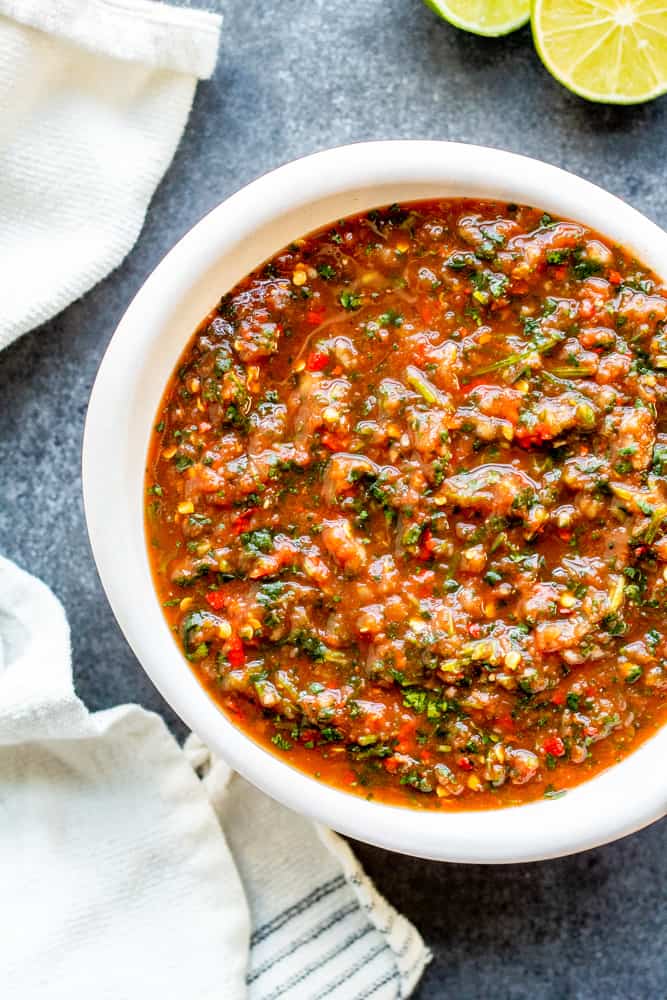 Salsa is literally a gift from the gods, there I said it! I am a total chips and salsa addict and consume way more than I am proud to admit. This Homemade Restaurant Style Salsa recipe is my go-to simple, fast and flavorful appetizer or snack. The salsa pairs great with loads of different recipes or can of course be enjoyed on its own with tortilla chips.
This blender salsa is ready in only 10 minutes and used canned whole tomatoes, Arbol chilies, fresh jalapeno, cilantro, limes, an onion along with some spices. The salsa is thin and watery, but can easily be made more chunky and has a nice medium-hot spice level. I hope this salsa becomes a new favorite for parties or just a mid-day snack.
10-Minute Blender Salsa is the perfect party dip.
Ingredients
Canned Whole Tomatoes: I really like using canned whole tomatoes, but canned diced tomatoes can be swapped in as well.
Lime Juice: Freshly squeezed or from a jar is fine.
Onion
Garlic
Jalapeno: Depending on how spicy you like your salsa you can add more or less jalapeno to taste. Make sure to not add the seeds to the salsa unless you really want it spicy.
Dried Arbol Chilies: An Arbol Chili is a small Mexican chili pepper that packs a lot heat, spice and flavor and can be found by the ethnic food in major grocery stores. If you cannot find this chili you can substitute in some red pepper flakes for some heat and spice.
Fresh Cilantro: It is no secret at this point of how much I love cilantro. Now, I understand everyone is not a fan, so you can use much less cilantro than the recipe calls for. I do recommend using a little (even if you aren't a fan) to give the salsa some dimension. I promise a little will not make the entire salsa recipe taste like a bite of cilantro.
Dried Herbs and Spices
Kitchen Tools
Blender or Food Processor
Measuring Cups and Spoons
A Sharp Knife and Cutting Board
Storage Container for Storing Leftovers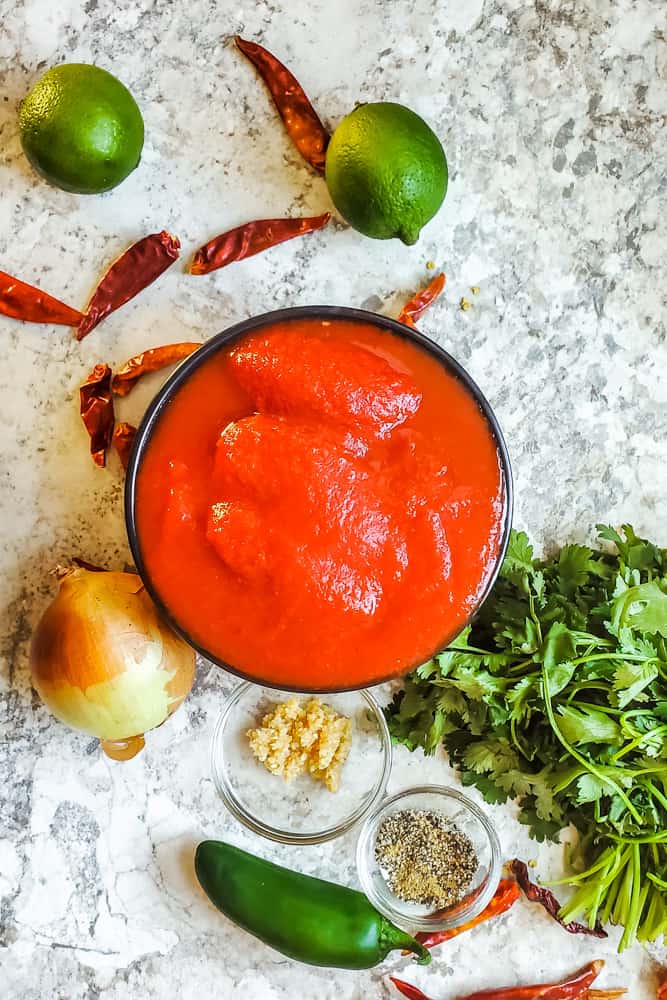 Tips and Tricks
Chunky Vs. Watery: To me the texture of this restaurant style salsa is perfect. It is watery with some small chunks in it. If you would like more chunky salsa do not blend the ingredients and instead pulse until the consistency is to your liking.
Pack More Flavor: This blender salsa is my go-to fast and quick dip in a time crunch. If you have more time and want to get even more out of this easy homemade salsa you can heat it to develop more flavor.

Follow all the recipe prep instructions, but before adding everything into the blender add the ingredients to a small saucepan and simmer for 15-20 minutes. After simmering blend the salsa and let chill in the fridge. This step isn't required, but it makes the salsa that much more mouthwatering.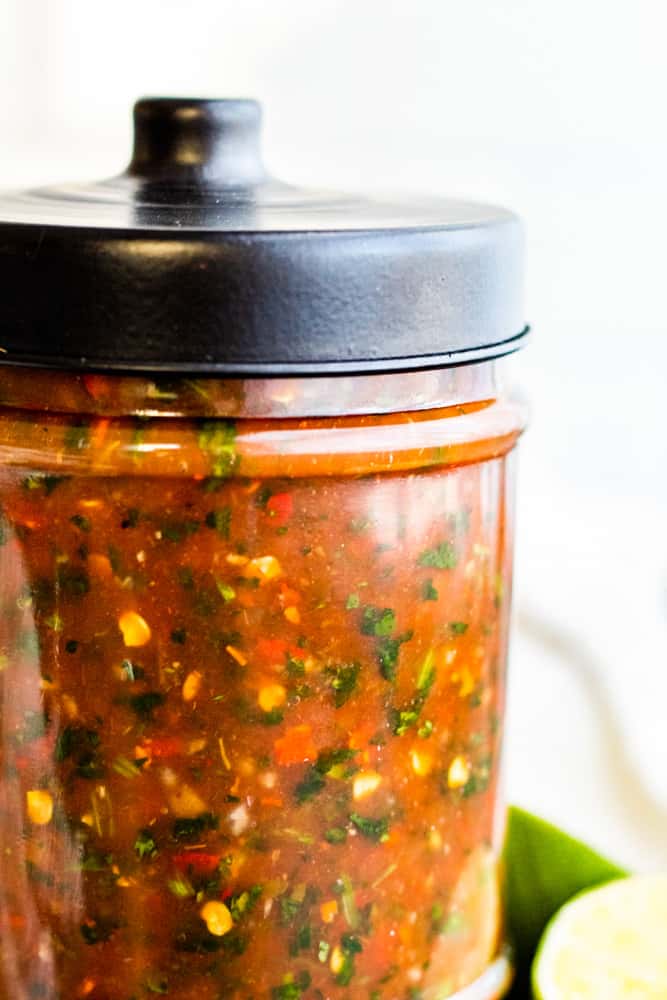 Check out these other great dip recipes
Cheesy Chicken Enchilada Dip
Crockpot Chili Cheese Dip
Greek Yogurt Ranch Dip
Spicy Jalapeno Popper Dip
Baked Buffalo Chicken Dip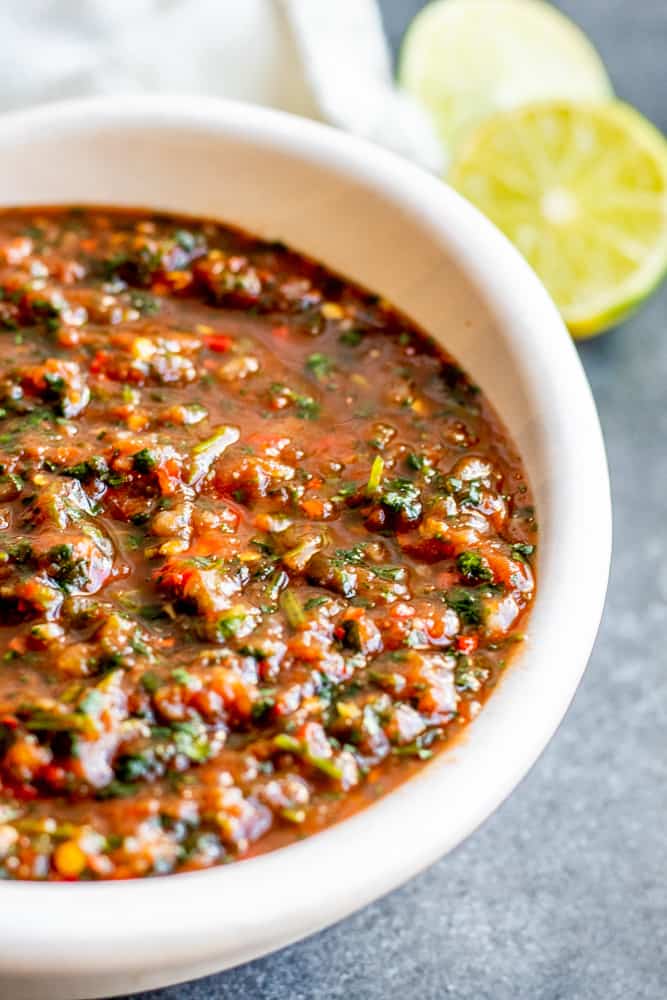 Common Questions
How should leftover homemade salsa be stored?
After the salsa is blended, pour in an airtight container like a mason jar or glass storage container and store in the fridge for up to 1 week. As the salsa sits in the fridge more flavor will develop and it will be even better the next day. When ready to enjoy, stir or shake the salsa to combine the ingredients and serve with tortilla chips or recipe of choice.
Can salsa be frozen?
Yes, homemade salsa can be frozen to extend the shelf-life. Because the salsa is already blended freezing it will not affect the texture too much. To freeze salsa, pour into a glass or freezer safe container and freezer flat for up to 3 months. Let the blender salsa thaw in the fridge before eating.
Can fresh tomatoes be used instead of canned?
Yes, you can swap in fresh tomatoes instead of canned ones. I recommend either roasting or steaming the tomatoes so you can remove the peel. Some good tomatoes to try are roma or heirloom tomatoes.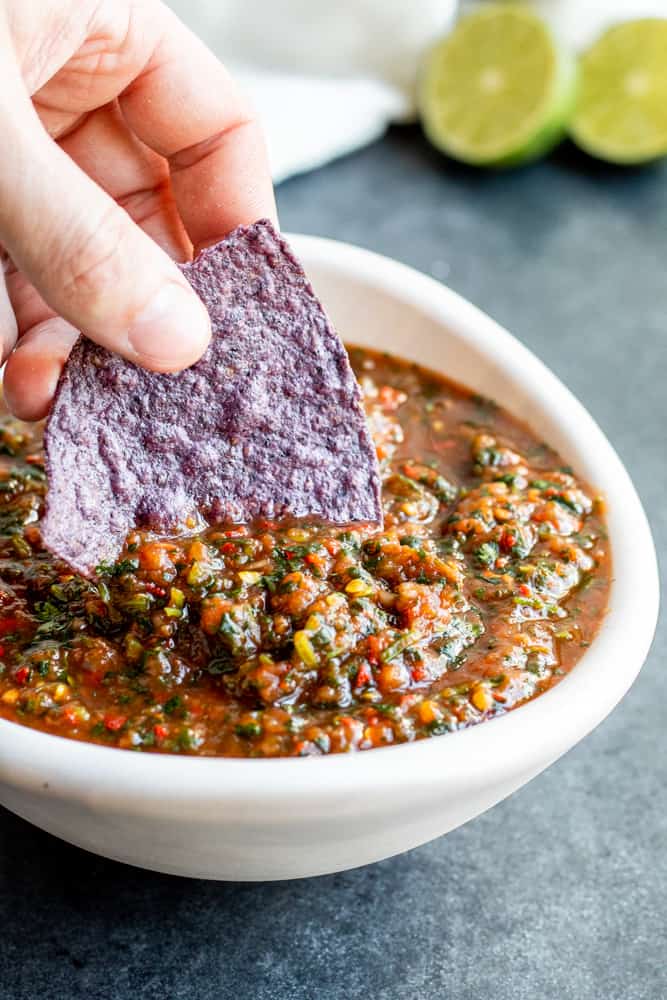 Recipe Pairing Ideas
This restaurant style salsa recipe goes great on its own with some tortilla chips but if you are looking for some wonderful Mexican style recipes to pair this salsa with check these out.
I hope you and your family love this tasty Restaurant Style Salsa recipe. Check out my Strawberry Pineapple Salsa, and Mango Avocado Salsa for some other great salsas to try.
Happy Eating!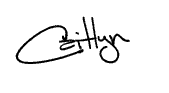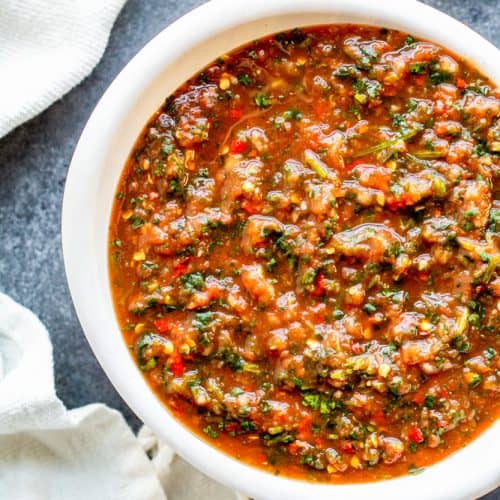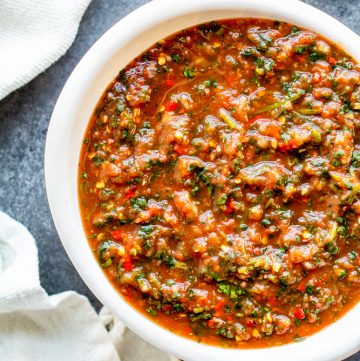 Easy Restaurant Style Salsa Recipe
This Restaurant Style Salsa Recipe is easy and ready in only 10 minutes. Made with canned tomatoes and fresh ingredients this blender salsa is a must try.
Ingredients
2

8 Oz

Canned Whole Peeled Tomatoes

DO NOT DRAIN

1

Small

Jalapeno Pepper

1

Small

Yellow Onion

1-2

Small

Bunches Fresh Cilantro

10-20

Dried Arbol Chilies

1

tablespoon

Lime Juice

2

Cloves

Minced Garlic

1

teaspoon

Cumin

1

teaspoon

Sea Salt

½

teaspoon

Ground Black Pepper
Instructions
Remove outer skin from onion and chop into four large chunks. Remove stems, ribs and seeds from the jalapeno. Remove the stems from the dried arbol chilies. Roughly chop cilantro.

Add all ingredients to a large blender or food processor and blend on medium until all the ingredients are well combined and no large chunks remain. Serve immediately with tortilla chips, recipe of choice or store in the fridge. Enjoy!
Notes
Leftover Instructions
Store leftover salsa in and airtight container in the fridge for up to 1 week. To extend to shelf life of this homemade salsa it can be frozen for up t0 3 months.
Spice Note
You can add more or less of the chilies and jalapeno if you prefer your salsa more or less spicy.
Chunky Salsa
If you prefer your salsa more chunky pulse your blender until desired texture is reached instead of blending it.
I would consider the salsa medium-hot with the ingredients shown how they are.
Nutrition
Calories:
12
kcal
Carbohydrates:
2.6
g
Protein:
0.5
g
Fat:
0
g
Saturated Fat:
0
g
Cholesterol:
0
mg
Sodium:
60
mg
Potassium:
15
mg
Fiber:
0.5
g
Sugar:
1.4
g
Calcium:
15
mg
Iron:
0
mg
See What We Are Pinning!
Follow erhardtseat1 to see all the food!