This Easy Chimichurri Sauce is a great healthy, vegan sauce to pair with meats, veggies or even a dip for french fries! Ready in about 5 minutes and zero cooking required.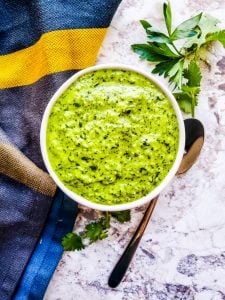 This Easy Chimichurri Sauce is about to become your new favorite addition to basically anything. This recipe goes great with grilled steak, pork and chicken as well as grilled vegetables. Also, this recipe can be used as a marinade for meat or a dipping sauce for french fries. I am a huge fan of drizzling this sauce over a pile of sweet potato fries. If you haven't tried it, trust me it is life changing.
Along with being wicked good and super simple to make this recipe also is freezer friendly, healthy and naturally vegan and gluten free. I hope you, your friends and family adore this yummy Mexican inspired sauce.
Kitchen Tools
A Blender or Food Processor

A Knife and Cutting Board

Garlic Peeler- Optional

An Airtight Storage Container for Leftovers
Ingredients
Fresh Cilantro and Parsley

Olive Oil

Spices

Lime Juice

Red Wine Vinegar

Garlic

A White Onion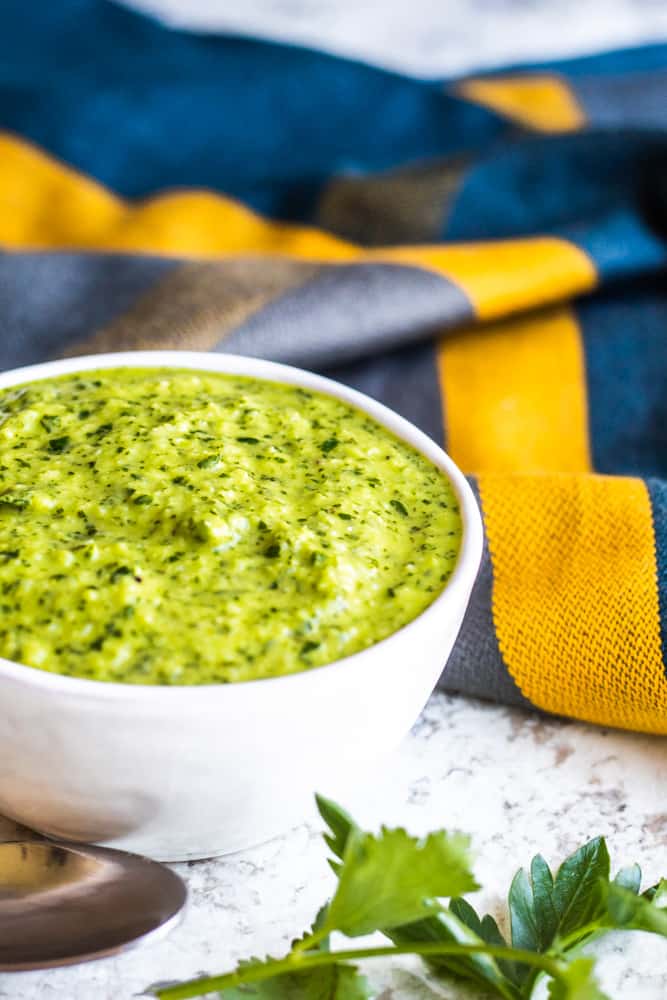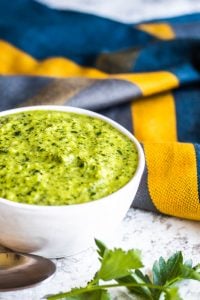 How To Make Chimichurri Sauce
This chimichurri sauce recipe is SO SIMPLE and you will be able to enjoy this sauce without breaking a sweat! I love that this sauce comes together in just 5 minutes and requires zero cooking.
Roughly chop the fresh herbs and white onion, then peel garlic cloves.

Add all ingredients to a food processor or blender and blend on low to medium until smooth.

Remove sauce from blender and serve immediately. Alternatively, you can store the chimichurri sauce in the fridge or freezer in an airtight container.



Tip: If the sauce isn't smooth enough add a small amount of additional olive oil and continue to blend.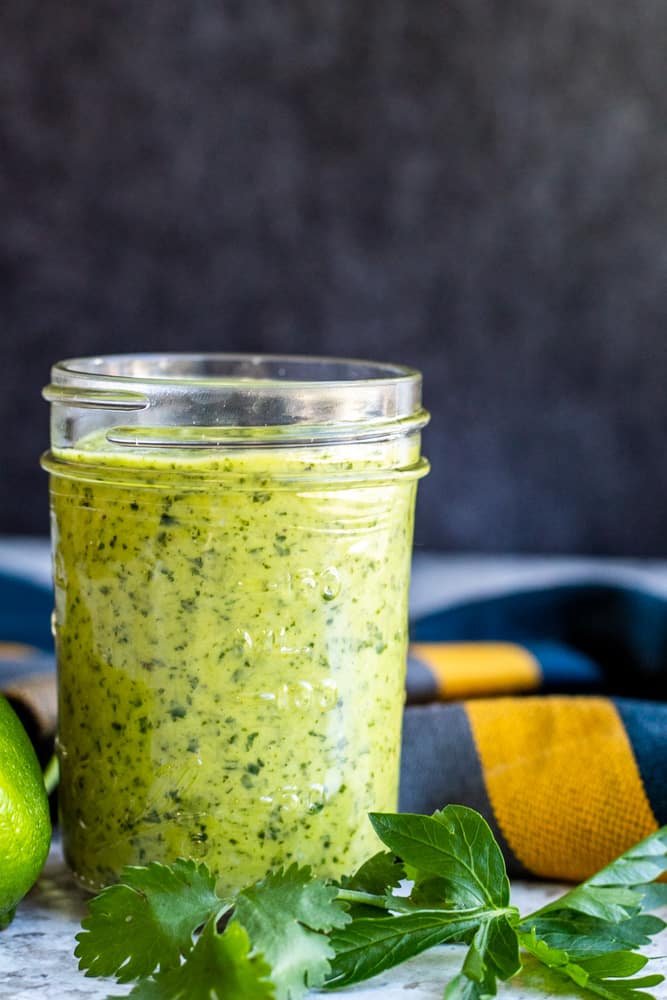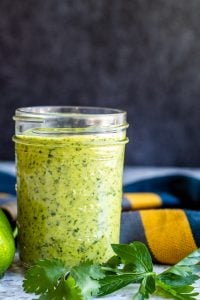 What is Chimichurri Sauce?
Chimichurri Sauce is an uncooked sauce that is traditionally served with cooked meats. The sauce originated in Argentina and is traditionally made with parsley or oregano combined with herbs, spices and oil. This sauce is confused with pesto sauce sometimes but chimichurri sauce is different from pesto in a few ways. For example, pesto is derived from Italy and is traditionally made with fresh basil as the base of the sauce.
Recipe Ideas
This sauce pairs wonderfully with grilled meats including beef, chicken and pork. Alternatively, if meat isn't your thing then this sauce also pairs great with grilled vegetables including potatoes, peppers, onions, zucchini, and squash.
Also, another great way to utilize this sauce is as a marinade or dipping sauce for french fries. This homemade sauce is very versatile, so don't be afraid to experiment! Try with my Grilled Skirt Steak Recipe for the perfect pairing!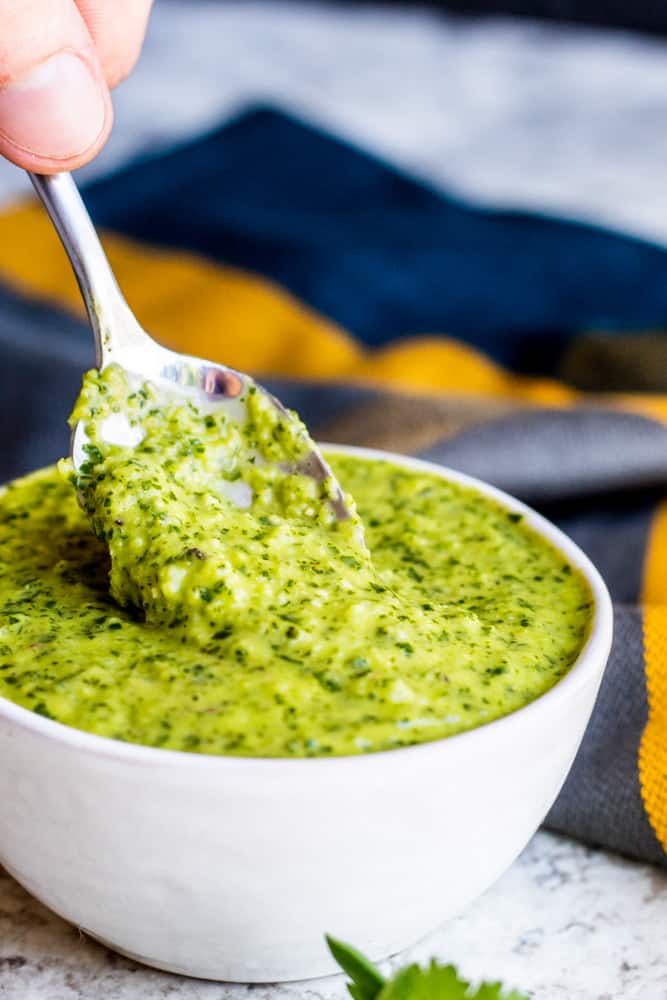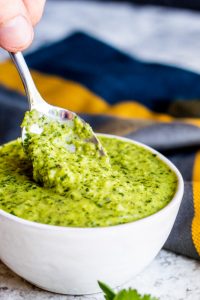 More Mexican Style Recipes
Easy Vegetarian Quesadillas
Pork Carnitas Nachos with Homemade Queso
Vegan Mango Avocado Salsa
Baked Chicken Enchilada Dip
Grilled Chicken Tacos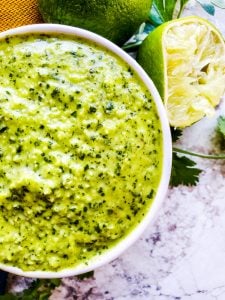 Common Questions
How should leftovers be stored?
When stored in the fridge in an airtight container this homemade chimichurri sauce will stay fresh for up to one week. Give the sauce a good stir to make sure all the ingredients are well distributed.
Can homemade chimichurri sauce be frozen?
Yes, this easy chimichurri sauce can be frozen. To freeze the sauce store in an airtight container, or zip-lock bag and make sure all the air is out. Another great option is to use an ice cube tray and freeze the homemade sauce in individual portions. When stored in the freezer this homemade sauce will stay good for up to 3 months.
Let the sauce thaw in the fridge overnight before using.
Love this Homemade Chicmichurri Sauce recipe? Try this Homemade Basil Pesto Sauce out next!
Happy Eating!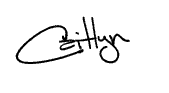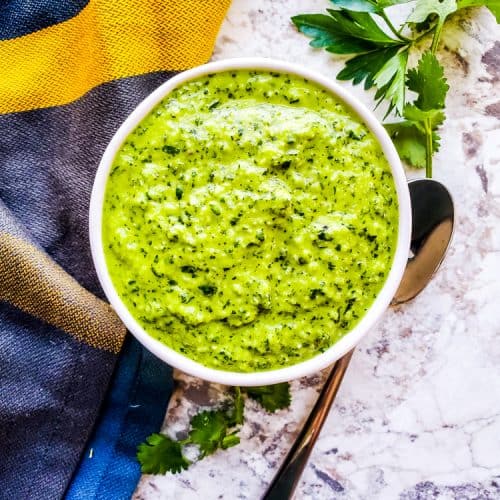 Easy Chimichurri Sauce for Grilled Meats and Veggies
This Easy Chimichurri Sauce recipe is a great healthy, vegan and gluten free homemade sauce for grilled meats, veggies, a marinade or condiment!
Instructions
Roughly chop fresh cilantro, parsley and white onion and add to food processor. Measure and add all remaining ingredients to the food processor.

Blend on low until well combined adding more oil if sauce is not smooth enough. Serve immediately or store in the fridge or freezer. Enjoy!
Notes
*Start with ⅓ Cup of Olive Oil and add more when blending if the sauce is too thick.
Nutrition
Calories:
67
kcal
Carbohydrates:
2.5
g
Protein:
0.4
g
Fat:
6.1
g
Saturated Fat:
0.9
g
Cholesterol:
0
mg
Sodium:
49
mg
Potassium:
69
mg
Fiber:
0.4
g
Sugar:
0.5
g
Calcium:
10
mg
Iron:
0.5
mg
See What We Are Pinning!
Follow erhardtseat1 to see all the food!
Love this recipe? Share with your friends and family!