This Grilled Chicken Spiedini Recipe with Lemon Butter Sauce is perfect to grill all summer long! Plus, this crispy chicken spiedini is super simple and ready in about forty minutes!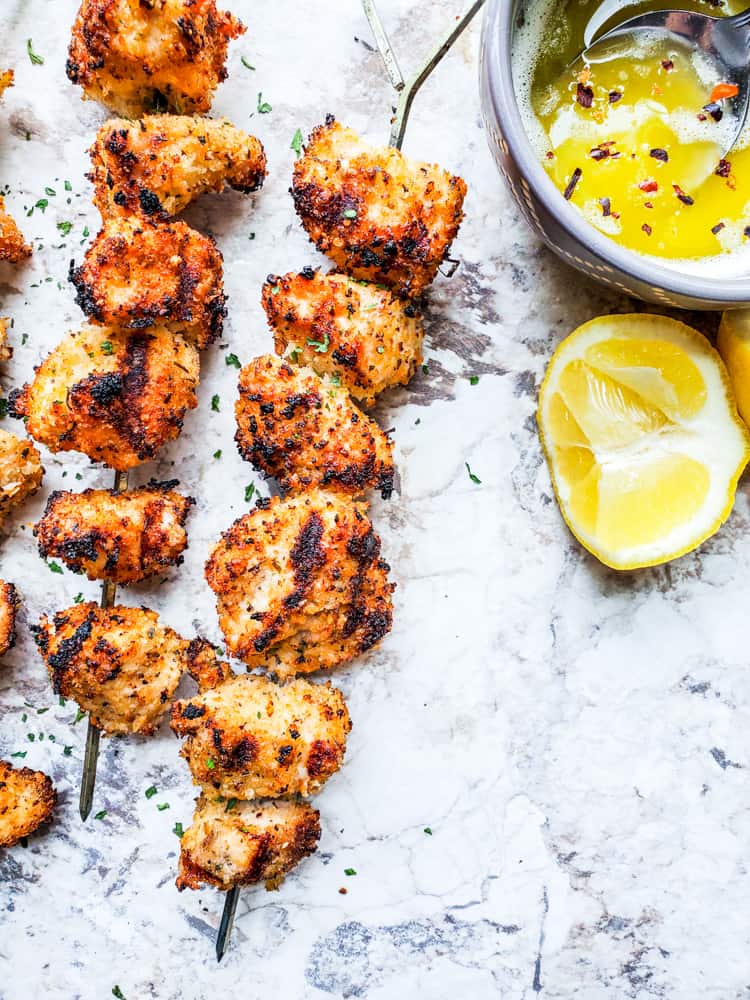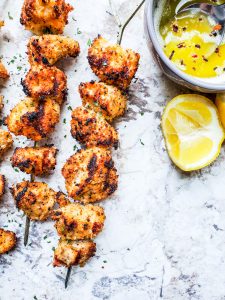 Another day, another grill recipe! I'm not even sorry, this one is an OG and it deserves a standing ovation for being dang delicious. Bonus, this chicken spiedini is also super simple and doesn't take much time to make. This Grilled Chicken Spiedini Recipe with Lemon Butter Sauce has been made in my family for as long as I can remember. Growing up this was the crispy chicken recipe we ate the most over the summer and always requested when my dad would grill. Really how can you not love it?! The chicken spiedini is breaded, and just a touch spicy, then grilled to crispy perfection with the perfect amount of char. Finally, to top it all off it is drizzled with melted butter and lemon. YUM, get in my belly now! Okay, enough from me. I hope you and your family enjoy this recipe as much as my family does! Enjoy!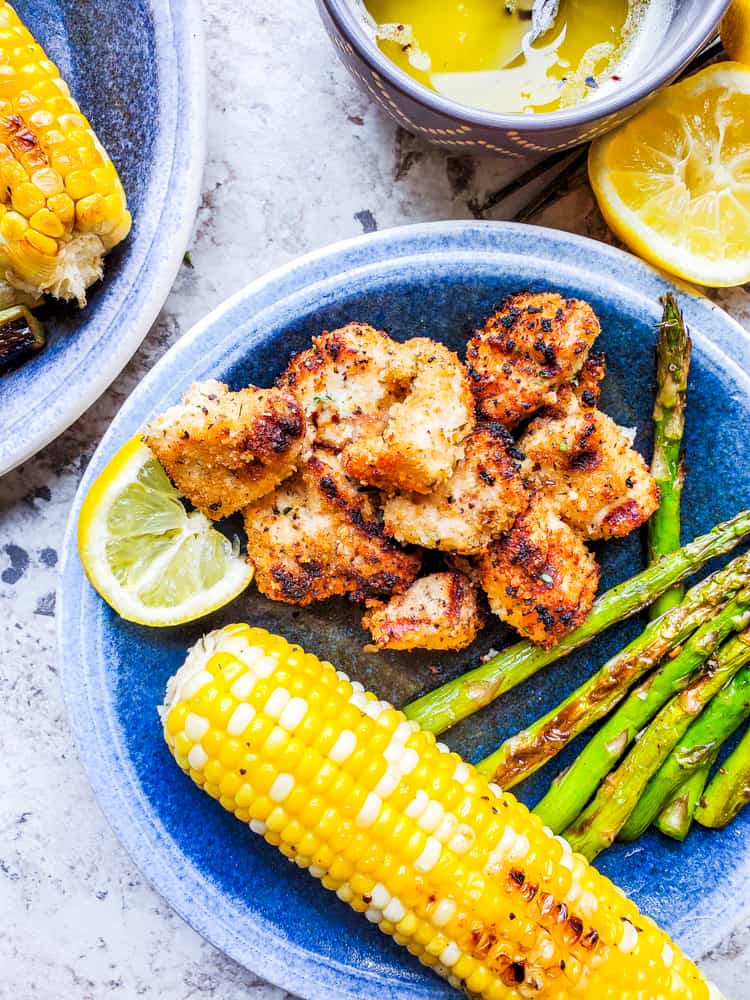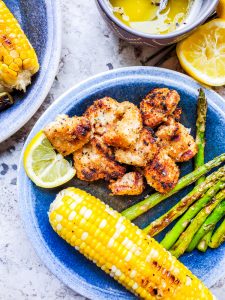 What Do You Need To Make This Chicken Spiedini Recipe?
The kitchen tools you will need for this chicken spiedini recipe are:
Two Large Bowls and a Small Bowl

Tongs

A Grill or Grill Pan:

I love making this chicken outside out the grill on a nice summer day, but if the weather is bleak this spiedini will come together wonderfully indoors on the stove-top as well. I recommend using a grill pan (cast iron is my fave)!

A Knife and Cutting Board
The ingredients you will need for this Grilled Chicken Spiedini recipe are:
Boneless Skinless Chicken Breast: Chicken Thighs will work as well!
Olive Oil: Alternatively, you can use another neutral oil like corn oil or vegetable oil.
White Wine- You can leave the wine out and swap it out for chicken broth if you would like to keep this spiedini alcohol free.

Spices

Panko and Regular Bread Crumbs

Grated Parmesan Cheese

Butter

Lemon Juice:

Freshly squeezed or bottled lemon juice will work great for this recipe.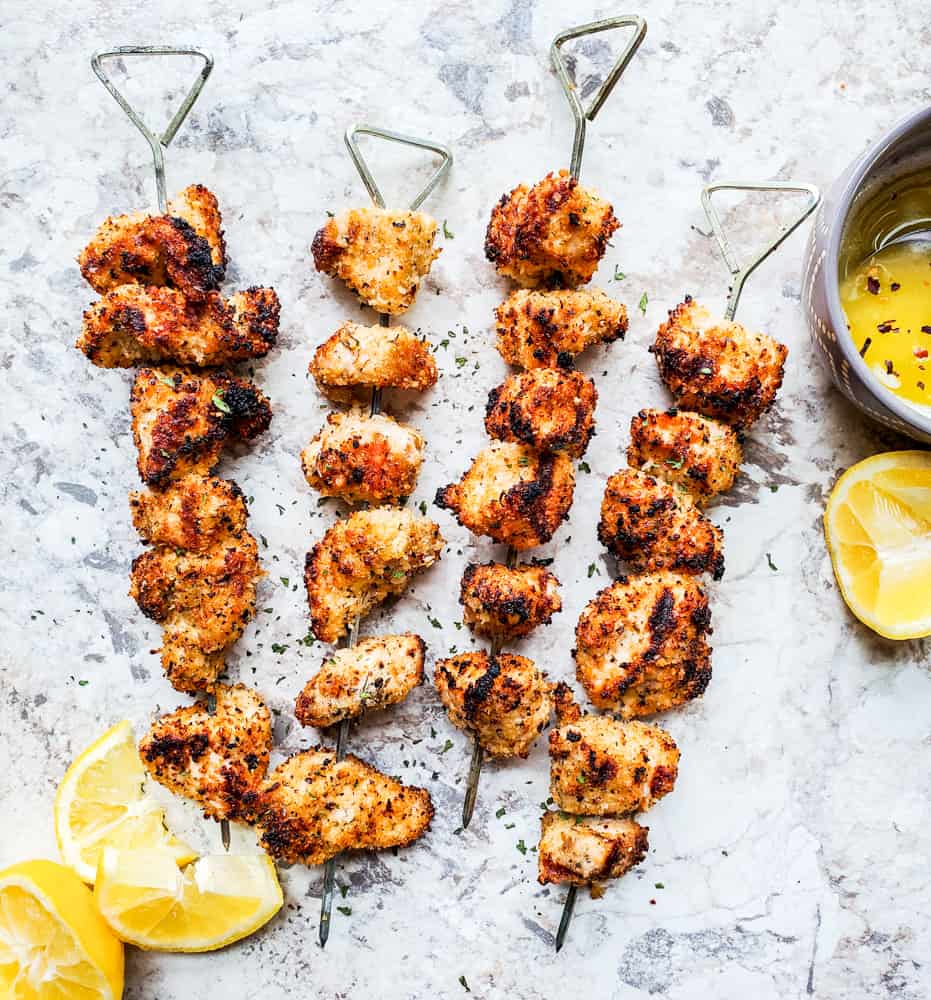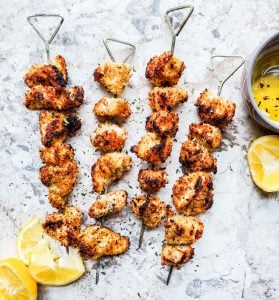 How Do You Make Grilled Chicken Spiedini?
Slice chicken breasts into 1 inch cubes, and sprinkle with salt and pepper. Next, coat the chicken with olive oil and white wine then cover and marinade the chicken spiedini for at least 20 minutes.

While the chicken is marinating, combine the dry ingredients in a bowl and stir to combine. Next, add the breading to the bowl with the chicken toss until all the chicken spiedini is coated in the bread crumb mixture.

Add coated chicken to skewers and coat in excess bread crumbs if desired. Be sure not to crowd the skewers, or the chicken will take longer to cook through.

Add chicken spiedini skewers to hot grill (see the cooking spray tip below!) and cook 3-4 minutes on each side, or until chicken is cooked through.

Once the spiedini is crispy and golden serve warm with Lemon Butter Sauce and enjoy!
Enjoy!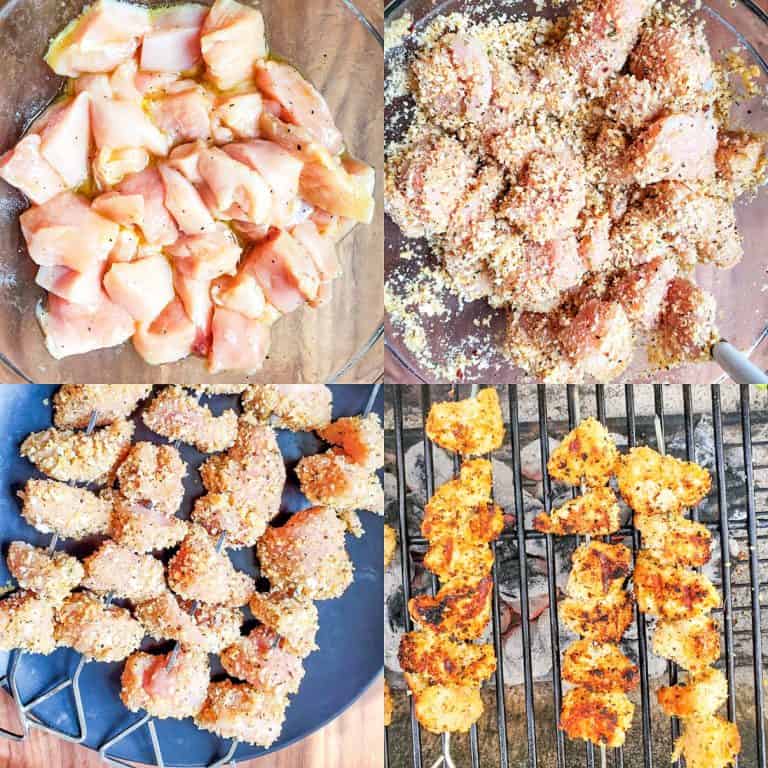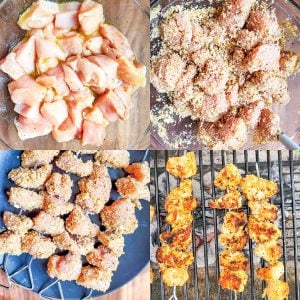 Tips and Tricks for the Best Chicken Spiedini
Swap Out the Wine: If you want to eliminate the alcohol (white wine) from this recipe go for it! A great alternate option is using chicken or vegetable broth in its place.
The Perfect Cook: If the chicken spiedini is getting too charred for your liking set it to a cooler part of the grill until it reaches 165 degrees. Use a meat thermometer to assure that your chicken is cooked perfect and no over or under done.
Spiedini Sauce Secret: Make the Lemon Butter Sauce just before you are ready to serve this chicken spiedini recipe. If you make the lemon butter sauce for the chicken spiedini too early the butter will harden and you will need to re-make it. Trust me, it is very difficult to drizzle hardened butter over top of grilled chicken. spiedini.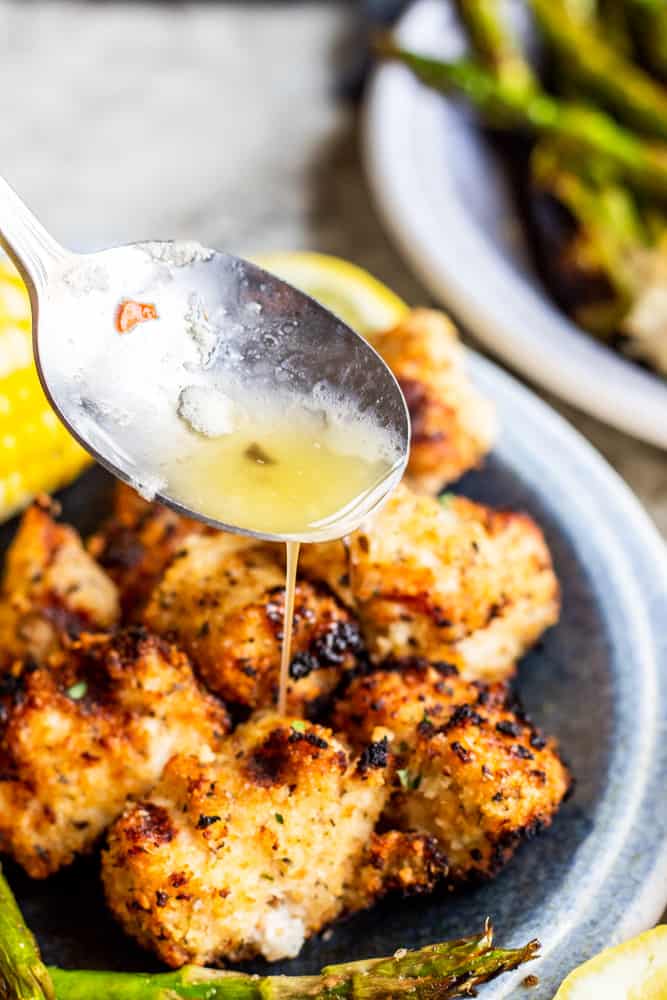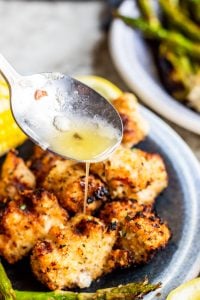 Common Chicken Spiedini Recipe Questions
Do I have to marinade the chicken breasts?
Yes, you really should. Letting the chicken marinade even for just 20 minutes helps give the chicken flavor and helps the breading stick better for a crispy outside. The marinade also helps the chicken spiedini stay tender once cooked. Also, you can marinade the chicken longer (even overnight) if that is easier for you.
What should I serve this Chicken Spiedini Recipe with?
Literally anything. I like to serve this chicken spiedini with pasta, potatoes, veggies, corn, dinner rolls, or a side salad. Check out my side dish recipes for some ideas as well!
Do I have to use a grill for this chicken spiedini recipe?
No, you do not but if you have one use it! Alternatively, you can use a grill pan on the stove top for the chicken spiedini recipe.
My breading fell off! What did I do wrong?
MAKE SURE YOU SPRAY THE GRILL OR GRILL PAN BEFORE ADDING CHICKEN. If you do not the breading will stick, it will be a mess, and your chicken will be sad. Let's avoid sad, bread-less chicken spiedini.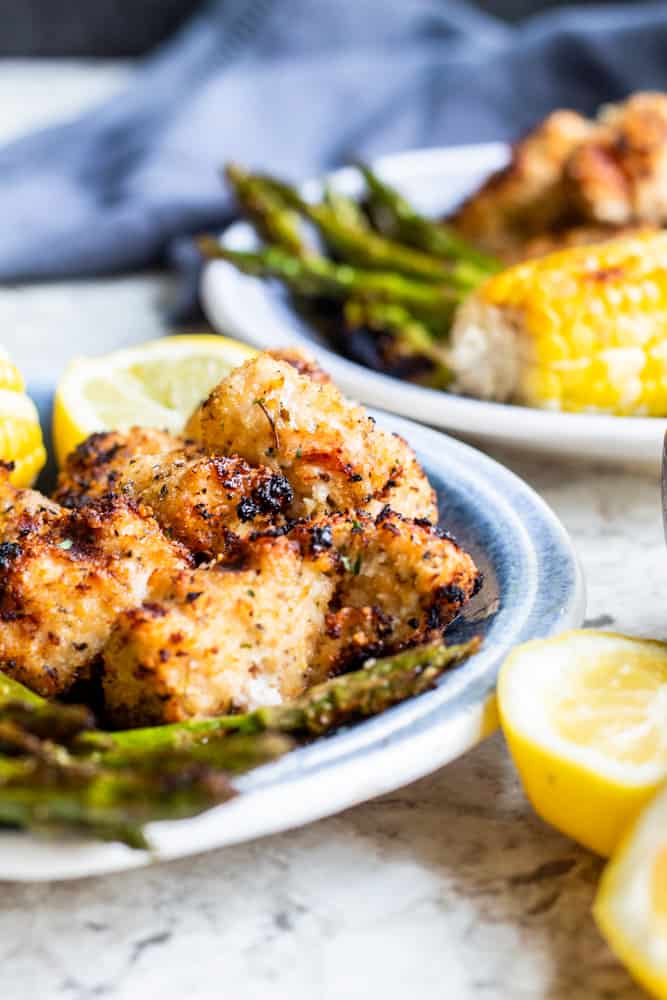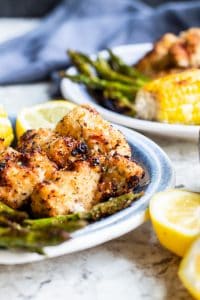 Looking For More Chicken Recipes? Try These Next!
Crockpot Chicken and Dumplings
Crockpot Hawaiian BBQ Chicken Sliders
Cilantro Lime Grilled Chicken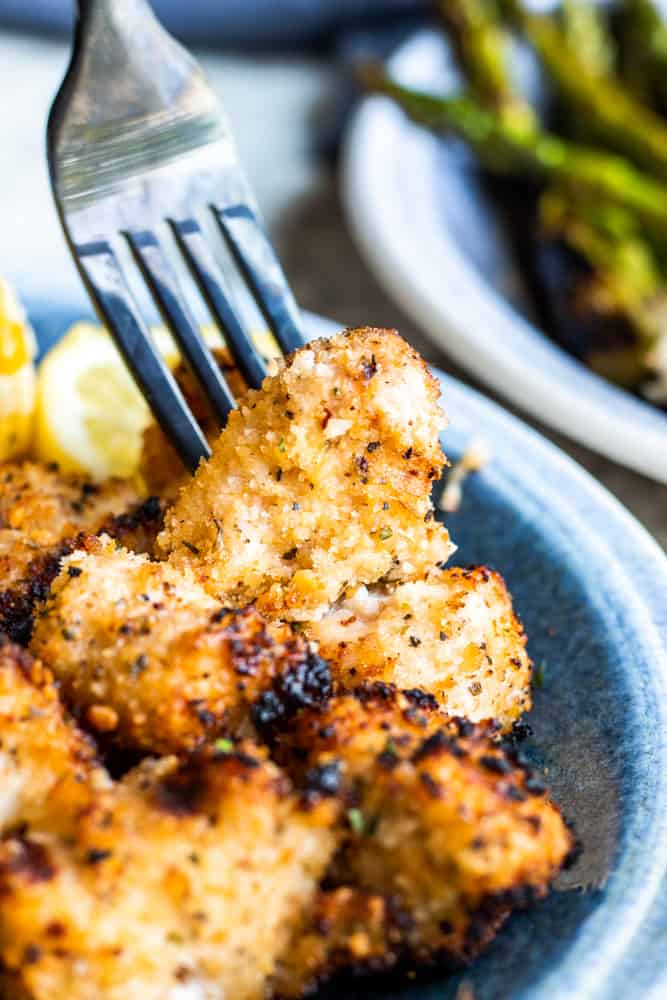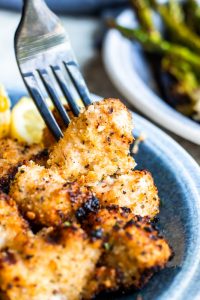 Leftover Grilled Chicken Spiedini Leftover Storage
When stored in an airtight container in the fridge the crispy grilled chicken spiedini will stay good for up to 4 days. To re-heat the chicken spiedini, microwave until steaming, or place in oven until warm. The oven method is better because the breading will stay crisper.
Also, the chicken spiedini sauce can be saved in a separate container and drizzled over the top of the warmed spiedini. Usually, I warm the lemon butter sauce up just until the butter has melted and stir is the make sure it is combined.
Love this grilled chicken spiedini with lemon butter sauce recipe? Don't forget to comment and rate below!
Happy Eating!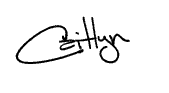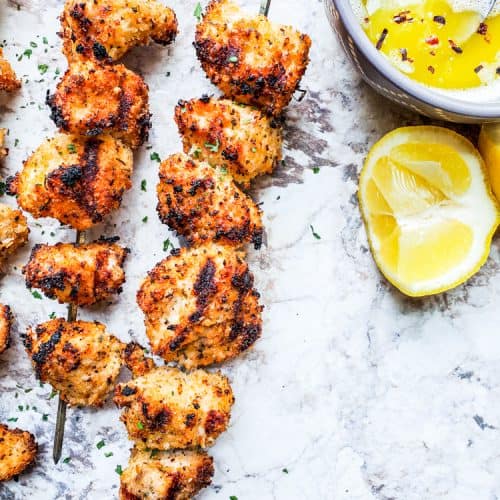 Chicken Spiedini Recipe with Lemon Butter Sauce
This easy Grilled Chicken Spiedini Recipe is the best summer grill recipe! This family favorite is sure to be a crowd pleaser!
Ingredients
Lemon Butter Sauce
3-4

Tbsp

Lemon Juice

1/4

Cup

Unsalted Butter

Melted
Instructions
Cut chicken breast into 1-inch cubes and add to large bowl. Season with 1/4 tsp salt and 1/2 tsp pepper (keep remaining for breading) and add in olive oil and white wine. Stir to combine, cover and refrigerate for 20 minutes.

While the chicken is marinading, combine remaining salt and pepper, red pepper flakes, parsley, garlic powder, Italian bread crumbs, Panko, Parmesan cheese into a bowl and stir to combine. Set aside.

Once chicken has marinaded remove from the fridge and add in the dry ingredients and stir until all chicken is well coated. Spray skewers with cooking spray and skewer chicken cubes on until none remain. Pat on fallen breading if desired.

Heat your grill or grill pan to medium-high heat and spray with cooking spray to avoid bread crumbs from sticking. Add skewers to heat and cook 4 minutes each side or until internal temperature reads 165 degrees. If they are getting too charred place them on a cooler part of the grill until cooked through.

To serve remove chicken from skewers and drizzle with Lemon Butter Sauce. Enjoy!
Lemon Butter Sauce
Right before serving add melted butter and lemon juice into a small bowl and stir to combine. Top with additional red pepper flakes for an extra spicy kick. Serve over Grilled Chicken Spiedini
Notes
Leftover Storage: Store leftover spiedini in an airtight container in the fridge for up to 4 days. When ready to eat re-warm in the microwave until warm (30-60 seconds).
*You can swap the white wine out for chicken broth if you wish.
Nutrition
Calories:
499
kcal
Carbohydrates:
12.5
g
Protein:
50.6
g
Fat:
26.2
g
Saturated Fat:
6.9
g
Cholesterol:
145
mg
Sodium:
732
mg
Potassium:
419
mg
Fiber:
1
g
Sugar:
1.4
g
Calcium:
140
mg
Iron:
2.9
mg
See What We Are Pinning!
Follow erhardtseat1 to see all the food!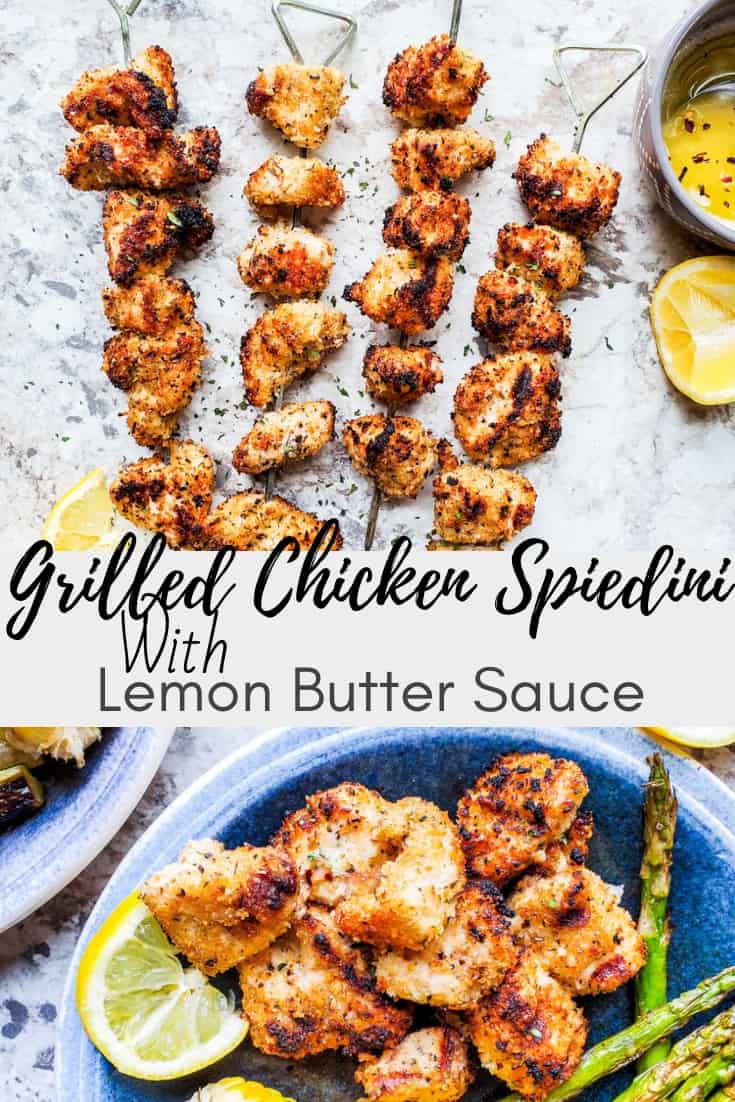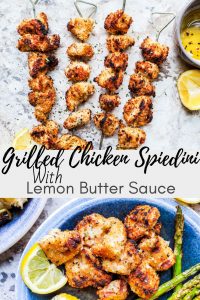 Share with your friends and family!