This Grilled Peach Salad is the perfect summer side dish. Packed with grilled peaches, blueberries, goat cheese and almonds plus homemade blueberry dressing for a bright and fresh combination.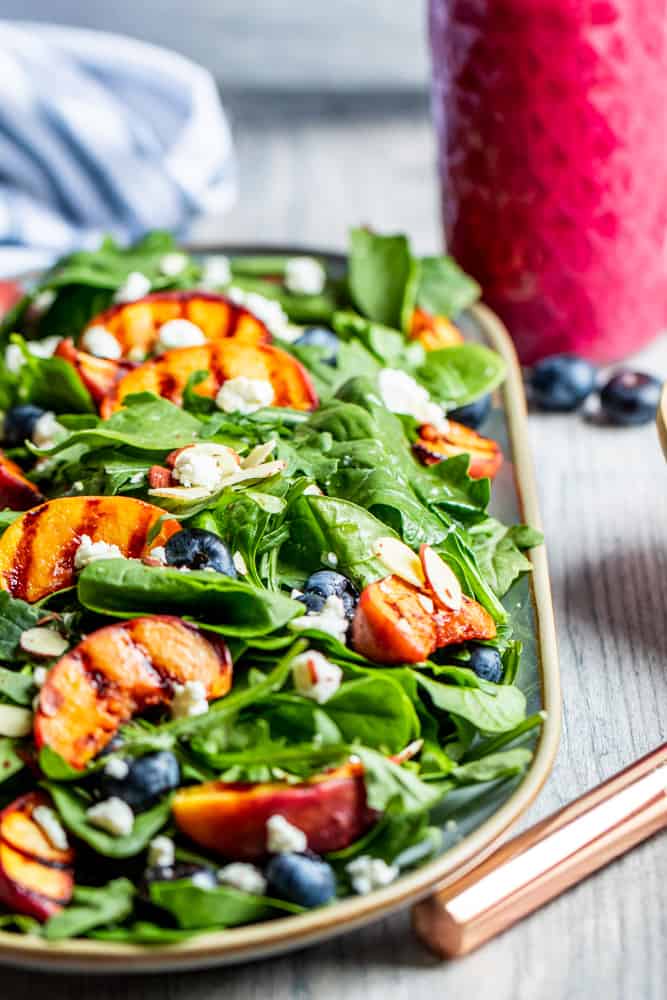 I am so ready for warm weather and summer to finally arrive. I feel like this year is going to slow and am ready for some fresh produce and sunshine. This Grilled Peach Salad is full of bright, beautiful flavors and a variety of fresh produce.
This salad features my delicious grilled peaches, fresh blueberries, goat cheese, almonds and a variety of fresh greens. Pair this salad with my tasty blueberry vinaigrette for a colorful and delicious combo. I adore this salad all summer long and it is great for picnics, holiday parties and BBQ's with friends and family. I hope you love this summer side salad!
This Grilled Peach Salad is the best summer side or picnics, BBQ's or a quick lunch!
What You Need To Make a Peach Salad
The kitchen tools you will need for this salad recipe are:
The ingredients needed for this grilled peach salad recipe are:
Grilled Peaches: I go into a lot of detail and include a video about how I make grilled peaches in a separate post. I recommend checking that post out if you are not familiar with how to make grilled peaches.
Fresh Blueberries
Goat Cheese: I recommend using a plain goat, one infused with honey (my fave) or something similar. There is a lot going on in this summer salad and you do not want to cheese to over-power things. Alternatively, you could also uses crumbled feta for this salad.
Sliced Almonds: If you are feeling fancy you can use, or make, candied pecans or almonds for this salad recipe.
Blueberry Vinaigrette: I love and adore using my blueberry dressing with this peach salad. It is so bright and colorful and perfect for summer. Plus, it is super tasty. I recommend using this dressing, but you can pair it with a variety of other great dressings.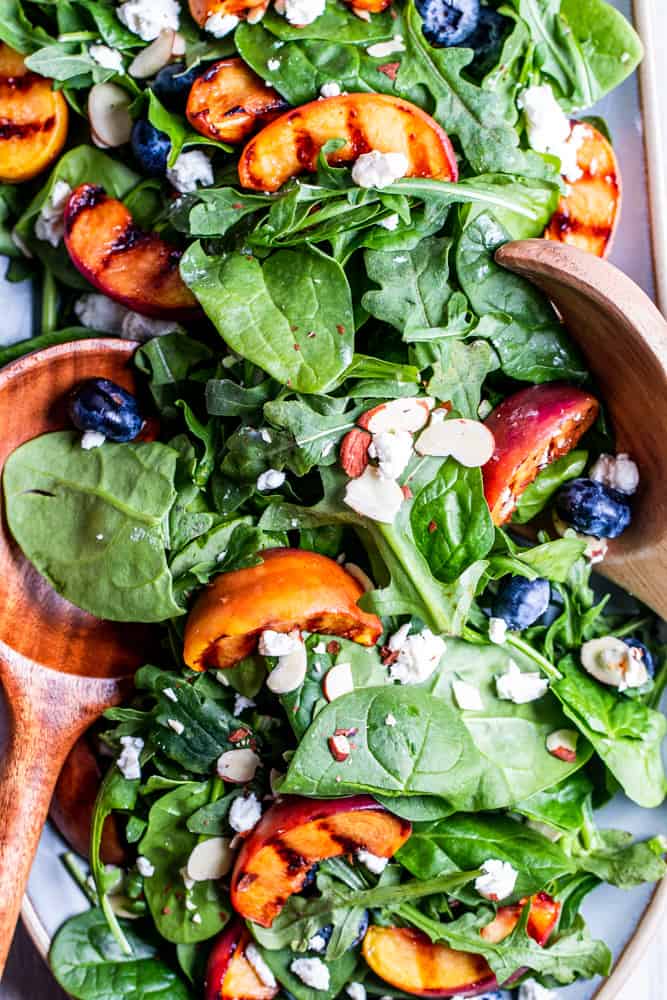 How to Make a Blueberry and Peach Salad
First, grill your peaches. To save time, I like to used leftover grilled peaches, or make them ahead of time. While the peaches are grilling I like to wash my spinach, arugula, and blueberries.
Once your peaches are grilled and fresh produce washed you can toss everything together in a large bowl. I just pile it all in and toss it with salad tossers. Alternatively, you could leave all of the ingredients separate and let everyone build their own salad.
Finally, top the grilled peach salad with blueberry dressing or salad dressing of choice.

Enjoy!
Leftover Storage
For best salad leftovers I like to store all of the ingredients separately in airtight containers and then assemble when I am ready to eat or serve. When stored this way the salad will save for up to 3 days in the fridge. Alternatively, you can store the salad tossed with the dressing in and airtight container for up to 24 hours.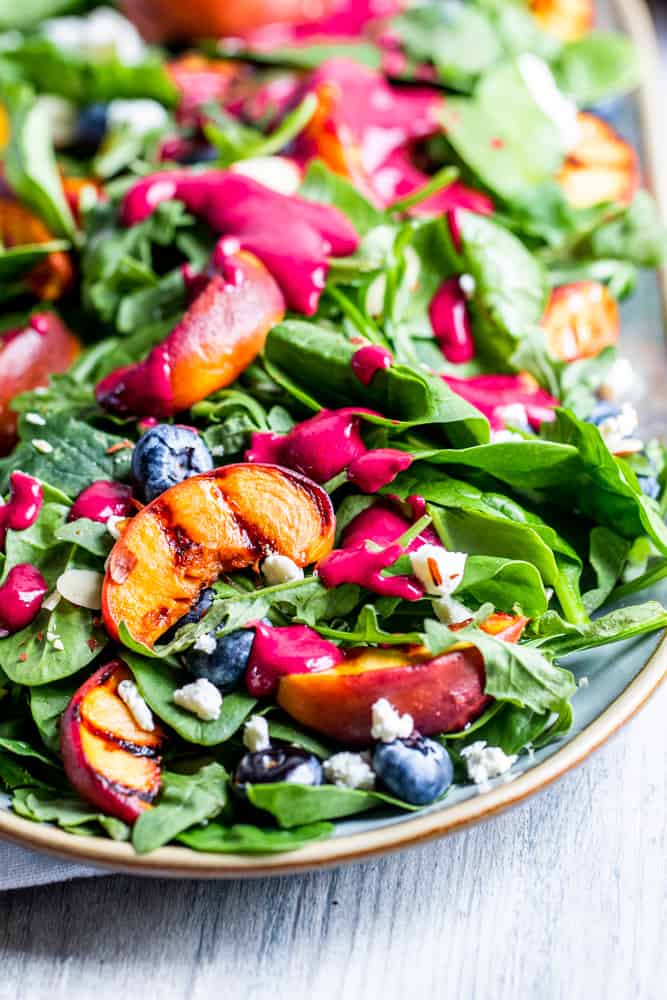 Check out These Other Salads and Sides!
Grilled BBQ Chicken Salad
Balsamic Roasted Asparagus
Spinach Apple Salad
Crispy Smashed Potatoes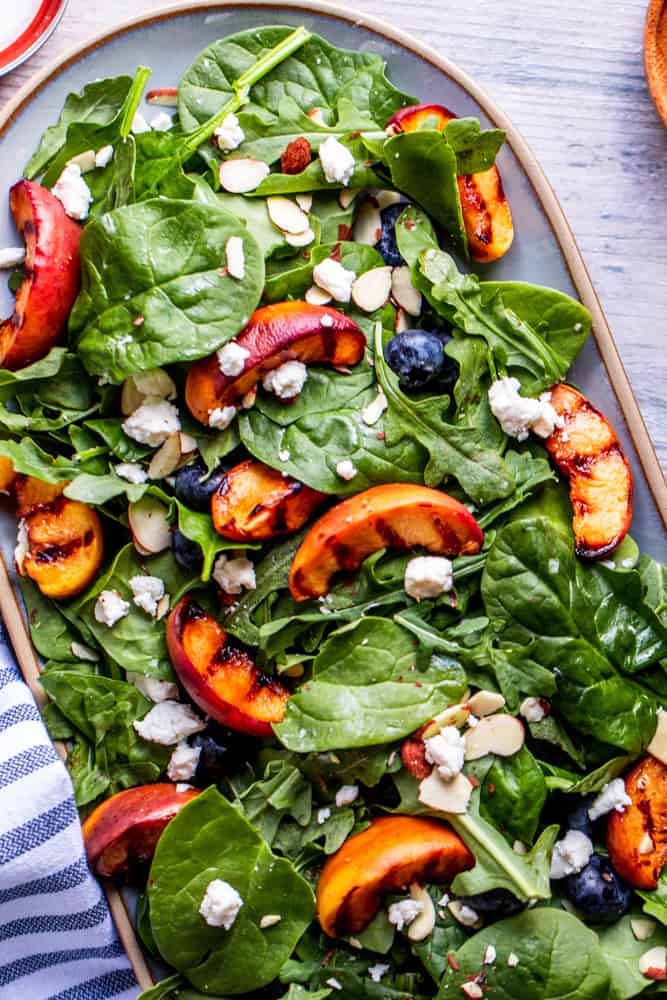 Common Questions
What salad dressing should I pair with this peach salad recipe?
My all time favorite dressing to add to this salad is my Blueberry Vinaigrette. It pairs wonderfully and compliments the sweet peaches and fresh blueberries. Alternatively, you could pair with my Balsamic Vinaigrette, or Honey Dijon Vinaigrette to transform this grilled peach salad into something new!
Do you have any other add-in suggestions?
This salad is great as-is, but there are tons of great ways to transform and make this peach salad your own. Some other great add-in ideas are slices red onion, feta cheese, candied pecans, grilled chicken, or diced avocado.
Can I make this Grilled Peach Salad ahead of time?
Absolutely, you can make this ahead of time. You can grilled the peaches and toss the entire salad together and store in the fridge for up to 24 hours. If you are making the salad ahead of time I recommend not adding the dressing on until you are ready to eat.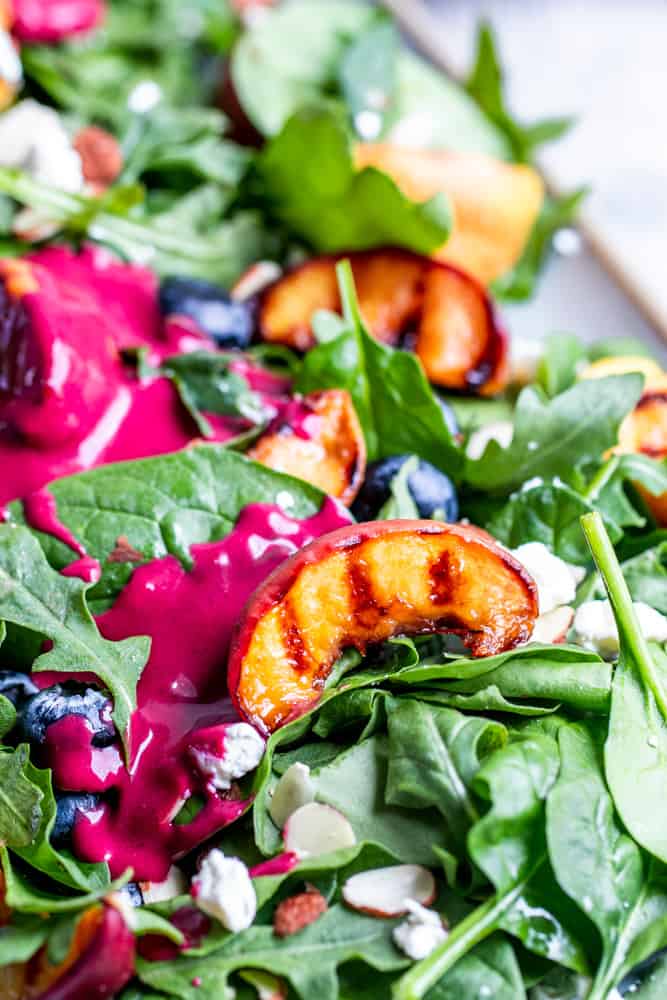 I hope you love this yummy Grilled Peach Salad recipe! If you are looking for some great recipes to pair this salad with check out my Grilled Goat Cheese Sandwich or Crockpot Vegan Lentil Soup.
Happy Eating!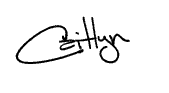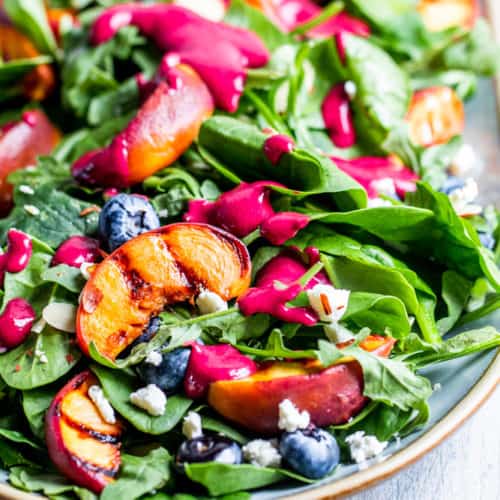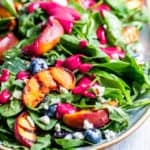 Print Recipe
Grilled Peach Salad with Blueberries
This Grilled Peach Salad is bright, fresh and perfect for summer. Packed with grilled peaches, blueberries, goat cheese, almonds and blueberry vinaigrette.
Instructions
Wash and dry all of your fresh fruits and veggies. Once dry, measure and combine everything except the dressing into a large bowl and toss to combine.

When you are ready to serve either toss the salad with the blueberry dressing, or keep on the side for each person to add their own. Enjoy!
Nutrition
Calories:
164
kcal
|
Carbohydrates:
24.3
g
|
Protein:
5.9
g
|
Fat:
6.1
g
|
Saturated Fat:
2
g
|
Cholesterol:
7
mg
|
Sodium:
160
mg
|
Potassium:
517
mg
|
Fiber:
4.2
g
|
Sugar:
18.2
g
|
Calcium:
123
mg
|
Iron:
2
mg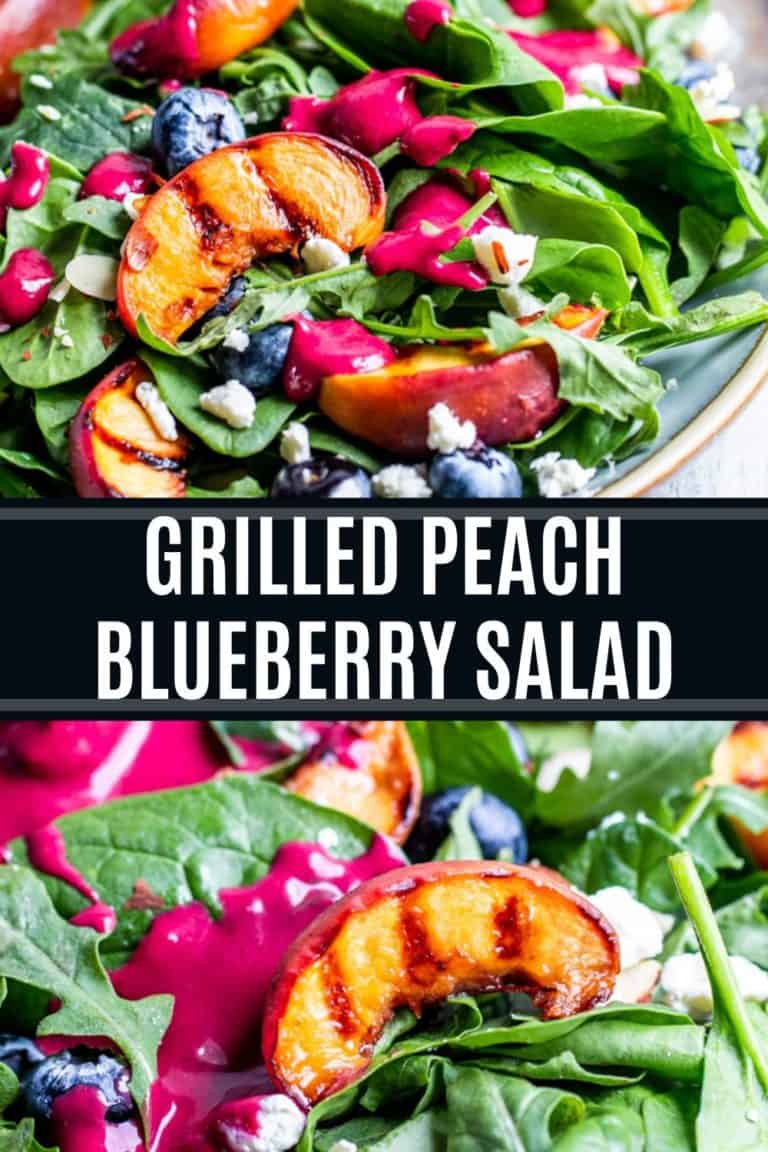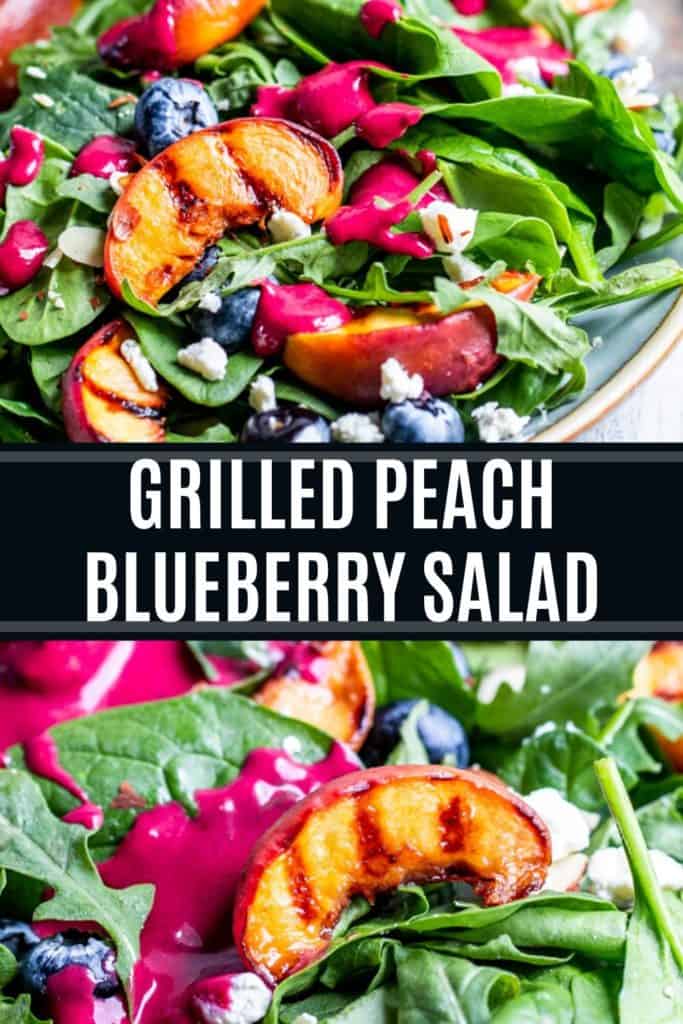 Thank You for Sharing!