This Kale Caesar Salad recipe is perfect as a main or side. The salad is simple to make and comes together in only 10 minutes.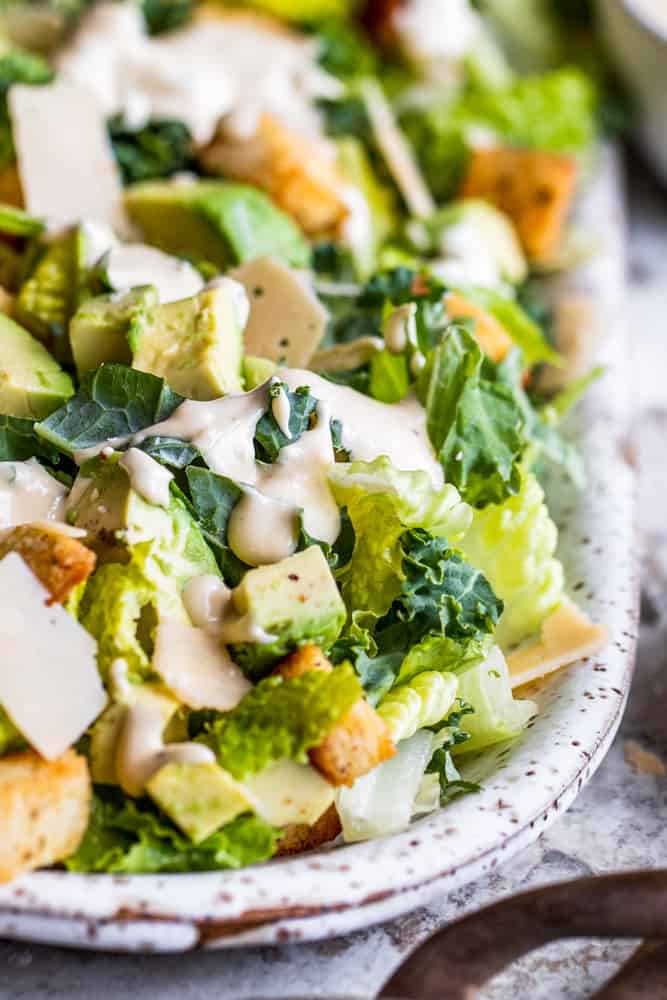 Summer is hear which means I am all about fresh and healthy ingredients. This Kale Caesar Salad recipe is healthier than the classic salad and is topped with homemade croutons, dressing, fresh Parmesan and chunks of creamy avocado.

This easy Caesar salad recipe is ready in about 10 minutes, and perfect for a side, main or summer potlucks and picnics. This recipe naturally vegetarian, but can easily be made vegan by swapping out the cheese and dressing. I hope you love this simple salad recipe.
This Kale Caesar is paired with fresh avocados for a twist on the classic.
Kitchen Tools
A Large Prep Bowl
A Knife and Cutting Board
Ingredients
Kale and Romaine Lettuce: I like to use a 50/50 split between these two fresh greens. You could do more or less or either if you wish or sub in a different type of leafy green like spinach, chard or iceberg lettuce. Any substitution will of course change the overall taste of the Caesar salad.
Avocados
Fresh Parmesan Cheese: The kind that is in block for and not grated in a can.
Homemade Croutons: I love my simple homemade croutons with this kale Caesar salad. The flavors pair perfectly together, and they are healthier than a store bought brand.
Caesar Dressing: You can use a classic Caesar dressing, make your own or use a vegan alternative.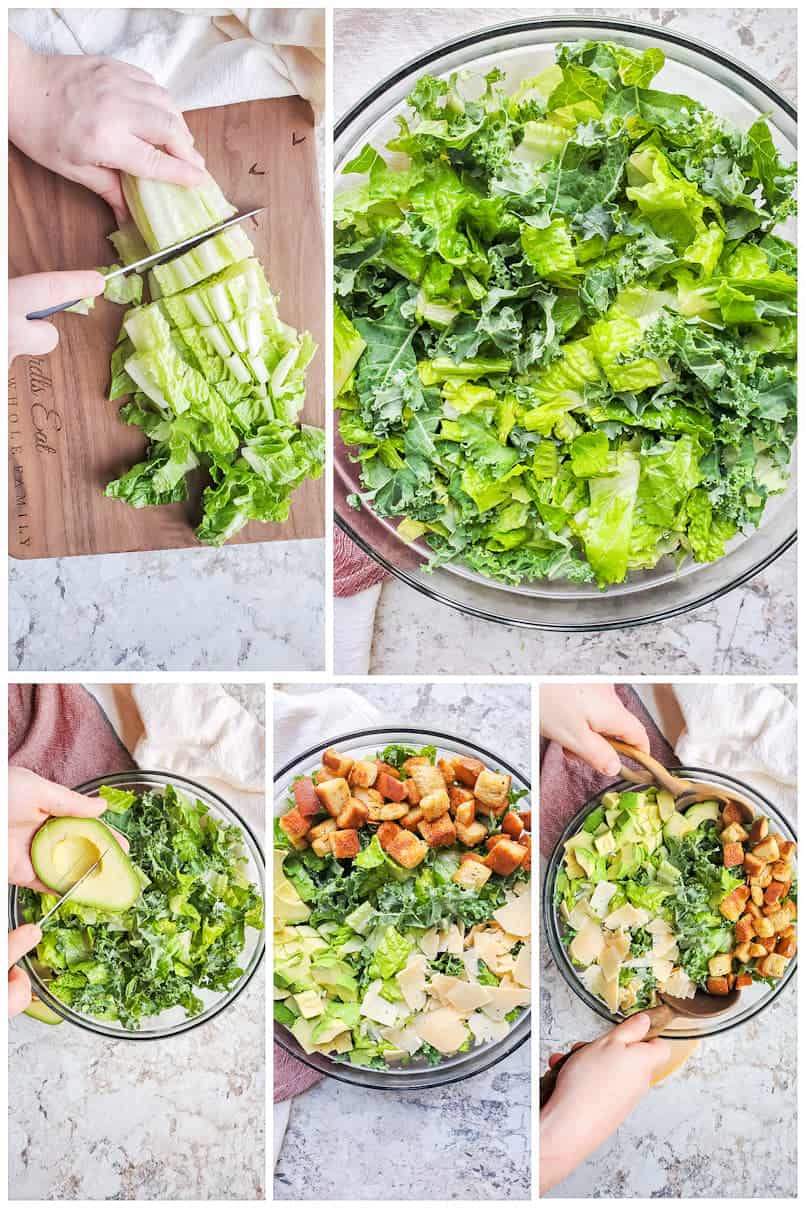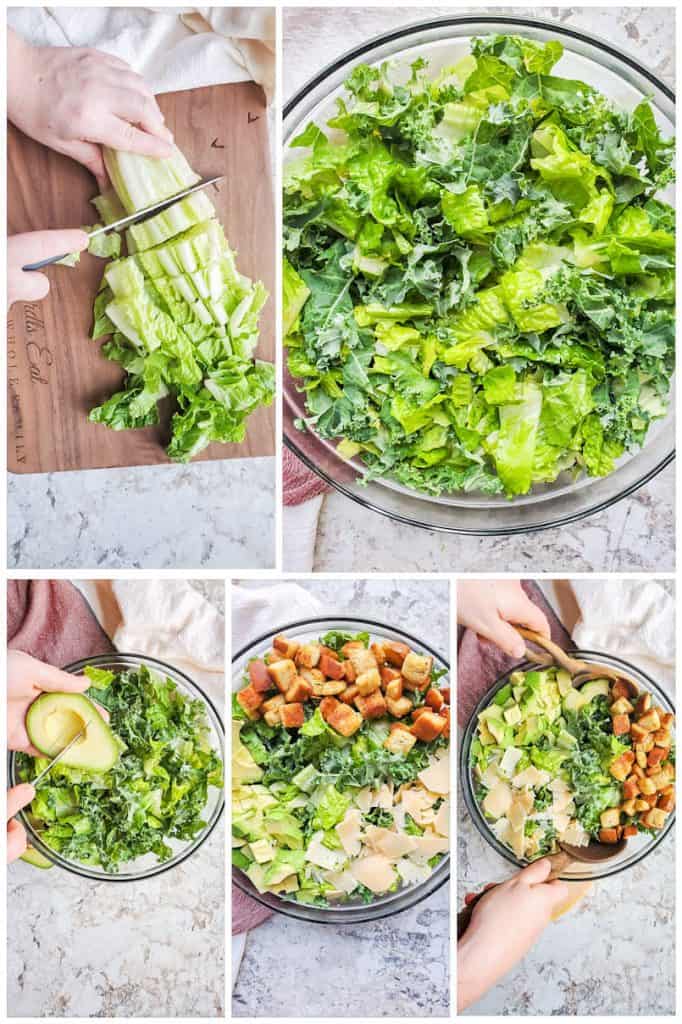 Check out these other Simple Salads
BBQ Chicken Salad
Grilled Peach Salad
Apple Spinach Salad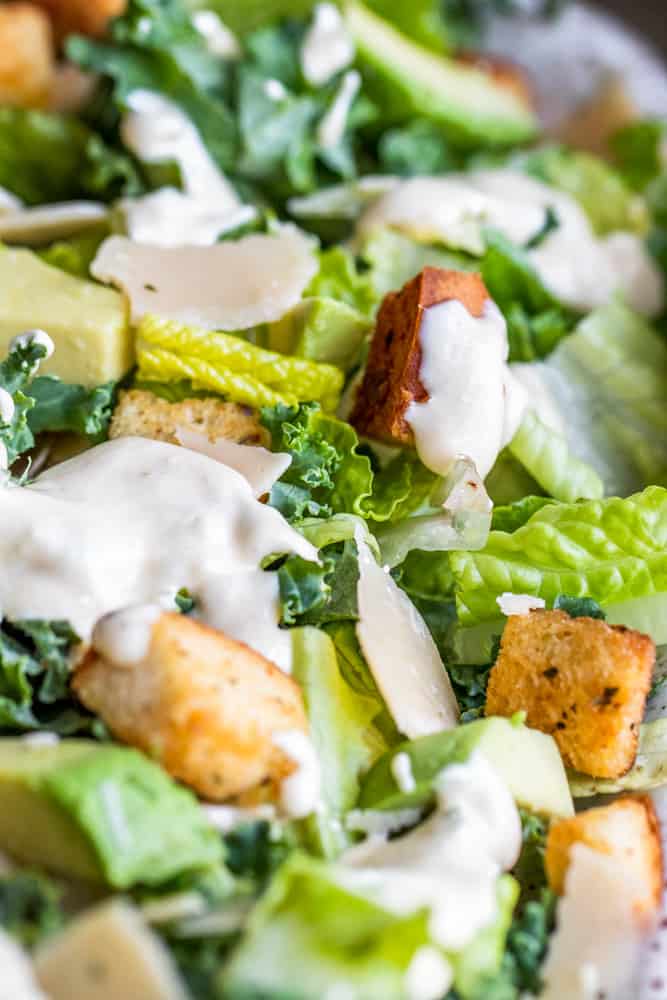 How to Make Caesar Salad
How to prep and make a kale salad in four simple steps. Simple, healthy and ready in about 10 minutes. If you want to make this salad into a main you can easily add in some leftover baked, grilled or rotisserie chicken.
Prepping the Greens
Wash, dry then chop the kale and romaine lettuce. This step can be done in advance and the chopped greens can be stored in the fridge.
Avocado Prep
Slice the avocados in half discarding the pit. Chop the avocados into half inch chunks.
Combing the Salad
Once your greens are dried and chopped add them to a large prep bowl and top with freshly shaved or shredded Parmesan cheese, croutons and chopped avocados. Toss together with large salad tossers being careful not not smash the avocado too much.
Finishing Touches
Serve topped with Caesar salad dressing or toss it in together. Enjoy this quick and easy salad recipe.
Tips and Tricks
Keep your greens fresh: If you want to prep your kale and romaine lettuce ahead of time to save on prep work you can wash and chop ahead of time. Store the chopped greens in a large bowl then put a paper towel over the top then some cling wrap. This helps keep moisture off of the greens keeping the crisp and fresh until you are ready to make the Caesar salad with avocados.
Caesar Dressing Tip: Traditional Caesar salads are served with the dressing tossed into the lettuce. You can do this and I recommend this route for large parties or get togethers. Alternatively, you can leave the dressing on the side and let everyone add their own. This is great for saving leftovers as well, because the salad with stay fresh and crisp longer without the dressing tossed on it.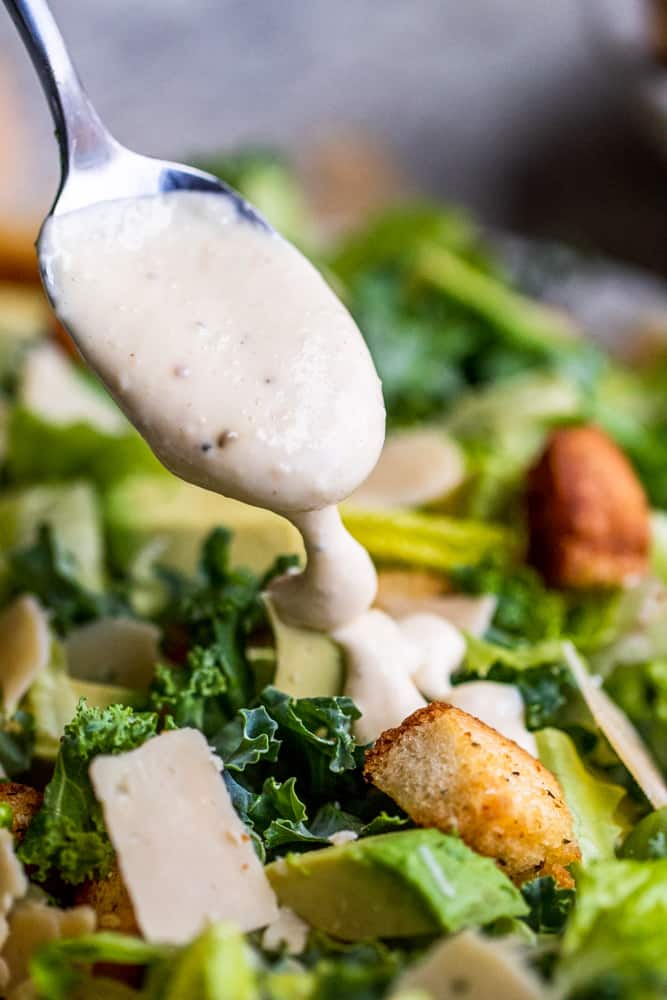 Common Questions
Can Caesar salad be made in advance?
The ingredients can be made and prepped ahead of time, but I recommend not tossing the salad together until right before you are ready to serve. This helps the kale and romaine stay crisp and the avocados not start to brown. The greens can all be washed and chopped in advance, the cheese can be shredded and stored in the fridge and even the croutons can be make ahead of time.
How should leftover salad be stored?
Store leftover salad in an airtight container in the fridge. If the salad is already tossed in dressing with the fresh avocados then it is best eaten within 2 days. Alternatively, you can store the ingredients separately and toss together before you are ready to serve and this salad will stay fresh for up to 4 days or when the green start to wilt.

I hope you love this Kale Caesar recipe! It you have any questions or comments be sure to sound off below.
Happy Eating!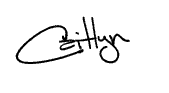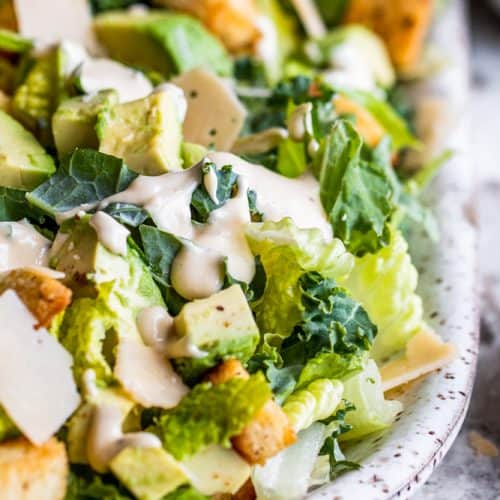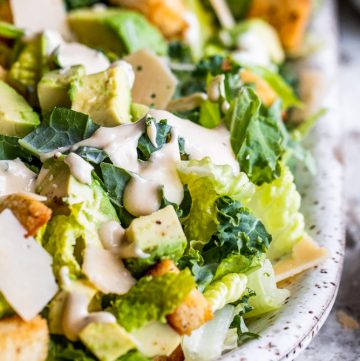 Kale Caesar Salad Recipe with Avocados
This Kale Caesar Salad recipe is healthy and ready in only 10 minutes. Paired with fresh avocados, Parmesan cheese, homemade croutons and dressing.
Ingredients
4

Cups

Kale Leaves

Washed and dried

4

Cups

Romaine Lettuce

Washed, dried and chopped

4

Avocados

½

Cup

Fresh Parmesan Cheese

½-3/4

Cup

Salad Croutons

Homemade or Store Bought

½-3/4

Cup

Caesar Dressing

Homemade or Store Bought
Instructions
Wash, dry and chop the romaine lettuce and kale. You can do this ahead of time or right before assembling the salad.

Slice the avocados in half removing and discarding the pit. Chop the inner part into ½ inch chunks and set aside. Use a cheese grater to shave or shred the fresh Parmesan cheese.

Add the washed greens, chopped avocado, shaved Parmesan and croutons to a large prep bowl and toss to combine being careful not to smash the avocado.

Serve immediately with Caesar dressing on the side, or add dressing and tossing together. Enjoy!
Notes
Leftover Storage
Store leftover salad in an airtight container in the fridge for up to 2 days if tossed with dressing and 4 days if the dressing was kept on the side.
Make Ahead Tips
All of the ingredients (except the avocado) can be prepped up to 24 hours ahead of time, stored in the fridge and assembled before enjoy for faster and easier prep.
Serving Size Note
This salad will easily serve four as a main dish and eight as a side dish.
Nutrition
Calories:
560
kcal
Carbohydrates:
36.5
g
Protein:
10
g
Fat:
43.2
g
Saturated Fat:
9.1
g
Cholesterol:
6
mg
Sodium:
501
mg
Potassium:
1451
mg
Fiber:
15.2
g
Sugar:
5.2
g
Calcium:
214
mg
Iron:
4
mg
See What We Are Pinning!
Follow erhardtseat1 to see all the food!