Side Dish
Crispy Smashed Potatoes with Cheesy Buffalo Topping
These Cheesy Crispy Smashed Potatoes are topped with buffalo sauce and make the perfect side dish to any meal!
April 15, 2019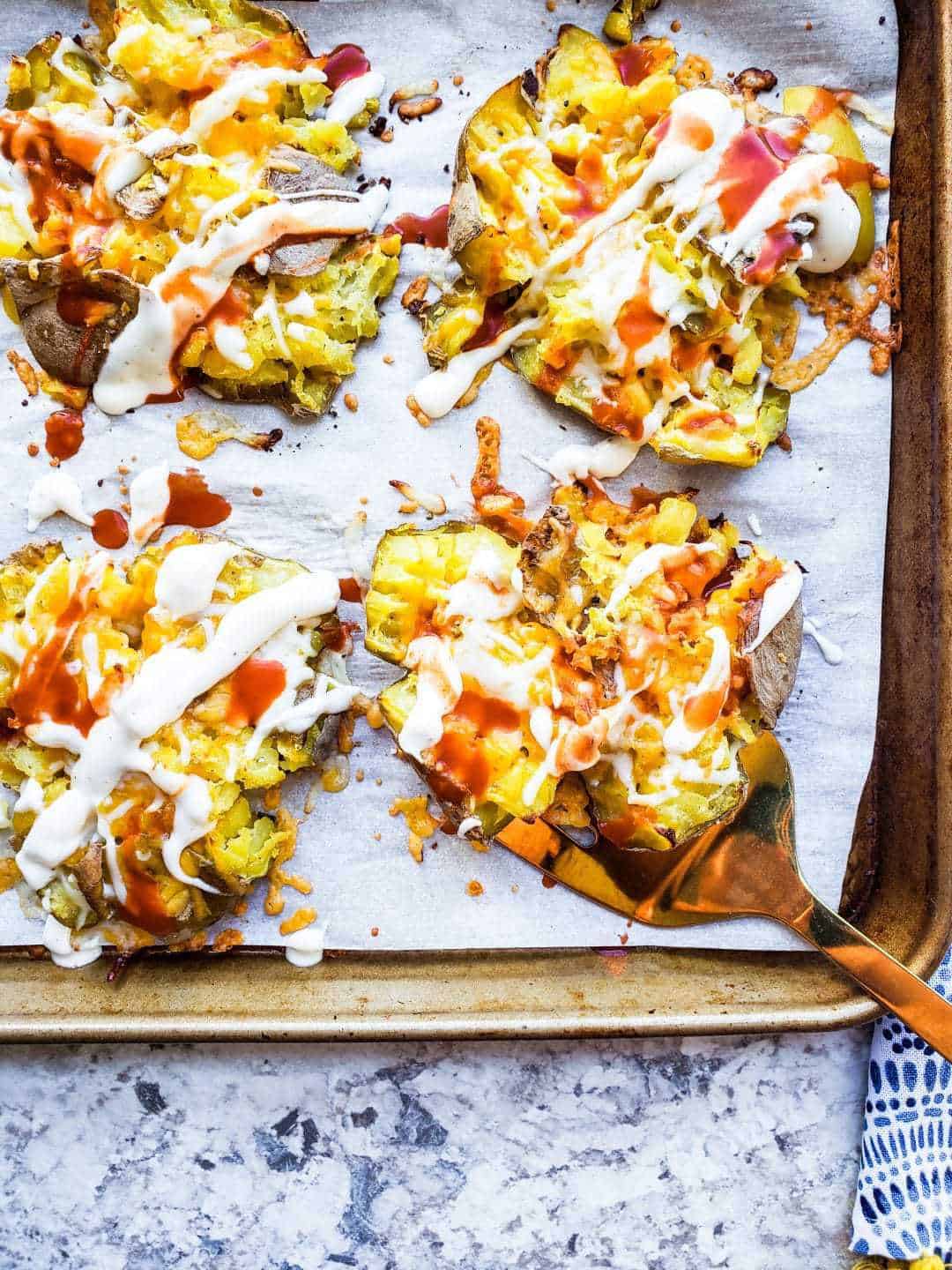 Hello and happy spring! This Crispy Smashed Potatoes with Cheesy Buffalo Topping is an year round favorite in our home. The potatoes are crisp, then topped with gooey cheese and a ranch and hot sauce combo for the ultimate side dish. My family often pairs these tasty taters with chicken, burgers, or just a salad if we are eating lighter that night. I hope you and your family love these simple and tasty must-make potatoes!
What Do You Need To Make Crispy Smashed Potatoes?
The kitchen tools you will need for this recipe are:
A Cookie Sheet
A Large Pot
A Strainer or Slotted Spoon
A Spatula
Parchment Paper or Cooking Spray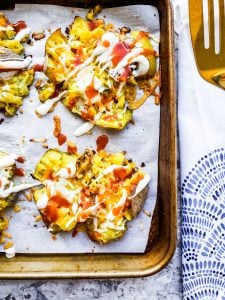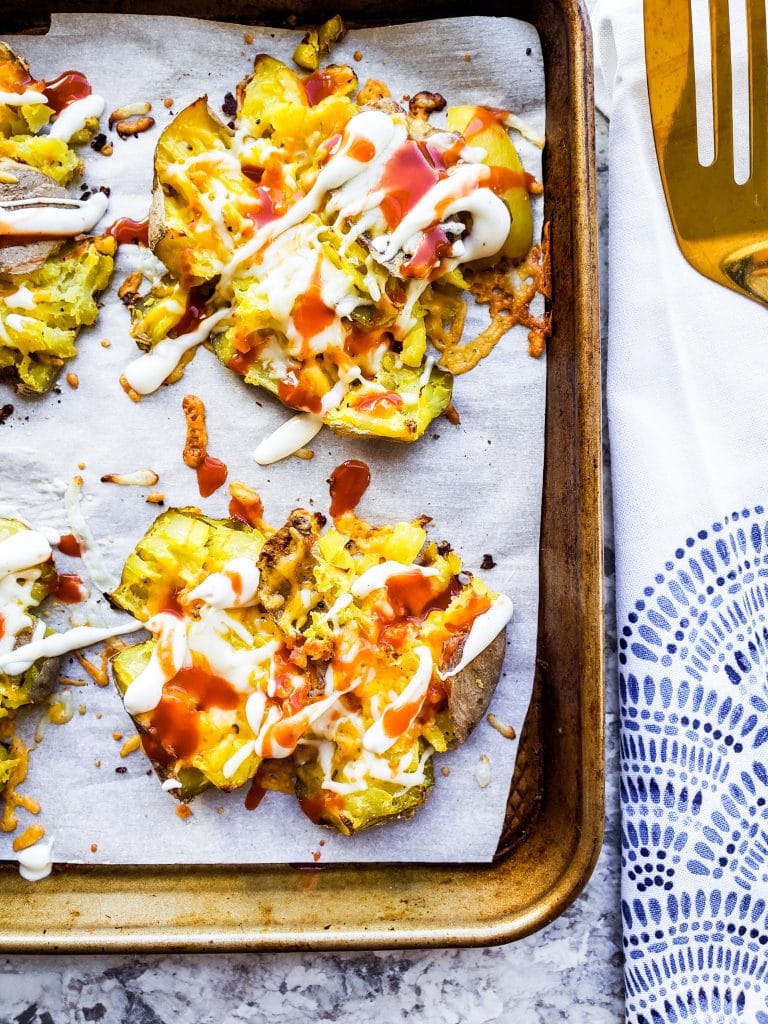 Simple Step-By-Step
First, clean the potatoes and add them to a large pot of boiling water. Cover and cook until tender, about 30 minutes.
Second, remove potatoes from water and pat dry. Place on a cookie sheet and smash using a fork of spatula.
Third, bake on center rack at 425 degrees until crispy.
Fourth, remove from oven and pile with cheese. Return to oven until cheese is melted.
Fifth, top with ranch and hot sauce and serve warm!
Note: Depending on the size of your potatoes you may need to boil them longer. Personally, I like to use potatoes smaller than my fist.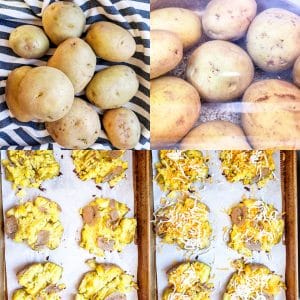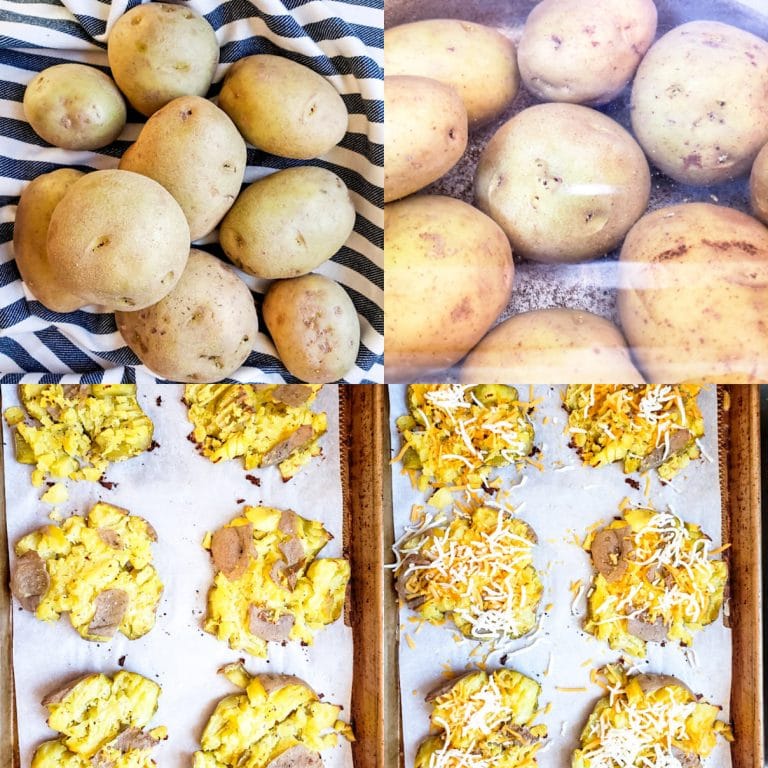 Frequent Questions
Can these be frozen, or should leftovers be kept in the refrigerator?
These cannot be frozen. I know everyone loves to be able to freeze and save leftovers, but this recipe is not good for that purpose. They are best fresh out of the oven. They can be saved in the fridge for up to two days, just leave off the sauces. To rewarm them I suggest heating in the oven until warm then topping with ranch and hot sauce.
Can I use a different type of potato?
Sure! Purple or red potatoes work awesome for this recipe as well. You could also use mini potatoes if you want to use this recipe as a small bites appetizer. If using mini potatoes cut the boil time in half and bake in the oven for 10 minutes or until crispy.
What are some other good topping ideas?
If ranch and hot sauce aren't your thing don't worry you can customize these to everyone's taste! You could leave them plain with just cheese, top with barbecue sauce, Chipotle mayo, Sriracha, or use some herbs and spices.
What does this recipe pair well with?
My family loves eating these with chicken or burgers. Also, we use these for Meatless Mondays often and pair with a salad, or soup. Some great soup options are my Spicy Black Bean Soup and Roasted Red Pepper Tomato Soup. Both are vegan and a great lighter option for this heavy hitting side dish.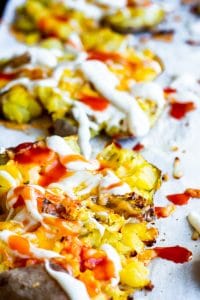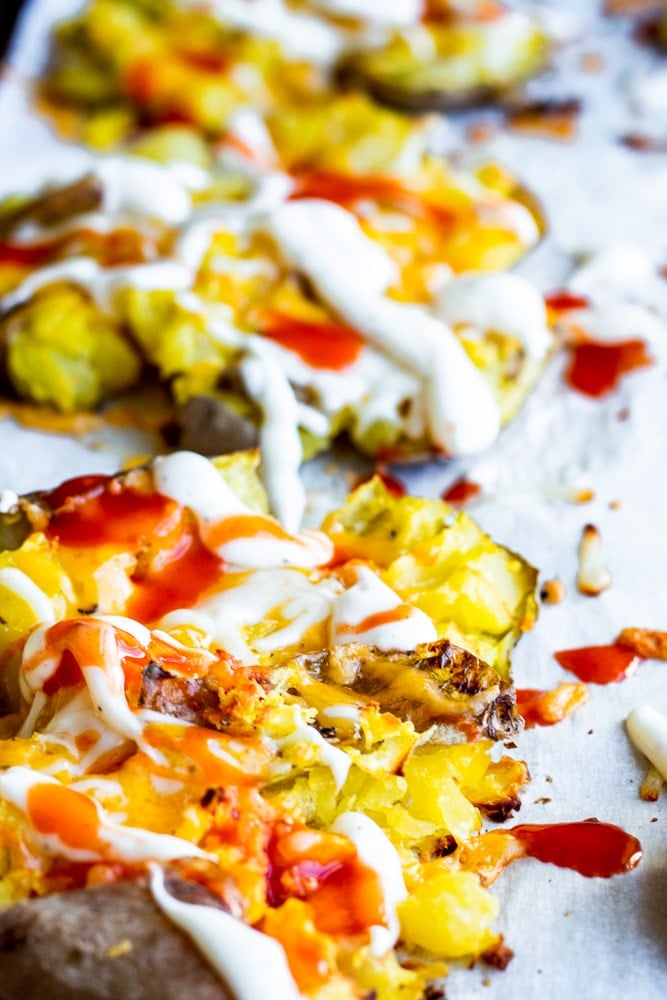 Looking For More Delicious Sides? Try These!
Southern Sweet Potato Casserole 

Happy Eating!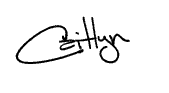 Also, check out my Homemade Buttermilk Ranch Dressing to top these crispy potatoes with!
Love This Recipe? Rate and Comment Below!
Shop This Recipe:

 
I make a small commission through purchases made through the links on this page.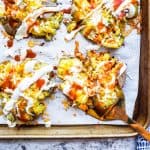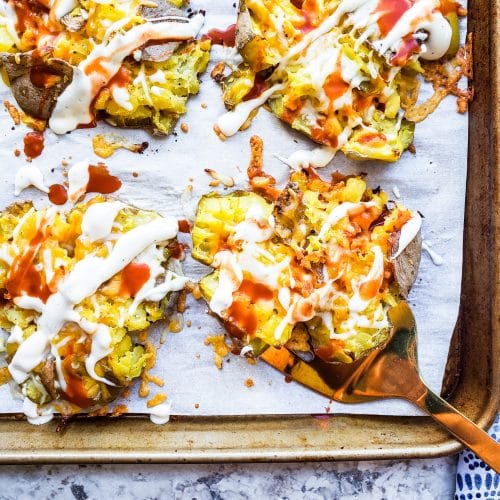 Print Recipe
Crispy Smashed Potatoes with Cheesy Buffalo Topping
These Crispy Smashed Potatoes make the perfect side dish for any family dinner! The perfect combo of potatoes, cheese, ranch and hot sauce!
Instructions
In a large pot fill halfway with water and add potatoes. Heat over high heat until boiling, then reduce heat and cover for 30 minutes or until potatoes are soft.

Preheat oven to 425 degrees and spray a cookie sheet with cooking spray. Once potatoes are soft remove from water and dry. Place on cookie sheet and use a spatula to firmly press down and smash the potato then sprinkle with salt and pepper. Repeat until all are smashed. Bake on middle rack for 15-20 minutes, or until slightly crisp.

Remove and sprinkle with cheese and cook an additional 5 minutes until cheese is melted. Once finished top with ranch and hot sauce and serve warm Enjoy!
Nutrition
Serving:
1
Potato
|
Calories:
302
kcal
|
Carbohydrates:
26.6
g
|
Protein:
7.2
g
|
Fat:
19
g
|
Saturated Fat:
4.5
g
|
Cholesterol:
34
mg
|
Sodium:
1091
mg
|
Potassium:
119
mg
|
Fiber:
2.3
g
|
Sugar:
3.6
g
|
Vitamin C:
23
%
|
Calcium:
15
%
|
Iron:
7
%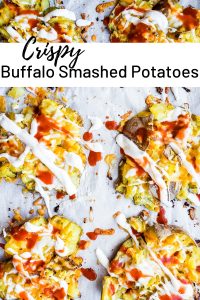 Don't Forget To Share With Your Friends!