This Red Pesto Pasta recipe is packed with roasted tomatoes, fresh basil, and mozzarella for a healthy summer side. Pair with a light salad or soup to make it a meal!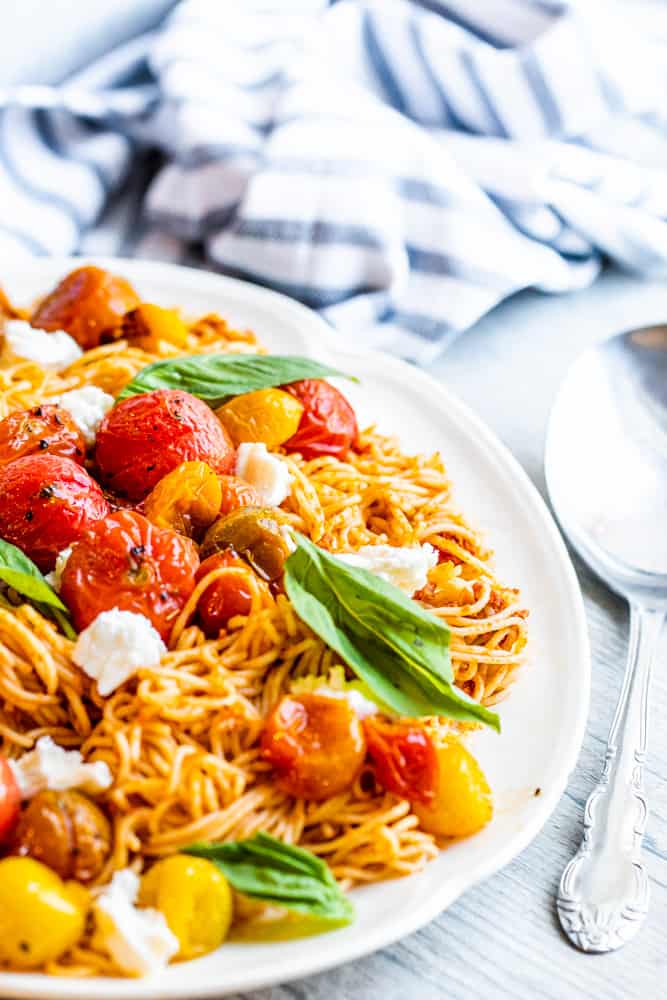 With summer around the corner, I am so pumped for all the fresh produce at farmer's markets and from the backyard. This Tomato Pesto Pasta recipe is packed with fresh basil, roasted tomatoes and mozzarella cheese.
This healthy pasta has been a longtime favorite and was a go-to during my family's time in Japan. I love serving this pasta as a side, but can be turned into a main course with a side of garlic bread or a side salad. I hope you enjoy this delicious pasta recipe.
This quick and easy pasta is perfect for summer and packed with roasted tomatoes.
Kitchen Tools
A Large Pot
A Strainer
A Baking Sheet
Measuring Cups and Spoons
A Sharp Knife and Cutting Board
A Few Prep Bowls
Ingredients
Dried Pasta Noodles: My favorite noodle to use is Angel Hair Pasta, but you can use regular spaghetti noodles or any other variety you prefer.
Red Pesto: I use store bought tomato pesto the vast majority of the time for this pasta. It saves long in the pantry and makes this recipe super easy and quick to throw together. You can of course make your own homemade pesto if you wish. If you want to try a different sauce for this pesto pasta recipe you can use my homemade basil pesto sauce.
Fresh Mozzarella: I buy a ball of it and just tear some off. You can slice it, use shredded mozzarella, or buy the small pearls.
Dried Spices
Olive Oil
Fresh Basil: This is optional for topping. You can leave the leaves whole as shown, or slice them into ribbons or strips.
Tomatoes: I love using a medoly of tomatoes for this red pesto pasta recipe, but cherry or grape tomatoes can be used as well. I do not recommend using canned tomatoes for this quick and easy recipe.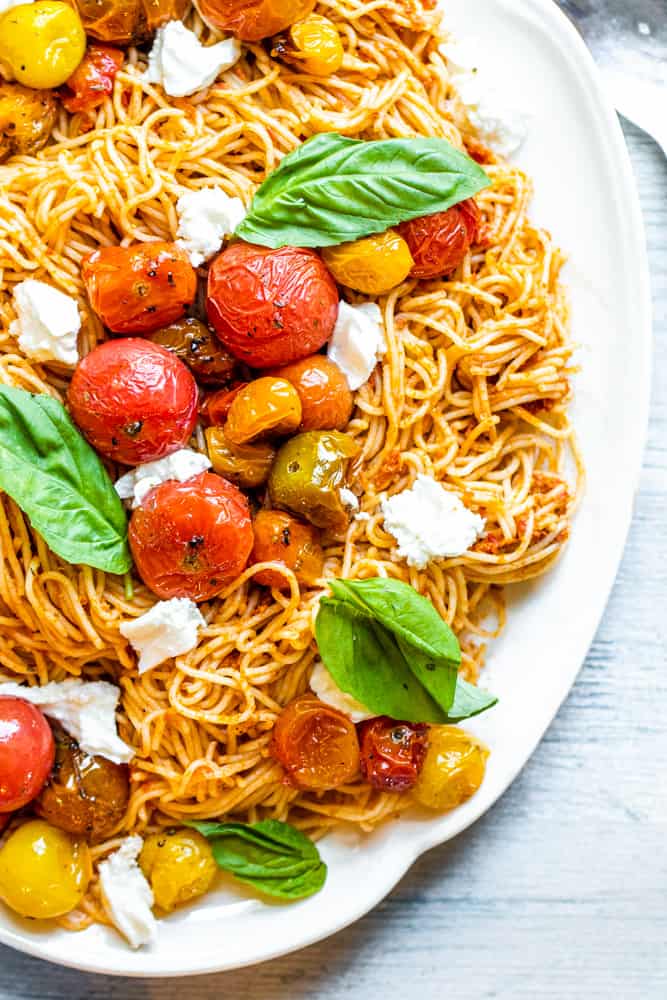 How to Make Red Pesto Pasta
Cooking the Pasta
Place a large pot of salted water on the stove and bring to a boil. Cook pasta according to package instructions.
Roasting the Tomatoes
While the pasta is boiling, add the tomatoes to a prep bowl and toss in olive oil and dried spices. Add to a small baking sheet either sprayed with cooking oil or lined with foil. Bake in the oven at 375 degrees F for 20-25 minutes until soft and blistered.
Combing the Pasta
Once the pasta is al dante, strain it then toss in the red pesto sauce. Next, once the tomatoes are finished roasting, toss them in with the pasta, add in some fresh mozzarella and garnish with fresh basil. Enjoy!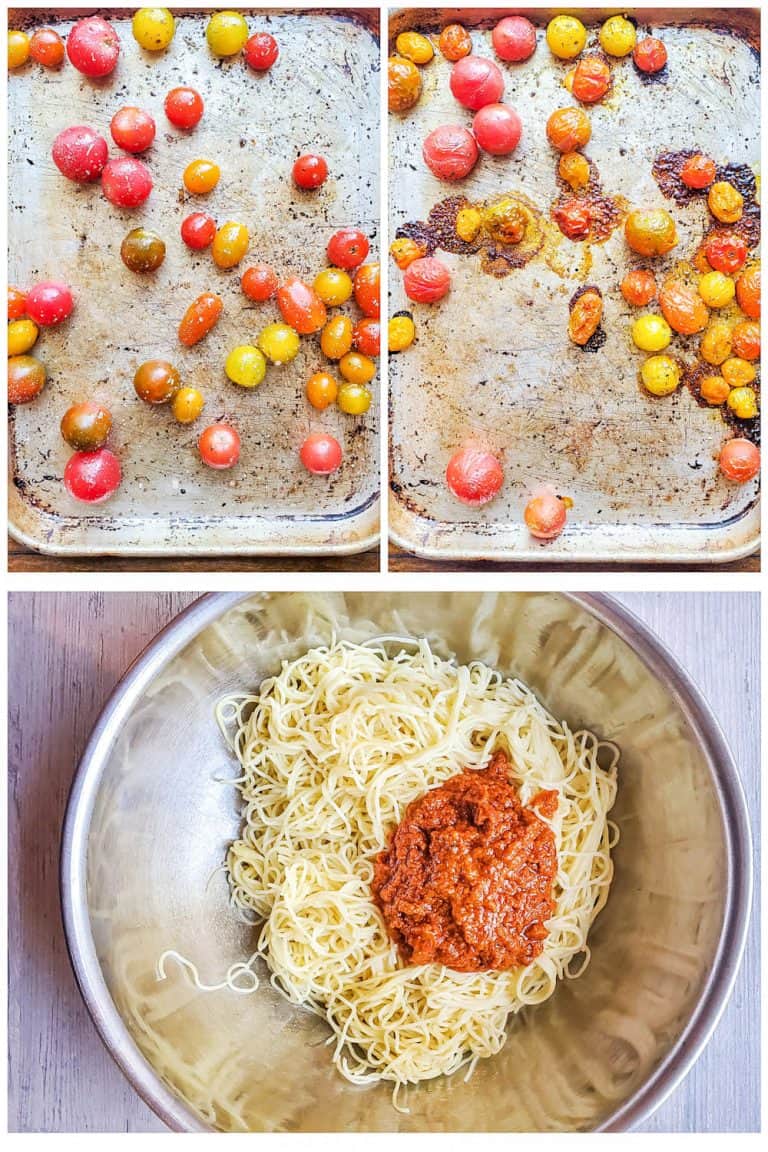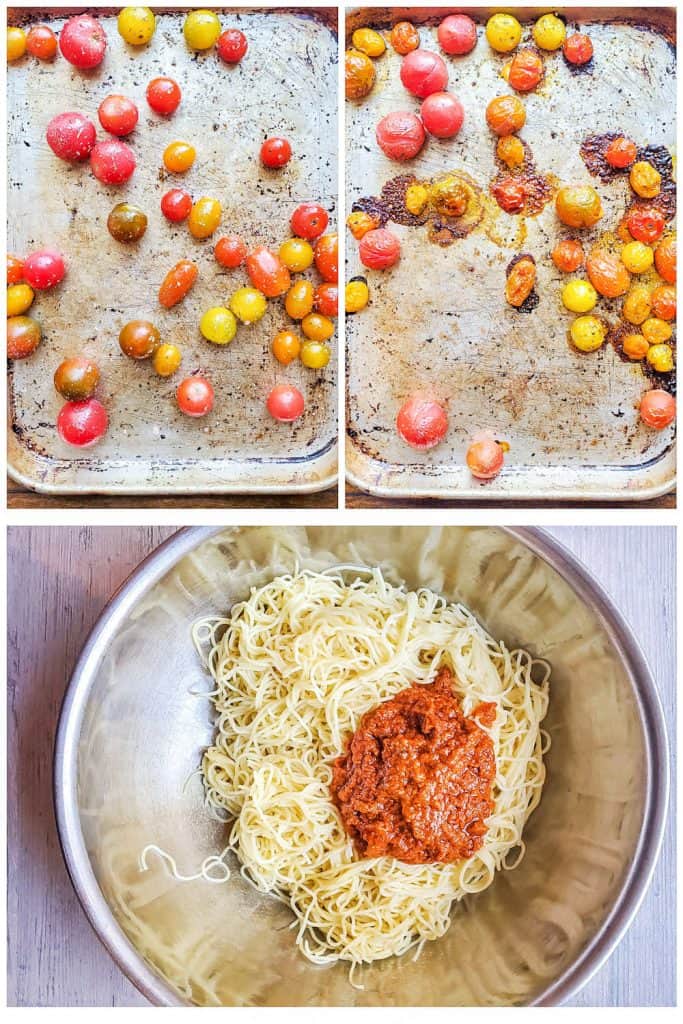 Check out these Other Great Side Dishes
Grilled Peach Salad
Oven Roasted Asparagus Recipe
Spinach Apple Salad
Crispy Smashed Potatoes
Southern Sweet Potato Casserole
Baked Mostaccioli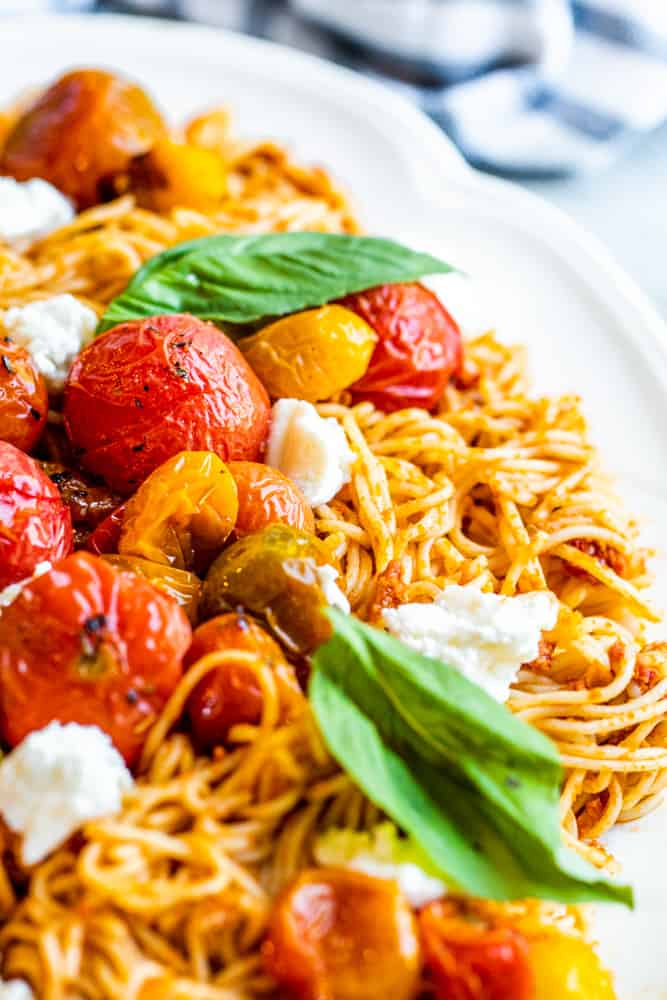 Pro Tips
Prep Ahead of Time: I love making the tomatoes and pasta ahead of time and keeping them in the fridge overnight. This makes it simple to toss everything together the next day for a fast and simple side for dinner.
Make it a Main: I enjoy serving this sun dried tomato pesto pasta as a side, but this recipe can be turned into the star of the show by pairing with a side salad, or garlic bread. Alternatively, you could add in some grilled or baked chicken.
Common Questions
What is red pesto sauce made of?
Red pesto sauce is made of a blend of fresh basil leaves, parmesan cheese, tomatoes, lemon juice, pine nuts, and garlic. You combine everything in a food processor and pulse until a paste forms. You can easily make your own homemade sauce or use a basil store bought one.
Where do you find pesto sauce?
I find red pesto sauce near the pasta sauces, usually on the top shelf. Also, another place to look in your local supermarket is in the Italian food section.
How should leftover pasta be stored?
Store leftover red pesto pasta in an airtight container in the fridge for up to 4 days. Rewarm the pasta in the microwave for 30-60 seconds until warm when ready to eat.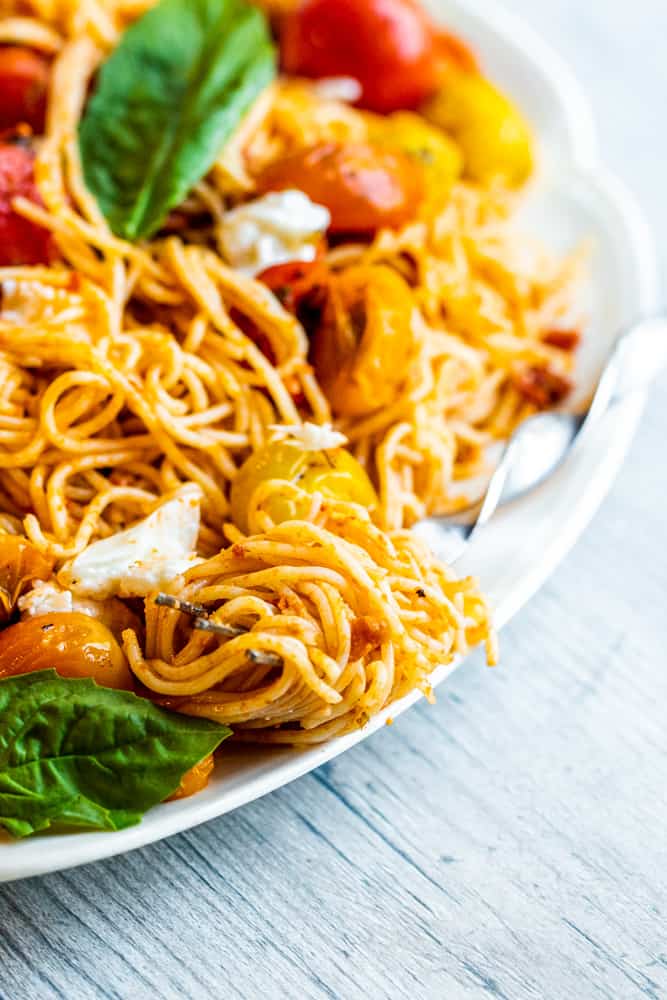 This easy pesto pasta recipe is always a hit and a longtime favorite of mine. This recipe is inspired by my favorite restaurant I loved going to when we lived in Japan. I hope you and your family enjoy, and if you have any questions leave them below.
Happy Eating!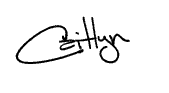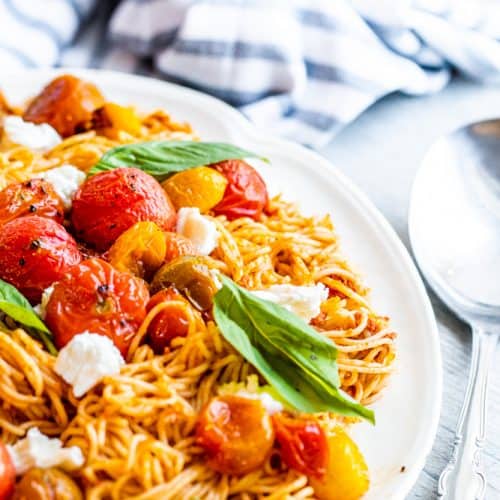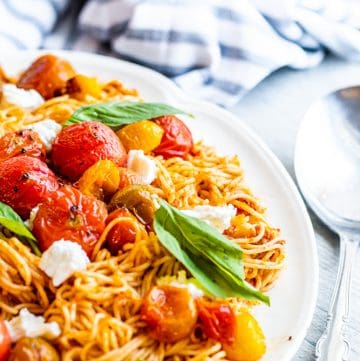 Red Pesto Pasta Recipe with Roasted Tomatoes
This Red Pesto Pasta recipe is easy, healthy and comes together in under 30 minutes. The pasta is topped with roasted tomatoes, fresh basil and mozzarella.
Ingredients
8

Oz

Dried Angel Hair Pasta

6.5

Oz

Red Pesto

Store bought or homemade

12

Oz

Cherry Tomatoes

Grape or a similar small tomato will work

2

tablespoon

Olive Oil

1

teaspoon

Ground Black Pepper

½

teaspoon

Sea Salt

½

teaspoon

Italian Seasoning

¼

teaspoon

Minced Garlic

4

Oz

Fresh Mozzarella

6-8

Fresh Basil Leaves
Instructions
Cook dried pasta on the stove top in a large pot of salted boiling water according to package instructions. While the water is boiling preheat the oven to 375 degrees F.

Toss the cherry tomatoes in a large bowl with 1 tablespoon of oilve oil, pepper, salt, Italian seasoning, and minced garlic. Pour the tomatoes on a small foil lined baking sheet and bake in the oven for 20-25 minutes until soft and blistering.

When the pasta is finished cooking, drain the water and toss with red pesto sauce and oilve oil until well combined.

When the tomatoes are finished roasting add to the top of the pasta along with torn pieces of fresh mozzarella, and fresh basil leaves. Enjoy warm!
Notes
Leftover Storage
Store leftover red pesto pasta in an airtight container for up to 4 days. Rewarm in the microwave before eating leftover.
Tomato Note
I like using a medoly of tomatoes for the pasta but cherry, grape or an assortment of small tomatoes will work.
Nutrition
Calories:
385
kcal
Carbohydrates:
29.9
g
Protein:
13.2
g
Fat:
23.1
g
Saturated Fat:
2.8
g
Cholesterol:
43
mg
Sodium:
482
mg
Potassium:
209
mg
Fiber:
0.8
g
Sugar:
1.5
g
Calcium:
27
mg
Iron:
2
mg
See What We Are Pinning!
Follow erhardtseat1 to see all the food!