This Spinach Apple Salad is healthy and perfect for Fall! This vegetarian salad is packed with apples, feta, walnuts, dried cranberries and red onion for a delicious combo that works great as a main or side dish.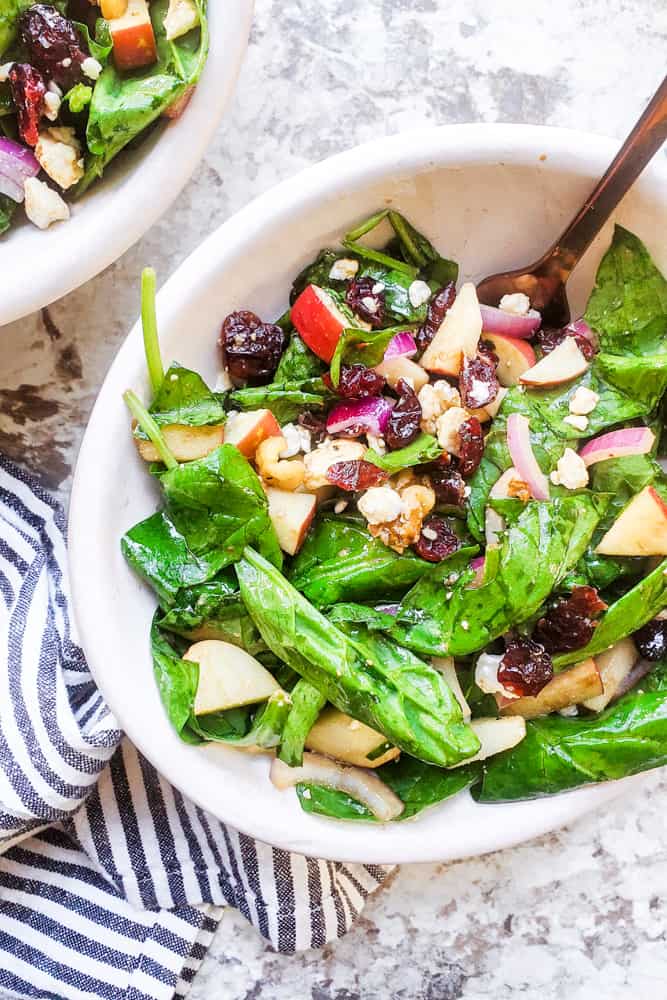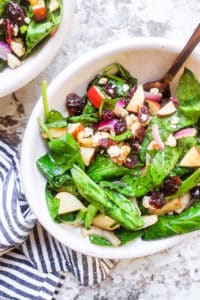 Salads get a bad rap of being boring and bland so often, but in reality they can be so flavorful and delicious! This Spinach Apple Salad with Homemade Honey Balsamic Vinaigrette is simple to make and saves perfectly for an easy lunch or meal prep.
This healthy vegetarian spinach apple salad is packed with walnuts, dried cranberries, feta, red onion and apples! I love making this salad as a side for dinner, or bringing it to a holiday party like Thanksgiving or Christmas. I hope you, your family and friends love this healthy and versatile salad recipe.
Kitchen Tools
A Pairing Knife and Cutting Board- These are to chop the apple and slice the red onion.
A Colander or Salad Spinner- This is to make sure your spinach is nice and clean.
A Large Bowl- This is to combine all your spinach salad ingredients together. If you are making this ahead of time for a party or holiday, a large bowl with a lid works great for storage and transport.
Salad Tossing Tools
Measuring Cups and Spoons
Small Bowls for Serving
Meal Prep Containers (Optional)
Ingredients
Fresh Spinach-

You could swap out some of the spinach for arugula, artisan spring mix, or some kale. This is your preference and any lettuce swaps will change the overall flavor.

A Large Apple-

I like using Fuji, Gala, or Pink Lady. Any will do those are just my favorites.

Feta Cheese-

Another fun cheese option would be using goat cheese. Also, you could leave the cheese out or swap in a vegan cheese to make this spinach salad vegan.

Walnuts-

If you aren't a big walnut fan would could use almonds, or pistachios instead. Just make sure that they do not have shells or any flavoring on them.

Dried Cranberries-

Any dried fruit can work if you cannot find dried cranberries. I also like using dried cherries in this spinach salad recipe.

A Red Onion

Homemade Honey Balsamic Vinaigrette Dressing: This is my ultimate go-to dressing for this Apple Spinach Salad and it complements it so well.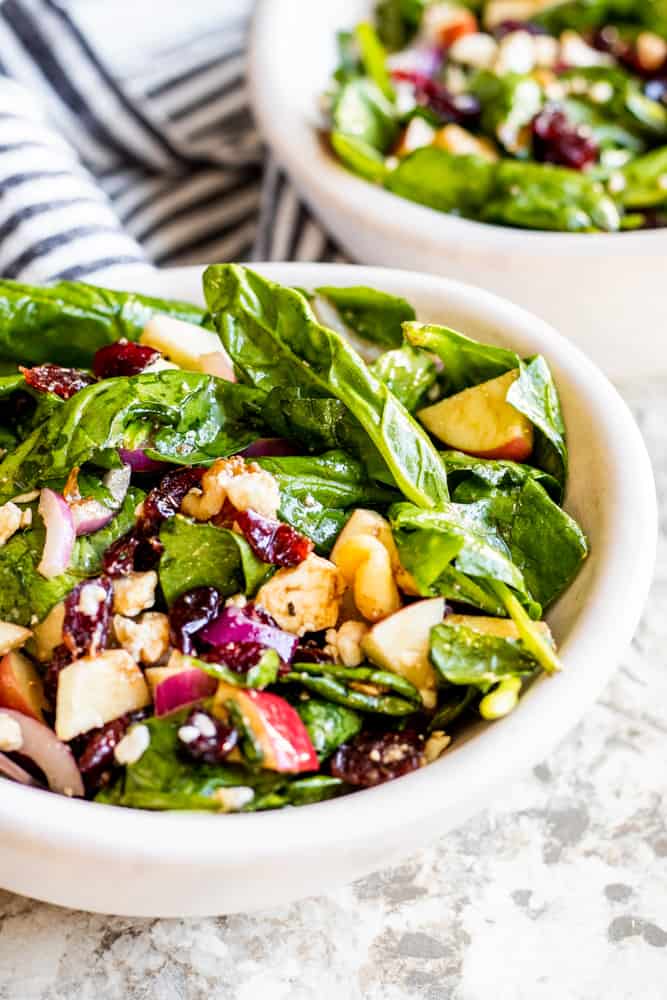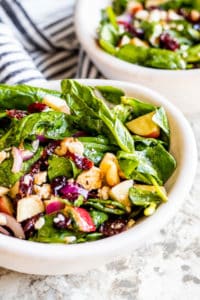 How To Make a Spinach Salad
First, you will need to prepare your salad ingredients. Start by thoroughly washing your spinach in a salad spinner or colander. Once you have the spinach washed, dab it dry with paper towels and prepare the rest of the ingredients.

Take a red onion and slice it in half, then remove the outside layer. Cut the onion in half width-wise then thinly slice the lengthwise until all of the onion is sliced.

Cut a large apple into four large chunks. You can either thinly slice the apple or chop it into ½ inch pieces. Personally, I like the chunks because they are easier to eat, but it is up to you.

Measure out the remaining salad ingredients and add them to a large bowl with the washed/dried spinach leaves.

Toss the spinach salad until the goodies are all distributed. Serve immediately with Honey Balsamic Vinaigrette, or cover and store until ready to serve. This salad recipe will yield 4 side salads or 2 large main dish salads.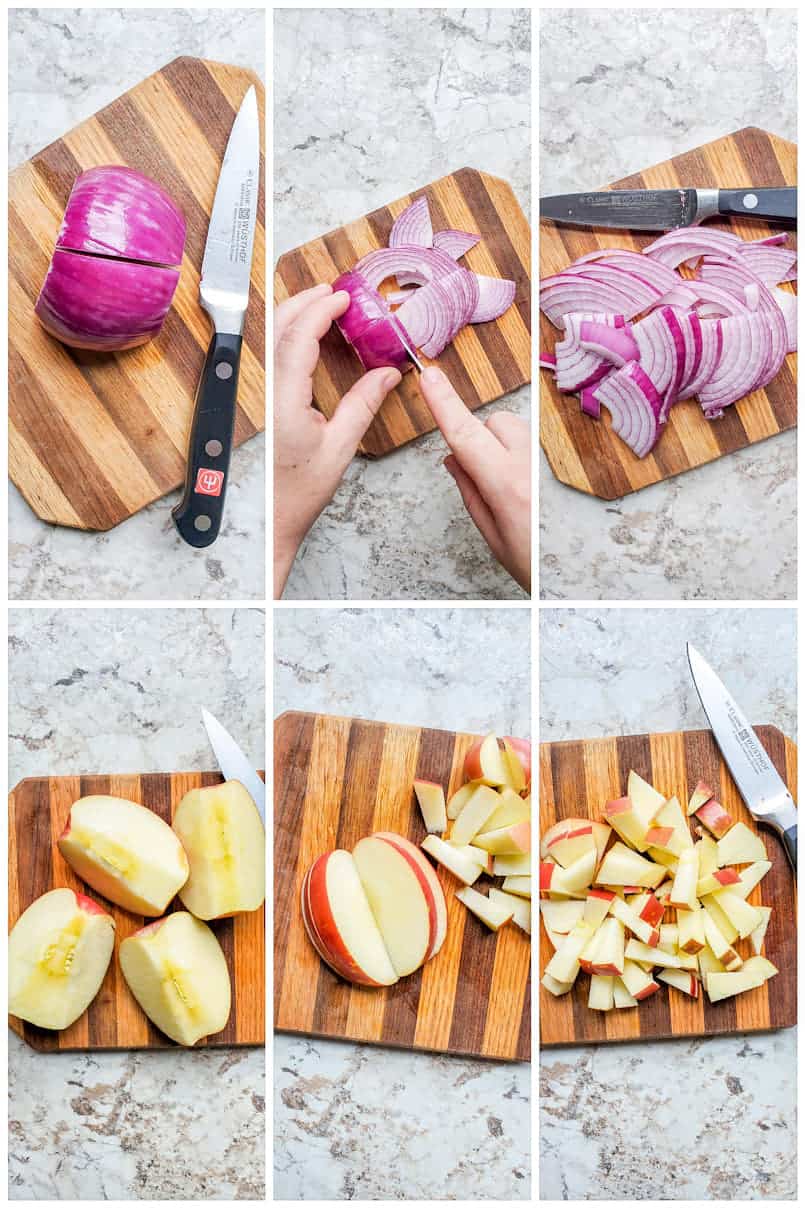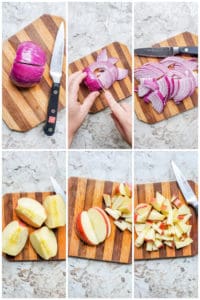 Pairing Ideas
I love that this spinach apple salad is not only easy, but also super versatile. This healthy spinach salad works great as a main dish or as a side. If you go the main dish route this recipe will yield 2 big daddy salads. Alternatively, this salad will yield 4 side salads perfect to pair with another recipe.
Personally, I love pairing a salad with the classic soup or sandwich. Another great option for this spinach salad is to serve it as a side for a holiday dinner or brunch like Thanksgiving, Easter or Christmas.
If you need some great recipe pairing ideas check these recipes out.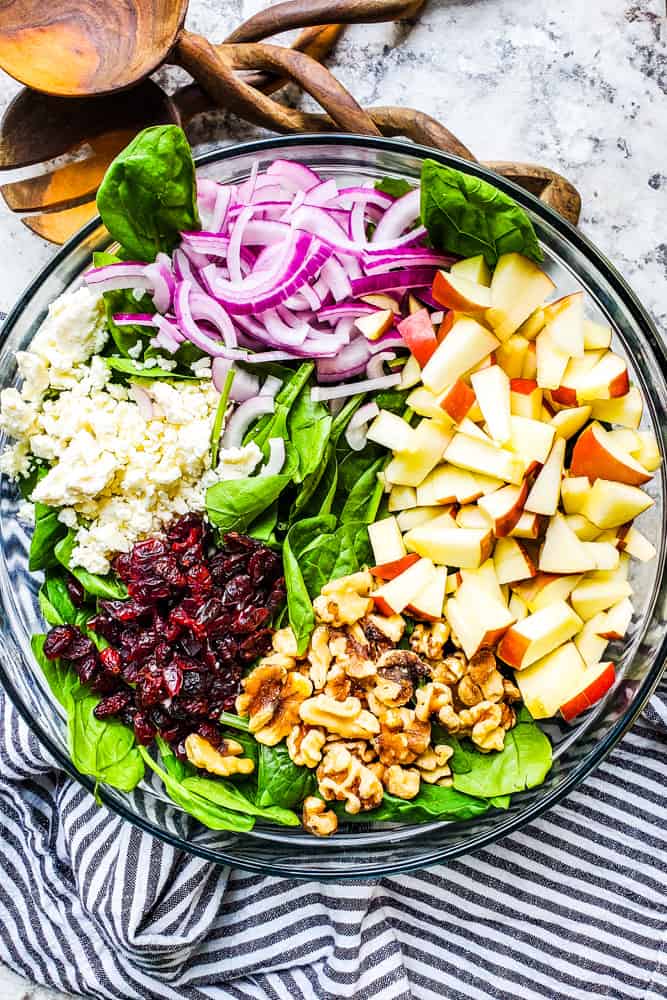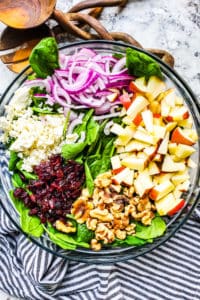 Common Questions
Can this salad be made with meat?
Of course you can. I love leaving this salad vegetarian, but you can add meat if you wish. Some great options are grilled or baked chicken breasts or leftover Thanksgiving Herb Butter Turkey. I do not recommend adding red meat or pork to this salad, because I do not feel the flavors would meld well together. Also, make sure if you add any meat to this spinach salad that it is cooked first.
How should leftover spinach salad be stored?
This Spinach Apple Salad can be stored in the fridge in an airtight container for up to 3 days. Personally, I like to leave the Honey Balsamic Vinaigrette Dressing separate when storing and add it to the salad right before I'm ready to eat it or serve it.

If you add the dressing ahead of time the spinach leaves will get sort mushy and not be that great of a texture. Also, give the salad a good toss before you serve it, so all the goodies can get redistributed.
What occasions is this salad good for?
This healthy salad is great for meal prep or a simple lunch. I also love to make this salad ahead of time for holidays like Thanksgiving. I can make the salad the day before, so I don't have to worry about it the day of.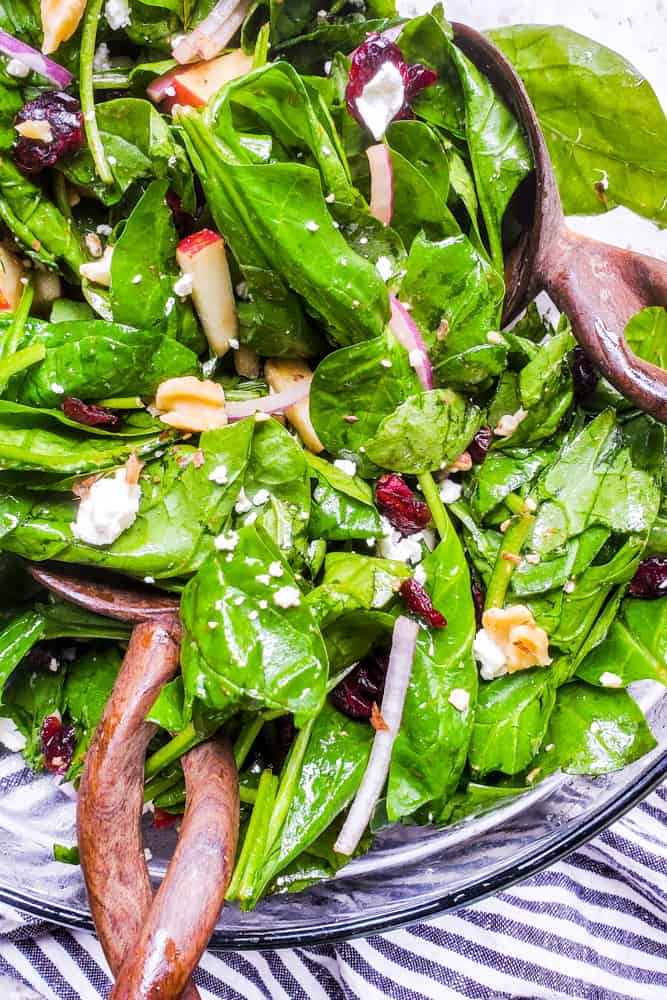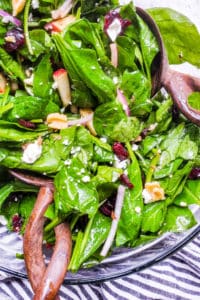 More Vegetarian Recipes
Veggie Quesadillas with Black Beans
Blueberry White Chocolate Scones
Vegan Lentil Lemon Soup Recipe
Roasted Veggie Enchiladas
Vegan Morning Glory Muffins
Blueberry Peach Salad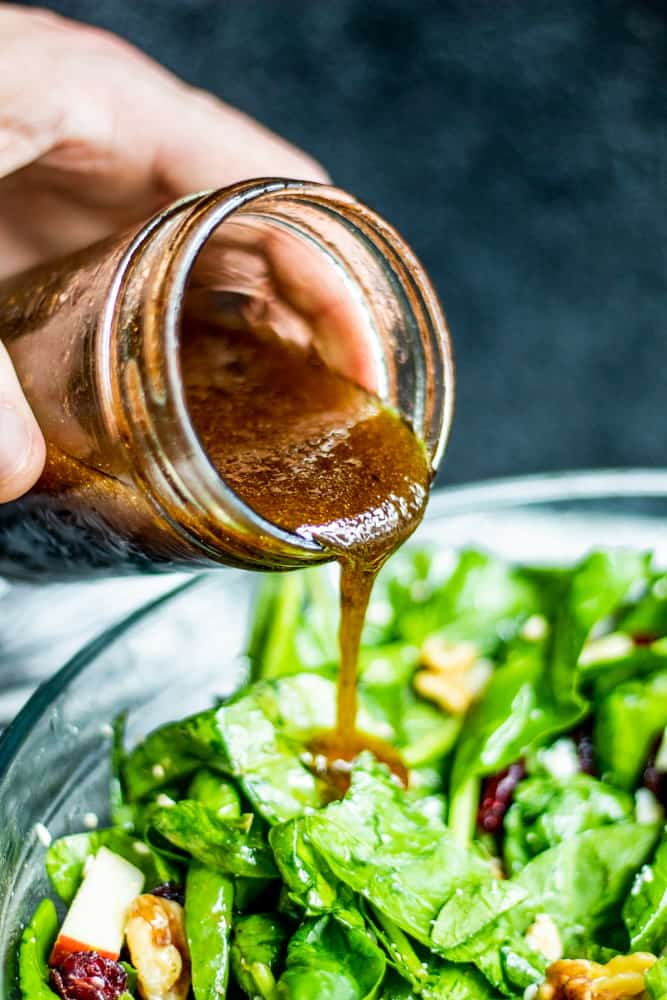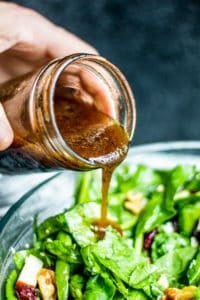 I hope you love this Healthy Spinach Apple Salad! Don't forget to check out my Honey Balsamic Vinaigrette for the perfect finishing touch to this tasty vegetarian salad recipe.
Happy Eating!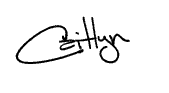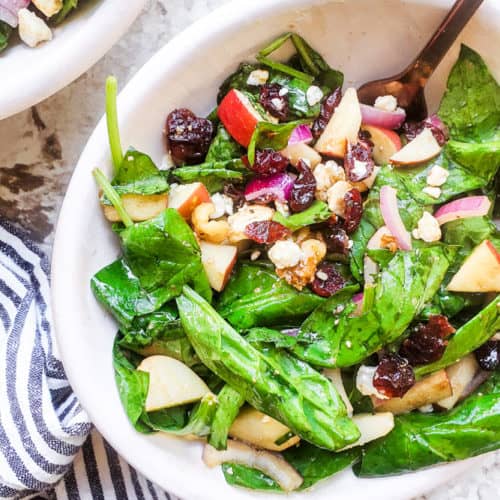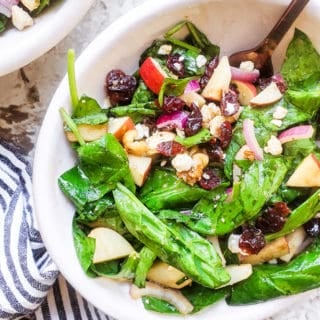 Spinach Apple Salad with Honey Balsamic Vinaigrette
This Spinach Apple Salad is packed with apples, feta, walnuts and tossed in honey balsamic vinaigrette. This healthy salad works as a main dish or side!
Ingredients
6

Cups

Fresh Spinach

Washed and Dried

½

Cup

Dried Cranberries

⅔

Cup

Feta

½

Small

Red Onion

Sliced

½

Cup

Walnuts

1

Large

Apple

Chopped

Honey Balsamic Vinaigrette

To Taste
Instructions
Wash spinach leaves thoroughly then pat dry with a paper towel. While spinach is continuing to dry, thinly slice half of a red onion. I like to cut it in half first so the slices aren't massive. Next, chop the apple into either thin slices or ½ inch chunks. It is whatever you prefer.

Add the washed and dried spinach into a large bowl with the remaining ingredients. Toss the salad until the ingredients are well distributed.

Add the Honey Balsamic Vinaigrette dressing to the large bowl and toss, or leave separate and let each person add the dressing themselves. Serve immediately or store leftovers in the fridge.

Enjoy!
Notes
Leftover Storage: Store leftover spinach apple salad in an airtight container in the fridge for up to 3 days. The salad saves better if the dressing is stored separate and added when ready to eat.
Ingredient Substitutions: I love this salad as is, but some other additions you could try are apple chips instead of fresh apples, almonds instead of walnuts, goat cheese instead of feta (or leaving the cheese out completely), adding grilled chicken, using a different dressing, or using a different dried fruit. Of course these are just some options and you could make any swaps you wish. Note: Any swaps to the recipe will change the overall flavor.
Nutritional Information does not include Honey Balsamic Dressing.
Nutrition
Calories:
178
kcal
Carbohydrates:
14.1
g
Protein:
7
g
Fat:
12.8
g
Saturated Fat:
3.5
g
Cholesterol:
22
mg
Sodium:
316
mg
Potassium:
418
mg
Fiber:
3.9
g
Sugar:
8.1
g
Calcium:
185
mg
Iron:
2
mg
See What We Are Pinning!
Follow erhardtseat1 to see all the food!
Thank You for Sharing!