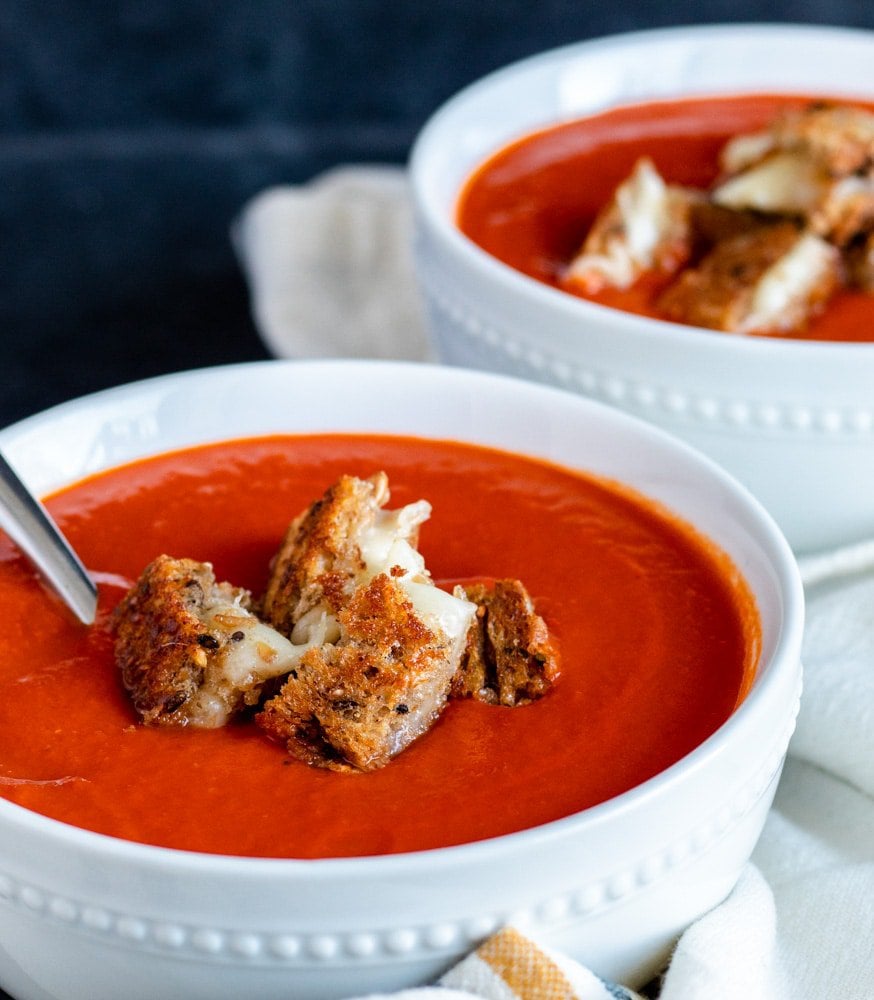 Happy January everyone! I hope everyone had a wonderful holiday season. January is always an odd month to me; it's cold, dreary and a lot of times I am recovering from all the cooking and craziness of the previous months. This Roasted Red Pepper Tomato Soup is one of my favorite post holiday recipes. It is super simple, ready fast and easy on the waistline. Plus, the soup itself is vegan so it is perfect for those Meatless Mondays! Although, if you are not vegan you could always throw on some grilled cheese bites or freshly grated Parmesan for the perfect finish. From my family to yours, happy new year and I hope you enjoy this tasty soup!
What Do You Need To Make Roasted Red Pepper Tomato Soup?
Kitchen tools needed for this recipe include:
A Large Pot
A Cookie Sheet
An Immersion or Stand Blender
Basics: A Knife, Cutting Board, Stirring Spoon
*If you are in need of any of these items I have some great links to products I love at the bottom of the page.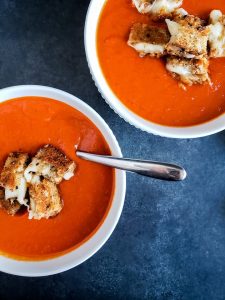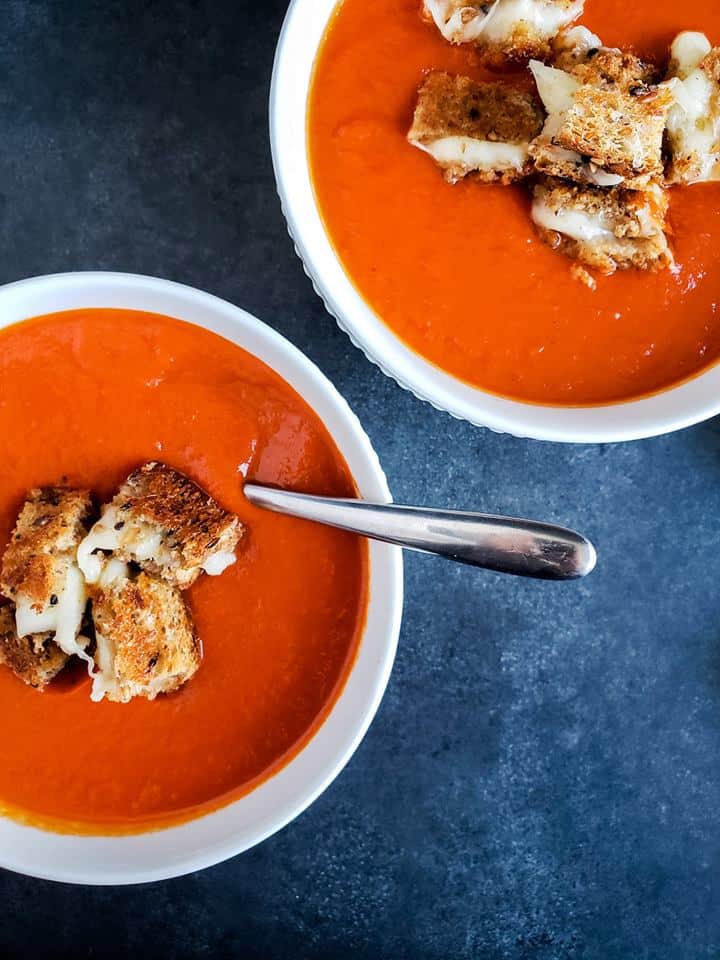 How Do You Make Roasted Red Pepper Tomato Soup?
Ah soup, the most simple comfort food on the planet. This soup is especially easy and since the veggies are roasted and develop a ton of flavor you can skip the simmer if you wish or don't have time. The basic steps to this soup are roast, simmer, blend and finally: EAT!
Roast the Veggies
First, you will need to slice and roast your veggies. When is comes to slicing the red peppers and onion don't worry about dicing or making the cuts even. Just chop each into large chunks an toss it on the cookie sheet, it's all getting blended later anyway. Make sure you remove the seeds and stem from the peppers though! Next, for the grape tomatoes don't worry about cutting them they are perfect just the way they are.
Take your fresh whole peeled garlic and slightly smash it to release the flavor. I like to use the side of a knife and cutting board for this step. Once you have everything on the cookie sheet, drizzle with olive oil and top with salt, pepper, and red pepper flakes (if you want some spice in your life).
Finally pop it in the oven for 20 minutes and enjoy the smells!
Complete the Soup
While the veggies are in the oven roasting get the canned tomatoes going. All you need to do it pour the whole peeled tomatoes into a large pot, add the red wine vinegar and cover and let them simmer. This will help them develop flavor while the rest of the veggies are in the oven.
Next, once the veggies in the oven are finished add everything to the large pot with the tomatoes and stir. If you want you can cover and simmer to develop more flavor, or you can skip it and move on. Since the veggies are roasted and the tomatoes already had some simmer time there is already lots of flavor. Therefore you can skip the simmer and save some time.
Finally, use a blender set on low and blend until smooth and no chunks remain.
Enjoy!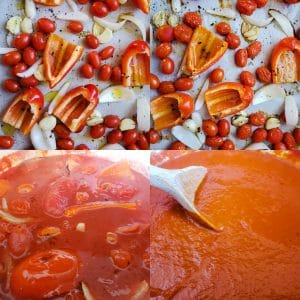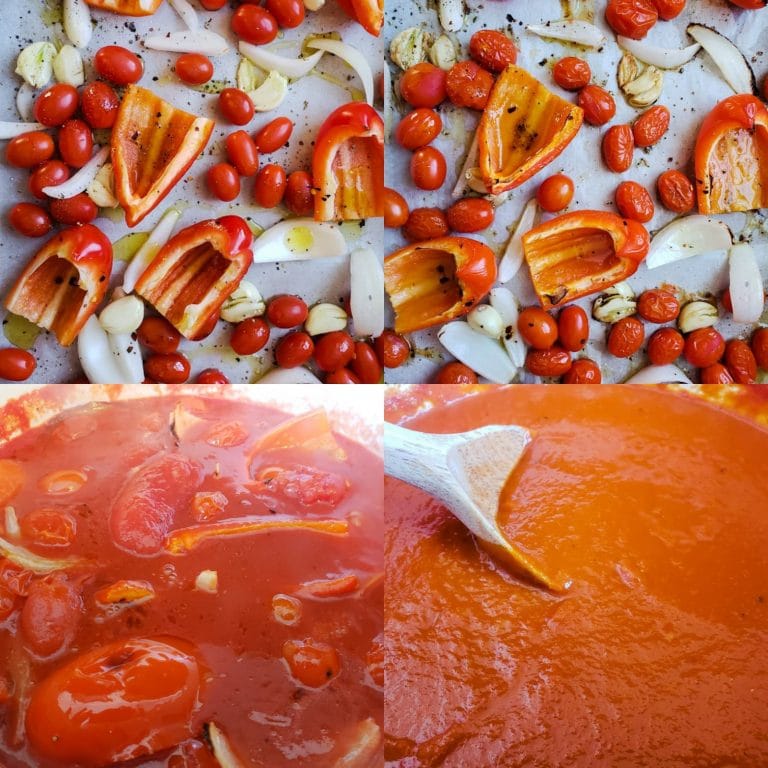 What Goes Good With Soup?
Soup is a great comforting dish that is perfect for the cool winter months. Some perfect pairs include:
Sandwiches: Think Grilled Cheese or Roasted Eggplant
Salads: My Go-To is Caesar!
Vegetables: Roast Some Extra Veggies like Broccoli or Brussels Sprouts for a Healthy and Tasty Side
Bread Bowl: Make it Your Main and Put it in a Massive Bread Bowl
What About Topper Ideas?
Some of my favorite toppers for this soup recipe are:
Grilled Cheese Bites (featured)-Vegetarian
Croutons-Vegan
Fresh Basil-Vegan
Parmesan Cheese-Vegetarian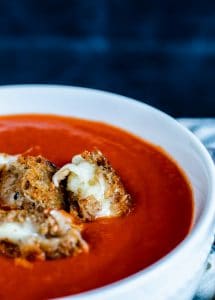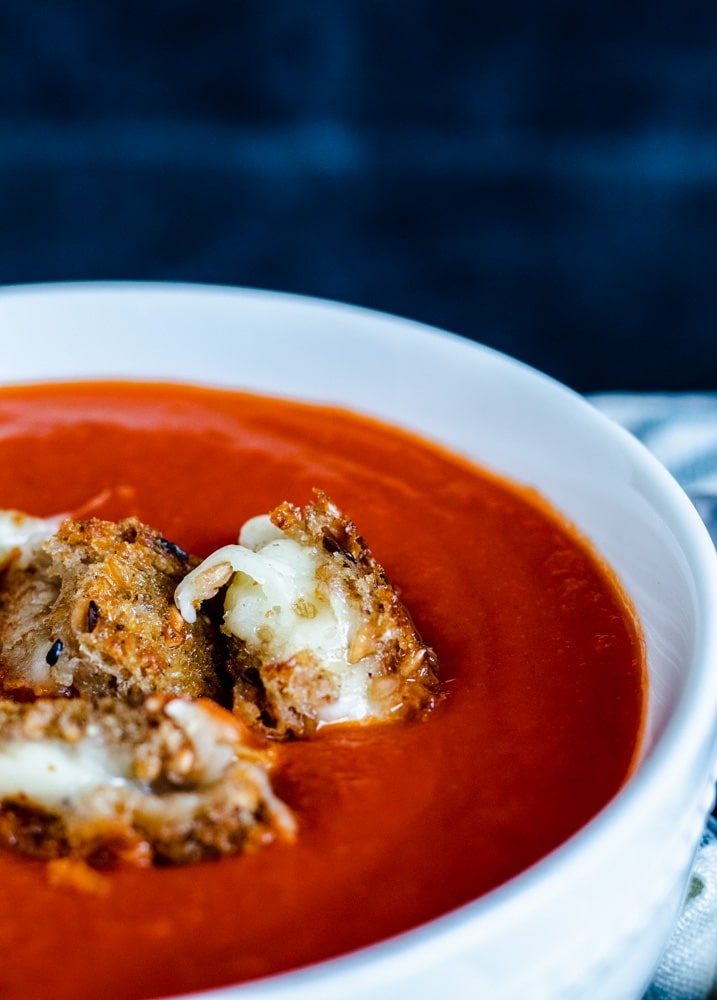 Looking For More Healthy Recipes?!
Vegetarian Flatbread Pizza with Fresh Rosemary 
Carpese Avocado Toast with Balsamic Glaze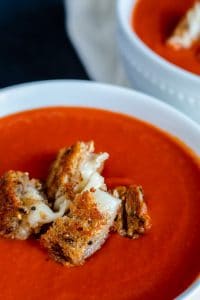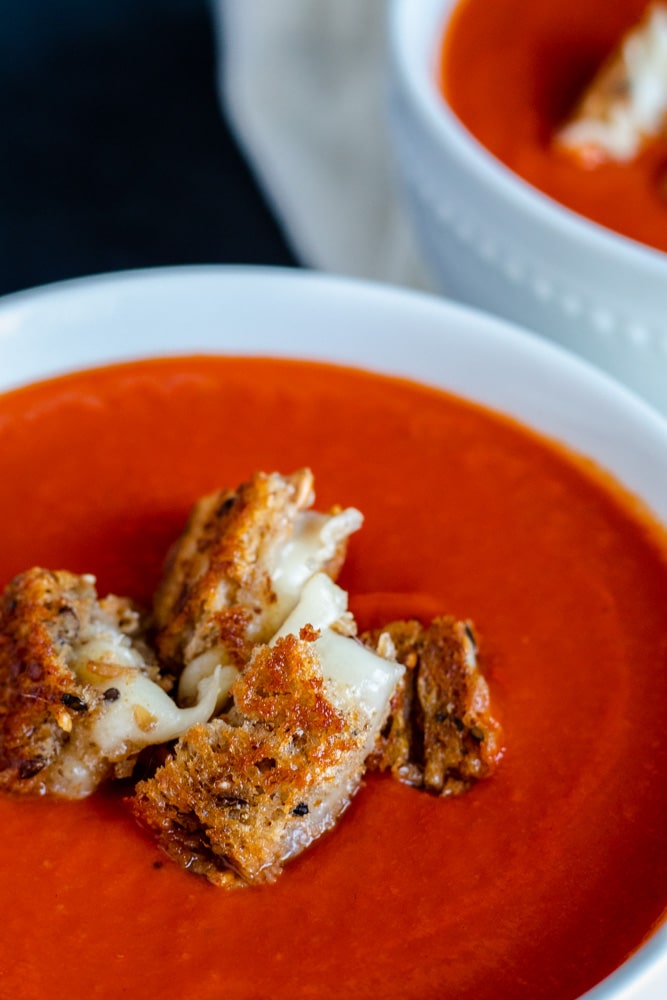 Common Questions
How long does soup stay good for?
When stored properly in an airtight container soup will stay good for 3-4 days in the refrigerator. This makes this recipe perfect for leftovers and lunches. Also, to further extend the life of this soup you can freeze it!
How do I re-heat leftovers?
Heat leftover soup in the microwave or on the stove top and warm until bumbling. Stir to make sure the soup is heated throughout.
Is this recipe freezer friendly?
Yes! Place the soup in a heavy duty freezer bag (I like to double up so there is no chance of leakage) and get all of the air out. In the freezer it will stay good for 4-6 months. Personally, I like to make a double batch of this roasted red pepper tomato soup and store half in the freezer for a simple weeknight meal. I place it in the fridge the night before to defrost. Alternatively, you could run cold water over it for 30 minutes (or until defrosted) in a large bowl if you forget to take it out the night before. Next, I either warm it up in a a pot or dump it in a crockpot and set it to low and let it simmer all day.
Happy Eating!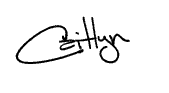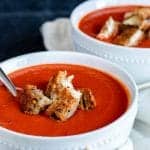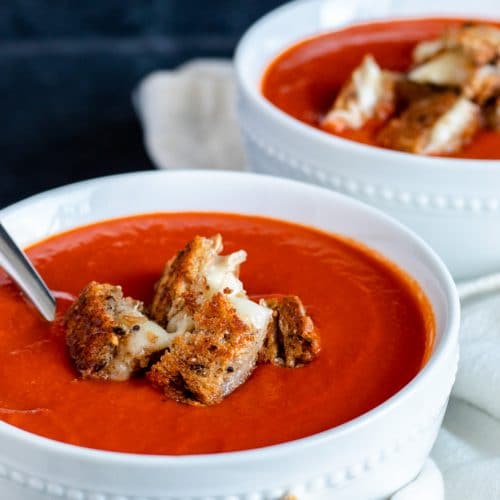 Print Recipe
Roasted Red Pepper Tomato Soup
The perfect healthy, vegan cool weather staple. Smooth and silky and great for lunch or dinner. This also saves well and makes wonderful leftovers.
Ingredients
2

Tbsp

Olive Oil

1/2

White Onion

Roughly Chopped

2

Sweet Red Peppers

1

Pint

Grape Tomatoes

2

28 Oz Cans

Whole Peeled Tomatoes

3

Tsp

Red Wine Vinegar

8

Cloves

Fresh Garlic

Peeled

Salt

To Taste

Pepper

To Taste

1

Tsp

Red Pepper Flakes

Optional
Instructions
Preheat oven to 400 and line a cookie sheet with parchment paper and set aside. Remove seeds and core from red peppers and slice into four pieces each. Next, peel the garlic and set on a cutting board. Smash each piece of garlic with the side of a knife.

Add red peppers, grape tomatoes and chopped onion, and garlic to the cookie sheet. Sprinkle with olive oil and top with salt, pepper and red pepper flakes if using. Roast on the center rack for 20 minutes.

While the vegetables are roasting, add the whole peeled tomatoes and red wine vinegar to a large pot. Cover and let simmer.

After 20 minutes remove the vegetables from the oven and add everything to the large pot with the tomatoes and stir to combine. *See recipe notes for optional simmer.

Using an immersion or stand blender, blend the soup until smooth and no chunks remain. Serve warm and enjoy!
Notes
*You can simmer the soup after you add the roasted vegetables to develop more flavor if you wish. If you are in a hurry or just do not want to wait you can blend and serve immediately.  *Optional topping ideas: Croutons, fresh basil, grilled cheese bites (featured), or fresh grated Parmesan. 
Nutrition
Serving:
6
Servings
|
Calories:
124
kcal
|
Carbohydrates:
17.6
g
|
Protein:
3.4
g
|
Fat:
4.9
g
|
Saturated Fat:
0.7
g
|
Cholesterol:
0
mg
|
Sodium:
384
mg
|
Potassium:
248
mg
|
Fiber:
3.7
g
|
Sugar:
10.1
g
|
Vitamin A:
61
%
|
Vitamin C:
300
%
|
Calcium:
5
%
|
Iron:
10
%