This Grilled Goat Cheese Sandwich is filled with multiple cheeses, veggies and homemade basil pesto. The perfect fancy, but easy grilled cheese sandwich for any day of the week.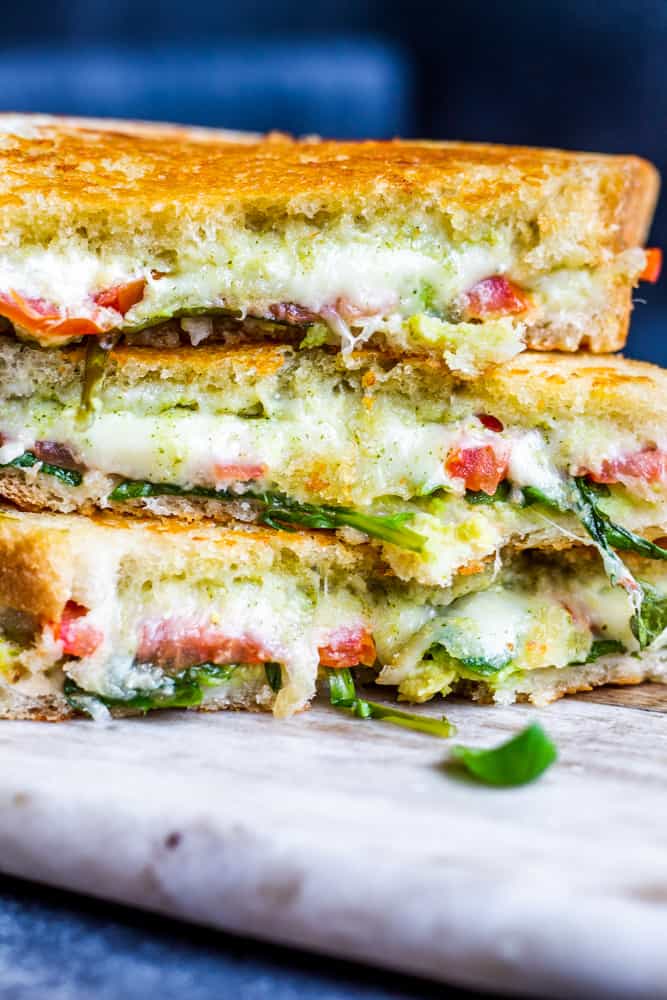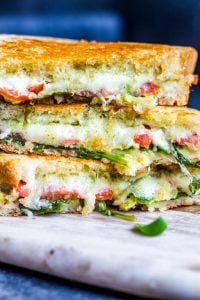 Does anyone else LOVE sandwiches, but not a huge fan of lunch meat?! Well, that is me to a T and my husband pokes fun of me all the time for it; because I can't just eat a "normal" sandwich. This Grilled Goat Cheese Sandwich is far from your normal and average grilled cheese.
This vegetarian sandwich is filled with Homemade Basil Pesto, arugula, sliced tomatoes, avocado, and of course multiple types of cheese. Oh, this sandwich also incorporates Parmesan cheese on the outside for an extra crispy and cheesy bread from the gods. Let's get into the best grilled cheese recipe you will ever have. Really, though this sorta-healthy sandwich is the bomb and you will love it.
Kitchen Tools
A Large Skillet

A Sharp Knife and Cutting Board

A Butter Knife
Ingredients
Good Quality Bread

Tomatoes

Avocados

Mozzarella and Goat Cheese

Arugula

Grated Parmesan Cheese

Butter





Check out the suggested substitutions below to make this goat cheese grilled cheese sandwich your own!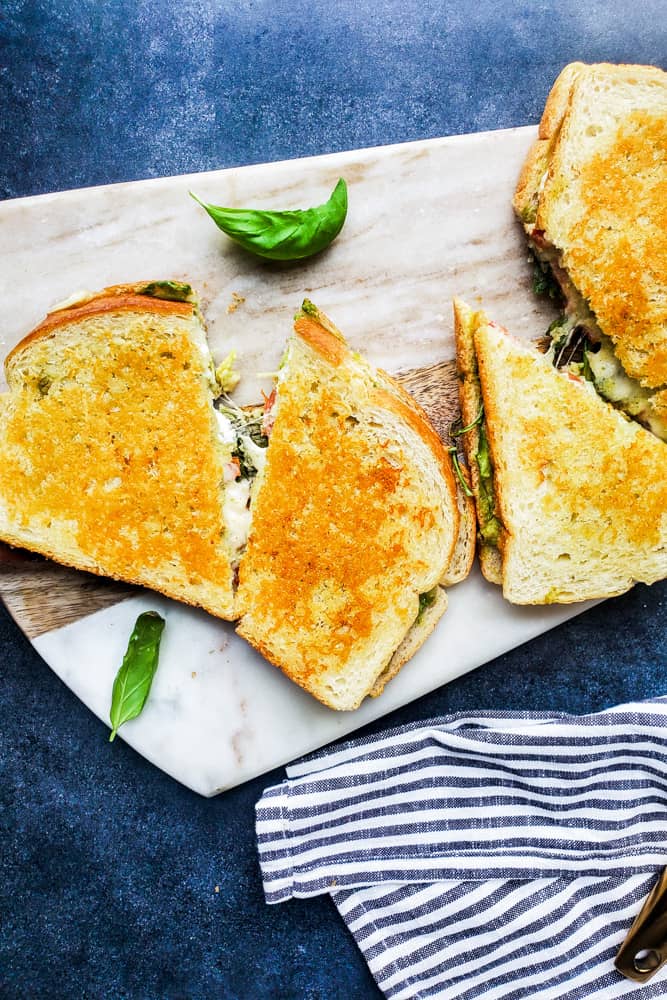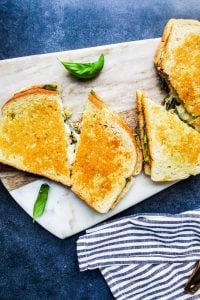 How to Make the Best Grilled Cheese
Gather and prepare all of your sandwich ingredients. I find it best to have everything prepared first, so when I put the grilled cheese together it goes faster and more like an assembly line. Make sure to slice your tomatoes, mash your avocados, wash your arugula, and slice/crumble your fresh mozzarella if using.

Butter one side of each slice of bread and sprinkle with Parmesan cheese. Next, use your hands to press the cheese into the bread so it sticks. It is okay if some falls off! This step you could skip, but it gives the grilled sandwich an extra crisp outside and enhances the flavor

.

Once your bread is prepared, go ahead and assemble your grilled cheese. You can do this in any order and your steps may look different if you are adding/subtracting ingredients. The main point here is the pile everything on top of the bread. I start with spreading on my pesto sauce, then adding the cheese, followed by the veggies, then finishing off with the mashed avocado on the top.

Now that your sandwich is ready, go ahead and grill it. Take a large skillet and either spray with cooking spray, or add melted butter to avoid the sandwich from sticking. Heat on low-medium heat to allow the bread to crisp and the center cheese to melt. Once your bread is to your desired crispiness go ahead and flip and repeat on the opposite side. Once your sandwich is heated through remove from heat and serve immediately. Repeat this until all sandwiches are toasted.





Check out the goat cheese grilled cheese recipe video for a more detailed look at prep.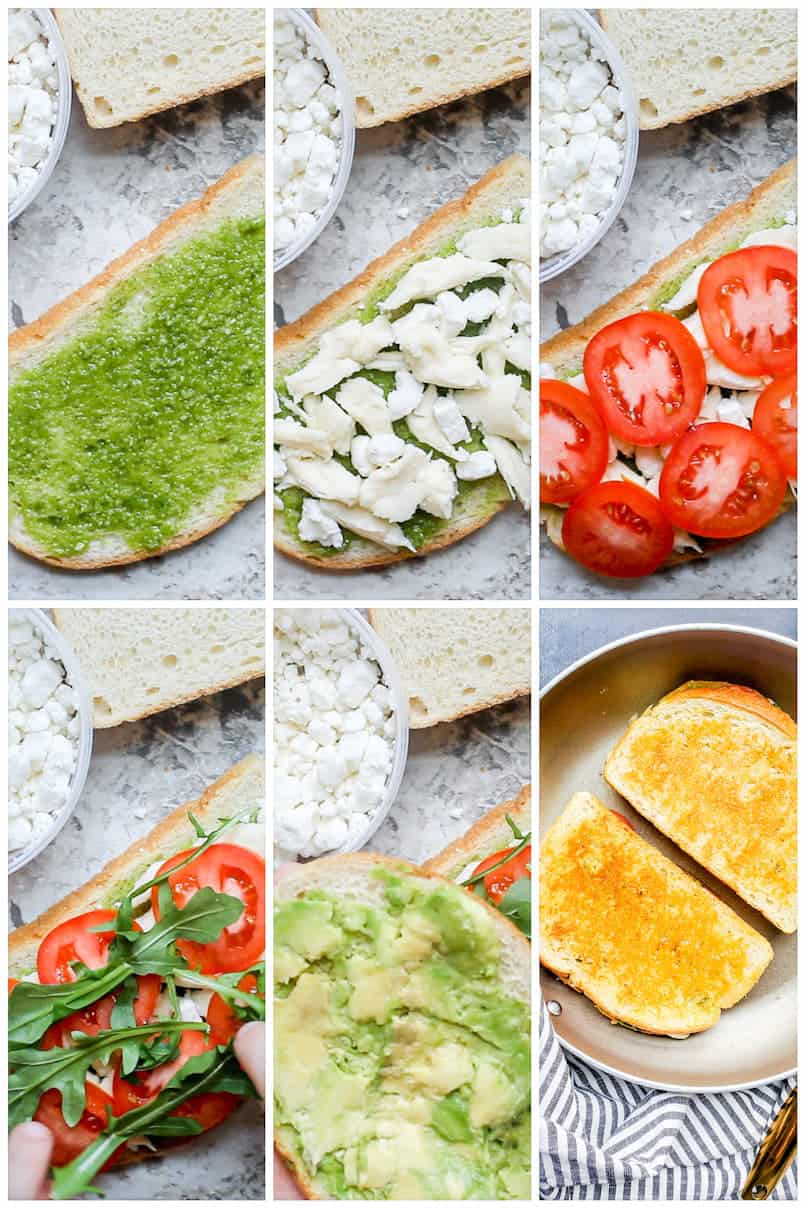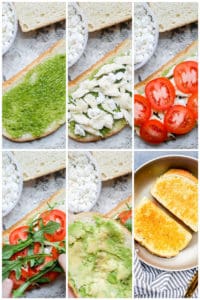 More Vegetarian Dishes
Roasted Veggie Enchiladas
Black Bean and Sweet Potato Quesadillas
Easy Margherita Pizza Recipe
Healthy Vegetarian Chili
Red Pesto Pasta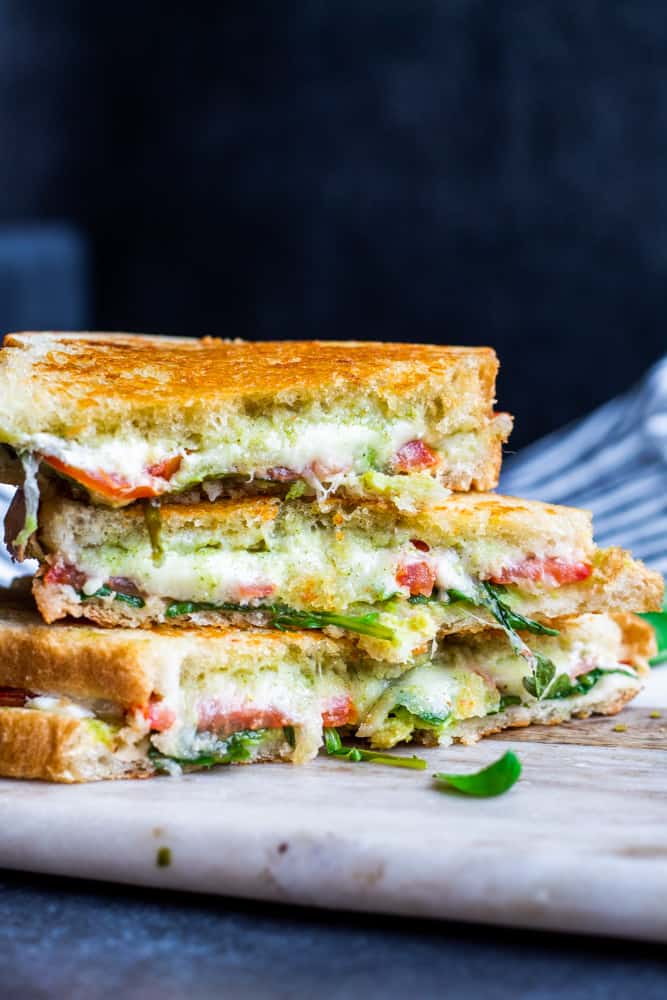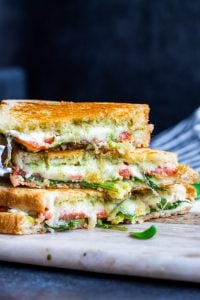 Common Questions
How should leftover grilled cheese be stored?
To store leftovers, wrap each grilled goat cheese in foil. Next, store in the fridge for up to 1 day and reheat in the oven. The sandwiches are best eat right after they are grilled, but can work the day after.
Can you re-heat the sandwiches in the microwave?
To re-heat place your foil wrapped sandwich on a baking sheet in the oven for 15 minutes at 375 degrees F. I suggest doing it this way because this will help the bread stay crisp and get the cheese melted again. Rewarming the sandwich in the microwave will result in soggy sad bread.
Can you freeze the sandwiches?
No, I do not recommend freezing this goat cheese sandwich recipe. There are a lot of veggies and mixed with the cheese they will not freeze well.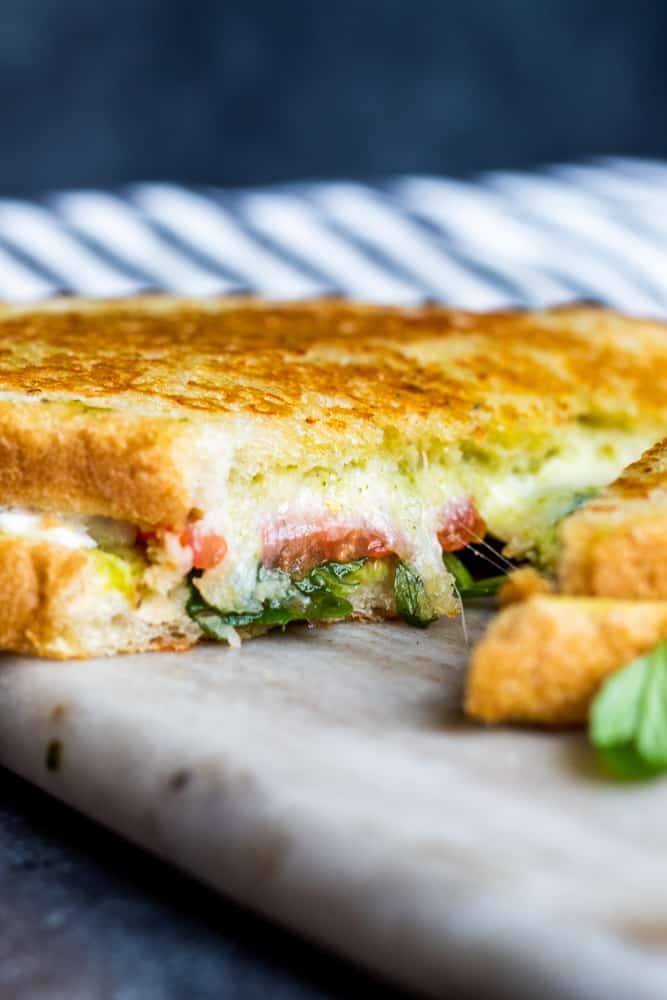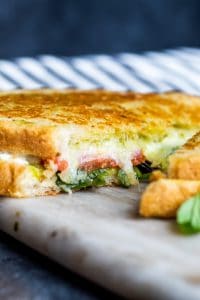 Additional Options
Add Meat
If you are a meat lover you can absolutely add meat to this grilled goat cheese sandwich. I would suggest using either cooked chicken, turkey or bacon. Some great ideas would be to used rotisserie chicken or you could incorporate some leftover Thanksgiving turkey into this grilled cheese sandwich. Check out my Herb Roasted Turkey for the perfect moist turkey recipe.
Swap the Cheese
If you would like to swap out or add cheese to this grilled cheese sandwich you can experiment and make it your own. I would suggest keeping the goat cheese, because it gives the sandwich its distinct flavor. Some other cheese options would be white cheddar, muenster or Gouda. I would stick to white cheeses and not picking anything too wild.
Switch the Veggies
Another way to customize this vegetarian grilled cheese sandwich is to swap out or add additional veggies. I suggest using tomatoes, avocados, and arugula. You could use another green like spinach if you want a more mild flavor or leave out the tomatoes or avocados. Some other fun veggie options to try are sliced grilled zucchini or roasted red peppers!
Bread Options
For this grilled goat cheese sandwich I like to use sourdough bread. Alternatively, you could use multigrain, french bread, or whole wheat. Just make sure the bread is good quality and not too thin and flimsy or the sandwich wont hold together well.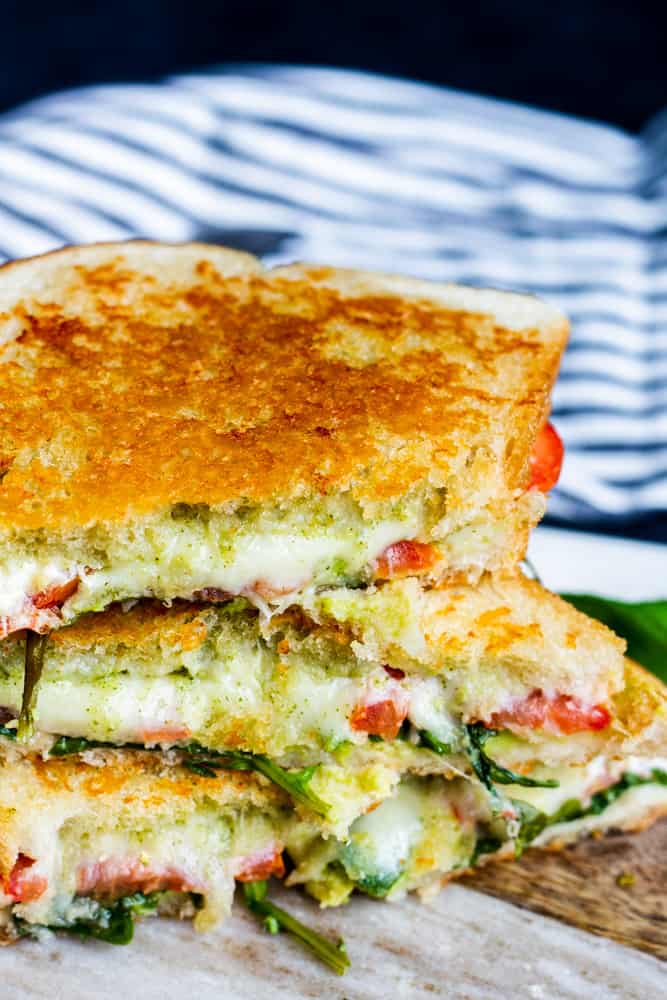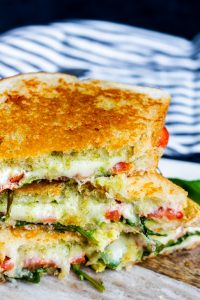 I hope you and your family love this Grilled Goat Cheese Sandwich and check out my Buffalo Grilled Cheese for another tasty lunch idea. If you have any questions or comments don't hesitate to share them below.
Happy Eating!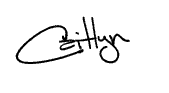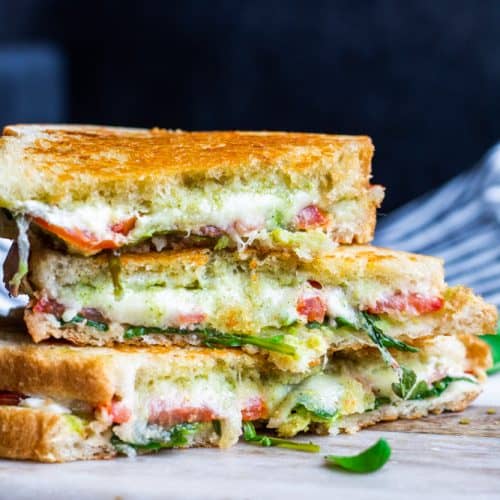 Grilled Goat Cheese Sandwich with Pesto and Arugula
This Grilled Goat Cheese Sandwich recipe is the best vegetarian lunch for any day. A yummy combo of multiple cheeses, pesto, arugula and tomatoes. Add meat or other veggies to customize to your liking if desired!
Ingredients
8

Slices

Sourdough Bread

4

tablespoon

Butter

½

Cup

Crumbled Goat Cheese

1

Cup

Fresh Mozzarella Cheese

8

tablespoon

Grated Parmesan Cheese

2

Large

Tomatoes

1

Cup

Arugula

2

Large

Avocados

8

tablespoon

Homemade Basil Pesto Sauce

Or your favorite store bought brand
Instructions
Butter one side of each slice of bread, then sprinkle with Parmesan cheese and press it into the butter so it will stay. It is okay if some falls off.

On the opposite side of the butter spread 2 tablespoon of pesto sauce, then add cheese. Top with ½ of a tomato sliced, ¼ cup of arugula and ½ an avocado mashed. Place a second slice of bread on top (butter side out). Repeat this process until all 4 sandwiches are prepared.

Place butter side down on a skillet and cook on medium heat until outside of bread is crispy and cheese inside is melted. Flip and repeat on the opposite side. This should take about 5 minutes per side depending on your bread and stove.

Depending on the size of your pan and sandwiches you may have to cook the sandwiches in separate batches. If you do not want to do that you can always use a second pan. Once all the sandwiches are cooked enjoy warm!
Notes
Leftover Storage: Store leftovers for a make of 1 day in the fridge. Reheat in the oven for 15 minutes at 375 degrees F or until warm.
Nutrition
Serving:
1
g
Calories:
694
kcal
Carbohydrates:
45.6
g
Protein:
34.9
g
Fat:
42.3
g
Saturated Fat:
20.1
g
Cholesterol:
90
mg
Sodium:
1061
mg
Potassium:
424
mg
Fiber:
4.2
g
Sugar:
3.1
g
Calcium:
375
mg
Iron:
3
mg
See What We Are Pinning!
Follow erhardtseat1 to see all the food!
Thank You for Sharing!