I love this Caprese Avocado Toast for so many reasons. It is very simple, quick to make, and can be served practically any time of the day. My favorite time of the day to eat this is for lunch, because it keeps me full and energized until dinner. Also this dish combines all of my favorites: bread, cheese and avocados!
Goodies on Toast!
This Caprese Avocado Toast has evolved over time for me. It started off very simple, regular bread with mashed avocado and tomato on it. That's it. I would mostly eat that early version as a breakfast. Then one day I had some leftover Italian loaf that was about to go bad and decided to get a tad bit fancier with the preparation. Using a thicker bread is now a must for me when making this dish. It holds all the ingredients better and nothing gets soggy. I also love the quick broil to get the mozzarella melty. I find doing this melds everything together so your toppings aren't falling off with each bite.
Finally, I love the little extra something the basil and balsamic glaze add. I usually cut the basil in ribbons and sprinkle them on top, but you could just place the whole leaves on. On a regular day, I will admit, I do not make my own balsamic glaze. I keep some ready to serve store bought kind to cut the total time for this meal in half. I think if you are wanting to have this as a fast meal, use the store bought balsamic glaze and save yourself the extra work and clean up. But, if you are looking for a very pretty brunch to wow your family, go for the homemade balsamic glaze! Either way the meal is delicious!
Another bonus to this dish is that my son, Theo, LOVES it. Avocado is the first solid food Theo tried, and now nearly 8 months later it is still one of his favorites. I often make him the deconstructed version of this Caprese Avocado Toast. This beefed up version is a bit to much for him to handle at the moment. I talk more about What Theo Eats in a separate post where this meal and others are featured.
So whether you are looking for a quick vegetarian lunch, or a brunch to take to a party this Caprese Avocado Toast is it!
Happy Eating!
~Caitlyn
Shop This Recipe:
*I make a commission for purchases made through the links on this page.
Caprese Avocado Toast REcipe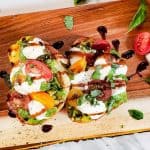 Print Recipe
Caprese Avocado Toast with Balsamic Glaze
These are very versatile and work great for breakfast, lunch or as an appetizer! These pack a big flavor without having to spend hours in the kitchen. Enjoy this simple and tasty Caprese Avocado Toast with Balsamic Glaze!
Ingredients
Caprese Avocado Toast
1

Loaf

Italian or French Bread*

1/4

Cup

olive oil

4

Large Avocados

1

Cup

Grape Tomatoes

Cut in Half

1

Cup

Fresh Mozzarella Cheese

8

Large Fresh Basil Leaves
Balsamic Glaze
1 1/2

Cups

Balsamic Vinegar

1 1/2

Tbsp

Honey
Instructions
Balsamic Glaze
Add balsamic vinegar and honey to a medium sized sauce pot and bring to a boil. Reduce heat and simmer for 25-30 minutes. The glaze should reduce by half and coat a spoon when dipped in.

Serve with Caprese Avocado Toast or store in airtight container for up to 1 week.
Caprese Avocado Toast
While the balsamic glaze is simmering, cut loaf bread* into even slices about 1 inch thick discarding the ends. I usually get about 8 slices with the bread that I use. Lightly brush both sides of each slice of bread with olive oil and brown in a large skillet over medium heat until golden brown. About 2 minutes per side. Repeat on both sides of bread until all slices are browned.

Slice avocados in half removing the pit and mash in medium sized bowl. Scoop about 2 tbsp of avocado on each slice of bread.

Add a few grape tomato* halves to each slice of bread lightly pushing them into the avocado mash so they stay. Then add chunks of fresh mozzarella* between the tomatoes to fill in the gaps and cover the avocado mash.

Next, place all finished slices on a parchment paper lined cookie sheet and broil on low until the cheese starts to melt, about 3-4 minutes. Once the cheese is melted, drizzle with balsamic glaze* and top with fresh basil and pepper. Enjoy warm!
Notes
*Any thick loaf bread with a crispy crust will do!
*I like using smaller tomatoes like grape or cherry so they fit on the bread better, but you can use larger ones and just cut them into slices.
*Alternatively you can use shredded mozzarella and just sprinkle over the top.
*You can absolutely use pre-made balsamic glaze from the store. I often do because it saves on time and clean up!
Nutrition
Serving:
0
g
|
Calories:
289
kcal
|
Carbohydrates:
0
g
|
Protein:
0
g
|
Fat:
0
g
|
Saturated Fat:
0
g
|
Polyunsaturated Fat:
0
g
|
Monounsaturated Fat:
0
g
|
Trans Fat:
0
g
|
Cholesterol:
0
mg
|
Sodium:
0
mg
|
Potassium:
0
mg
|
Fiber:
0
g
|
Sugar:
0
g
|
Vitamin A:
0
IU
|
Vitamin C:
0
mg
|
Calcium:
0
mg
|
Iron:
0
mg