This Herb Roasted Turkey is crazy moist and flavorful. The perfect addition to any Thanksgiving table. Don't forget the finishing touch: gravy! The Classic Pan Gravy is simple, fast and the perfect compliment to the turkey. Enjoy!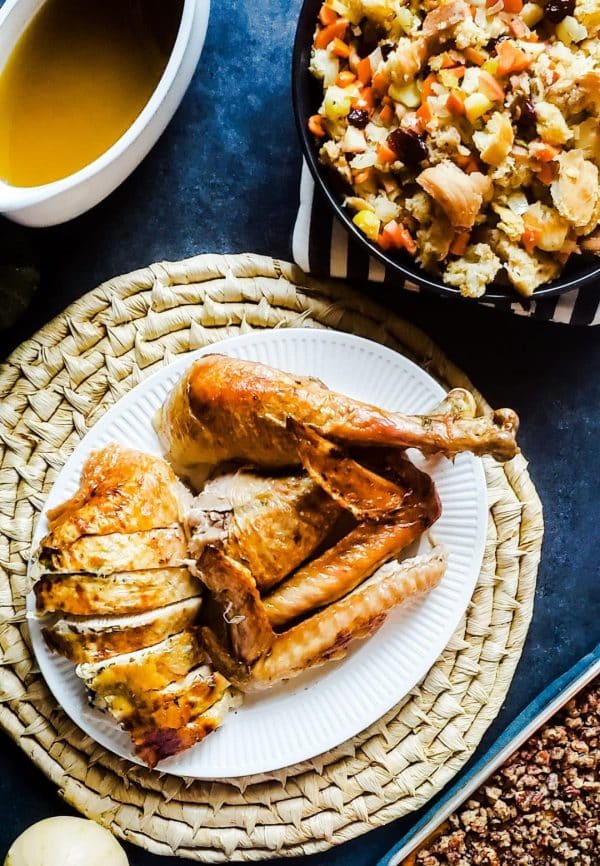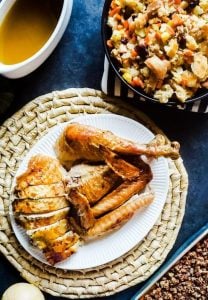 It is nearly November which means that Thanksgiving is right around the corner! My entire family and I gather for multiple Thanksgiving celebrations throughout the week and by the end I am beyond stuffed with delicious food. Since my husband is in the Navy, we travel and move often. This means that we can not always be home for Thanksgiving.
Through the years I have done many Thanksgiving dinners completely on my own. I have had some major fails along the way, but like to think I have some things figured out. One of those being this Herb Roasted Turkey with Classic Pan Gravy recipe! The turkey is moist, flavorful and the prep and cooking is straightforward and simple.
Kitchen Tools
A Roasting Pan with a Wire Rack insert. Roasting pans are rather inexpensive and I feel is extremely important to the proper cooking of any roasted turkey. The wire rack allows the bottom of the turkey to sit up from the pan. This means no soggy, gross herb roasted turkey. If you are in a pinch you can use a wire cookie rack.
A good quality carving knife. There is nothing worse than cooking a Thanksgiving herb butter turkey to perfection, letting it rest and then the person slicing it uses a crap knife and butchers the meat you worked so hard on. The knife doesn't have to be a carving knife exactly, just make sure it is sharp and strong enough to slice the meat smoothly and evenly.
Oven Mitts. In this roasted turkey recipe you will need to flip the turkey (more on that later). To accomplish this you will need to protect your hand from the scolding hot turkey skin. I like to use old oven mitts I don't care about. Ideally thick rubber mitts work best. If you are in a pinch use an old dish towel. Just please don't grab the turkey with your bare hands or paper towels.
Foil to cover the top of the turkey. We want crisp golden skin, not charred black skin for this herb roasted turkey.
Turkey Size Suggestions
Well, how big of a turkey you will need depends on a couple of factors: how many people are you hosting and how much do they like turkey. For this herb roasted turkey recipe I suggest using a 12-16 lbs turkey. The one I used is 16 lbs. You can use a smaller or larger turkey but will need to adjust the turkey recipe cook time and ingredients accordingly. A good rule of thumb is 1-2 pounds of turkey per person.
Of course, you also have to factor in how much people like turkey. Do you have a vegetarian family member that won't eat any? Will there be a lot of kids who eat small portions? Do you have a weird uncle who only ever eats sides? These are some questions to think about when purchasing your Thanksgiving turkey for this herb roasted turkey recipe.
Personally, I like to err on the side of caution and purchase a turkey that is 2 pounds more than the amount of people coming. This ensures that I will have more than enough and be prepared for when my cousin brings a boyfriend we have never heard of. Worst case you will have leftovers that everyone can take home and enjoy the next day!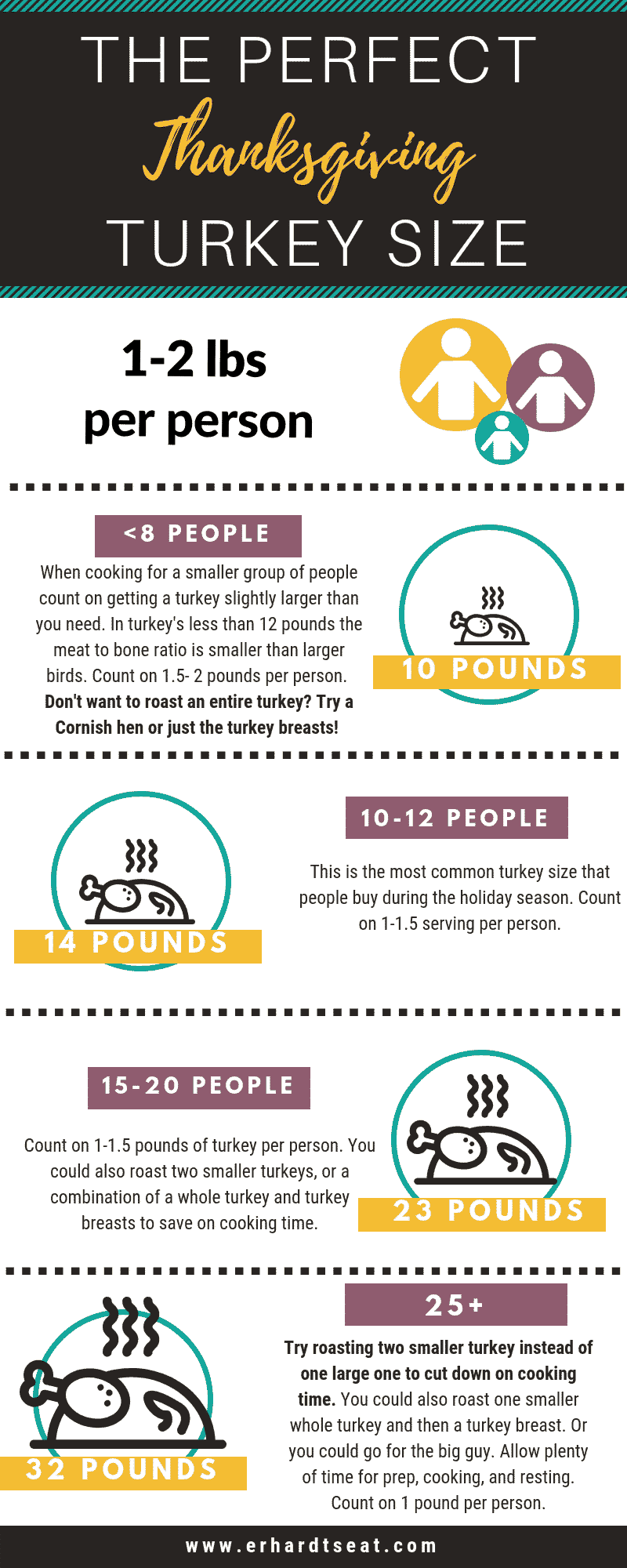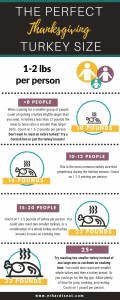 How to Defrost a Turkey
A few more things before we get into the step-by-step for this herb roasted turkey recipe. No matter how big of a turkey you get, you have to make sure it is thoroughly thawed. You can do this by placing your frozen turkey in the refrigerator before Thanksgiving.
Alternatively, you can place your turkey in cool water in the sink the morning of. Personally, I like to do both. I put my turkey in the refrigerator, but to be 100% sure that it is defrosted I place it in cool water about at least 2 hours before I need to start prepping it. For every 5 pounds of turkey you should allow 24 hours of thaw time in the refrigerator. Therefore, if you have a 15 pound turkey you should allow at least 72 hours (3 days) for the turkey to defrost.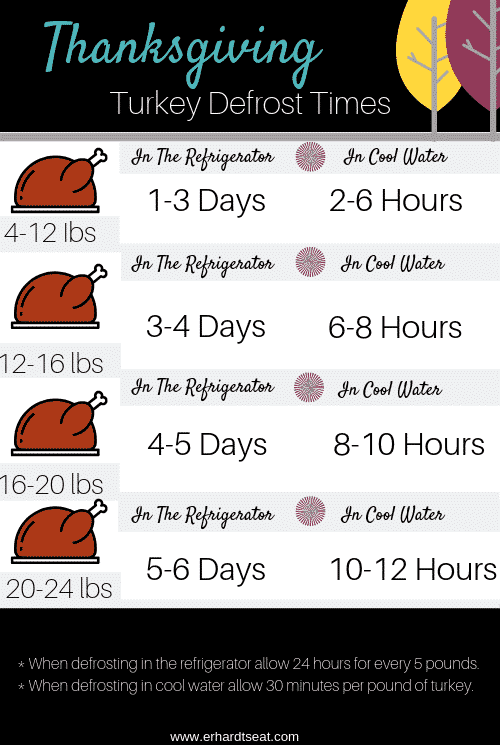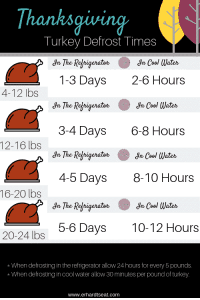 How to Make a Roasted Turkey
So you are going to try your hand at making the Thanksgiving Turkey?! First, I will start by saying you've got this. A lot of people believe cooking the turkey is some kind of extremely difficult feat. I am happy to say that IT IS NOT, YOUR MOM IS LYING TO YOU! To make the best herb roasted turkey you will need to follow a few steps including proper turkey prep, gathering your ingredients, and cooking your bird.
While cooking the herb roasted turkey can be a lot of pressure and feel intimidating, the hardest part of this Thanksgiving turkey recipe is waiting for it to finish cooking. I am going to share some of my tips and tricks that I have learned along the way so that you can have the perfect juicy, golden and delicious turkey this Thanksgiving holiday!
Turkey Preparation
Now that you have selected your turkey and properly defrosted it, it is finally time to get ready to cook! First, you will want to allow your turkey to come to room temperature. This step isn't required, but it allows the turkey to cook more evenly.
I like to pull my Thanksgiving turkey out of the fridge (or cool water) about an hour before I want to start cool. During that time you can prepare your ingredients, tools and get the oven preheating. Or have a glass of wine and relax (this is the best option, btw).
Ingredient Prep
First, you will want to prepare your herb butter turkey ingredients. Personally, I like to start with the herb butter. You can do any of these things in any order you prefer. For the herb butter, combine softened butter, dried herbs and garlic in a bowl. I like to mash and stir the butter and herbs together until everything is well combined.

Next, you will want to quarter your lemon and onion (remove the outside skin). They do no have to be even or pretty, just slice them both into four pieces.

Now go ahead and make your fresh herb bundle. I take a small piece of cooking twine and wrap it around my fresh herbs (I use thyme, rosemary, and sage) and tie it in a knot to hold everything together. Again, this does not have to be perfect just make sure they stay together so they are easier to remove later.

Finally, take your whole, peeled garlic and, with the side of a knife, slightly crush it. Try and keep it whole you just want to crush until you hear it crack.
Turkey Prep
Now that you have all your ingredients prepared it is time to prep your herb roasted turkey.
Make sure the turkey is completely dry inside and outside. You can pat with a paper towel to dry the turkey off. Make sure you have removed the neck and gizzard bag from the cavity if you haven't done so yet.

Now you will need to separate the turkey breast skin from the meat. Start at the back of the turkey, take your hand and gently start pushing up the skin. I like to wave my hand back and forth to help separate the membrane. Try your best to get as much of the skin lifted and separated as possible. It is also important to not puncture or tear the skin. Take your time and work slowly one spot at a time.

Once you have separated the turkey skin from the breast, go ahead and coat the entire turkey in the herb butter. Be sure to coat under the skin, on top of the skin, and inside the cavity with the herb butter until none remains.

Stuff the cavity of the turkey with the fresh herb bundle, lemon, onion, and garlic. If you can't fit everything it is fine you can leave out a wedge of onion.

Finally, tie the turkey legs together with cooking twine. At this point your herb roasted turkey is ready to go in the oven.
Tips and Tricks
When it comes to the best Thanksgiving turkey recipe there are a lot of variations. Some have you brine the turkey for days, others have you fry it, some make you baste your life away and some even have you put the turkey in a bag. I do not think there is a wrong way to cook a turkey. Some are more complicated than others or take a lot more time and effort.
I like to think that this herb roasted turkey recipe cuts out some of what I feel are unnecessary steps. I feel that this whole turkey recipe takes little effort, shortens the cooking time and yields moist and flavorful turkey. For this herb butter turkey recipe, I do some things differently than most other turkey recipes: high heat, the turkey flip, and no basting.
Herb Butter Turkey Tip 1: High Heat
First, I start my cooking my herb butter turkey at high heat. I start the oven at 400 degrees and then after about 45 minutes I lower the heat to 325 degrees until the turkey is cooked through (less than 2 hours depending on the size of your turkey). The first time I heard this it went against everything I knew about cooking a turkey. I was always taught to cook a turkey, "low and slow".
The first time I tried this method I was blown away by the difference this simple change made. The cooking time was cut down by about 30 minutes, the skin was crispy and the meat underneath was super moist. I am not sure about the science behind this, but my idea has been that the high heat crisps up the skin and locks in the moisture. Then lowering the heat allows for the meat to finish cooking. This has been the only cooking method I use for my herb butter turkey the past few years now.
Roasted Turkey Tip 2: The Turkey Flip
Second, I cook the turkey upside down. This is probably the strangest thing about this herb butter roasted turkey recipe. Well, I do not think it is strange, but you reading this are probably thinking, "What is this chick talking about?" Stick with me on this one, it will make sense. When I first place the turkey in the oven, I do so breast side down. This is the opposite what most everyone else does.
I do this for one major reason: so the turkey breast meat does not get overcooked. So follow me on this, the meat that gets exposed to the most heat is what gets done first. The breasts are the highest part of the turkey when placed in a roasting pan the traditional way. Meanwhile, the rest of the turkey is coming to temperature, the breasts are roasting away and getting super dry.
The breasts are arguably everyone's favorite part of the turkey, so you definitely do not want them to be gross and dry. Cue the turkey flip! After about 40 minutes I remove the turkey from the oven and flip it breast side up. To do this I take rubber oven mitts, grasp the turkey and flip it quickly around. A second pair of hands helps with this as well! At this time I also lower the heat on the oven, then return the herb roasted turkey back to the center rack. Doing this allows the breast to not be exposed to the high heat and therefore the breasts are not over-done!
Thanksgiving Turkey Tip 3: No Basting
For this easy herb roasted turkey recipe I do not baste, ever. Once the skin has started to crisp up the moisture is locked in (that is why you put butter both on top and under the skin). When you baste, the pan liquid is not penetrating the skin, therefore not getting to the meat and making no difference in the moistness of the turkey meat. The only thing you are doing is letting all the heat out of your oven over and over again resulting in your turkey taking longer to cook. The only time I open the oven door is to flip the turkey, cover it with foil if the top is getting too brown, and to check the temperature to see if it is finished.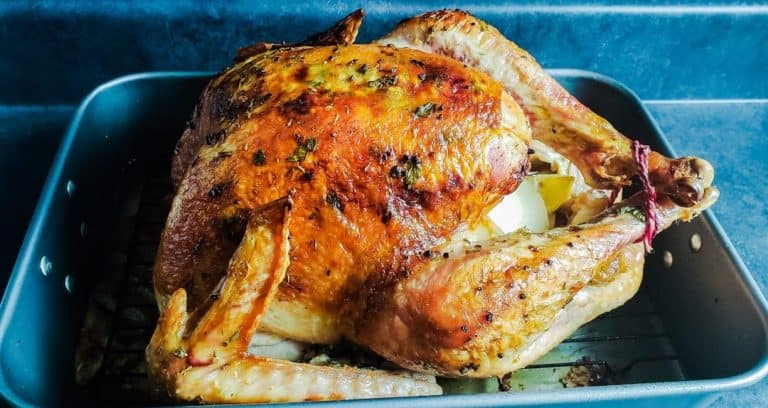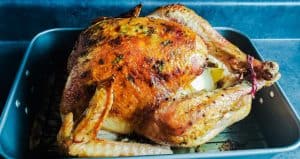 Common Questions
How do you know when a whole turkey is done cooking?
I start to check if the turkey is finished after about 2 hours of total time in the oven. I go off the temperature and then add on 15-30 more minutes depending on the first read. It is best to remove the turkey from the oven once it has hit 155-160 degrees. The turkey will continue to cook while resting and taking it out a bit early will ensure it doesn't get overdone. Once your turkey reaches that temperature you will need to let it rest for at least 30 minutes before you carve it.
How should leftover whole roasted turkey be stored?
Store leftover herb roasted turkey in an airtight container in the fridge for up to 4 days. Rewarm leftover roasted turkey in the microwave or oven until steaming.
Can cooked Thanksgiving turkey be frozen?
Yes, leftover Thanksgiving turkey can be frozen for up to 3 months in an airtight freezer bag or container. Be sure to remove turkey from bones before freezing!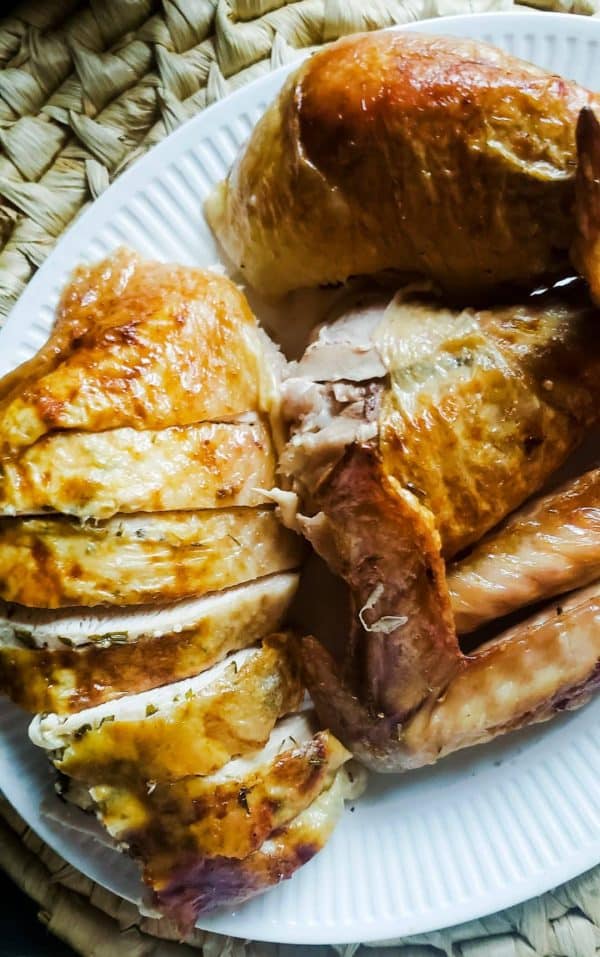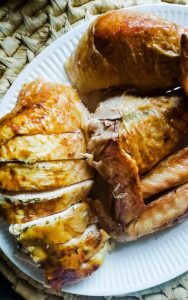 Classic Pan Gravy
While your turkey is out of the oven and resting, it is time to make your gravy. Gravy is a staple at any Thanksgiving celebration and is poured over nearly everything on the plate! This classic pan gravy is the perfect compliment to the herb butter roasted turkey.
For this easy gravy you will want to reserve the turkey pan dripping and pour then into a glass measuring cup. Let the drippings settle to the bottom and then skim the fat off the top. You will want to have at least ¼ cup of fat. If you do not have enough drippings you can substitute butter. Whisk your drippings and flour in a skillet. Then you will add in your broth and stir to avoid clumps. If you do not have broth, you can also use water. Finally, let it simmer for a couple minutes and season with salt and pepper. That is it! The perfect simple gravy is ready to go.
I hope you and your family have a wonderful Thanksgiving and holiday season and that you love this Herb Roasted Turkey with Classic Pan Gravy! Check out my Southern Sweet Potato Casserole and Southern Cornbread Dressing Recipe for awesome Thanksgiving sides!
Happy Eating!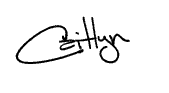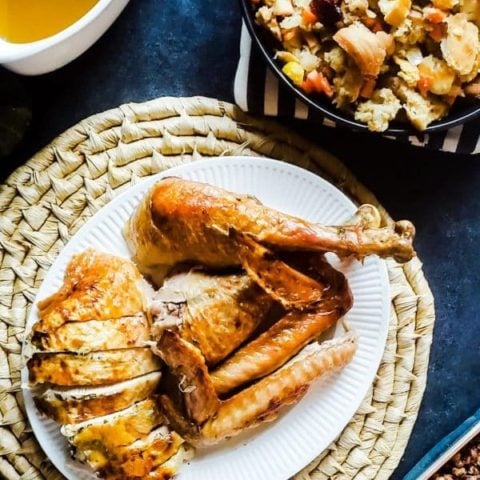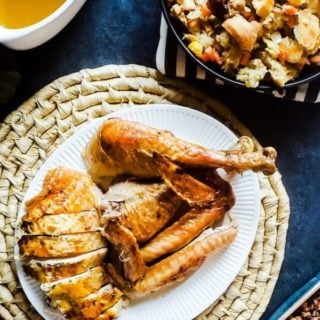 Herb Roasted Turkey with Classic Pan Gravy
Get ready to enjoy the juiciest and most delicious Thanksgiving turkey of your life! Pair with Classic Pan Gravy for the perfect finish!
Ingredients
1

12-16 lb

Whole Turkey

1

Lemon

Quartered

1

White Onion

Quartered

5

Cloves

Garlic

3 Minced and 2 peeled and whole

1

tablespoon

Dried Thyme

plus 2 sprigs of fresh thyme

½

tablespoon

Dried Crushed Rosemary

plus 2 sprigs of fresh rosemary

1

teaspoon

Dried Sage

plus 1 sprig of fresh sage

1

teaspoon

Pepper

1

Cup

Salted Butter

softened
Classic Pan Gravy
¼

Cup

Turkey Pan Drippings

¼

Cup

All Purpose Flour

1-2

Cup

Turkey or Chicken Stock

Ground Black Pepper

To Taste

Salt

To Taste
Instructions
Herb Butter Roasted Turkey
Remove turkey from refrigerator and let come to room temperature for about an hour. Preheat oven to 400 degrees. After an hour remove turkey from packaging then remove the neck and gizzard bag from the turkey cavity (discard or save for stock). Pat the turkey dry with paper towels on both the inside and outside. Set Aside.

Combine softened butter, dried thyme, dried rosemary, dried sage, minced garlic, salt and pepper in a small bowl. Mash and stir until well combined and set aside.

Quarter onion and lemon and set aside. With cooking twine, tie together a couple sprigs of fresh rosemary, fresh thyme, and fresh sage, set aside. Lightly crush the two remaining whole and peeled garlic cloves with the side of a knife. Set Aside

Using your hand, gently push back the turkey skin on the breast. Try not to puncture the skin, just separate the skin from the breast meat. Coat under the skin, all over the turkey above the skin and inside the cavity with herb butter until all is used. Stuff the remaining ingredients inside the cavity and tie the legs together with cooking twine.

Place turkey BREAST DOWN on the roasting rack inside a deep roasting pan. Place on the center rack of the oven and cook for 45 minutes.

Lower oven temperature to 325 degrees. Remove turkey from pan and flip it using oven mitts*. The breasts should be up now. Rotate the pan and return turkey to the center rack of the oven and cook for 2-3 hours or until internal temperature reaches 155-160 degrees. Cover the top of the turkey with foil if the top is getting too browned.

Once turkey is cooked through, remove from pan and let rest on a large cutting board for 30 minutes before slicing. Reserve pan drippings for gravy.
Classic Pan Gravy
Pour drippings from herb roasted turkey into a glass measuring cup. Let the drippings settle to the bottom and skim fat off the top. Add to a warm medium sized skillet. Add in flour and stir until bubbling.

Add broth to skillet. Stir often to avoid clumps. Let simmer until thickened, about 1-2 minutes. Once thickened season with salt and pepper and serve warm with herb butter roasted turkey.
Notes
Turkey Flip Tips: Flipping the turkey can be a beast. I highly recommend 2 sets of hands. I like to use thick oven mitts, or ideally rubber grilling gloves. Grip the turkey firmly and slip is quickly all in one motion. Doing the flip makes the breast meat super moist because it is not being exposed to the most heat the entire time drying it out.
Nutrition
Serving:
450
grams
Calories:
832
kcal
Carbohydrates:
0.3
g
Protein:
85.2
g
Fat:
52
g
Saturated Fat:
17.4
g
Polyunsaturated Fat:
9.6
g
Monounsaturated Fat:
12.8
g
Trans Fat:
0
g
Cholesterol:
294
mg
Sodium:
985
mg
Potassium:
7
mg
Fiber:
0
g
Sugar:
0
g
Vitamin A:
150
IU
Vitamin C:
0
mg
Calcium:
50
mg
Iron:
7.4
mg
See What We Are Pinning!
Follow erhardtseat1 to see all the food!