This Veggie Burrito Bowl recipe is simple to prepare and super healthy. Perfect for meatless Monday dinners or meal prep lunches!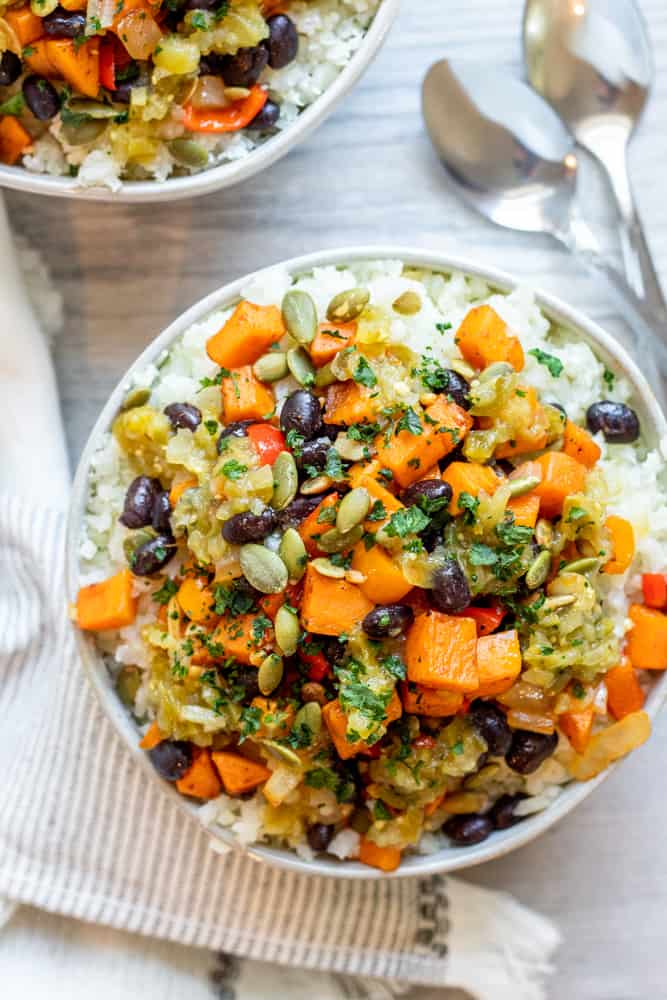 Who doesn't love a healthy yet super scrumptious meal?! This Veggie Burrito Bowl is vegan and perfect for a meat free family dinner. This Mexican style burrito bowl is loaded with cauliflower rice, sauteed veggies and topped with zesty green salsa and pepitas for some crunch.
This meal is simple to prepare and is ready and on the table quickly in under 30 minutes, which makes me love this recipe even more. I promise this won't feel like you are eating rabbit food, and will keep everyone full and satisfied despite the lack of meat. Of course this Veggie Bowl can be customized with different veggies, cheese and meat if you wish to fit a variety of taste buds and picky eaters. I hope you love this recipe as much as my family does, enjoy!
Kitchen Tools
A Large Skillet: Personally, I like using on that is large and deep so I have plenty of room for all of the veggies and they aren't super crowded. This will also help them cook more evenly and faster.
A Sharp Knife and Cutting Board
A Potato Peeler (Optional): Makes life soooo much easier, but you can use a knife instead.
Measuring Cups and Spoons
A Large Wooden Spoon: A plastic one will work just fine as well, I just prefer wooden ones.
Ingredients
Fresh Veggies: I use a combination of sweet potato, bell peppers, and onion for this veggie burrito bowl recipe. You can use whatever color pepper you wish or a combination of several. Additionally, you can use whatever color onion you wish I just used a white one, because that is what I had on hand.
Black Beans
Cauliflower Rice: I use the bagged frozen kind that you just warm in the microwave. This is easier for me and works great for keeping this recipe quick and easy. You could of course make your own from scratch or use rice or quinoa in place of the cauliflower. If cauliflower isn't your cup of tea you can swap it out for some brown rice or quinoa instead.
Salsa: I used a green salsa because I think it pairs well with all the veggies, but a spicy salsa or homemade salsa could be used instead.
Pepitas: These are basically green sunflower seeds and they add a great crunch to the burrito bowl while keeping it healthy. If you aren't into seeds you could add in some tortilla chips over the top instead.
Lime Juice
Spices and Herbs
Fresh Cilantro (Optional)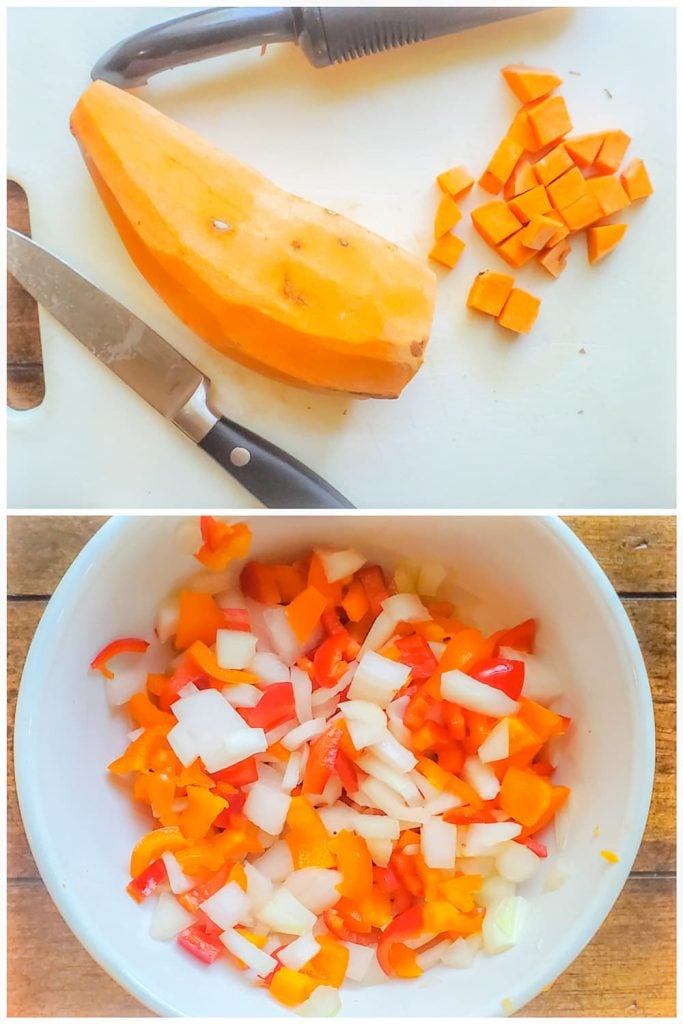 How to Make a Veggie Burrito Bowl
Prepare the Veggies
Begin by washing and chopping all your veggies. I remove the skin from the sweet potatoes then chop in small ½ inch cubes. Next chop your bell peppers (remove the seeds and ribs from the inside) and onion and set aside.
Cook the Ingredients
Add a small amount of olive oil to a large skillet and add in the chopped sweet potatoes. Cook over medium heat for 7-10 minutes until beginning to get soft. Next, add in the bell peppers and onion and continue to cook for 5 more minutes until everything is cooked though. Finally, stir in the drained black beans and stir and cook an additional 1-2 minutes just until the beans are warm.
Bring the Burrito Bowl Together
While your veggies are cooking follow the package instructions and cook your cauliflower rice in the microwave. Once all the veggies are cooked it is time to assemble the vegetable burrito bowls. In each bowl add the cauliflower rice, then a large scoop of veggies, followed by green salsa, pepitas and fresh cilantro and lime juice.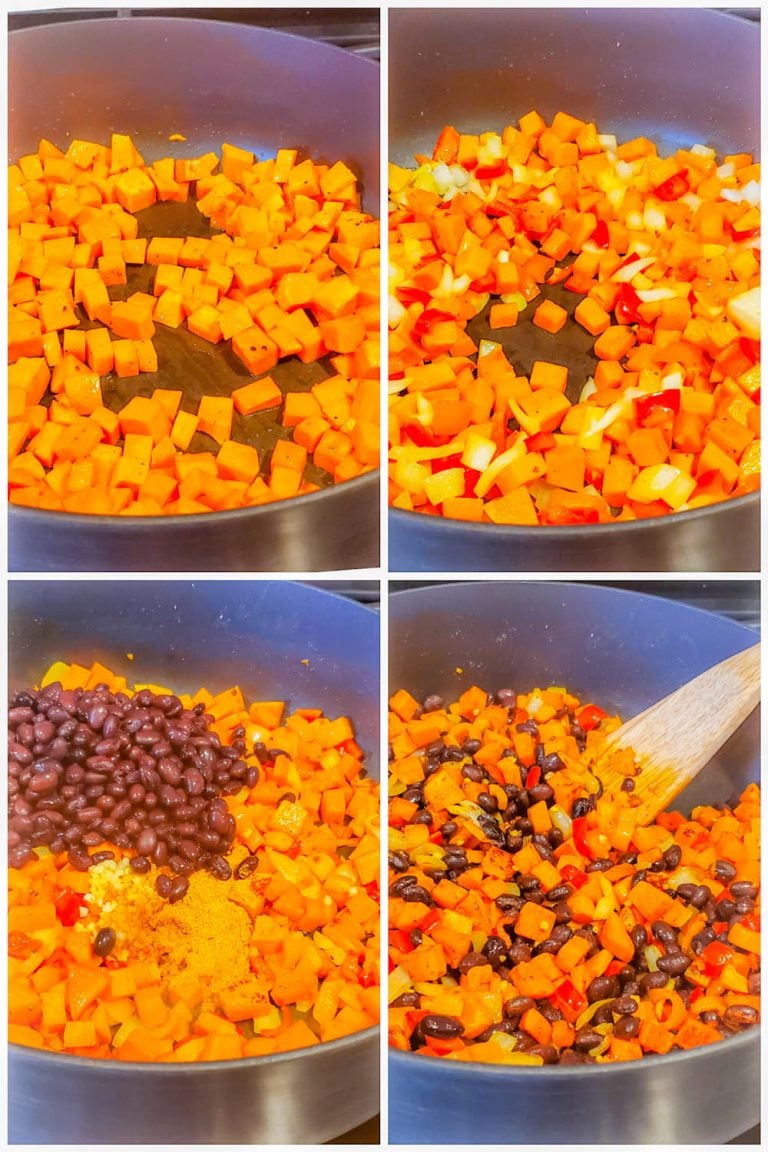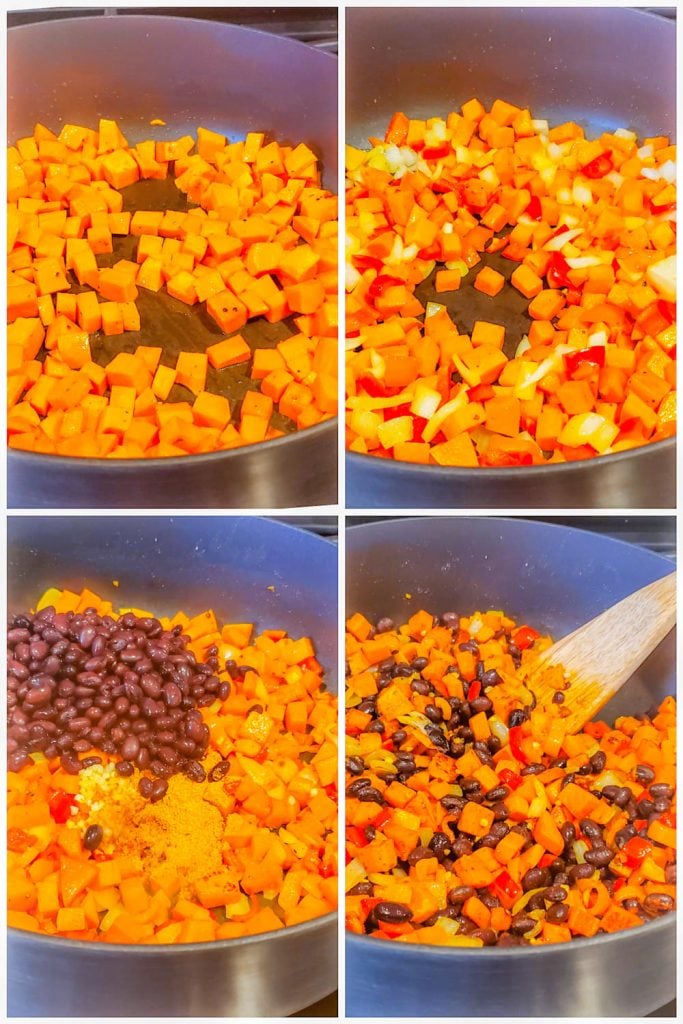 More Vegetarian Recipes
30 Minute Black Bean Quesadillas
Naan Pizza Recipe
Goat Cheese Pesto Sandwich
Red Pepper Soup Recipe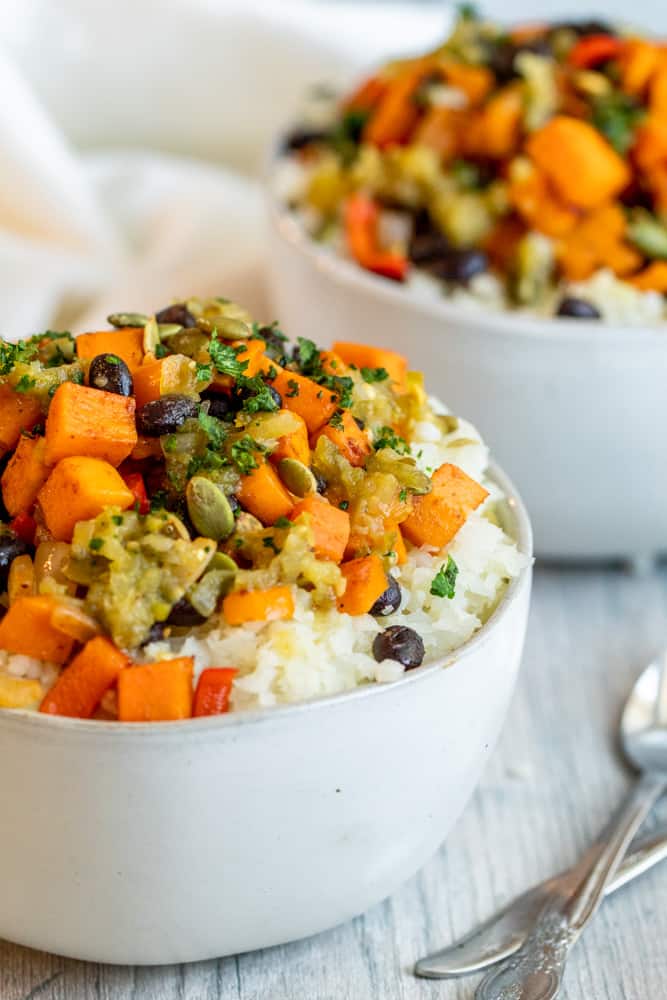 Additional Ideas
You can easily customize this Vegan Burrito Bowl to fit a variety of diets and taste preferences. I love it just the way it is, but often mix it up for my kiddos and husband.
Meat Options: If you want to add some meat into you burrito bowl you could add in some cooked ground beef, steak, pork or chicken. I recommend sticking in the Mexican family so the flavor profile doesn't get thrown out of wake. Check out my Beef Barbacoa, Pork Carnitas, Cilantro Lime Chicken or Grilled Skirt Steak for some perfect meat options.
Cheese Options: I made this recipe vegan, because I wanted to have a full plant based option for family dinners in my rotation. You can easily add in a little cheese or plant based cheese to the burrito bowl to enhance the flavor. Some good cheese options include warm queso, a Mexican crumbly cheese like Cotija, or shredded Pepperjack cheese.
Veggie Options: If you want to pack in more veggie you can absolutely do so. Some other great veggies to add in are chopped squash, eggplant, zucchini, corn, tomatoes, or any of your other favorites. You could also add in some diced jalapenos or Chipotle peppers for some spice.
Leftover Ideas: You can easily utilize the leftovers from this vegan burrito bowl as the filling for a burrito, taco, quesadilla or topping for some bomb nachos. Get creative and let me know your favorite way to eat these leftovers below!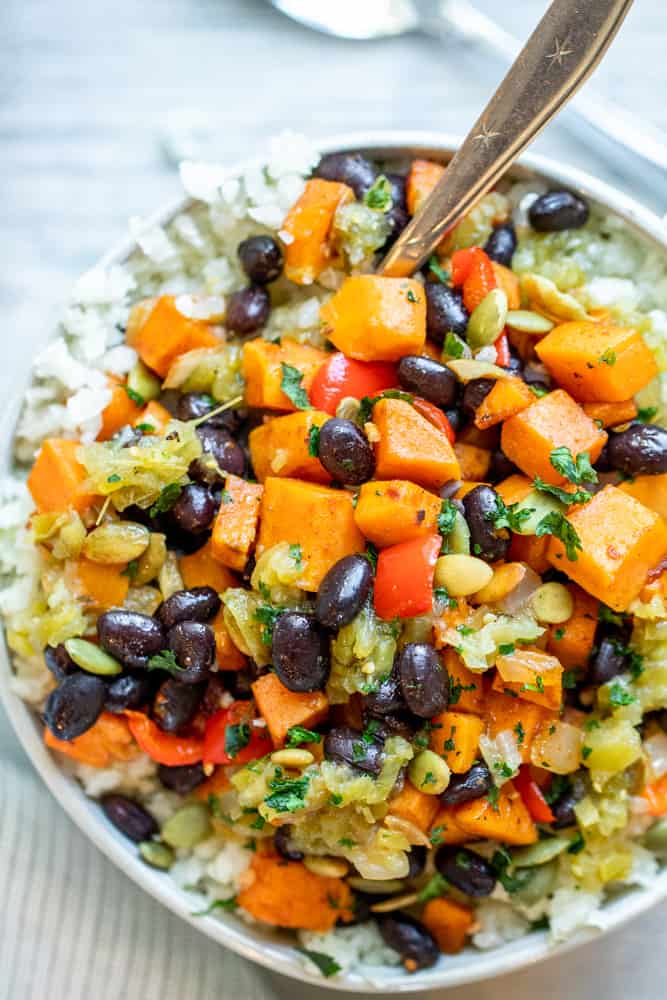 Common Questions
How should leftovers be stored?
Store leftovers in an airtight container for up to 4 days. You can either re-warm the burrito bowl in the microwave until warm, or enjoy cold.
Can this recipe be made ahead of time?
Yes, you can chop all the veggies up to the night before you wish to cook them. Just store them in an airtight container in the fridge and cook according to recipe instructions.
Can burrito bowls be frozen?
Yes, you can freeze the cooked veggie bowls for up to 3 months. I like to portion mine out and store in separate containers so I can pull them out one at a time for a quick lunch. Warm in the microwave for 90 seconds or until completely warmed through.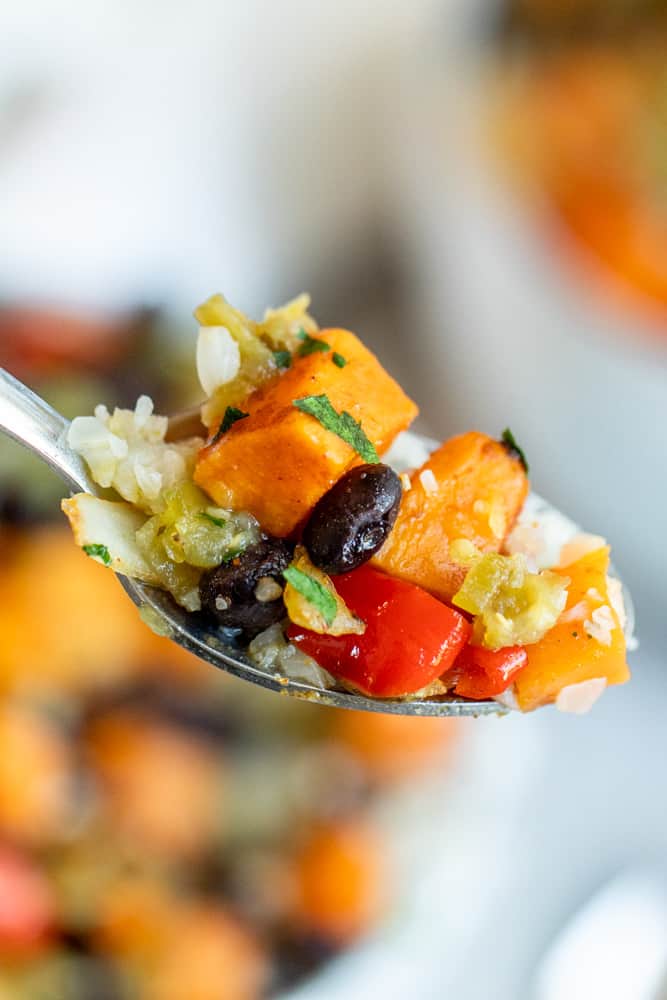 I hope you enjoyed this Vegan Burrito Bowl recipe and want to make it constantly like me! If you loved this recipe let me know down below and of course say hello while you're at it.
Happy Eating!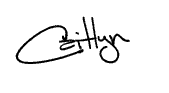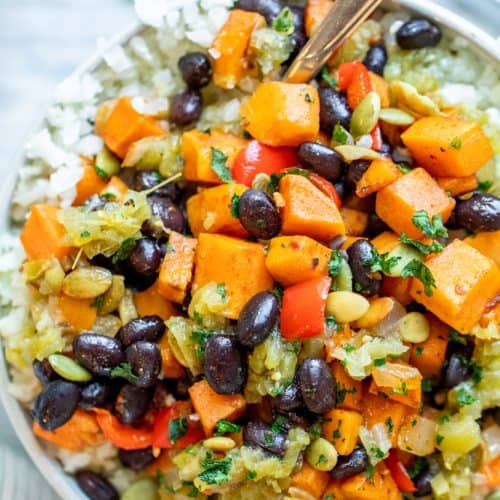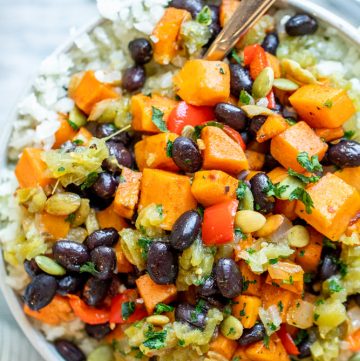 Quick & Easy Veggie Burrito Bowl Recipe
This Veggie Burrito Bowl is simple to make and great for a healthy family dinner or meal prep lunches. Completely vegan with cauliflower rice and veggies!
Ingredients
20

Oz

Frozen Riced Cauliflower

I like to use to microwave steamer bags

1

tablespoon

Olive Oil

2

Large

Sweet Potatoes

2

Bell Peppers

Any color works, I like red and orange

½

Small

Onion

2

teaspoon

Jalapeno Pepper

Diced (Optional)

1

tablespoon

Homemade Taco Seasoning

or your favorite store-bought brand

¼

teaspoon

Sea Salt

½

teaspoon

Ground Black Pepper

1

15 Oz

Can Black Beans

Strained and Rinsed

¼

Cup

Pepitas

½

Cup

Green Salsa (Salsa Verde)

Lime Juice

To taste

Fresh Cilantro

Optional
Instructions
Peel and chop your sweet potatoes then chop the bell peppers (remove ribs and seeds and onion. In a large skillet add in the olive oil and sweet potatoes and cook over medium heat stirring occasionally for about 10 minutes.

Once the potatoes are starting to get soft, add in the onion, bell peppers, diced jalapeno if using, taco seasoning, salt and pepper and continue to cook for an additional 5 minutes until all the veggies are soft. Once the veggies are cooked through add in the black beans and stir. Cook an additional minute or two until the black beans are warm.

While the veggies are cooking, follow the package instructions on the frozen riced cauliflower and cook. If using rice or quinoa in its place cook that as well.

Once everything is cooked it is time to assemble the burrito bowls. Divide the ingredients among four separate bowls by adding in the riced cauliflower first, then the veggie mix, green salsa, pepitas and finally fresh cilantro and a squeeze of lime juice. Serve warm and enjoy!
Notes
Leftover Storage: Store leftovers in an airtight container for up to 4 days in the fridge. Enjoy leftovers cold or re-heat in the microwave or oven until warmed though.
Nutrition
Calories:
276
kcal
Carbohydrates:
49.1
g
Protein:
12.1
g
Fat:
5.1
g
Saturated Fat:
0.5
g
Cholesterol:
0
mg
Sodium:
363
mg
Potassium:
1007
mg
Fiber:
12.3
g
Sugar:
6.1
g
Calcium:
56
mg
Iron:
3
mg
See What We Are Pinning!
Follow erhardtseat1 to see all the food!