The perfect simple and easy weeknight pizza recipe! This Easy Margherita Pizza Recipe is ready in under 15 minutes and is perfect for both kids and adults. The perfect combo of cheese, marinara sauce, fresh basil and homemade pesto.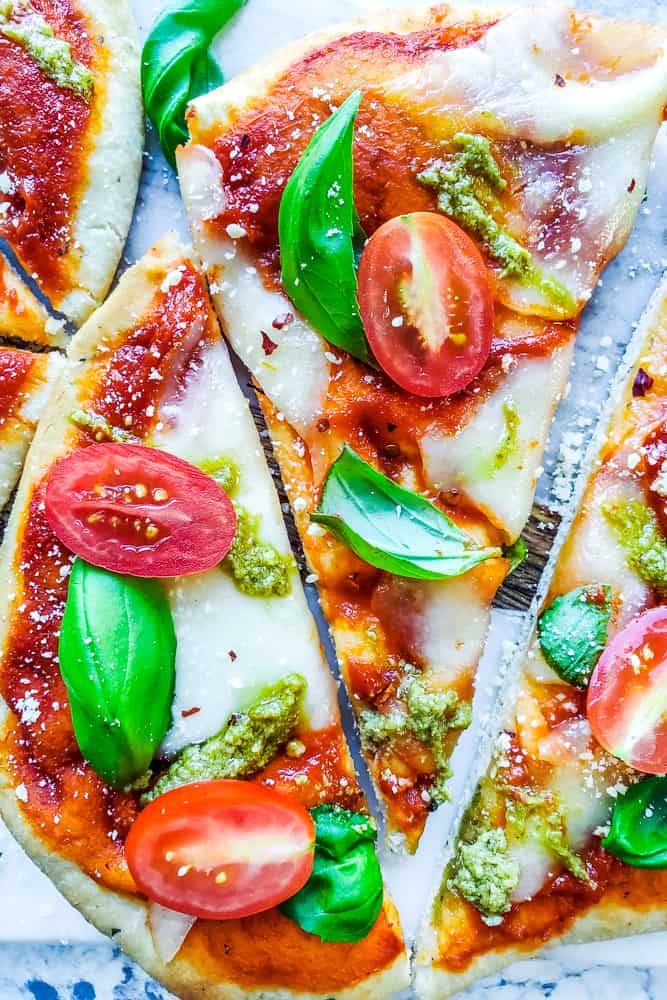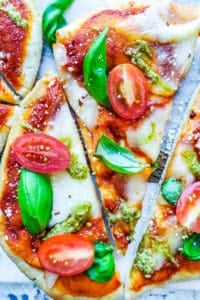 This is my family's favorite recipe. I know I will probably say that about a lot of my dishes, but this one is really it. It is so simple, ready in about 15 minutes, and I always have the ingredients on hand. We have this simple pizza in our home at least every other week, and my husband requests it even more often.
Every time I make this Easy Margherita Pizza Recipe, my tummy is so happy. The simple preparation, short cook time and delicious combination of flavors are just a few reasons that this recipe is perfect for busy weeknight family dinners.
Kitchen Tools
A Sharp Knife and Cutting Board

Two Cookie Sheets

: If you are making several pizzas you will need more than two cookie sheets and have to cook the pizzas in two or more batches. I can fit 2 pizzas per cookie sheet.

A Spoon
Ingredients
Naan Bread

Mozzarella Cheese

Marinara Sauce

Cherry Tomatoes

Fresh Basil Leaves

Basil Pesto
Note: I like to use my Perfect Marinara Sauce and Homemade Basil Pesto for this pizza recipe. You can use those or your favorite store-bought brand!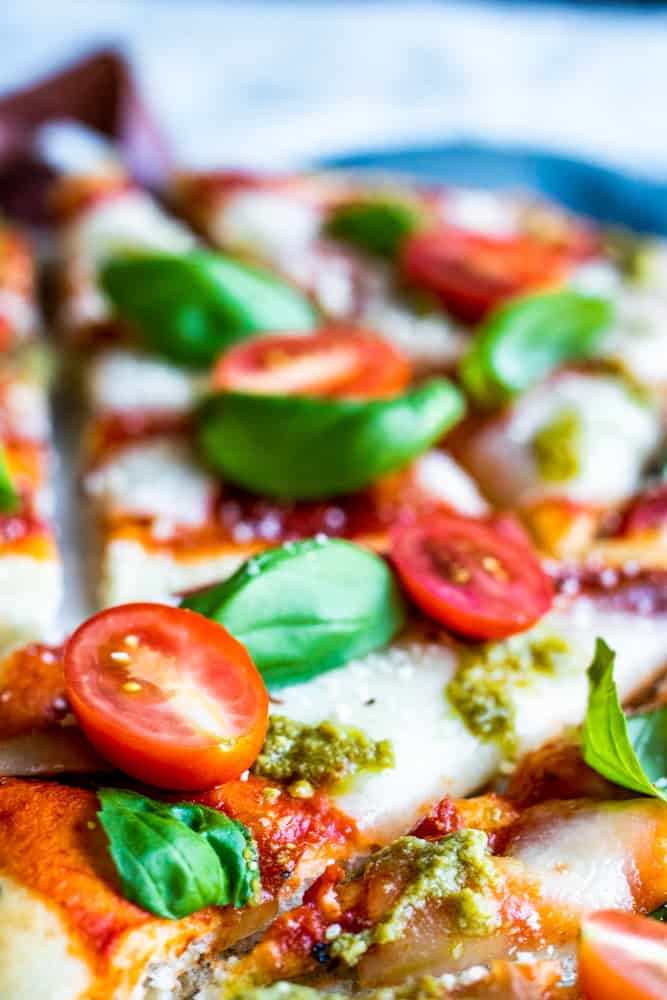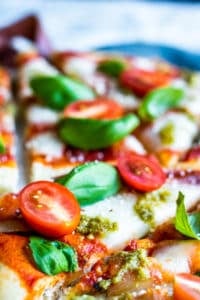 How to Make Homemade Margherita Pizza
Well. There are TONS of ways that you can make homemade pizza at home. You could go all out by making your own dough, and sauce. Or you could take some short cuts and save on prep time without sacrificing any flavor. That is exactly what this easy margherita pizza recipe does! The best part? No more fighting over pizza toppings! These pizzas are ready to go with a few simple steps.
First, you will start off with your naan bread. Place a single piece of naan bread on a parchment paper lined cookie sheet.

Second, you will spread a thin layer of marinara sauce all over the naan bread. I like to leave a bit off around the edges to act as my crust.

Next you will add your cheese. I like to use fresh mozzarella cheese that comes in a ball. I slice off thin pieces and place them on top of the marinara sauce. You could also use shredded mozzarella if you prefer.

Finally, you will add some tomatoes. Personally, I like to use grape or cherry tomatoes sliced into quarters or halves. You could use any type of tomato for this step, just make sure they are sliced thin so they do not weigh the pizza down.

Now your pizza is ready to go into the oven! I bake mine for about 7 minutes or until the cheese is nice and melty!

Once your pizza is out of the oven it is time to add the finishing touches. I love basil pesto and like drizzling some over the top of my margherita pizza. I also like to add fresh basil leaves if I have them on hand. These final touches complete your pizza and you are ready to dig in!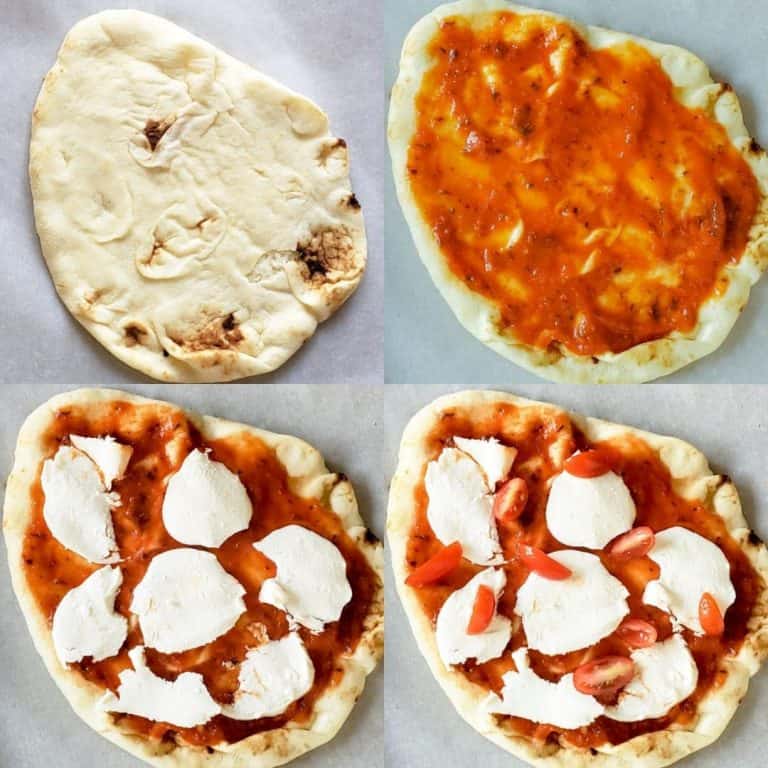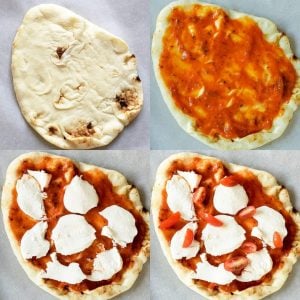 Common Questions
Hoe should leftover pizza be stored?
Leftover naan pizza can be stored in the fridge in an airtight container for up to 4 days. To re-warm place in the microwave for 30 seconds, or in the oven at 350 degrees F for 10 minutes until warm.
Can pizza be frozen?
Yes, you can freeze the pizzas for up to 2 months in a freezer bag or airtight container. To re-warm place in the oven at 350 degrees F for 15-20 minutes, or until completely de-thawed and hot. It is best to remove the fresh basil before freezing and add new fresh basil after it is re-warmed.
Customization Ideas
This easy naan pizza recipe is the perfect base for any pizza. This version shown is my personal favorite and how I make it for myself. For my son, Theo, I follow all of the same steps except skip the fresh basil for him. He thinks the basil is spinach leaves and will refuse to eat it. This recipe can be whatever you love and I encourage you to make it your own if you wish! Another version of this naan bread pizza is my Vegetarian Flatbread Pizza with Fresh Rosemary!
If you do personalize this pizza try and stick to a max of three toppings. Any more will weigh the naan bread down and make it soggy. I think the versatility of this recipe is perfect for picky eaters and family's that have different tastes. Everyone can have their own personal pizza and put whatever toppings they prefer on them. This is much more cost effective than getting delivery or even individual frozen pizzas. Plus, it is healthier, faster and tastier than either of those two options.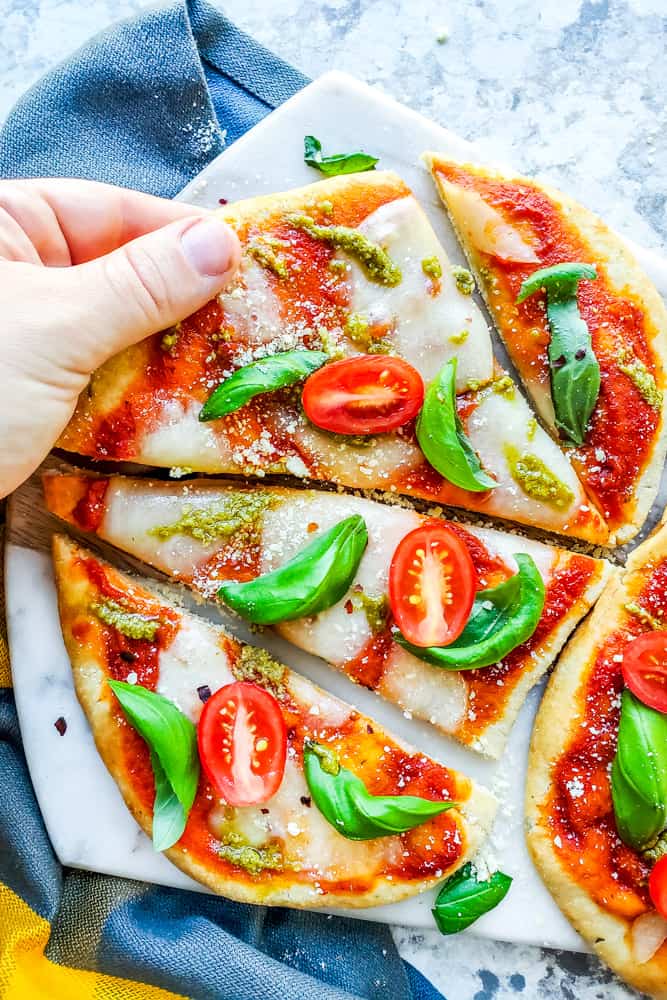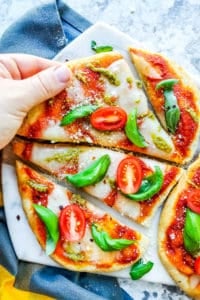 More Vegetarian Mains
Vegetarian Freezer Burritos with Black Beans
Veggie Burrito Bowl Recipe
Quick and Easy Vegetarian Quesadillas
Pesto and Goat Cheese Sandwich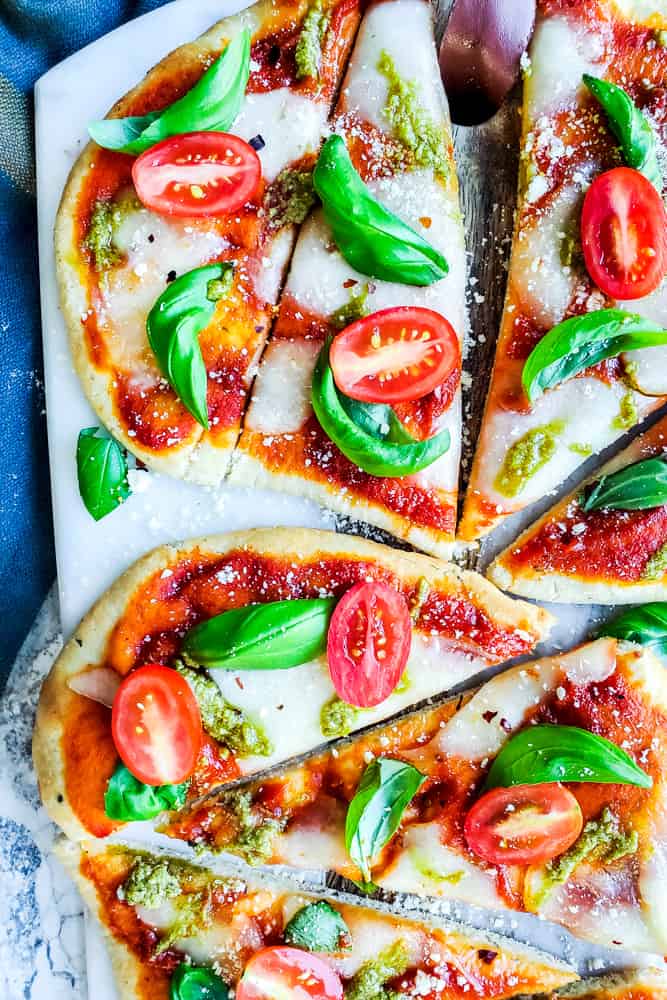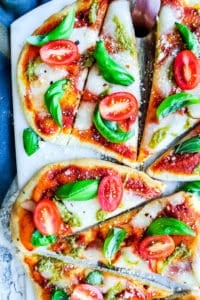 Storytime
This easy margherita pizza recipe came about as sort of an accident. Or really the result of laziness and minimal kitchen space. While my husband, Steven, and I were living in Japan we had an extremely small kitchen with an oven the size of a microwave. So small that normal frozen pizzas wouldn't even fit! This forced us to get extremely creative with a lot of our meals. Resulting in some great creations!
One evening, after a few too many glasses of wine, we got it in our heads that we were going to make homemade pizzas. Of course we had no idea how to make our own dough. We also had very limited ingredients and had to work with what we had on hand. Therefore, we used some naan bread we had leftover from a failed Indian curry experience. (I'm sure we will get to that story eventually).
So we slapped on some red sauce, threw on some cheese and because I wanted a vegetable included, a couple tomatoes. Ten minutes later, we dove in and were shocked to realize what we created was amazing! Ever since we have been making these pizzas and enjoying them for lunches and dinner.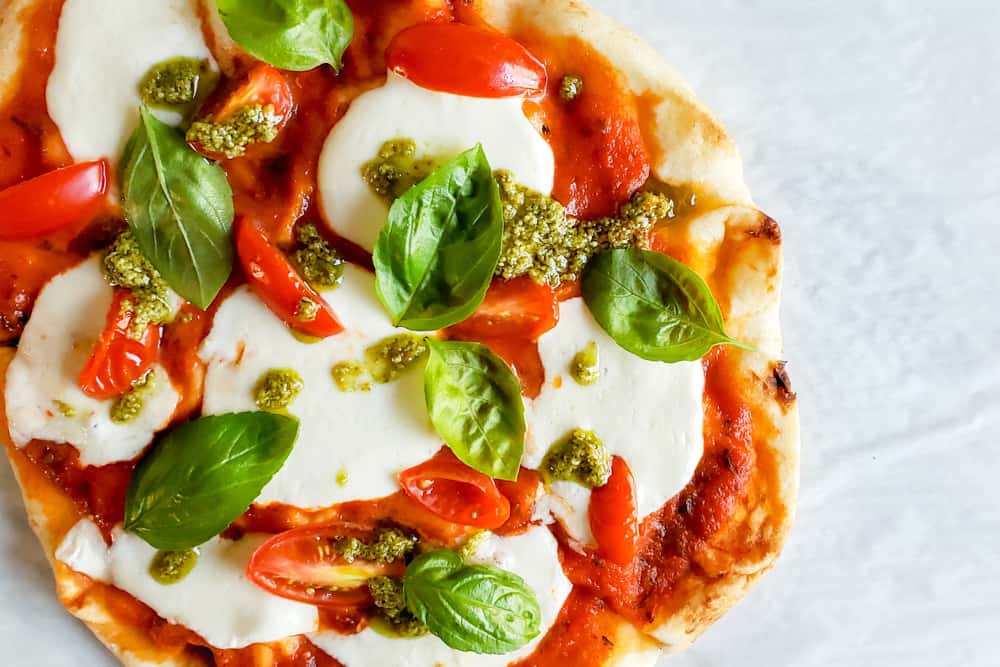 Love This Margherita Pizza Recipe? Don't Forget To Comment and Rate Below.
Happy Eating!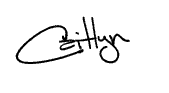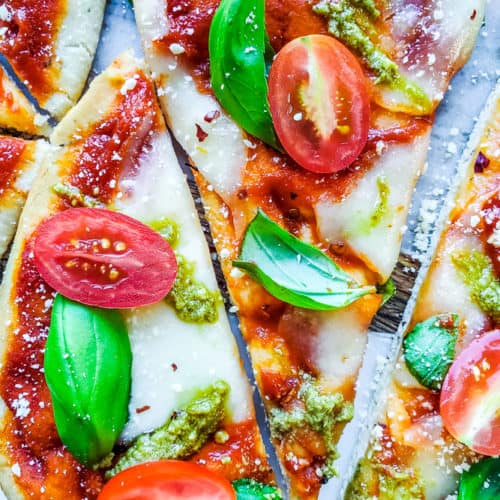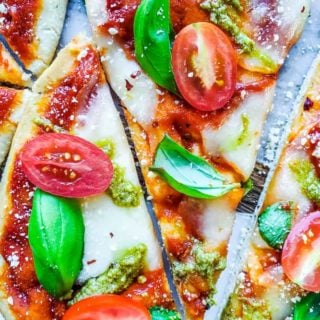 Easy Margherita Pizza Recipe: 15 Minute Naan Pizza
The perfect, simple personal pizza! Ready in only 10 minutes you can forever ditch the frozen pizzas!
Ingredients
Optional Toppings
Fresh Basil

Grated Parmesan Cheese
Instructions
Pre-heat oven to 375 degrees. While the oven is preheating, line 2 cookie sheets with parchment paper and set aside.

Lay out 1 piece of naan bread and spread ¼ cup of Perfect Marinara Sauce on evenly leaving about ⅓ inch of crust around the outside.

Add sliced or crumbled mozzarella cheese over the sauce, leaving some of the sauce exposed. Finally, add the sliced grape tomatoes over the sauce and cheese.

Place the prepared pizza on the parchment paper lined cookie sheet. Repeat steps 2 and 3 for the remaining pieces of naan bread. Place pizzas in the oven for 10 minutes or until cheese is melted.

Once pizzas are cooked add a drizzle of basil pesto over top. Garnish with fresh basil and Parmesan cheese if desired. Cut into slices and serve immediately.
Notes
Leftover Storage: Store leftover pizza in an airtight container in the fridge for up to 4 days.
Re-warming Instructions: Rewarm leftover pizza in the microwave for 30 seconds or the oven (350 degrees F for 10 minutes), or until warm.
Nutrition
Calories:
522
kcal
Carbohydrates:
61.1
g
Protein:
27.4
g
Fat:
19
g
Saturated Fat:
7.3
g
Cholesterol:
33
mg
Sodium:
946
mg
Potassium:
170
mg
Fiber:
3.9
g
Sugar:
4.7
g
Calcium:
100
mg
Iron:
1.3
mg
See What We Are Pinning!
Follow erhardtseat1 to see all the food!
Thank you for sharing!