This Homemade Basil Pesto Sauce Recipe is vegetarian and comes together in under 10 minutes! Perfect as a spread for sandwiches, marinade for meats, or to drizzle over pizza or veggies.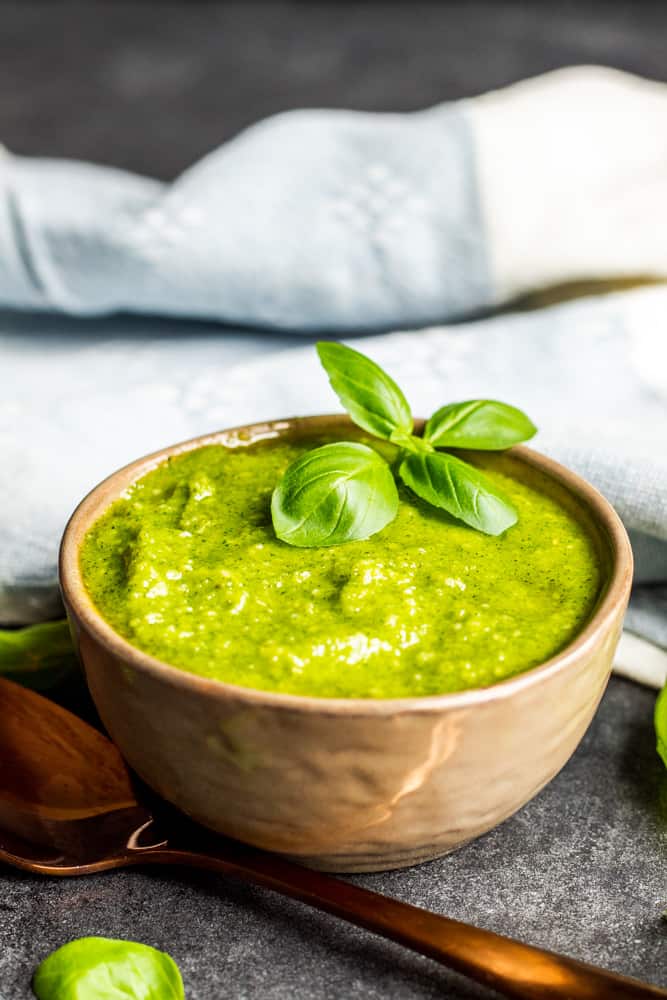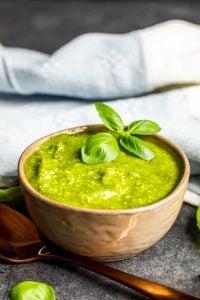 Summer is still in full swing here in Wisconsin and my fresh herbs are going nuts! I love this time of year (despite the horrible heat and humidity) with all the fresh produce coming in. One of my favorite things to grow is fresh herbs like basil, rosemary and cilantro. I have some that stay in my house year-round and one of those is basil.
Basil is one of my favorite herbs to incorporate into recipes, including this Homemade Basil Pesto Sauce Recipe. The sauce is so easy, and comes together in under 20 minutes. This healthy, vegetarian sauce goes great with pizzas, sandwiches, or as a simple sauce for pasta. I hope you and your family love this simple pesto recipe!
Kitchen Tools
A Food Processor or Blender

Garlic Peeler

Measuring Cups and Spoons

Container for Storing Leftovers
Ingredients
Fresh Basil: The basil must be fresh, dried is not an option for this recipe. I like to grown my own herbs, but you can find fresh basil at your local grocery store near the vegetables.

Garlic

Olive Oil

Lemon Juice:

Freshly squeezed or bottled lemon juice is fine!

Grated Parmesan Cheese: If you are making this recipe vegan you can use a cheese substitute or Nutritional Yeast.

Pine Nuts

Spices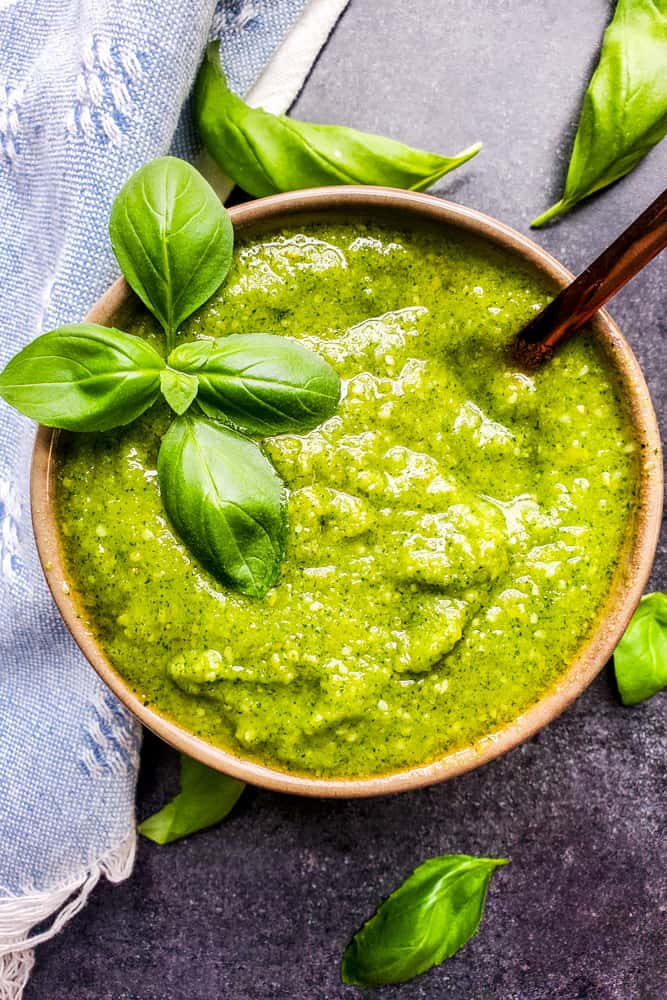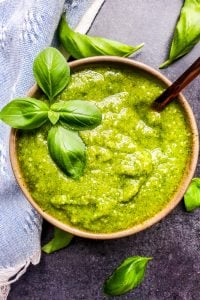 How To Make Healthy Homemade Pesto
This herb filled and super fresh homemade pesto recipe is super simple to make and takes less than 10 minutes!
Start by measuring and preparing your ingredients. If using fresh garlic make sure you peel it.

Once you have everything ready, combine all ingredients in a food processor or a blender. I like using a mini food processor for this basil pesto so I do not have to clean my big one.

Start by running your food processor on LOW for 30-60 seconds. Check the pesto and add more olive oil if it seems to thick. Blend for an additional 30-60 seconds until the pesto is smooth and no chunks remain.

Serve immediately or store in the fridge or freezer.



For a more detailed look at prep check out the short homemade basil pesto sauce recipe video below!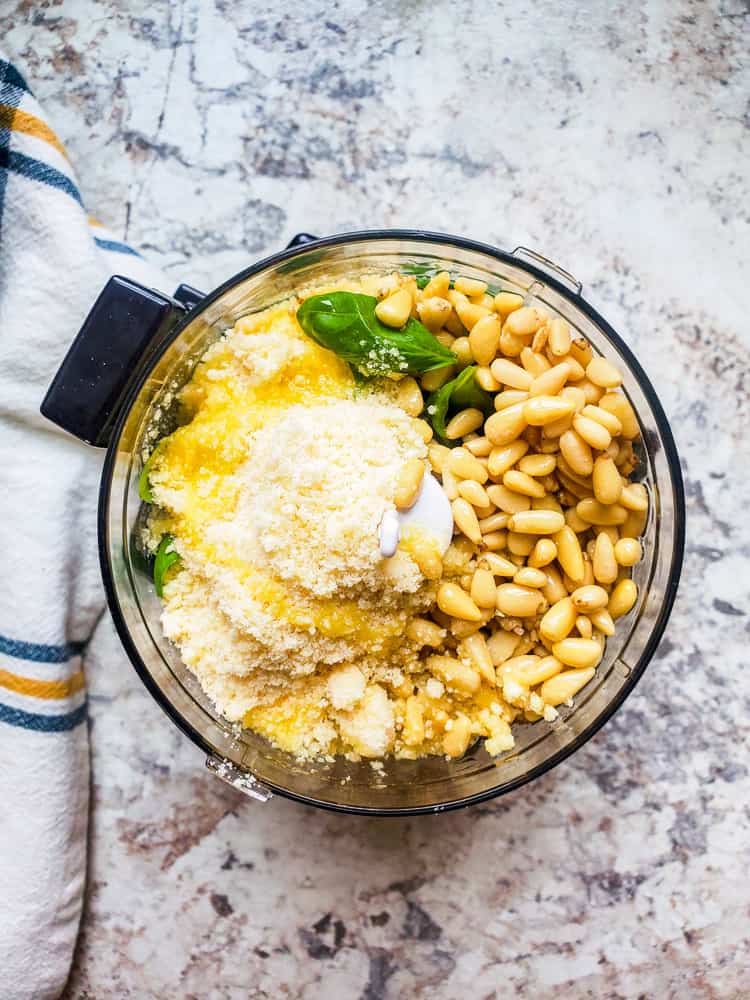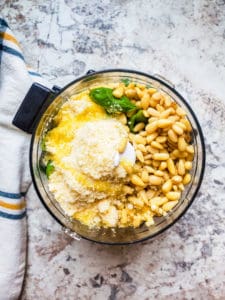 More Simple Sides
Easy 10 Minute Jam Recipe
Homemade Chimichurri Sauce
Buttermilk Ranch Dressing Recipe
Easy Homemade Taco Seasoning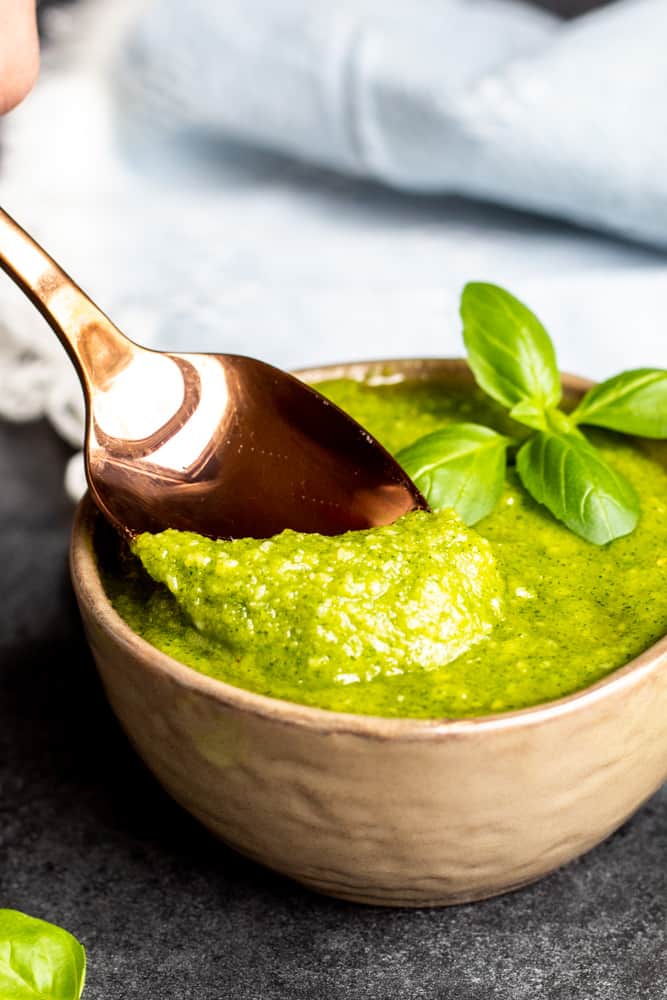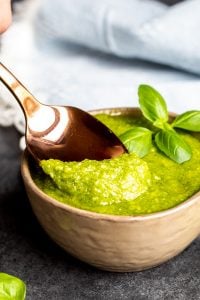 Common Questions
Do I have to use fresh basil for pesto?
Yes, fresh basil is required for this green pesto recipe. Using dried basil will not work at all. You can find fresh basil at most grocery stores by the leafy greens. Also, you could try growing your own. I have my fresh basil in a small pot on a windowsill in my kitchen and it has been going strong for years!
How much sauce does this recipe yield?
This herb filled basil pesto sauce recipe makes about 2 cups of sauce when finished. You can always store leftover sauce in the fridge or freezer if you do not need that much.
Can basil pesto be vegan?
To make this this green homemade basil pesto vegan you can swap the Parmesan cheese out for nutritional yeast. This swap does not affect the flavor or texture and is great if you are avoiding animal products. My favorite nutritional yeast is the Bragg Nutritional Yeast Seasoning.
How should leftover pesto be stored?
Store leftover homemade basil pesto in an airtight container in the fridge for up to 5 days.
Can pesto sauce be frozen?
Yes, this pesto sauce freezes great and when stored in an airtight container stays fresh for up to 3 months. You could store the pesto in a large freezer bag, glass, or plastic container and scoop out what you need. Alternatively, you could store the pesto in small snack zip-lock bags, or a ice cube tray. This way you can pop out a small amount at a time.

When ready to use frozen pesto let defrost in the overnight fridge, or until thawed. You could also place the pesto in a zip-lock bag and run cold water over it for 15-30 minutes until completely thawed.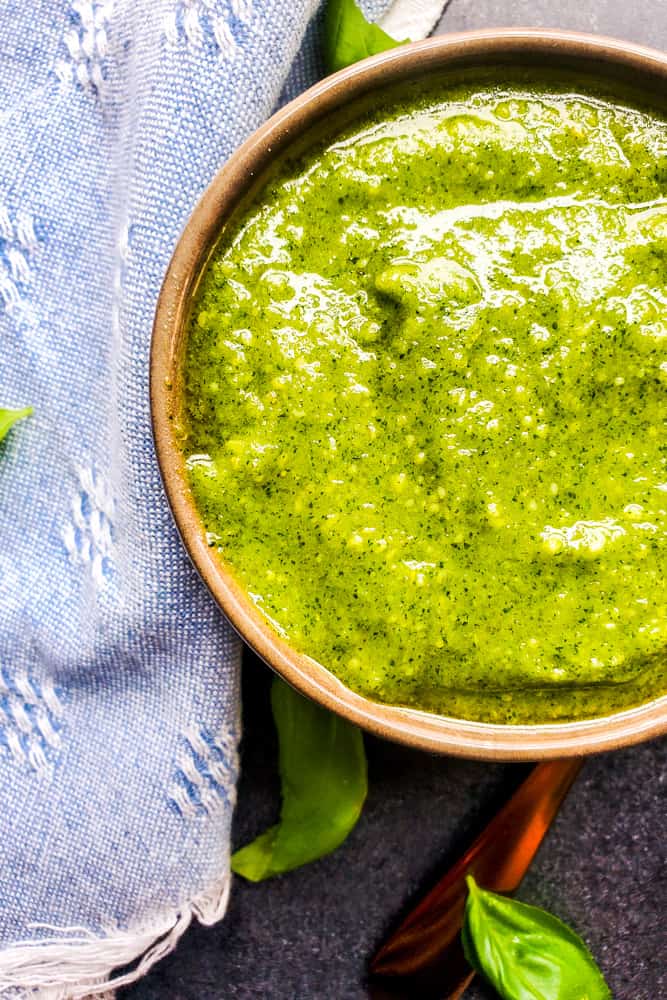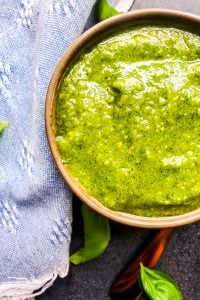 Additional Ideas
Nut Options: One alteration you can make to this fresh pesto is swapping the pine nuts out for walnuts. If you make this switch use the same amount the recipe calls for. I know pine nuts can be tough to find sometimes, so walnuts work great for this pesto as well.
Pairing Ideas: Basil pesto is very versatile and can be incorporated into tons of different recipes. You could drizzle it over my Easy Margherita Pizza, spread it on a Grilled Goat Cheese Sandwich, use it as a simple pasta sauce with my pesto pasta, or even drizzle over the top of some avocado toast.
Happy Eating!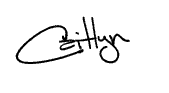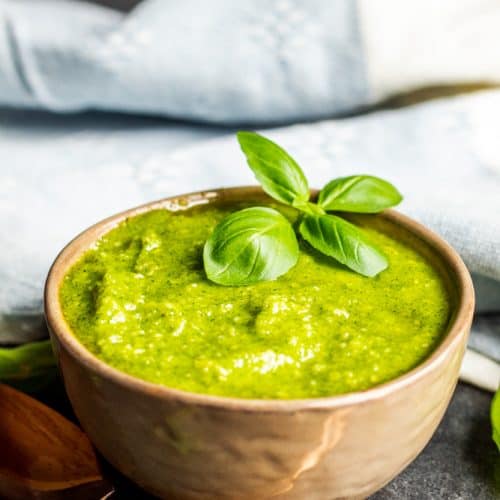 Basil Pesto Sauce Recipe
The BEST Homemade Basil Pesto Sauce Recipe that is vegetarian and takes less than 10 minutes! Perfect to serve with meats, veggies, or sandwiches.
Ingredients
Instructions
Combine all ingredients into a food processor or blender. Blend on LOW for 30-60 seconds until well combined. If sauce is too thick add more olive oil (1 tablespoon at a time) and blend an additional 30 seconds. Serve immediately and enjoy!
Notes
Leftover Storage: Store leftover basil pesto in an airtight container in the fridge for up to 5 days.
Freezer Option: Store homemade pesto in an airtight container in the freezer for up to 3 months. A great option is to use an empty ice cube tray so you can have individual servings. Let pesto completely defrost before using.
Vegan Option: To make this pesto recipe vegan, swap the Parmesan Cheese out for Nutritional Yeast.
Recipe Ingredient Swap: If you cannot find pine nuts you can use walnuts instead. Use the same amount as the recipe calls for.
Nutrition
Calories:
271
kcal
Carbohydrates:
2.5
g
Protein:
7.5
g
Fat:
27.3
g
Saturated Fat:
5.6
g
Cholesterol:
13
mg
Sodium:
252
mg
Potassium:
72
mg
Fiber:
0.5
g
Sugar:
0.3
g
Calcium:
175
mg
Iron:
1
mg
See What We Are Pinning!
Follow erhardtseat1 to see all the food!
Share The Love!