This Easy Jam Recipe is so simple and ready in only ten minutes. This recipe can be made with a variety of fruit including blueberries, cherries and strawberries. Plus, these is no pectin and the jam is thickened and sweetened naturally with honey and chia seeds making it a healthy option for breakfast.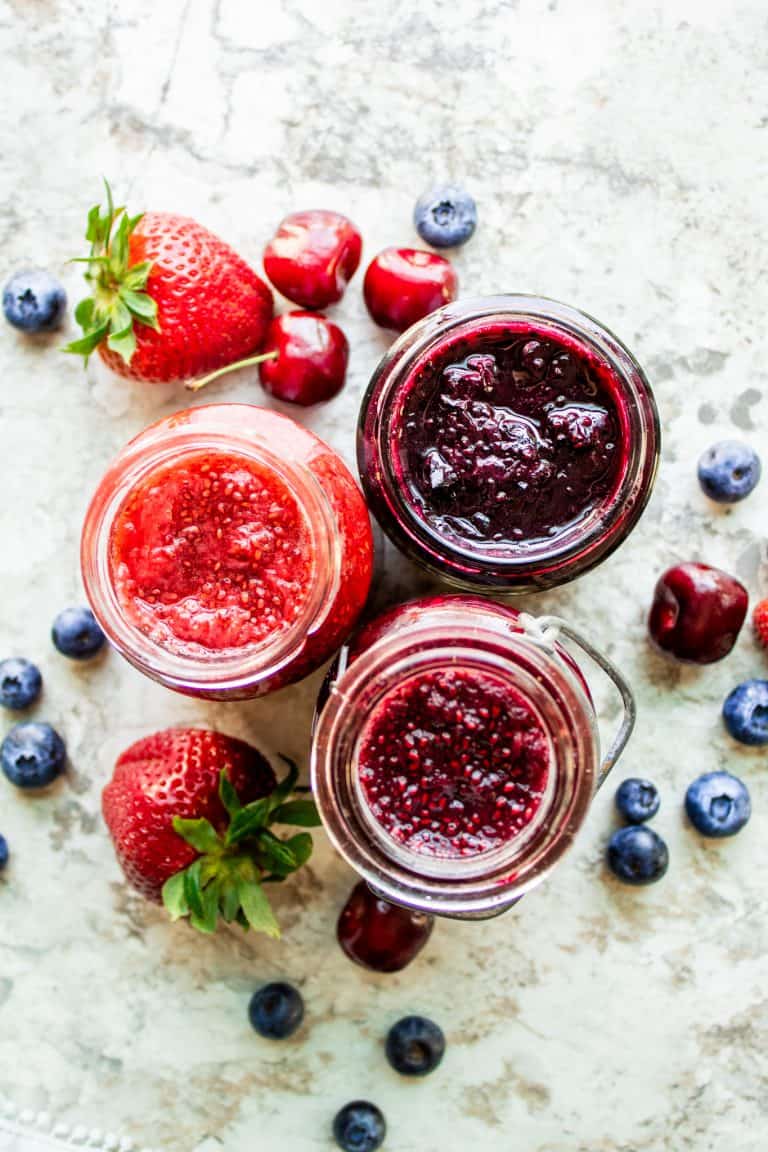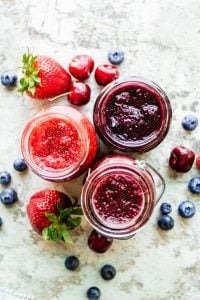 I can't tell you how happy this Easy Jam Recipe makes me. It is so simple, ready in about 10 minutes and so much healthier than store-bought jams. I started making this jam about a year ago and haven't bought any from the store since. I love that this no pectin jam is better for my son and he loves it on everything. Often he will just lick the jam off and leave the rest.
My family and I eat lots of fresh fruit, and I consistently over-buy (oops). Therefore, this jam recipe is perfect for making use of fruit that is about to go bad and not letting it go to waste. The jam saves in the fridge well, and if it makes it long enough I can easily freeze it for another day. I hope you and your family love this simple and versatile homemade jam.
Kitchen Tools
A small saucepan

A potato masher or fork

An airtight jar or container for storage:

I love using mason jars or leftover glass jars that had store-bought products in them to save this homemade jam. Also, another option is using glass storage containers like Pyrex.
Ingredients
Fruit of Choice:

Check out all my faves below!

Honey

(Optional)

:

If you want to keep the jam vegan you can leave the honey out!

Chia Seeds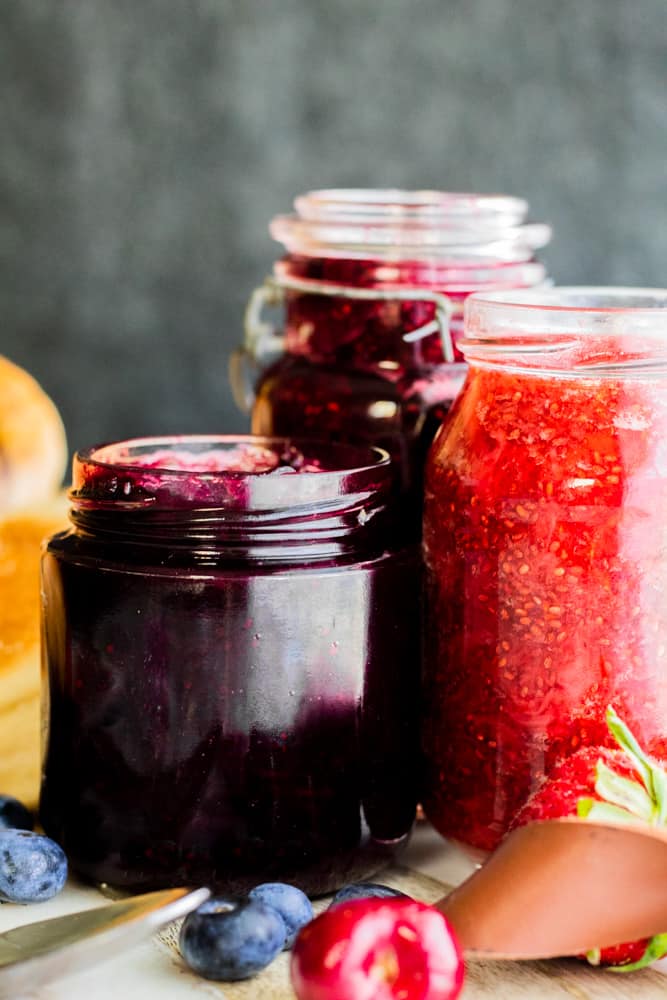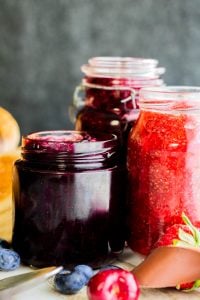 How to Make Jam
Add fruit to a small saucepan and heat. Stir to avoid fruit from burning.

When fruit starts to soften and release juices mash until small chunks remain.

Add chia seeds and honey, or additional add-ins and stir.

Let the jam cool for 5 minutes to thicken then stir, serve and store.
Note: All the fruits I have used have low pectin naturally. Therefore, the chia seeds are required for the jam to thicken. There is no need to add pectin to this homemade jam recipe.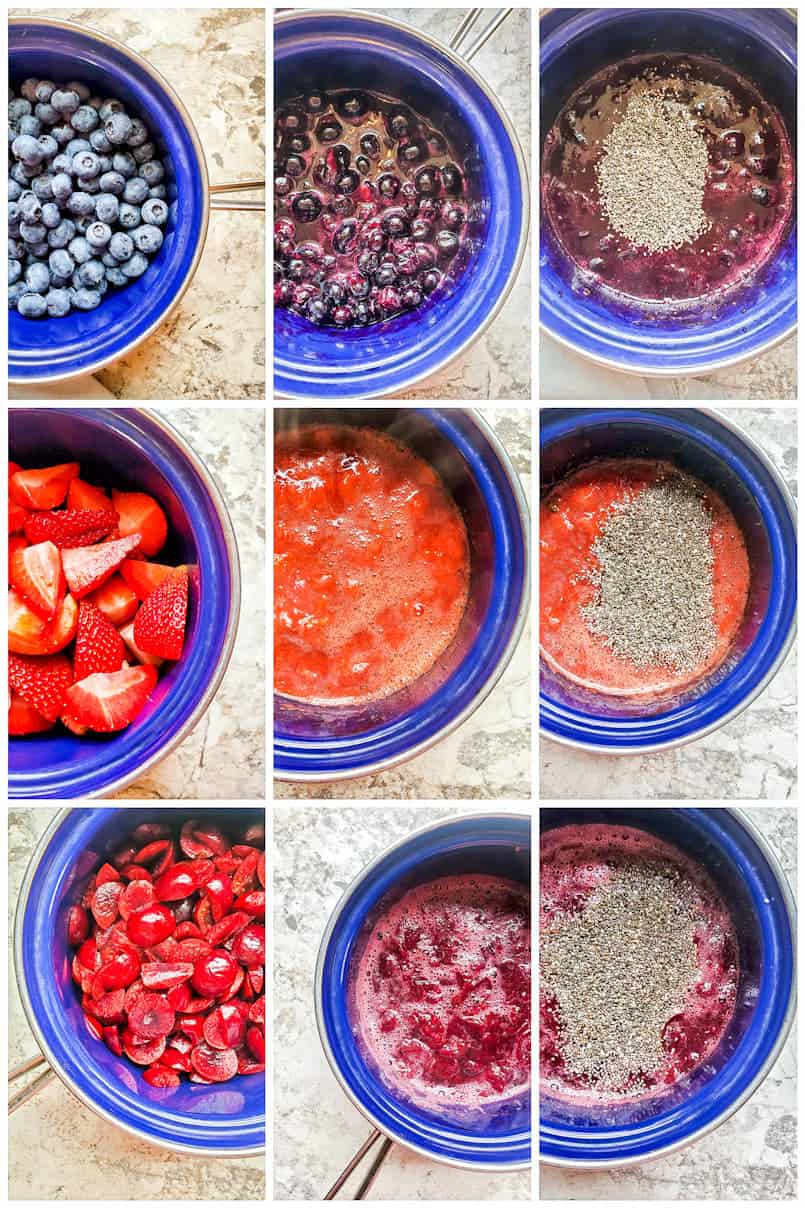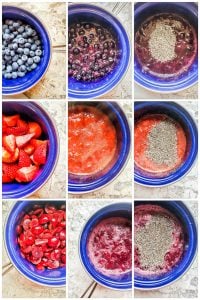 Fruit Options
This easy jam recipe can be made with virtually any fruit. I have featured my three personal favorites including blueberry, strawberry, and cherry. Of course each fruit is going to yield a slightly different texture and flavor. Some may be sweeter, or more watery. You can adjust the amount of chia seeds and honey until the flavor is to your liking, or try some of the additional add-ins. Here are some ideas for fruits to use for the homemade jam recipe:
Blueberries, Strawberries, Cherries- Featured

Kiwi

Raspberries

Blackberries

Cantaloupe

Peaches

Grapes

Plums

Apples

A Combo of Two or More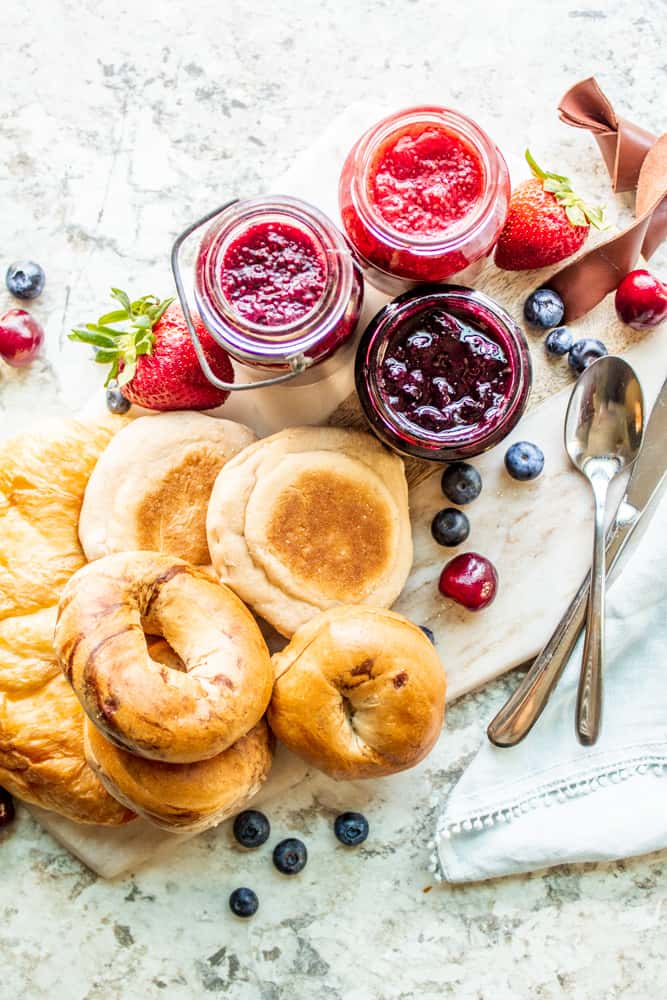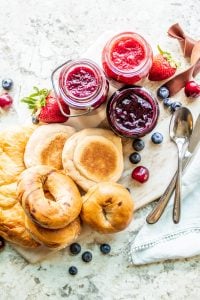 Add-Ins
These add-ins are completely optional and just meant to give you more ideas to create your perfect homemade jam. Some great things you can try are:
Lemon Juice

Vanilla Extract

Spice: Cinnamon or Nutmeg

Maple Syrup instead of Honey
Note: If you are avoiding added sugars then you can leave the honey out. Also, you can add more if you want the jam flavor to be sweeter.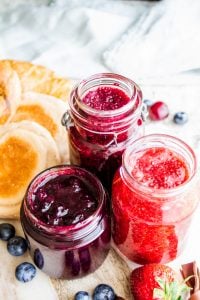 Serving Options
This easy jam recipe is very versatile and can be added to a variety of breakfast options and beyond. There are so many options for this homemade jam recipe, so it will definitely not go to waste! Some of my favorite uses for this jam include:
Bagels

Toast

Waffles

English Muffins

Mixed into Greek Yogurt

Topper for Smoothie Bowls

Topper for Ice Cream

Serve with Cheese

Crepe Filling

Turned into Popsicle's

Used in a Marinade

Add it to a Sauce: Check out my grilled peach wings for a great use of peach jam.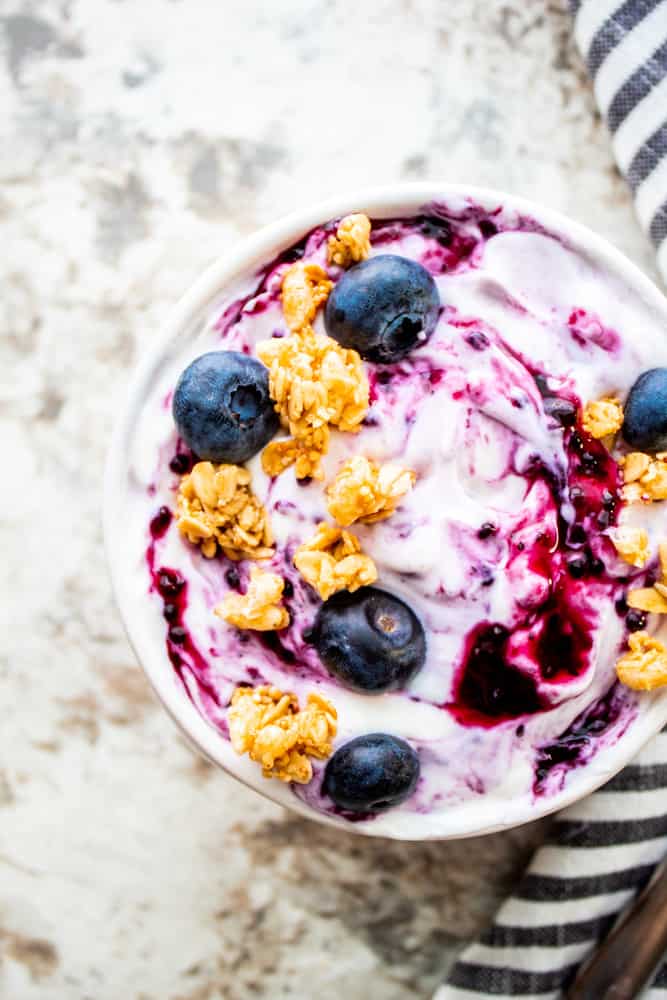 More Vegetarian Recipes
Overnight Cinnamon Blackberry French Toast
Blueberry White Chocolate Scones
Vegan Morning Glory Muffins
Cinnamon Strawberry Rolls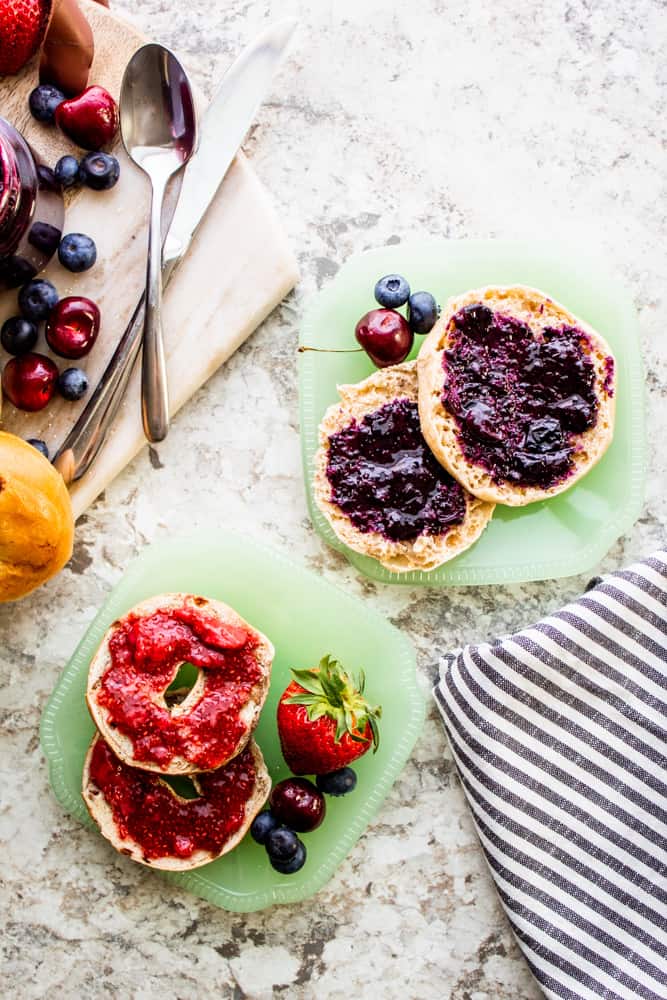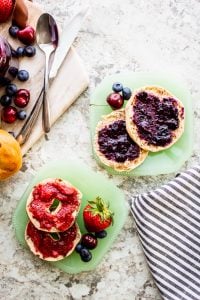 Common Questions
How long does jam stay good?
Homemade jam stays fresh for up to one week in the fridge when stored in an airtight container.
Can homemade jam be frozen?
YES! I love this homemade jam recipe because I can make a bunch and save it to enjoy for months. Store homemade jam in the freezer for up to three months in a glass or plastic container or freezer bag. If using a bag be sure to get all of the air out, and if using a container leave a small amount of space for expansion. Also, to thaw frozen jam simply put in the fridge overnight.
Do I have to have canning experience to make jam?
Nope, you need ZERO canning knowledge or experience to make this 10 minute jam.
How much jam does this recipe yield?
This jam recipe yields about one cup of jam. Amounts vary slightly depending on the fruit you use, but it is always in the ballpark of a cup.
Can frozen fruit be used for making jam?
Yes, frozen fruit is okay to use instead of fresh. Note that frozen fruit may yield a different texture and may be a bit more watery. Therefore you might need to adjust the amount of chia seeds you use and let the jam rest longer.
Is jam good for you?
Yes, this jam recipe only uses 3 ingredients including fruit, chia seeds and honey. The chia seeds act as a natural thickener, so no pectin is used. Additionally, the honey is optional, so if you are avoiding added sugars then just leave it out. Also, this homemade jam recipe is great for a variety of diets and food sensitivities including: gluten free, vegan, vegetarian, dairy free, nut free, paleo and low carb.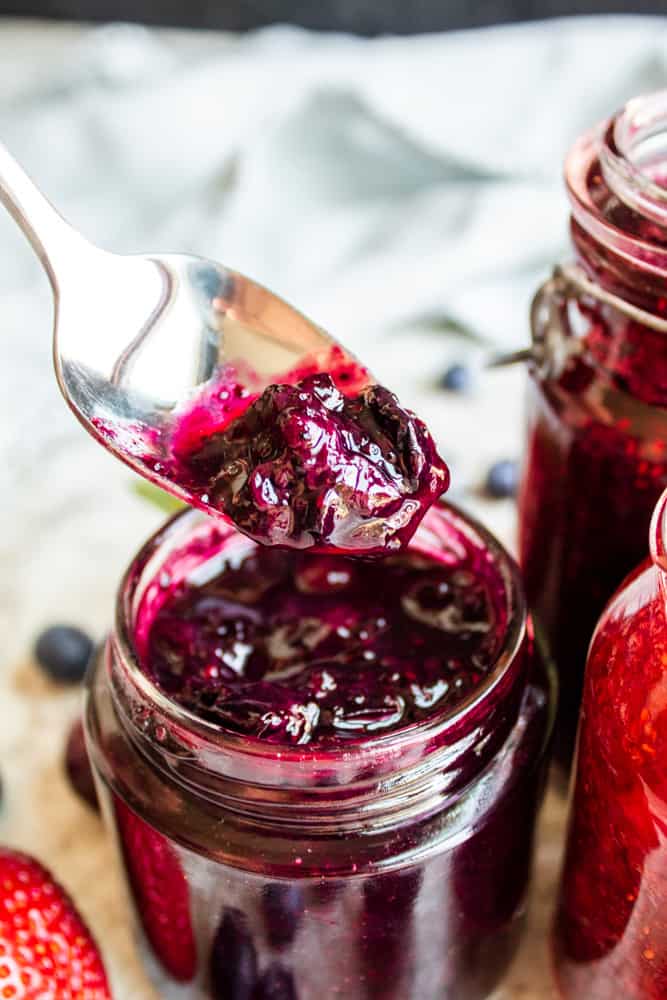 Love This Homemade Jam Recipe? Comment and Rate Below!
Happy Eating!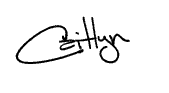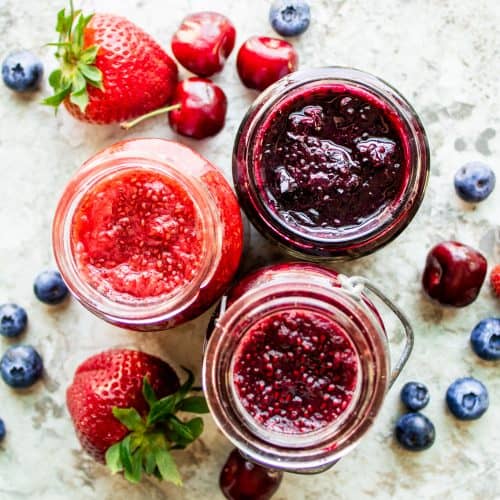 Easy Jam Recipe with Chia Seeds and Honey
This Easy Jam Recipe is easy, healthy, made with no pectin and ready in only 10 minutes! Perfect as a breakfast spread and freezer friendly.
Ingredients
2

Cups

Blueberries, Cherries or Strawberries

See Notes

2

tablespoon

Chia Seeds

1

tablespoon

Honey

Optional- See Notes
Instructions
Add fruit of choice to a small sauce pan and cook over medium heat. Stir frequently to avoid to fruit from burning. Cook for 5 minutes until fruit is soft and has released its juices.

Use a fork or masher to mash the fruit until only some chunks remain. Remove from heat and add the chia seeds and honey. Let cool for 5 minutes then give one final stir. Serve immediately or store in the fridge or freezer. Enjoy!
Notes
*This recipe can be made with virtually any fruit you like. Some great options are blueberries, cherries, strawberries (all three featured), raspberries, blackberries, kiwi, grapes, cantaloupe or a combination. Each fruit will yield a different texture so be aware some may come out more chunky or runny.
*Honey is not required and you can add more of less depending on how sweet you want the jam. You can also add any of the optional add-ins mentioned.
*Nutrition Information is calculated for blueberry jam.
Nutrition
Calories:
31
kcal
Carbohydrates:
5.9
g
Protein:
0.6
g
Fat:
0.8
g
Saturated Fat:
0.1
g
Cholesterol:
0
mg
Sodium:
1
mg
Potassium:
29
mg
Fiber:
1.4
g
Sugar:
3.8
g
Vitamin A:
0
IU
Vitamin C:
1.7
mg
Calcium:
10
mg
Iron:
0.5
mg
See What We Are Pinning!
Follow erhardtseat1 to see all the food!
Share with Your Friends and Family!