Pumpkin season is the best season! This Pumpkin Spice Bread with Dark Chocolate Swirl will be your family's new fall favorite easy bread recipe!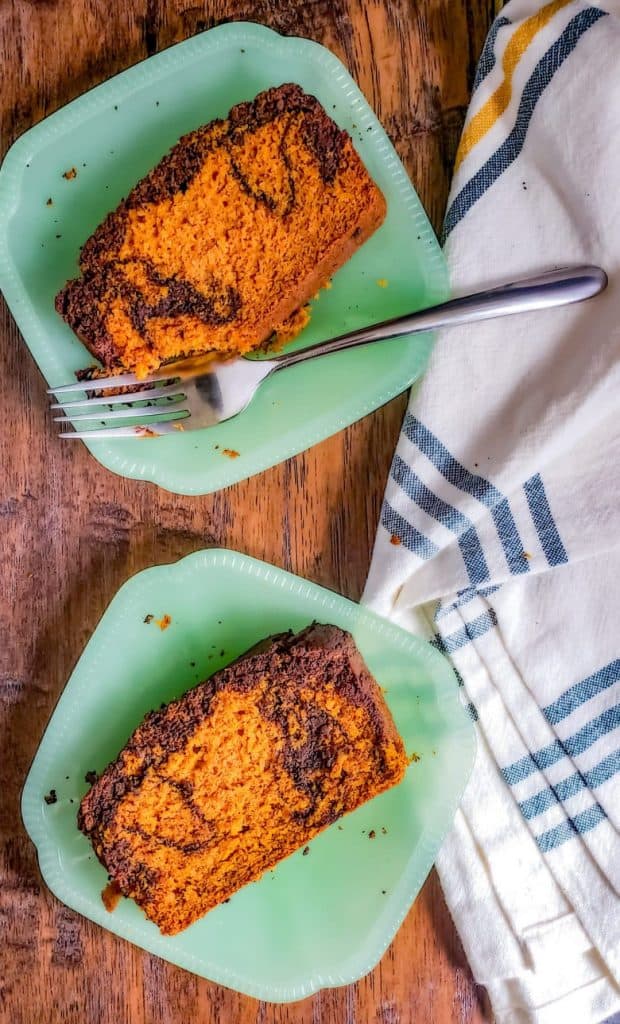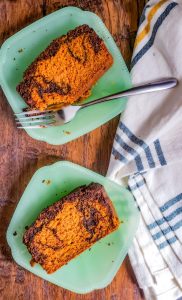 It is finally Fall! This is my favorite season and time of year. I love the crisp air, leaves changing colors, bonfires and, of course, all things pumpkin! Truth be told I consume pumpkin all year round but once that first leaf falls all of a sudden I want pumpkin everything! My mom made a delicious pumpkin bread growing up, but, unfortunately, she has lost the recipe! To my dismay I had to come up with a replacement recipe. Luckily, this Pumpkin Spice Bread with Dark Chocolate Swirl at least ties my mom's recipe in deliciousness. The combination of pumpkin, spices and dark chocolate are everything I love and perfect for a Fall dessert!
What You Need To Make The BEST Pumpkin Spice Bread
The kitchen tools you will need to make pumpkin spice bread are:
A Hand or Stand Mixer

A Few Prep Bowls

Measuring Cups and Spoons

A Bread Knife

A Large Spoon
The ingredients you will need to make homemade pumpkin bread are:
Flour

Baking Soda and Baking Powder

Sugars

Salt

Eggs

Canned Pumpkin

Butter

Vanilla Extract

Dark Chocolate Chips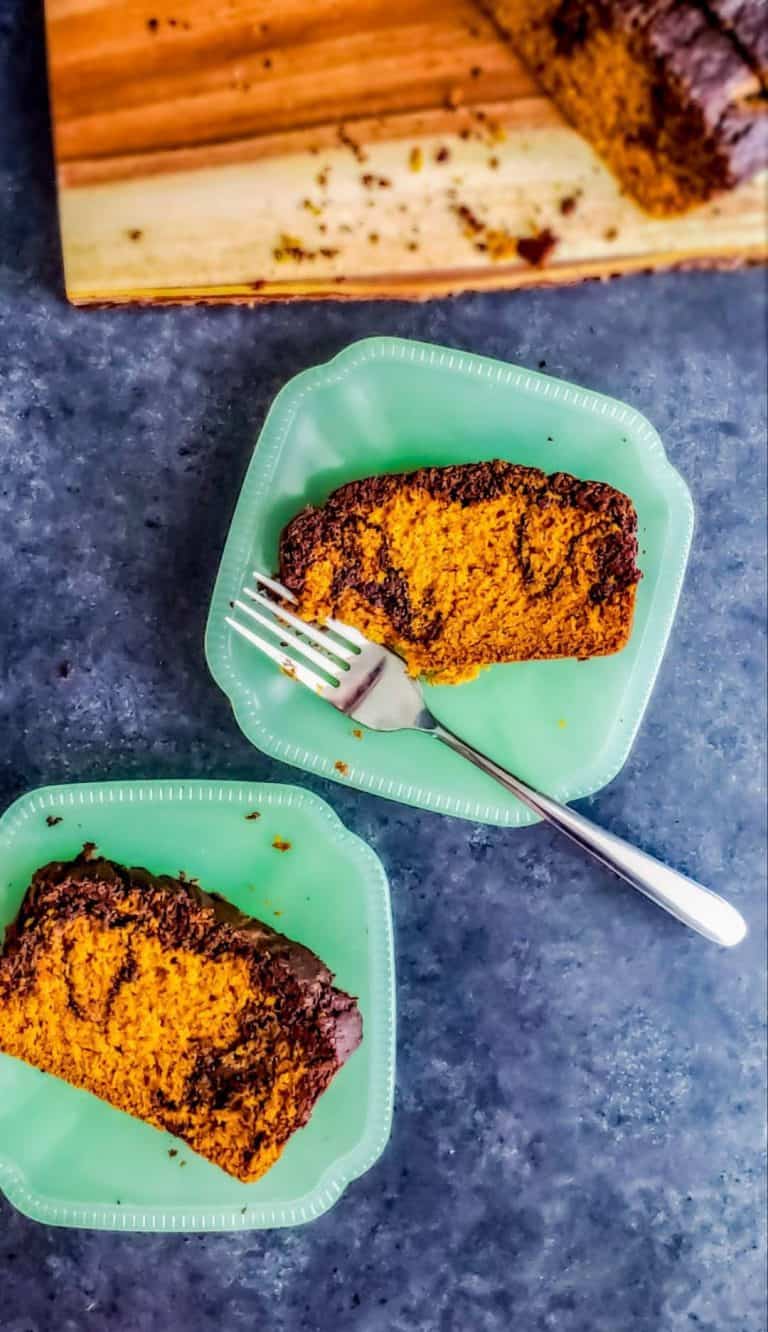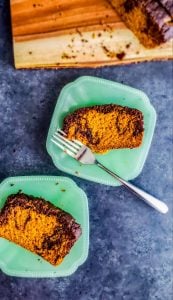 Tips For The Best Pumpkin Bread Recipe
Pumpkin Bread Tip: Sugars 
First, I like to use a combination of granulated white sugar and brown sugar. I tend to see in a lot of recipes that people usually use one or the other. I like to combine them, because why the heck not?! Personally, I like the texture this pumpkin spice bread gets when using mostly brown sugar as my sweetener. That being said, I have found that if I ONLY use brown sugar the pumpkin bread comes out with too much of a brown sugar taste. Now, I could probably add some more spice, but I have found by swapping out a little brown sugar for white sugar does the trick.
Also, if you are into alternative sweeteners I have used the Lakanto Classic Monkfruit Natural Sweetener and the pumpkin spice bread comes out just as amazing! I don't use it in the recipe because I understand it is not as readily available, but if you prefer it go for it!
Pumpkin Bread Tip: Chocolate
Third, the addition of the dark chocolate adds the perfect amount of sweetness. I like to use the Ghirardelli brand personally, but whatever you have access to will work. Just make sure that you are using a dark or bittersweet chocolate when making this easy pumpkin bread recipe. Even if you aren't a big dark chocolate fan (like my husband) the pumpkin and spices will come through and compliment it. It won't be like you are just eating dark chocolate on its own. The dark chocolate adds a subtle flavor and I promise it's bomb.
Also, milk chocolate is a definite no for this recipe. The flavor is too sweet, and will fight with the other spices and it will be a mess. If you hate dark chocolate or do not eat it then maybe give semi-sweet a try. Also, no white chocolate. I don't think I need to explain why, just please don't.
Pumpkin Bread Tip: Baking and Prep
Moist is the best word to describe this homemade pumpkin spice bread. I know tons of people hate the word moist, but really we are talking about bread so it's okay in this situation. This bread is super moist because of the whisking of the butter and sugars first. I think the texture comes out so much better when you mix all the ingredients slowly and separately.
It is also important to not over-bake this bread. This is a rule in all baking, but it is especially important with bread, and loaf cake. I recommend setting your timer 5 minutes under the recommended cooking time to ensure the pumpkin bread doesn't over bake. For example, my pumpkin spice bread usually takes 60 minutes exactly to reach the optimal texture. Also, I like to cover the pumpkin bread halfway with some aluminum foil so the top doesn't get to brown and dried out.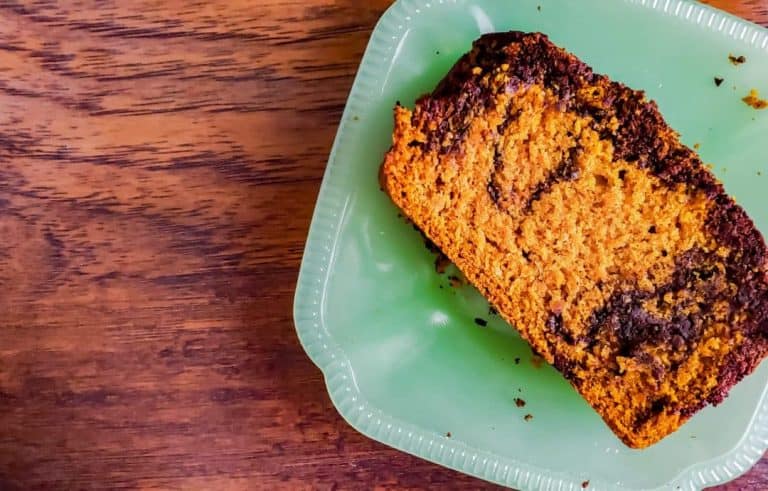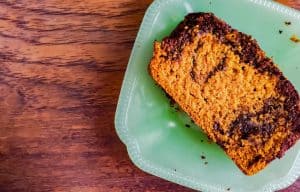 Love Sweets? Try These Next!
Gooey Chocolate Fudge Brownies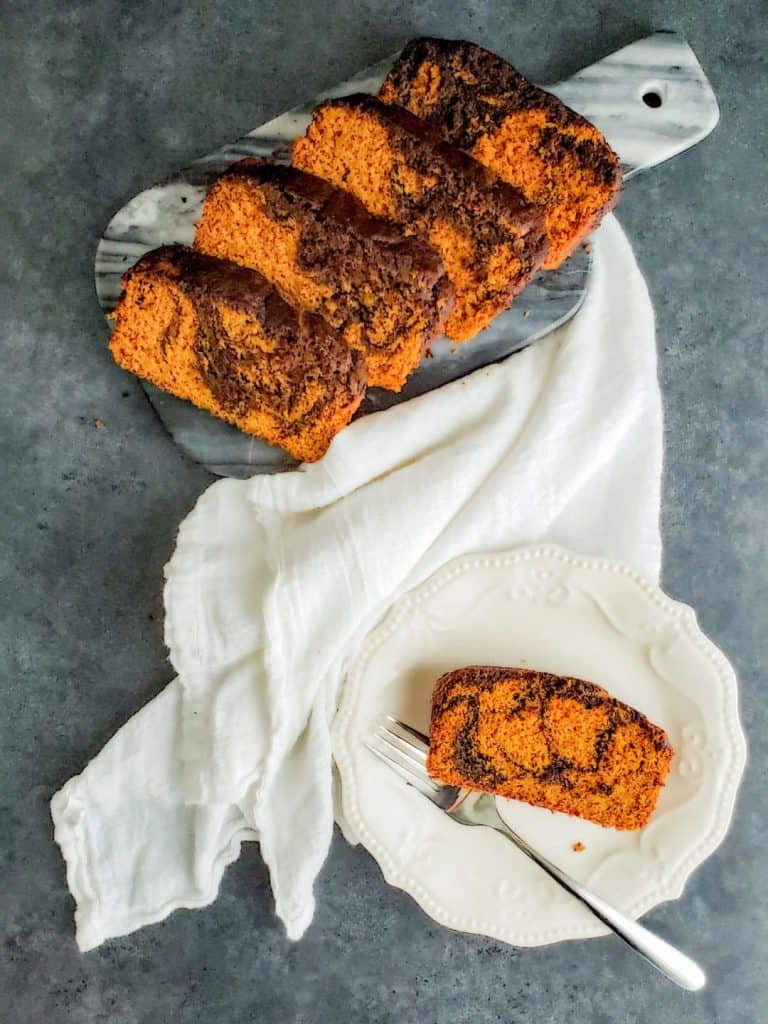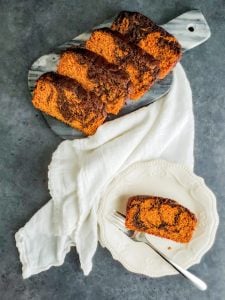 Storing Leftover Chocolate Pumpkin Bread
Store leftover pumpkin spice bread at room temperature for up to 5 days. You can enjoy the bread at room temperature, or warm in the microwave for 10-15 seconds and eat it nice and toasty! Add some butter on top to take your pumpkin bread to the next level. Also, you can freeze homemade pumpkin bread for up to 3 months. To freeze the bread wrap it tightly in foil, then place in a freezer bag. Re-warm in microwave until warm.
Story-time: Fall Tradition
I have so many great memories of digging into some of my mom's pumpkin bread growing up (her's was seriously the best pumpkin bread recipe ever). This Fall, my son is around 15 months old so unlike last Fall, when he was just a squish, we can do a lot more things! Apple picking, roasting marshmallows, hayrides and of course eating all the Fall goodies!
This was the first time I made this pumpkin spice bread for my son, Theo, and he LOVED it. He honestly finished his bread and then came and snatched the ones I was shooting for these pictures! I always know I have a good recipe when my son gobbles it up. I feel like kids are some of the toughest critics, because they are brutally honest. Luckily, he didn't spike this pumpkin spice bread one on the floor!
One of my favorite things right now is getting to share things from my childhood with my son. It makes me so happy watching him love things as much as did! I can't wait to make this bread with him every year and create another basic pumpkin spice loving human! I hope your family loves this easy pumpkin bread recipe as much as ours!
Happy Eating!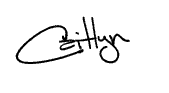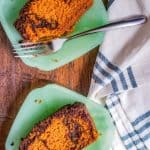 Print Recipe
Pumpkin Spice Loaf Cake with Dark Chocolate Swirl
The perfect Fall dessert recipe! An amazing combination of pumpkin, spices and dark chocolate! This Pumpkin Spice Loaf Cake recipe with make you wish Fall was all year round. Enjoy!
Ingredients
1 1/2

Cups

All Purpose Flour

1

Tsp

Baking Soda

1

Tsp

Baking Powder

1

Tbsp

Pumpkin Pie Spice

1/4

Tsp

Salt

3/4

Cup

Brown Sugar

1/4

Cup

Granulated White Sugar

1/2

Cup

Unsalted Butter

Softened

1/2

Tsp

Vanilla Extract

1

Cup

Canned Pumpkin

2

Eggs

1

Cup

Dark Chocolate Chips
Instructions
Preheat the oven to 325 degrees. While the oven is preheating, combine flour, baking soda, baking powder, pumpkin pie spice and salt in a medium sized bowl and stir to combine. Set aside 

In a large bowl, combine softened butter, brown sugar, and white sugar. Using a hand or stand mixer, use the whisk attachment to combine the butter and sugars together, about 2 minutes.  

Once the butter and sugars are combined, add in the vanilla extract and canned pumpkin. Continue to mix until combined, about 1-2 minutes.* Then add in the eggs and continue to mix until the batter is smooth. Once smooth, slowly add in the dry ingredient mixture and mix until smooth and combined. 

Melt the dark chocolate chips in the microwave for 30 seconds then stir. Continue to melt them in 10 second intervals until chocolate is smooth and completely melted. 

In a greased 8x4 loaf pan pour in pumpkin spice batter and melted chocolate. You could alternate them in the pan, or pour in the pumpkin spice batter then the chocolate over top. Gently scoop and stir the batter and chocolate together so they begin to swirl. Try not to over-do it or the batter is going to just turn out brown. 

Bake for 60-70 minutes on the middle rack until an inserted toothpick comes out clean. I also like to cover the pumpkin spice loaf with foil half way through so the top doesn't get too brown. Once finished enjoy warm! 
Notes
*After I whisk the butter and sugar together I like to switch to the paddle attachment on my stand mixer for the remainder of the mixing. If you do not have that option, just continue to use the whisk attachment. 
Nutrition
Calories:
271
kcal
|
Carbohydrates:
35.6
g
|
Protein:
4.3
g
|
Fat:
13.6
g
|
Saturated Fat:
8.2
g
|
Cholesterol:
57
mg
|
Sodium:
203
mg
|
Potassium:
152
mg
|
Fiber:
1.4
g
|
Sugar:
18
g
|
Calcium:
40
mg
|
Iron:
1.8
mg