These Gooey Chocolate Fudge Brownies are simple to make and are great for bake sales of the holiday season. Topped with a beautiful (and tasty) duo of semi sweet and white chocolate glaze these won't last long in your home!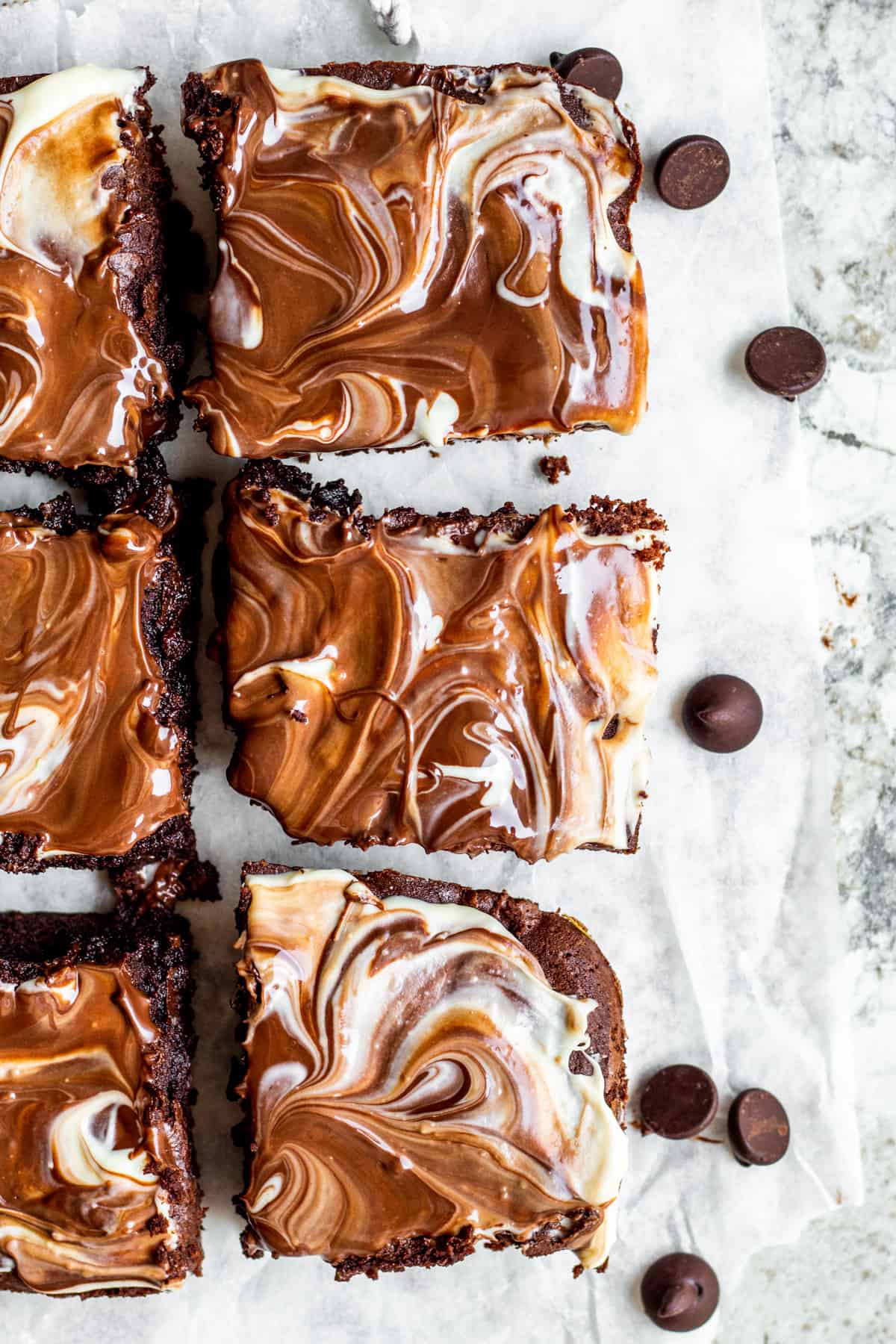 These gooey chocolate fudge brownies are rich, indulgent and have the perfect texture. These are screaming to be paired with come cold vanilla ice cream or whipped cream. The brownies require not special tools or ingredients and are perfect for the beginner (or advanced) baker.
I love baking chocolate fudge brownies for bake sales, potlucks, holidays, baby showers, or just because I want some chocolate in my life. The brownies are topped with a homemade chocolate glaze for the ultimate chocolate combination.
Ingredient Notes
Chocolate Chips: I prefer to use dark chocolate chips to really make these brownies have a deep and indulgent flavor. You can substitute any chocolate chip of your choice (milk chocolate, semi-sweet or even white chocolate) if you wish. If you cannot find chocolate chips in your area you can also chop up a bar of chocolate and use that.
Baking Chocolate: For the chocolate drizzle make sure to use a baking chocolate, chocolate wafers or melting chocolate. Using chocolate chips will not work as the chocolate melt differently and does not set as firm. I used white chocolate and semi-sweet chocolate for a three chocolate combo, but again any baking chocolate can be used.
Why These are a Must-Make!
Easy Prep: Nothing Fancy Needed & Beginner Baker Friendly
Great for Sunday Baking, Baby Showers, Bake Sales, Holiday & More
Features Three Different Chocolate for a Rich & Indulgent Flavor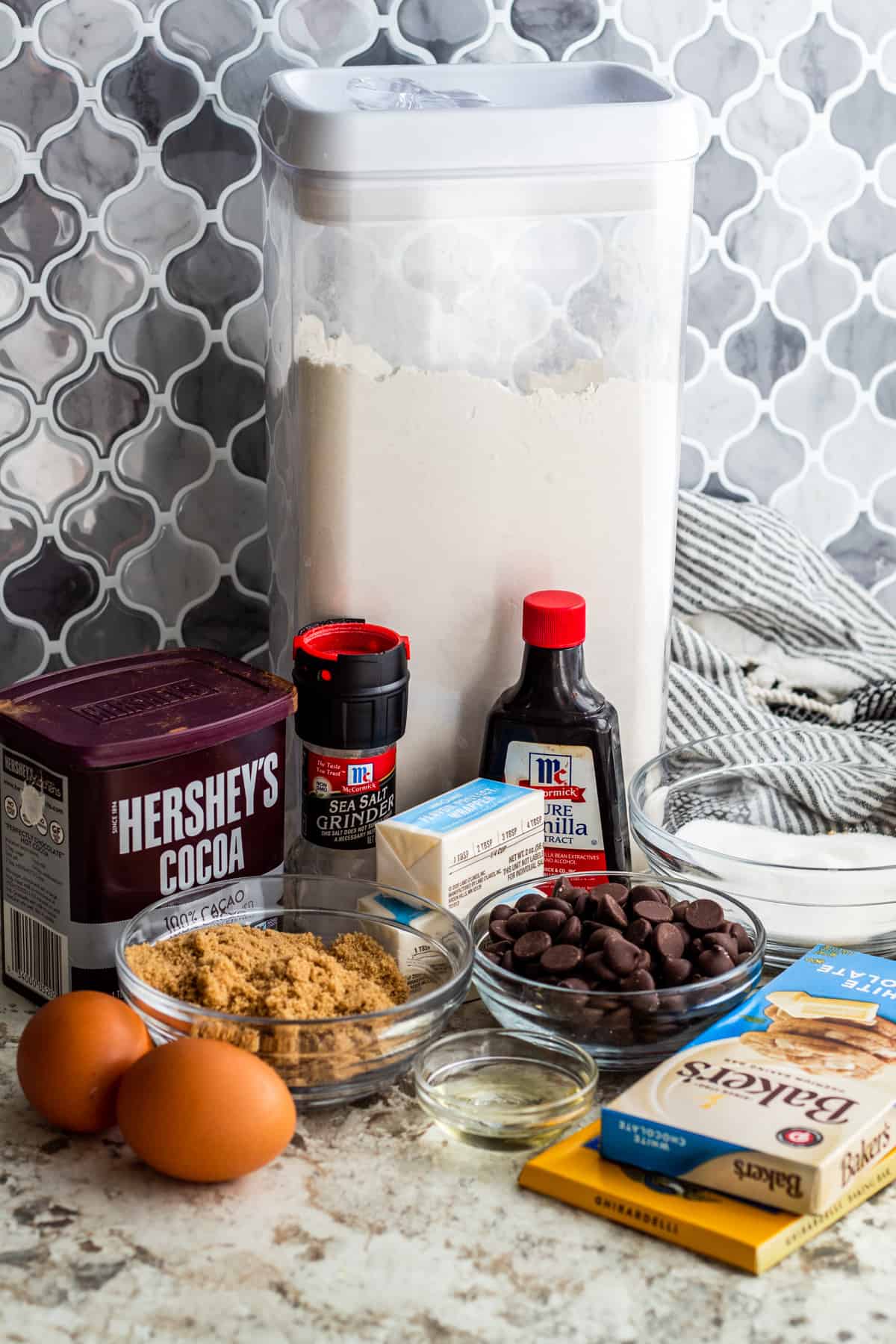 Instructions
Batter Prep
Add flour, unsweetened cocoa powder and salt to a large bowl and stir to combine, set aside.
In separate large bowl, add the sugars and melted butter. Use the whisk attachment of a hand of stand mixer and combine on low speed for at least 2 minutes.
Add in the eggs, vanilla extract, and oil then continue to mix until very well combined for an additional 2 minutes.
Use a sifter to sift the dry ingredients into the wet ingredients.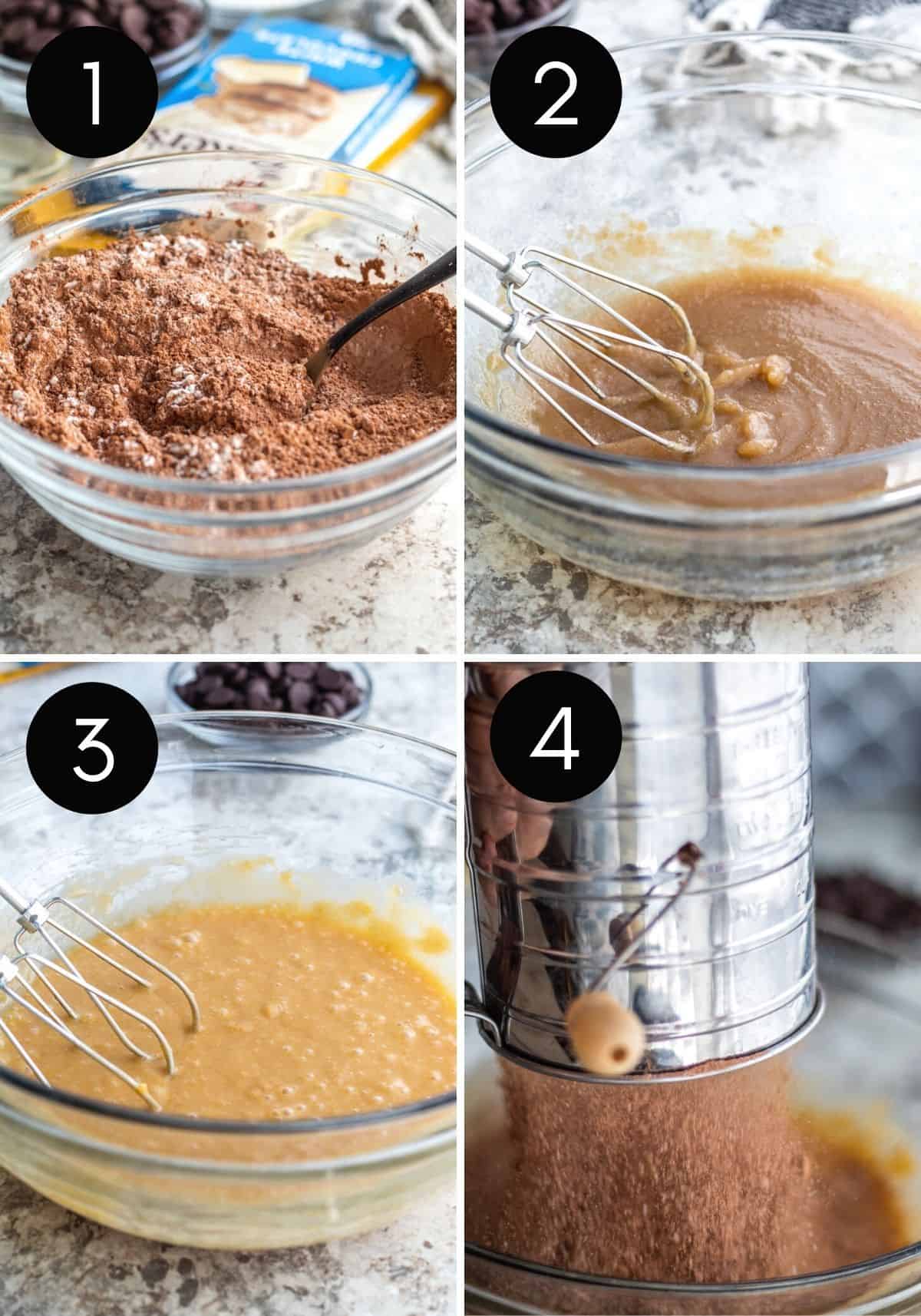 Baking
Gently fold in the dry ingredients with a large spoon or spatula. Be sure not to over mix.
Add in the chocolate chip and fold in until just combined.
Add brownie batter to a greased (or parchment paper lined) 8x8 inch baking pan. Spread the batter into and even layer then bake on the top rack of a preheated oven (350 degrees F) for 20-25 minutes.
Once the brownies are just begging to crack around the edges and the middle is set and not jiggly you know they are finished. Remove from oven and let cool, then top with chocolate topping.
Storing Leftover Brownies
Store leftover chocolate fudge brownies covered in an airtight container or bag at room temperature for up to 5 days. You can enjoy at room temperature or re-warm in the microwave for that just out of the oven feel.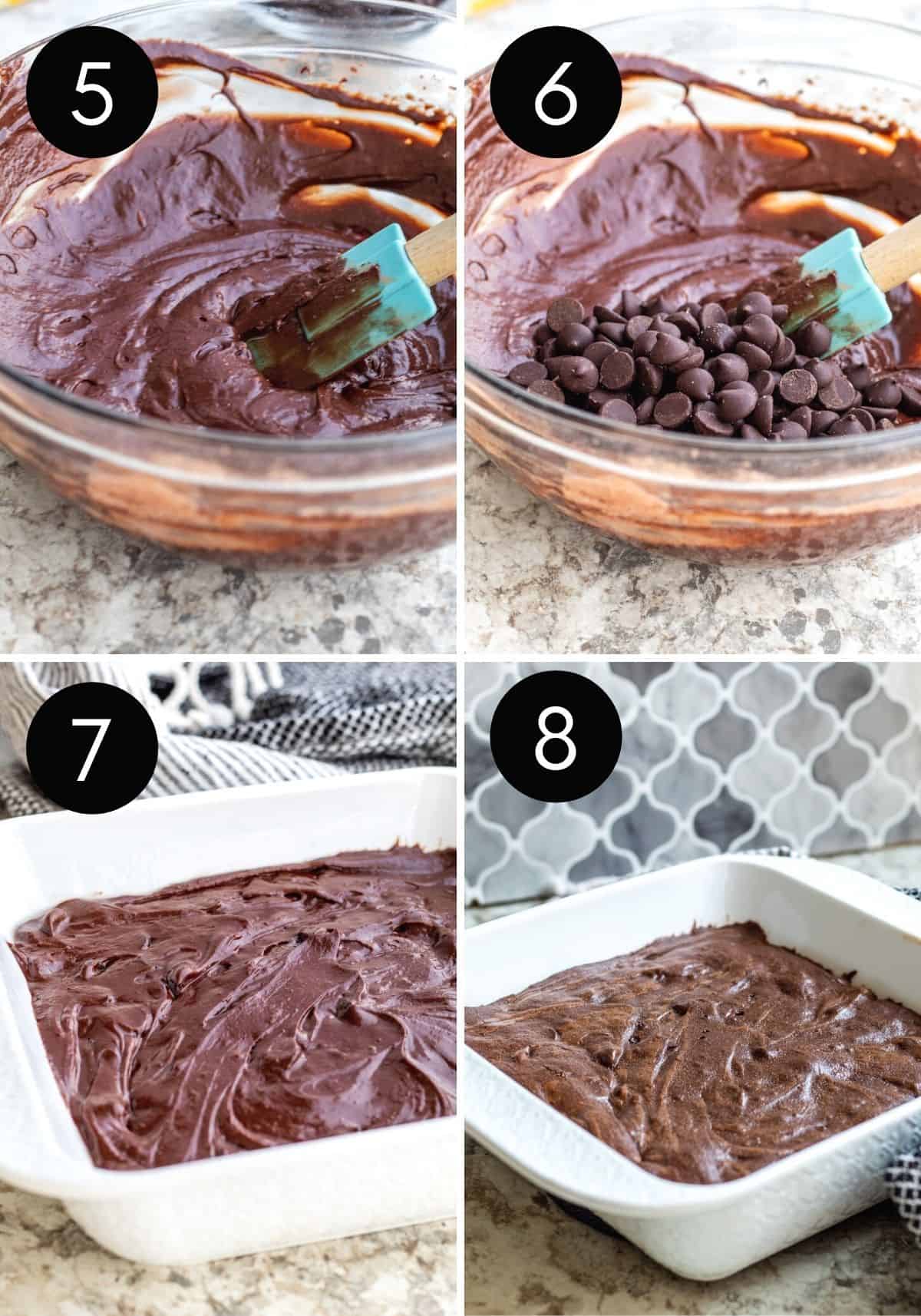 Chocolate Drizzle Topping
Add white chocolate and semi-sweet chocolate in separate small microwave-safe bowls. Microwave about 20 seconds, stop to stir the chocolate, and then add an additional 10 seconds at a time until the chocolate is warm and completely melted.

The white chocolate will take longer to melt.
Once brownies are cool, drizzle over each chocolate on top with a spoon. I like to sporadically drizzle mine in no particular pattern.

Use the

spoon to gently swirl the two chocolates together.
Once finished, use a sharp knife to slice the brownies and enjoy. I never wait to dig in until the chocolate is completely set, but you can if you wish.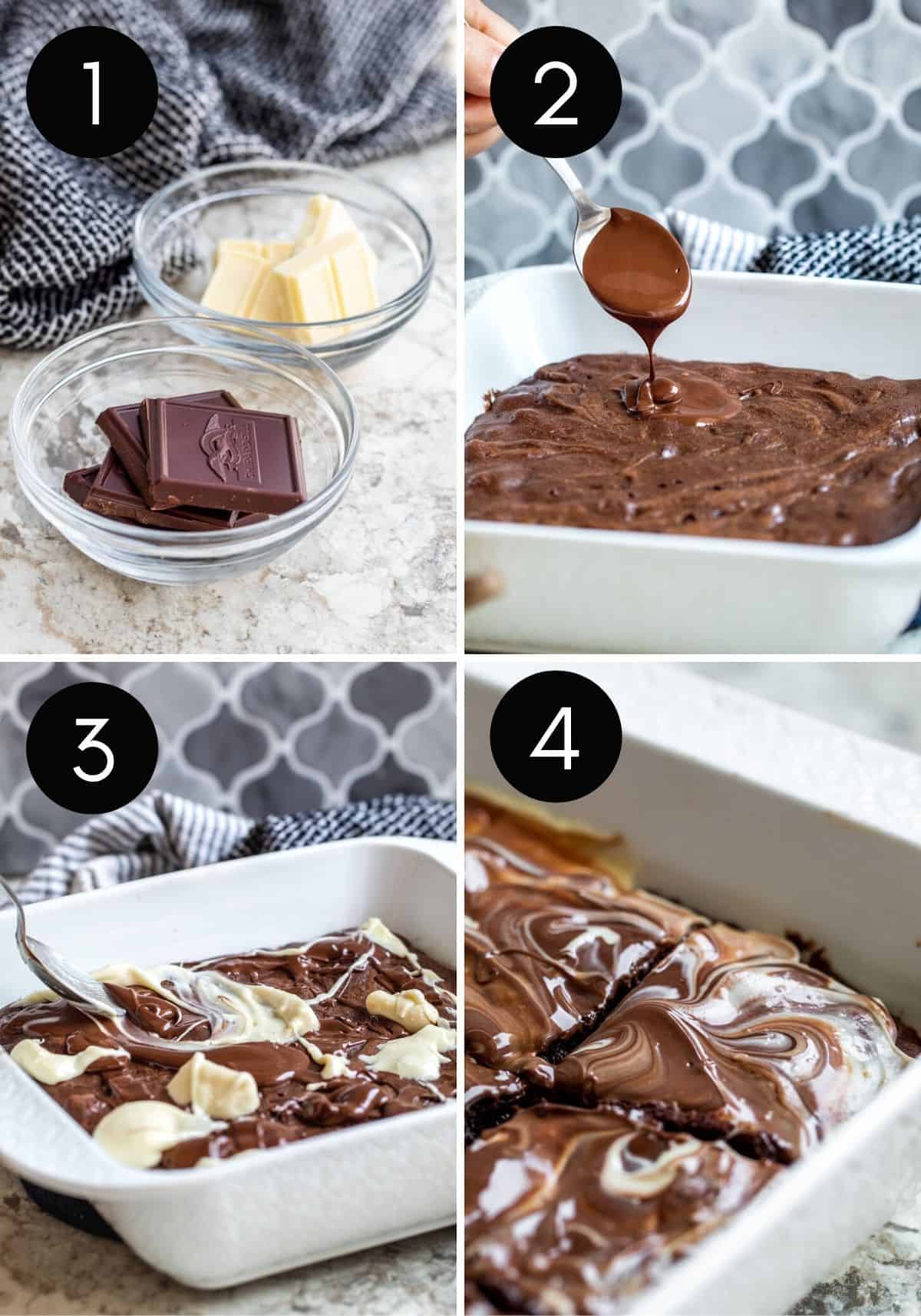 Pro Tips
Whisk, Whisk: For the perfect chocolate fudge brownie you want to whisk the butter and sugars together. When you whisk the sugars and melted butter you want to do this for AT LEAST two minutes. This helps the brownies from going flat.
Fold In: Fold in the dry ingredients with the wet ingredients. We are going for fudgy brownies and not cakey brownies, so it is important to not over-mix the batter. If you whisk the batter too much air will get in and make the texture more cake-like.
Don't Overbake: The third little nugget of information is to not over-bake the chocolate fudge brownies. It is better to under-bake these, so I always set my timer a couple of minutes less than I think I will need to avoid burn-age. If you are using the tooth-pick trick you want it to come out dirty. It won't be runny like the batter, but also not clean. When the outside edges are just beginning to crack and the middle is set and not wiggly, pull them out.
Optional Add-Ins
You can add in dried fruit, or chopped nuts to add another flavor dimensional to your brownies. I usually cut the chocolate chips in half and replace them with my add in of choice.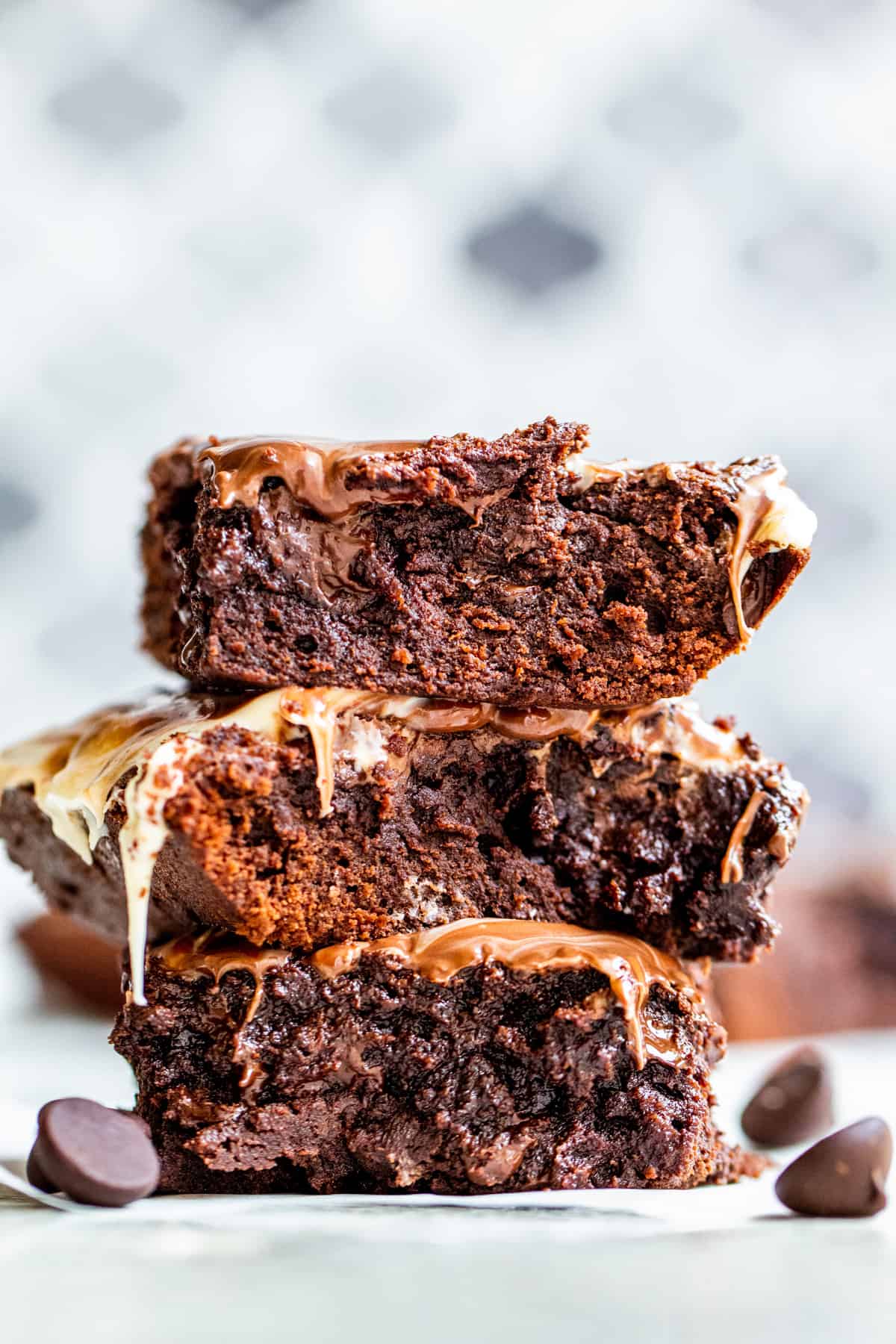 FAQS
What makes brownies fudgy vs cakey?
Basically fudgy brownies have a higher fat-to-flour ratio than cakey brownies. This means they have more butter and chocolate added into them. Where as cakey brownies have more flour and use baking powder for leavening.
Can brownies be frozen?
To freeze brownies, let cool completely and wrap in foil. Next, add them to a freezer safe bag and store in the freezer for up to 3 months. When ready to eat them let them defrost in the fridge, or microwave on the defrost setting for 1-2 minutes.
How do you know when gooey brownies are done?
When finished, the edges of the chocolate fudge brownies will be visibly baked through and start to crack. The center will be set and not jiggly when you move the pan.
Prep Ahead
Brownie batter can be made up to 24 hours ahead of time. Prep the batter according to the recipe instructions then store in a large prep bowl with a lid in the fridge. Follow the recipe when you are ready to bake the brownies and top with the chocolate topping.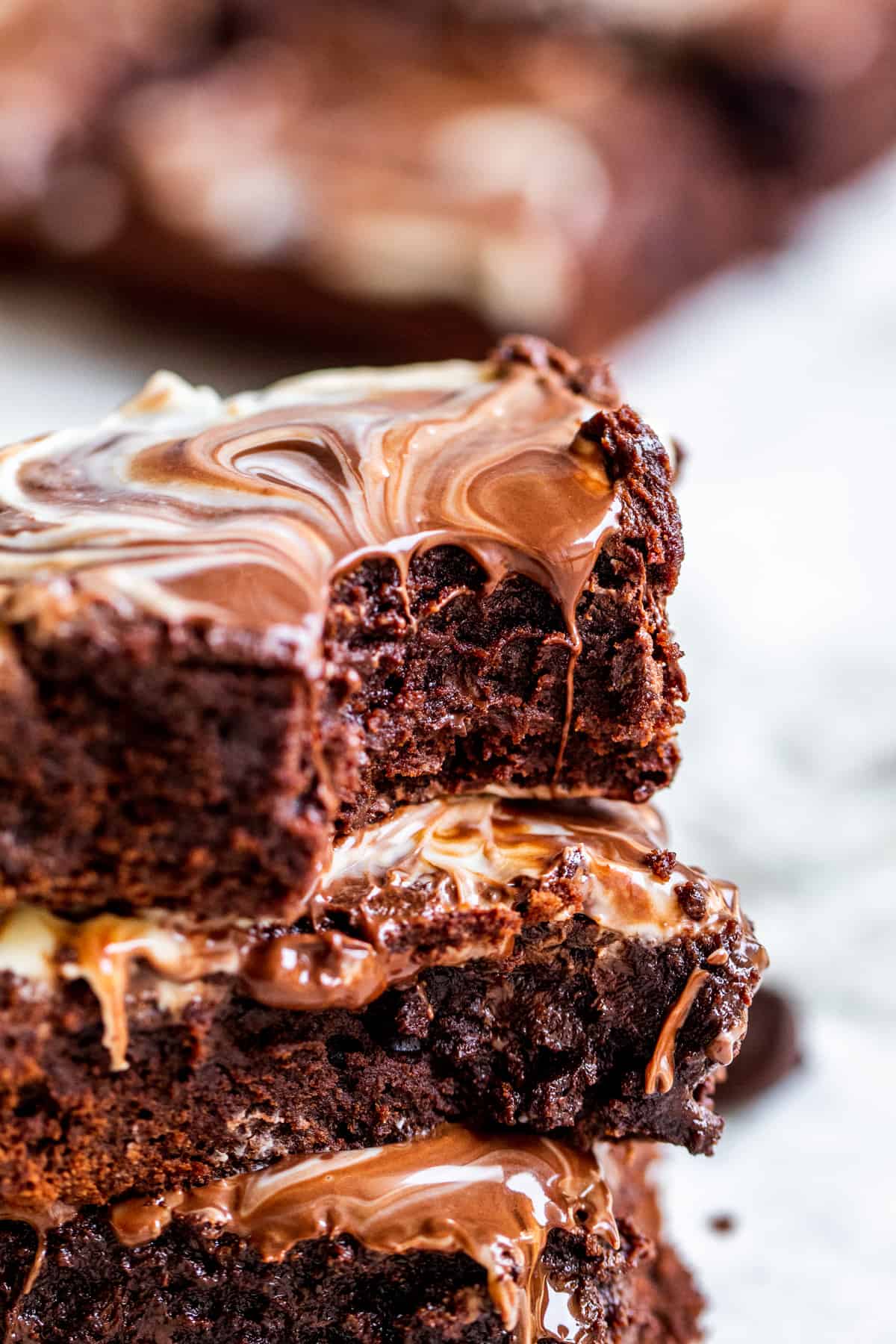 You May Also Enjoy...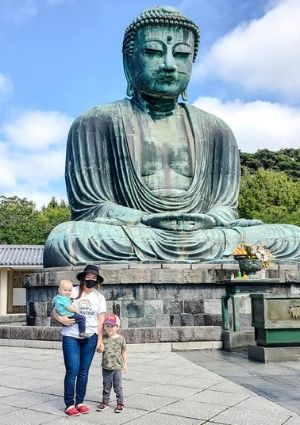 Happy Eating!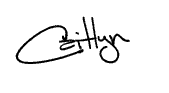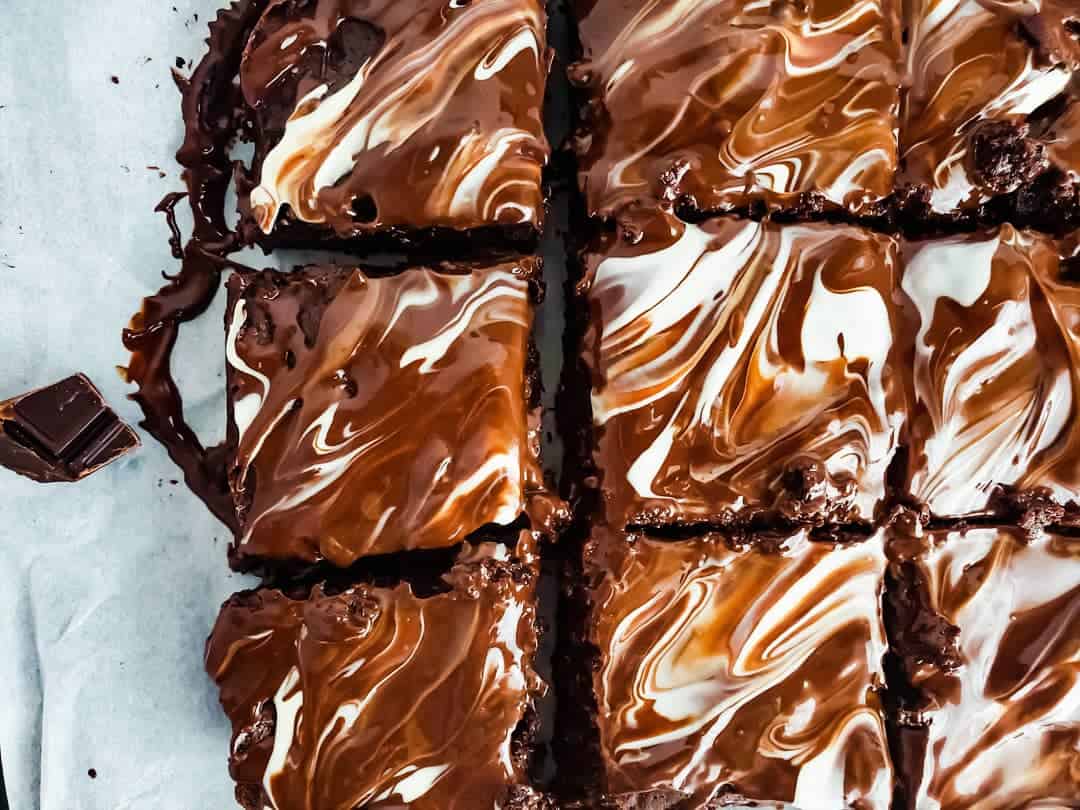 Gooey Chocolate Fudge Brownies with Chocolate Drizzle
The BEST fudge brownies out there! The perfect combination of chocolate that will leave you wanting more!
Ingredients
Chocolate Fudge Brownies
½

Cup

All Purpose Flour

½

Cup

Unsweetened Cocoa Powder

¼

teaspoon

Salt

½

Cup

Brown Sugar

½

Cup

Granulated White Sugar

1

teaspoon

Vanilla Extract

½

Cup

Unsalted Butter

Melted

1

tablespoon

Olive Oil

2

Eggs

1

Cup

Dark Chocolate Chips
Chocolate Drizzle
2

Oz

Semi-Sweet Baking Chocolate

2

Oz

White Baking Chocolate
Instructions
Chocolate Fudge Brownies
Preheat oven to 350 degrees. While the oven is preheating, combine flour, unsweetened cocoa powder and salt in a medium sized bowl and set aside.

Combine the melted butter, brown sugar, and granulated sugar in a large bowl. Using the whisk attachment mix with a hand or stand mixer on medium for 2 minutes. Add in the eggs, olive oil and vanilla extract and continue whisking for another 2 minutes.

Sift the flour, unsweetened cocoa powder and salt. Fold in the sifted dry ingredients and the chocolate chips with the sugars, butter, oil. eggs and vanilla extract mix until just combined. Do not over stir!

Pour batter into a 8x8 parchment paper lined pan and cook on the top rack for 20-25 minutes.* Once brownies are finished let cool then drizzle with melted chocolate. Cut into 9 large brownies and enjoy.
Chocolate Drizzle
Place the white chocolate in a small bowl and microwave on high for 30 seconds. Remove and stir and microwave an addition 10 seconds if not completely melted. Repeat this process with the semi-sweet chocolate in a separate bowl.

Immediately drizzle the warm chocolates over the cooked and cooled brownies and use a butter knife or spoon to swirl them together.
Notes
Bake Time: I find that cooking these at 23 Minutes gets me the best results. You may need to cook the brownies a little more or less depending on your oven. Add-Ins: Also, if you would like to tone down the chocolate swap out the chocolate chips for sliced almonds, dried fruit or walnuts! You could also add on a caramel drizzle to the top! Leftover Storage: Store leftover brownies in an airtight container for up to 5 days at room temperature.
Nutrition
Serving:
0
g
Calories:
274
kcal
Carbohydrates:
34.4
g
Protein:
5.1
g
Fat:
15.3
g
Saturated Fat:
8.5
g
Cholesterol:
50
mg
Sodium:
85
mg
Potassium:
105
mg
Fiber:
1.8
g
Sugar:
23.6
g
Calcium:
20
mg
Iron:
1.8
mg
See What We Are Pinning!
Follow erhardtseat1 to see all the food!