This S'mores Cookie Recipe is the perfect treat all year round when you are craving the classic campfire treat with less mess. These cookies are chewy and ready in under 30 minutes with no chilling required.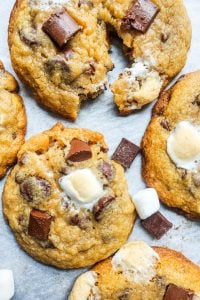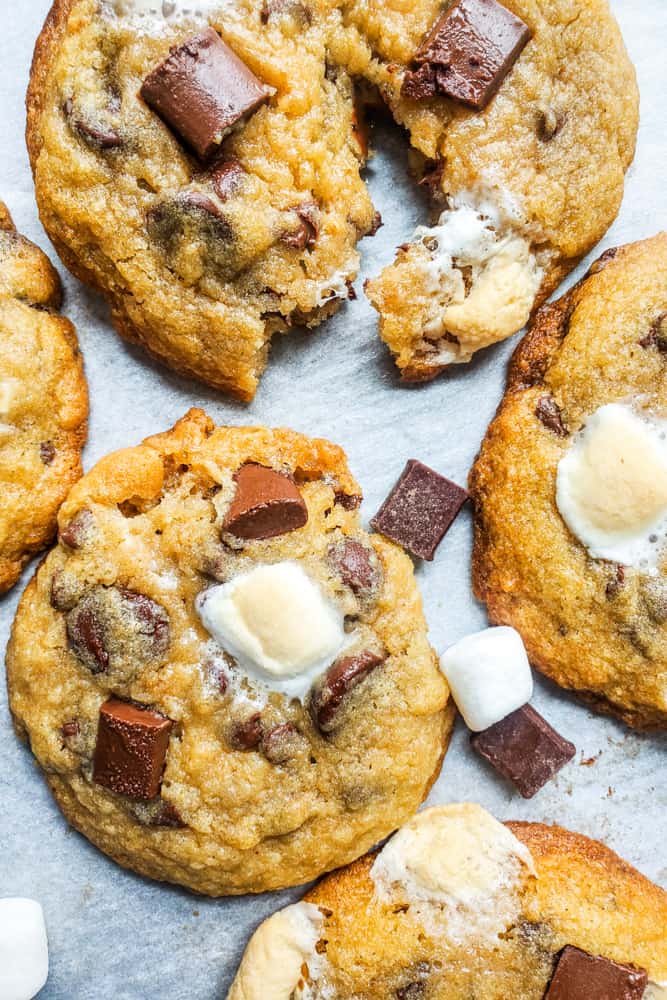 Who else is obsessed with s'mores, but not so obsessed with camping? Yeah, I would guess a lot of us! Ditch the smokey campfire and bugs and enjoy this Easy S'mores Cookies Recipe all year round. The cookies pack the classic s'mores flavor we all know and love without the mess. Plus, are quick, easy ready in under 30 minutes and require no chilling.
Also, these cookies are perfect for bake sales, treats for kids, or to bring to parties or BBQ's. Need a cookie fix, but don't have time to make an entire batch? No problem, the dough is freezer friendly and can be popped in the oven whenever your sweet tooth hits for months on end.
Ingredient Notes
Chocolate Chips

: Any chocolate chips will work, but my personal favorite are chocolate chunks. I love how you get big big of chocolate, like you would with a s'more. If you prefer you could also use milk chocolate, Hershey bars cut up, or mini chocolate chips.

Mini Marshmallows

: Make sure to use mini marshmallows an not large or jumbo ones. They will expand too much while baking and he cookies will not hold together.

Graham Crackers

: I use my blender or food processor to grind up sheets of graham crackers and add it into the cookie dough. This does not effect the texture and gives the cookies nice graham cracker flavor.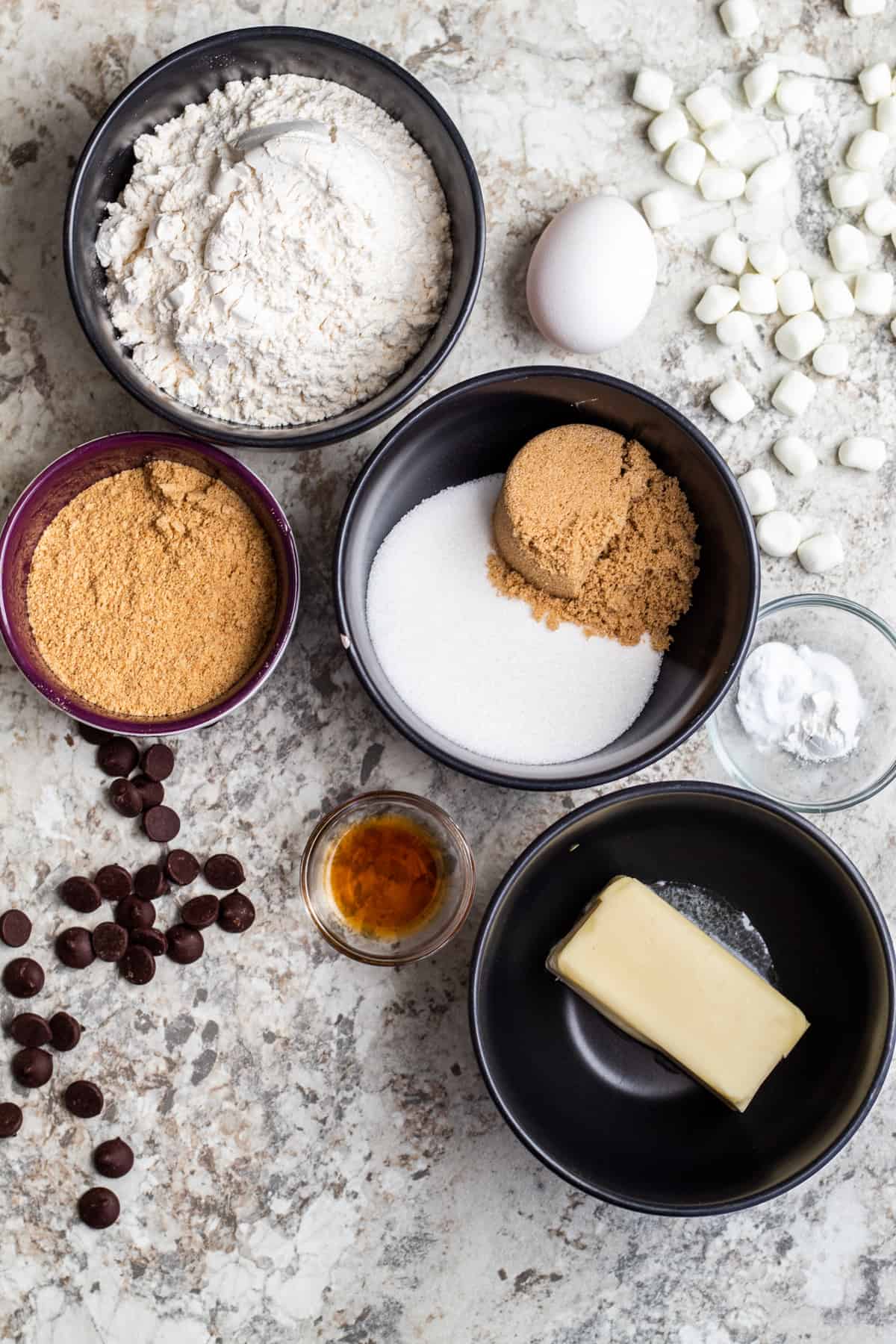 How to Make S'mores Cookies
Use a food processor or blender to grind up the graham crackers and add in a bowl with the dry ingredients and stir to combine.

In a separate bowl combine softened butter, sugars and vanilla extract and mix on low.

Add egg and continue to mix until combined.

Slowly add dry ingredients in and continue to mix until just combined.

Stir in chocolate chips and halved mini marshmallows.

Use a cookie scoop and place dough on a parchment paper lined cookie sheet.

Bake for 10-13 minutes at 350 degrees or until golden.

Remove from pan and let cool on a wire rack. Repeat until no dough remains.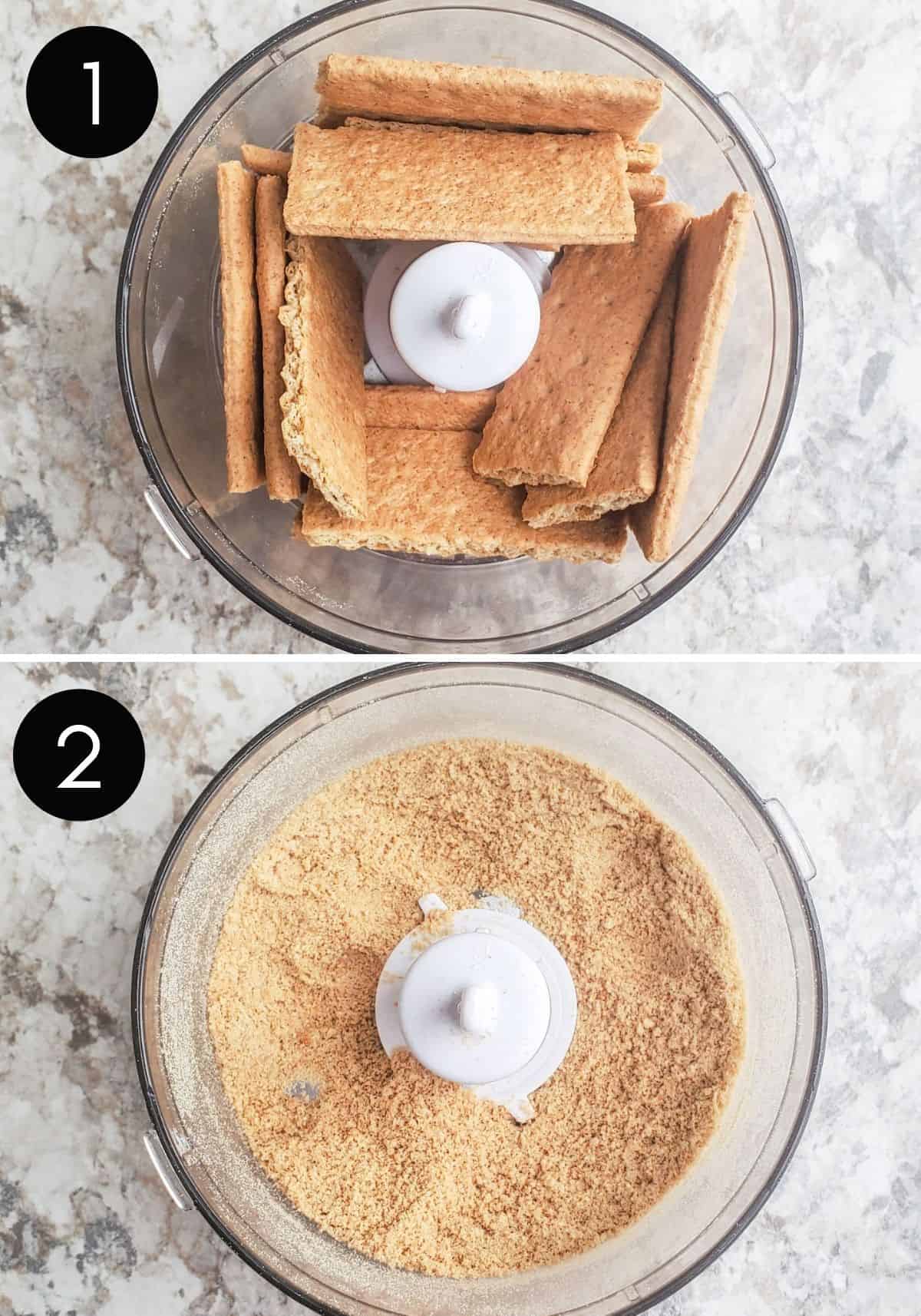 Pro Tips
Graham Cracker Tip: If you do not have a food processor or blender you can place your graham crackers in a zip-lock bag (make sure all the air is out) and smash the crap out of them with the back of a large spoon or rolling pin. The blender/food processor method is much easier, but the bag will work as well for this s'mores cookies recipe.
Marshmallow Tip: Only add half of the marshmallows to the cookie dough and reserve the rest for the tops. Marshmallows with heat, melt and expand while cooking and if they are all in the dough the cookies can break apart easily. Also, it is best to cut the mini marshmallows in half to ensure the dough will stay together while baking.
Baking Tip: Be very carful not to overbake the cookies. If you overbake them the marshmallows will completely melt and the cookies will be sticky and not have the same appearance or flavor.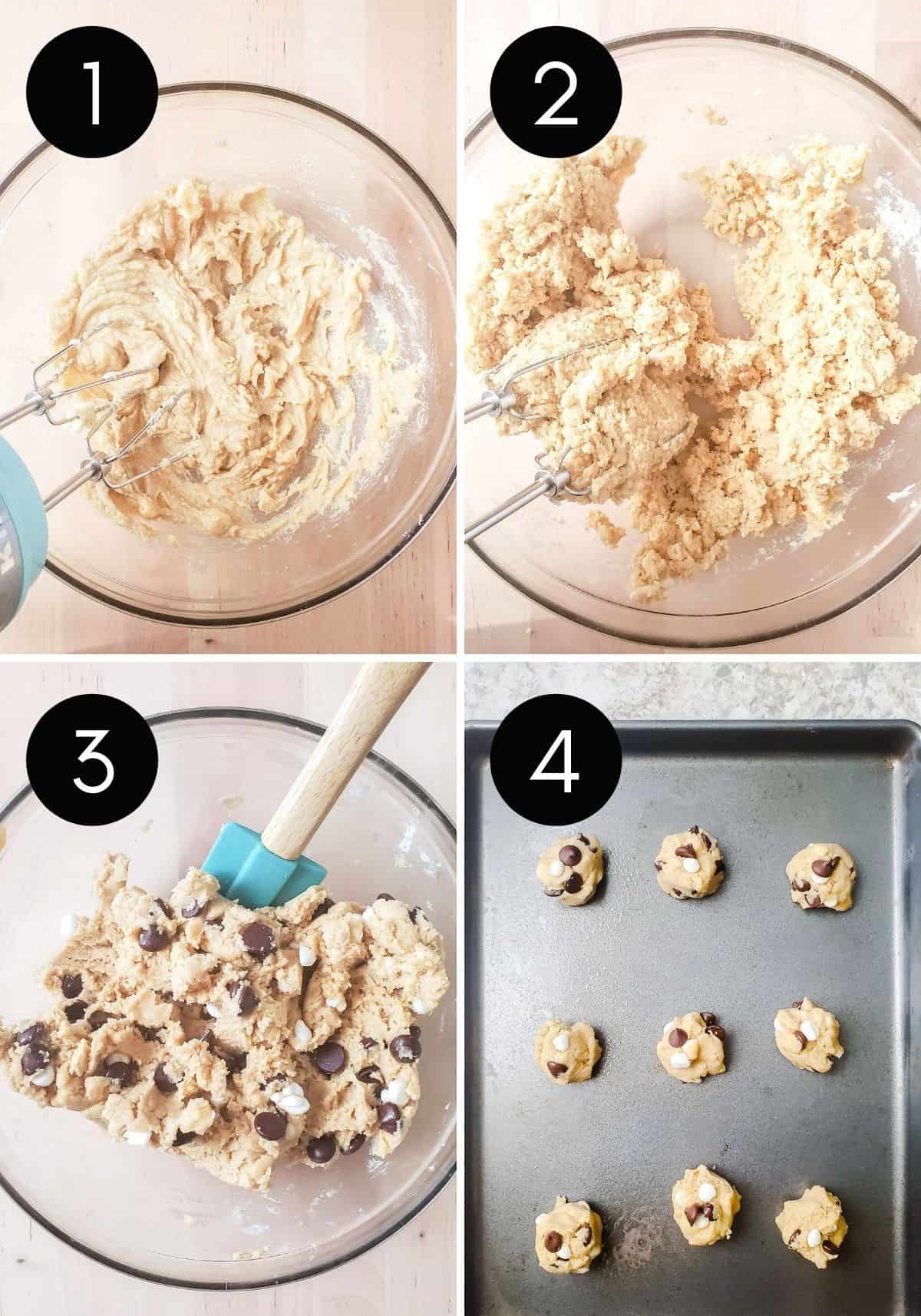 FAQS
Can cookie dough be frozen?
Yes, you can freeze the s'mores cookie dough for up to 3 months. Follow recipe instructions and scoop the cookies like you were going to bake them. Add the balls of cookie dough to a freezer bag making sure to get all the air out.
When ready to bake the s'mores cookies, follow bake temperature and time. You may need to add an additional minute or two, but set the timer for the lowest time to avoid burning them. The freezer option is great because you can bake small batching and get your cookie fix in whenever it hits!
How should leftover cookies be stored?
For best results, store leftover s'mores cookies in an airtight container at room temperature. These homemade cookies will stay fresh for up to 10 days.
Can you make cookie dough ahead of time?
Yes, you can make this s'mores cookies recipe ahead of time and store in the fridge for up to 3 days (covered). When ready to bake the cookies follow recipe instructions.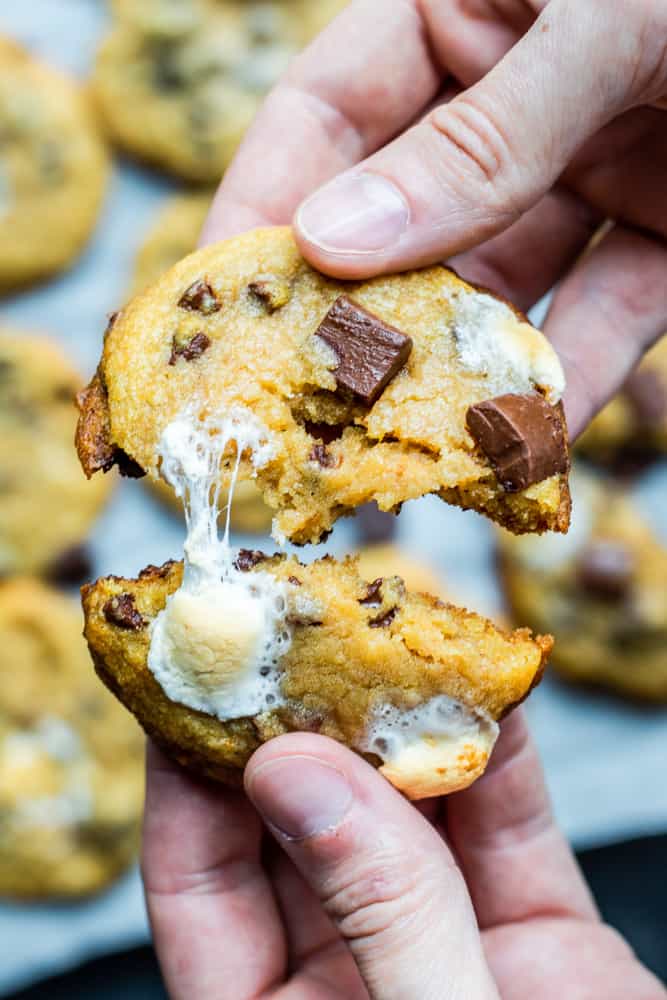 You May Also Enjoy...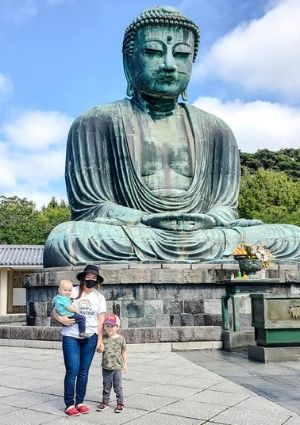 Happy Eating!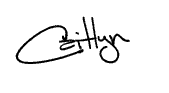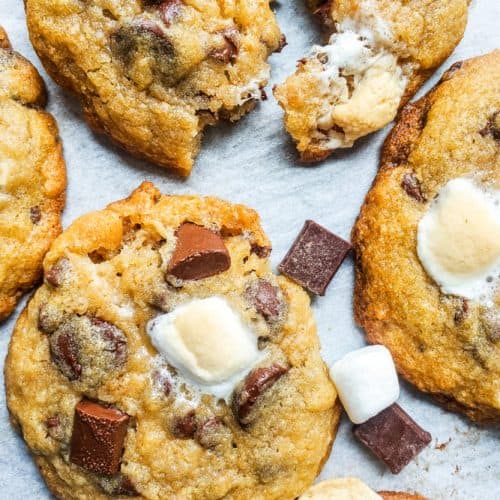 Easy Chewy S'mores Cookies Recipe
This S'mores Cookies Recipe is the perfect twist on the classic campfire summer favorite! The cookies are chewy and perfect all year round.
Ingredients
4

Sheets

Graham Crackers

1 ½

Cups

All Purpose Flour

½

teaspoon

Baking Soda

¼

Tsp

Baking Powder

¼

teaspoon

Sea Salt

1 ½

Sticks

Unsalted Butter

Softened*

½

Cup

Granulated White Sugar

¼

Cup

Brown Sugar

Packed

1

teaspoon

Vanilla Extract

1

Eggs

½

Cups

Mini Marshmallows

Halved

½

Cup

Chocolate Chips

Mini, regular or a combination*
Instructions
Preheat your oven to 350 degrees F and prepare a large baking sheet with parchment paper or cooking spray. Then slice or tear the mini marshmallows in half and set aside.

Add graham crackers to a food processor (or blender) and pulse until fine and no chunks remain. Combine crushed graham crackers, flour, salt and baking soda in a large bowl and stir to combine. Set aside.

Combine softened butter, sugar, brown sugar and vanilla extract in a large bowl and mix with a hand or stand mixer until combined. Add egg and continue to mix. Add in dry ingredients slowly until dough is combined. Finally, stir in chocolate chips and half of the marshmallows.

Scoop dough into 1-1 ½ inch balls using a cookie scoop and place on you baking sheet spacing about an inch apart Then add the remaining marshmallows on top of each ball of cookie dough.

Bake on the middle rack of the oven for 10-13 minutes until cookies are golden. Remove cookies and let cool on wire rack and repeat until all the dough is used. Enjoy warm or store when cool.
Notes
Leftover Storage: Store cooled cookies in an airtight container for up to 10 days at room temperature.
Freezer Option: Prepare dough per recipe instructions and scoop dough as if your were to bake them into a freezer bag. Store in the freezer for up to 3 months. When ready to bake follow recipe instructions.
Prepare Ahead of Time: Prepare dough up to 3 days ahead of time and store covered in the fridge until ready to bake.
Softened Butter: You can leave your butter to soften at room temperature for about an hour, or place in microwave for ~30 seconds. The butter should NOT be melted completely.
Chocolate Chips: You can use mini, regular or chunks for this recipe. I like to use a mix, since the minis help the cookie hold together better but this is not required.
Optional Topping: For some extra pop and goodness to your cookies top the raw cookie dough balls with additional chocolate chips, marshmallows and graham crackers!
Video Note: In the video I suggest chilling the dough before baking, but this is an older version of the recipe and I have since altered it to require NO CHILLING since some people were having issues with the cookies not staying together. The rest of the video features all the same ingredients with some minor changes to quantity and prep (like slicing the marshmallows) I decided to leave the video, because I thought some visual learners may still find it helpful to see the basic prep steps. Please refer to the recipe card for exact measurements and instructions.
Nutrition
Serving:
1
Cookie
Calories:
161
kcal
Carbohydrates:
23.6
g
Protein:
2
g
Fat:
8.1
g
Saturated Fat:
5.2
g
Cholesterol:
19
mg
Sodium:
121
mg
Potassium:
48
mg
Fiber:
0.5
g
Sugar:
14.1
g
Calcium:
20
mg
Iron:
0.5
mg
See What We Are Pinning!
Follow erhardtseat1 to see all the food!
Share with Your Friends and Family!