These Grilled Chicken Burgers with Guacamole and Garlic Aioli are the best, healthy summer grill recipe for all your family and friends.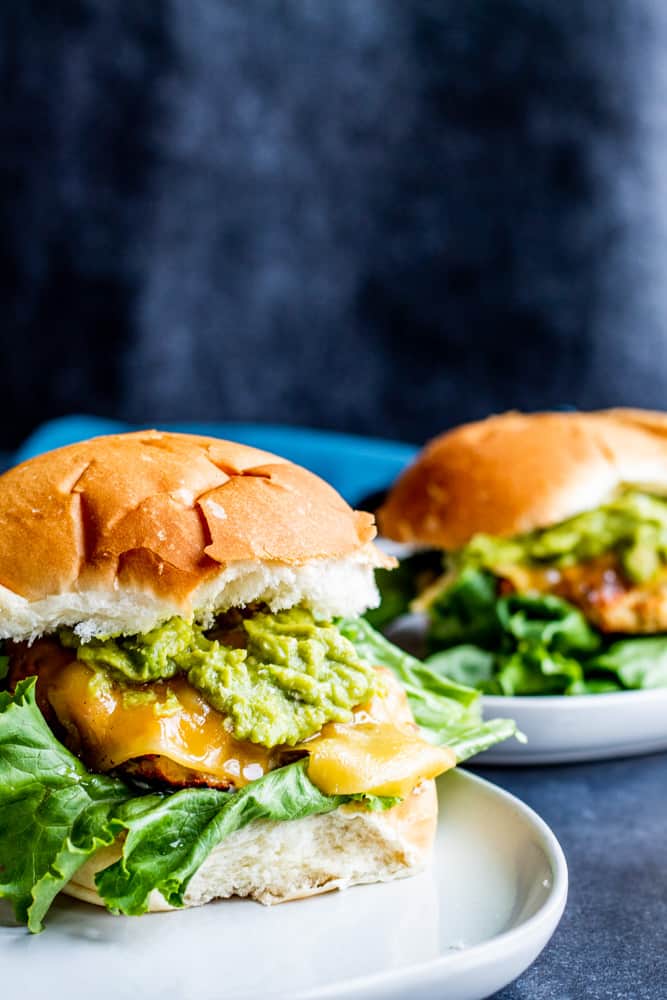 Summer is just around the corner which means grilling season is nearly among us! These Grilled Chicken Burgers are super juicy and the perfect lean and healthy grilled meat option for everyone in the family.
These juicy chicken burgers pair perfectly with guacamole and my Homemade Garlic Aioli making them stand out from the typical boring burger. Don't have a grill? No problem, this healthy chicken burgers recipe can be made on the stove top as well to be enjoyed all year round.
Kitchen Tools
A large and small mixing bowl

A good, stiff spatula (metal works best)

A charcoal or gas grill (see common questions for stove top option)

A spoon, fork and knife
Ingredients
Ground Chicken

Spices

Butter

An Egg

Bread Crumbs

Milk

Buns and Condiments
How to Make Chicken Burgers
Chicken Burgers Prep
Combine ground chicken, spices, milk, egg and breadcrumbs in a large bowl and mash together. I usually just use my hands, but if that grosses you out you can use a spoon or fork.

Form ground turkey mix into four equal size balls. Flatten out meat then place sliced butter throughout each patty and cover with additional meat so the butter doesn't leak out.

Place burgers on a hot grill and cook for 5 minutes on each side, or until meat is cooked through (165 degrees F).

Serve grilled chicken burgers with buns, cheese, suggested condiments and Garlic Aioli
Garlic Aioli Prep
Combine all ingredients in a small bowl and whisk or stir to combine. Serve with cooked Ground Chicken Burgers.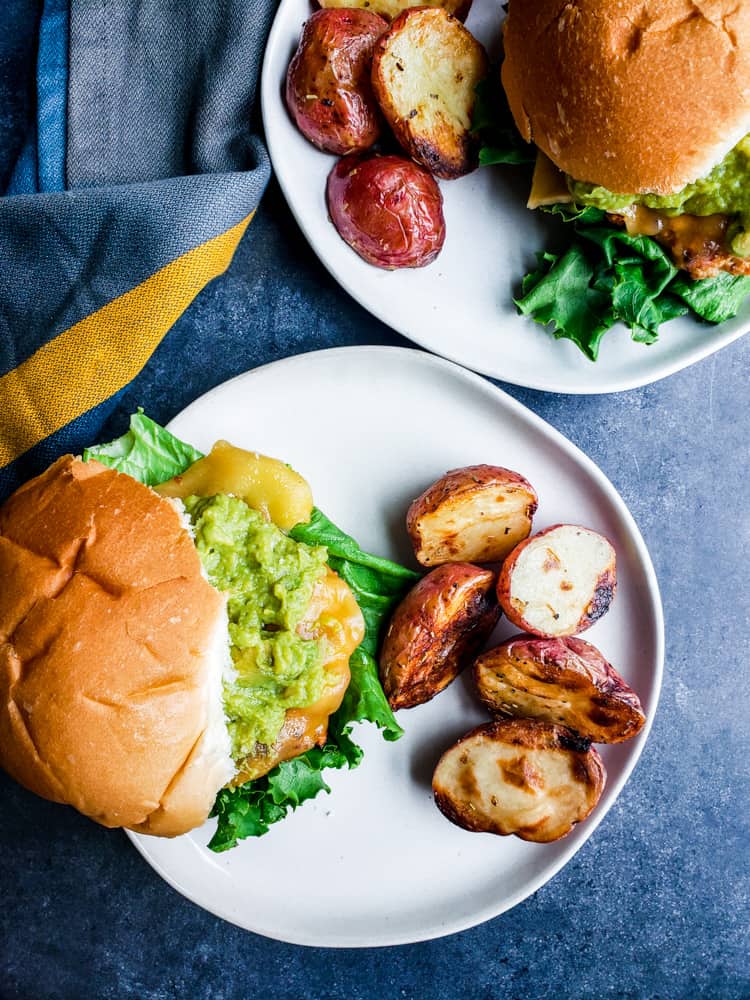 Pro Tips
Tip 1: The raw ground chicken is going to be wet and sticky, DO NOT PANIC I PROMISE THEY WILL STAY TOGETHER. The egg and breadcrumbs will glue them together, but the grilled chicken burgers will remain moist and juicy. If you add more breadcrumbs or skip the milk the meat is more likely to dry out.
Tip 2: Do your best not to overcook the chicken burgers. Use a meat thermometer and when the internal temperature reads 165 degrees take those boys off. The chicken burgers will continue to cook a little while they rest, making them safe and juicy to eat.
Tip 3: Only flip the grilled chicken burgers once. Place each chicken burger patty on a hot grill (or pan) and let them sit for 4-5 minutes, then flip and let them sit another 4-5 minutes or until cooked through. This allows the burgers to get a nice char, helps them cook more evenly, and makes the burgers easier to flip/stay together.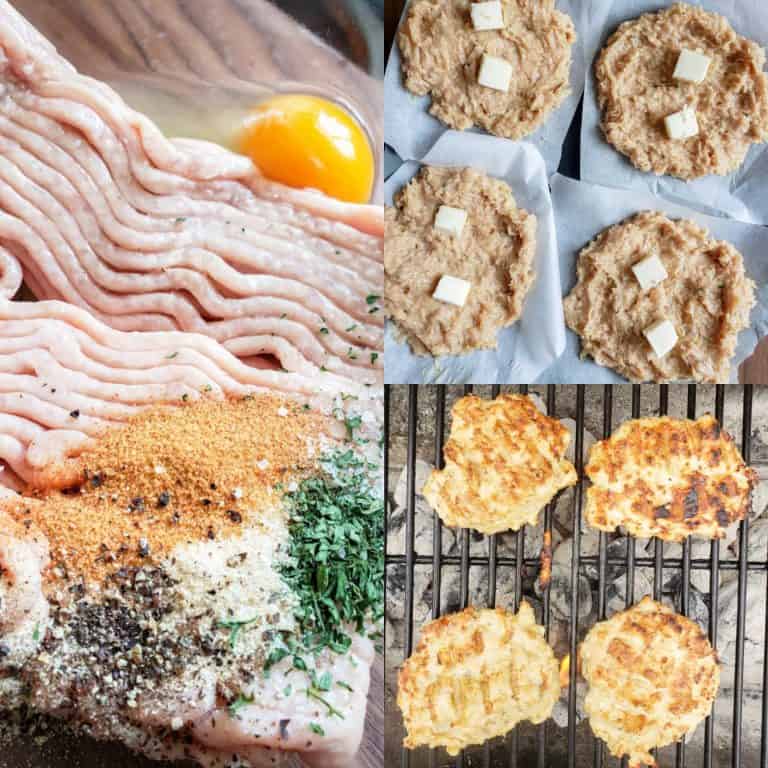 Common Questions
Can I use a different type of meat instead of chicken?
Absolutely! I love the way the ground chicken tastes and it is a healthier/leaner meat. Some other options include ground turkey or ground beef. Cooking times may vary, therefore make sure to use a meat thermometer to check the internal temperature of the burger. A vegetarian option would be to use your favorite brand of veggie burger, or a large, grilled portobello mushroom.
Can chicken burgers be frozen?
Sure! To freeze leftover chicken burgers wrap in aluminum foil then place in a freezer bag for 1-2 months. To rewarm juicy chicken burgers, place in the microwave on the de-thaw setting or until steaming and warmed all the way through. It is also best to leave the cheese off and add it when you rewarm the chicken burger.
How should leftovers be stored?
Store the leftover burgers in an airtight container in the fridge for up to 3 days. Rewarm the juicy chicken burgers in the microwave (30-60 seconds) or oven until steaming.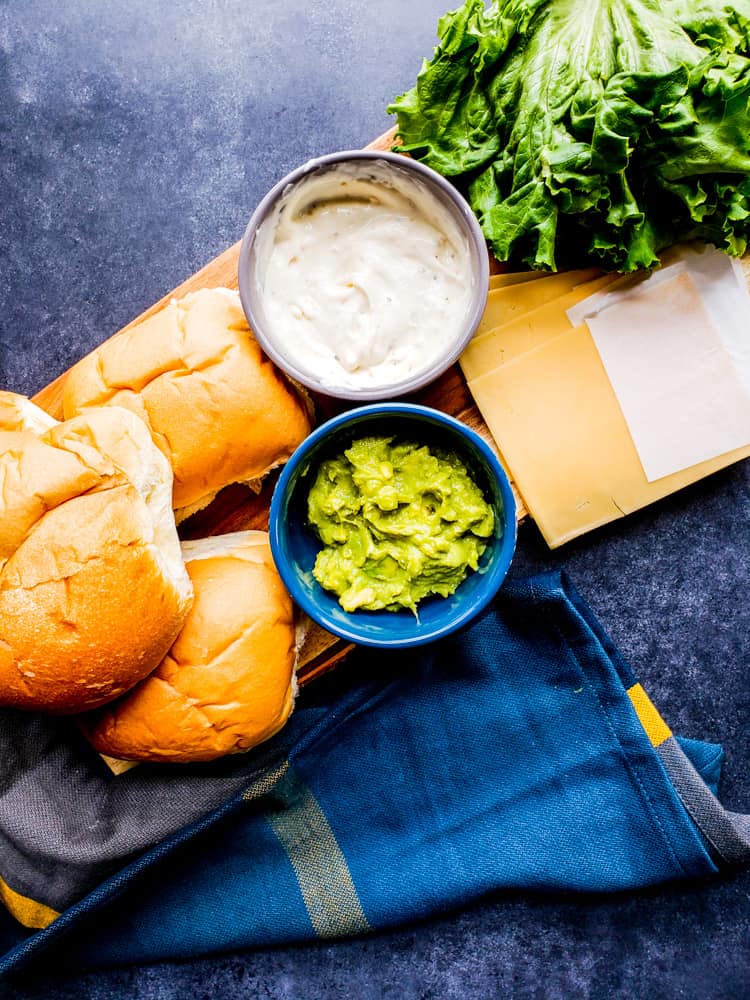 More Summer Grilling Ideas
Grilled Skirt Steak
BBQ Chicken Salad
Grilled Peaches with Honey Mascarpone
Spiedini Recipe
Lemon and Pepper Chicken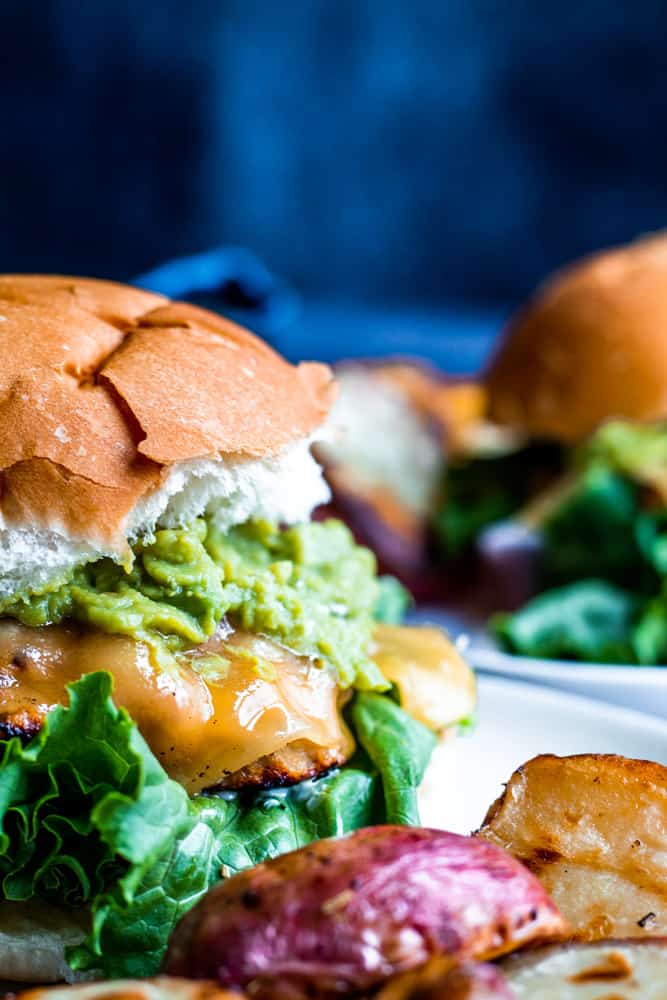 Stove Top Instructions
If you do not have a grill available, or the weather is yucky you can make this chicken burgers recipe on the stove top.
Heat a large heavy bottomed pan (caste iron works great) over medium to high heat and add cooking spray or butter. Next, add the burgers to the pan and cook for 5 minutes then flip and cook an additional 5 minutes or until internal temperature reaches 165 degrees.
Topper Ideas
The base chicken burger recipe can pair with virtually any toppings. Some great options are BBQ sauce, homemade ranch, ketchup, mayo, onions, tomatoes, bacon or any other topping you love.
Love this Chicken Burgers recipe? Don't forget to comment and rate below!
Happy Eating!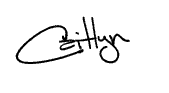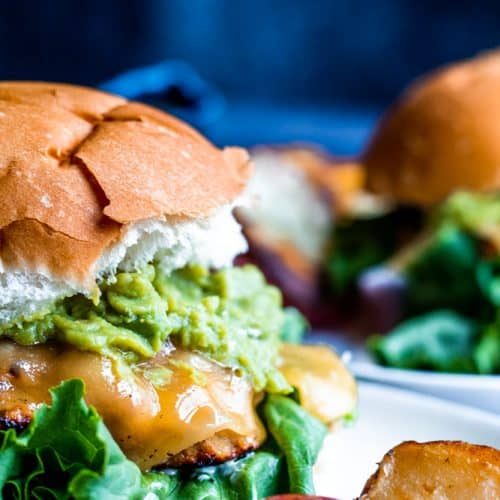 Grilled Chicken Burgers with Guacamole and Garlic Aioli
The best, easy summer grill recipe for the entire family! These Grilled Chicken Burgers are super juicy and pair perfectly with guacamole and garlic aioli!
Ingredients
Condiments
4

Buns

4

Slices

Gouda Cheese

⅓

Cup

Guacamole

Store Bought or Homemade

Green Leaf Lettuce
Instructions
Grilled Chicken Burgers
Combine all ingredients except unsalted butter into a large bowl and mash and stir to combine. The meat will be sticky and slightly wet, it's okay they will hold together. Divide the meat into four equal balls and press them into a flat burger shape.

Slice the butter into 8 thin and small pieces and work into each burger. This will help keep them nice and juicy! Heat your grill or skillet over medium-high heat. Once heated add the burgers and cook for 5 minutes then flip and cook an additional 5 minutes, or until internal temperature reads 165 degrees.

Once cooked through remove from heat and add your cheese. While the burgers rest, prepare your condiments and garlic aioli. Assemble your burgers with guacamole, Garlic Aioli, lettuce and serve warm. Enjoy!
Garlic Aioli
Combine all ingredients into a small bowl and stir to combine. Spread over cooked Grilled Chicken Burgers.
Notes
Leftover Storage: Store leftover chicken burgers in an airtight container in the fridge for up to 3 days.
Rewarming Instructions: Warm chicken burgers in the microwave (30-60 seconds) or oven until hot. Serve with guacamole and garlic aioli.
Freezer Option: Freeze leftover chicken burgers for up to 2 months. Store wrapped in foil in an airtight container.
Nutrition
Serving:
1
Burger
Calories:
513
kcal
Carbohydrates:
30.7
g
Protein:
43.4
g
Fat:
23.4
g
Saturated Fat:
7.3
g
Cholesterol:
160
mg
Sodium:
795
mg
Potassium:
381
mg
Fiber:
1.3
g
Sugar:
4.1
g
Calcium:
160
mg
Iron:
3.4
mg
See What We Are Pinning!
Follow erhardtseat1 to see all the food!
Share the yummy with your friends!