These Mediterranean Grilled Salmon Kabobs are simple, healthy and ready quickly for the perfect summer family dinner or outdoor BBQ. Paired with fresh veggies and tzatziki sauce for the perfect finish.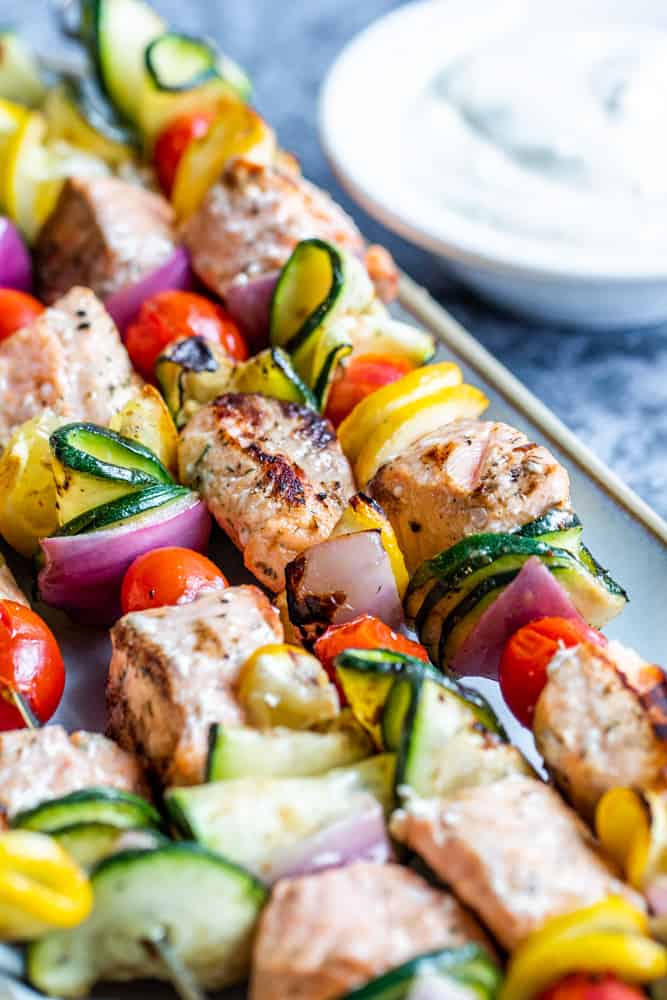 Grill season is almost here and I am so pumped for warm weather and the glorious smell of a weekend cookout. These Mediterranean Grilled Salmon Kabobs are simple, healthy and completely mouthwatering.
The salmon skewers are cooked on the grill resulting in charred, flaky salmon and tender and juicy veggies. This recipe pairs wonderfully with tzatziki sauce for the perfect Mediterranean feel. No grill? No problem, this recipe can be made indoors in the oven or stove top. I hope and your family enjoy this grilled salmon and veggies recipe all summer long!
Mediterranean Salmon Kabobs are perfect for grilling all summer long!
Ingredients
Salmon: I used one large salmon filet, removed the skin and then cubed it. You can do this, use several smaller fillets, or buy some with the skin already removed. Just make sure the salmon is good quality and is about and inch thick.
Fresh Produce: I used a combination of fresh zucchini, grape tomatoes, red onion and fresh lemons. You can use this combination (so good, do recommend) or you can use a variety of other veggies like squash, asparagus or eggplant. Whatever you use make it is sliced thin so it will cook through.
Dried Herbs and Spices
Olive Oil
Tzatziki Sauce for Serving (Optional): I love these salmon skewers with store bought or homemade tzatziki sauce. Other great sauce options to try with this grilled salmon are chimichurri sauce or homemade basil pesto.
Kitchen Tools
A Gas or Charcoal Grill: This Mediterranean kabob recipe can also be made indoors in the oven or on the stove top with a large grill pan. See below for all the details.
Metal Tongs
Oven Mitts: I like using my rubber glove mitt so I can use it with the tongs to rotate the salmon skewers. This makes it easy to flip them, but is not required.
A Large Prep Bowl
Measuring Cups and Spoons
A Sharp Knife and Cutting Board
Metal or Wooden Skewers: I used 6 12 inch metal skewers for my grilled salmon. Both metal and wood skewers will work just be sure soak wooden skewers for 2 hours before add the salmon and veggies on them.
A Mandoline (Optional): I highly recommend using this if you have one. It is so much easier to slice the veggies thin and will save on prep time.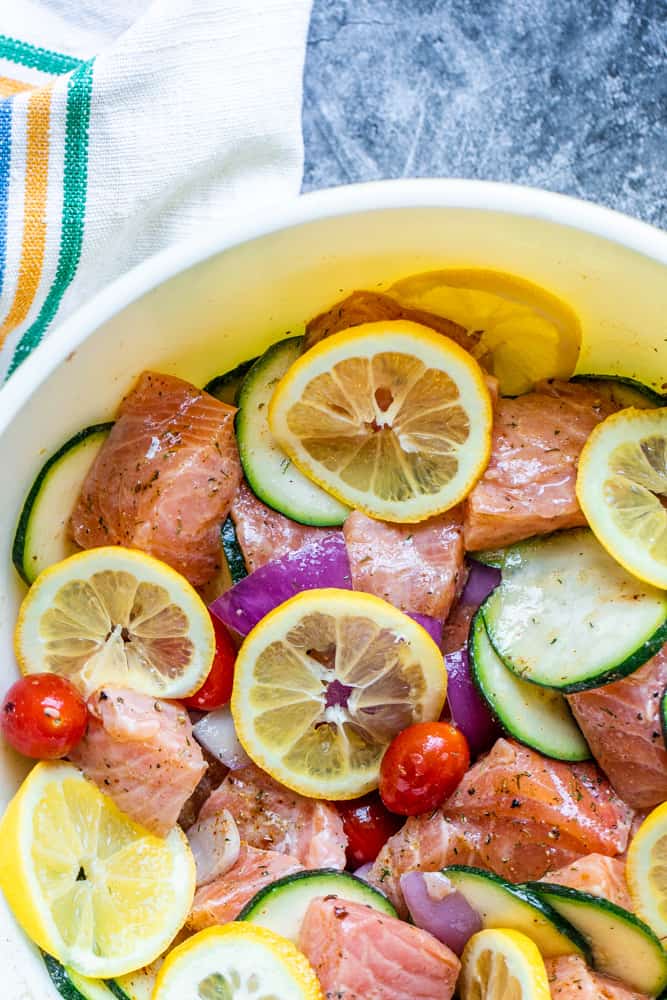 Tips and Tricks
Salmon Prep Tips: When prepping the salmon kabobs be sure not to cut the salmon fillet into too small of chunks. I recommend slicing them into 1 ½ to 2 inch chunks and not any smaller.
Also, I recommend marinating the salmon for at least 20 minutes to help develop more flavor. The marinade is not required, but it makes the salmon skewers that much more flavorful. You can marinade as long as 3 hours if you wish.
Produce Prep Tips: When slicing the veggies try to slice them as thin as possible. The salmon cooks fast, therefore the veggies will not be on the grill very long. I like to use my mandoline to get all the veggies nice and thin to help them get nice and tender on the grill.
Grill Tips: When grilling the salmon kabobs be sure to spray the grilling with cooking spray before you turn on the heat. This helps the salmon from not sticking.
Also, the salmon will cook very fast so it is important to keep an eye on it and not cook it too long. When the salmon begins to have a bright pink color and a bit of a char it is finished.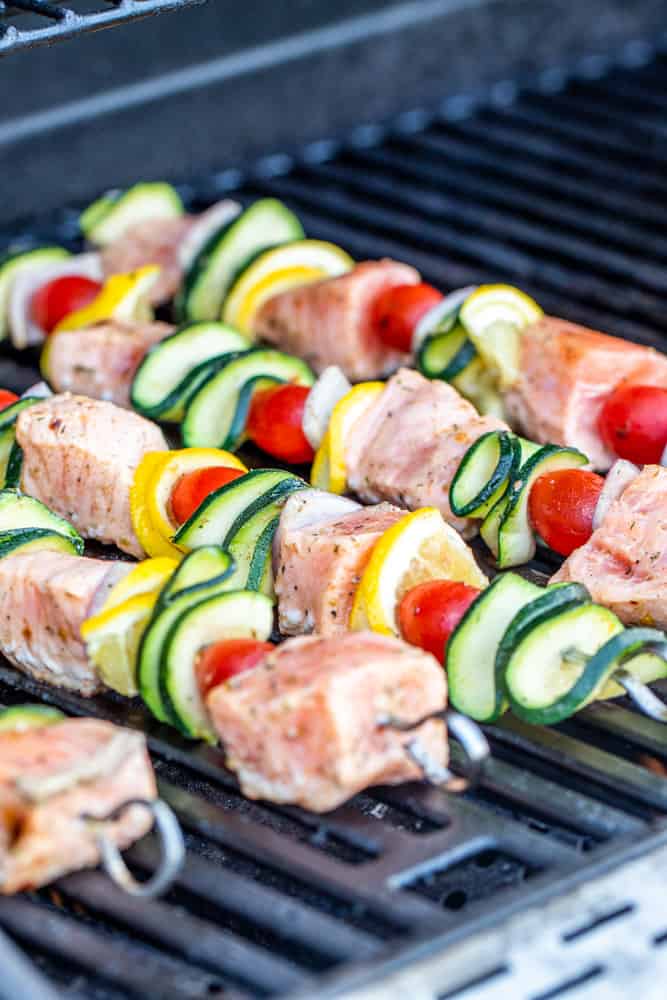 More Grill Recipes
Crispy Chicken Spiedini
Lemon Pepper Chicken Thighs
Grilled Chicken Tacos
Grilled Chicken Wings Recipe
Chicken Teriyaki Kabobs
Chipotle Honey Chicken Kabobs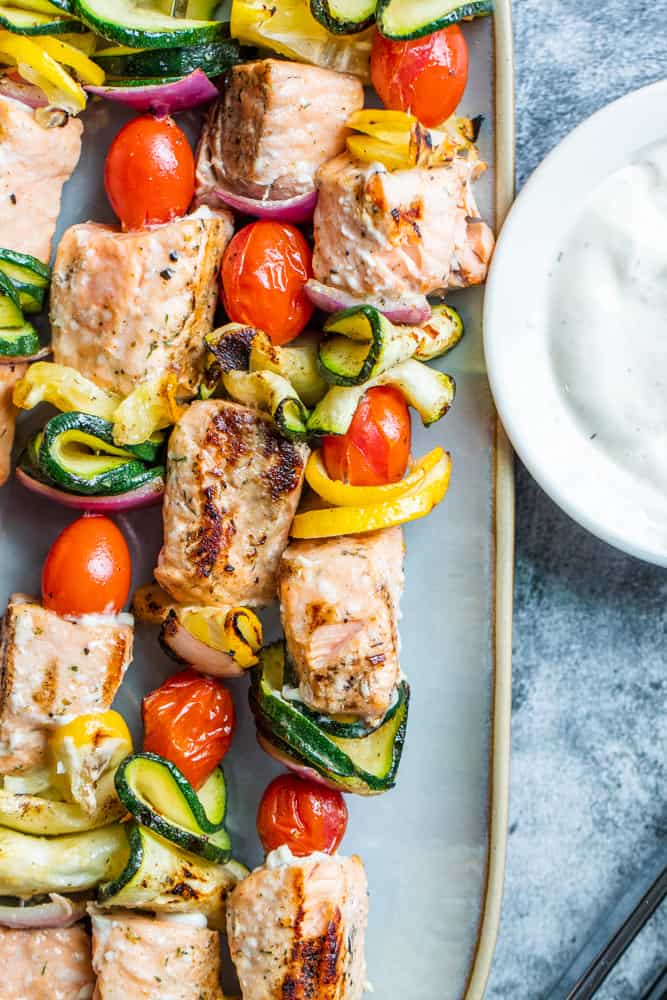 Common Questions
How should leftover salmon be stored?
For best results, remove the salmon and veggies from the skewers and store the grilled salmon kabobs in an airtight container in the fridge for up to 3 days. I find the salmon is best eaten right off the grill or within 24 hours. Reheat the salmon and veggies in the microwave or oven until warm before enjoying.
How do you remove the skin from salmon?
Removing the skin from salmon can be a bit tricky, but this trick makes it a lot easier. Place the salmon fillet on a cutting board skin side down and insert a sharp knife (a chef's knife works fine) right above where the skin connects to the pink fillet. Cut along the skin and push with your knife away from you with one hand while pulling the cut salmon skin towards you with the other. This push and pull movement makes a nice clean cut and removes the skin well.
Once you have the skin removed look at the fillet and if some of the brownish/gray bloodline still remains you can clean it up with your knife.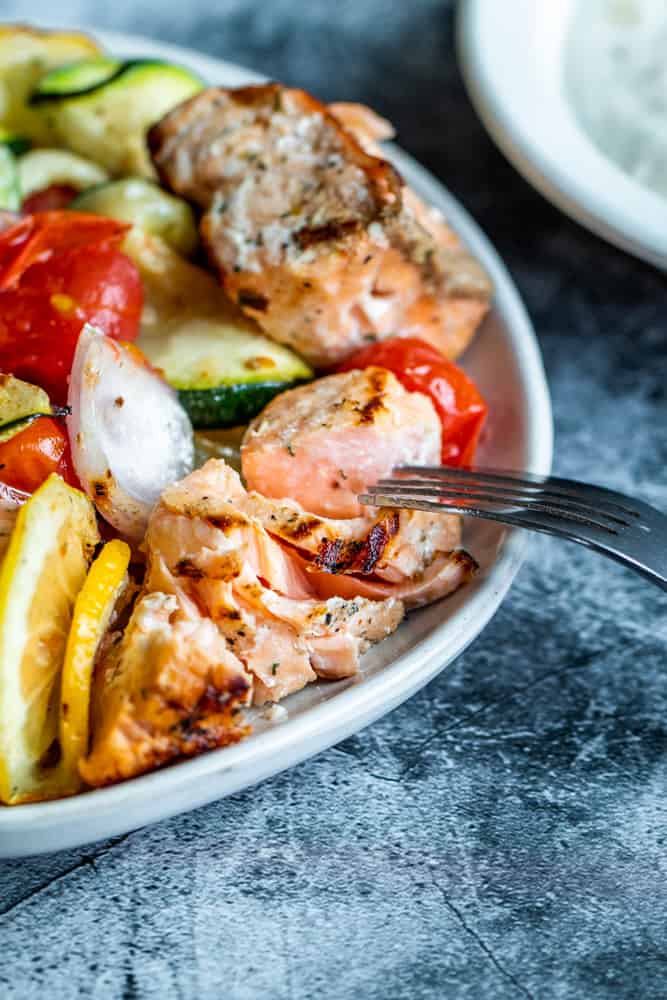 Indoor Cooking Instructions
These Mediterranean salmon skewers can be made indoors on the stove top or in the oven if the weather is not agreeing with you, or you do not have access to an outdoor grill.

For the stove top method, follow the recipe instructions, but instead of grilling on an outdoor grill heat a grill pan on the stove to high heat and place the kabobs on rotating so all sides get a good char. Just like with an outdoor grill the kabobs will be done quickly and should only take 3-5 minutes or so per side.

For the oven method, follow the recipe instructions for marinading, seasoning and slicing the salmon and veggies. DO NOT SKEWER the ingredients and instead place everything in an even layer on a foil lined baking sheet. Bake the salmon and veggies at 350 degrees for 8-10 minutes (or until pink) tossing halfway. The flavor is still great for the veggies and the salmon is flaky, but will be a bit different since it is not made on a grill.
These Mediterranean Grilled Salmon Kabobs are one of my favorite light and healthy summer grill recipes. When it comes to grilling I love my chicken and beef, but this flaky salmon hits the spot every time and a nice change to what we normally grill. I hope you and your family enjoy this salmon skewers recipe!
Happy Eating!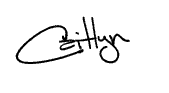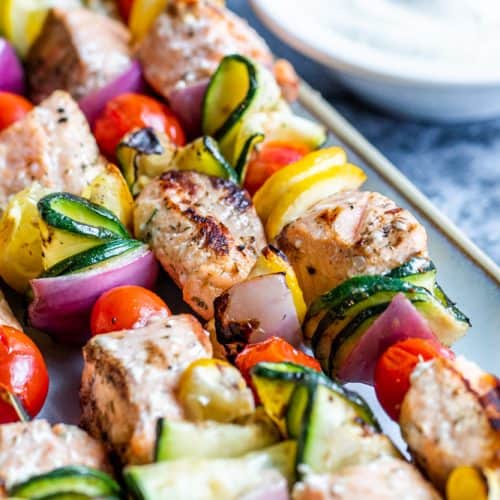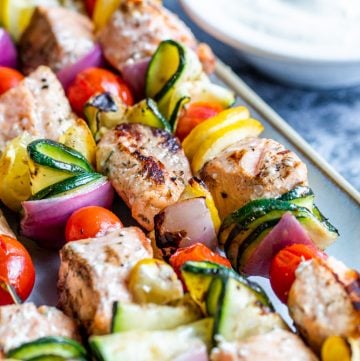 Mediterranean Grilled Salmon Kabobs
These Mediterranean Salmon Kabobs are simple, healthy and packed with lots of flavor. These grilled skewers will be a hit all summer long.
Instructions
Remove the skin from the salmon fillet and chop into 1-2 inch chunks. Juice two of the lemons and slice the other removing and discarding seeds. Thinly slice the zucchini and red onion with a sharp knife or mandoline.

Add all of the cubed salmon, veggies, dried spices, olive oil, and lemons to a large prep bowl and toss to combine. Cover with foil and marinade in the fridge for at least 20 minutes or as long as 3 hours.

Once salmon and veggies have marinated spray 6 12 inch metal skewers and add all the salmon and veggies to the skewers alternating everything. This isn't required, but it makes the kabobs look pretty.

Spray your grill with cooking spray, then heat it to 350 degrees F. Once the grill has heated, add the kabobs to the grill and cook 3-5 minutes per side. The salmon will turn pink when it is finished and have a bit of a char. Once cooked remove from the grill and serve warm with tzatziki sauce. Enjoy!
Notes
Leftover Storage
Remove everything from the skewers and store leftover salmon and veggies in an airtight container for up to 3 days. The kabobs are best when eaten within 24 hours.
Marinade Time
The marinade time is not required for the salmon, but this does help build more flavor. You can marinade the salmon as little as 20 minutes or as long at 3 hours in the fridge.
Nutrition
Calories:
316
kcal
Carbohydrates:
4.3
g
Protein:
30.4
g
Fat:
20.7
g
Saturated Fat:
2.8
g
Cholesterol:
61
mg
Sodium:
85
mg
Potassium:
796
mg
Fiber:
1.2
g
Sugar:
2.2
g
Calcium:
68
mg
Iron:
1
mg
See What We Are Pinning!
Follow erhardtseat1 to see all the food!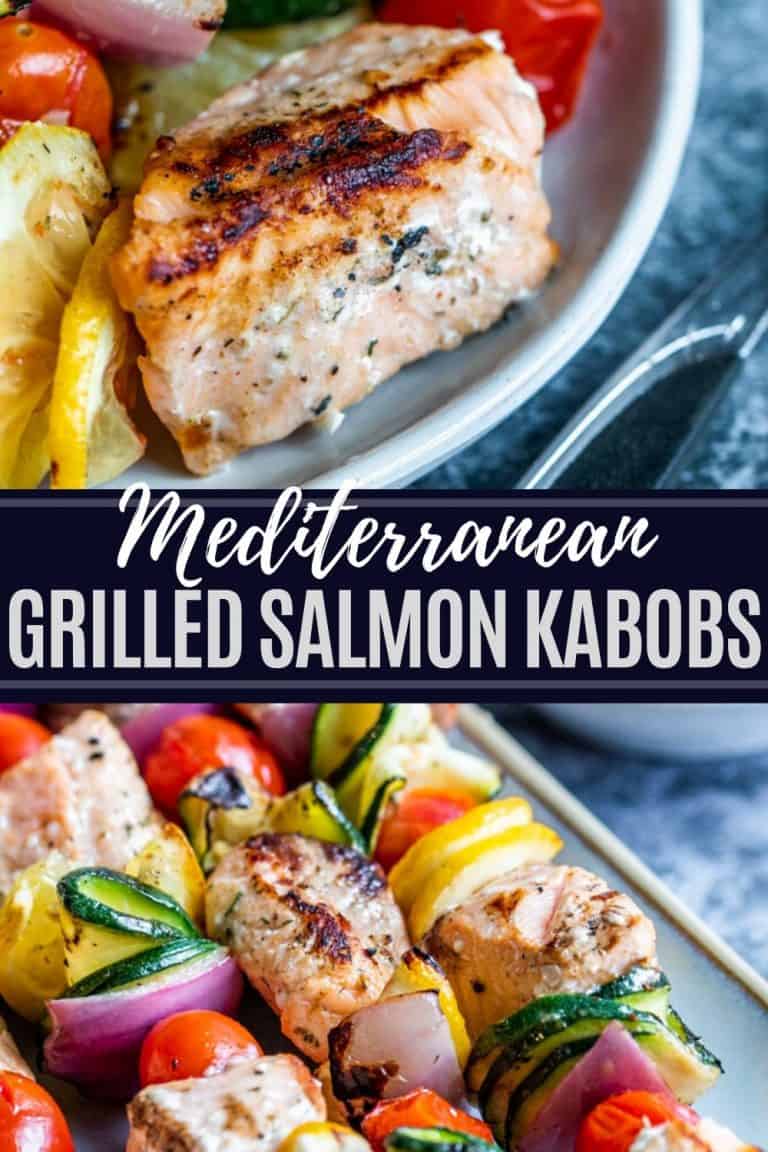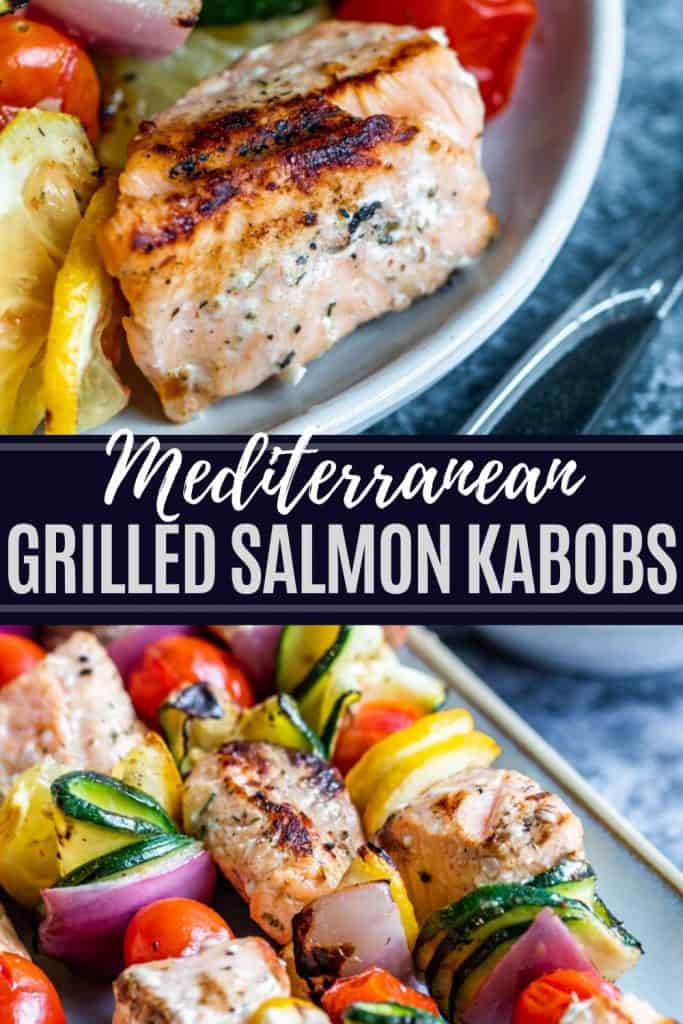 Thank You for Sharing!