These Grilled Chicken Tacos are bursting with flavor and a summer must. Top with Cilantro Lime Butter for the perfect finish!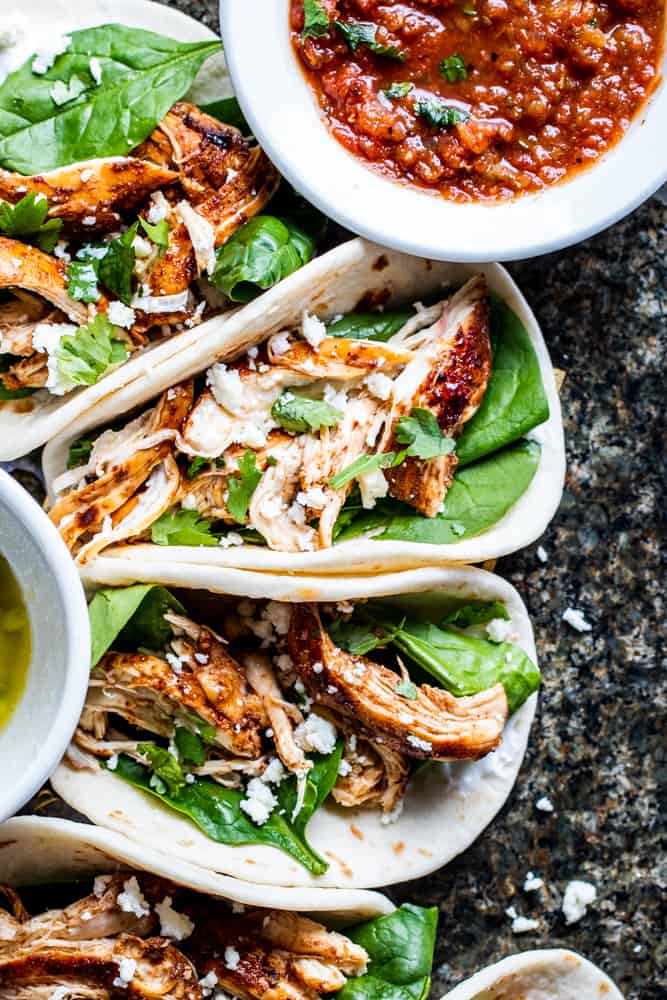 These Grilled Chicken Street Tacos are my favorite tacos we make in our home. We love and eat tacos and more often than we probably should, so I consider myself a taco expert. These Mexican chicken tacos hold a special place in my heart because they were created by my husband.
I love that these grilled tacos combine so many spices and the flavors which result in a unique flavor that everyone loves. Finish off with my homemade lime butter for the perfect taco topping. I hope you enjoy these delicious street tacos as much as we do. Enjoy!
These Mexican Grilled Tacos are a must make during the summer.
Kitchen Tools
Grill or Grill Pan
Prep Bowls
Metal Tongs for Grilling
Measuring Cups and Spoons
A Pairing Knife
Meat Thermometer (Optional)
Ingredients
Chicken Breasts: Chicken thighs can be used for this taco recipe as well. You will need to lower the grill time by 2-4 minutes depending on their size. For perfectly cooked chicken I recommend using a meat thermometer.
Dried Spices
Olive Oil and Balsamic Vinegar
Street Taco Soft Shells: Regular taco shells can be used if you cannot find the street taco size. Also, I like using flour tortillas but corn tortillas work great for this recipe.
Cilantro Lime Butter
Taco Toppings: I love adding fresh cilantro, homemade salsa, diced avocado, and sour cream to the top of my chicken tacos. You can used these or add other taco favorite like lettuce, cheese, spicy jalapenos, or diced tomatoes.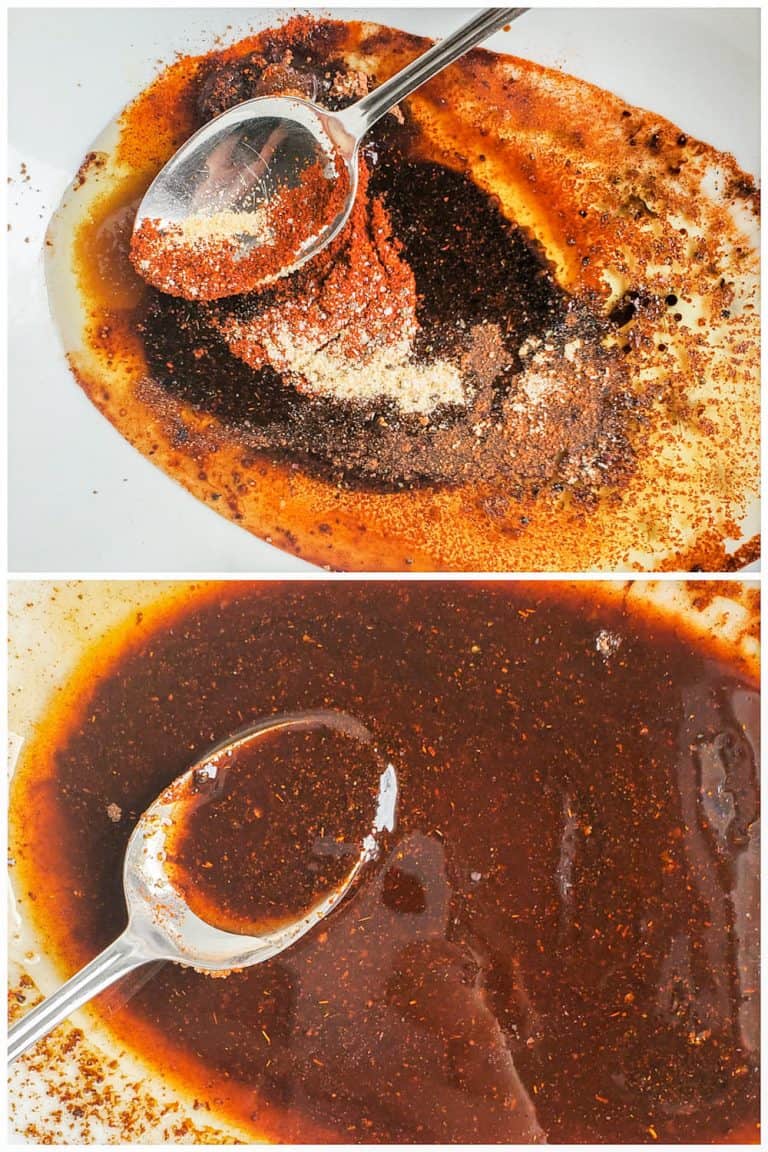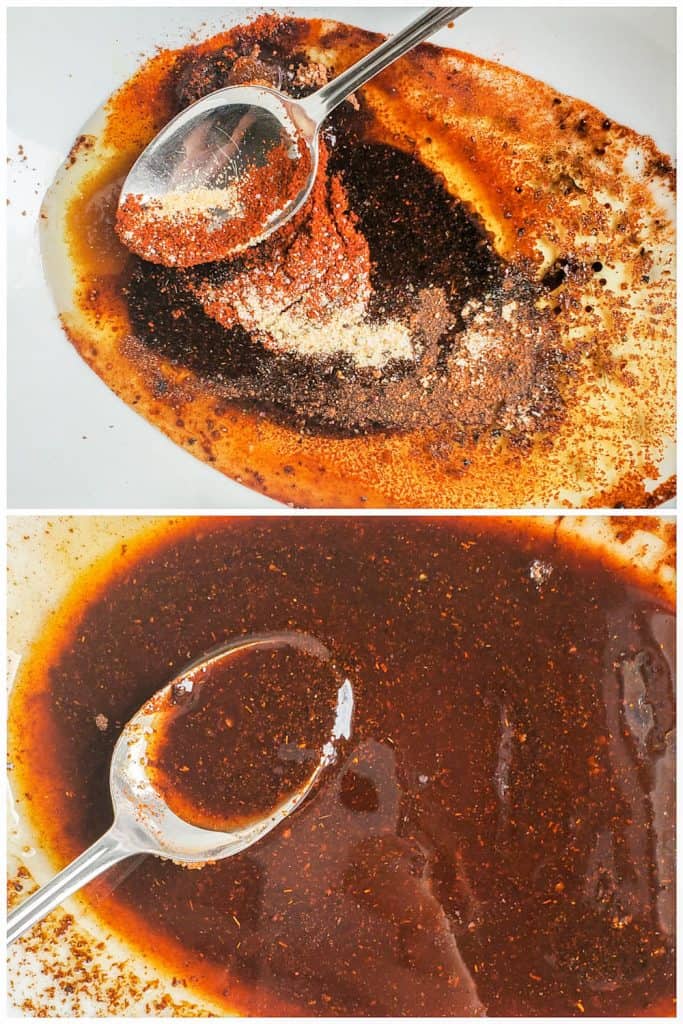 Common Questions
Can the chicken be frozen?
Yes, the chicken can be frozen for up to 3 months. Place all of the marinade ingredients in a large freezer bag and store flat. When ready to grill let thaw and follow recipe instructions.
How should leftovers be stored?
Store leftover grilled chicken in an airtight container in the fridge for up to 4 days. Rewarm the chicken in the microwave or oven when ready to enjoy and assemble the tacos. Also, you can pour the cilantro and lime butter over the top of the chicken when storing or keep in a separate small container.
Can chicken tacos be made in the oven?
Yes, the Mexican chicken can be baked instead of grilled. Follow the recipe instructions, but instead of grilling place the chicken in a foil lined backing dish and bake for 20-25 minutes at 375 degrees F.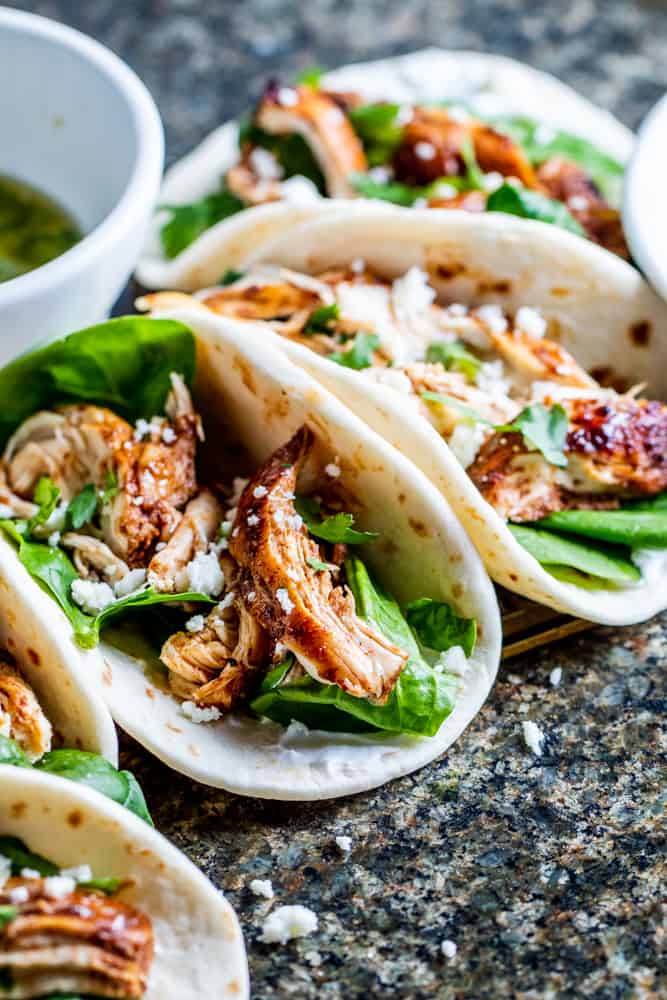 Pro Tips
Marinade the Chicken: To really get the full flavor developed for these chicken tacos you can marinade the chicken for 30 minutes or even up to 24 hours. This is great for prepping the tacos ahead of time as well and storing the marinating chicken in the fridge until you are ready to grill it.
Grill Tips: I always spray my grill before heating it to avoid the chicken from sticking. Also, don't toss out the marinade right away and instead brush the excess over the chicken while it is on the grill.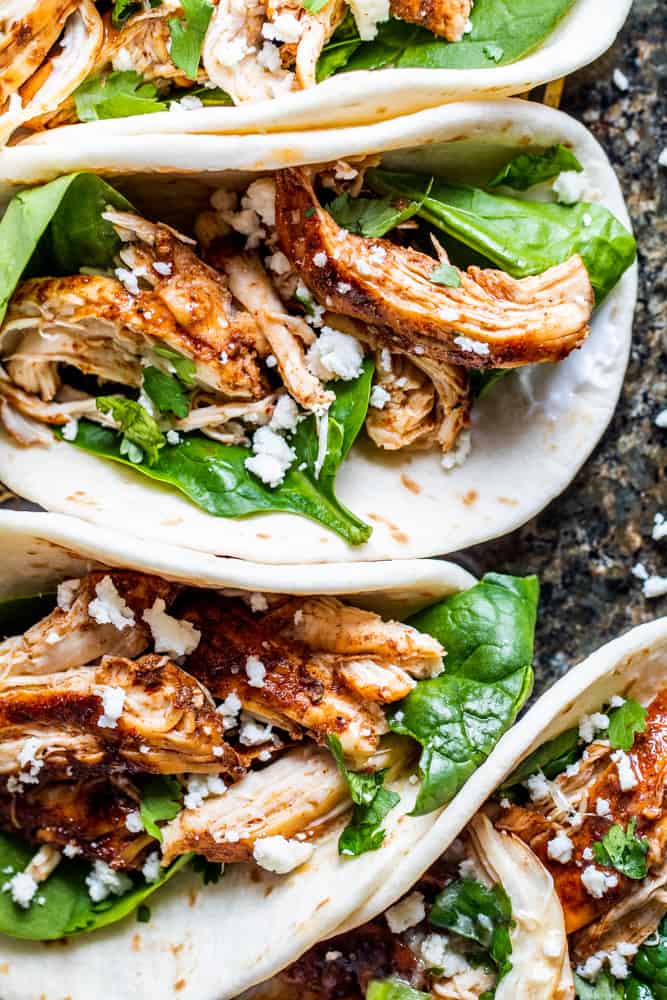 Check out these other Mexican Inspired Favorites
Veggie Quesadillas
Vegetarian Enchiladas
Cilantro Lime Grilled Chicken
Vegetarian Burritos
Chicken Enchilada Dip
Crockpot Pork Carnitas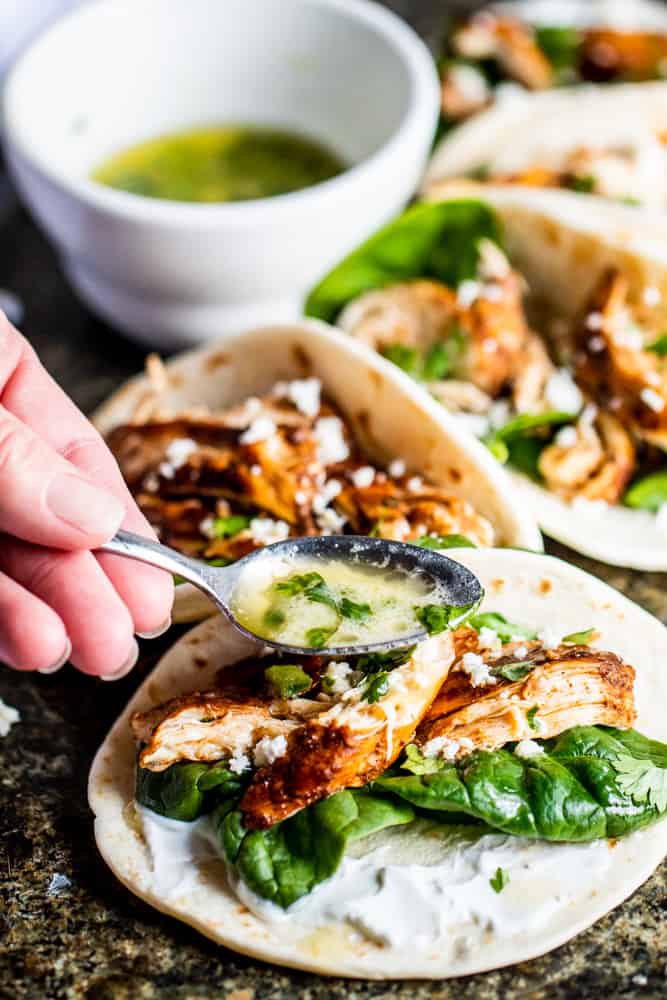 Story time: Family Favorite!
I cannot take full credit for these Grilled Chicken Tacos because their origin actually traces back to my husband. It was Mother's Day and I really did not want to cook or make a huge mess in the kitchen to clean up. Therefore, my husband decided he would grill up some dinner for us. My husband is good at many things: computers and puns to name a few, but my husband is a lost lamb in the kitchen. Even more lost when asked to come up with a recipe without any direction. So he did what he knew and went to the internet.
There he found a very boring BBQ chicken recipe. When I went to check on the progress of dinner I immediately started adding and subtracting things (control freak lol). What started as plain BBQ chicken with brown sugar and chili powder evolved into tacos with balsamic vinegar and Greek yogurt. After my husband was finished grilling the chicken we couldn't stop talking about how great it smelled or how pretty the coloring was. We have had the recipe dozens of times and we STILL go on about how amazing these Mexican chicken tacos are.
I hope you and your family loves these Mexican Street Tacos as much as we do! These are always a hit and always receive high praise when we make them. Pair with my Mexican Corn Salad Recipe for the perfect side dish pairing.
Happy Eating!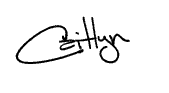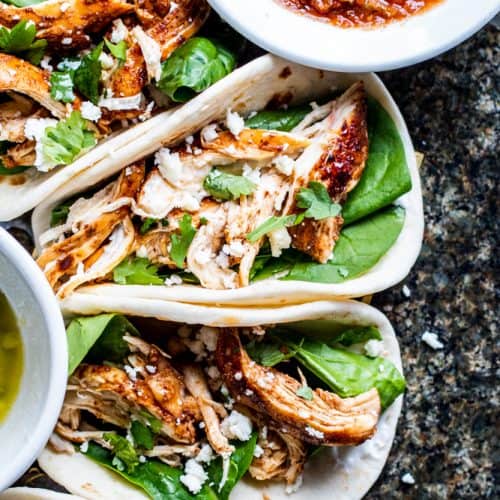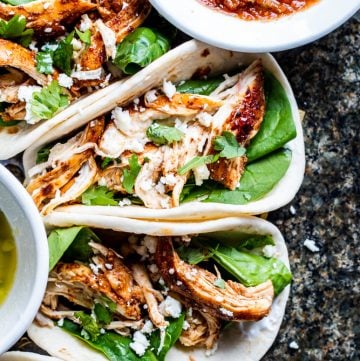 Grilled Chicken Tacos with Cilantro Lime Butter
These amazing Grilled Chicken Tacos with Cilantro Lime Butter are perfect for a family get together or party! The combination of spices delivers a punch of flavor that you will want again and again!
Ingredients
Cilantro Lime Butter
4

Tbsp

Unsalted Butter

Melted

2

Tbsp

Lime Juice

¼

White Onion

Diced

2

Tsp

Jalapeno Pepper

Diced- Optional

2

Tbsp

Fresh Cilantro

Chopped

½

Tsp

Ground Black Pepper

1

Pinch

Red Pepper Flakes

Optional
Instructions
Grilled Chicken Tacos
Trim any fat from chicken and salt and pepper both sides of each chicken breast, set aside.

In a shallow bowl combine olive oil, balsamic vinegar, brown sugar, chili powder, unsweetened cocoa powder, smoked paprika, cinnamon, and garlic powder and stir until a paste forms. Heavily coat both sides of each chicken breast.

Heat a grill to 400 degrees F. Once the grill gets hot, place the prepared chicken breasts over flame and cook for about 5-7 minutes each side or until internal temperature reaches 165 degrees. For added flavor brush the marinade over the chicken while cooking. The chicken will start to turn an amber color with some charring. If the chicken is getting too charred for your liking move the chicken to a cooler part of the grill until cooked all the way through.

Once cooked all the way through, remove the chicken from the grill and dice into small chunks.

Wrap the tortillas in a few damp paper towels and warm in microwave for 20 seconds. Take warm tortilla and spread with a small amount of plain Greek yogurt. Then add lettuce, diced chicken and any other additional toppings. Drizzle with a small amount of Cilantro Lime Butter and serve warm. Enjoy!
Cilantro Lime Butter
Combine all ingredients in small bowl and stir to combine. I like to do this right before serving so the butter doesn't cool and separate. Drizzle over completed Grilled Chicken Tacos.
Notes
Baking the Chicken
Alternatively you can bake the chicken in the oven at 375 degrees for 30 minutes or until internal temperature reads 165 degrees. The flavor develops better, in my opinion, on the grill; but if the weather isn't great or you do not have access to a grill the oven works perfectly fine as well.
Leftover Storage
Store leftover grilled chicken tacos in an airtight container for up to 4 days and reheat when ready to eat.
Nutrition
Serving:
0
g
Calories:
637
kcal
Carbohydrates:
41.3
g
Protein:
41.1
g
Fat:
35
g
Saturated Fat:
10.1
g
Cholesterol:
110
mg
Sodium:
699
mg
Potassium:
564
mg
Fiber:
4.8
g
Sugar:
8.2
g
Calcium:
212
mg
Iron:
4
mg
See What We Are Pinning!
Follow erhardtseat1 to see all the food!