These Grilled Chicken Street Tacos are my favorite tacos we make in our home! We LOVE tacos and eat them more often than we probably should! These tacos hold a special place in my heart because they are perfect and simple! I love that these combine so many spices and the flavor that results is amazing!
Family Favorite!
I cannot take full credit for these Grilled Chicken Street Tacos because their origin actually traces back to my husband. It was Mother's Day and I really did not want to cook or make a huge mess in the kitchen to clean up. Therefore, my husband decided he would grill up some dinner for us. My husband is good at many things: computers and puns to name a few, but my husband is a lost lamb in the kitchen. Even more lost when asked to come up with a recipe without any direction. So he did what he knew and went to the internet.
There he found a very boring BBQ chicken recipe. When I went to check on the progress of dinner I immediately started adding and subtracting things (control freak lol). What started as plain BBQ chicken with brown sugar and chili powder evolved into tacos with balsamic vinegar and Greek yogurt. After my husband was finished grilling the chicken we couldn't stop talking about how great it smelled or how pretty the coloring was. We have had the recipe dozens of times and we STILL go on about the color and smell!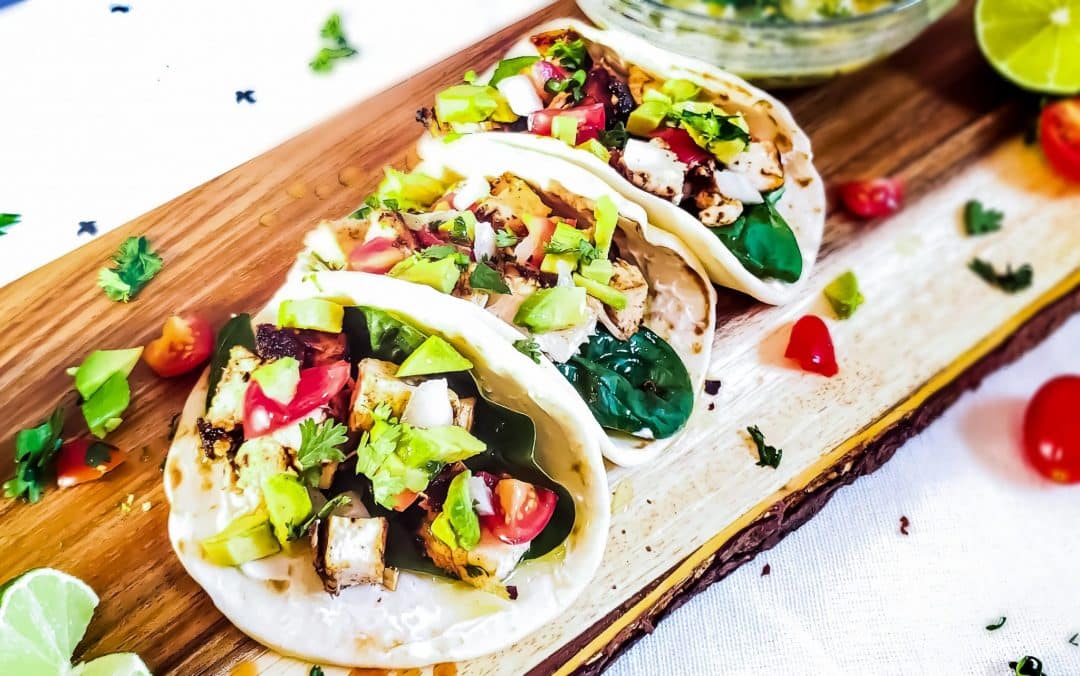 All about the chicken!
The chicken is the real star of these grilled chicken street tacos, but the cilantro lime butter is absolutely needed to make these tacos perfect! It adds the perfect amount of moisture and sweetness to compliment the chicken.However, I like just a little drizzle on mine personally. I also try and scoop up some of the onions and cilantro so I can have the whole flavor experience.
Finally, after getting the tacos assembled with our favorite fixings and the cilantro lime butter it was time to eat. I do not think we breathed at all eating them because we loved them that much. An added bonus was that our son, Theo, ate all of his deconstructed taco! He is very picky about meat so when he loved it as well we knew we had a winner. I hope you can fall in love with these tacos like we have!
Happy Eating!
~Caitlyn
Need a yummy dessert? Try these delicious Chocolate Fudge Brownies with Chocolate Drizzle!
*I make a commission for purchases made through the links on this page.
Grilled Chicken Street Tacos Recipe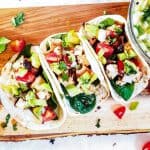 Print Recipe
Grilled Chicken Street Tacos with Cilantro Lime Butter
These amazing Grilled Chicken Tacos with Cilantro Lime Butter are perfect for a family get together or party! The combination of spices delivers a punch of flavor that you will want again and again!
Ingredients
Cilantro Lime Butter
4

Tbsp

Unsalted Butter

Melted

2

Tbsp

Lime Juice

1/4

White Onion

Diced

2

Tsp

Jalapeno Pepper

Diced- Optional

2

Tbsp

Fresh Cilantro

Chopped

1/2

Tsp

Ground Black Pepper

1

Pinch

Red Pepper Flakes

Optional
Suggested Toppings
Plain Greek Yogurt

Tomatoes

Diced

Avocado

Diced

Salsa

Guacamole

Lettuce

Cheese
Instructions
Grilled Chicken Tacos
Trim any fat from chicken and salt and pepper both sides of each chicken breast, set aside.

In a shallow bowl combine olive oil, balsamic vinegar, brown sugar, chili powder, unsweetened cocoa powder, smoked paprika, cinnamon, and garlic powder and stir until a paste forms. Heavily coat both sides of each chicken breast and marinate for at least 15 minutes.

While the chicken is marinating get your grill heating up*. We have a charcoal grill that we heat to about 400 degrees. Once the grill gets hot, place the prepared chicken breasts over flame and cook for about 7 minutes each side or until internal temperature reaches 165 degrees. The chicken will start to turn an amber color with some charring. If the chicken is getting too charred for your liking move the chicken to a cooler part of the grill until cooked all the way through.

Once cooked all the way through, remove the chicken from the grill and dice into small chunks. Prepare the Cilantro Lime Butter.

Wrap the tortillas in a few damp paper towels and warm in microwave for 20 seconds. Take warm tortilla and spread with a small amount of plain Greek yogurt. Then add lettuce, diced chicken and any other additional toppings. Drizzle with a small amount of Cilantro Lime Butter and serve warm. Enjoy!
Cilantro Lime Butter
Combine all ingredients in small bowl and stir to combine. I like to do this right before serving so the butter doesn't cool and separate. Drizzle over completed Grilled Chicken Tacos.
Notes
*Alternatively you can bake the chicken in the oven at 375 degrees for 30 minutes or until internal temperature reads 165 degrees. The flavor develops better, in my opinion, on the grill; but if the weather isn't great or you do not have access to a grill the oven works perfectly fine as well!
Nutrition
Serving:
0
g
|
Calories:
637
kcal
|
Carbohydrates:
0
g
|
Protein:
0
g
|
Fat:
0
g
|
Saturated Fat:
0
g
|
Polyunsaturated Fat:
0
g
|
Monounsaturated Fat:
0
g
|
Trans Fat:
0
g
|
Cholesterol:
0
mg
|
Sodium:
0
mg
|
Potassium:
0
mg
|
Fiber:
0
g
|
Sugar:
0
g
|
Vitamin A:
0
IU
|
Vitamin C:
0
mg
|
Calcium:
0
mg
|
Iron:
0
mg