This cheesy Vegetarian Mexican Lasagna recipe makes the perfect Meatless Monday family dinner! Loaded with fresh vegetables, homemade enchilada sauce and of course cheese for a tasty combo the whole family with dive into.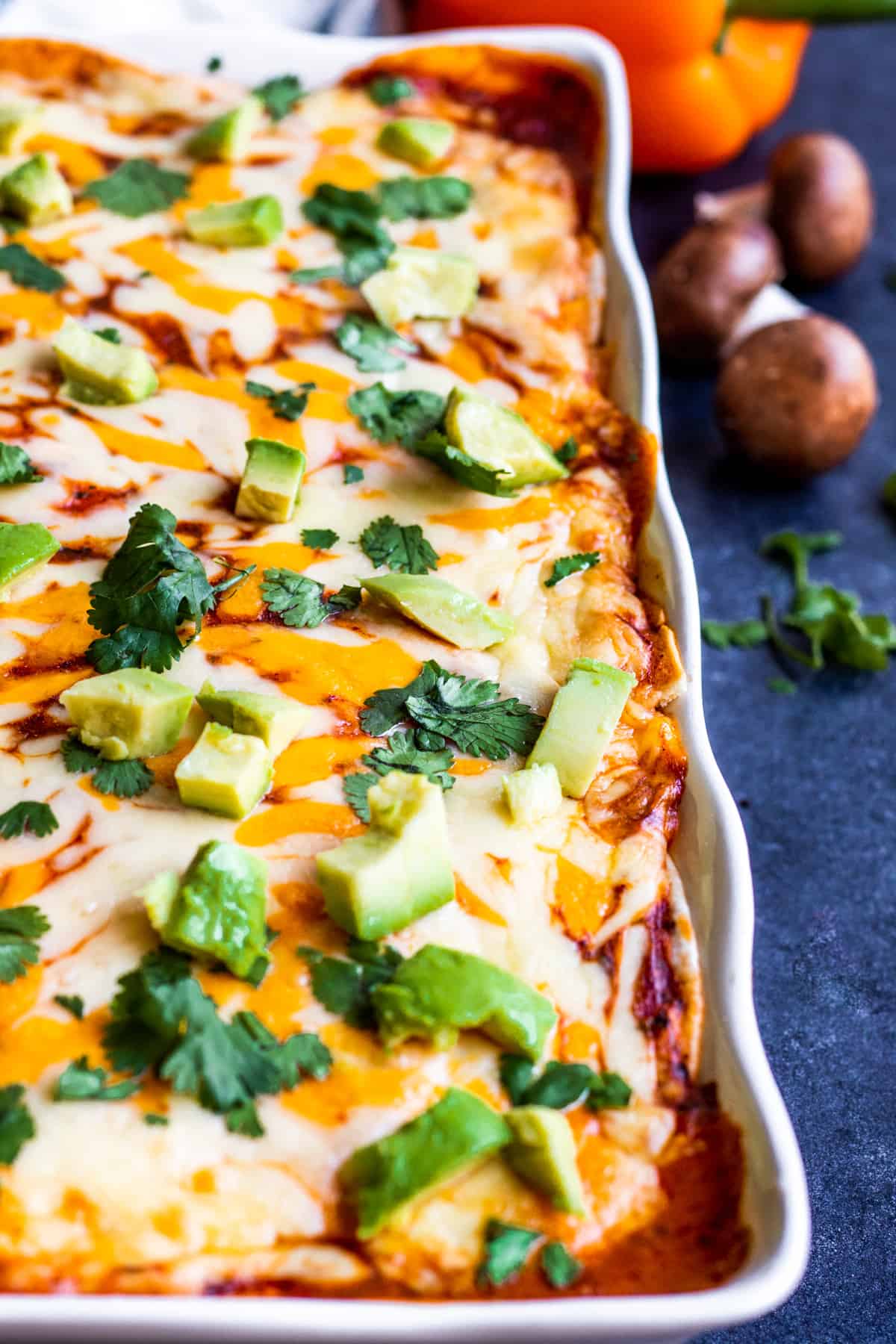 Family dinners are kinda my thing, and this Vegetarian Mexican Lasagna recipe is perfect for Meatless Mondays. The casserole is packed with fresh vegetables, a homemade sauce and a generous amount of cheese for a tasty combo even kids will love. Pair with toppers like salsa, sour cream and guacamole for the perfect finish.
Love prepping ahead of time? This veggie taco lasagna can easily be prepped ahead of time of frozen making it great for meal prep.
Ingredient Notes
Tortillas: I used 8 inch flour tortillas (fajita size work well). You could use larger or smaller tortillas, just note you will need to adjust the number you will need to use. Also, corn tortillas can be swapped in as well.
Shredded Cheese: I used a store-bought Mexican Shredded Cheese as the lasagna turned out great. You could use this or a combination of several cheeses like mozzarella, pepper jack cheese, or cheddar cheese are all good additions.
Beans: I prefer to use black beans for this dish, because I think it pairs best with the rest of the flavors, but another good option would be pinto beans.
Veggies: I like to use a red pepper for my veggie lasagna, but any color will work fine so just go with your favorite. I recommend using either white button mushrooms or cremini mushrooms. I feel like they have the most neutral flavor and won't freak kids out.
Why You'll LOVE It
Veg Forward: Filled with Veggies, but still a Hit with Kids
Makes Great Leftovers: This Taco Lasagna is even Better the Next Day
Perfect for Meatless Monday Dinners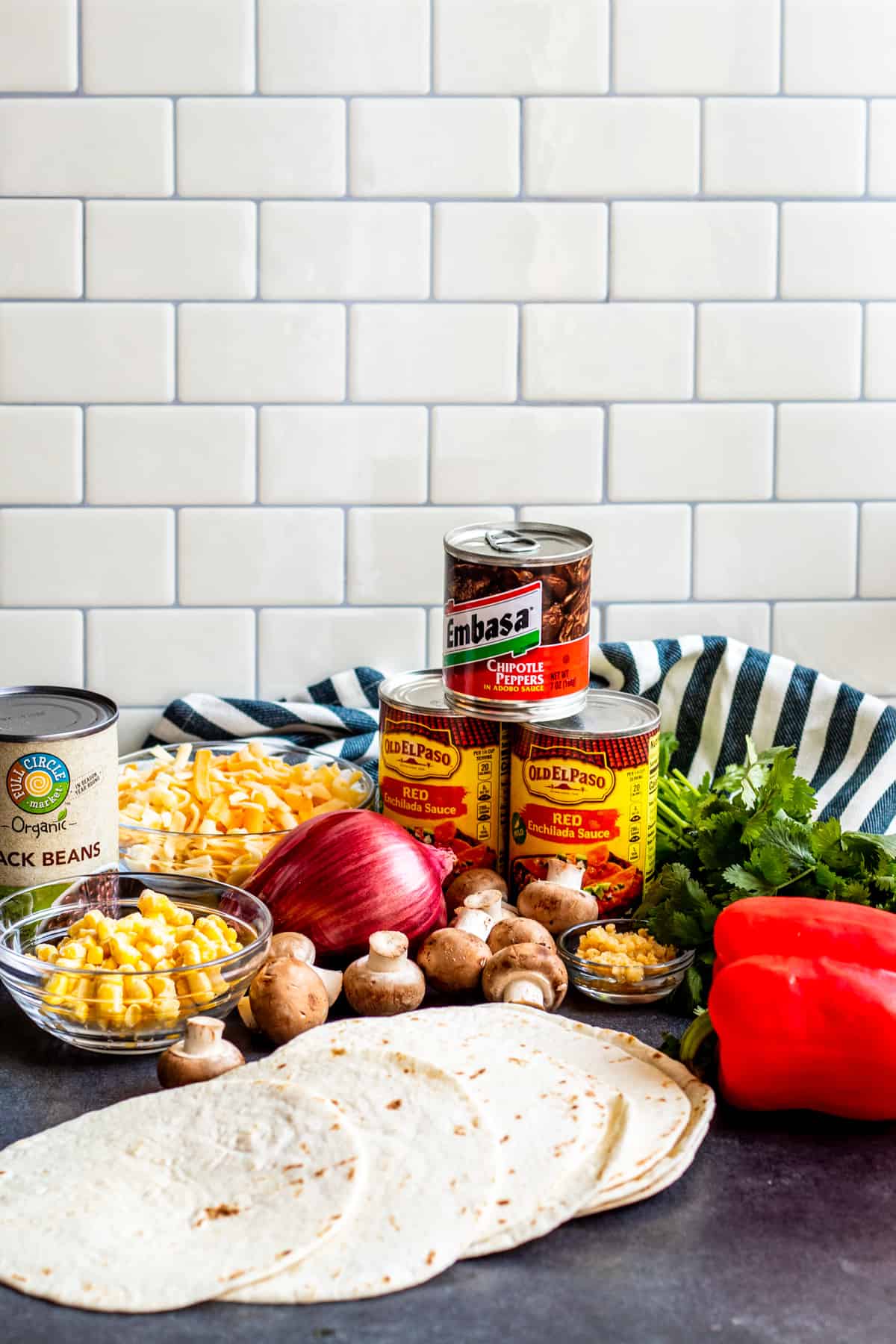 Instructions
Making the Sauce
To make the enchilada sauce, simply add all of the sauce ingredients to a blender or food processor and combine on medium to high until smooth, combined and no large chunks of cilantro remain. I like the "bumped up" enchilada sauce and it packs more flavor than if you just used the store bought sauce as is.
Veggie Prep
Finely chop or dice the red onion, mushrooms, and red pepper. Don't stress if the cuts aren't even the veggies will be sautéed then baked in the taco lasagna so they will get plenty soft and break down.
Add olive oil to a large skillet and heat on medium heat. Add the prepared vegetables and cook on medium heat until soft, about 5 minutes. Once soft add in the minced garlic, salt, pepper and paprika and stir to combine. Cook and additional minute then remove from heat and continue with layering the lasagna.
Ingredient Prep
While the veggies are cooking, open your canned black beans and rinse them using a strainer. If using canned corn rinse and strain it as well. Frozen corn works well also and you do not need to worry about rinsing it.
Layering the Lasagna
Once all of your elements are prepared, it is time to layer the vegetarian Mexican lasagna. Start by adding a small amount of sauce to the bottom of your 9x13 inch baking dish in a thin layer. Next, add three tortillas over top of the sauce in an even layer tearing one in half to fit (see photo below).
On top of the tortillas add half of the cooked veggies then half of the black beans and corn. Add about one cup of enchilada sauce over top of the filling then add one cup of shredded cheese.
On top of the shredded cheese you will begin the second layer with tortillas and repeating the steps outlined above. After the second layer you will top with the last three tortillas, enchilada sauce and then the remaining cheese.
Baking
Once layered, bake the vegetarian taco lasagna at 350 degrees F for 20-30 minutes until the cheese is melted and enchilada sauce in bubbling. Top the finished dish with optional toppers and enjoy warm.
Leftover Storage
Store leftover Mexican Lasagna in an airtight container in the fridge for up to 4 days. Reheat in an oven or microwave until warm when ready to serve.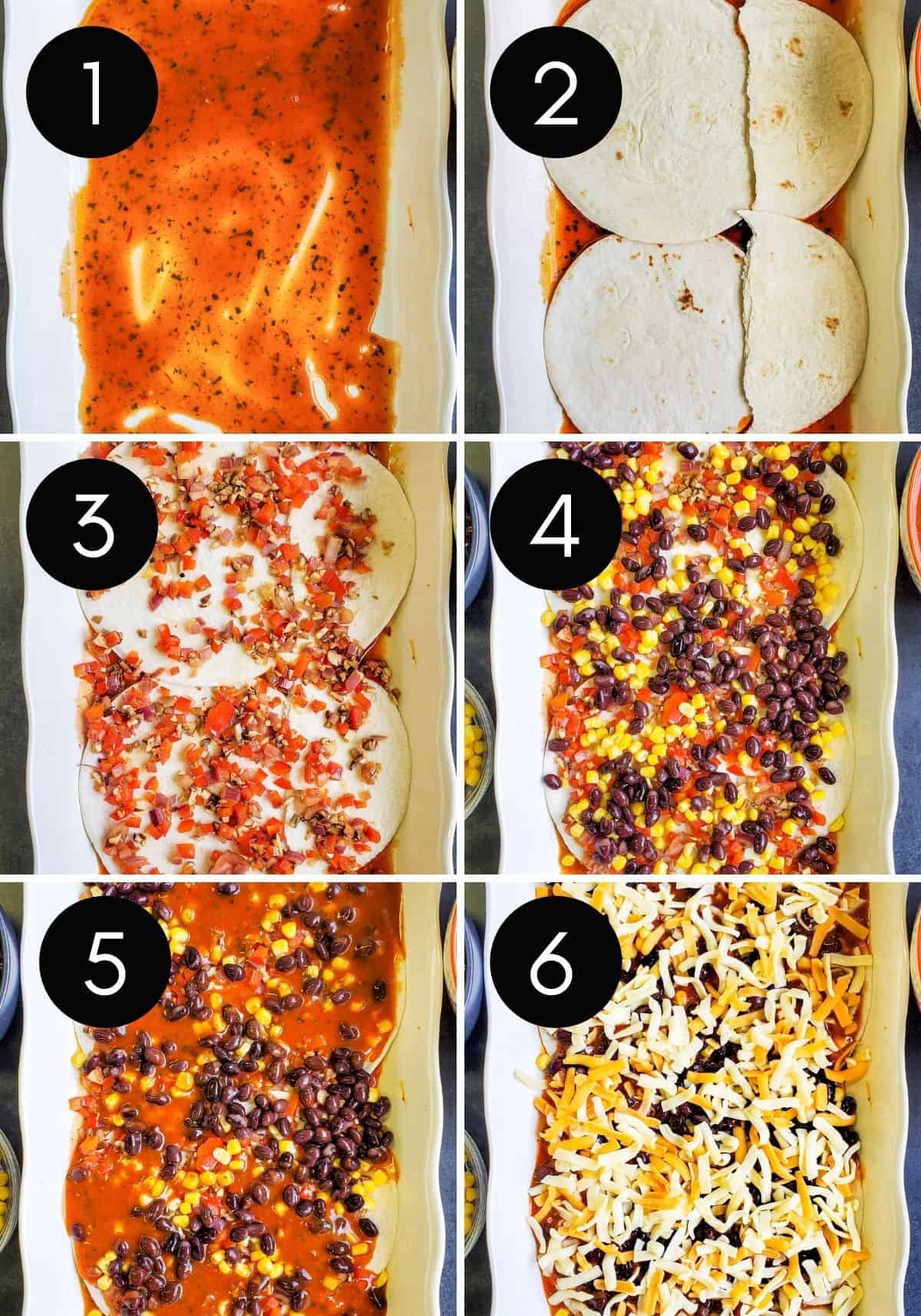 FAQS
Can Taco Lasagna be frozen?
Yes, this vegetarian taco bake saves for up to 3 months in the freezer. Let the lasagna cool completely then store in a freezer container or bag. I like to cut mine into portioned squares and wrap them in foil so I can easily pop one out for lunch or dinner. When ready to enjoy let thaw in the fridge, then reheat.
What vegetables go in Mexican Lasagna?
I like to use peppers, corn, mushrooms, and onion. I think the flavor combination goes great with the sauce and my kids enjoy all of these veggies. Some other great options include tomatoes, zucchini, eggplant, cauliflower or even broccoli.
Can meat be added in?
Sure, for all my meat lovers out these this taco lasagna can easily be customized and meat can be added in. If adding meat it needs to be cooked first and not added in raw. Some meat options include leftover taco meat, grilled chicken, pork carnitas, or some carne asada.
Can this recipe be prepped ahead of time?
Yep, you can prep the entire taco casserole, layer it then cover it and store in the fridge for up to 12 hours. This works great for making the the night before, or before work then popping it in the oven for dinner. When ready to bake it, let come to room temperature then follow recipe instructions.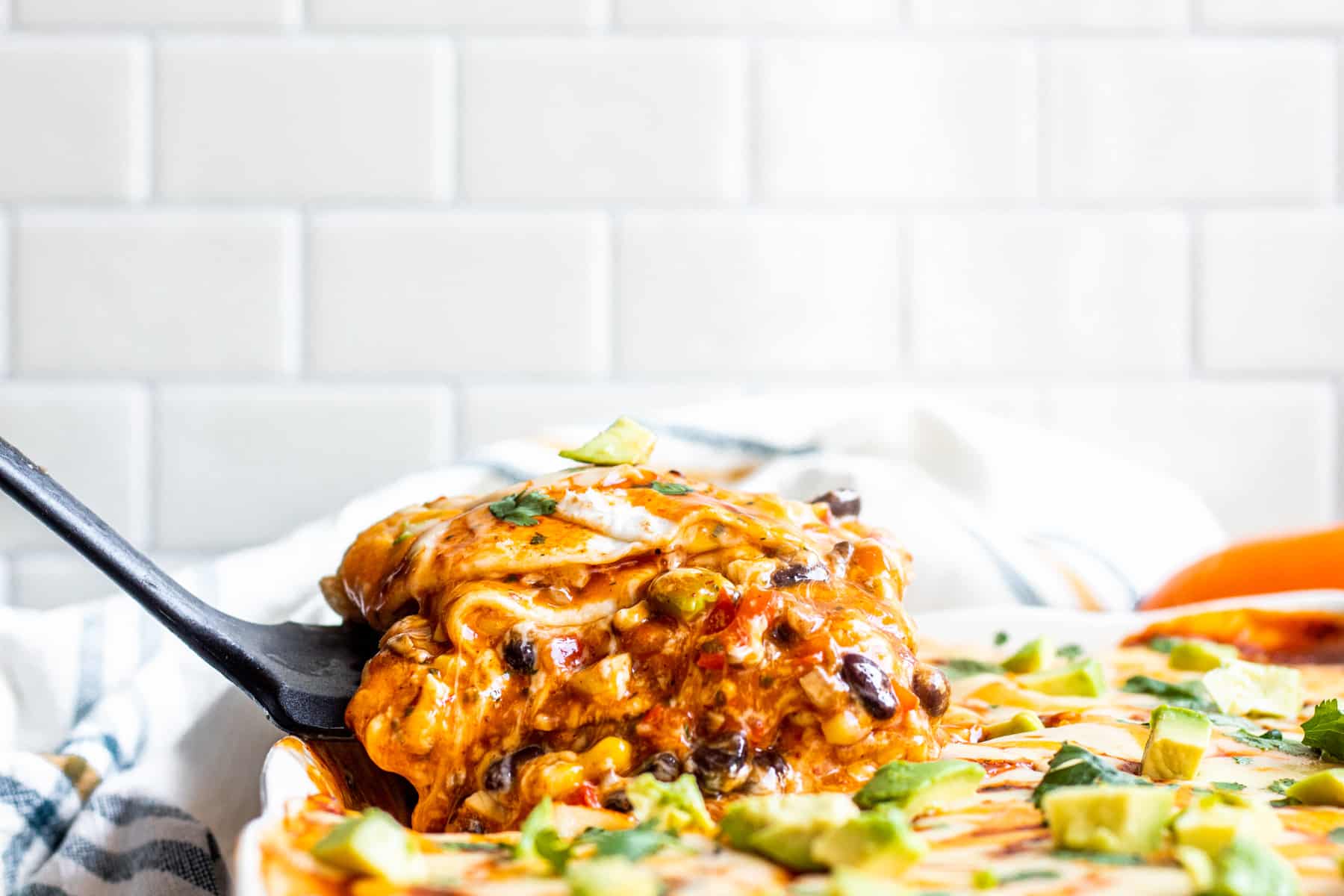 Pro Tips
Sauce it Up: The worst thing you can do to this veggie Mexican Lasagna is dry out the tortillas. Make sure to add a generous amount of sauce to each layer the the top. The enchilada sauce will keep the tortillas soft and act as a sort of "glue" with the cheese forming the perfect slice.
Boost the Sauce: Speaking of sauce, I love my "boosted" enchilada sauce. I know it takes additional time to blend the sauce when you could just use the store-bought stuff. You can just use the sauce right out of the can, but it is sooooo much more flavorful when you take the couple minutes to add in some more ingredients (and flavor)!
Serving Suggestions
I love this lasagna on its own, but it can be amped up with some optional toppers. My favorite additions include some chopped avocado and fresh cilantro. Some additional toppers include some hot sauce (Cholula is my go-to), lime juice, sour cream, salsa, Chimichurri Sauce, or homemade guacamole.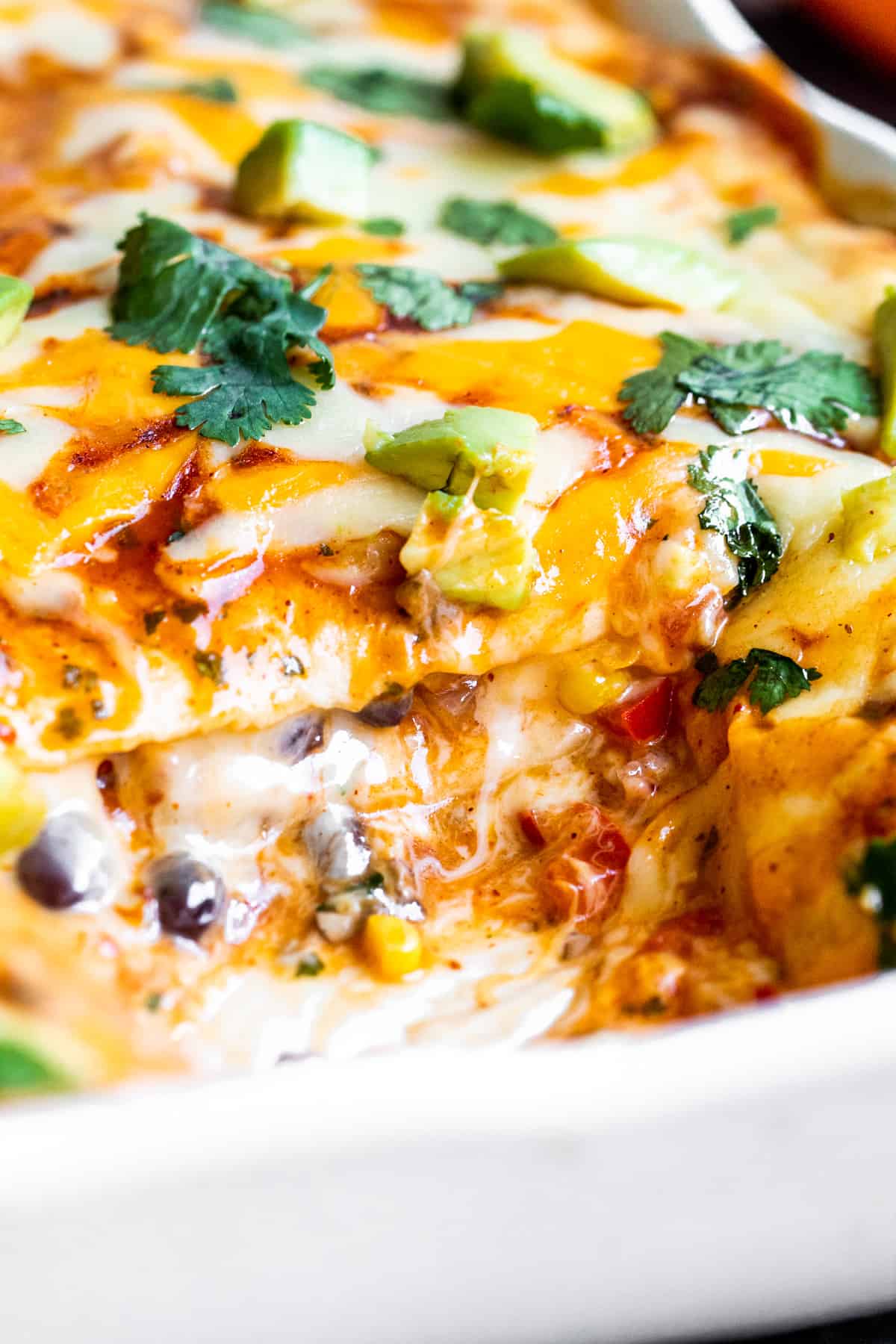 You May Also Enjoy...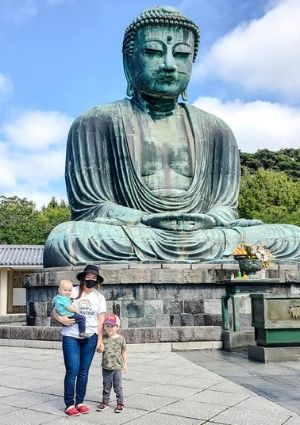 Happy Eating!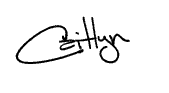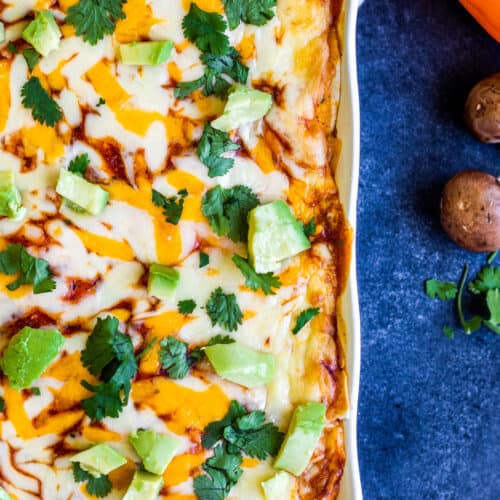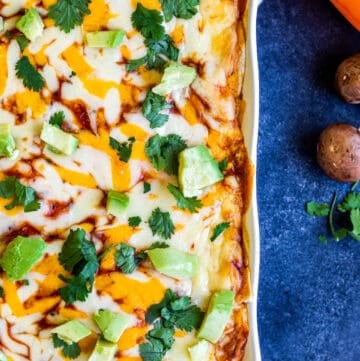 Vegetarian Mexican Lasagna Recipe
This Vegetarian Mexican Lasagna makes the best Meatless Monday family dinner! Easy to make and can be frozen or prepped ahead of time.
Ingredients
Instructions
Preheat oven to 350 degrees F and prepare a 9x13 inch baking dish.

Combine all of the sauce ingredients in a large blender or food processor and mix on high speed until well combined. Remove from blender and set aside.

In a medium sauté pan add the olive oil, diced red onion, and chopped mushrooms and bell pepper. Stir to combine and cook on medium to high heat for about 5 minutes until soft. Once soft, add in the minced garlic, salt, pepper and paprika and stir to combine. Cook an additional 1 minute until the garlic is fragrant then remove from heat.

In your baking dish add a small amount of enchilada sauce so the entire bottom is covered. Next add three tortillas, one tore in half to fit (see prep pictures above). Next add half the cooked vegetables, half or the corn and half of the black beans. Top with ½ cup of enchilada sauce then 1 cup of shredded cheese.

Repeat the above steps for the second layer of the lasagna. After the second layer add the remaining tortillas and top with remaining enchilada sauce and remaining shredded cheese.

Bake the taco lasagna on the center rack of your oven for 20-25 minutes until the cheese is melted and sauce is bubbling. Once cooked, slice and serve warm with optional toppers.
Notes
Leftover Storage: Store leftovers in an airtight container for up to 4 days. Rewarm in a microwave or oven until warmed through then serve. Freezer Option: Store cooked lasagna in the freezer for up to 3 months. I like to slice mine then add it into individual bags, so I can easily just grab a portion for lunch. When ready to enjoy let thaw in the fridge then re-warm.
Nutrition
Calories:
619
kcal
Carbohydrates:
98.1
g
Protein:
32.2
g
Fat:
18.3
g
Saturated Fat:
10
g
Cholesterol:
45
mg
Sodium:
374
mg
Potassium:
1880
mg
Fiber:
29.4
g
Sugar:
4.1
g
Calcium:
699
mg
Iron:
25
mg
See What We Are Pinning!
Follow erhardtseat1 to see all the food!