An amazing Mexican and American cuisine fusion meal perfect for family dinner! Packs a ton of flavor all wrapped in buttery crescent rolls and topped with cheese. Add your favorite fixings for a perfect finish.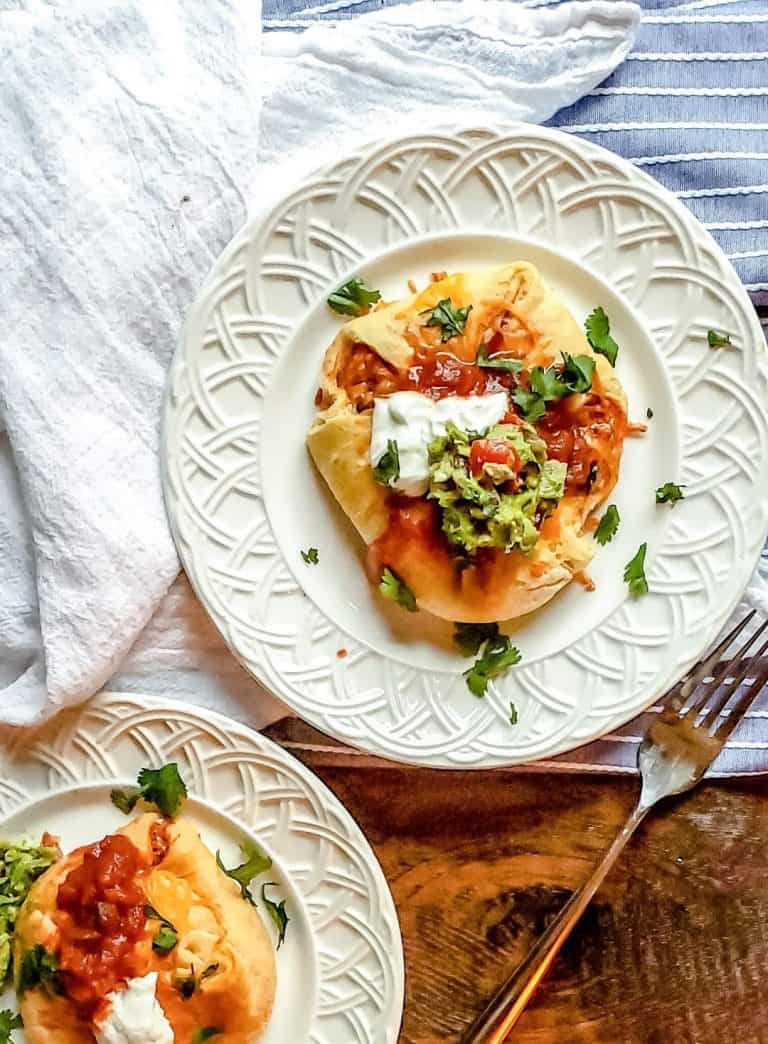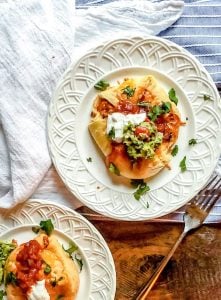 This is one of my husband's favorite recipes I make! It is also one of the not so pretty ones, but that is okay because what these lack in beauty they make up for in flavor! This chicken puffs recipe has changed and evolved through the years and grown along with my tastes. It is also versatile and can be made vegetarian, so this is a 2 for 1 recipe. This is a very simple meal that is perfect for the entire family for dinner. Bonus is that this makes a large amount so you will have leftovers all week! I hope you love this ugly ( but delicious) Chicken Puffs Recipe: Enchilada Style!
What Do You Need To Make Enchilada Puffs
The kitchen tools you will need for these Mexican Puffs are:
A Large Bowl for Combing Ingredients

A Spoon for Scooping the Filling

A Large Cookie Sheet for Baking the Chicken Puffs

Cooking Spray of Parchment Paper for the Cookie Sheet

A Can Opener for the Canned Goods

Measuring Cups and Spoons for the Ingredients
The ingredients you will need for these Chicken Puffs are:
Cooked Chicken Breasts

Diced Green Chilies

Enchilada Sauce

Cream Cheese

Shredded Cheese

Corn

Black Beans

Diced Tomatoes

Crescent Rolls

How Do You Make Chicken Enchilada Puffs?
This chicken puffs recipe is wonderful because the prep work is super simple. Measure out all of your ingredients and place them in a large bowl. Then mash and stir until combined. The only potential time consuming part of this recipe is filling the puffs themselves. I will start by saying it is okay if these get a little messy. This is not a pretty food, but these enchilada puffs are super yummy!
Enchilada Puffs Recipe Step-By-Step
First, keep the crescent roll dough in the fridge until the last second. I have found that if the dough is out at room temperature the dough gets really hard to work with. The dough gets sticky, tears easily and does not want to stay when pinched. So work in small batches one can of crescent rolls at a time to save yourself a big mess! I also find that the Pillsbury crescent rolls work the best. I am a big believer in off brands, but every off brand crescent roll I have used tears so easily! Save yourself the hassle and splurge for the little dough boy.

Second, don't over fill them! I still make this mistake often! I have found that the less is more and about 2 heaping tbsps work best. If you overfill them you will have a good amount seeping out. This won't affect the flavor, but it will make your hands a mess. They will also not puff up as much. Instead they will expand more. Again, this will have no affect on the flavor, but the round puffy chicken puffs are prettier!

Finally, get the perfect fold. Personally, I like to fold this chicken puff recipe up similar to a crab rangoon. First, I take two crescent triangles and pinch them together to form a rectangle. Then I put the filling in the center then fold opposite corners up to meet in the middle and pinch them together. Finally, I pinch the sides together the best I can so non of the filling is showing. Another way to fold them is to create a rectangle again, then place then mix in the center. Then fold the crescent roll over itself making a triangle and pinching the sides closed. Both methods work great and it is all about what you prefer! *Check out the recipe video below to watch how I fold this chicken puff recipe!
Tip: If you want to cut down on prep time even further used leftover chicken breast or store bought rotisserie chicken.

Chicken Puffs Recipe Alterations and Substitutions
Some of my favorite types of recipes are versatile ones. I love this chicken puffs recipe because it can be tweaked and changed to fit a large variety of tastes and needs! This enchilada puffs recipe has changed so much through the years and is still changing! One thing I love to do is make this chicken puff recipe...minus the chicken. I know it is going completely against the title, but this recipe is really a 2 for 1! I know a lot of people, myself included, do not like to consume meat at every meal or even every day. Personally, I like to stick to 1-3 meat meals a week! I love that this recipe can be made with or without meat and still stay delicious! My husband, Steven, is the carnivore in the family and doesn't even notice when the chicken is missing (seriously he has no clue).
Vegetarian Enchilada Puffs
To achieve the vegetarian version of the chicken puff recipe you will need to make a few simple adjustments. First add another cup of black means. This will give the recipe some extra protein, and make the texture less mushy! Next, add another half cup of tomatoes. This I just like to do because I love tomatoes, and any excuse to add some more I am all about! Finally add less enchilada sauce. I think they turn out best if you add about half a cup instead of three-fourths. This again is to make the texture less runny and make it so the puff hold their shape. That is it! No chicken. More Veggies. Less Liquid.
Another reason I love the vegetarian version of this chicken puffs recipe is because it is easier for my son to eat. For a long time my son only had four teeth. This made eating meat difficult. Leaving the meat out makes it easier for the little human to gum. Less tearing required. Therefore, if you are making this recipe with a toddler in mind it may be better to leave the meat out anyway!

Storing Leftover Chicken Puffs
Store leftover chicken enchilada puffs in the fridge in an airtight container or zip-lock bag for up to 4 days. To re-warm the puffs, place on a microwave safe plate and warm for 30-60 seconds until warmed all the way through. Alternatively, you could warm the puffs in the oven at 350 degrees for 15 minutes. Also, I do not recommend freezing the cooked chicken puffs because the inside gets funky and the bread get soggy. All in all they are not great frozen, so just do not do it.
The Evolution of The Chicken Puffs Recipe
Out of all the recipes I make, I think this one has changed the most through the years. The recipe was never bad, but this chicken puff recipe grew up some! When I first started making this recipe years ago it only had 3 ingredients: crescent rolls, cheese, and cooked chicken. This makes perfect sense since I was an extremely picky eater in the past. After awhile I started to get more creative and started to experiment with more of my recipes. The next version of the chicken puffs recipe started to resemble more of what is is today. I began to add in the Mexican flavors including, the enchilada sauce, taco seasoning, and green chilies. This version was wonderful but I felt like something was still missing.
Finally, I created what is the current chicken puffs recipe. I added in black beans, corn, and tomatoes to the filling and started to top them with a variety of different things. For example, guacamole, cilantro, lime juice, sour cream, and salsa. This is the version that has stood the test of time for my family! The only change I currently make is whether I put chicken in or leave it vegetarian. Which is also a great option!
I hope you and your family LOVE these Chicken Puffs Enchilada Style! Enjoy, and if you have any questions comment below!
Happy Eating!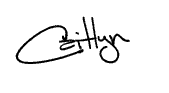 Check Out These Other Mexican Inspired Dishes!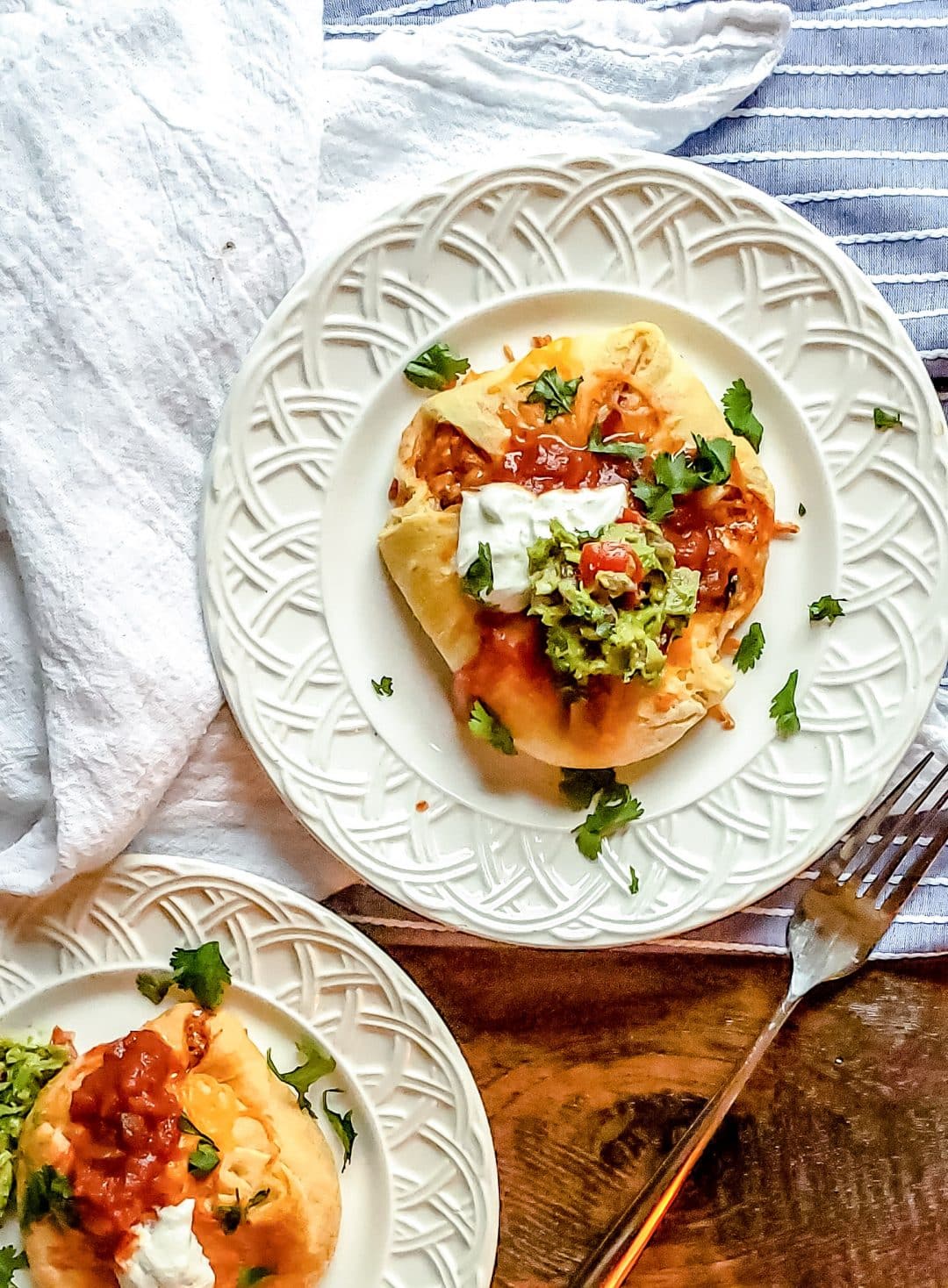 Chicken Enchilada Puffs
The best combination of Mexican flavors and American style food! Delicious, and simple weeknight dinner that will become your family's new favorite!
Ingredients
1

Medium

Cooked Chicken Breast

Shredded

2

tablespoon

Diced Green Chilies

¾

Cup

Red Enchilada Sauce

½

Cup

Canned Corn

Rinsed

½

Cup

Canned Black Beans

Rinsed

½

Cup

Diced Tomatoes

1

tablespoon

Easy Homemade Taco Seasoning

Store Bought Mix

1 ½

Cups

Shredded Mexican or Pepper jack Cheese

8

Oz

Cream Cheese

3

8 Oz Cans

Pillsbury Crescent Rolls
Instructions
Preheat oven to 375 degrees.

Combine all ingredients except the crescent rolls and half a cup of the shredded cheese into a large bowl. Stir and mash the mixture together until it is evenly combined. Set aside.

Take two crescent triangles and place them together to form a rectangle. Pinch the seam with your fingers to close it tight. Place about 2 heaping tablespoon of the mixture in the center of the crescent rolls.

Fold opposite corners up to meet each other and pinch them together. Repeat with the other two corners. Then pinch the sides together to close the crescent roll.* Place on a parchment paper lined baking sheet leaving at least an inch in between each puff because they will expand. Repeat until all the crescent rolls are filled.

Sprinkle the tops of the puffs with the remaining cheese and bake on the center rack for 25 minutes, or until the tops are golden brown.

Serve warm with your favorite salsa, sour cream, or guacamole! Enjoy!
Notes
*It is okay if some of the mix seeps out of the crescent rolls! It can get a little messy sometimes, but they will still taste delicious!
*I find it helpful to leave the crescent rolls in the fridge until the last minute. If they are at room temp they get sticky and hard to work with.
Nutrition Facts
Chicken Enchilada Puffs
Amount Per Serving
Calories 326
Calories from Fat 185
% Daily Value*
Fat 20.6g32%
Cholesterol 37mg12%
Sodium 691mg30%
Potassium 94mg3%
Carbohydrates 26.3g9%
Protein 9.9g20%
Calcium 40mg4%
Iron 1.3mg7%
* Percent Daily Values are based on a 2000 calorie diet.
Nutrition
Calories:
326
kcal
Carbohydrates:
26.3
g
Protein:
9.9
g
Fat:
20.6
g
Saturated Fat:
9.9
g
Cholesterol:
37
mg
Sodium:
691
mg
Potassium:
94
mg
Fiber:
0.6
g
Sugar:
6.7
g
Calcium:
40
mg
Iron:
1.3
mg
See What We Are Pinning!
Follow erhardtseat1 to see all the food!