Snacks
Salted Chocolate Chip Cookies Recipe
These Salted Chocolate Chip Cookies are the perfect salty and sweet combo, and sure to make everyone smile!
April 27, 2019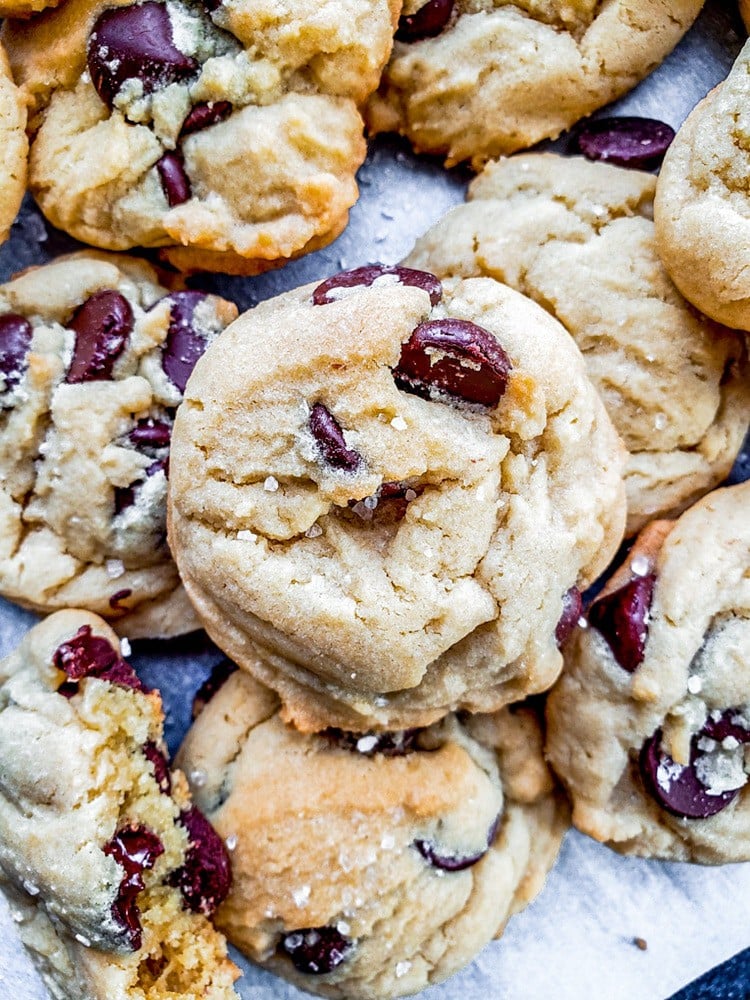 With Mother's Day around the corner there is only one thing I want: these Salted Chocolate Chip Cookies all to myself. Okay, fine I will probably wind up sharing with my family, but you get the idea. I have been making these cookies for years and they are always a huge hit whenever I gift them or bring them to a party. Lots of people have asked for my cookie recipe, and I always tell them it is nothing crazy; they are just some dang good cookies with salt on top! Also, the dough requires no chill time which I adore and saves me time. So, if super simple and delicious cookies are your thing, congrats you are in the right place.
First, before we jump into the recipe I want to give a disclaimer. I am fully aware that there are tons of chocolate chip cookie recipes out there. There all also tons of ways people claim are the wrong or right way to make a cookie. I am not a professional baker, so take my opinion with a grain of salt (sorry I had to). These are how many grandma made cookies, therefore this is the way I learnt and love to make them! Yes, they probably have a touch too much flour. It's okay, I'm cool with it because they are crisp on the outside and soft on the inside and perfectly sweet and salty. These are not super gooey and chewy cookies. Therefore, if you want that type of cookie check out my Gooey Butter Cake Cookies.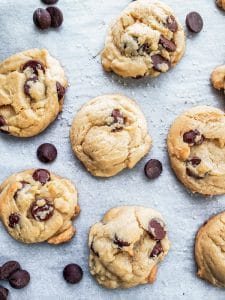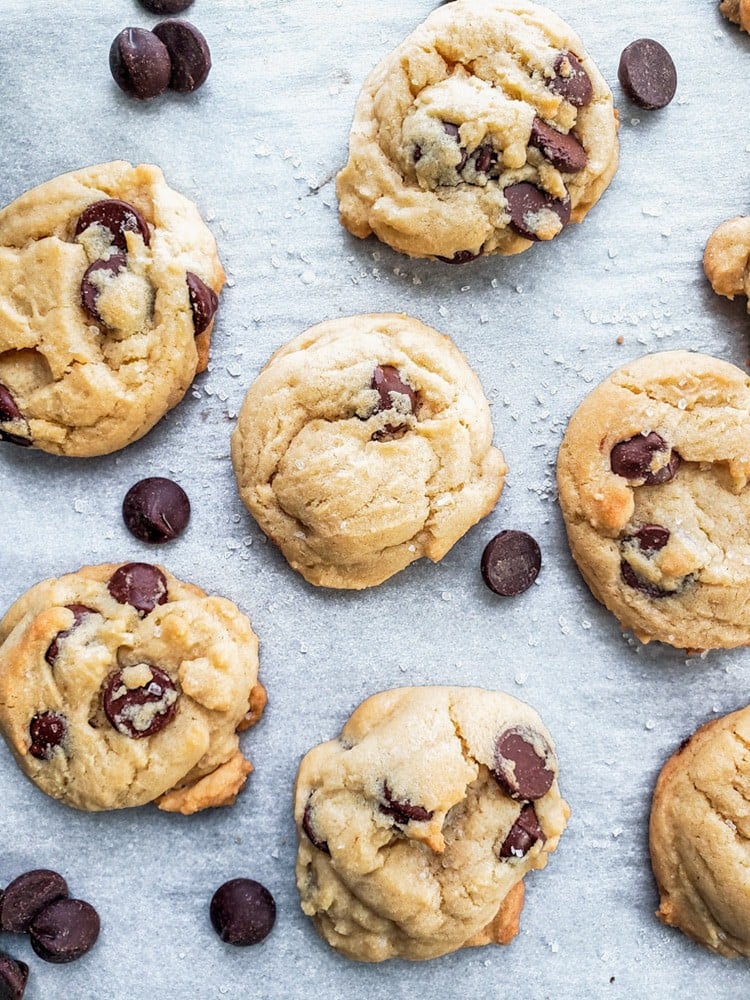 What Do I Need To Make Salted Chocolate Chip Cookies?
The kitchen tools required for this recipe are:
A Hand or Stand Mixer
A Couple Large Bowls
Measuring Cups and Spoons
A Cookie Scoop or Spoon
1-2 Cookies Sheets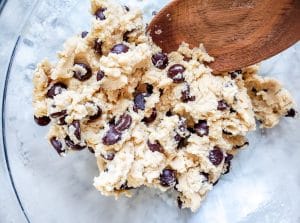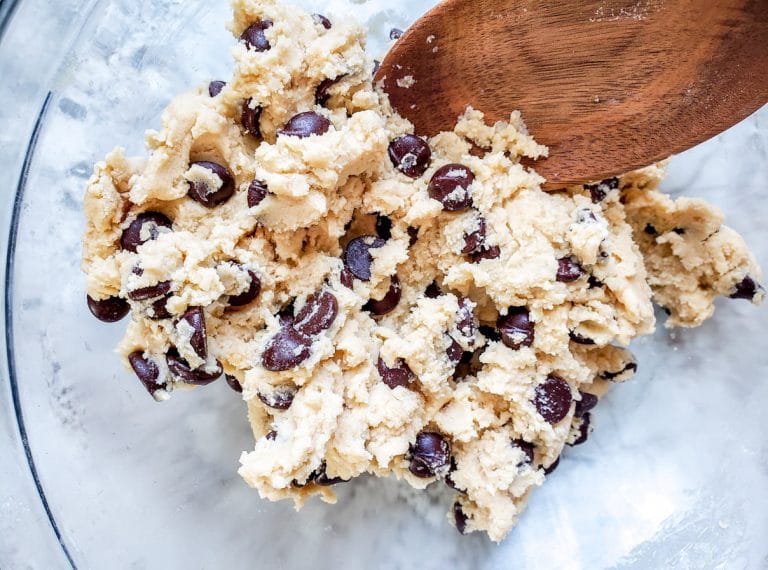 Simple Step-By- Step
First, combine dry ingredients and whisk to combine, set aside.
Second, nearly melt the butter and combine with sugars and vanilla extract.
Third, add in eggs.
Fourth, slowly add in dry ingredients and stir.
Fifth, stir in dark chocolate chips.
Sixth, divide dough and place on cookie sheet.
Next, top with sea salt and bake.
Finally, try not to eat them all in one sitting.
Note: Do not over-mix the eggs when you add them in. You want to beat them until just combined, about 20 seconds. If you mix them too long the cookies will be stiff.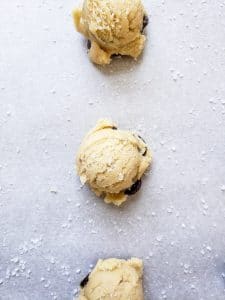 Common Questions
Does the dough need to be chilled?
NO! There is no chilling required for this recipe which saves you time and fridge space! Plus, gets those cookies in your tummy faster, which is really the ultimate goal let's be real.
Can I use any type of chocolate chips?
Sure! I love using dark chocolate chips or chunks for this recipe, because it goes so well with the sea salt on top. If dark chocolate isn't your thing feel free to use semi-sweet or milk chocolate chips.
Can the dough be made ahead of time?
Yep, while there is no chilling required for this recipe you can make the dough up to 24 hrs ahead of baking them. Just combine the dough according to the recipe and store in the fridge in an airtight container until you are ready to bake them.
How long do these stay fresh?
When stored in an airtight container at room temperature these cookies will stay good for 4-5 days.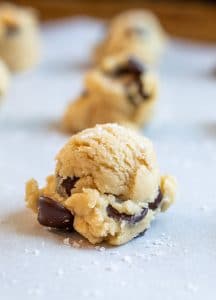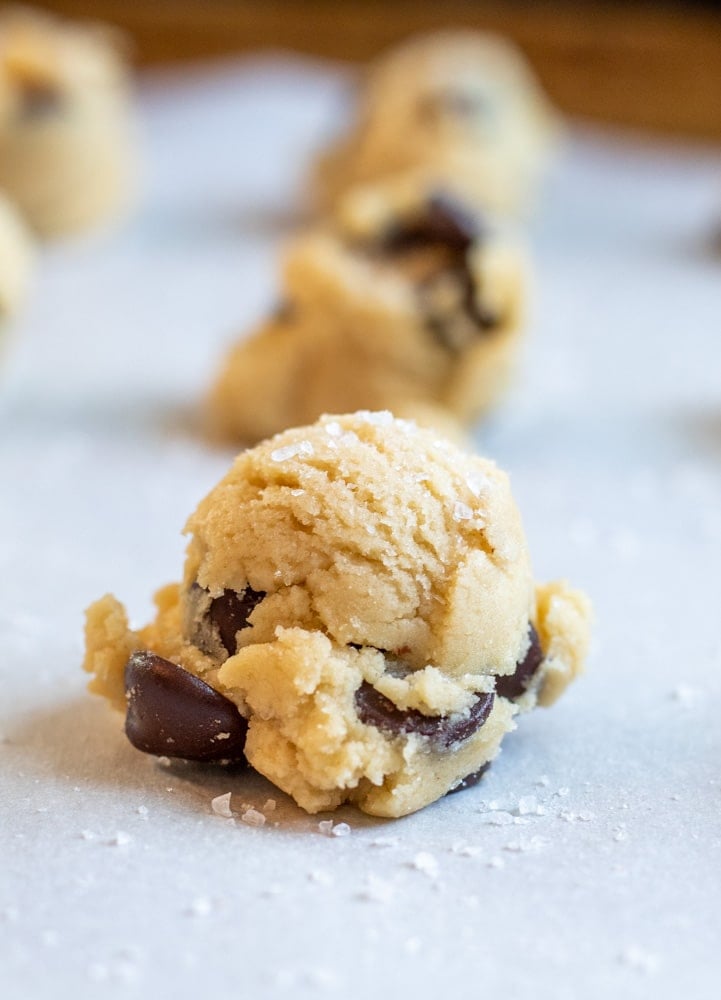 Looking for More Sweet Treats? Try These!
Chocolate Cake Cookies with Peppermint Sprinkle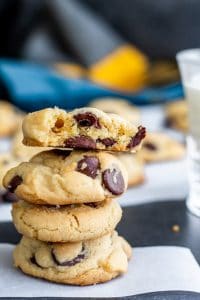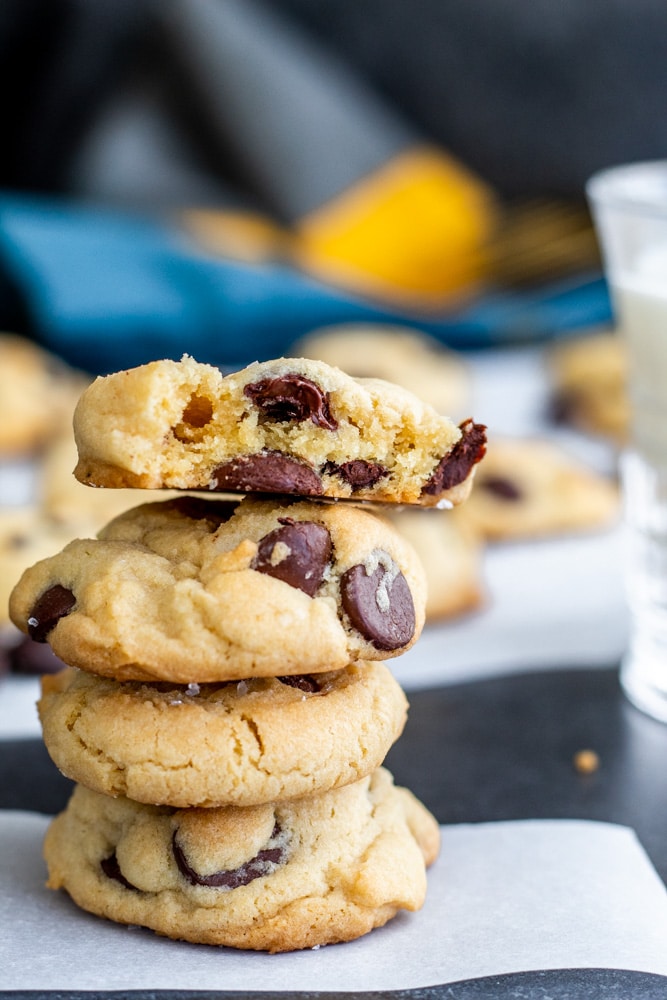 Happy Eating!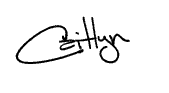 Like what you see? Don't forget to comment and rate below!
Shop This Recipe:

 
I make a small commission through purchases made through the links on this page.
Salted Chocolate Chip Cookies Recipe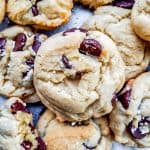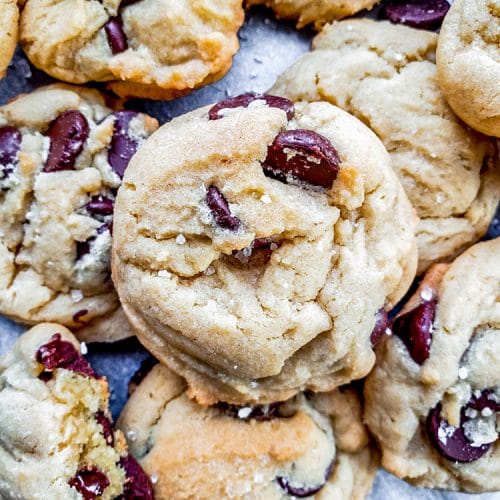 Print Recipe
Salted Chocolate Chip Cookies
These Salted Chocolate Chip Cookies are the perfect indulgent treat for any occasion. An added bonus is that there is no chilling required for this recipe!
Ingredients
1 1/2

Cups

All Purpose Flour

1/2

Tsp

Baking Soda

1/4

Tsp

Baking Powder

8

Tbsp

Salted Butter

Mostly Melted

1/4

Cup

Brown Sugar

1/2

Cup

Granulated White Sugar

1 1/4

Tsp

Vanilla Extract

1

Egg

3/4-1

Cup

Dark Chocolate Chips

1

Pinch

Course Ground Sea Salt

EACH
Instructions
Preheat oven to 350 degrees. Combine flour, baking soda and baking powder in a bowl and whisk to combine. Set aside.

Place butter in microwave and melt for 20-30 seconds until nearly melted.* Add butter, brown sugar, sugar and vanilla extract to a large bowl. Using a stand or hand mixture beat on medium-low until combined.

Add eggs and beat until just combined, about 20 seconds, try not to over-mix them. Add the dry ingredients in and stir to combine. Finally, add in chocolate chips and stir to combine. The dough should not be sticky.

Use either a cookie scoop or spoon to evenly divide the dough. Place each one on a prepared cookie sheet about an inch apart from one another. Add a pinch of course ground sea salt on the top of each cookie.

Place cookies in oven on middle rack (if using two cookie sheets rotate halfway through) for about 10 minutes. The cookies will be just turning gold when they are finished. Remove from oven and let cool. Enjoy!
Notes
*When I say nearly melted butter i mean that the majority is melted, but there are still some visible chunks of soft butter left.  *It's important to not over-bake the cookies. Do not wait until they are golden or brown, because they will be hard. 
Nutrition
Serving:
2
Cookies
|
Calories:
179
kcal
|
Carbohydrates:
20.2
g
|
Protein:
2.7
g
|
Fat:
10.2
g
|
Saturated Fat:
6.2
g
|
Cholesterol:
34
mg
|
Sodium:
152
mg
|
Potassium:
39
mg
|
Fiber:
0.4
g
|
Sugar:
7.1
g
|
Calcium:
1
%
|
Iron:
6
%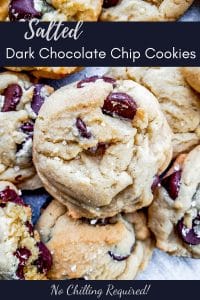 Love this Recipe?! Share with Your Friends!