Healthy meets delicious with these Baked Coconut Crusted Healthy Fish Tacos. A wonderful combination of flavors and ready from start to finish in just 30 minutes. Perfect for busy weeknights and pleases both kids and adults.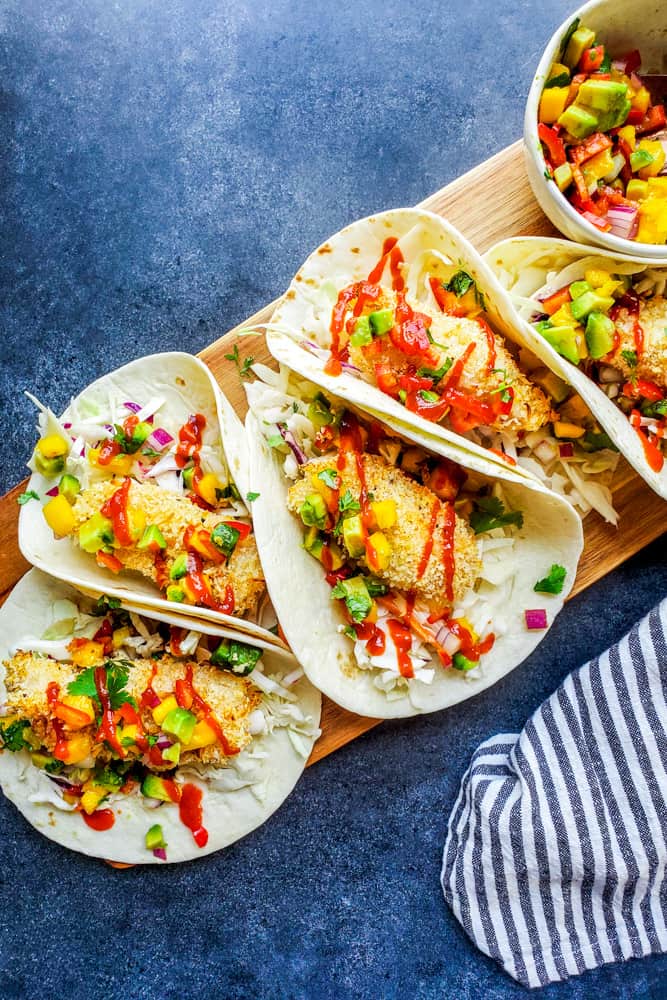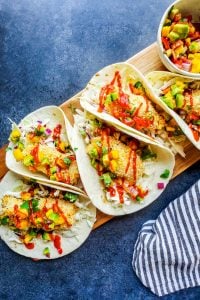 Hello everyone I hope you all had a wonderful holiday and are surviving the heat! Looking through my current recipes I realized I had not shared ANY recipes utilizing fish. Admittedly, my husband and son are not huge fish eaters so getting them to even try it can be a challenge. These Baked Coconut Crusted Healthy Fish Tacos always hit the spot and go over well with my family.
The fish is crispy and has a subtle coconut flavor that feels super summery and pairs great with my Mango Avocado Salsa. Also, this recipe is great because it is ready in only 30 minutes making it perfect for busy weeknights when I have zero time. Enough chat, let's jump right into this yummy recipe.
Kitchen Tools
A Cookie Sheet

An Oven Safe Baking Rack (Optional, but Recommended): I really encourage you to use a baking rack if you have one. This helps the fish gets nice and crispy on all sides without having the bottom get flat.

A Shallow and Wide Prep Bowl

A Sharp Knife and Cutting Board

Prep Bowls for Shredded Cabbage and Mango Avocado Salsa

Measuring Cups and Spoons

Damp Paper Towels for Warming Tortillas:

You do not have to warm the tortillas and can instead just leave them at room temperature. When you warm the tortillas it makes them more pliable and easier to work with.
Ingredients
Cod

: If you cannot find cod you can swap it out for another white fish like tilapia. Also, I recommend using fresh fish if you can find it and not frozen.

Spices

Panko Bread Crumbs

Shredded Coconut

: I find shredded coconut in the baking section next to the chocolate at my local grocery store.

Tortillas

: Flour or corn tortillas can be used for this fish taco recipe.

Shredded Cabbage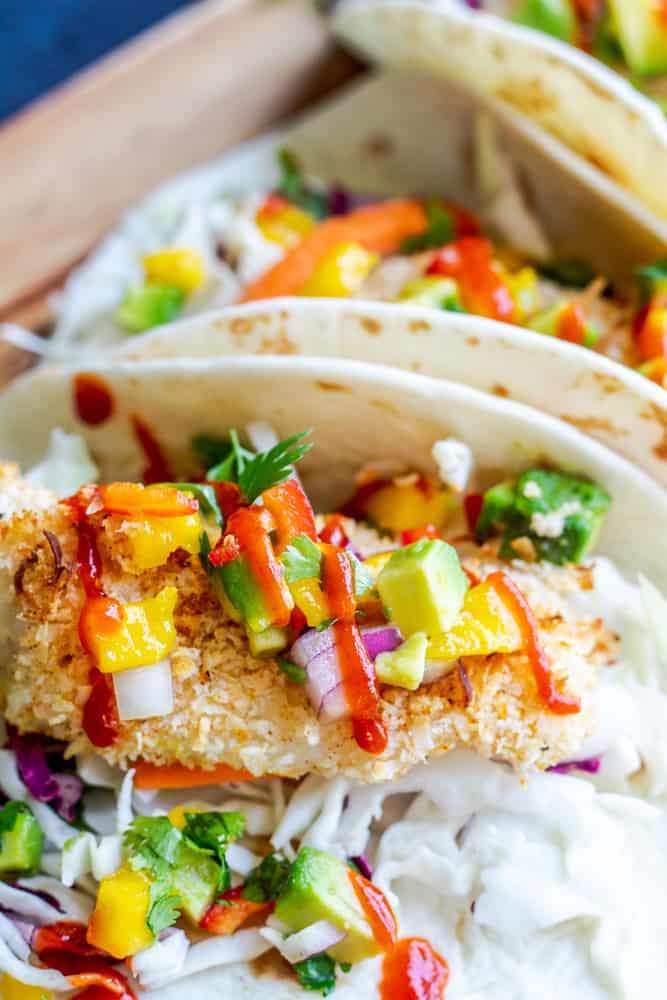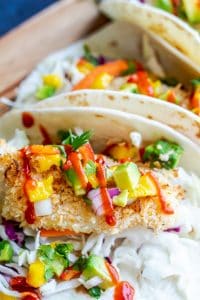 How to Make Fish Tacos
Fish Prep
Combine Panko, coconut and spices in a wide shallow bowl and stir to combine.

Do your best to slice the cod (or tilapia) into 8 equal finger shaped pieces.

Working one at a time, take a piece of fish and press all sides into the coating mix, then place on an oven safe baking rack.

Repeat until all fish has a crispy coating and discard any leftover breading mix.
Baking and Assemb

ly
Once fish is ready, place in the oven on the middle rack for 15-20 minutes until the breading is crispy. Optional: To make you fish extra crispy broil for 2-3 minutes until outside is golden to brown after baking.
While the fish is cooking, prepare the shredded cabbage, Mango Avocado Salsa and any other extras you would like.

When the fish is finished, warm your tortillas for 30 seconds in the microwave wrapped in damp paper towels.

Take a warmed tortilla and top with shredded cabbage, baked fish, Mango Avocado Salsa, and Sriracha (Optional)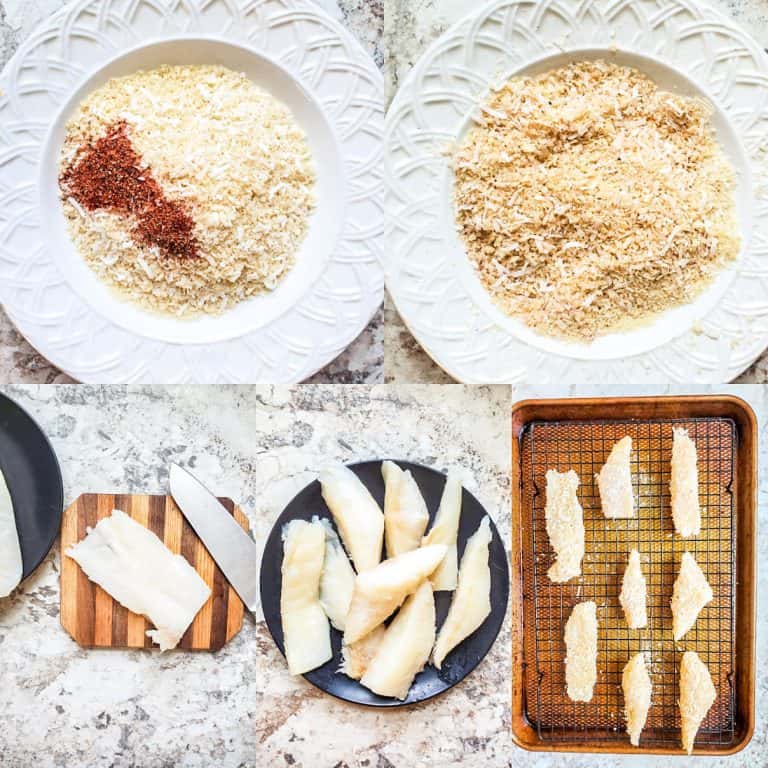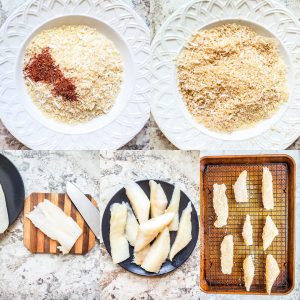 Pro Tips
Slice the Fish Right: Depending on your fish shape and size you may get more or less than 8 pieces of fish. For this baked fish tacos recipe each taco gets one piece of fish for a total of 8 tacos. Therefore, if you are concerned about getting enough fish for each taco buy a little more than a 1lb. Worst case you will have extra and some of your fish tacos will be loaded with delicious baked fish and no one will complain about that!
Raise the Fish Up: While the baking rack is optional I highly suggest using one if you have it for these healthy fish tacos. If you just use the cookie sheet the coconut breading on the underside of the fish won't get as crispy and could be a bit soggy. If you do not have an oven rack and just want to use the cookie sheet make sure you flip the fish halfway through to avoid the soggy bottom disaster.
Anti Stick: Spray the oven safe baking rack with cooking spray to help avoid the coconut breading from sticking and coming off in the oven.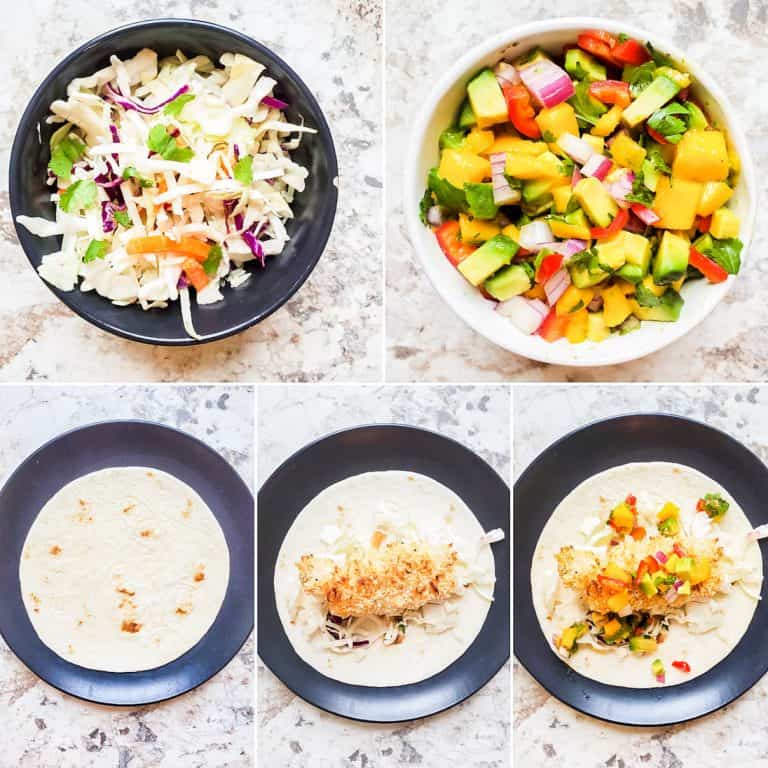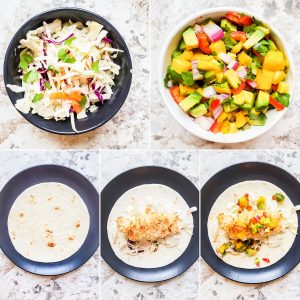 More Simple Dinner Recipes
Vegetarian Enchiladas Recipe
Vegan Spicy Black Bean Soup
Grilled Chicken Spiedini
Chicken Enchilada Puffs
Freezer Friendly Vegetarian Burritos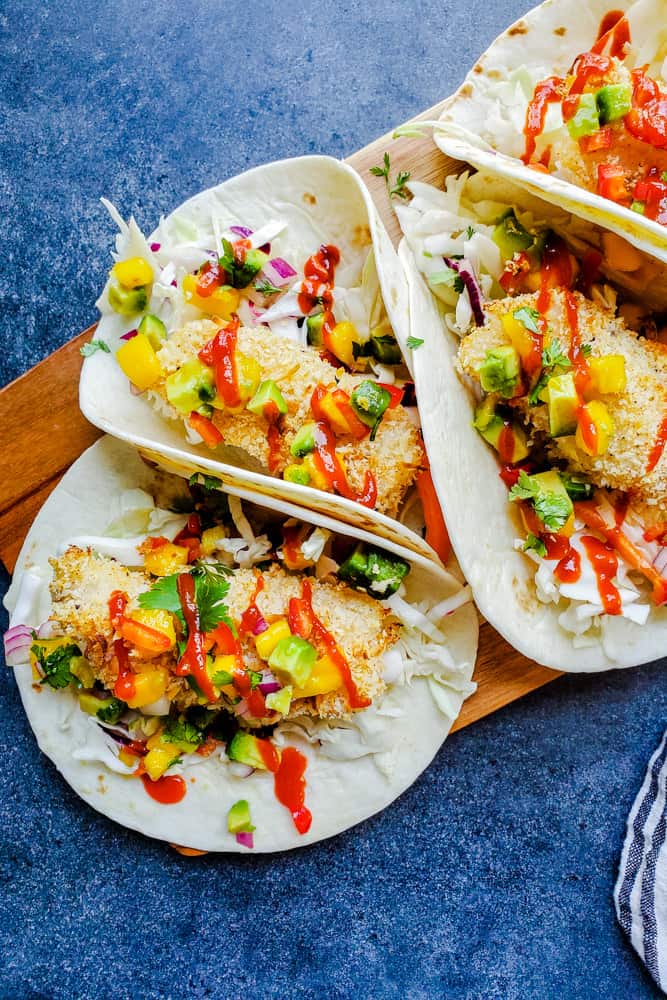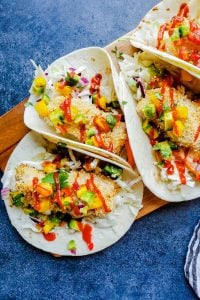 Common Questions
Can fish tacos be made ahead of time?
Some of the fish tacos recipe prep can be done ahead of time, but coating and cooking the fish should be done right before wanting to enjoy these fish tacos. Some prep that can be done ahead of time is:

Coating Mix: Can be made weeks in advance and stored in a zip-lock bag at room temperature until ready to use.
Shredded Cabbage: The shredded cilantro lime cabbage can be made up to 12 hours ahead of time and stored in an airtight container in the fridge.
Mango Avocado Salsa: The Mango Avocado Salsa can be made up to 12 hours ahead of time and stored in an airtight container in the fridge.
How should leftover fish tacos be stored?
When stored in an airtight container in the fridge leftover fish tacos will stay fresh for up to 3 days.
Can fish be re-warmed?
Yes, to rewarm fish place in the microwave until warm. Alternatively, you can bake the fish at 375 degrees for 10-15 minutes, or until warmed through. This both warms the fish and keeps the breading crisp unlike the microwave. I like storing the fish separately from the rest of the healthy fish taco ingredients, and then assembling them when ready to eat.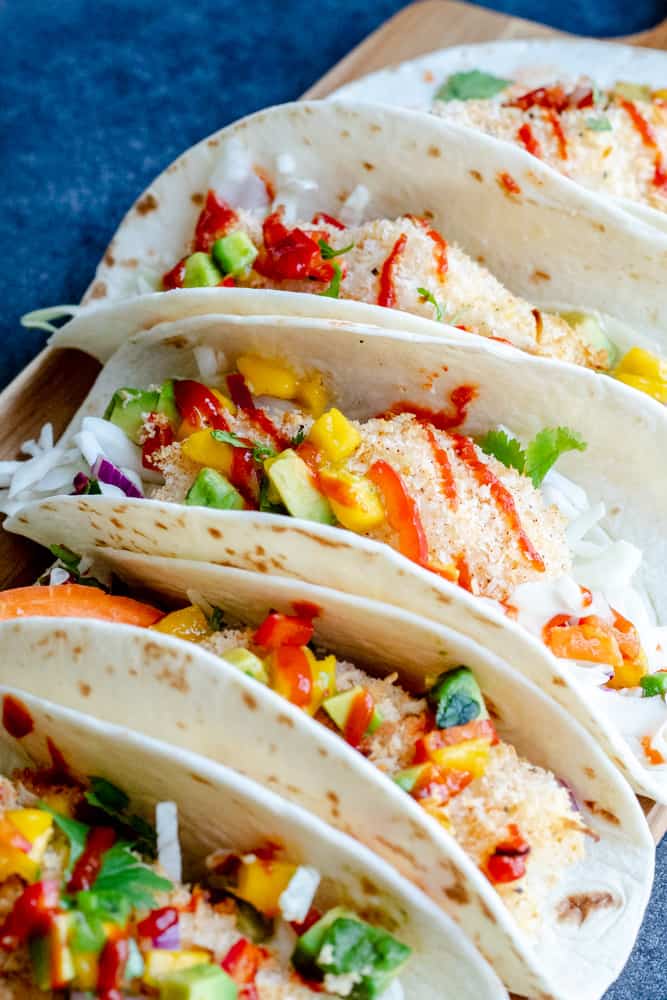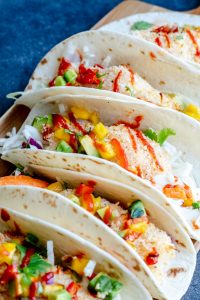 Serving Suggestions
I love to serve these fish tacos with my Mango Avocado Salsa and some Sriracha for a spicy kick. If those are your thing some other great serving options are your favorite red or green salsa, sour cream (plain Greek yogurt), guacamole, Tabasco (or another hot sauce of your choice), lettuce instead of cabbage, or any of your other favorite taco toppings.
I hope you and your family and friends enjoy these Healthy Fish Tacos! If you have any questions or just want to say hello don't hesitate to comment below.
Happy Eating!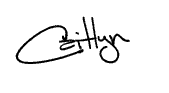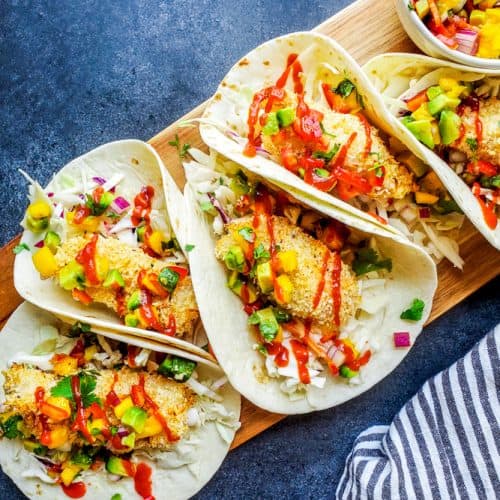 Baked Coconut Crusted Healthy Fish Tacos
These Healthy Fish Tacos are baked to perfection and coated with a yummy coconut panko. The best easy weeknight dinner recipe for the entire family! Pair with my Mango Avocado Salsa and Sriracha for the perfect finish!
Ingredients
Lime Cilantro Cabbage Slaw
2

Cups

Shredded Cabbage

1

tablespoon

Lime Juice

3

tablespoon

Fresh Cilantro

1

Pinch

Sea Salt
Instructions
Preheat oven to 375 degrees. Combine Panko, shredded coconut, sea salt, pepper, garlic powder, paprika, and cayenne pepper in a wide shallow bowl and stir to combine. Set Aside.

Slice cod into 8 equal finger shaped pieces and dip into the breading mixture pressing and coating completely. Set on a Pam sprayed baking rack on a cookie sheet and repeat until all fish is coated. When ready, bake on the center rack for 15-20 minutes until fish is crispy and starting to turn golden. If you want the fish extra crispy, broil on high for 2-3 minutes after baking.

While the fish is baking, combine shredded cabbage, lime juice, sea salt, cilantro in a bowl and toss to combine. Set aside until ready to serve. If using Mango Avocado Salsa, see recipe and prep as well. Finally, warm tortillas in damp paper towels for 30 seconds until warm and steamed.

When fish is done baking, take a tortilla and top with cabbage slaw, then a piece of fish, then Mango Avocado Salsa and Sriracha if using. Repeat and serve warm. Enjoy!
Notes
Leftover Storage: Store leftovers in an airtight container in the fridge for up to 3 days. Rewarm in the oven or microwave until hot and assemble taco.
Serving Alternatives: Some additional topping options include sour cream, your favorite salsa, guacamole, diced jalapeno, hot sauce of your choice, or any of your other favorites!
Suggested Sides: Cooked black beans, rice, and fajita vegetables work as great side dishes for this recipe.
Nutritional Information does not include Mango Avocado Salsa, please see recipe for more information.
Nutrition
Serving:
2
Tacos
Calories:
333
kcal
Carbohydrates:
39.4
g
Protein:
32.1
g
Fat:
5.2
g
Saturated Fat:
2.1
g
Cholesterol:
61
mg
Sodium:
371
mg
Potassium:
500
mg
Fiber:
5.5
g
Sugar:
3.1
g
Calcium:
80
mg
Iron:
0.5
mg
See What We Are Pinning!
Follow erhardtseat1 to see all the food!
Share with your Friends and Family!