Whenever I am in a hurry, or trying to think of something delicious my mind immediately goes to pizza. As a family we eat A LOT of pizza, at least once a week. Therefore, I have come up with a number of delicious and creative pizza and flatbread recipes over the years. This Vegetarian Flatbread Pizza with Fresh Rosemary is one of my personal favorites. When coming up with this recipe I wanted something (semi) healthy and vegetarian. Also, I wanted something fast and versatile that could work as a meal or as an appetizer.
What Is the Best Cheese For Pizza?
The best cheese for pizza is a mix of a few that compliment each other well. As a family we absolutely love anything that has to do with cheese! Living in Wisconsin this love of cheese continues to grow, because delicious cheese everywhere! When coming up with this vegetarian flatbread pizza recipe I knew I wanted to highlight a Wisconsin cheese. Therefore, I chose to use Wisconsin White Cheddar along with the class mozzarella and Edam.
Cheese Please!
-1-
First, I always like to include mozzarella in my pizza cheese mix because it melts easily. It is also readily available, inexpensive and easy to find. For me, this is important. I have a one-year-old son, Theo, who I don't want to have to drag to three different grocery stores to find some fancy cheese. Also, I love mozzarella cheese because it is soft and easy to work with. No cheese grater required you can just slice or tear the amount you need. Alternatively, it is readily found shredded in the refrigerated section. Finally, I love using mozzarella cheese because it has a neutral creamy flavor that goes well with just about anything. This makes picking toppings simple, and the flavors wont fight each other. Mozzarella's neutral flavor also makes it perfect for pairing with other cheeses.
-2-
Second, I wanted to use another soft cheese that would go well with the mozzarella, but had more flavor. What I chose is Edam cheese. What does Edam cheese taste like? Edam is a semi-soft cheese that melts really well so it is perfect for pizza. Edam has a sweet nutty flavor that I feel compliments the mushrooms. This cheese is also pretty simple for me to find. I find it at my local Aldi making it affordable and convenient. Edam is a delicious cheese and works perfect on this vegetarian flatbread pizza.
-3-
Finally, I wanted to add a local cheese to round out the flatbread. The cheese I went with is Wisconsin White Cheddar Cheese. This is a semi-hard cheese (get that cheese grater ready) and has a much more bold flavor. This cheese is most often used on burgers and grilled cheese, so the cheese melts well. This cheese also gives the entire flatbread a boost of flavor and builds on the simple olive oil/Parmesan sauce.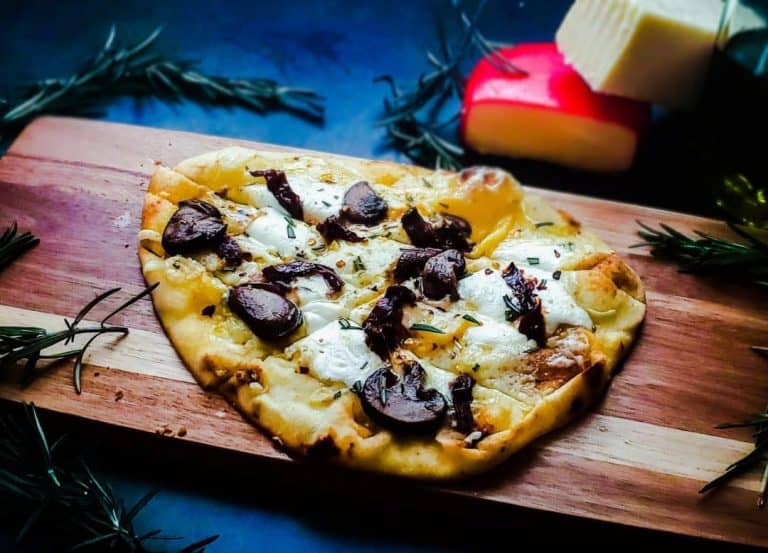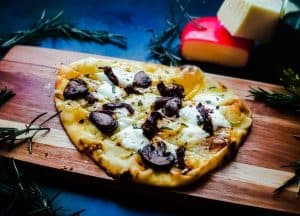 The Perfect Simple Sauce
One of my favorite things about cooking is creating my own sauces. For this vegetarian flatbread pizza I wanted to keep it simple. Therefore, I decided to use an easy olive oil and Parmesan cheese combination for the base of this flatbread. I knew I would be using naan bread as my crust to keep things simple. I would also use multiple different kinds of cheese and toppings. Because of this I wanted to keep the sauce simple and light and not make the flatbread too heavy. Olive oil is the perfect base and compliments the fresh rosemary perfectly.
First, I get a medium bowl combine all my sauce ingredients in it. Next, I stir it until well combined and finally I spread it on the naan bread with a brush. That's it! So simple and I always have the ingredients handy so I don't have to add anything extra to my grocery list. The spices I use in this sauce are oregano, garlic, ground black pepper, and red pepper flakes. The garlic comes through the most and the others act as complimentary flavors. If you would prefer you could leave out the red pepper flakes and instead add them on top at the end for a little extra spice. If you are looking for another classic sauce try my Perfect Marinara Sauce.
Minimal Healthy Toppings
What is the best part of a pizza? I think a lot of people would answer the toppings! There are an endless number of combinations to choose from making any pizza the perfect one. For a long time I wanted to try and throw every possible topping on my pizza. More is better right? Although it may be tempting to put all your favorites on the same pizza I find that a max of three different toppings yield the best results. For this vegetarian flatbread pizza two is plenty. With the different cheese and sauce too many toppings will make the flatbread too heavy, soggy (ew), and all around just too much going on.
My Picks!
Therefore, I chose to stick with shiitake mushrooms and sun-dried tomatoes. It is a must to cook the mushrooms down first. Doing this gives them so much more flavor and a much better texture on the finished flatbread. It took a long time for me to fall in love with mushrooms, but the earthy flavors go so well with the cheese and rosemary. In addition, shiitake mushrooms are also very healthy and have numerous health benefits. Mushrooms are also a popular pizza topping and a great option for vegetarian dishes.
Next, I love the addition of the sun-dried tomatoes. Using regular cherry or grape tomatoes is a perfectly okay option. But, there is so much more flavor using sun-dried tomatoes. I like to use the once that are in a jar personally. This is mostly because that kind is the easiest for me to find at my grocery store. If you prefer, you could used dried sun-dried tomatoes if that is easier for you.
Finally, the last piece of this vegetarian flatbread pizza is the fresh rosemary. Rosemary is one of my favorite herbs and one that I grow year round. Therefore, I always have some ready and prefer fresh over dried tremendously. If dried rosemary is all you have then go with that, but I really do recommend buying some fresh. It can usually be found by the bagged lettuce and other vegetables in your local grocery store. Alternatively, you could flex your green thumb and try to grow your own!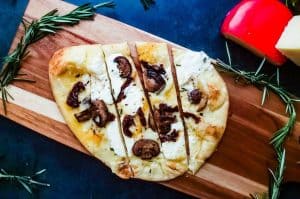 Versatile, Healthy and Vegetarian
Lastly, I think this vegetarian flatbread pizza works great as an appetizer or as a meal. I make these often for my family for dinner. In our home we like to eat a lot of vegetarian meals and this flatbread recipe checks that box. This recipe is also very fast to make, under 30 minutes. My son, Theo, loves this flatbread recipe! Vegetables can be a tough sell to kids, but with all the yummy cheese these make a nice compromise. Alternatively, if your little is just not having the veggies you can always leave them off and just make them a plain cheese. The flatbread is also easy to hold and less messy than traditional marinara sauce (yay, less mess). Also, this recipe works great as an appetizer. Just cut the flatbread into long strips making it easy to hold.
I hope you, your family and friends love this Vegetarian Flatbread Pizza Recipe!
Happy Eating!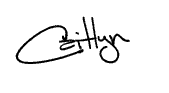 Love this vegetarian flatbread pizza? Try this Easy Margherita Pizza Recipe! Perfect for picky eaters!
Shop This Recipe:

*I make a commission for purchases made through the links on this page.
Vegetarian Flatbread Pizza Recipe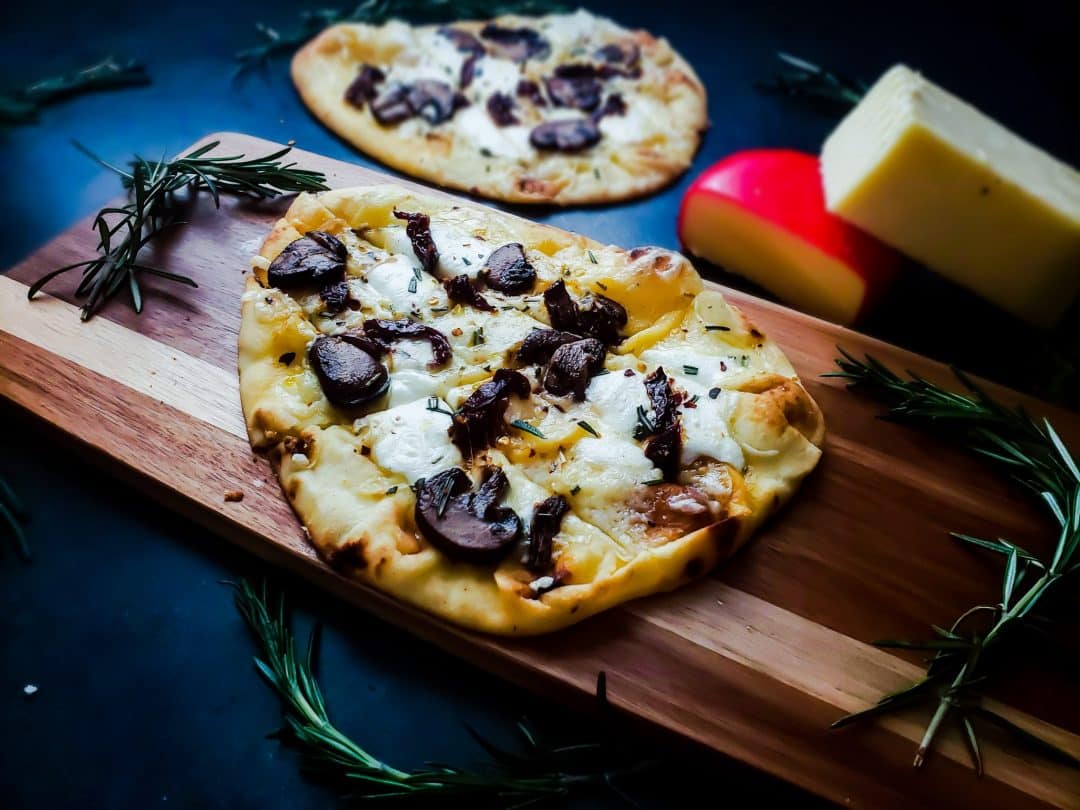 Vegetarian Flatbread Pizza with Fresh Rosemary
Healthy and simple Vegetarian Flatbread Pizza! Ready in about 30 Minutes this recipe is perfect as an appetizer or as a main dish. Enjoy!
Ingredients
4

Pieces

Prepackaged Naan Bread

1

tablespoon

Unsalted Butter

1

Cup

Shitake Mushrooms

Sliced

⅓

Cup

Sundried Tomatoes

Roughly Chopped

1

Cup

Mozzarella Cheese

½

Cup

Edam Cheese

½

Cup

White Cheddar Cheese

⅓

Cup

Olive Oil

2

tablespoon

Grated Parmesan Cheese

¼

teaspoon

Red Pepper Flakes

¼

teaspoon

Ground Black Pepper

1

teaspoon

Oregano

3

Cloves

Garlic

Minced

2

tablespoon

Fresh Rosemary

Roughly Chopped
Optional Toppings
Fresh Rosemary

Grated Parmesan Cheese
Instructions
Preheat the oven to 375 degrees. While the oven is preheating, add 1 tablespoon of unsalted butter to a small skillet and bring to medium heat. Once warm add the sliced shiitake mushrooms to the skillet and stir to coat with butter. Cook on low heat for about 10 minutes, stirring occasionally, until mushrooms begin to shrink and brown in color.

While the mushrooms are browning prepare the olive oil sauce. Combine remaining olive oil, grated Parmesan cheese, minced garlic, red pepper flakes, ground black pepper and oregano into a small bowl. Stir until well combined. Brush olive oil mixture evenly onto prepackaged naan bread slices until none remains.

Grate the white cheddar and Edam cheeses into small pieces. Add equal parts to each naan bread slice over the olive oil mixture. You can add more or less depending on your preference. Sprinkle shredded or fresh mozzarella cheese over top getting a nice combination all over each flatbread.

By now the mushrooms should be nearing completion. Add an even amount to each flatbread. Add chopped sun-dried tomatoes* throughout each flatbread into any gaps of toppings. Finally sprinkle chopped fresh rosemary all over each flatbread pizza.

Place flatbreads on a pizza stone or parchment paper lined cookie sheet and place in the oven for about 10 minutes or until cheese is melted. Serve warm and top with additional rosemary, red pepper flakes or Parmesan cheese. Enjoy!
Notes
*I use the store bought kind that come in a jar.
Nutrition
Calories:
567
kcal
Carbohydrates:
44.5
g
Protein:
21.1
g
Fat:
33.9
g
Saturated Fat:
11.6
g
Cholesterol:
46
mg
Sodium:
993
mg
Potassium:
307
mg
Fiber:
2.5
g
Sugar:
3.9
g
Calcium:
270
mg
Iron:
1.1
mg
See What We Are Pinning!
Follow erhardtseat1 to see all the food!