Breakfast is served! These Bacon and Egg Breakfast Tacos are great for a weekend brunch perfect for the whole family.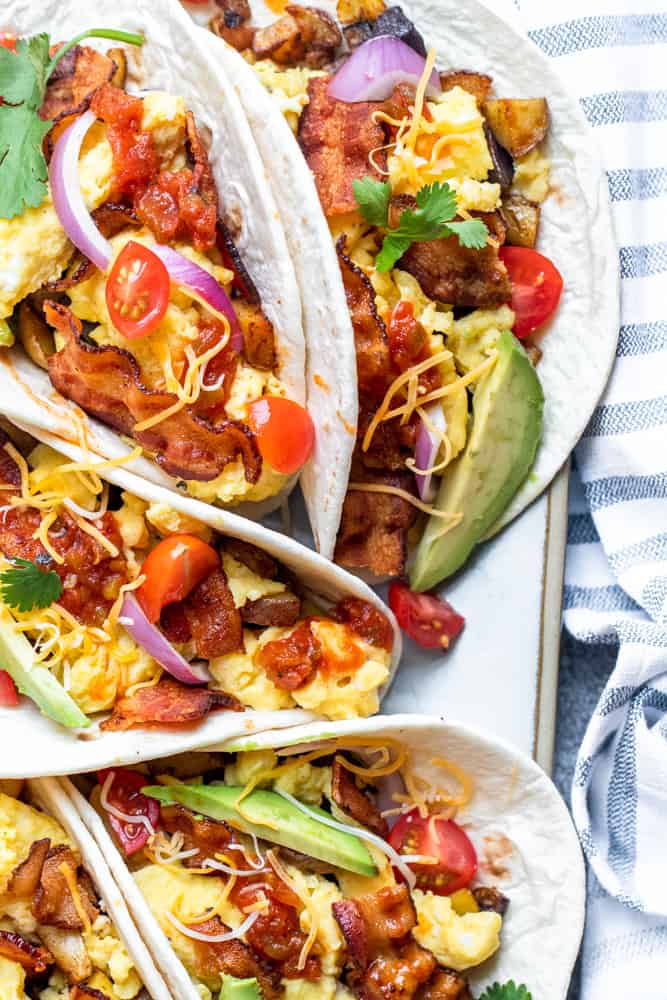 If you know anything about me then you know I am a huge taco lover. I have said on several occasions that I would be happy eating tacos for every meal of the day. Enter these incredible breakfast tacos!
These tacos are packed with bacon, eggs and roasted potatoes for the ultimate tacos. Top with sliced avocado, shredded cheese and fresh veggies for the perfect finish. I love that these tacos can be made ahead of time, frozen and work great for meal prep. I hope you and your family enjoy these tasty tacos.
Breakfast Tacos are perfect for weekend brunches or a weeknight "brinner".
Kitchen Tools
A Spatula
A Pairing Knife and Cutting Board
Prep Bowls
A Whisk
Ingredients
Bacon: You can make the bacon in the skillet, oven or check out my air fried bacon for these tacos. Any cooking method will work, but I love that I can make the bacon in the air fryer while I make the potatoes and eggs in the skillet. Multitasking for the win!
Eggs and Milk
Potatoes: I like to use a small melody of potatoes, but you can use all red potatoes, russet potatoes or even sweet potatoes will work. Also, I prefer to leave the skin on my potatoes, but you can remove it with a peeler if you wish.
Shredded Cheese: Pepperjack, Mexican blend, cheddar, or Cotija are all great cheese options.
Tortilla Shells: Try to use either taco, street taco or fajita size tortillas. Anything else will be a big large for the tacos. Also, both corn and flower tortillas will work.
Assorted Spices
Veggies for Topping: My favorite toppers are sliced avocado, red onion, and diced tomato. You can use all of these or try out you personal favorite taco toppings.
Additional Toppings (Optional): Along with the veggies some other things you could top your breakfast tacos with are fresh cilantro, hot sauce, chili lime seasoning, fresh lime juice, salsa or sour cream.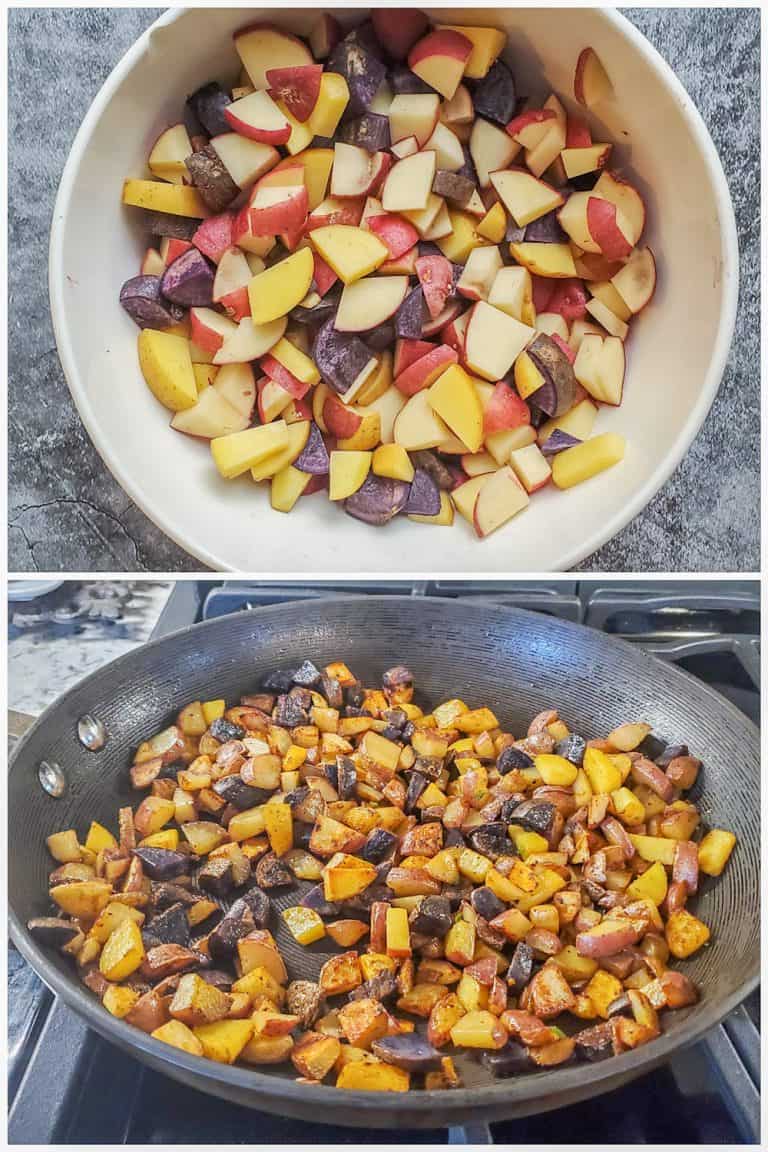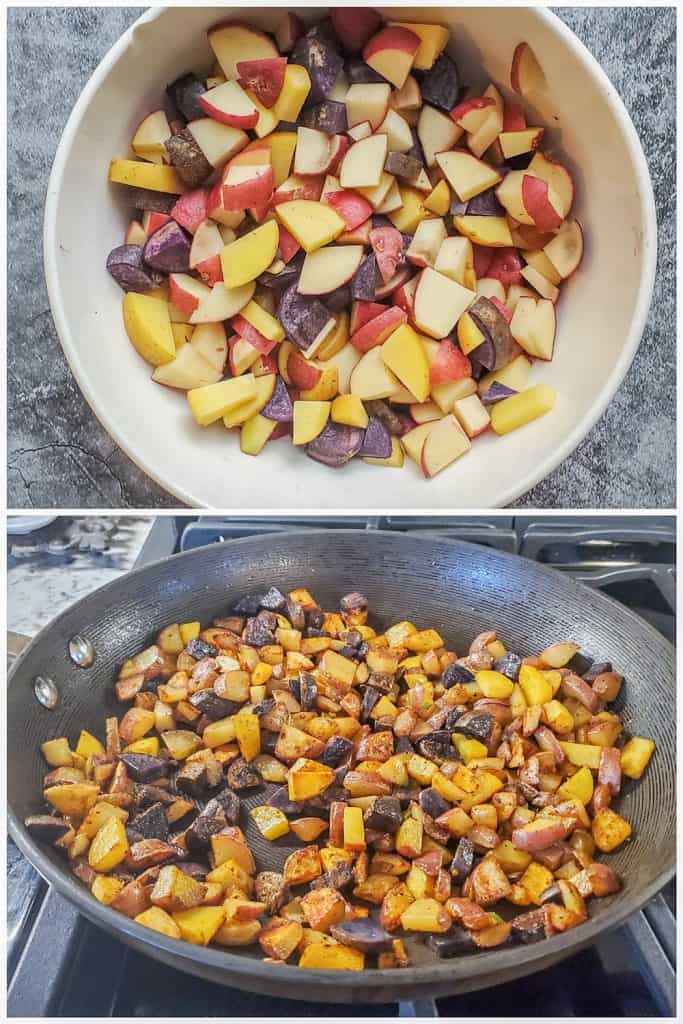 More Mexican Inspired Recipes
Veggie Quesadillas
Grilled Street Tacos
Cheesy Enchilada Dip
Cauliflower Enchiladas
Vegetarian Burritos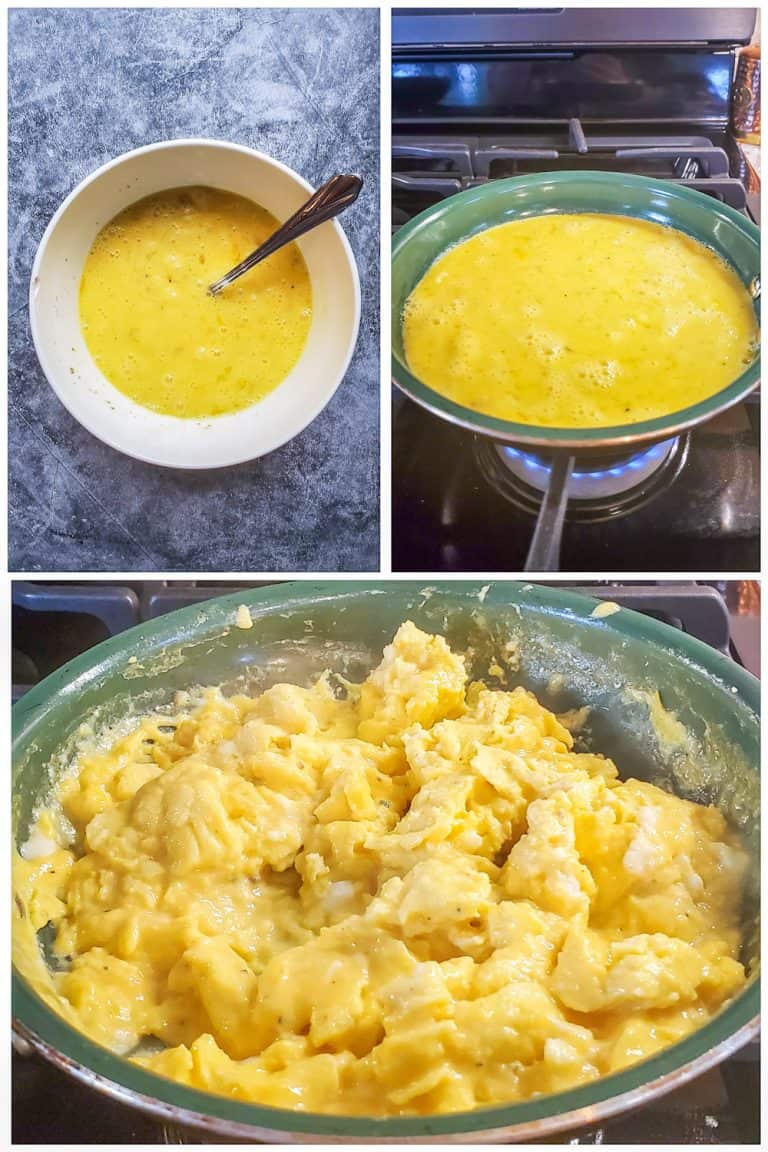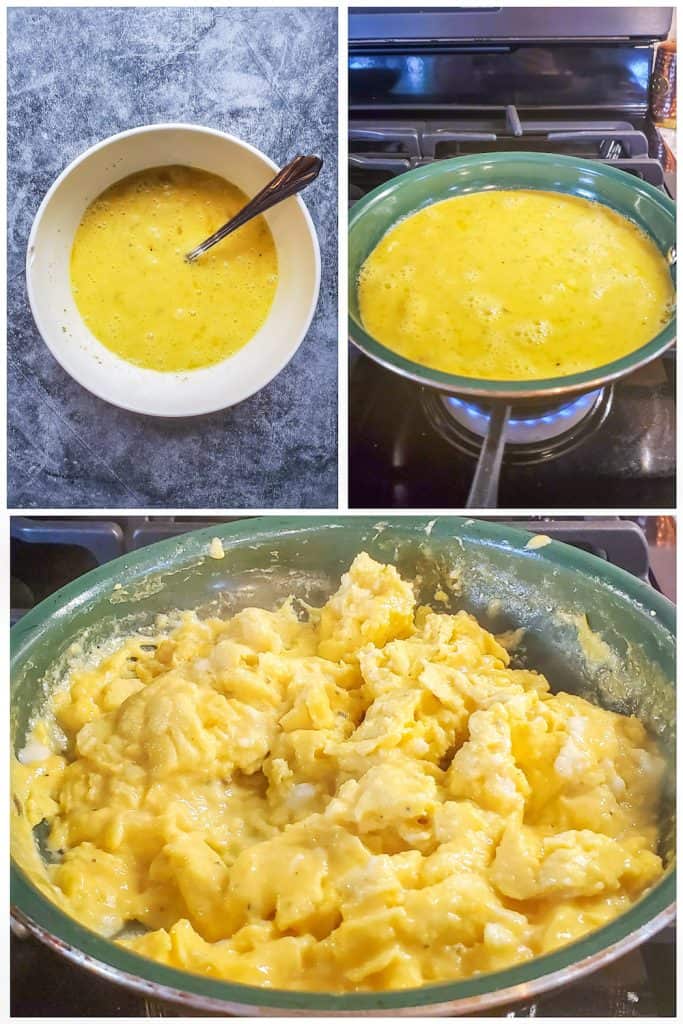 Pro Tips
Time Saver Tip: If you are short on time and wanting to expedite cooking you can make the potatoes and bacon ahead of time and store in the fridge. When ready to make the tacos you can make a quick scrambled eggs, warm the bacon and roasted potatoes then assemble the tacos.
Egg Tips: I love a soft scrambled egg for these tacos. It contrast the crispy potatoes and crunchy bacon perfectly. You can do a simple scrambled egg or do a sunny side up egg, pouched or even over-easy.
Meat Options: If bacon isn't your thing no problem. You can easily swap out the bacon for breakfast sausage, turkey bacon, chicken sausage, crispy tofu, or just more roasted veggies. If you use a sausage just make sure the flavor is mild or complimentary (like Chipotle) and not something that would throw the flavor off.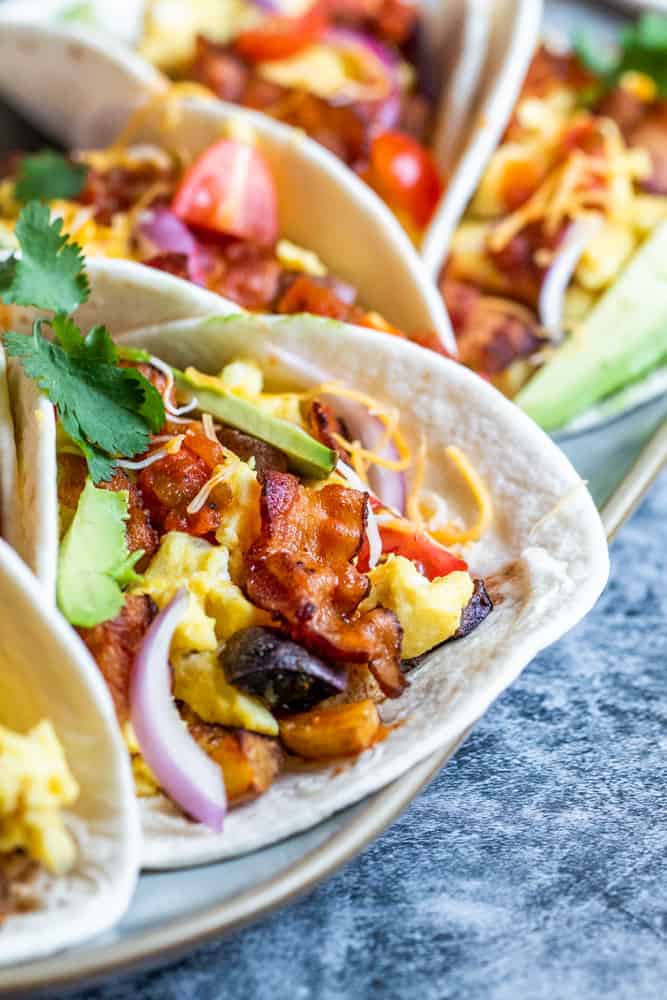 Common Questions
How should leftover tacos be stored?
Store leftover bacon and egg tacos in an airtight container in the fridge for up to 4 days. For best results wrap the tacos in foil and re-heat in the oven for 10-15 minutes until heated through. Also, I recommend leaving the toppings off and adding them on right before you enjoy the breakfast tacos.
Can tacos be frozen?
Yes, these tacos can be frozen for up to 3 months. To freeze the tacos leave the toppings off and just have the eggs, bacon, potatoes and cheese on them. Wrap the tacos in foil, then place each in a freezer bag.

When ready to enjoy them place in the oven for 20 minutes at 300 degrees F or until the taco is heated through. Once the breakfast taco is warmed top with additional toppings and enjoy.
Are tacos good for meal prep?
Absolutely they are! You can easy store in the fridge then rewarm in a microwave or oven for a simple and quick lunch. Pair along side rice, beans or a Mexican salad for the perfect finish.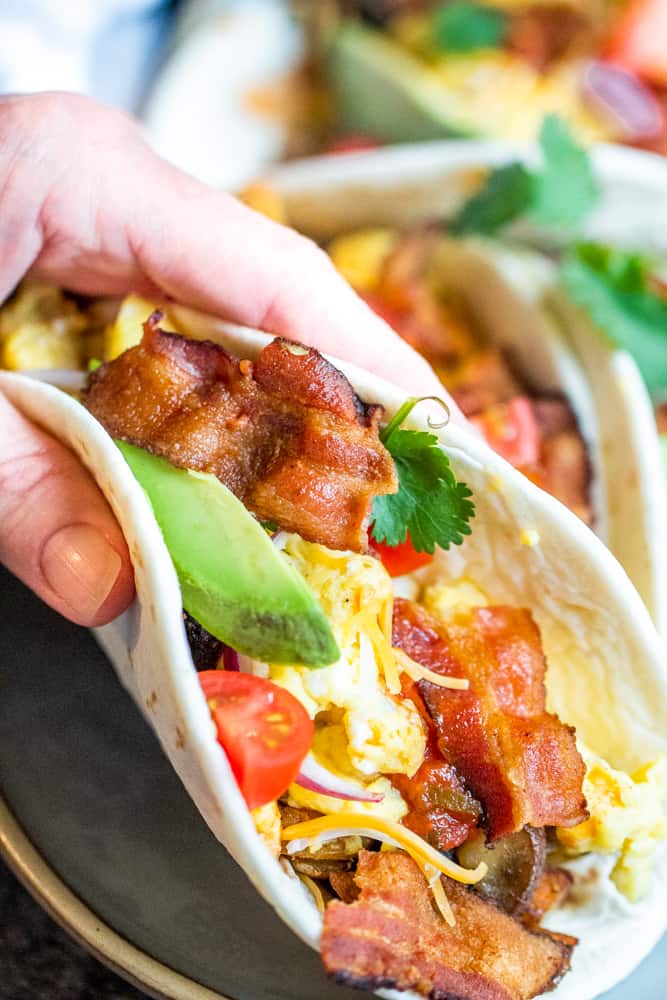 I hope you and your family love this bacon and egg taco recipe. Leave me a comment below telling me what you think. Also, if you love meal-prep breakfast recipes check out these freezer sandwiches next!
Happy Eating!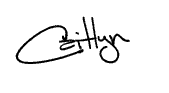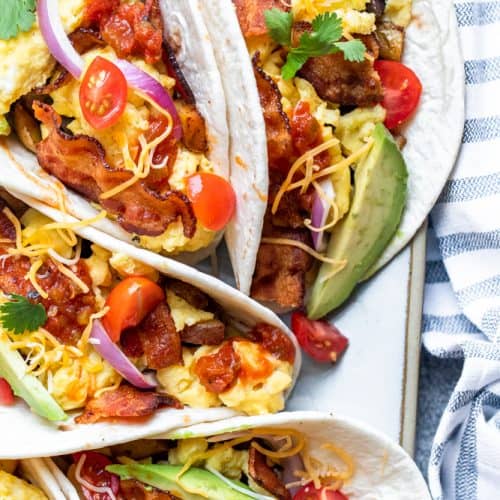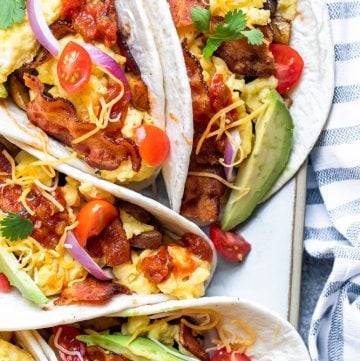 Bacon and Egg Breakfast Tacos with Crispy Potatoes
These Breakfast Tacos are perfect for brunch of family "brinner". Packed with bacon, eggs, roasted potatoes and topped with veggies and cheese.
Ingredients
Toppers For Serving
Avocado

Shredded Cheese

Sour Cream

Hot Sauce

Fresh Cilantro
Instructions
Chop up your potatoes into small ½ inch pieces and dice the jalapeno if using. Add them all to a large prep bowl and seasoning with salt, pepper, paprika, garlic powder, chili powder, cumin and Lawry's then toss with olive oil until combined.

Add the potato and jalapeno to a large skillet and cook over medium heat for 10 minutes or until the potatoes are soft. Stir Occasionally.

While the potatoes, are cooking scramble your eggs and milk in a separate small skillet. I like to keep mine simple with just salt and pepper, but you can add additional spices if you wish.

Once the potatoes are soft and crispy and the eggs are scrambled it is time to assemble the tacos. Layer the potatoes, then eggs the crumble the bacon over top and repeat this until all six taco shells are filled.

Add additional toppings of your choice and enjoy warm immediately.
Notes
Leftover Storage: Store leftover bacon and egg tacos in an airtight container in the fridge for up to 4 days. Potato Note: I have used small potatoes, sweet potatoes, russet potatoes and red potatoes for these tacos and they always turn out great. You can choose one or a mixture of these depending on your taste. You want there to be about 2 ½-3 cups of potatoes once they are diced. *Nutritional value does not include optional toppers for serving
Nutrition
Serving:
1
Taco
Calories:
294
kcal
Carbohydrates:
28.3
g
Protein:
15.9
g
Fat:
13.2
g
Saturated Fat:
4.2
g
Cholesterol:
171
mg
Sodium:
520
mg
Potassium:
647
mg
Fiber:
4.1
g
Sugar:
2
g
Calcium:
60
mg
Iron:
2
mg
See What We Are Pinning!
Follow erhardtseat1 to see all the food!