This Baked Cinnamon French Toast with Blackberries will bring a smile to your face and tummy. This french toast casserole recipe is so flippin' good, plus can be made overnight for easy prep in the morning!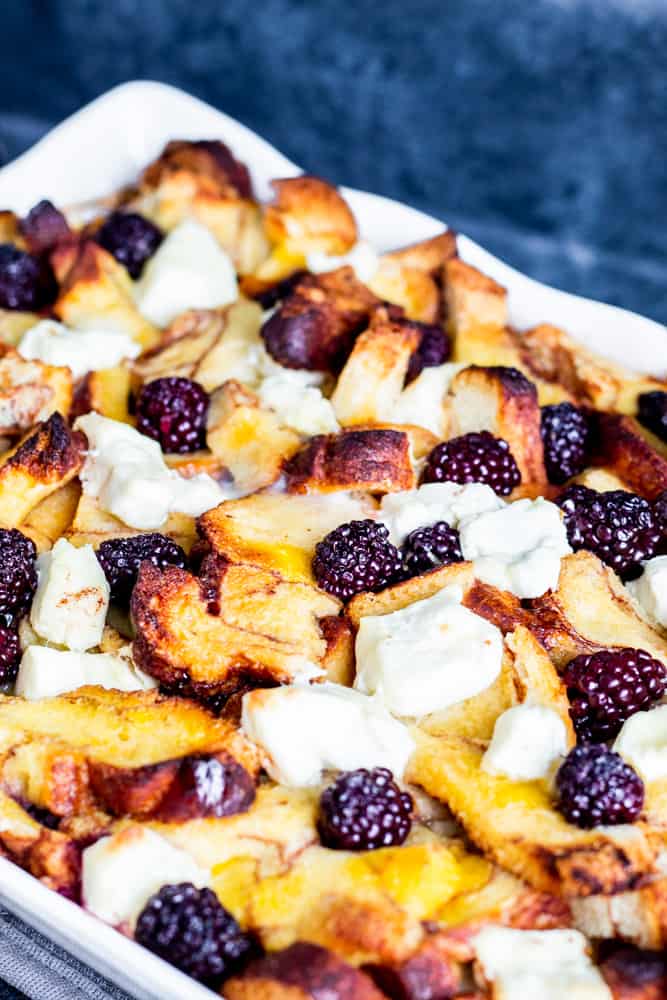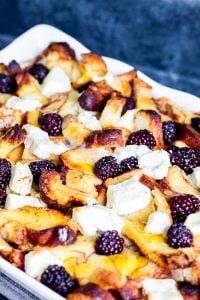 I feel like I do not share my undying love for all things breakfast often enough here. In reality, I am a breakfast freak and eat it for all three meals some days. This Overnight Baked Cinnamon French Toast with Blackberries is the closest thing to perfection I have ever created.
Seriously, guys I was eating this stuff right out of the pan. The combo of cinnamon and blackberries is an underrated one for sure, then paired with pops of cream cheese and crunchy on the top , yet soft in the middle bread. Ummm, so good! Okay, I'll stop gushing now, let's eat.
Kitchen Tools
A 13x9 inch baking pan (one with a lid works great): I like having one with a lid so I can easily store the breakfast casserole in the fridge overnight.
A knife and cutting board: I like using a serrated bread knife, but any knife will do. Also, you could just tear the bread if you prefer!

A large bowl and whisk

A spatula or large spoon for serving: I find a big, deep serving spoon works best.
Ingredients
Cinnamon Swirl Bread:

I find some great cinnamon bread in the bakery section of my local grocery store. If you can't find fresh bread a generic brand will work perfect as well.

Blackberries:

You could also use blueberries, cherries, or strawberries if you prefer a different fruit for your overnight french toast.

Cream Cheese

Eggs and Milk

Vanilla Extract and Maple Syrup
Note: If your pan does not have a lid aluminum foil or cling wrap works as well for this baked french toast recipe.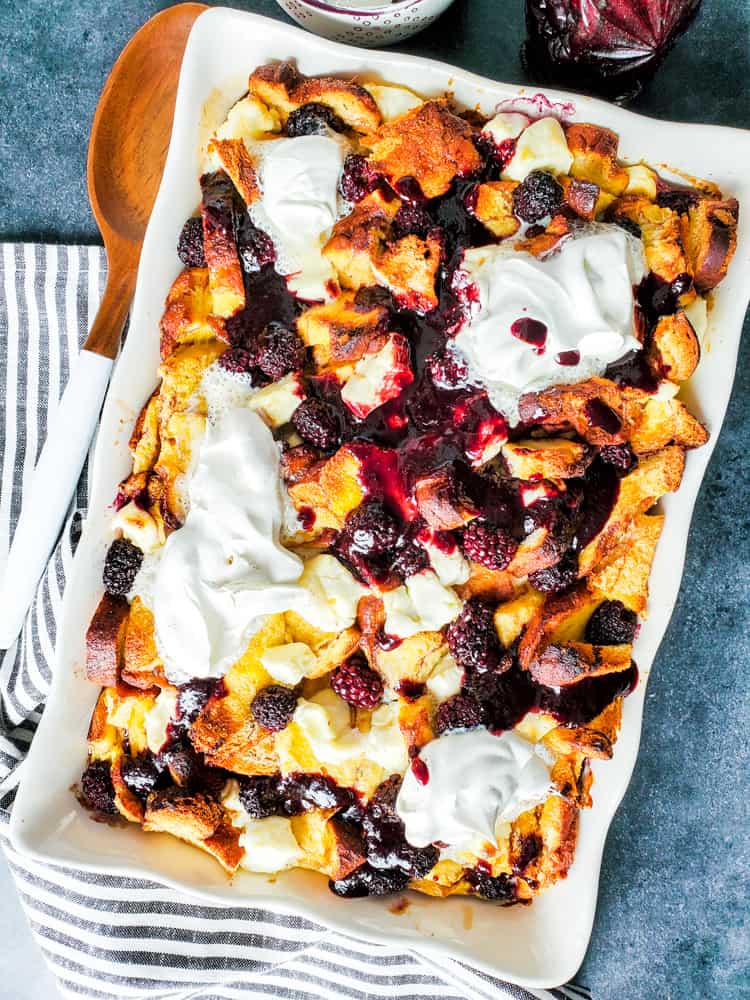 How to Make Overnight French Toast
Slice your bread into 1 inch chunks.

Cube the cream cheese

Wash and dry the blackberries.

Add half the bread to you baking dish then the cream cheese and blackberries.

Repeat until all ingredients are used.

Combine milk, eggs, maple syrup and vanilla extract and whisk to combine.

Pour over top of bread mix, cover and store in the fridge at least 30 minutes to overnight.

Bake covered for 30 minutes, then uncovered for 20 minutes.

Serve the baked french toast recipe warm with additional toppings.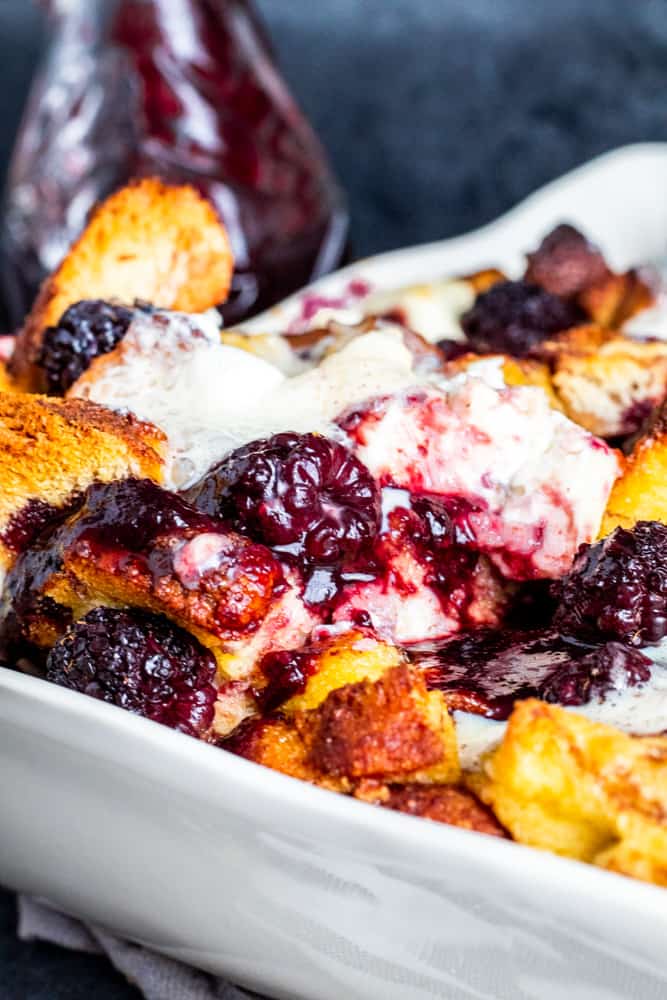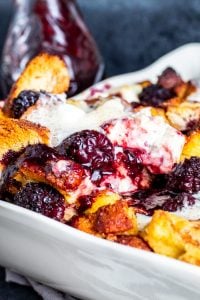 Common Questions
Can you make french toast ahead of time?
YES, yes and yes! This baked french toast recipe is best when it can sit overnight in the fridge. If you want to make the cinnamon french toast the day of the minimum chill time is 1 hour. You can't rush perfection people.
Can you use different fruit?
Sure, you can use a different type of fruit for this baked breakfast casserole, but I suggest sticking to the berry family. For example, you could use blueberries, strawberries, raspberries, cherries or a mix.
How long do leftovers last?
Leftovers from this overnight french toast recipe should be stored in an airtight container in the fridge. The max this recipe will stay fresh is 2 days in the fridge. Also, to re-heat the cinnamon french toast you can warm it up in the oven or microwave until hot.
How do you freeze french toast casserole?
Yes, you can freeze this blackberry french toast recipe. To freeze leftovers wrap in aluminum foil and then place in freezer safe storage bags for up to 2 months. When ready to re-heat, place the oven until completely thawed and warm, about an hour.
Can frozen blackberries be used?
Yes, you can use frozen blackberries in place of fresh ones. Just let the frozen blackberries thaw before you add them to the casserole. This will help them cook better and release some of their excess liquid before baking. That way your french toast isn't soggy.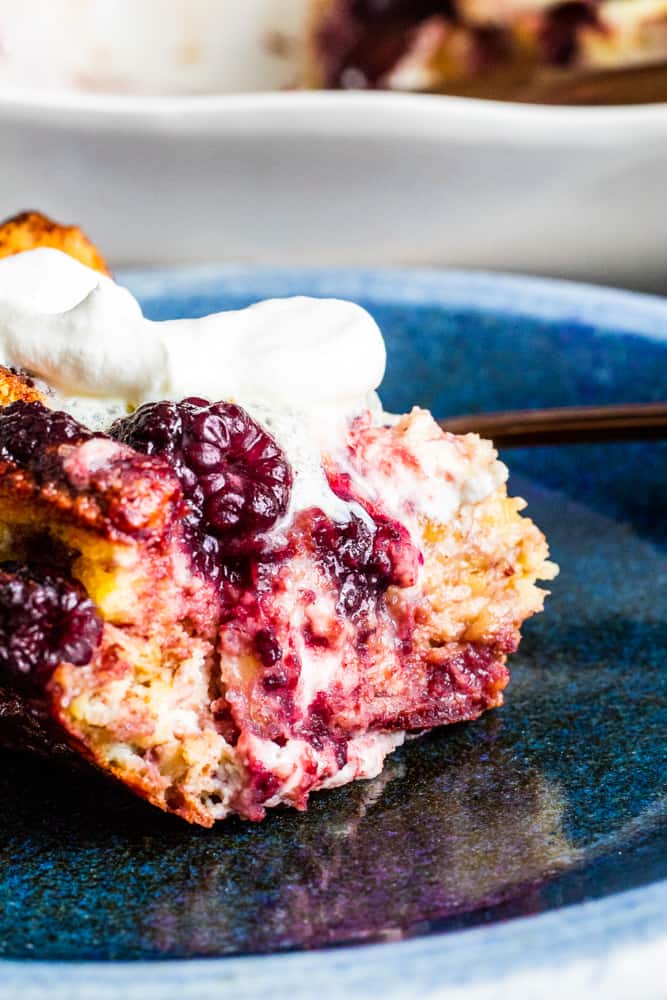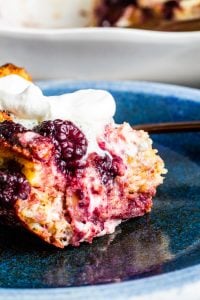 More Brunch Favorites
Vegan Morning Glory Muffins
Blueberry White Chocolate Scones
Grandma's Classic Biscuits and Gravy
Almond Poppy Seed Muffins
Breakfast Tacos Recipe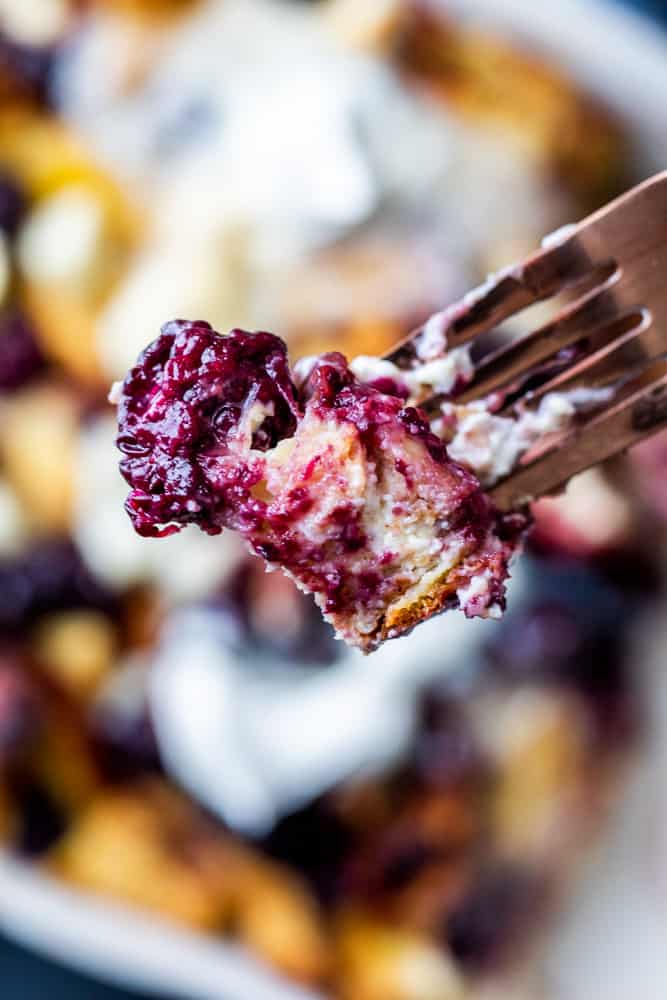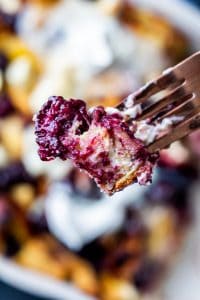 Loved This Baked Cinnamon French Toast Recipe? Rate and Comment Below.
Happy Eating!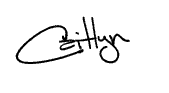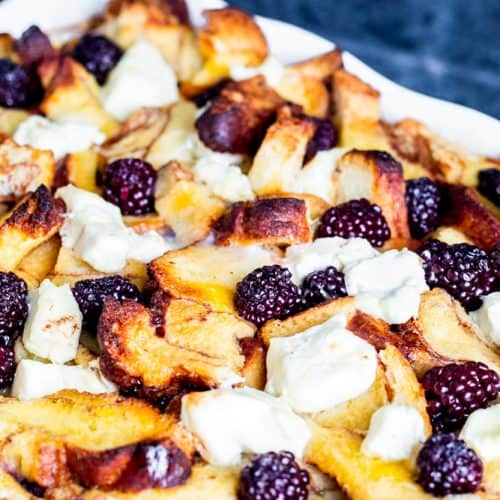 Baked Cinnamon French Toast with Blackberries
This Baked Cinnamon French Toast with Blackberries is the best simple breakfast recipe! Can be made ahead of time for easy prep and perfect for holidays!
Ingredients
1

Loaf

Cinnamon Swirl Bread

2

Cups

Fresh Blackberries

16

Ounces

Cream Cheese

1 ⅔

Cups

Whole Milk

10

Eggs

1

teaspoon

Vanilla Extract

⅓

Cup

Maple Syrup
Optional Toppings
Blackberry (or Maple) Syrup

Whipped Cream

Additional Blackberries
Instructions
Slice or tear bread into 1 inch chunks. Add half to a prepared baking dish. Next, cube the cream cheese and toss half over top of the bread along with half of the blackberries. Repeat this one more time with the remaining bread, cream cheese and blackberries.

Combine milk, eggs, vanilla extract and maple syrup into a large bowl and whisk to combine. Pour over the top of the bread, cream cheese and blackberries evenly so the bread is well coated.

Cover and refrigerate 1 hour or overnight. When ready to bake preheat the oven to 375 degrees. Bake covered with foil for 30 minutes, then remove foil and bake an additional 20 minutes until top is golden and slightly crisp. Serve warm with optional toppings. Enjoy!
Nutrition
Calories:
494
kcal
Carbohydrates:
39.2
g
Protein:
17.7
g
Fat:
28.5
g
Saturated Fat:
13.5
g
Cholesterol:
267
mg
Sodium:
447
mg
Potassium:
314
mg
Fiber:
2.7
g
Sugar:
16.6
g
Vitamin A:
0
IU
Vitamin C:
12.4
mg
Calcium:
1870
mg
Iron:
3.4
mg
See What We Are Pinning!
Follow erhardtseat1 to see all the food!
Share with Your Friends and Family!