These Southern Biscuits and Sausage Gravy are one of my favorite savory breakfasts. The biscuits are simple, flaky and do not require rising. The sausage gravy is a southern classic with a little extra spice to make it unique. Together the biscuits and gravy make a perfect combination. I love these so much, not just because they are delicious but because they are my grandma's recipe.
A Family Favorite
These Southern biscuits and sausage gravy will always hold a special place in my heart because it is my grandma's recipe. I have the best memories of cooking with my grandma growing up. My grandma grew up in rural Tennessee and grew up helping her mother in the kitchen. She hated having to do chores outside, so was always trying to find an excuse to stay inside and help her mom. Finally, she was designated the kitchen helper and learned all the classics from her mom. One of the recipes her mother made were these southern biscuits and sausage gravy. My grandma and her many brothers and sisters loved digging into these on a weekend mornings. Now many years later my grandma has passed down the tradition to me.
-Little Helper-
Like my grandma I always wanted to help and learn in the kitchen growing up. I am so thankful that I got to learn from some pretty awesome cooks. I always loved getting to stay the night at my grandma's house, because I knew the next morning we would get to make biscuits and gravy. Even if my grandma wasn't planning on it the next morning I would bug her until she gave in. The stipulation was that I had to help.
My job was always to whisk the gravy. I remember stirring until it felt like my arms were going to fall off, but it was always worth it. In the end I knew the result of my labor would be amazing! I am so grateful that my grandma took the time to teach me this recipe that her mom taught her. Now I get to share this recipe with my family!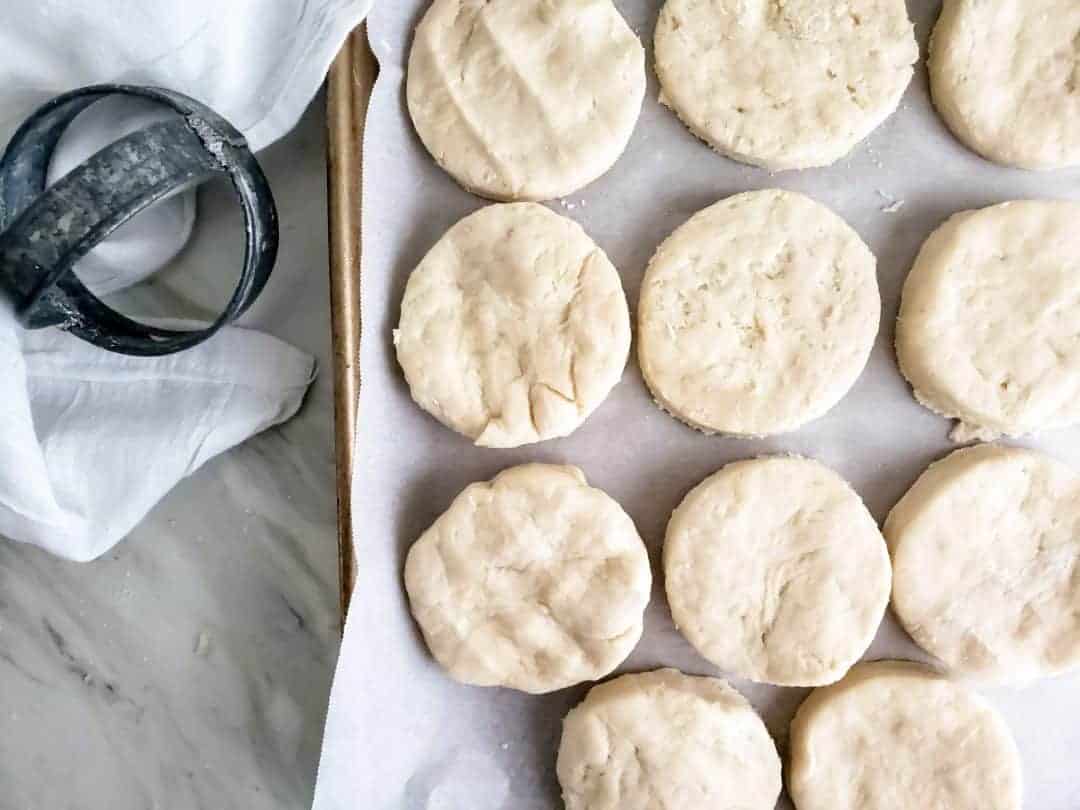 The Perfect Classic Biscuit
-1-
For me, the part of the recipe that took me the longest to perfect is the biscuits. They are simple and use minimal ingredients, but for the longest time when I would make them they would go flat. Also, I never understood how my grandma's would rise and get so big and fluffy and mine would be little hockey pucks. What she taught me was that you need COLD butter. To me this felt like such a small detail, I never did it! I am also so used to pulling the butter out early when baking, because in a lot of recipes you want to use softened butter. Not here folks! After my grandma showing me the different I was a believer!
In fact, I recently had to prove this to my husband who did not believe me about the butter needing to be cold. Therefore, to prove my point, I made half the recipe with cold butter and the other half with room temperature butter. While it was a little petty, the look of shock on his face when he saw the drastic difference was worth it. Now he is also a believer in the cold butter rule and does not question me when I tell him to leave the butter in the fridge.
-2-
Another trick my grandma taught me is to not wiggle the biscuit cutter. This was one of the hardest things for me growing up. I was a bouncy, active kid so steady and slow was hard for me. I wanted to cut the biscuits like I cut holiday cookies. My grandma would watch me in horror when I would slam the cutter into the dough and wiggle it around. Then for good measure I would wiggle it a little more. The trick to the biscuits rising and getting the amazing flaky layers is minimal wigglage. For best results, first, I press down firmly and evenly into the dough. Next, I pull the cutter strait up. Finally, I place the circle of dough onto a prepared cookie sheet. Once I got these things down I finally was making the fluffy biscuits I love!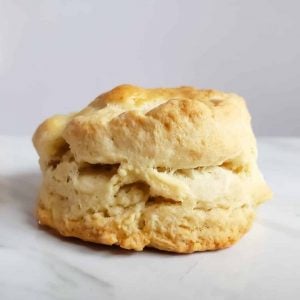 Grammy's Southern Sausage Gravy
This is my favorite gravy of all time. I have tried lots of others and this will always be the best to me. For me simple, classic gravy is the way to go and that is what this gravy delivers. Over the years the recipe has stayed almost exactly the same. The only changes I have made are the addition of sage and red pepper. This change is very small and I think adds a little extra dimension of flavor. My grandma loves and approves of this change! I love getting to build on to the recipe she made with her mom, then made with me and now I make with my son!
Almost every time some one asks my grandma for this recipe she laughs because it is so easy and she says anyone can make this. Although it is easy I don't think I will ever make it as good as she does because she has that special touch to make it perfect.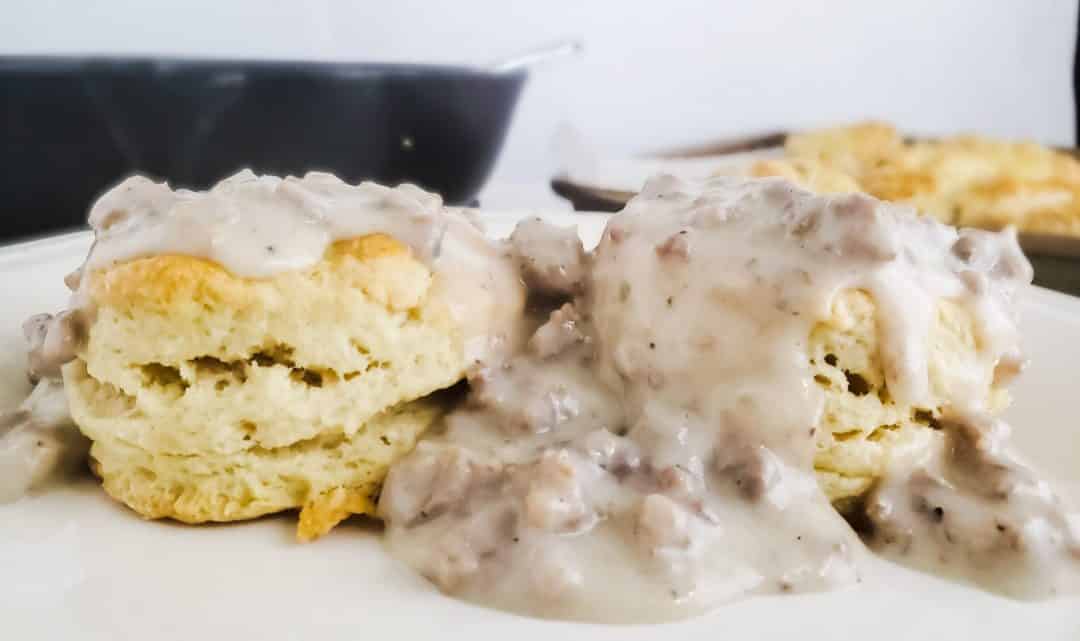 A Tradition Continues
Finally, I love getting to share this meal with my son Theo and can't wait to pass the recipe down to him someday. Also, I love that I will always think of my grandma when I make these Southern biscuits and sausage gravy. Unfortunately, my husband and I no longer live close to her and do not get to see her that often. Every time we are in town I like to try and cook with her. She and I always have so much fun and lots of laughs. I know these are the moments I will treasure forever. Every time I whip up a batch of this for breakfast I have a smile on my face thinking back to when I needed a stool to whisk the gravy. I still have the stool and look forward to the day it is my son whisking the gravy.
Happy Eating!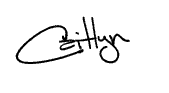 Looking for another breakfast/brunch idea? Try this Crispy French Toast Recipe with Buttermilk!
Southern Biscuits and Sausage Gravy Recipe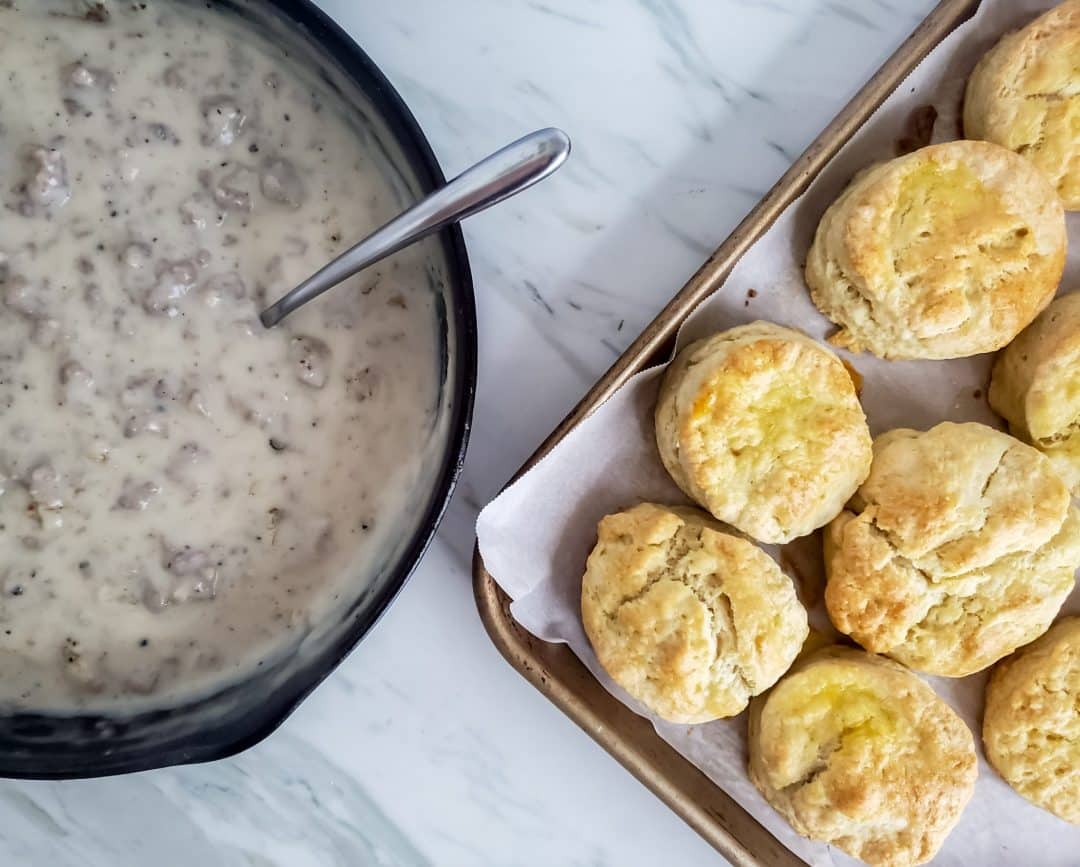 Grandma's Classic Biscuits and Sausage Gravy
I have enjoyed this meal since I was a child and now love to make it for my family. This is a classic combo and will leave you wanting more.
Ingredients
Classic Biscuits
2

Cups

Self Rising Flour*

1

Tbsp

Baking Powder

1

Tsp

Granulated White Sugar

1/2

Cup

Cold Unsalted Butter

3/4

Cup

Milk

+1 Tbsp for brushing

1

Egg
Instructions
Classic Biscuits
Preheat oven to 450 degrees. While the oven is preheating combine self rising flour, baking powder in a large bowl and stir to combine.

Cut cold unsalted butter into the flour mixture. You can use a pastry cutter, cut the butter into cubes, or use a cheese grater. I like using a cheese grater personally.

Use your hands to combine the mixture so there are no clumps. Pour in the milk and combine until the dough no longer sticks.

On a flat surface sprinkle some flour and evenly flatten dough to about 1/2 an inch thick.

Use a circle cookie cutter and press straight down into the dough firmly and straight back up, not wiggling the cookie dough cutter. Place cut biscuit on a parchment paper lined cookie tray. Repeat this process until all the dough is used. You may need to re-roll the excess dough. Yields 10-12 biscuits.


Whisk 1 egg and 1 tbsp of milk in small bowl and brush over the top of the prepared biscuits. Place biscuits on the center rack of the oven and bake for 10-15 minutes, or until tops are golden brown. Serve warm with sausage gravy.
Grandma's Sausage Gravy
Brown the sausage in a large, deep skillet; I like to use a cast iron skillet. Cook the sausage on medium heat, breaking it up into pieces, until no pink remains, about 10 minutes.

When the sausage is cooked through add the unsalted butter and flour and stir into sausage until butter and flour dissolved.

Pour the milk into the skillet with the sausage and raise heat the bring the mixture to a boil. Once boiling reduce heat and continuously whisk until the gravy begins to thicken. About 10 minutes.

Serve over top of warm biscuits or store in fridge for up to five days.
Notes
*You can make your own self rising flour by combining 2 cups all purpose flour, 3 tsp baking powder and 1/2 tsp of salt.
Nutrition
Calories:
452
kcal
Carbohydrates:
30.5
g
Protein:
16.2
g
Fat:
29.6
g
Saturated Fat:
14.4
g
Cholesterol:
100
mg
Sodium:
495
mg
Potassium:
396
mg
Fiber:
1
g
Sugar:
5.2
g
Calcium:
160
mg
Iron:
2.3
mg
See What We Are Pinning!
Follow erhardtseat1 to see all the food!