This S'mores Snack Mix is the perfect no bake treat for camping in the summer. This treat is simple to make and only requires 5 ingredients.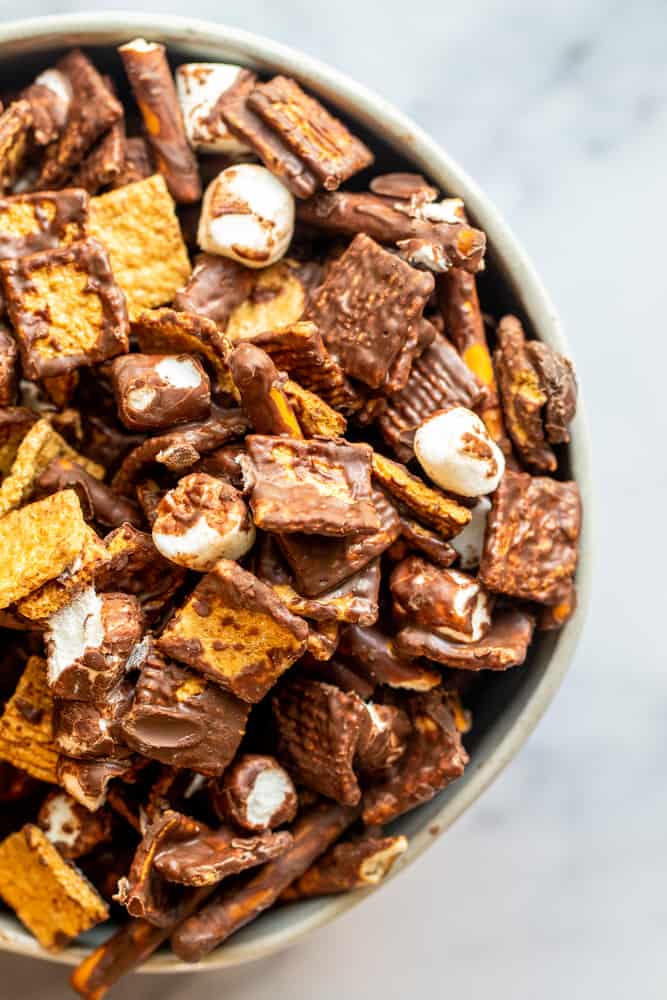 Ah the sun's out, and summer is almost here. With warm weather approaching I am so ready to get out into nature and enjoy one of my favorite campfire favorites: s'mores. This no bake s'mores trail mix is super easy and always requested by friends and family.
S'mores are one of my absolute favorite treats and this S'mores Snack Mix has all the same wonderful flavors but with less mess and can be made all year round. This recipe requires no baking, requires only 10 minutes of prep work and is great for kids to help with.
Ingredient Notes
Golden Grahams Cereal: Any generic brand will work as well for this s'mores snack mix.
Baking Chocolate: Personally, I like using a combination of dark chocolate and semi-sweet chocolate melting chocolate. This is my favorite combo, but you could use one or the other or another type of chocolate all together. Whatever chocolate you decided to use make sure the chocolate is baking chocolate (melting chocolate, melting wafers, almond bark, ect.) and NOT chocolate chips. Chocolate chips will not melt or harden the same.
Chocolate Chips: I used dark chocolate chips, but you could use any type of chocolate variety like milk, semi-sweet or even white chocolate.
Why You'll LOVE It!
Super Simple: Only 10 Minutes of Prep Time Needed
Budget Friendly: Only 5 Ingredients Needed
Perfect for the Whole Family!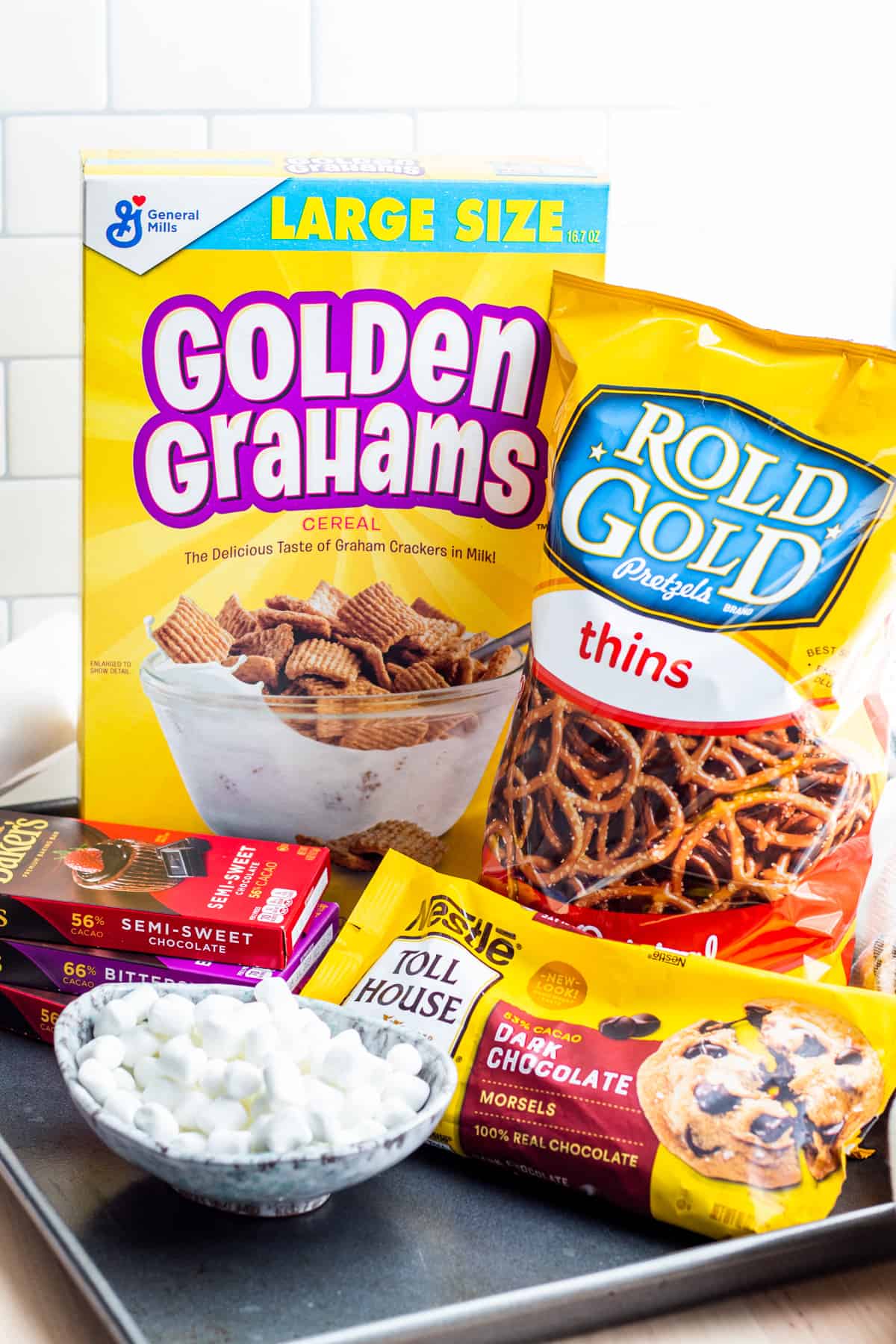 Instructions
Chocolate Prep
Combine the melting wafers in a microwave safe bowl and melt in 30 second increments until chocolate is fully melted. About 2 minutes.
Combining the Snack Mix
Layer the Golden Grahams, mini marshmallows, pretzels, and chocolate chips in a large parchment paper lined baking dish. Pour the melted chocolate over the entire mix and toss to combine.
Chilling
Once combined, place in the fridge for 30 minutes, or until set. Once set break apart and enjoy.
Leftover Storage
Store leftover snack mix in a sealed bag at room temperature for up to 7 days.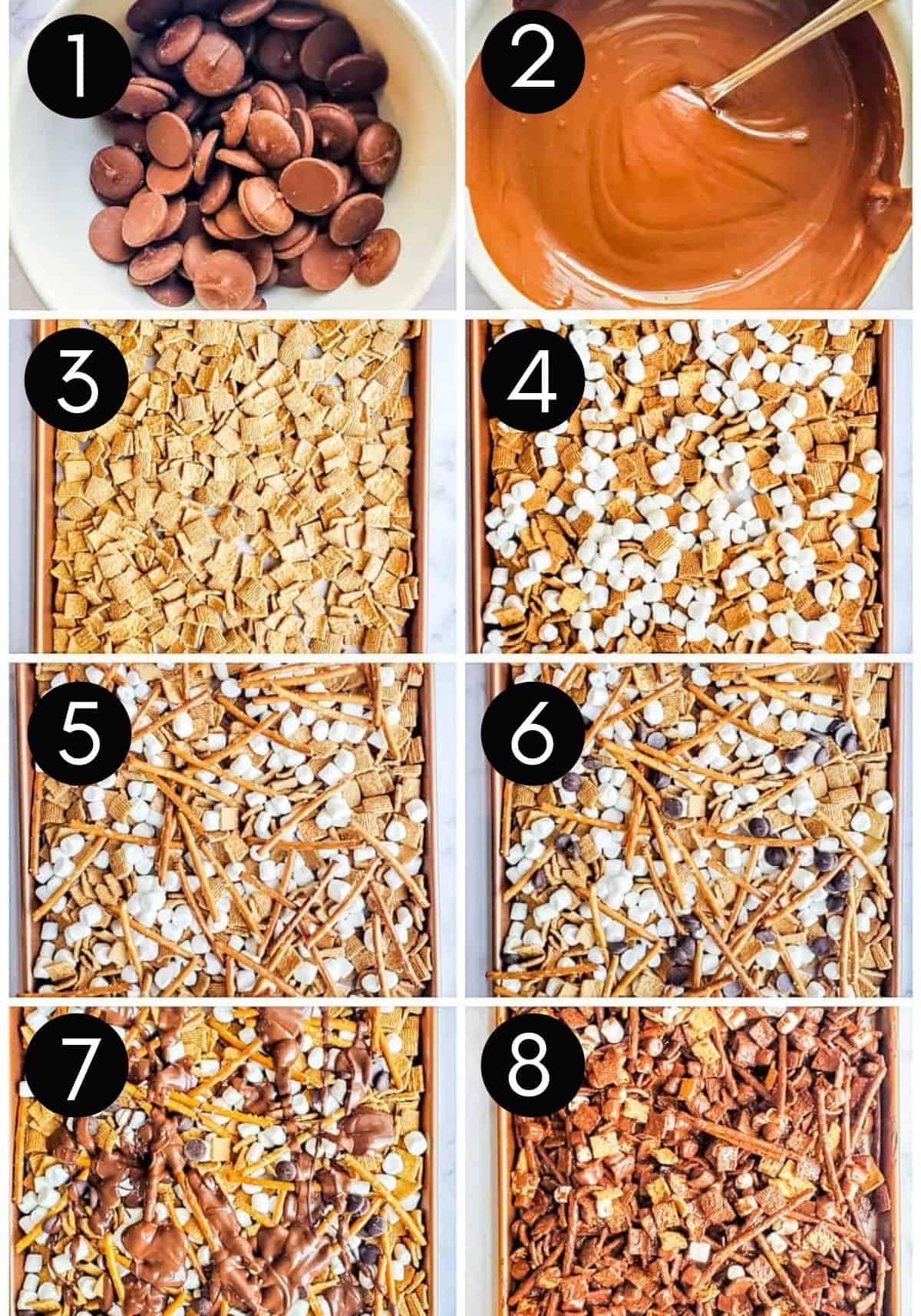 Pro Tips
Coat it: I love this snack mix super coated in chocolate. When done this way everything sticks together and forms the perfect yummy s'mores bite. Because there is a lot of chocolate being used, make sure to let the entire s'mores trail mix completely set before you begin to break it apart.
Layer It: I like to spread the s'mores mix out on a large cookie sheet in a thin layer. Then I add each ingredients one by one over top and finally top with the melted chocolate and toss. I like doing it this way because everything get coated in the chocolate and every bite has all the goodies in it.
Less Mess!
This is super important. You will want to line your cookie sheet with parchment paper, otherwise your trail mix will be a mess to get off the baking sheet and stick.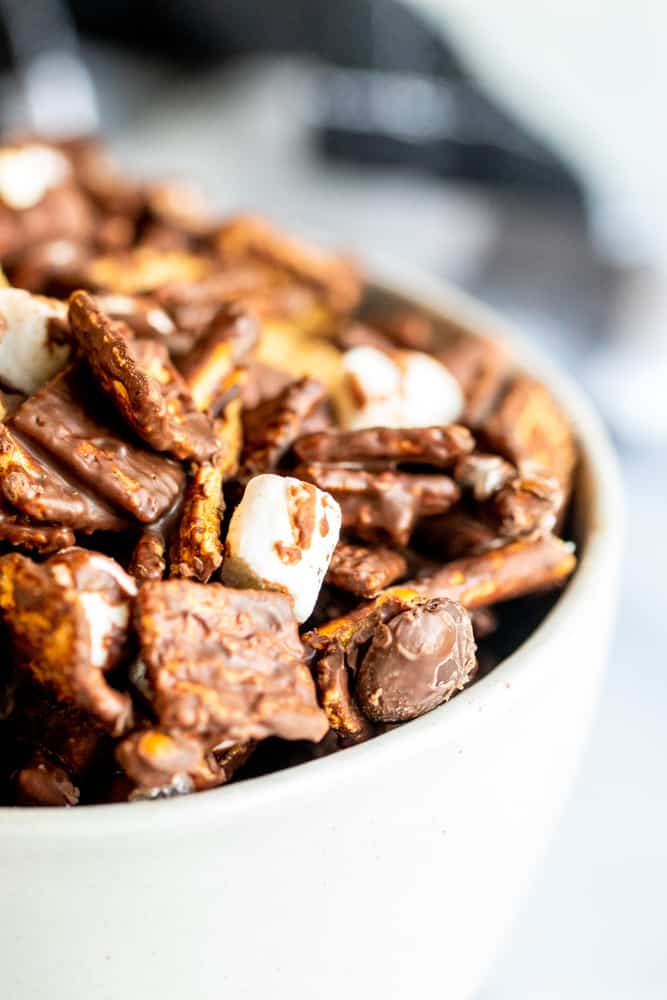 Additional Ideas
Candy: Spice up this s'more trail mix with the addition of M&M's, Reese's Pieces, or crushed Oreo's.
Chocolate: My favorite combination of chocolate for this trail mix recipe is dark chocolate and semi-sweet chocolate. Other chocolate options include milk or white chocolate or even adding some caramel drizzle on top.
Chips: I love the hit of salt and crunch pretzels add to this mix. You can stick with the pretzels, leave them out or add a different chip like potato chips in.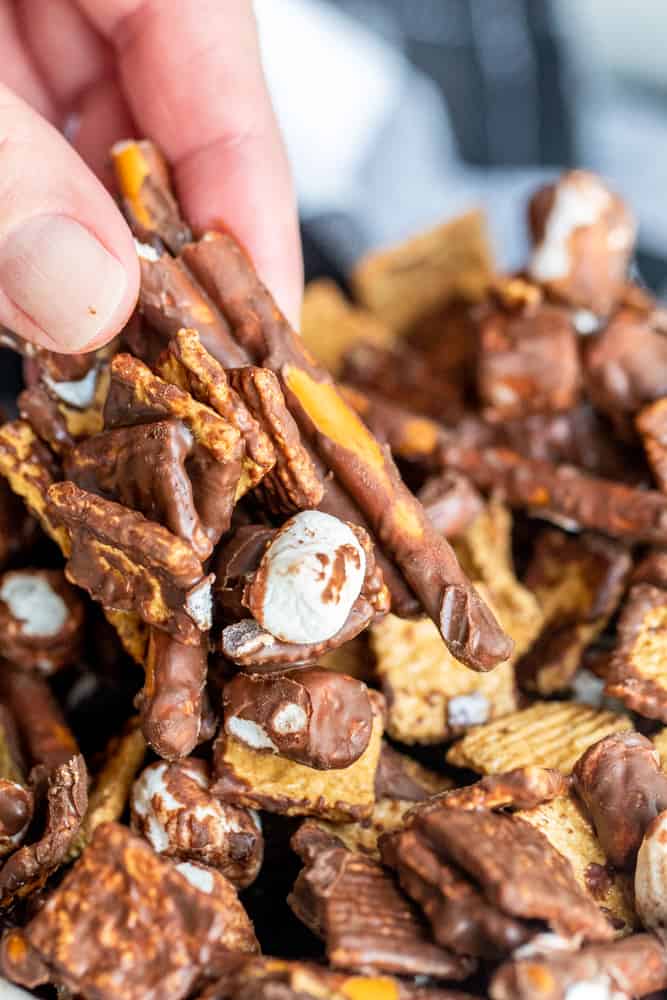 You May Also Enjoy...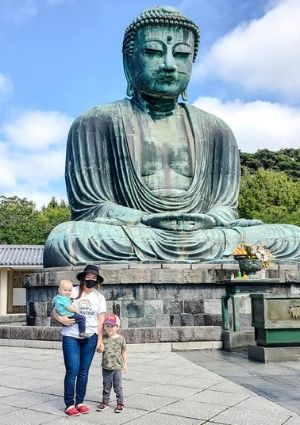 Happy Eating!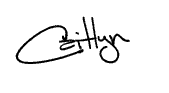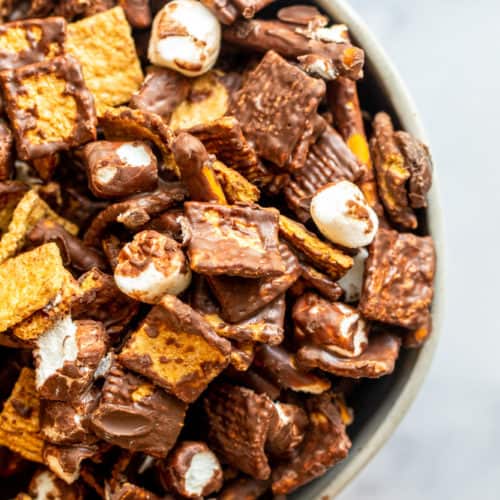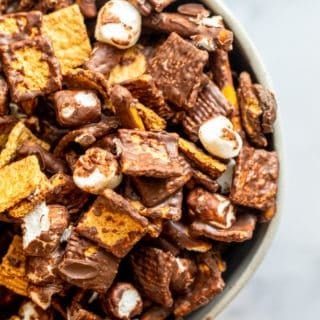 No Bake S'mores Snack Mix Recipe
This No Bake S'mores Snack Mix is easy to make and the perfect dupe for everyone's camp fire favorite. Only 5 ingredients needed!
Ingredients
12

Oz

Baking Chocolate

I used a combination of dark and semi-sweet chocolate

11.7

Oz

Golden Grahams Cereal

About 4 Cups

5

Oz

Mini Marshmallows

About 2 Cups

1

Cup

Pretzels

1

Cup

Dark Chocolate Chips
Instructions
Place baking chocolate in a microwave safe bowl and melt in the microwave for 1-2 minutes stirring everything 30 seconds until melted.

While the chocolate is melting, line a large baking sheet with parchment paper. On the parchment paper add golden grahams, mini marshmallows, pretzels, and dark chocolate chips.

Once the chocolate is melted and warm pour over the ingredients on the cookie sheet and toss with a spoon until everything is coated in chocolate. Place the tray in the fridge and let chill in the fridge for at least 30 minutes. Once chilled break apart and enjoy!
Notes
Leftover Storage
Store leftover s'mores snack mix in an airtight or zip-lock bag at room temperature (once set) for up to 1 week.
Chocolate Note
Be sure to use baking chocolate, melting wafers, or almond bark and NOT chocolate chips.
Nutrition
Calories:
187
kcal
Carbohydrates:
31.2
g
Protein:
2.3
g
Fat:
6.1
g
Saturated Fat:
3.8
g
Cholesterol:
3
mg
Sodium:
188
mg
Potassium:
85
mg
Fiber:
1.1
g
Sugar:
16.2
g
Calcium:
74
mg
Iron:
3
mg
See What We Are Pinning!
Follow erhardtseat1 to see all the food!