Looking for a fast and simple party appetizer? Here it is! These Ritz Bites with Ham, Cranberries, and Brie are ready in about 10 minutes and require no cooking.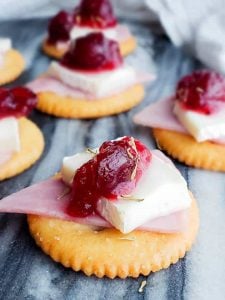 The holidays are here and that means lots of parties and get-togethers with family, friends and co-workers. Also, that means shopping, kids off school, decorating and all the hustle and bustle of the season. These Ritz Bites with Ham, Brie and Cranberries are the perfect fast and simple appetizer recipe for any party this holiday season and beyond.
This cracker bites recipe is too good to be true: no cooking required, ready in about 10 minutes and kid and adult friendly. Yeah, they are that great. Although these are super simple they do not lack flavor and look pretty cute on a plate to boot.
Not a lot! These babies are the perfect lazy party appetizer. They require zero cooking and as long as you can stack then you will be golden. These Ritz Bites also require few ingredients and they are all store-bought to save on time and effort without sacrificing taste.
Ingredients
Ritz Crackers: Personally, I like the Ritz brand, but you can you your favorite cracker brand.
Brie
Whole Berry Cranberry Sauce: I like to use the canned kind, if you want to make it yourself or have some leftover for Thanksgiving even better. Do you!
Ham: I use just the regular deli kind, but leftover Christmas Ham makes these even more bomb. Also, if you can buy thick cut or freshly sliced ham then that works great.
Fresh Thyme (Optional): If you add the thyme you just need a tiny bit. Don't overload the top with it, or it will be overpowering.
Kitchen Tools
A Knife

A Spoon

A Cutting Board (Optional. I just used my counter top. I like to live dangerously)

A Serving Platter (If you are feeling festive and fancy)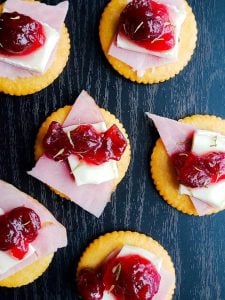 More Appetizer Recipes
Prosciutto Wrapped Breadsticks
Blackberry Brie Bites
Baked Buffalo Chicken Dip
Everything Bagel Cheese Ball Bites
Restaurant Style Salsa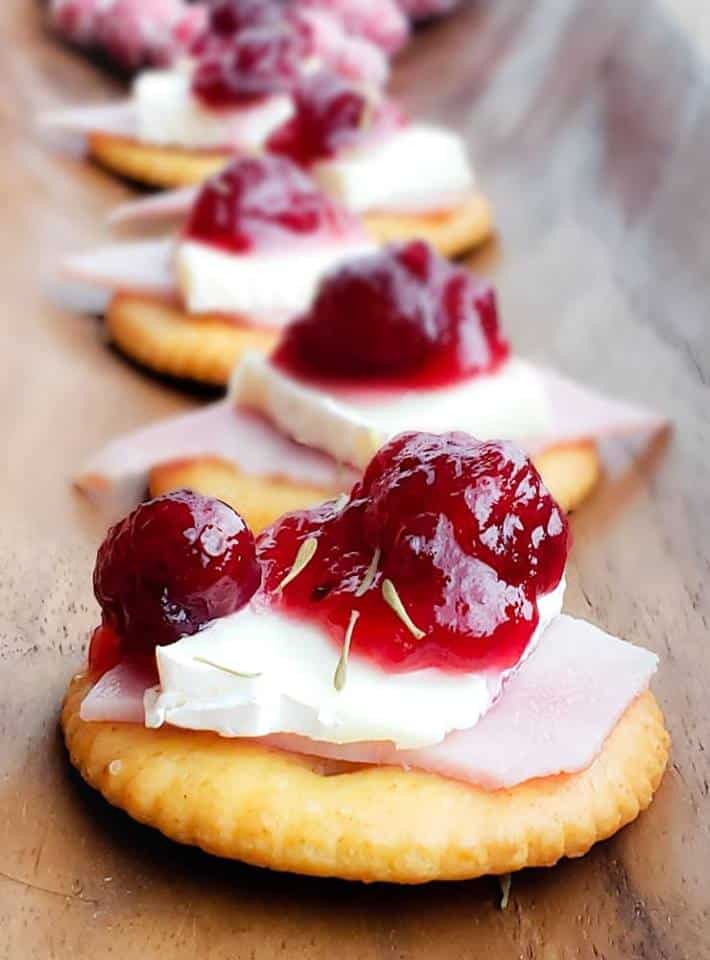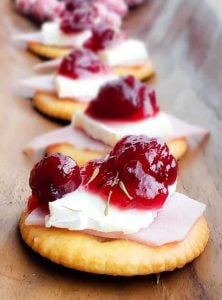 How to Make Cracker Bites
As I stated above, all you have to do is cut and stack for this no-bake appetizer recipe. It is super simple and takes very little time. Depending on how many Ritz Bites you make it could only take you 5 minutes. Also, if you are feeling really lazy you can let your guests do the stacking for these ritz bites.
You can simply lay out the crackers, cheese, ham, and cranberry sauce with a spoon and let each person serve themselves. This is great for large parties and lets everyone customize the ritz bites to their liking. Personally, I love grab and go snacks for parties, because it allows you to get out of the kitchen and really enjoy yourself.
Recipe Step By Step
First, you will need to slice all of your ingredients. I used deli ham and sliced each slice into 8 pieces. If you have leftover ham then you can also use that. You want the ham slices to be about and inch or two big.

Next you will need to slice your brie. I left the rind on mine, but if you want it off then place it in the freezer 30 minutes prior to preparation. You will be able to easily remove the rind with a sharp knife then. I sliced my brie in about ½ inch pieces, but you can make them bigger if you like.

Finally, you will assemble the bites. Here comes the stacking. You will first place the ham on the cracker. Next, you will place the brie on top of the ham. Then you will take a small scoop of cranberry sauce and place it on top of the brie. Not too much because you do not want it running off and making a mess.

Lastly, you will top with a tiny sprinkle of fresh thyme if desired. And you are done! Repeat until you have the desired number of Ritz Bites. I did the recipe for 48, but you can easily make more or less depending on your party size.
Check out the Ritz Bites recipe video for a more detailed look at prep!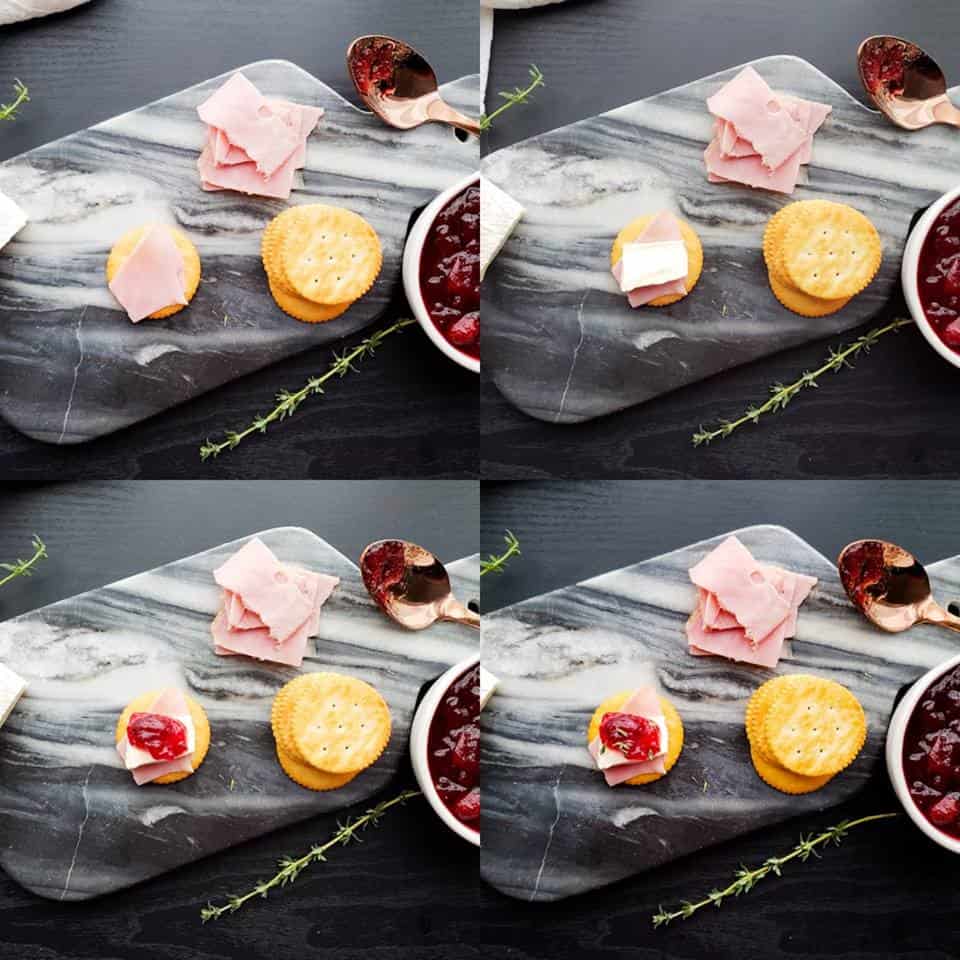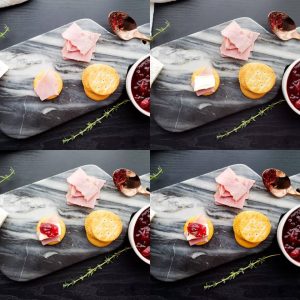 Common Questions
How should leftovers be stored?
Honestly, these Ritz Bites do not save well after assembled. I would only make what you need and discard any that have been sitting out. It is very simple to just store all ingredients separately and assemble as needed.
Can cracker bites be frozen?
No, no, definitely not. These Ritz bites should be made right before serving and should never be frozen.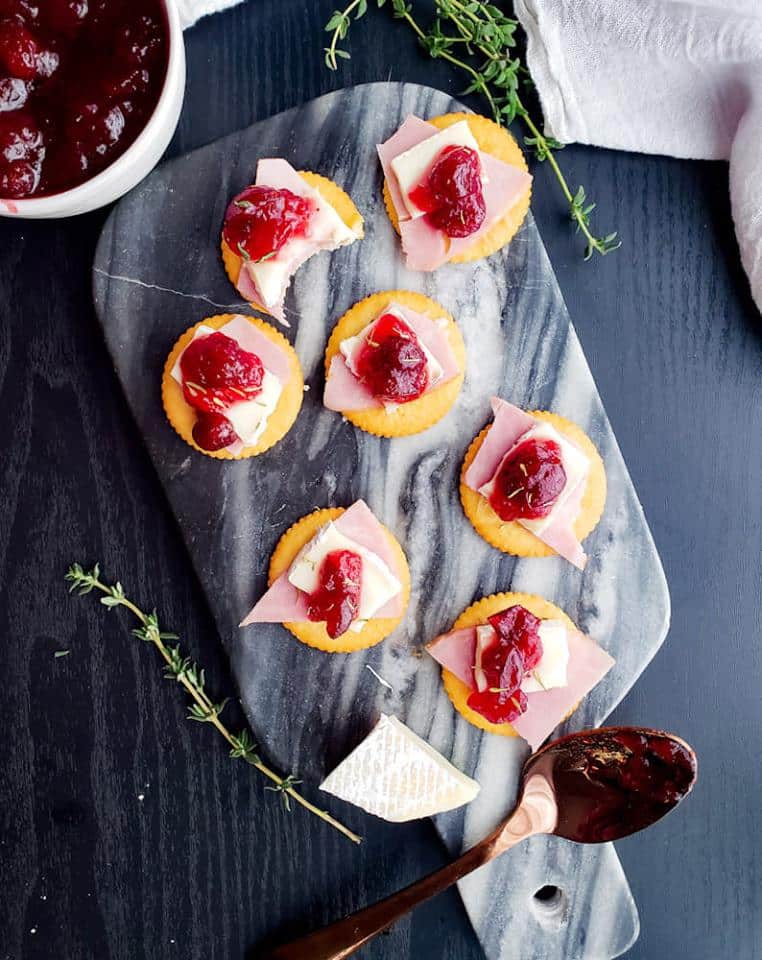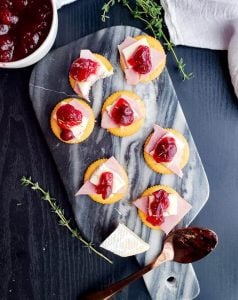 Short and sweet with this ritz bites appetizer recipe today. Personally, I think it is very self-explanatory and so simple. If you have further questions feel free to leave a comment below. I hope you enjoy this delicious Ritz Bites appetizer!
Happy Eating!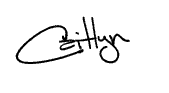 P.S. Shout-out to my friend Cierra for giving me the inspiration for this! I am glad we both have a love of anything paired with cheese!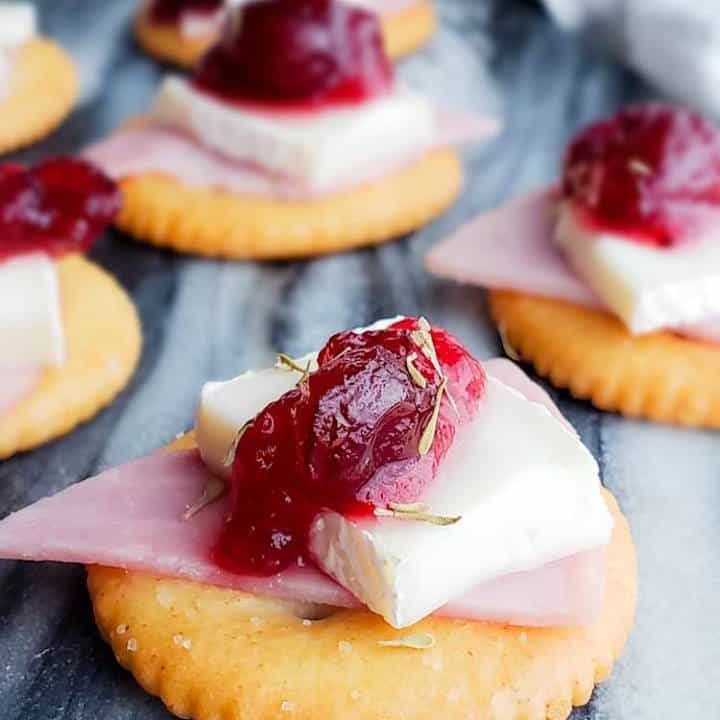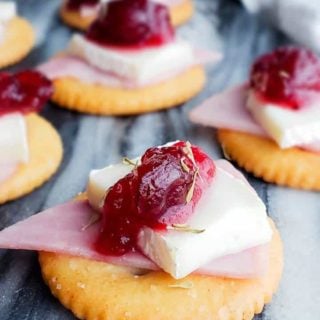 Ritz Bites with Ham, Brie and Cranberries
The perfect fast and simple appetizer recipe. These Ritz Bites with Ham, Cranberries, and Brie require no cooking and are the perfect sweet and salty party and holiday food!
Ingredients
8

Oz

Brie

Sliced into ½ Inch Pieces

1

Heaping Tsp

Whole Berry Cranberry Sauce

EACH

6

Slices

Ham

Sliced into Eighths

1

Pinch

Fresh Thyme

EACH- Optional
Instructions
Place a Ritz Cracker on a flat surface. Next place a small slice of ham on top, followed by a small slice of brie. Finally, top with a small amount of cranberry sauce then fresh thyme if desired. Repeat until finished.
Notes
Tip: If you do not want the rind on the brie, place it into the freezer for 30 minutes. Afterwards you will be able to easily remove the rind.
Nutrition
Serving:
4
Bites
Calories:
144
kcal
Carbohydrates:
8.8
g
Protein:
7.5
g
Fat:
8.5
g
Saturated Fat:
4.1
g
Cholesterol:
25
mg
Sodium:
380
mg
Potassium:
135
mg
Fiber:
0.3
g
Sugar:
1.5
g
Calcium:
40
mg
Iron:
0.7
mg
See What We Are Pinning!
Follow erhardtseat1 to see all the food!