These Blackberry Puff Pastry Bites with Brie and Pecans are the best easy, fast and delicious appetizer recipe for the holiday season. Crisp puff pastry with sweet blackberries and creamy brie nestled inside, then topped with crunchy pecans and sage is the perfect little bite of happiness.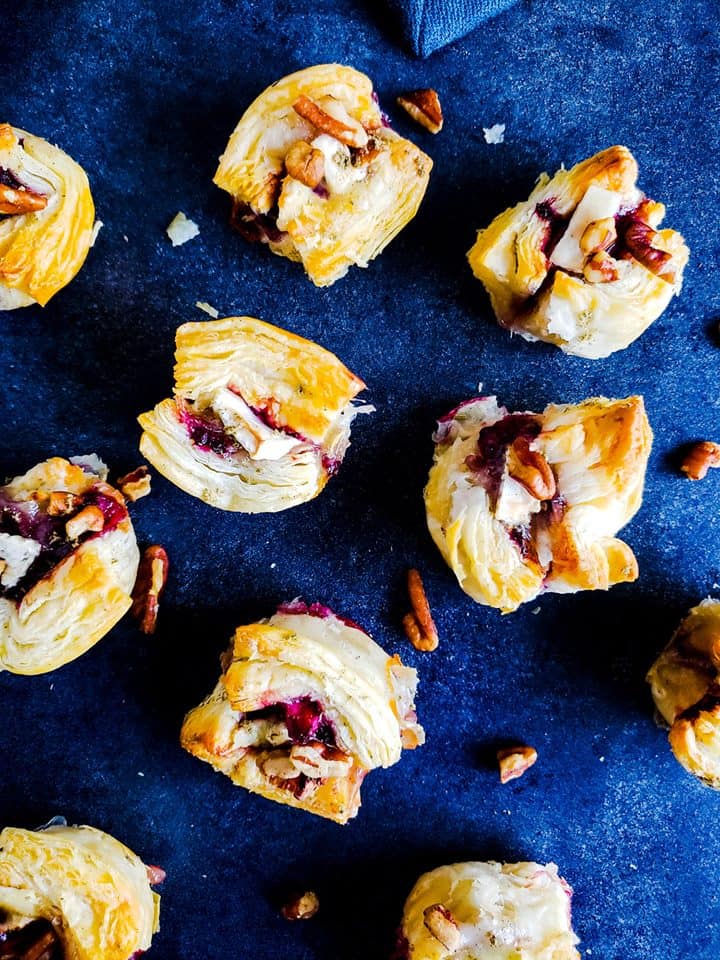 The holidays are here! If you are anything like me you have planned out the turkey, the sides and the desserts, but may have overlooked the appetizers. This easy appetizer recipe is one of those that people think you spent a lot of time and effort on, when in reality it is a breeze. This blackberry puff pastry recipe is super simple, fast and has a short-cut to make it even simpler.
These Blackberry Puff Pastry Bites with Brie and Pecans are the perfect last-minute vegetarian holiday appetizer recipe that will save you time and your sanity all while impressing your guests. All you need is 20 minutes, a few key ingredients and the ability to cut square shapes (or in my case rectangles).
Ingredients
Puff Pastry

Brie

Blackberries (fresh or frozen)

Pecans

Sage

Then pantry staples like honey and salt.
Kitchen Tools
Saucepan

Knife (any sharp one will do, or a pizza cutter)

Spoon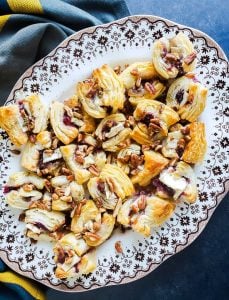 How to Make Puff Pastry Bites
Prepare the Puff Pastry
Lay puff pastry out on a smooth flat surface, preferably a cutting board. If you do not have a cutting board large enough, no biggie just be careful not to cut your counter top. Now comes the time to try and get 24 even slices out of this thing. I went 4x6 (three cuts length wise and five cuts width wise) for mine and started out a bit large. Therefore, mine wasn't perfect, but my lopsided rectangles still worked!

Spray the mini muffin tin(s) with cooking spray. This will make it a lot easier to get them out once they are cooked. Then fit each puff pastry square into each muffin tin cup. Press down the center so the edges pop up over the top. Repeat this until all the puff pastry is used and the muffin tin(s) are filled.

Place the tins in the oven and bake for about eight minutes, until the pastry is blonde. While the puff pasty is in the oven, go ahead and start the blackberry filling for the pastry bites.
Prepare the Blackberry Filling
Heat the blackberries, honey, salt and water in a small saucepan, Mash and stir the mixture until it begins to boil. Then reduce the heat to low and let simmer until slightly thickened. This all should take about 8-10 minutes and the result will be a thick syrup.
Assemble the Puff Pastry Bites
Once the puff pastry is slightly baked take them out of the oven. Using a spoon press down the center of each one.

Next, fill each bite with a small spoonful of blackberry filling.

Then place a small piece of chopped brie cheese on top. I leave the rind on the brie cheese, if you don't want the rind on allow extra time to put your brie in the freezer for 30 minutes so you can get the ride off.

Return them to the oven and cook until golden brown.

Once the blackberry brie bites are finished cooking I top them with a small amount of chopped pecans and minced fresh sage.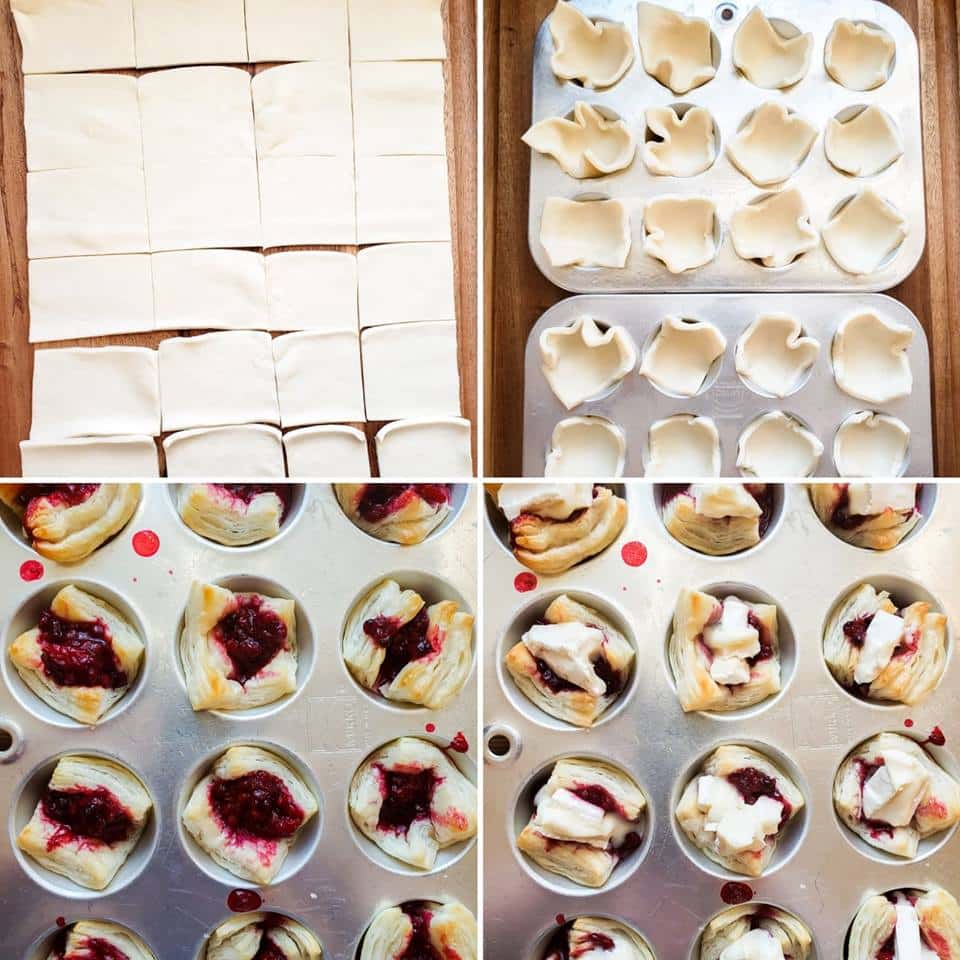 More Party Appetizers
Ritz Bites with Ham, Brie and Cranberries
Everything Bagel Cheese Ball Bites
Homemade Soft Pretzels with Cheese Sauce
Baked Buffalo Chicken Dip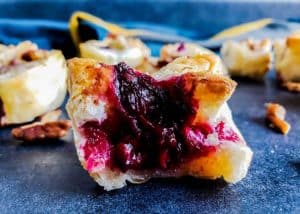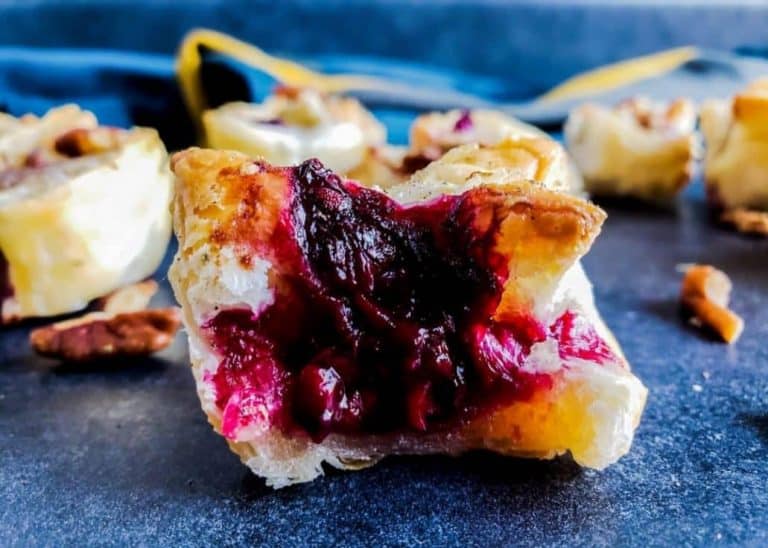 Common Questions
What type of puff pastry should be used?
I used a refrigerated puff pastry for this recipe. If you are using a frozen one that is perfectly fine, just make sure you de-frost it first.
Can store-bought jam for these Puff Pastry Bites?
Yes, you can skip the homemade blackberry jam and use a store-bought. Doing this will help save on some prep work, clean up and will require less ingredients.
How should leftover Puff Pastry Bites be stored?
Store leftover Blackberry Bites in an airtight container in the fridge for up to 4 days. To re-warm bites place in the oven or microwave until warm, or enjoy cold.
Can these be frozen?
No, I do not recommend freezing these pastry bites. This recipe is best enjoyed immediately, but can be stored in the fridge.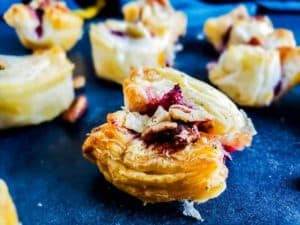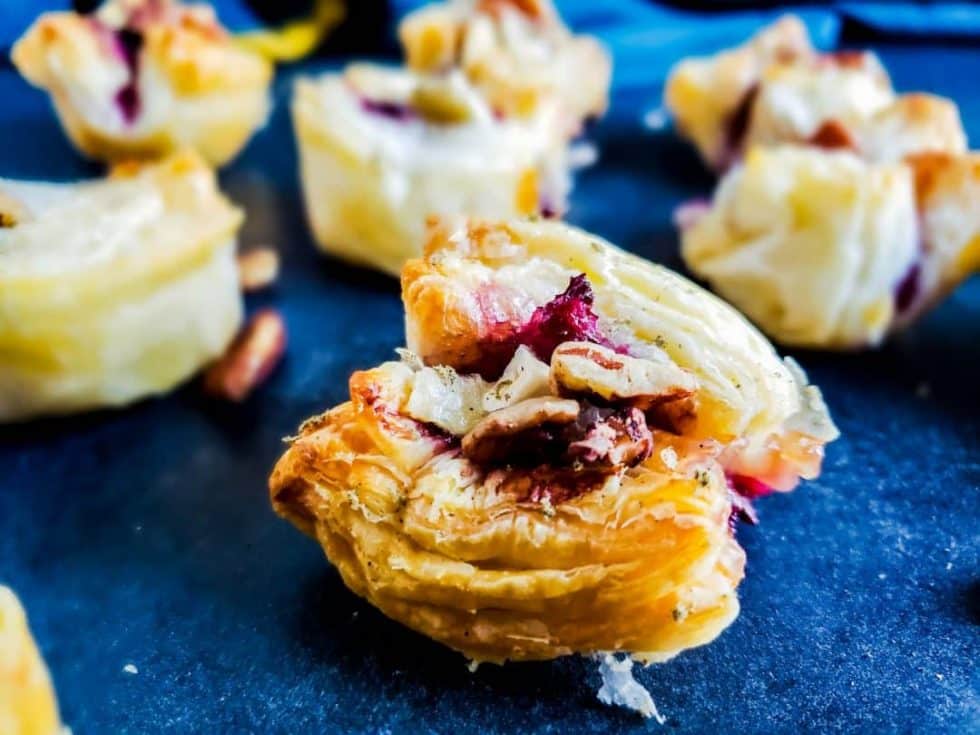 I hope you, your friends and family have a wonderful holiday season filled with laughs, memories and of course amazing food! Enjoy eating and sharing these delicious blackberry pastry bites with brie at your next holiday get-together!
Happy Eating!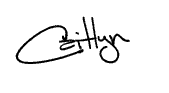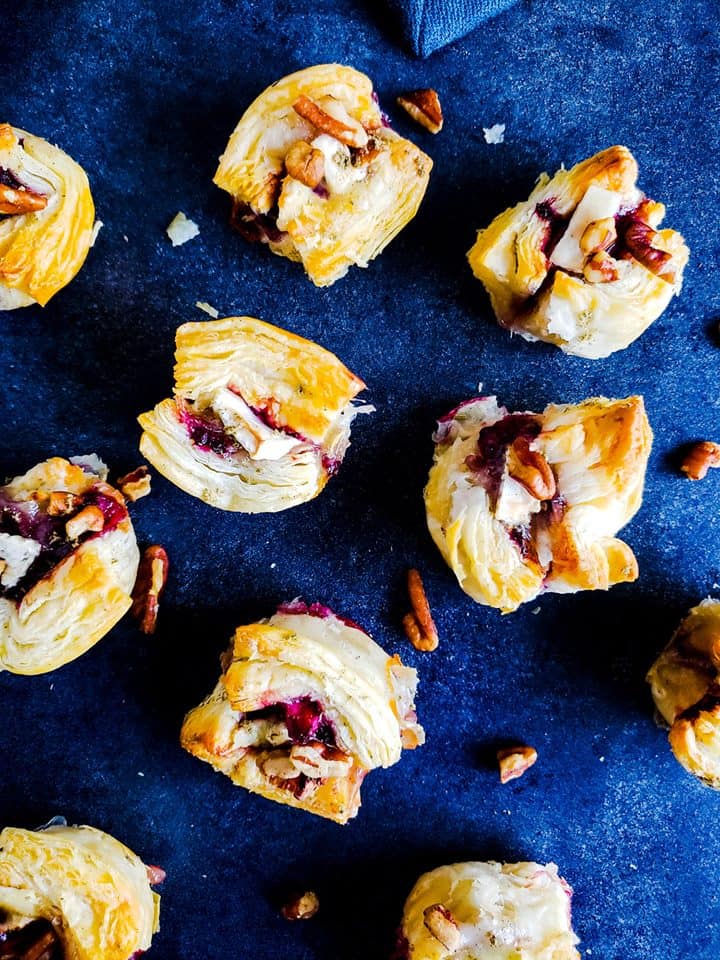 Blackberry Puff Pastry Bites with Brie and Pecans
The perfect last-minute holiday appetizer! These Blackberry Puff Pastry Bites are ready in about 20 minutes and bite-size making them simple for your guests to hold and enjoy.
Ingredients
1

13.2

Puff Pastry Sheet*

3

Oz

Brie Cheese

Chopped into Cubes

⅔

Cup

Blackberries

1

teaspoon

Honey

1

tablespoon

Water

1

Pinch

Salt

3

tablespoon

Chopped Pecans

1

teaspoon

Fresh Sage*

Finely Minced
Instructions
Preheat oven to 375. While the oven is preheating roll out the puff pastry on cutting board and slice into 24 equal squares. Place each square in the cup of a cooking sprayed mini muffin tin. Once oven is preheated, bake the puff pastry for 8 minutes.

While the pastry is cooking, combine blackberries, honey, water, and salt in a small saucepan. Bring to a boil and stir/mash the blackberries. Once boiling reduce to a simmer for 5 minutes continuing to stir. Once slightly thickened remove from heat and let cool slightly. *See Recipe Notes For Short-Cut*

After 8 minutes remove the puff pastry from the oven. Using a spoon smash down the center of each puff. Add the blackberry sauce, then a small piece of brie cheese to each one. Return to oven and cook an additional 5 minutes or until the pastry is golden

Once finished top with crushed pecans and fresh sage. Serve warm and enjoy!
Notes
*If using a frozen puff pastry make sure to properly defrost is first.
*If fresh sage is not available you can also use rubbed sage.
*Instead of making your own blackberry filling like suggested you can also use a store-bought blackberry jam if you wish. This will save on prep-work and time as well.
*Store leftover in an airtight container in the fridge for up to 4 days.
Nutrition
Calories:
151
kcal
Carbohydrates:
11
g
Protein:
3.2
g
Fat:
10.6
g
Saturated Fat:
3.3
g
Cholesterol:
7
mg
Sodium:
109
mg
Potassium:
38
mg
Fiber:
0.8
g
Sugar:
1.1
g
Calcium:
10
mg
Iron:
0.7
mg
See What We Are Pinning!
Follow erhardtseat1 to see all the food!