This grown-up version of pigs in a blanket is sure to please both kids and adults! These Prosciutto Wrapped Breadsticks with Gouda Cheese Dip is the perfect holiday or game day appetizer recipe.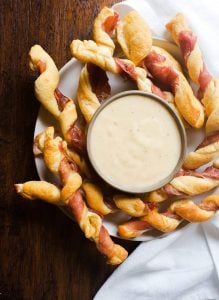 Thanksgiving is nearly here with Christmas right on it's heels! Appetizers are perfect for the holiday season and some of my favorite recipes to create and eat. I love that this Prosciutto Wrapped Breadsticks with Gouda Cheese Dip recipe is simple, fast and a play on a classic.
The entire dish is ready in about 20 minutes making it perfect for a last minute appetizer. This recipe will stand out among the tired and boring cheese and crackers plate, and please all your young and not so young party guests.
This easy prosciutto wrapped breadsticks appetizer recipe uses lots of familiar ingredients and flavors. The only one that may be a new one for you is prosciutto. Prosciutto is dry-cured ham that is often eaten uncooked with mozzarella cheese or crackers.
Prosciutto is kind of like a ham and bacon fusion. It has the salty flavor of bacon, but isn't greasy when cooked. That makes it perfect for this prosciutto wrapped breadsticks recipe because a soggy, greasy breadstick is gross.
Ingredients
Prosciutto

Refrigerated Dough Sheet

Gouda Cheese

Butter and Milk

A few Pantry Staple Spices, Brown Sugar and Flour
Kitchen Tools
A Cookie Sheet

A Wire Baking Rack (not required, but very helpful)

A Basting Brush (not required, you could also just use a spoon)

A Pizza Cutter (not required, you could also use a sharp knife)

A Whisk (not required, you could also just use a spoon)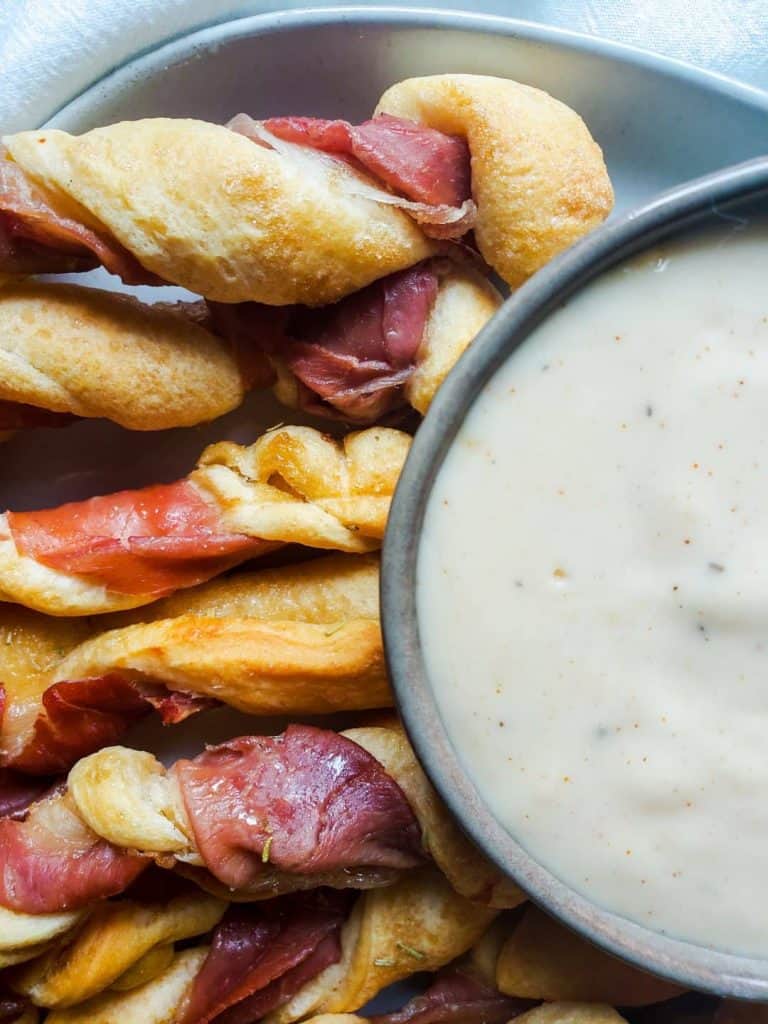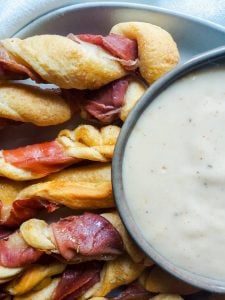 How To Make Prosciutto Breadsticks
Lay your dough sheet out on a smooth, clean surface you will need to slice it into 16 even (try your best) pieces. To do this start on the long side of your dough sheet and make 7 cuts to get 8 equal pieces. My cuts were about an inch and a half thick, but depending on your dough sheet yours may be thinner or thicker. Once you have sliced the dough into 8 pieces slice the opposite (short side) right down the center. This should result in 16 even-ish slices of dough.

Brush or drizzle all of the dough slices with melted butter, then sprinkle all the dough slices with thyme, rosemary, and brown sugar.

Twist the dough over and under itself to form a sort of rope.

Slice prosciutto into 16 pieces and wrap it around each dough rope and pinch at the ends to hold together.

Spray the baking rack or cookie sheet with a non-stick spray, like Pam. Place the breadsticks on the tray and bake for 10-12 minutes until they are nice and golden.While your prosciutto wrapped breadsticks are in the oven you can make the Gouda cheese dip and enjoy together warm.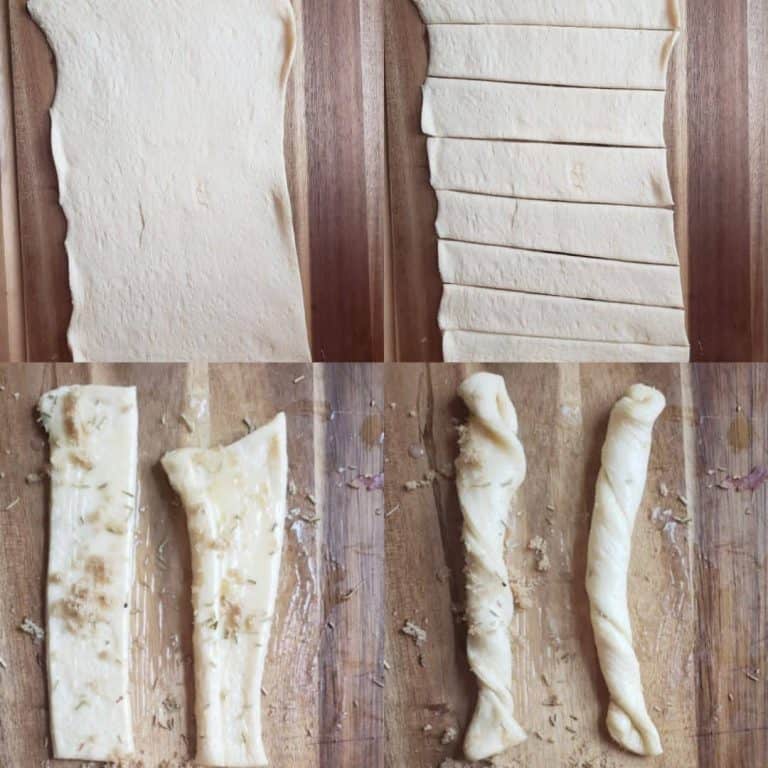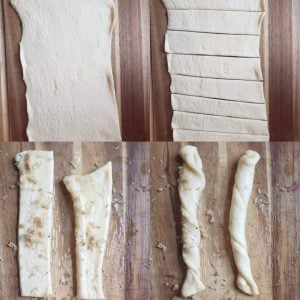 How To Make Gouda Cheese Dip
This Gouda Cheese Dip is super simple and the perfect pairing with the prosciutto wrapped breadsticks. It is ready in about 5 minutes so perfect to prepare and make while the breadsticks are cooking in the oven. The cheese dip has a slightly smokey flavor and is a great compliment to the saltiness of the breadsticks.
In a small sauce pan you will first melt your butter. Once the butter is bubbling you will whisk in you flour cooking for about a minute.

Next, you will add your milk and continue to whisk to avoid clumps. After about 2 minutes things will be slightly thickened.

Add in the Gouda cheese. I add about 2 Oz, but you may need more or less depending on how thick you want the sauce. Slowly add in your cheese to the pot and stir until melted and combined.

Once you have the cheese dip at the consistency that you want you can add in your spices, stir and serve warm with the cooked prosciutto wrapped breadsticks.
Tips and Suggestions
Prosciutto Prep
Let me start by saying that prosciutto can kind of be annoying to work with. It is a delicate meat that tears easily. For each prosciutto wrapped breadstick twist I do my best to slice the prosciutto in half length-wise. I find it's easiest to use a pizza cutter or a very sharp knife. If you are having trouble you can always just fold the whole piece of prosciutto in half and wrap then entire piece around the dough. Just note if you do it this way you will need more prosciutto than the recipe calls for.
Slice it Up
Use a pizza cutter to slice the dough sheet. This makes cutting the dough a lot easier and faster. This is a great way to may the prosciutto breadsticks more uniform.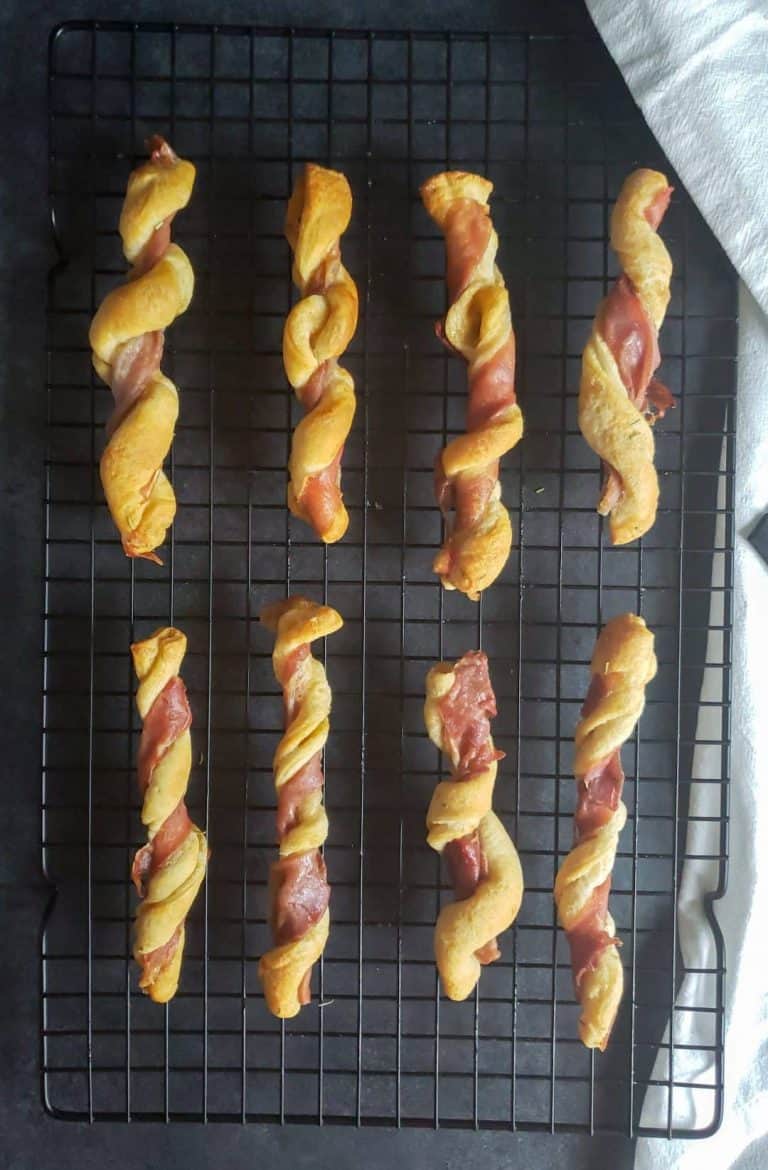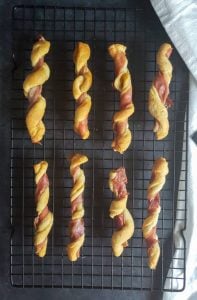 Common Questions
Can I use ham instead of prosciutto for this appetizer recipe?
Yes, you can use ham for these prosciutto wrapped breadsticks. Ham is easier to find and more inexpensive, but the flavor will be a little saltier. Cut the ham in half and use it just like you would the prosciutto.
How should leftover prosciutto breadsticks be stored?
Store leftover prosciutto wrapped breadsticks in the fridge in an airtight container for up to 4 days. Re-warm cheese and breadsticks separately in the microwave until warm.
Can this recipe be frozen?
No, this prosciutto breadsticks recipe is not freezer friendly.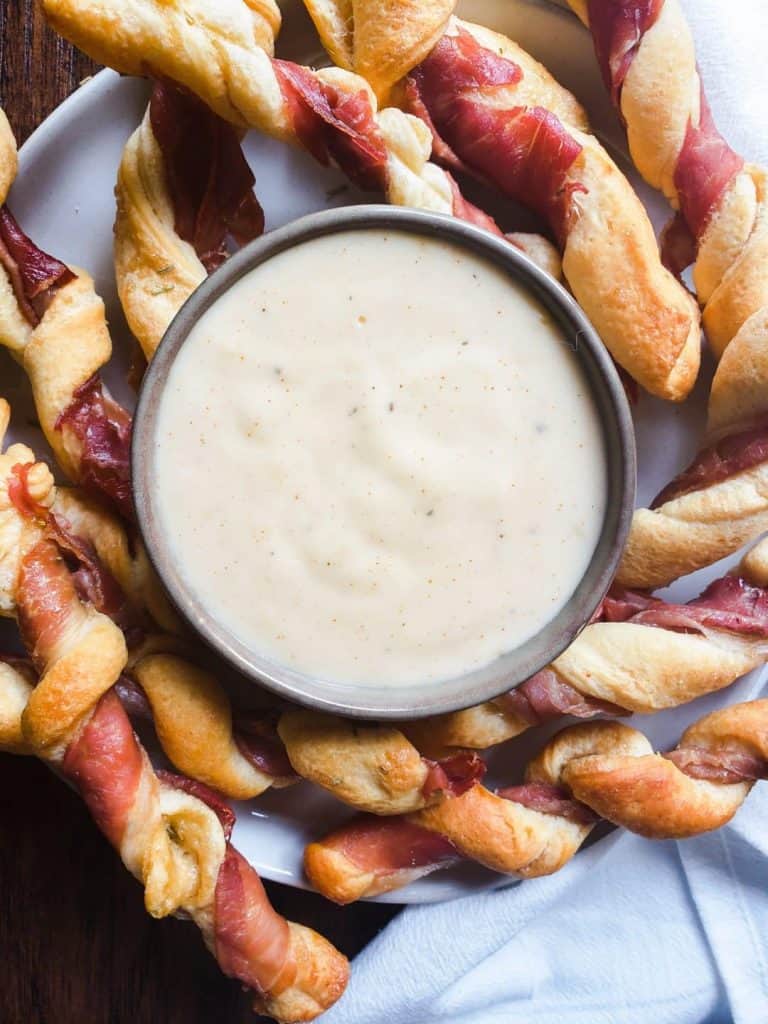 More Appetizer Recipes
Baked Buffalo Chicken Dip
Homemade Soft Pretzels
Blackberry Brie Bites
Chicken Enchilada Dip
Everything Bagel Cheese Ball Bites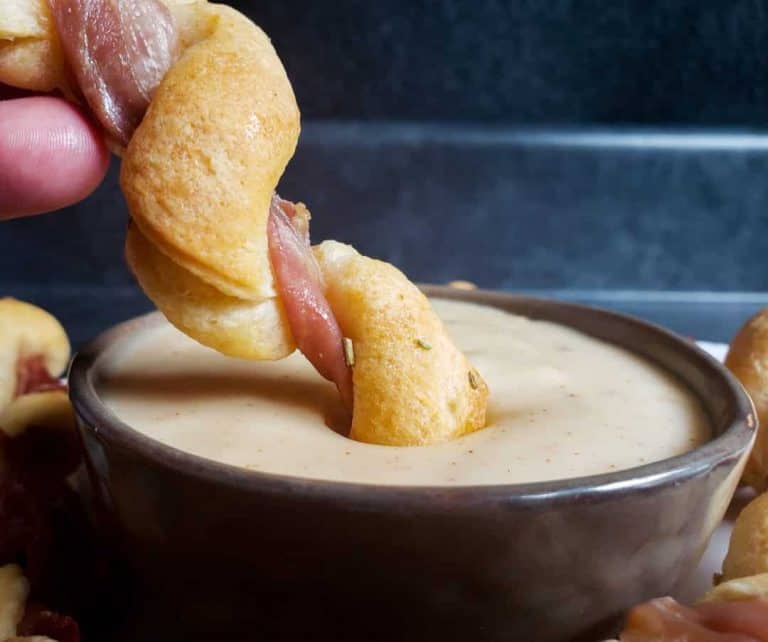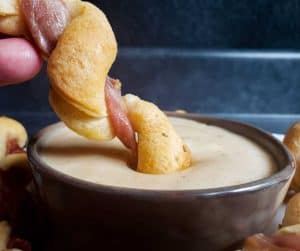 Storytime: Grown-Up Pigs in a Blanket
Now that the holiday season has officially begun I have been in a super nostalgic mood. I have so many wonderful memories of Thanksgiving and Christmas when I was growing up. We always had big celebrations with friends and family with what seemed like an endless supply of delicious snacks and appetizers. Still to this day, the appetizers are some of my favorites.
When I was thinking back to some of my favorite appetizers as a kid one stood out more than the rest, and that is pigs in a blanket. If you aren't familiar with these, they are mini sausages wrapped in crescent roll dough and baked to perfection. As a kid I would also dunk mine in a bunch of ketchup.
Therefore, when I was thinking about an easy appetizer for a crowd to make for holiday parties I thought, "I can I make my childhood favorite more grown-up?" Cue this Prosciutto Wrapped Breadsticks with Gouda Cheese Dip recipe! This prosciutto breadsticks recipe keeps all the same flavors as the original, while adding in some herbs, swapping the protein and pairing it with a side of smokey-ish cheese dip. The best part is that this dish is simple enough to prepare last minute and is perfect for both kids and adults.
I hope you and your family love the twist on a classic appetizer recipe for the holiday season and beyond! Enjoy these Prosciutto Wrapped Breadsticks!
Happy Eating!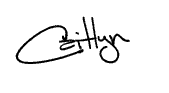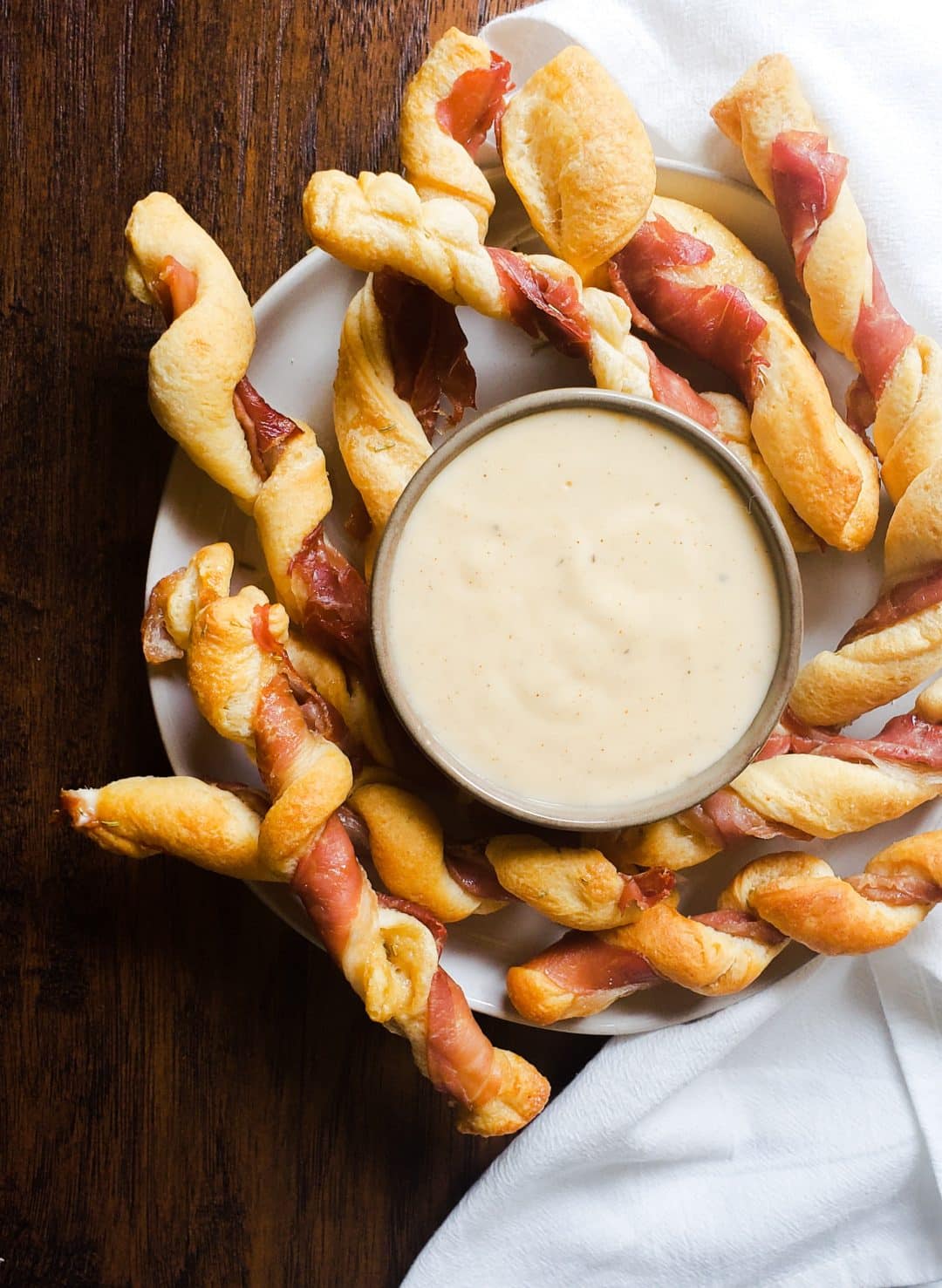 Prosciutto Wrapped Breadsticks with Gouda Cheese Dip
The perfect simple appetizer for the holiday season! This grown-up pigs in a blanket recipe will be a hit with both kids and adults.
Ingredients
Prosciutto Wrapped Breadsticks
8

Oz

Refrigerated Seamless Crescent Roll Dough

6

Oz

Packaged Prosciutto

2

tablespoon

Melted Butter

¼

teaspoon

Crushed Rosemary

EACH

¼

teaspoon

Thyme

EACH

1

teaspoon

Brown Sugar

EACH
Gouda Cheese Dip
2

tablespoon

Unsalted Butter

2

tablespoon

All Purpose Flour

½

Cup

Milk

2

Oz

Gouda

Shredded

½

teaspoon

Smoked Paprika

Pinch

Ground Black Pepper

¼

teaspoon

Garlic Powder
Instructions
Prosciutto Wrapped Breadsticks
Preheat oven to 375 degrees. Open the crescent roll dough and lay it out flat on a clean, smooth surface. Using a pizza cutter, slice the dough on the long end into 8 even long strips. Then slice each of those strips into 2 equal halves. This should give you 16 even pieces.

Take one piece of dough and brush it with melted butter. Then sprinkle with thyme, rosemary, and brown sugar. Twist the dough over and under itself until you reach the end.

Take half a piece of prosciutto and twist it and the piece of dough together forming a rope. Pinch each end so it stays secure. Place it on a wire baking rack (sprayed with Pam or a similar cooking spray) .that is sitting on a cookie sheet. Repeat until all dough is used.

Place in the oven on the middle rack and bake for 10 minutes, or until golden brown. Serve warm with Gouda Cheese Dip.
Gouda Cheese Dip
In a small sauce pan over medium heat melt butter. Once butter is melted and bubbling add in the flour and whisk to combine. Cook for 1 minute until blonde.

Add in milk and stir constantly to avoid clumps, stir for 1-2 minutes until slightly thickened. Add Gouda cheese and stir until completely melted. Add spices and serve warm with Prosciutto Wrapped Breadsticks.
Notes
Leftover Storage: Store leftover cheese and breadsticks separately in the fridge in airtight containers for up to 4 days.
Alternate Preparation: Swap the prosciutto for ham if you are having a hard time finding it at your local grocery store.
Nutrition
Calories:
152
kcal
Carbohydrates:
11.5
g
Protein:
7.3
g
Fat:
8.7
g
Saturated Fat:
5.4
g
Cholesterol:
31
mg
Sodium:
348
mg
Potassium:
92
mg
Fiber:
0.7
g
Sugar:
6.9
g
Calcium:
70
mg
Iron:
1.4
mg
See What We Are Pinning!
Follow erhardtseat1 to see all the food!