Ranch. Cheese. Hot sauce. Is there a better combo?! NO! This Baked Buffalo Chicken dip is the perfect appetizer for any occasion!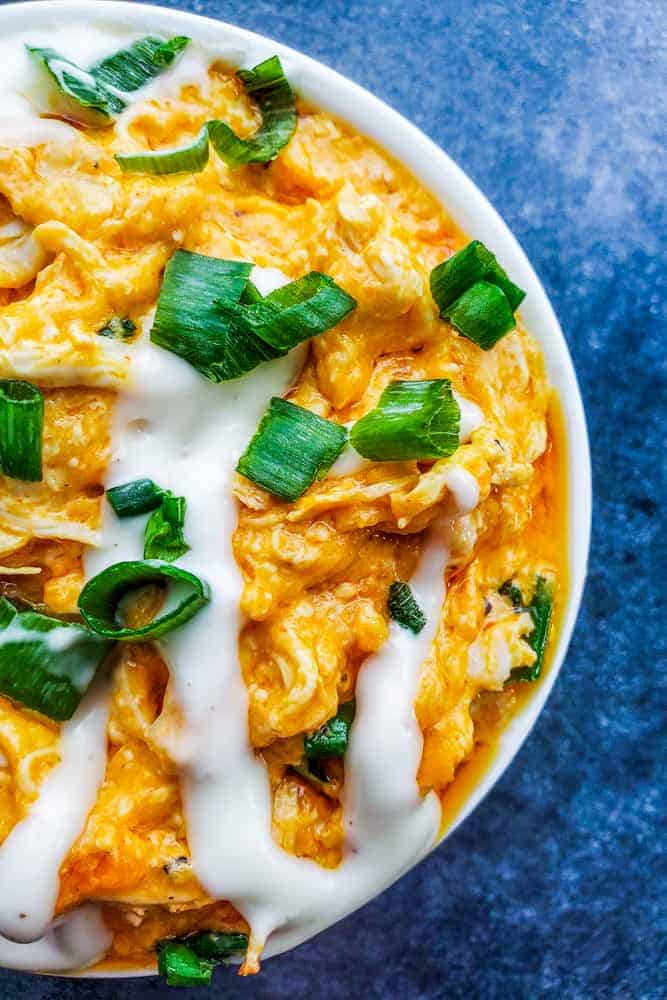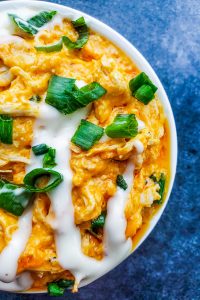 It is finally Fall, which means that football is back! My family lives in Wisconsin (Go Pack Go) and are huge football fans. We love hanging out on game days and one of our appetizers of choice is this dip recipe! If you don't live in the states, or you're just not into sports, then football probably matters very little to you.
No matter, this Baked Buffalo Chicken Dip is also perfect for parties, holidays, or a lazy Sunday when you just feel like a tasty snack. It is extremely simple to make and can be kept warm in a crockpot to enjoy for hours. Whenever I throw parties, this dip is always requested and is usually completely wiped out by the end.
This buffalo dip combines the three basic food groups: cheese, hot sauce, and ranch. I'm only kidding, but really if you are from the Midwest, like I am, you probably completely agree with me. Cheese is one of my favorite foods on the planet. It goes well with so many different foods. It can work with sweet, savory and in this case spicy.
Another staple in this appetizer is ranch dressing. I didn't realize how big of a Midwestern thing ranch was until I moved to Japan and they looked at me like I had two heads when I asked for it. This was also during the time I met someone who said they hated ranch (horror). Okay, enough chat, let's get into the recipe.
Kitchen Tools
Measuring Cups and Spoons

A Baking Dish:

I recommend using a 9x9 or 7x11 inch pan.

A Spoon
Ingredients
Cream Cheese

Ranch and Hot Sauce: My favorite hot sauce to use in Frank's Red Hot and I love using my homemade buttermilk ranch as well!

Cheddar Cheese

Cooked Chicken: Rotisserie chicken is the best for the dip and makes it nice and creamy. Alternatively, you can use

leftover

chicken with mild spices. I do not

recommend

using canned chicken.

Dried Herbs and Spices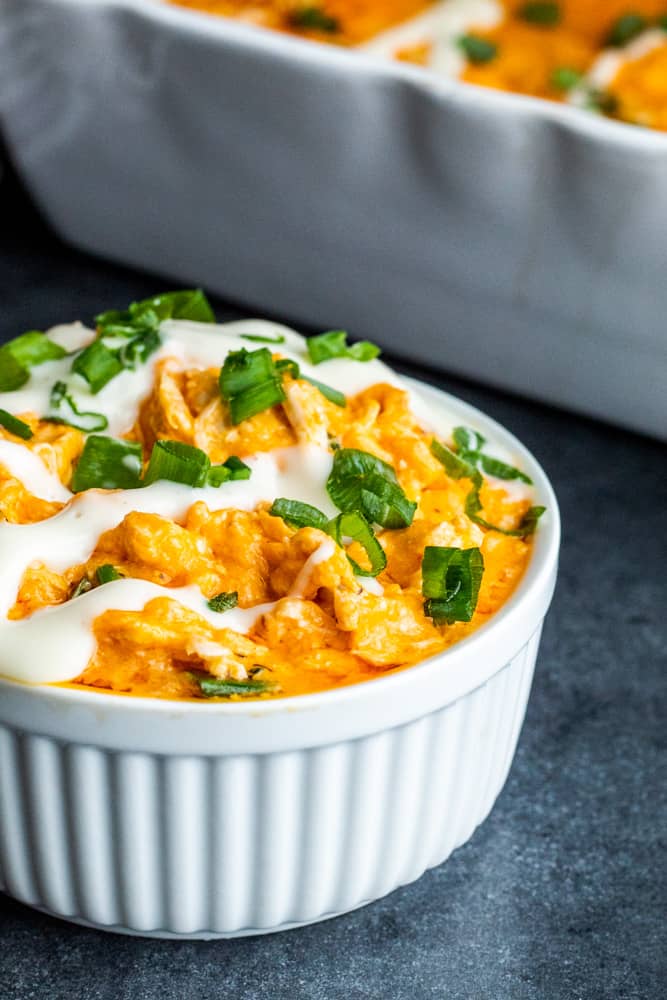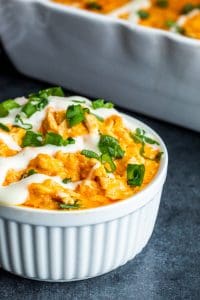 How to Make Buffalo Chicken Dip
Measure out all your buffalo dip ingredients, or just let your heart decide if that's your thing.

Combine everything into a large bowl and mash and stir to combine. I like to use a fork for this step.

Once the buffalo dip is combined, pour dip into a baking dish and bake on the center rack for 25 minutes, or until melty and bubbling.

Once buffalo dip is baked add additional cheese and bake until melted (Optional, but who doesn't love extra cheese).

Serve baked buffalo dip warm with chips, veggies or crackers.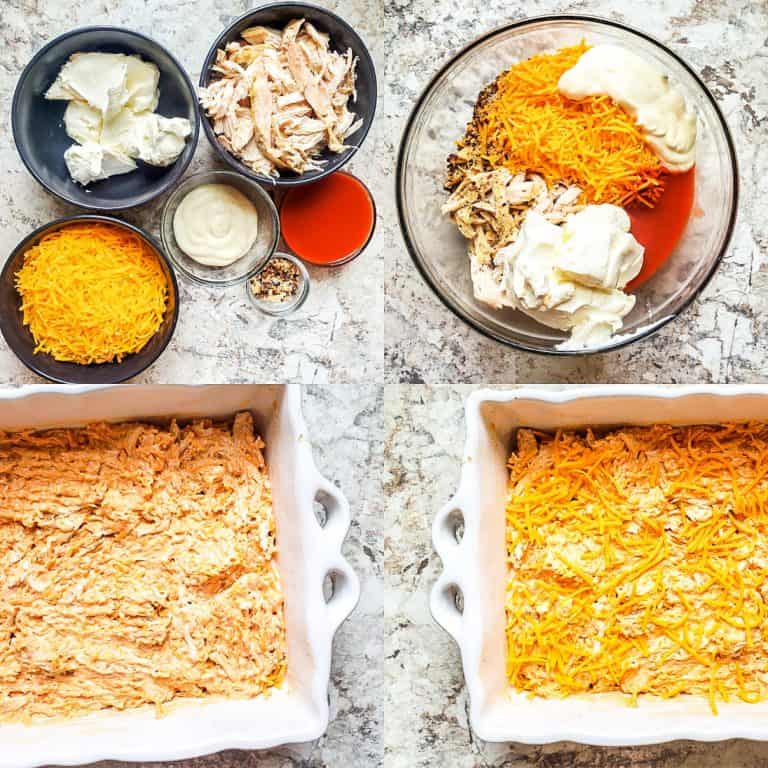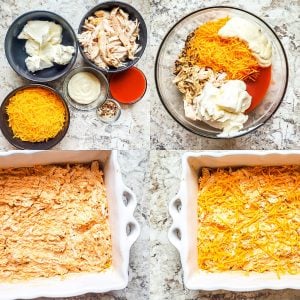 Tips and Tricks
If you have read any of my other recipes (you should if you haven't) then you would know that my mom is a wizard in the kitchen, and a lot of my own cooking skills have come from her. This is another recipe that my mother handed down to me.
Bake the Dip First
First thing you need to do to make the best buffalo chicken dip is bake it in the oven. SO many other dip recipes that are similar to this always go strait to the crock pot. Don't do it, not yet anyway. I myself have ignored this advice and the result was exactly what my mother said would happen. The cheese didn't melt evenly, the ranch and hot sauce separated and it was not cute.
Pile on the Toppings
I am all about the extras when it comes to my recipes. For this buffalo dip recipe I love to add additional cheese to the top (because life is better with cheese), additional ranch and green onions when serving. These things are completely optional, but if you want to take your dip game to a whole new level don't be shy with the extras.
Time Saver Tip
Using store-bought rotisserie chicken is great for this dip recipe! It saves on having to bake chicken ahead of time and is cost effective as well.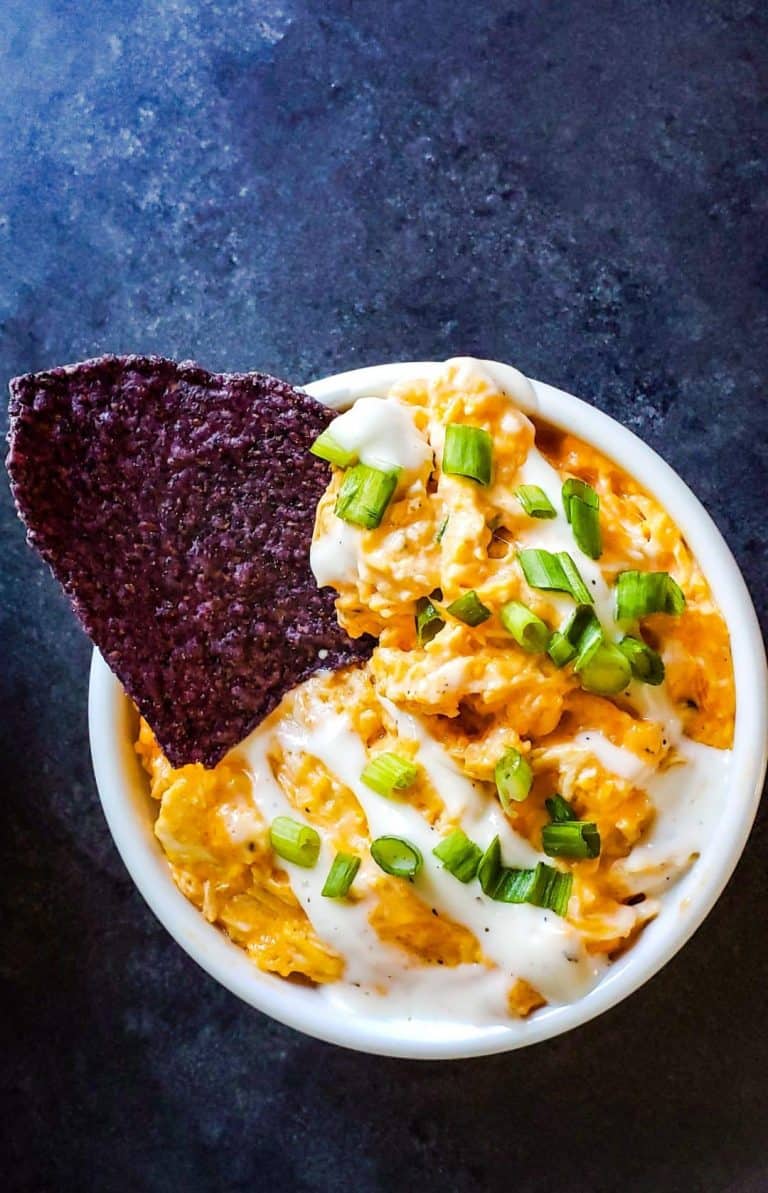 More Dip Recipes
Baked Chicken Enchilada Dip
Spicy Bacon Jalapeno Popper Dip
Mango Avocado Salsa
Chili Cheese Dip
Blender Salsa
Cowboy Queso Dip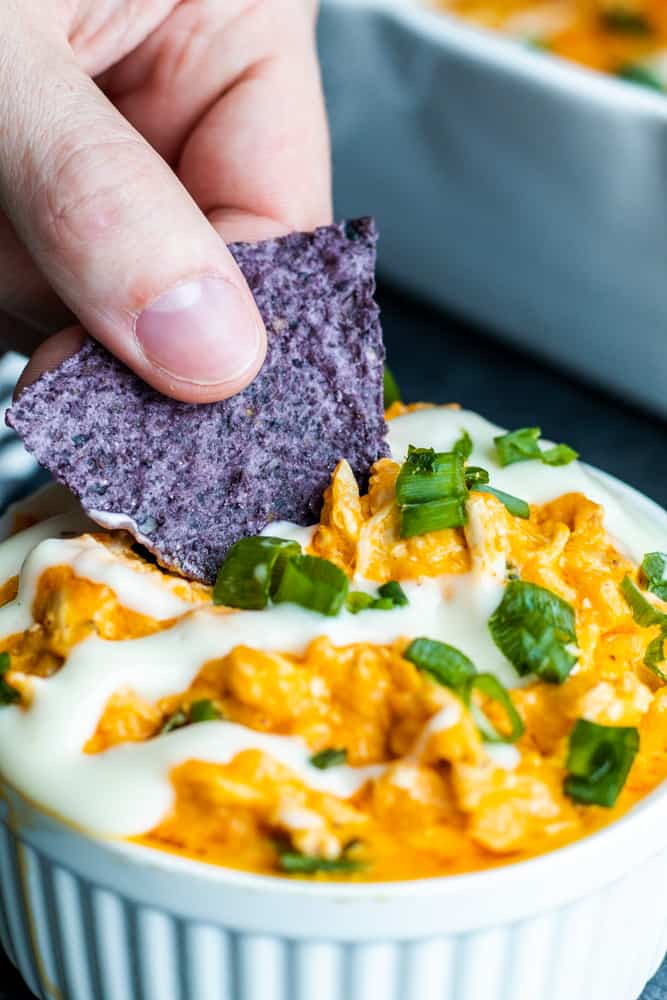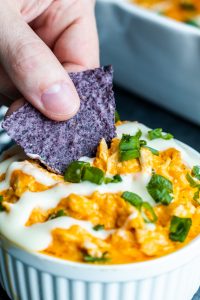 Common Questions
How long is this dip good for?
I store this buffalo chicken dip in an airtight container in the fridge for about 3-5 days. It rarely lasts that long, honestly. Then I just scoop the amount I want into a small bowl and microwave it for 30 seconds and stirring afterwards.
Can this recipe be made ahead of time?
Yes, this dip can be made up to 24 hours ahead of time and stored covered in the fridge. When you are ready to bake, cook dip according to recipe instructions. Alternatively, you can bake the buffalo dip and store in the fridge then re-warm in a crockpot for 2 hours on low before serving.
Can dip be frozen?
Personally, I do not like to freeze this dip. The cream cheese in the dip will get a strange texture after it is thawed. Technically, you can freeze it for up to 3 months, but be aware the texture will be off.
I hope you love this cheesy and creamy Baked Buffalo Dip! Check out my Buffalo Chicken Grilled Cheese and Crispy Smashed Potatoes for more buffalo style recipes.
Happy Eating!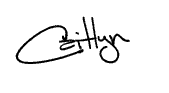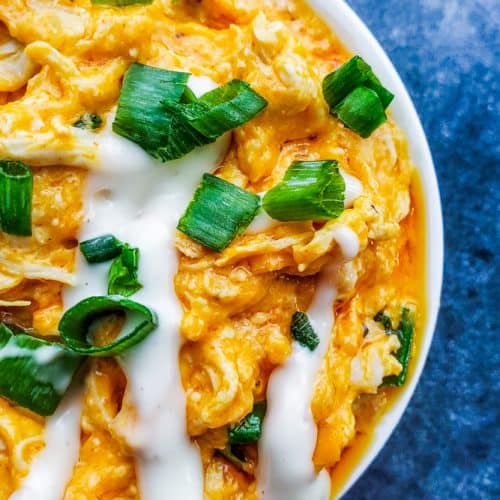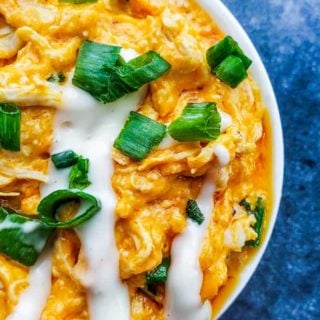 Baked Buffalo Chicken Dip
Cheesy and spicy! A seriously underrated dynamic duo! This dip is perfect for parties, game days and as a holiday appetizer!
Ingredients
Optional Toppings
Sliced Green Onions

Additional Ranch Dressing

Additional Cheddar Cheese
Instructions
Preheat oven to 350 degrees. While the oven is preheating, combine all ingredients into a large bowl. Stir and mash together until well combined.

Pour into a 7x11 inch (or 9x9) baking dish and spread out evenly. You can add more cheddar cheese to the top if you wish or leave plain.

Cook on the middle rack in the oven for 25-30 minutes, or until cheese is bubbling and melted throughout.

Stir before serving with tortilla chips, celery, carrots, or whatever you are into! If you aren't going to eat immediately, place into a crock pot on warm to keep warm and fresh all day!
Video
Notes
Leftover Storage: Store leftovers in an airtight container in the fridge for up to 4 days.
Reheating Instructions: Reheat in the microwave until warm (30-60 seconds), stirring to make sure heat is transferred. Alternatively, you can reheat in the oven at 350 degrees for 15 minutes or until warm.
Freezer Option: Combine ingredients then store in a freezer bag for up to 3 months in the freezer. When ready to bake let thaw in fridge overnight, then follow baking instructions.
Nutrition
Serving:
1
Serving
Calories:
191
kcal
Carbohydrates:
9
g
Protein:
9.9
g
Fat:
12.7
g
Saturated Fat:
6.6
g
Cholesterol:
38
mg
Sodium:
403
mg
Potassium:
82
mg
Fiber:
0.4
g
Sugar:
2.4
g
Calcium:
160
mg
Iron:
0.5
mg
See What We Are Pinning!
Follow erhardtseat1 to see all the food!
Sharing is Caring!