Who doesn't love a tasty (AND EASY) holiday treat?! This Christmas Crunch Popcorn Snack Mix is festive, fun and packed with salty and sweet flavors perfect for both kids and grown-ups.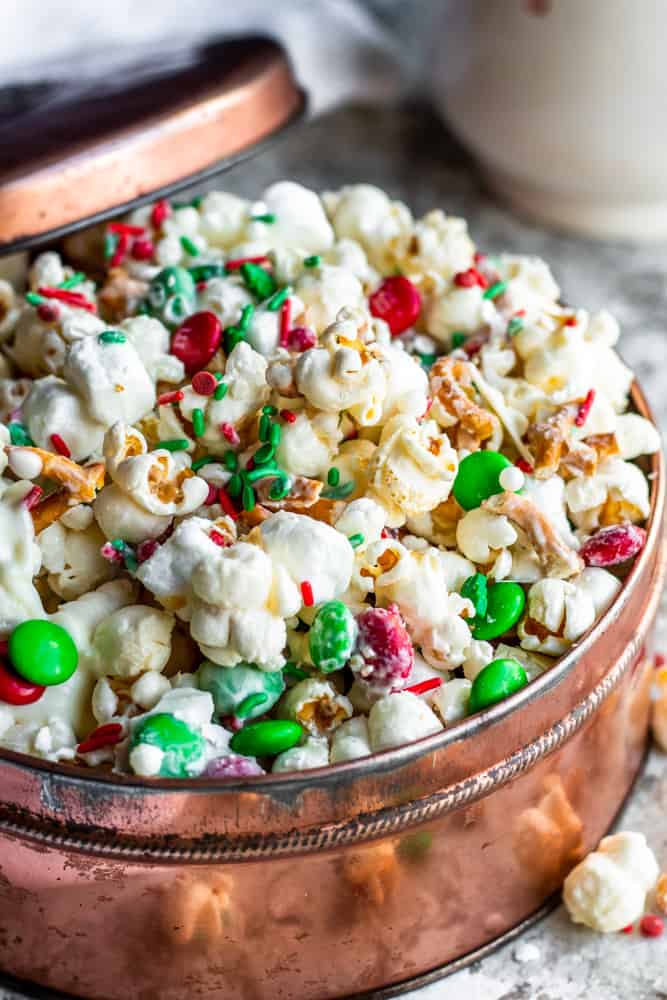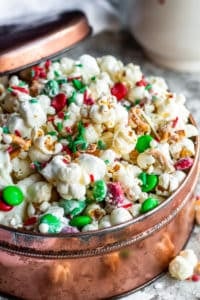 The holidays are in full swing right now with all the shopping, parties, lights, snow (ugh), and of course holiday baking. This Christmas Crunch Snack Mix is the ultimate simple and tasty holiday treat. It is filled with popcorn, pretzels, candy, sprinkles, marshmallows and white chocolate for a sweet and salty bite perfect for both kids and adults.
This popcorn mix works great as an edible gift, sharable at any holiday get-together or party, and to make for kid's classroom parties. This recipe requires no cooking and is ready in about 20 minutes. Bonus, the snack mix saves well and can be customized for virtually any holiday, special occasion, or just a fun movie night. I hope you and your family enjoy this popcorn candy mix this holiday season and beyond!
Kitchen Tools
A Large Cookie Sheet: Make sure it is at least a half sheet (this is the standard size most people use).
A Rubber Spatula or Spoon
Parchment Paper: Very helpful and helps the chocolate not stick to the cookie sheet. This makes removing the popcorn mix way easier once it has set. Not to mention clean up is a breeze.
A Large Prep Bowl (Optional): Personally, I like just adding all the ingredients to my cookie sheet and mixing my Christmas Crunch that way. If you prefer to mix the popcorn mix in a bowl then transfer it to a cookie sheet that works too.
Measuring Cups and Spoons: Or just let your heart decide. No judgment for using excessive amounts of M&M's!
Ingredients
Popcorn:

Personally, I like to just use store-bought popcorn out of a bag. This makes life so much easier. Alternatively you can pop your own fresh popcorn on the stove or in the microwave. Whatever route you co make sure there is no crazy flavor on on the popcorn and just use plain or one with sea salt.

Pretzels:

Again, no crazy flavored pretzels, or any that are super big and thick. Just regular pretzels or the little stick ones are perfect for this popcorn mix recipe.

Mini Marshmallows

M&M's Candy:

I love using a mix of regular M&M's and Peppermint M&M's for this recipe. If peppermint isn't your thing you can of course swap for all regular candy instead. Also, I like using the festive red and green colors for Christmas, but you can use any variety you choose.

Sprinkles:

Any sprinkles will do, but I love using a holiday mix to add more fun color to this Christmas Crunch.

White Melting/Baking Chocolate:

Make sure you are getting melting chocolate, baking chocolate or ivory bark and not just white chocolate chips. The two melt differently and it will be a pain to combine everything.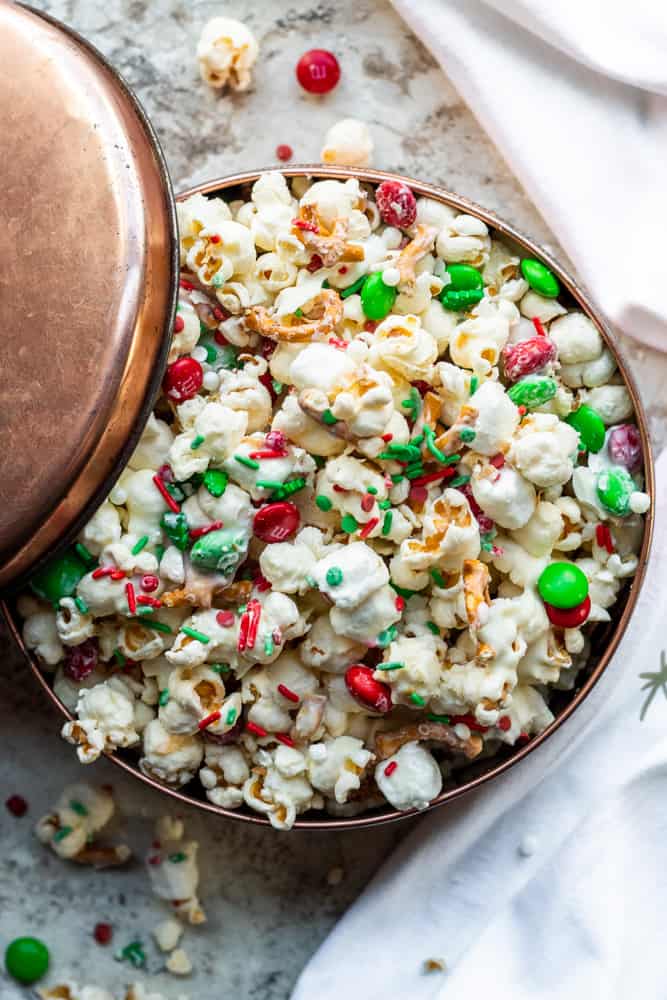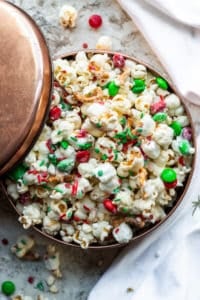 How To Make Popcorn Snack Mix
Measure out all of your ingredients and prepare a cookie sheet with parchment paper. If using fresh popcorn, pop in microwave or stove top.

Add popped popcorn, pretzels (I like to crunch mine so there aren't hug chunks), mini marshmallows and M&M's to your cookie sheet distributing everything evenly.

Melt white chocolate in a bowl in the microwave until smooth and warm. I melt mine in 20 second increments and stir in-between.

Pour the melted white chocolate on to the tray of popcorn snack mix and toss/stir until everything in coated in white chocolate.

Immediately top with sprinkles so that they stick to the warm white chocolate.

Let set for 15-30 minutes until the white chocolate is set and hard. Break apart and enjoy immediately or store leftovers for gifting.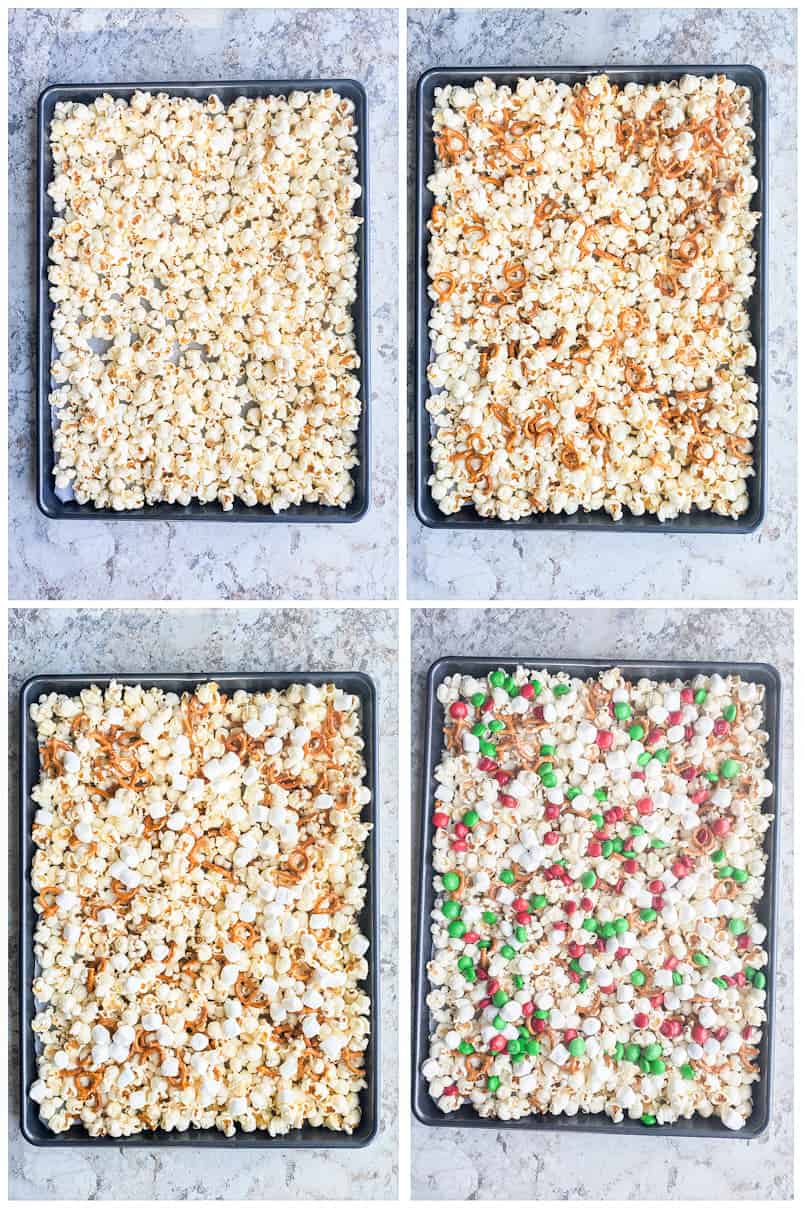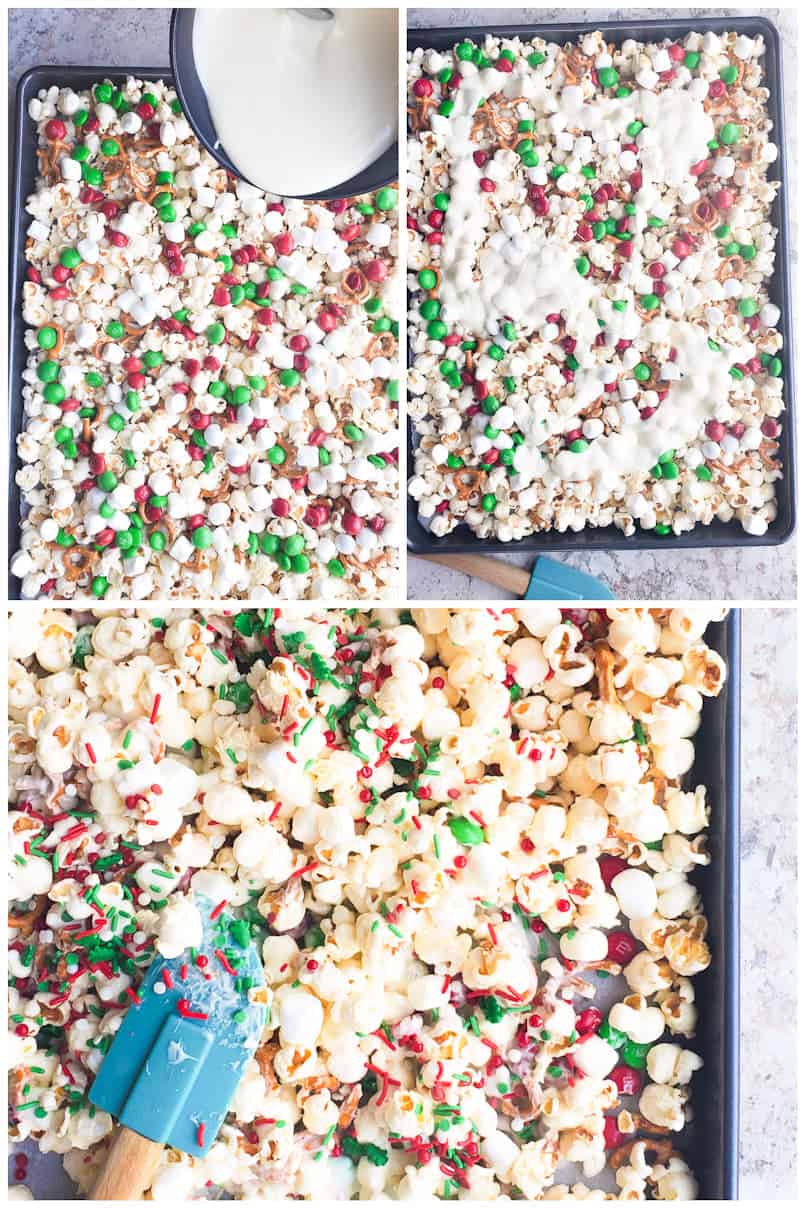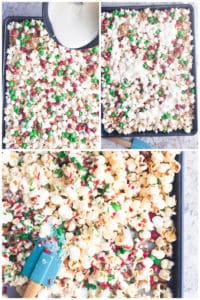 More Holiday Faves
Sugar Cookie Fudge
Gingerbread Truffles
Chocolate Bark with Candy
Edible Chocolate Chip Cookie Dough
Oreo Balls with Crushed Peppermint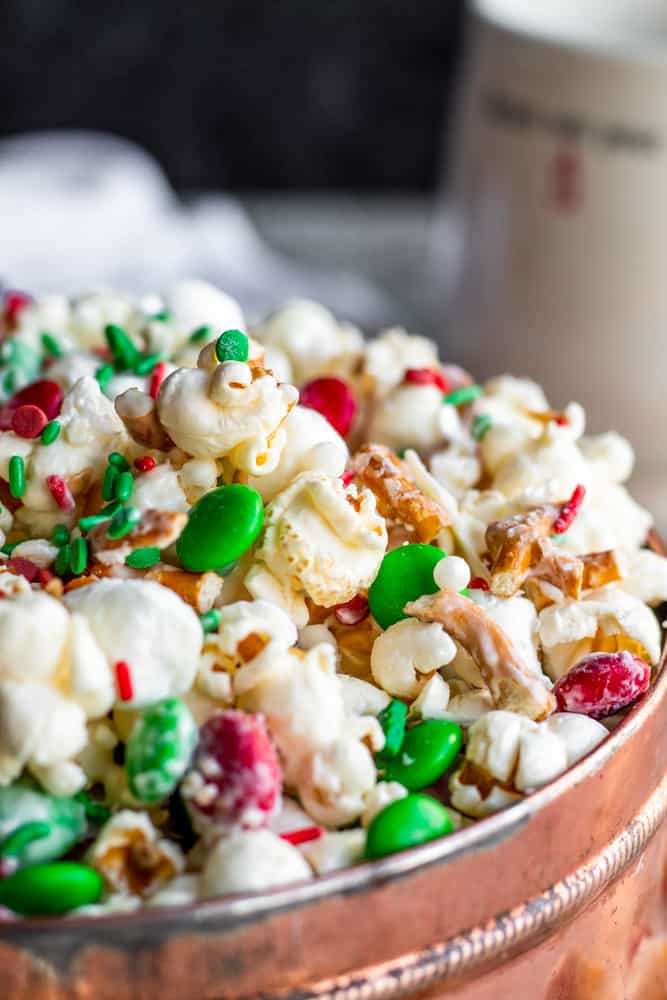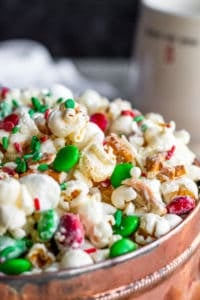 Customization Ideas
This Christmas Crunch can absolutely be made beyond the holiday and does not have to be Christmas themed at all. This popcorn snack mix works for a fun movie night snack for kids, other holidays or just for fun on a Sunday. Also, you could mix up the flavors with different chocolate, candy, caramel or colors for more fun flavors and themes. Some other ideas to try out for this popcorn recipe are:
Valentine's Day: Just switch out the red and green for pink and red. Boom, done.
Halloween: Orange and black candy for the win.
Forth of July: Red, white and blue candy make this popcorn snack mix the best firework watching treat.
Easter: We all know and love those pretty pastel M&M's.
Movie Night: Just go with the classic M&M's for any movie night or classroom party.
Fun with Flavors: You could add in different flavored like Reese's Pieces Candy, crushed Peppermint, or a drizzle of dark chocolate over top to make this snack mix your own.
Baby Showers: Blue or Pink candy and sprinkles depending on the gender.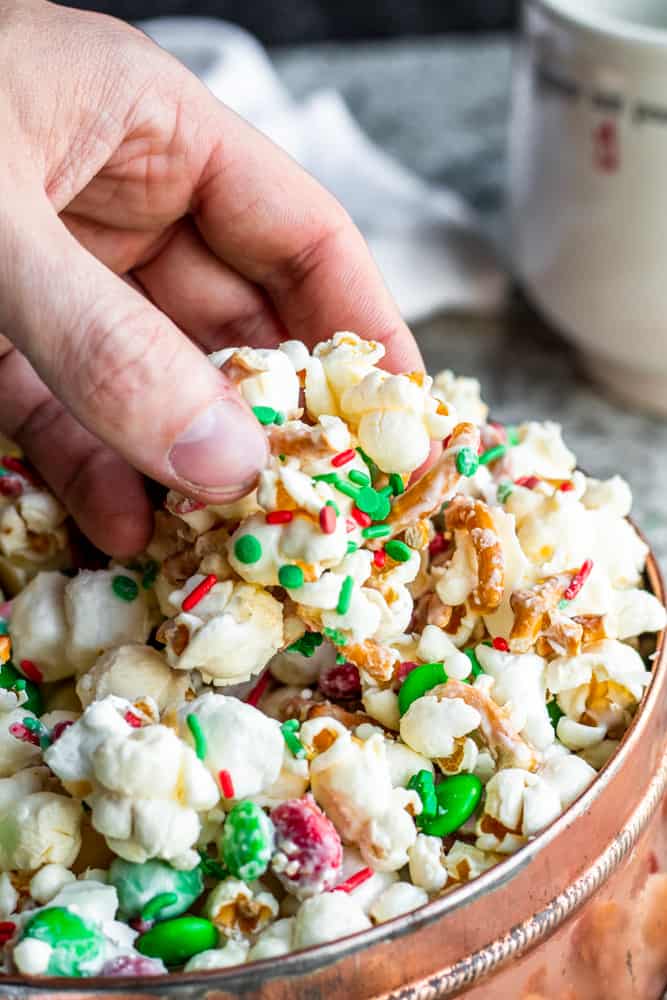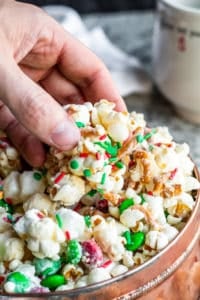 Storage Instructions
Once the sweet and salty snack mix has set-up and hardened, you can store leftovers in and airtight container at room temperature. This popcorn recipe will stay fresh for up to 10 days. No need to store in the fridge, or microwave the popcorn you can enjoy leftovers at room temperature. This Christmas Crunch makes a great gift and stores well in a glass mason jar. Just add a bowl and tag and give to friends, family, teachers or neighbors for a simple yet thoughtful gift.
I hope you love this Christmas Crunch Mix this holiday season. This recipe is based off of the classic "snack bowls" my mom used to make for my brother and I when we were young. I loved getting a bowl of goodies and watching my favorite Christmas movie over school breaks. Enjoy creating memories and of course enjoying some tasty treats with the fam!
Happy Eating!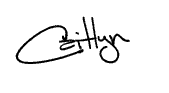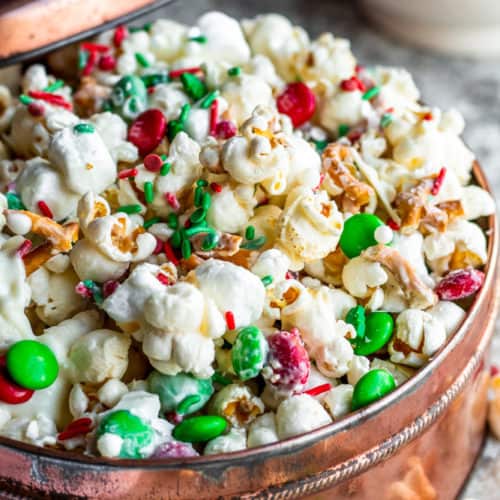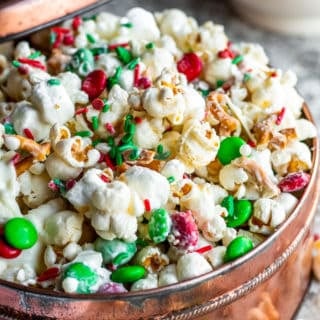 Christmas Crunch Popcorn Snack Mix
This Christmas Crunch recipe is perfect for the holiday season! This popcorn mix with white chocolate is easy and perfect kids, adults and gifting!
Ingredients
10

Cups

Popped Popcorn

1

Cup

Pretzels

Slightly Crushed

1

Cup

Mini Marshmallows

½

Cup

M&M's Candy

Color to Fit Theme

½

Cup

Peppermint M&M's Candy

Or Just More Regular Kind

12

Oz

White Melting (Baking) Chocolate

½

Cup

Sprinkles

Color to Fit Theme
Instructions
Measure ingredients and combine popped popcorn, slightly crushed pretzels, mini marshmallows and M&M's on a large parchment paper lined cookie sheet. Set aside.

Melt white chocolate in the microwave in 20 second increments stirring in-between until warm and melted completely. Drizzle over the cookie sheet then use a spoon or rubber spatula to toss/stir to combine the ingredients. You want everything to have some white chocolate on it.

Immediately add the sprinkles so they will stick to the white chocolate. If you wait they will just roll off. Let the popcorn mix set for 15-30 minutes until the chocolate is hard. Break apart and enjoy immediately!
Notes
Leftover Storage: Store leftover Christmas Crunch in an airtight container at room temperature for up to 10 days.
Recipe Alterations: Customize this popcorn snack mix to any occasion or holidays by swapping out the candy and sprinkles for different colors that fit the theme.
Popcorn Options: I like to use store-bought popcorn in a bag. Alternatively, you can pop fresh popcorn in the microwave or on the stove-top. Just make sure you are using plain or sea salt popcorn and no crazy flavors.
Chocolate Tip: Be sure to use white melting chocolate, baking chocolate/wafers or ivory bark for this recipe and NOT just white chocolate chips. They melt differently and will be much are to combine the mix and not set up well.
Nutrition
Calories:
213
kcal
Carbohydrates:
28.3
g
Protein:
2.9
g
Fat:
10.2
g
Saturated Fat:
6.1
g
Cholesterol:
6
mg
Sodium:
62
mg
Potassium:
106
mg
Fiber:
1.2
g
Sugar:
20.2
g
Calcium:
61
mg
Iron:
0
mg
See What We Are Pinning!
Follow erhardtseat1 to see all the food!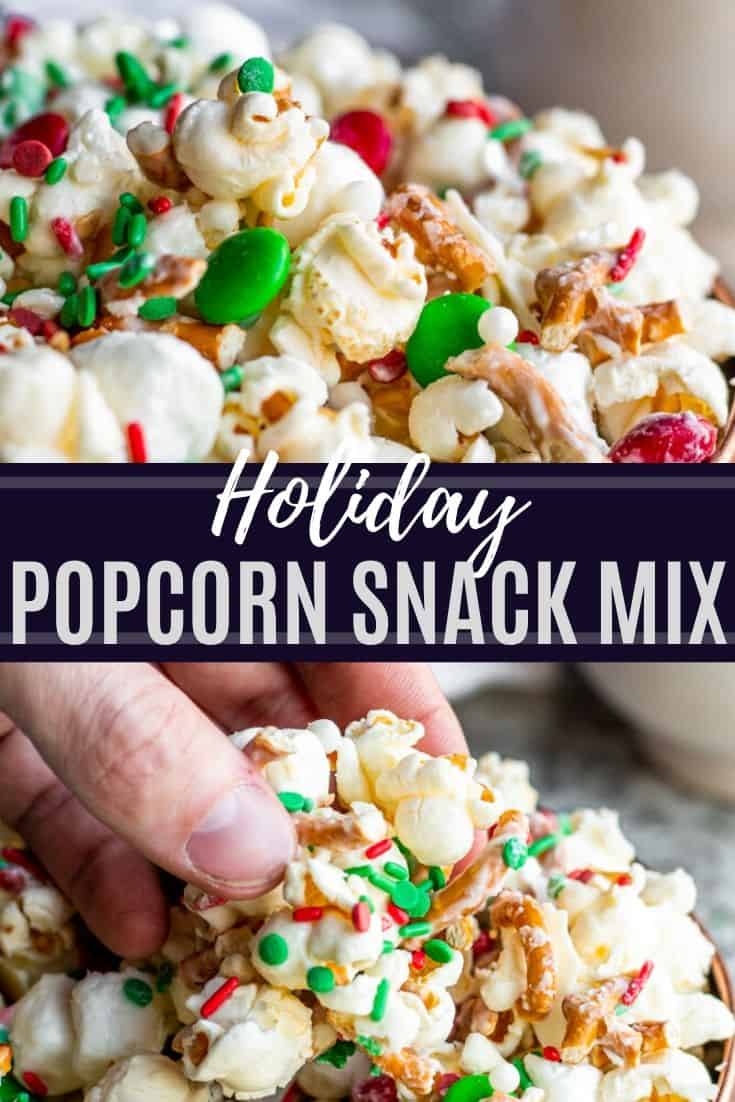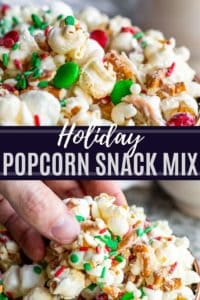 Thank You for Sharing!