This no bake Funfetti Cake Dip Recipe is quick and easy to make and loved by both kids and adults. Perfect for holidays and birthday parties and only requires four ingredients!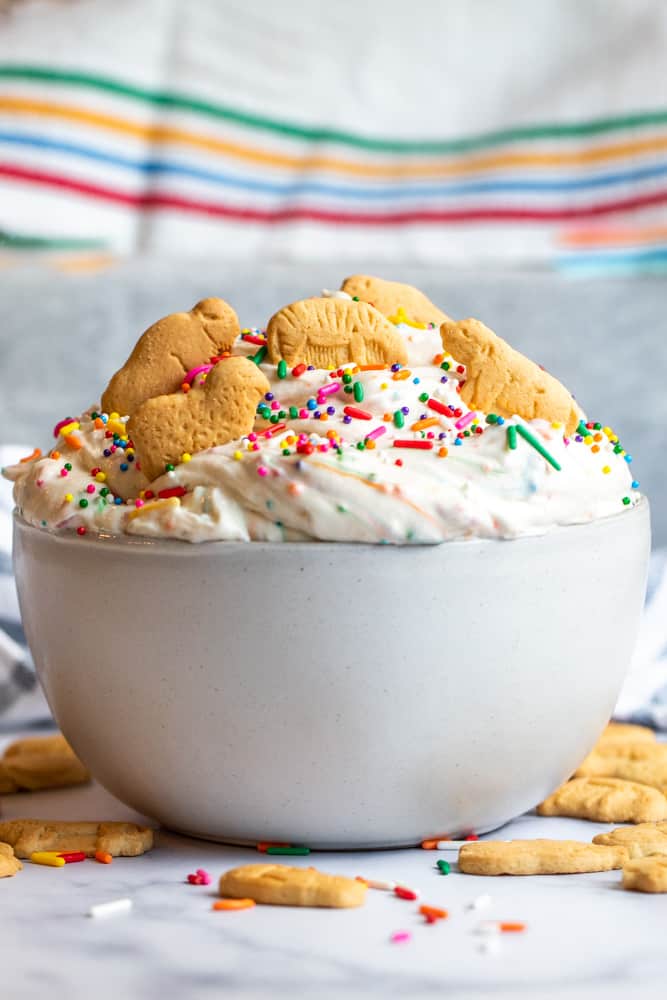 This Funfetti Cake Dip Recipe hits me right in the nostalgia button. Growing up one of my brother and I's favorite treats was Dunkaroo Dip. Unfortunately, they no longer sell it in stores (WHY, UGHHHH). No worries, my sweets obsessed personality of course had to create my own version to enjoy AND only it only uses a few ingredients, plus one bowl.
This cake batter dip may not come with the classic kangaroo cookies, but it is still so sweet, light and fluffy like frosting. This dip pairs perfectly with animal crackers or Teddy Grahams and is a must for holidays or birthday parties. I hope you and your kiddos become just as obsessed with this recipe as my family is, enjoy!
Ingredient Notes
Whipped Topping: Use Cool Whip or an off brand and not Reddi Whip. It does not hold as well and melts faster, therefor the dip will not be as thick and cake batter-y if you get me.
Vanilla Greek Yogurt: Personally, I love the Honey Vanilla Greek Yogurt for this cake batter dip, but regular vanilla or plain non-fat Greek yogurt can be swapped in.
Funfetti Cake Mix: Any cake mix from the grocery store will do, just make sure it is some version of "funfetti".
Why You'll Love It
Minimal Ingredients: Only Four Required!
Quick and Easy Prep: Only One Bowl Needed
Great for Kids and Adults
Perfect for Any Party or Occasion: Customize Easily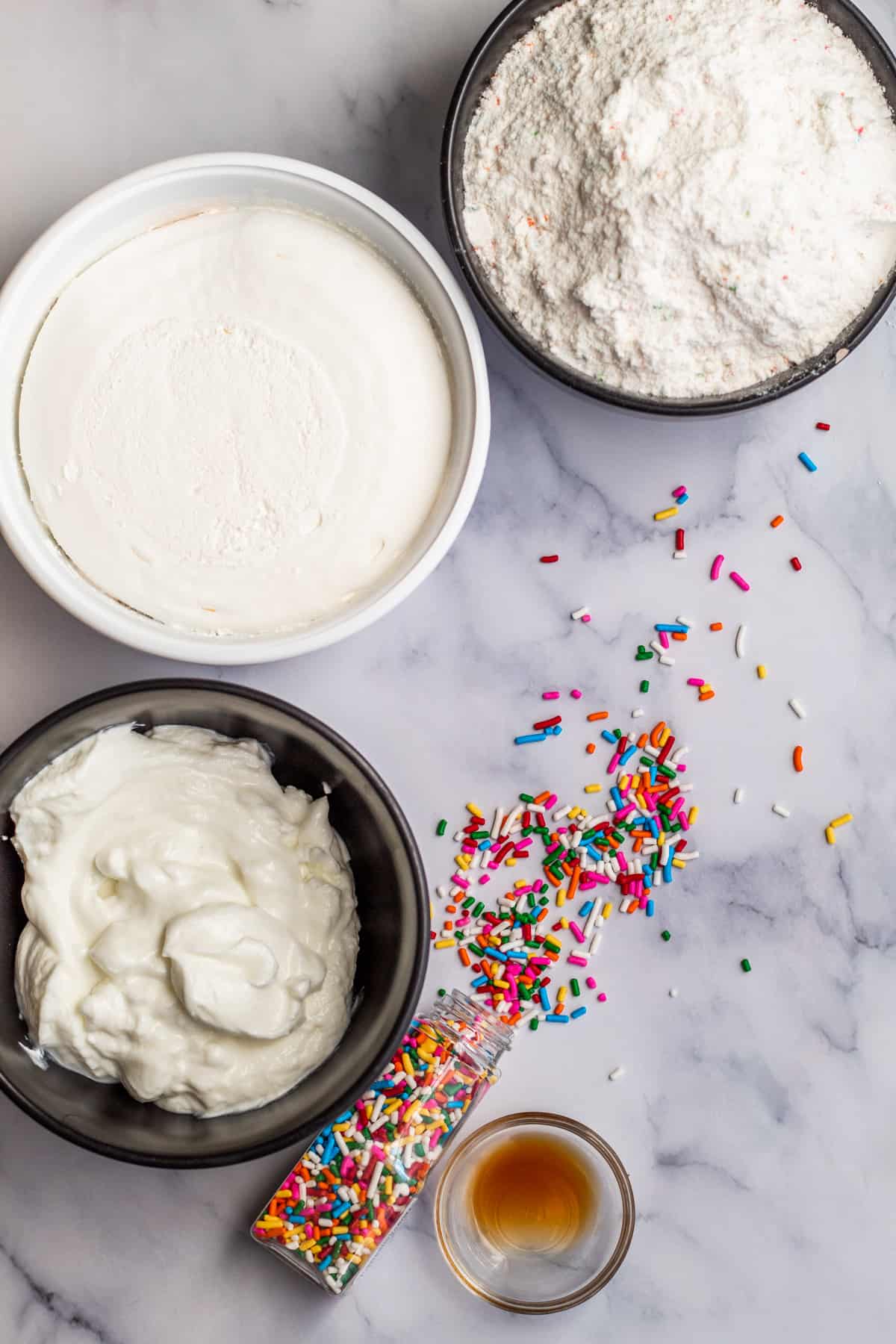 Instructions
Mix the Dessert Dip
Add the funfetti cake mix, whipped topping, vanilla Greek yogurt, and vanilla extract to a large prep bowl. Use a hand mixer to whip the dip together until light and fluffy, about 3 minutes.
Chilling
After mixing the dip, store it in the fridge for at least 30 minutes so it can firm up a bit.
Add the Sprinkles
Once the dip is chilled, GENTLY fold in the sprinkles until just combined. Serve immediately with dippers of choice.
Leftover Storage Instructions
Store leftover cake batter dip in an airtight container in the fridge for up to 1 week. Enjoy cold with additional dippers. Also, be aware that if you mix the rainbow sprinkles into the dip the colors will run and change the color of the dip. To avoid this add the sprinkles only to the dip right before servings.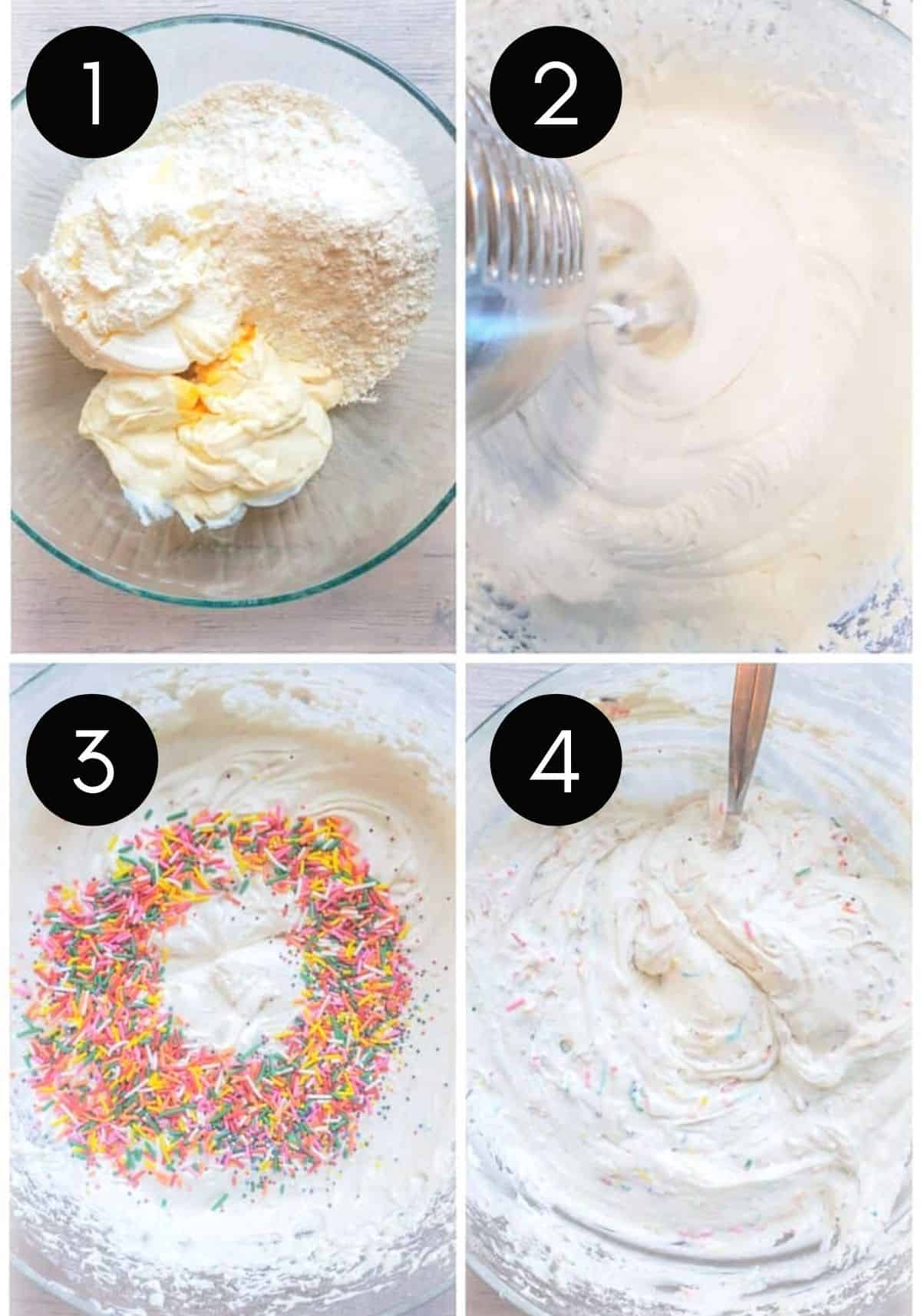 Serving Suggestions
I would literally eat this dip on anything, it is seriously that good. If you aren't into just spooning it out, have no fears I have some dipper ideas. Some of my favorite dippers for Funfetti dip are: Teddy Grahams, Animal Crackers, Graham Crackers, strawberries, or Oreo's.
Pro Tips
Sprinkle Tip: When stirring the sprinkles into the cake dip be VERY careful not to over-stir them. You just want to barley fold them in, or the colors will run and turn your dip an awful color. If you want to avoid this completely, you can forgo stirring in the sprinkles and instead just add them to the top.
Color Customization: If rainbow sprinkles aren't your thing, no problem. You can easily change the color out for different colors and shapes to fit any party of holiday theme. Another fun idea is to add in a touch of food coloring to make your dunkaroo dip a fun color or give it a swirled effect.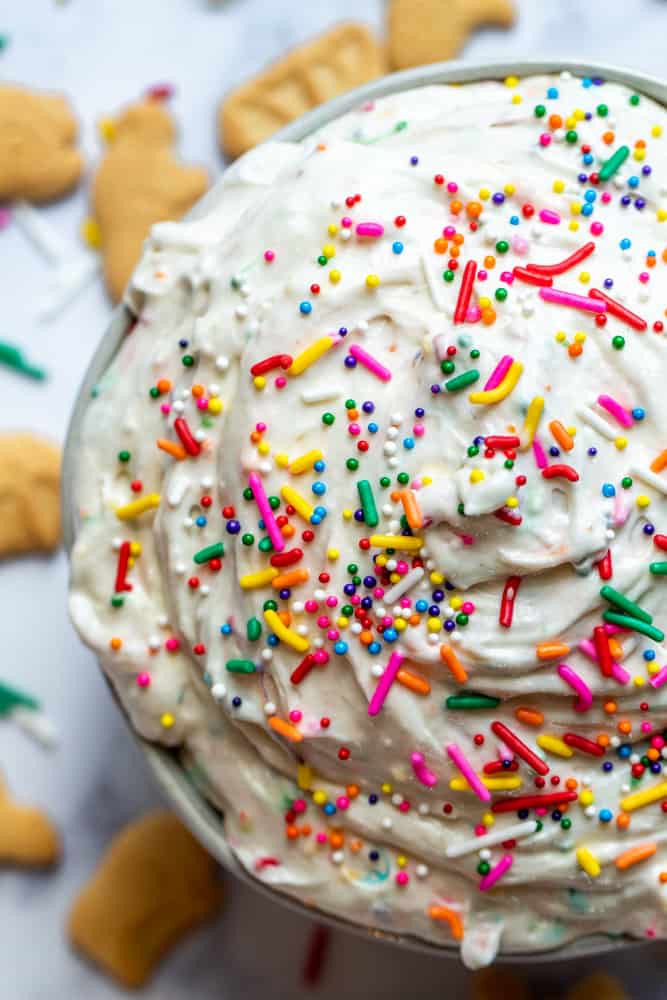 FAQS
Can dunkaroo dip be frozen?
Yes, the dip can be frozen in an airtight container for up to 3 months. Let the dip thaw in the fridge overnight before enjoying.
Can this recipe be made ahead of time?
Yes, you can mix the dip and then store covered in the fridge for up to 24 hours. When making the cake dip ahead of time I recommend leaving the sprinkles out and just adding them over top right before serving. If you add them in and let them sit the colors will bleed and turn your dip all sorts of funky.
Is the chill time required?
Yes, I highly recommend letting the dip chill in the fridge or at least in the freezer for 15 minutes if you are in a rush. If you do not chill the dip it will start to get soupy and melt.
What is Dunkeroo Dip?
Dunkaroo Dip first made an appearance in America in the 1990's. The snack product came with vanilla frosting dip and animal like crackers, usually kangaroos. You were meant to "dunk" the kangaroo cookies into the frosting giving it it's name "Dunkaroos". The product is no longer sold in stores, but there are whispers of it making a comeback so keep your eyes peeled people!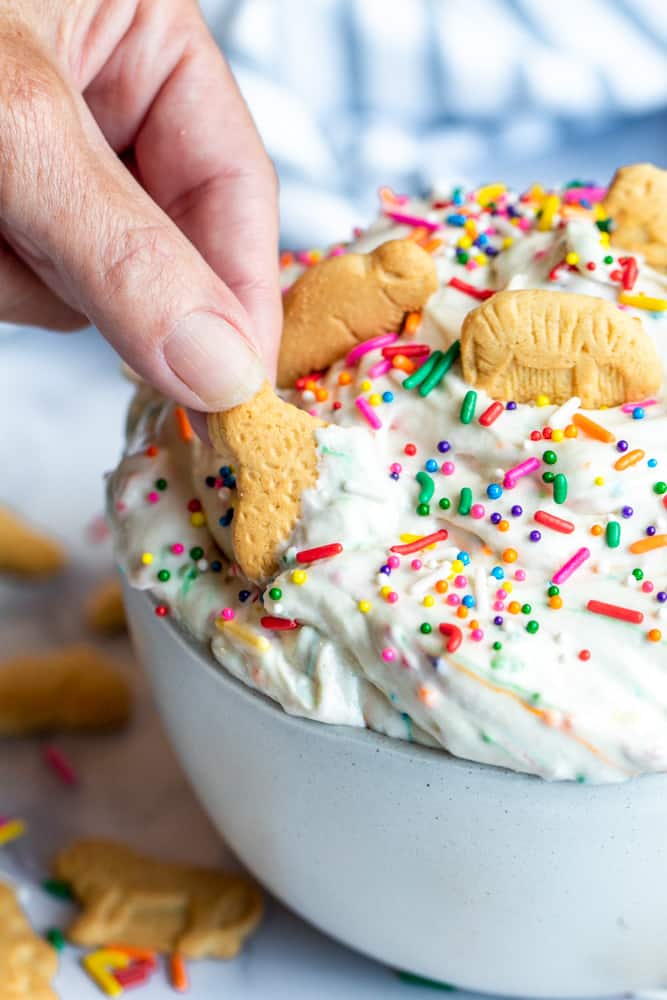 You May Also Enjoy...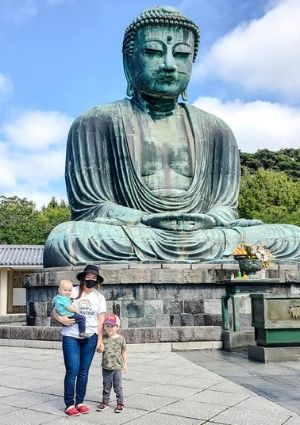 Happy Eating!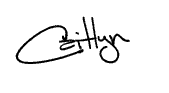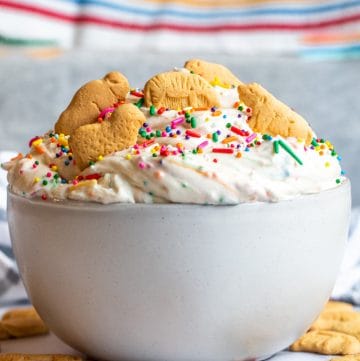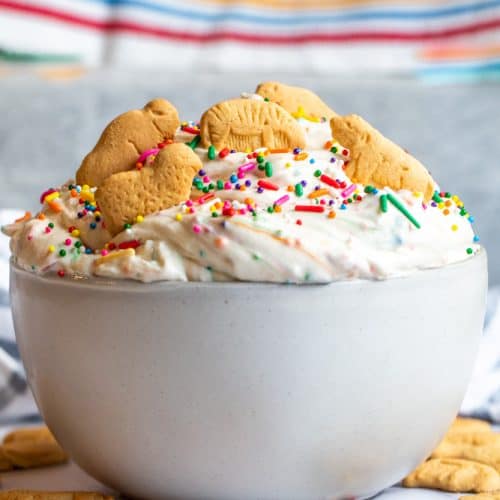 Funfetti Cake Dip Recipe
This Funfetti Cake Dip Recipe only requires five ingredients and is simple to make. This Dunkaroo Dip is a must for birthday parties or holidays.
Ingredients
1

15.25 Oz

Boxed Funfetti Cake Mix

1

8 Oz

Container Whipped Topping

About 3 Cups

1 ½

Cups

Vanilla Greek Yogurt

½

teaspoon

Vanilla Extract

Sprinkles
For Serving
Animal Crackers

Teddy Grahams

Graham Crackers

Oreo's

Fresh Strawberries
Instructions
Add the Funfetti Cake Mix, whipped topping, Greek yogurt and vanilla extract into a large prep bowl. Combine the dip with a hand of stand mixer on medium speed until combined and fluffy.

After the dip in mixed, cover and let the dip chill for at least 30 minutes in the fridge, or as long as overnight.

After the dip has chilled, gently fold in the sprinkles (don't over stir or the colors will bleed) or add over the top of the dip. Serve immediately with dippers of choice and enjoy!
Notes
Leftover Storage: Store Leftover Dunkaroo Dip in an airtight container in the fridge for up to 1 week. Freezer Instructions: Store dip in an airtight freezer container and store in the freezer for up to 3 months. Let the dip thaw in the fridge before enjoying Chill Time: I HIGHLY recommend letting the dip chill in the fridge for at least 30 minutes. If you don't the dip will begin to break down and melt. If you are pressed for time you can put the dip in the freezer for 15 minutes.
Nutrition
Calories:
215
kcal
Carbohydrates:
35.3
g
Protein:
2.5
g
Fat:
6.3
g
Saturated Fat:
4.1
g
Cholesterol:
2
mg
Sodium:
235
mg
Potassium:
32
mg
Fiber:
0.8
g
Sugar:
24.4
g
Calcium:
35
mg
Iron:
1
mg
See What We Are Pinning!
Follow erhardtseat1 to see all the food!